Hey! Thanks for stopping by to see what we have for you in this post! By the way, Some links here are affiliate links which means, if you choose to make a purchase through them, we might earn a small commission, at no extra cost to you. Thank you so very much for your support! Happy decorating!
Gaining the deserved attention and hype in the past few years, Boho is still the big thing!
With this interior style with no restrictions, standards, or guidelines, throw some extra flavor, warmth, and infinite decor possibilities into your holiday decor this season!
So, for no decor rules, no design nitpicking, and no overused Christmas decor, try the boho Christmas decor I have chosen for you after 49 hours of infinite scrolling! (My eyes are aching! And my head is spinning)
But never mind. Thank me later!
17+ Boho Christmas Decor Ideas
Some Wooden Christmas Trees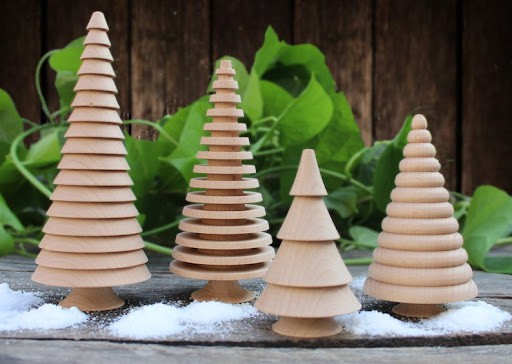 Wooden Christmas tree, particular and one of a kind. Perfect highlight pieces.
With intricate trimmings and flawless design, they can set your tablescape and mantle decor too incredible to celebrate without.
These stylish pieces will set your space ablaze.
Don't Miss The Guardian angels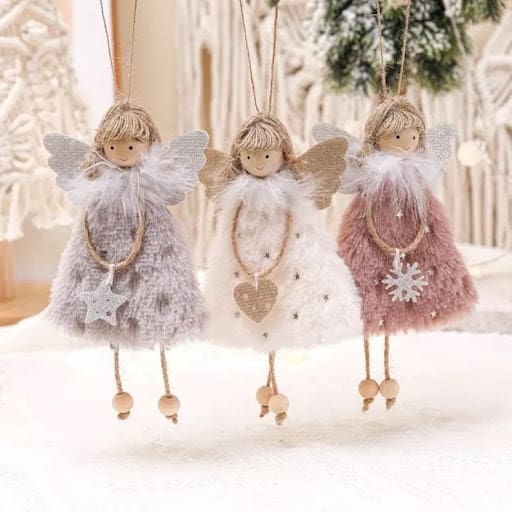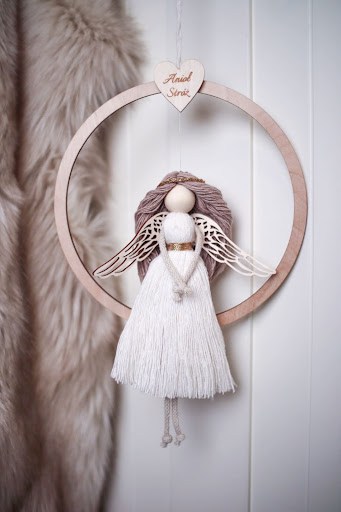 Don't they look marvelous? These exquisite macrame point dolls are display-worthy.
These charming dolls are soft plushies with sparkly wings and little pendants. Consider displaying them in your entryway, on your Christmas tree, on walls, or give them as a present to your friends and family.
They will add the perfect spiritual element and a cute vibe to our holy festival
Add The Pretty Wreaths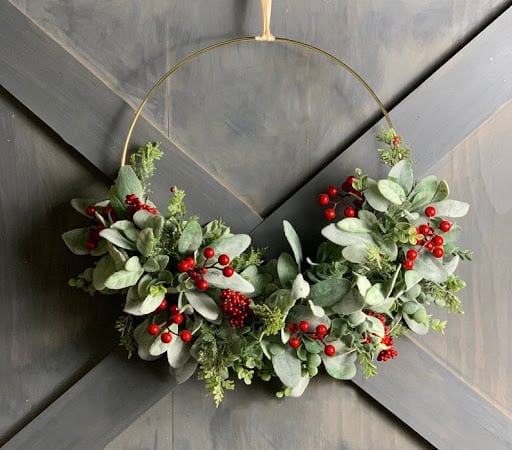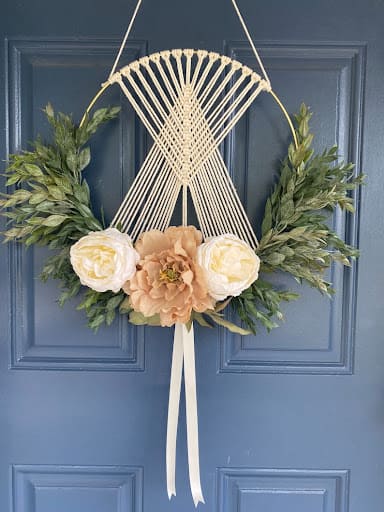 A delightful boho wreath will offer a 'welcome home' expression, regardless of where you show it off. Front entryway, entrance wall, or over the chimney.
A wreath is a charm, an image of limitlessness and joy. These wreaths are pieces of magnificence- an absolute necessity for grand Christmas decor!
(If you are looking for the best Christmas decor online, besides the post you are currently viewing, this post about the best Christmas decorations will incredibly help!)
If You Forget The Stockings, Where Will The Gifts Go?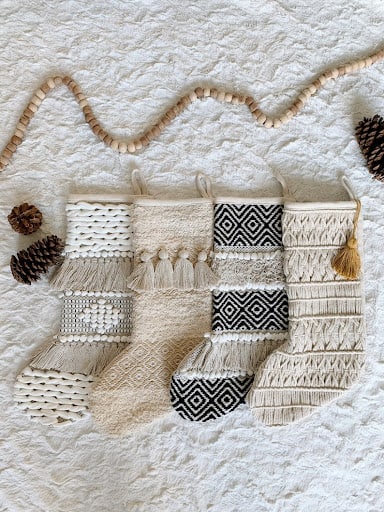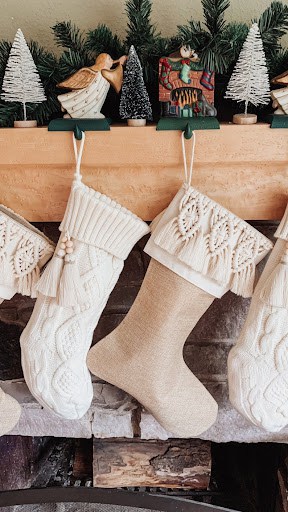 Some boho Christmas stockings are perfect to give a finishing touch to your Boho Christmas decor.
Display them on the chimney for weighty festoons or put them on entryways, close to windows, So father Christmas can see them well!
(If you really want to get father Christmas in, this festive season, then consider checking out these awesome Santa figurines that we've carefully picked!)
Let the candles Wow!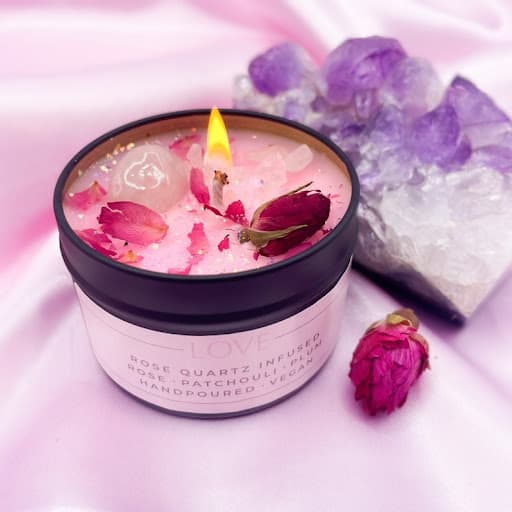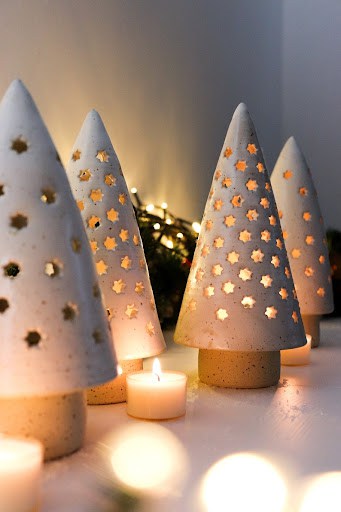 Sprinkle some mysterious gleam on a crisp winter eve with some pretty and scented candles! They are a wintertime number one.
For scents, I recommend orange, nutmeg, clove, and cinnamon-scented candles for Christmas. Wherever lit, they create a festive feel in the space.
And if not one of these, how about some pumpkin-scented candles? Smell it and you can't forget it!
Some Owls For Beauty…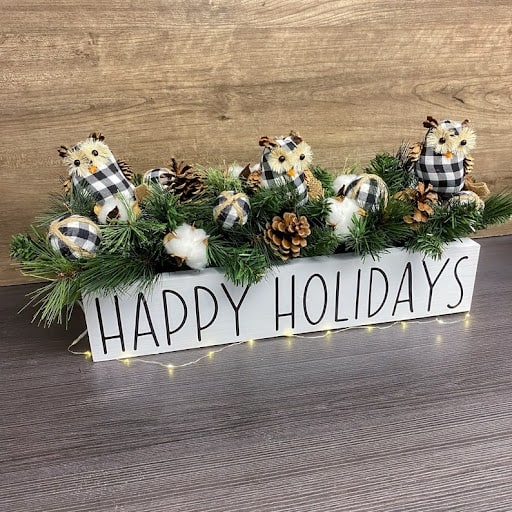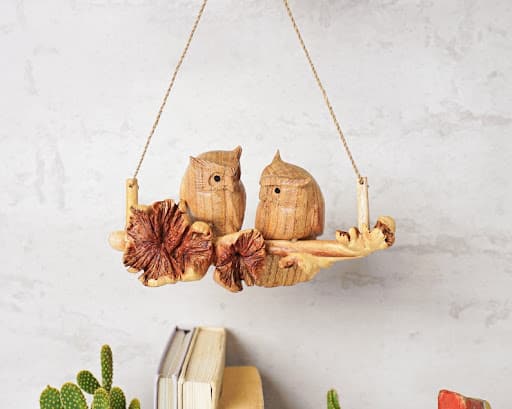 Owls represent knowledge and insight. Thus, a perfect sign to end this year and start the next one with knowledge overflowing!
Decorate your Christmas tables with these perfect centerpieces or adorn your mantle with insights of an owl!
And The Pendant Lights?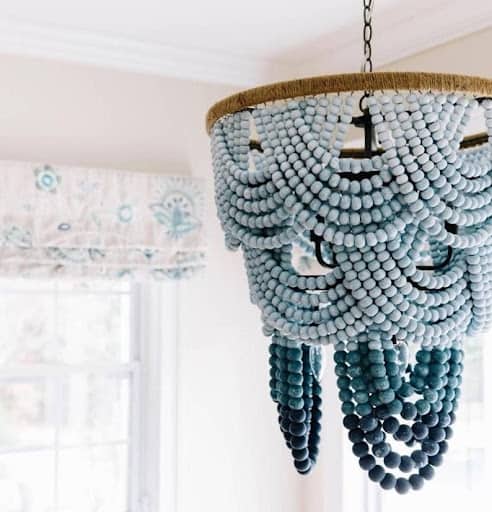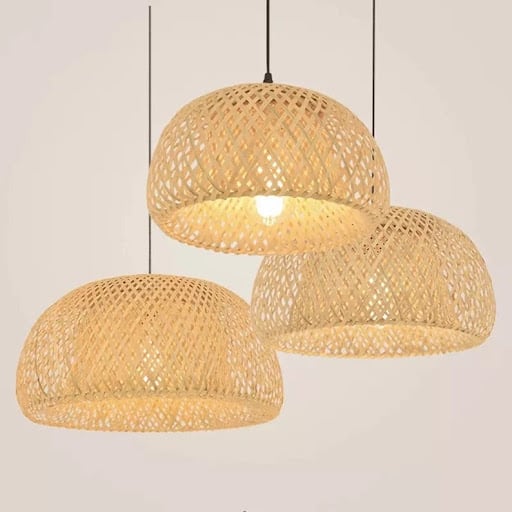 How can you complete your boho Christmas decor without the boho lighting?
The boho pendant lights, elaborate in designs and styles can make the Christmas merrier with much more light and shimmer!
We need a serious discussion if you aren't opting for these!
A Boho Table Runner Is A Non-Negotiable!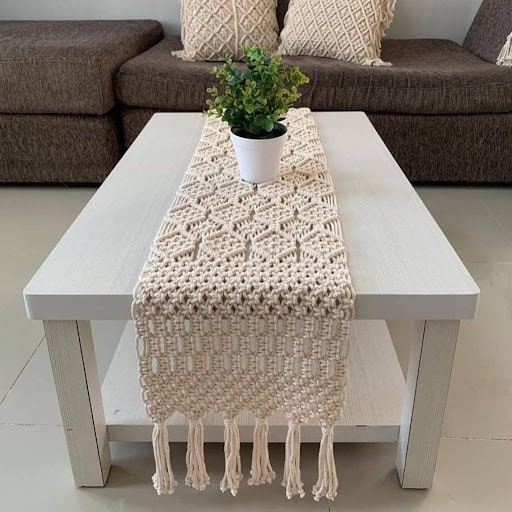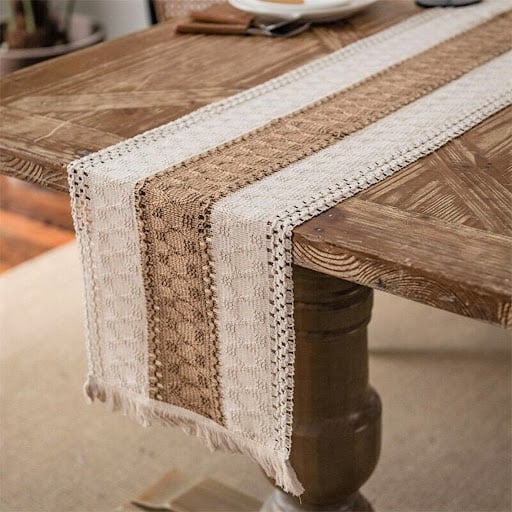 You give a theme the charm it deserves when all the minute details are taken good care of!
And not to forget the table decor on the go!
Consider using some nice boho table runners to give some depth and texture to your Christmas table decor and awe all who visit or dine!
Maximalism Is The Word!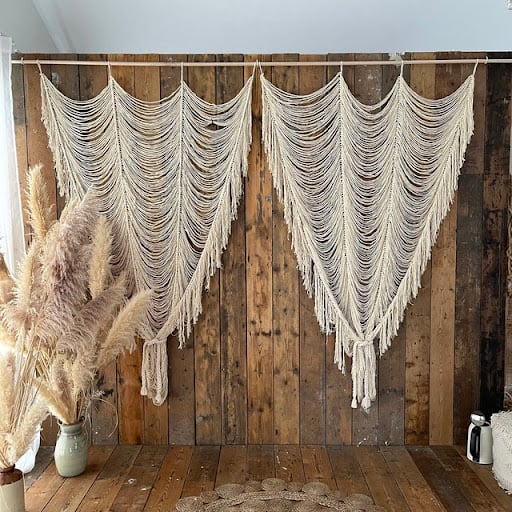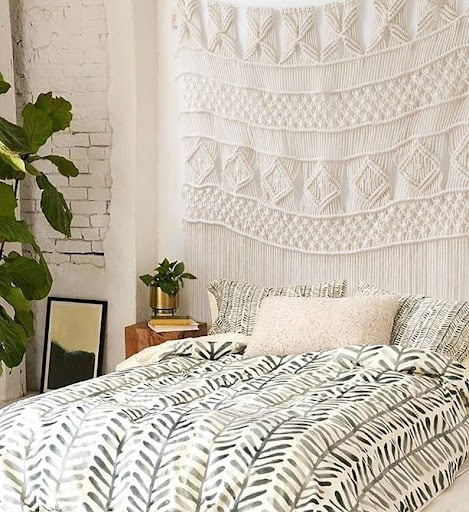 I love the way these boho curtains look. Maximalist yet subtle.
Decorate with them over the chimney, entryways, doors, and windows. Or get creative and try making a mix with draperies.
And why just Christmas? Hang these curtains all year round and every day starts with some striking beauty!
Boho Tree Skirts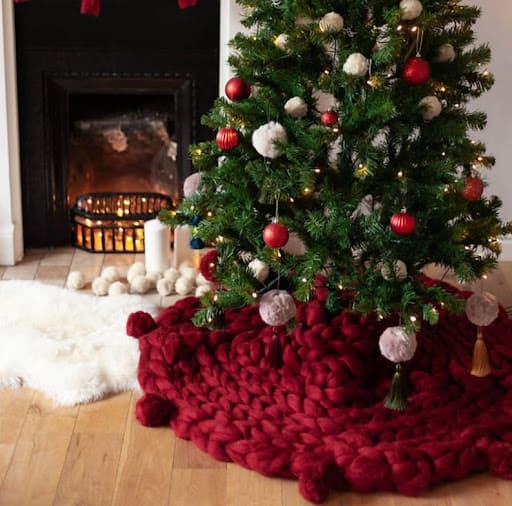 A straightforward strategy for adding a subtle or bold boho touch to your Christmas tree is adding a boho tree skirt.
For moe texture, consider a chennile tree skirt and for a subtle touch, go for wool. Either way, you aren't going wrong in your boho Christmas theme.
Chrstmas Towns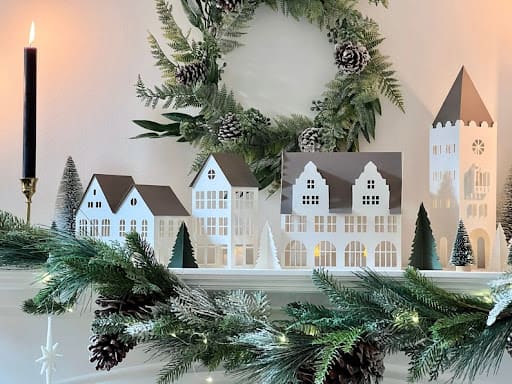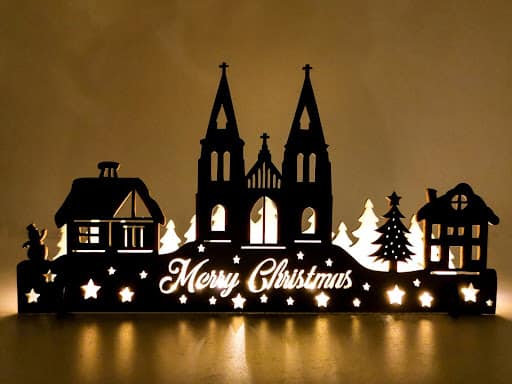 Christmas can't be complete without a cute little Christmas town glorifying the mantle or your your tablescape.
Plus, if you have kids at home, christmas towns make an amazing craftwork for them. So, no issue if you don't want to buy one. Put the little kids to work!
Not To Forget The Bedroom, Please!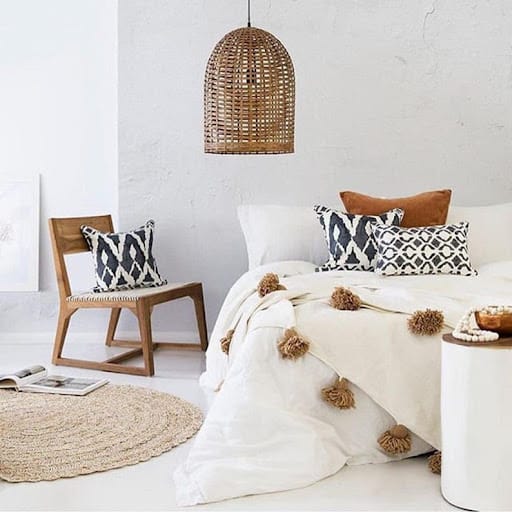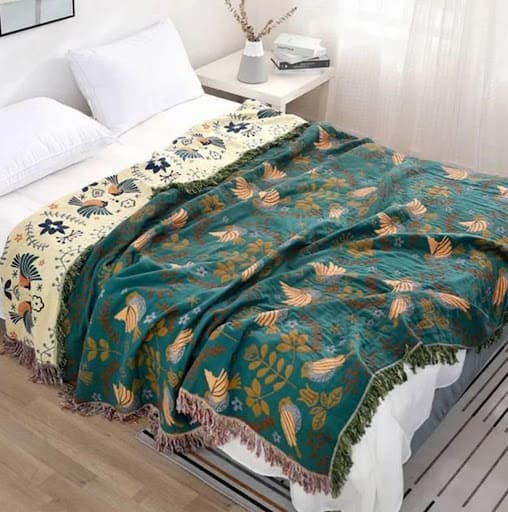 Your bedroom too, deserves a hint of holidays. And what can supersede a throw blanket? Toss one on your bed and voila! A boho Christmas bedroom. A banner for style.
And why just the bedroom? The sweeping looks are eminent in any space. So, throw it on your loveseat, reading area, sofa and let comfort be everywhere this holiday season!
Forget The Traditional Tree Toppers!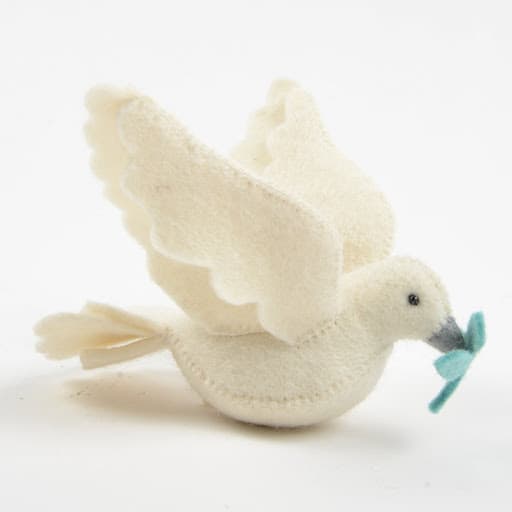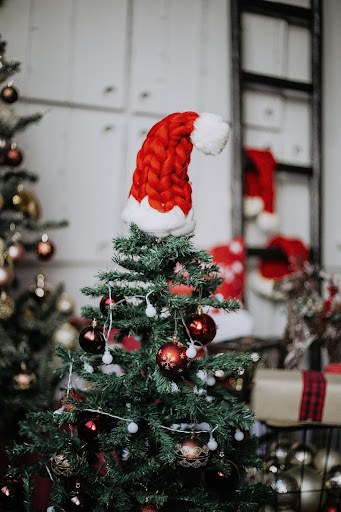 An image of tranquility on the planet, this unique felt dove spreads her shocking wings and flies. A delightful indication of the genuine importance of time.
Break the generalization, put these otherworldly white pigeons on your Christmas tree and make a statement.
And if that isn't your style, then a Father Christmas hat is the go-to!
Some Colorful Tassels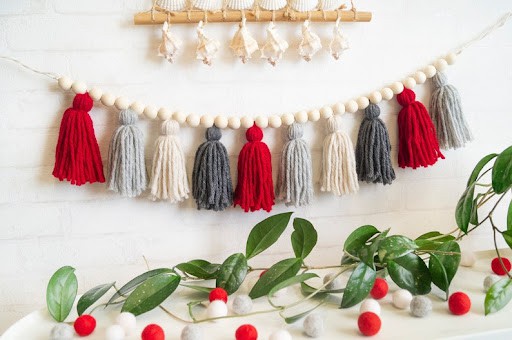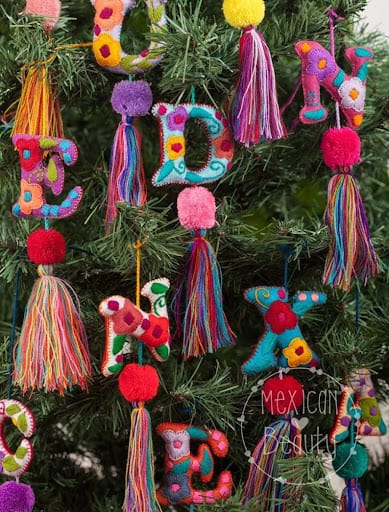 Another increbile nd easy way to add a boho flair to the Christmas is by adding some colorful tassels.
They don't make the space look bland and you FEEL like holidays!
Ideally, tasels look great against walls or why not make some tree hangings with them?
Marvelous Style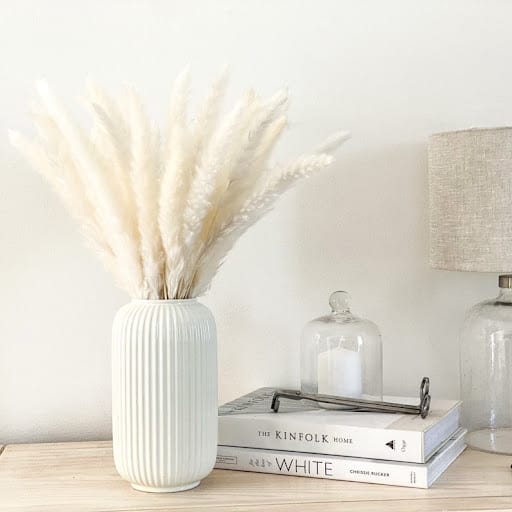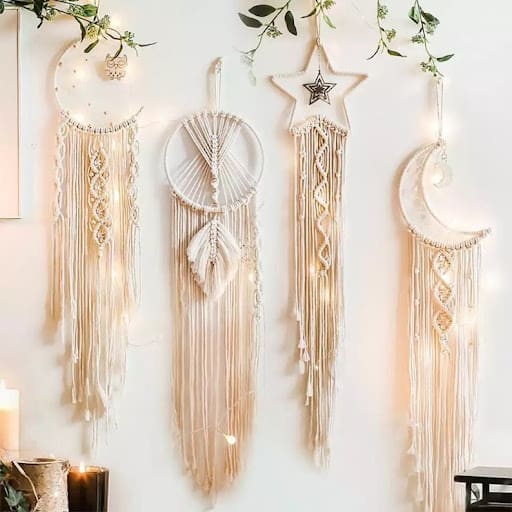 Boho is incomplete without macrame and pampas grass. And if you don't have the macrame wall hangings up on your festive walls, then maybe there is a serious issue with the boho Christmas decor!
Choose a few macrame wall hangings with a few sparkling fairy lights and you're good to go for the holidays! But don't forget to throw the pampas grass here and there.
Some Li'l Macrame Christmas Trees!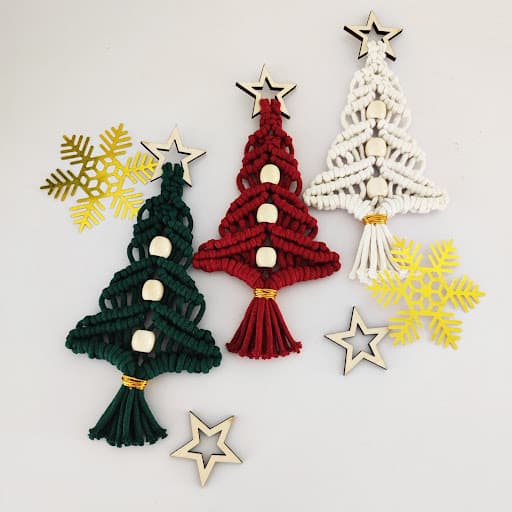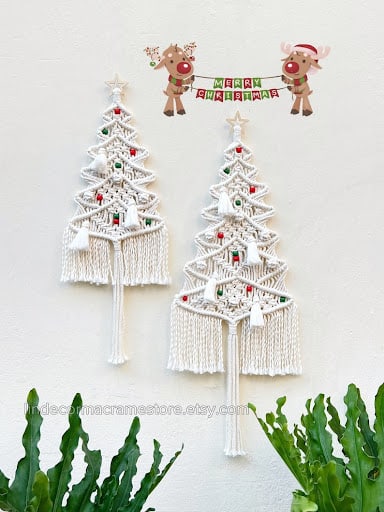 Who said a Christmas tree can't be wall workmanship? These look astonishing on a mantle, holding tight to the wall- a macrame Christmas gives a vibe of comfortable winter feels.
Go off the traditional Christmas decor, play around with different designs and occupy your space with stylish boho pieces.
Falling Leaves Macrame Wall Hanging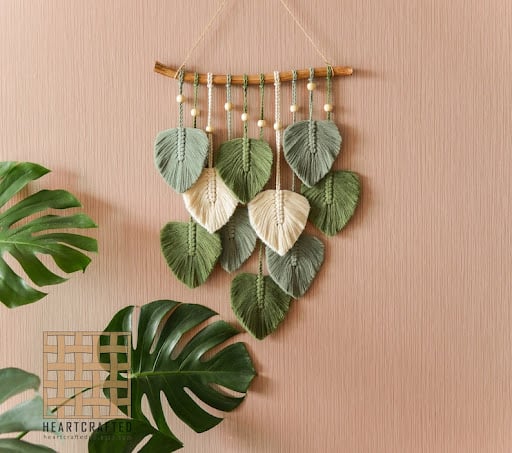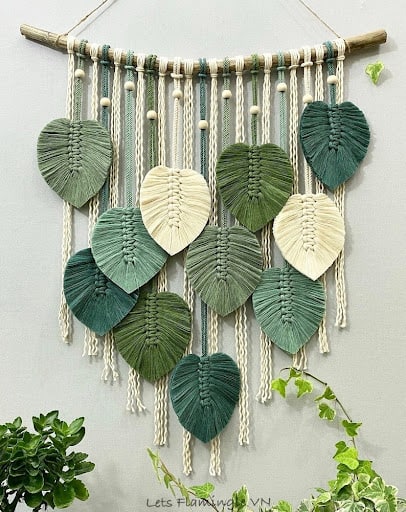 Boho is not always about whites and browns.
Add the traditional Christmas green to your boho Christmas decor with these beautiful falling leaves macrame wall hanging!
And The Dinnerware?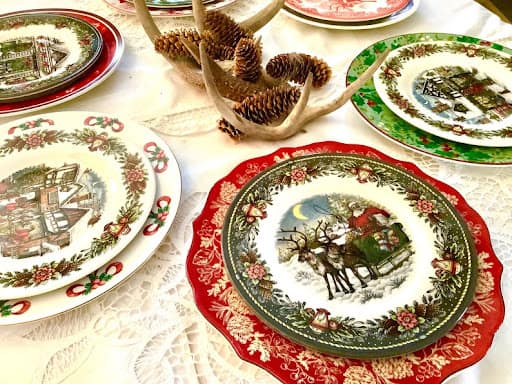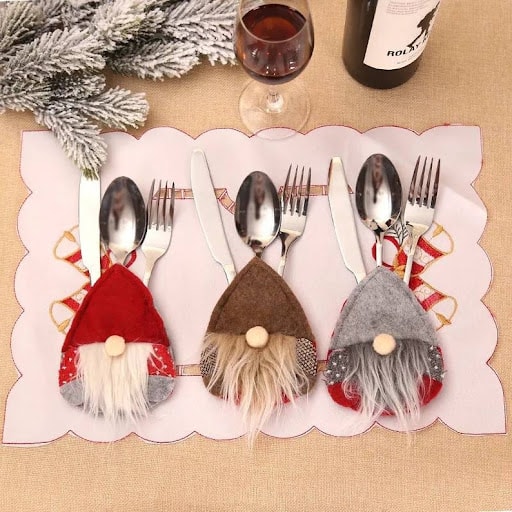 These delightful Christmas ceramics are unquestionably necessary for that extra pamper conventional Christmas supper with loved ones.
They will add shimmers to your dinner table. And definitely, a conversation starter when you have nothing else to pick up on!
And Some More Variety!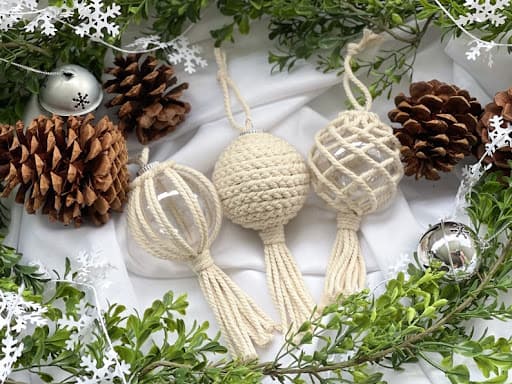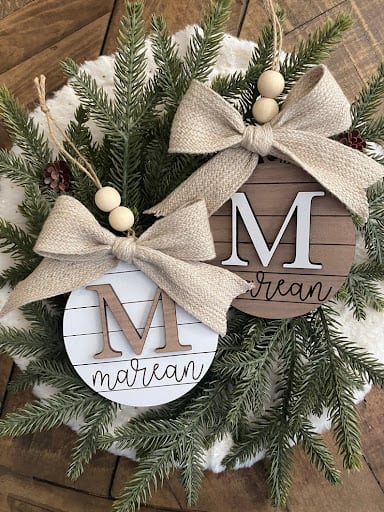 And to add a final touch of boho-ism to your Christmas decor, you don't want to miss the little boho details on your Christmas tree and door!
These decors are my top picks for that!
Until next time, merry Christmas and happy decorating!