Christmas is just around the corner, and everyone is excited about the celebration! After all, the holiday brings us immense happiness!
Happiness rolls in once you take out your Christmas trees, decorations, lights, wreaths, and garlands to decorate your happy place and celebrate the ever-so-joyful festival!
Where you are enthusiastic about throwing a Christmas party or maybe sipping some wine with garlic bread, we want to help you take the celebration to the next level with a perfect environment that syncs with your mood!
Below are a few blue and gold Christmas decor ideas (plus bedroom decor) that'll make you want to ditch the traditional red and white Christmas decor this year and bring in some other Christmas colors home!
Blue And Gold Christmas Bedroom Decor Ideas
Try Boho+Blue Accents On A white Backdrop!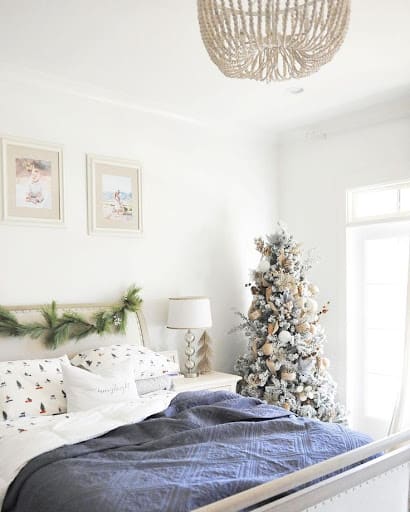 A boho-themed bedroom is a straight gracefulness and beauty! And when you wish to decorate it with blue and gold Christmas décor, a white Christmas tree loaded with some gold accessories is a no-brainer!
To intensify the Christmas look, add a few blue and gold wreaths, wall art, candles, and green garlands here and there!
Add a few different lights across (fairy lights, led strips, and candles), and you are good to go!
To maintain the boho vibe, try adding jute and bamboo accessories.
Get The Snow In! (Not Really!)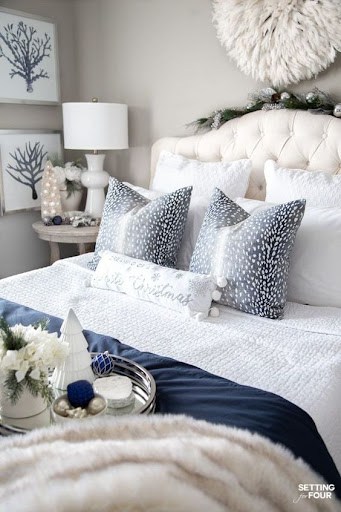 Christmas reminds us of winters and snow- the winter wonderland! For your bedroom to blend in with the wintery holiday, try using the textures and colors of snow with fur rugs and cushions.
Mix and match fur cushions with the ones with buffalo plaid checks, and you already have half the things done!
The snow-ish decor is celebration-worthy, and once under the influence of warm lights, you might never want to leave your bedroom for the rest of your life! (Thank us later!)
Bring In The Farmhouse Decor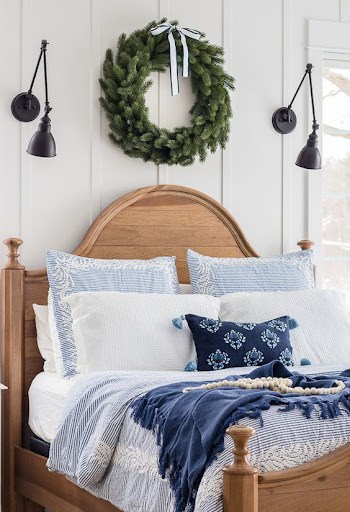 Don't want to go crazy and throw into your bedroom every festive decoration you find in the market? Try farmhouse decor.
Simple and clean, try adding a pop of deep blue to a subtle wall background, say white and sky blue. Add a few other bedroom essentials here and there.
Once done, add a simple green wreath, so you know you've decorated your bedroom for Christmas! Easy-peasy.
Or The Canopy From Fairyland?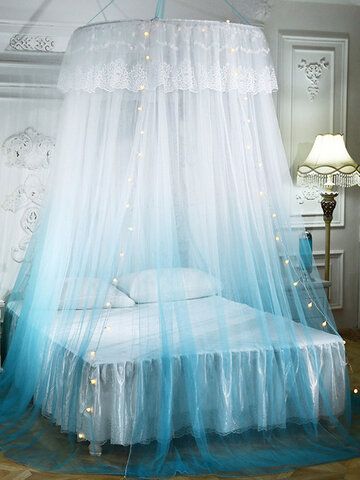 No bedroom can look as fascinating as the one with a net canopy!
With a canopy bed, every day is a festival in your bedroom. Like the bedroom above, you could add a blue canopy to your bed and a gold flair with a few golden fairy lights across the room!
Plus, this bedroom decor isn't limited to Christmas! Keep it all year long, and your life becomes a festival!
Bring Some Old-School Decor In!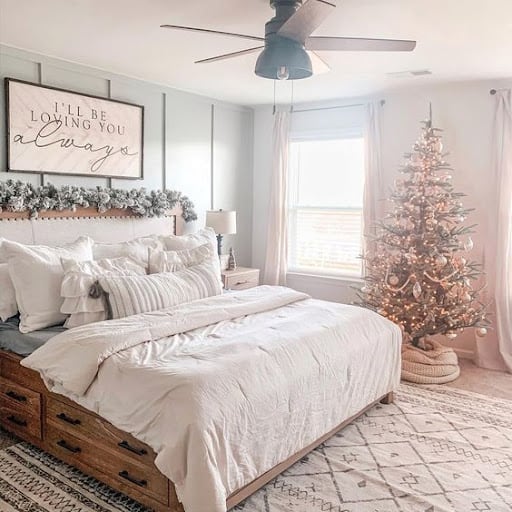 Old school Christmas décor is a true inspiration to beautify a space on a minimal budget. Simply drill some Christmas-themed plates, Christmas signs, or Christmas trees, and make a composition.
You can use fairy and led lights to attract attention to selected spaces like the Christmas tree. Use table lamps with oversized lamp shades to maintain symmetry.
For a basic old-school theme, cushions bring life to the room. You can use a variety of Christmas accessories such as hanging lights, Santa socks, candy jars, or anything else that fits your space best.
All White And Gold Belong To Heaven!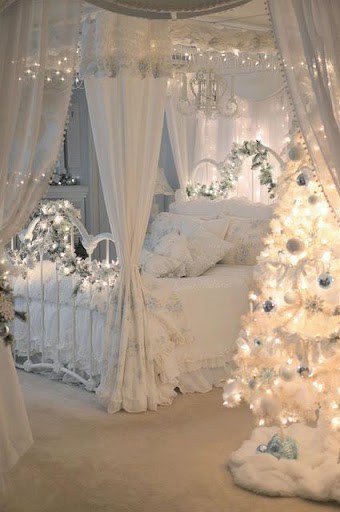 If adding a lot of blue to your Christmas bedroom is unnecessary, why not make it a bit snowy yet cozy? A winter wonderland?
If you have an all-white bedroom, you're are at a plus here. Make it all white, use a white Christmas tree and add a few golden fairy lights to give your Christmas room the heavenly flair it deserves these holidays.
But then, don't blame us if you don't leave your bedroom this Christmas! It'll be so pretty!
Why Dark Blue?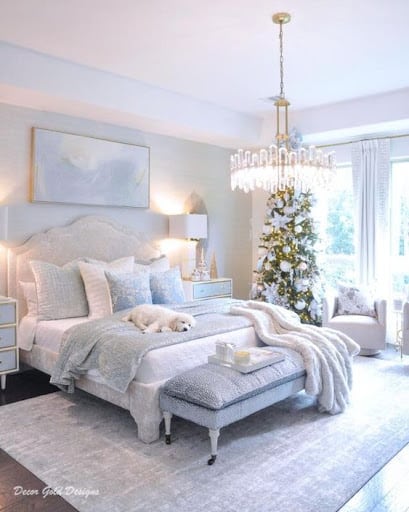 For all the pastel color lovers, a light blue bedroom with some golden lights can be as stunning as a dark one with lights.
Make the bed feel cozy by throwing a few lovely cushions into the room along with a quilt or a blue throw blanket!
But how will a Christmas bedroom be if you don't have a Christmas tree? Put that in.
Blue And Gold, And some Green!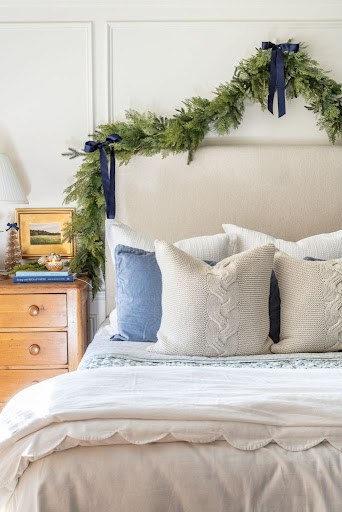 It's a great idea to bring some blue and gold flair to your bedroom by using these colors on your bedding: throw pillows and throw blankets.
But to make your room look Christmassy, you'd want to add a few Christmas decorations, like garlands, a Christmas tree, or just a simple wreath.
And In Case You Love Minimalism…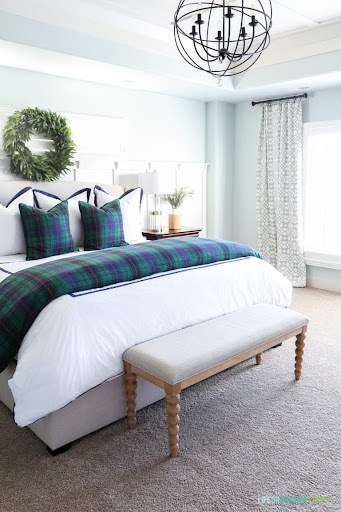 For our minimalist, holiday-lover friends, this blue Christmas bedroom idea is just right for you!
Add a blue quilt to your existing minimalist room, complement it with a wreath, and you will have a perfect blue bedroom ready for Christmas, with absolutely NO CLUTTER.
Blue And Gold Decor Ideas For Other Rooms
You can't just get by just with your bedroom decor for Christmas! The other rooms ad area deserve to have the blue and gold flair too!
So, below are a few ideas you might love for decorating with the blue and gold Christmas decor!
Add Some Sleek And Gold Reindeer Figurines Around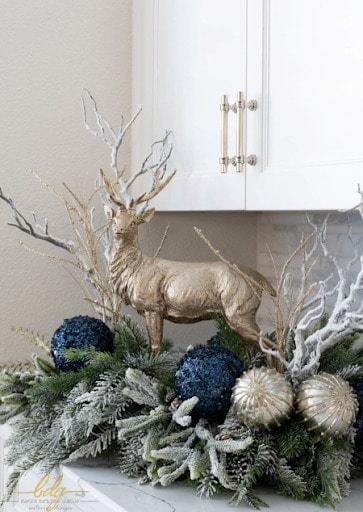 Reindeers symbolize creativity, resourcefulness, and knowledge. They are a vital element of this festival and are ideal decor pieces!
To add some gold flair to your blue and gold Christmas decoration, make combinations of these elegant and sleek reindeer figurines by stacking these beauties around huge trees or table tops.
Or DIY Some Nice Blue Miniature Trees And More?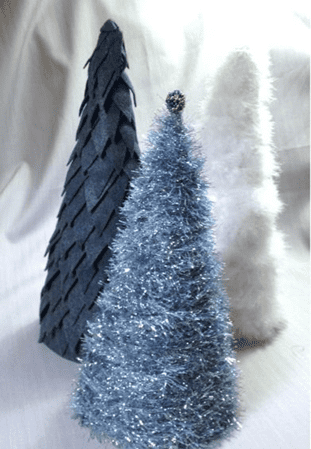 D.I.Y's are cool. When you put effort into making something, it becomes all the more valuable.
Many Christmas decorations can be made. Say these blue miniature trees, wreaths, Christmas town, ornamental trees, doorbells, curtain tiebacks, candle holders, garlands, chandelier décor, centerpieces, holiday cards, and many more.
Load your mind with several ideas and make this Christmas a DIY Christmas.
Some Cute Blue Decor For Your Christmas Trees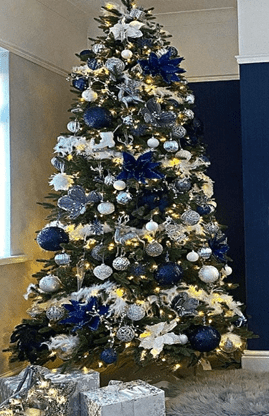 We love to decorate Christmas trees. Hopefully, it's your best part of Christmas too.
Many options and variations are available in the market concerning Christmas accessories. To achieve a beautiful blue and gold Christmas décor, you can use various blue-gold-white accessories like bells, miniature reindeer, candles, canes, garlands, stockings, snow globes, and angles.
Replace The Red Stockings With The Blue Ones!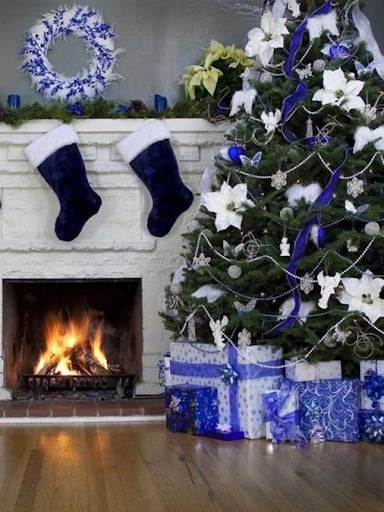 It is believed that stockings are full of gifts when Santa arrives. Who doesn't like gifts? Well, everyone does, else it is a significant décor element too.
And they can be extremely helpful in bringing the blue and gold decor into your space this Christmas!
Use some blue and gold stockings. Hang them over the fireplace, Christmas tree, doors, and near windows. And share the gifts with us. The idea is ours!
Use A Gold Tree Skirt!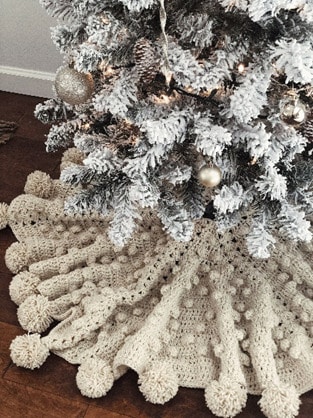 Tree skirts can also help greatly bring a gold flair to your Christmas decor.
Instead of using the buffalo plaid designs or the solid red colors, find a stunning gold tree skirt for your tree and let it sprinkle some magic on your Christmas decor!
And if not the gold skirt, decorate around the tree with gifts wrapped in gold, and they help you the same way! (Oh! No need for thanks. Come on!)
Your Tree Is Incomplete Without The Tree Toppers!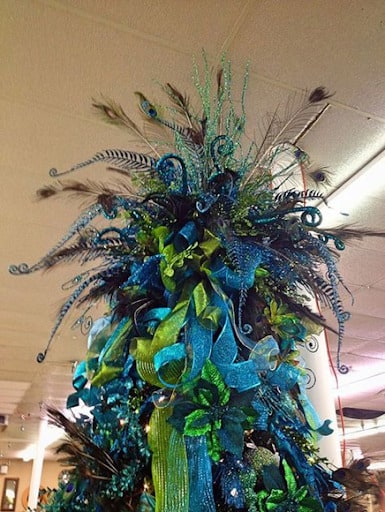 Traditionally, massive stars were used as tree toppers. But things are changing.
The huge ribbon flowers, bows, and other creative tree toppers steal the show! And they look marvelous.
Or, to add a little cuteness to your tree, use a Santa plushy as your tree topper. Or just place a cute Santa figurine under your tree. You're newly gonna fall in love now!
Try A Blue Wreath…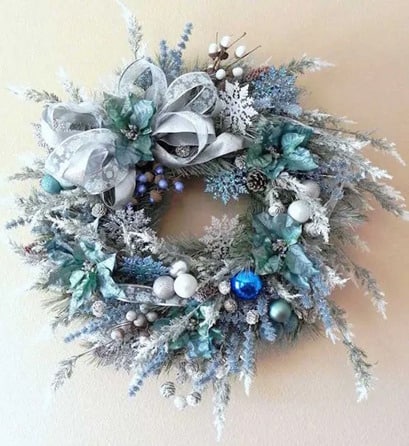 Christmas wreaths symbolize positivity and welcomeness.
They are made from wood sticks, pine furs, bells, and cards to barriers. Hang a blue one on your front door to bring in all the positivity and fortune. Color-centric wreaths are setters so go mix matching these vibrant shades.
Bring The Gold In With Candle Lights!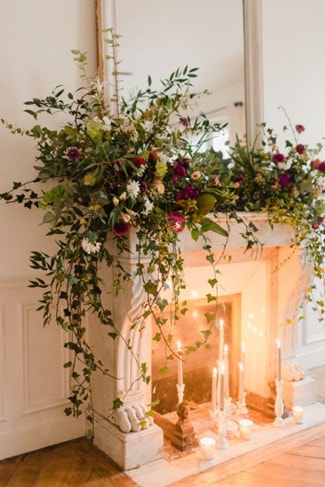 Now, it;'s not just the decorations that can bring the gold flair into your space. The natural lights can do that pretty effortlessly too.
To bring this warm, royal touch, use candles (scented candles for a more festive feel) or fairy lights, and you won't have to spend much on your new Christmas decor.
Pretty Candles?
Christmas has that feel of chilly, snowy winters with some diffused scents of old spices. Scented candles are like a cherry on the cake. They are available in various fragrances but try cinnamon, orange, or berries to get that ultimate Christmas vibe.
And if you don't like the scented candles, use the pretty ones for your tabletop decor to create a statement.
A Full Blue Christmas Tree Is The Attention-Center!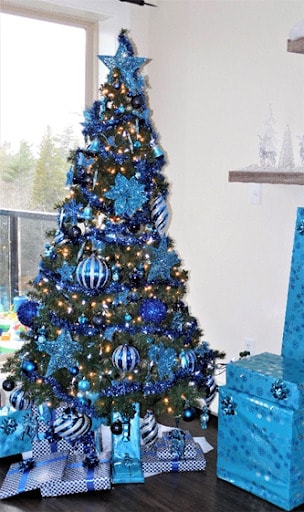 For a monochromatic Christmas décor, a blue Christmas tree is a must.
The blue tree represents a generosity of spirit. Load your blue Christmas tree with heavy blue tree decorations and warm white fairy lights. The aura of the color blue will diffuse in your place and bring you some extra happiness these holidays.
Don't Forget The Mistletoe!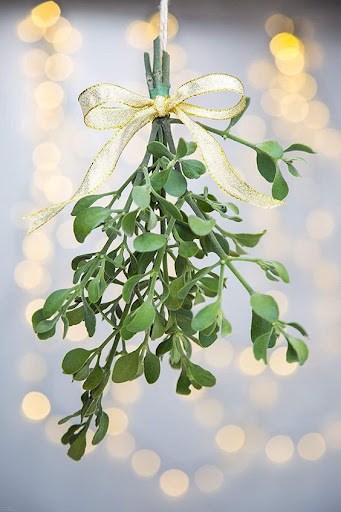 Mistletoe brings some Christmas romance. They are densely decorated hangings between the two rooms- above the doors.
You can't let go of your blue and gold Christmas decor in the minute detailings, so use gold or blue ribbon on your mistletoe, so when you meet under it this Christmas, there is some extra romance there!
Not Just The Ginger Breadman, Use His Jars Too…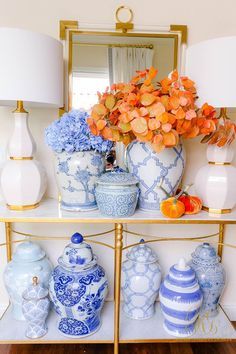 Gingerbread man cookies are an integral part of Christmas.
They make watching Christmas movies on the festive eve all the more unique and enjoyable!
Even their jars can be a flawless décor element to gracefully enhance your space and make the holiday more beautiful and memorable. You can use them around your space to add a color element and unique design and texture.
Ditch The Green Tree. Embrace The White.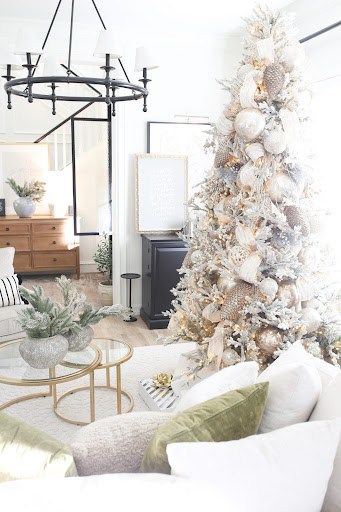 The white spruce looks elegant and divine when decorated heavily with many gold lights and decorations.
It's the perfect element to bring the winter-wonderland feel in. You can ditch the green Christmas tree this year and bring the white one in. You won't go wrong.
Some Cute Fluffy Plushies
Plushies are the most adorable part of Christmas, even though they are extra accessories.
Why wait if you have the mood, space, and budget to get a few plushies in? Decorate your space with cute little Santa, snowmen, reindeer, gnomes, and whatnot. Who knows if they'll become a permanent part of your home beyond the holidays?
The Cute Christmas Snow-Towns Might Become The Show Stealer This Year!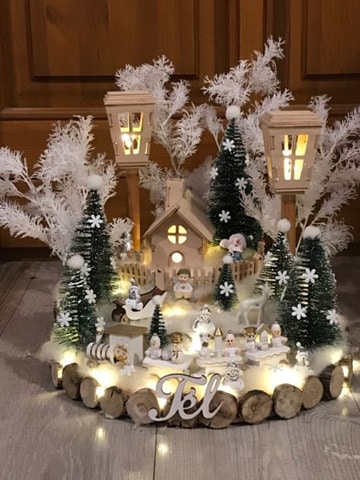 Christmas snow towns are miniature towns heavily decorated, which represent Christmas.
They can be placed on center tables, above the fireplace, and side tables.
When lighted, they can bring life to your space, so you might not require any other table centerpiece but only this!
The Blue And Gold Christmas Garlands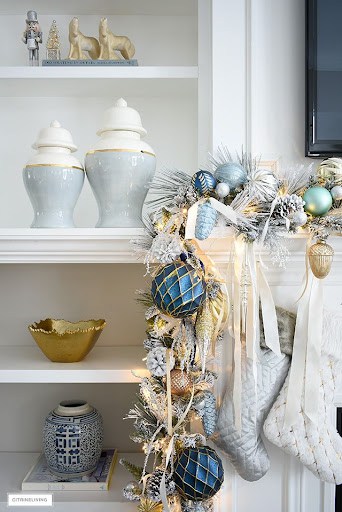 Heavy blue and gold garlands are fine-tuned décor pieces for the headboards, study tables, and wall decor.
If you can find the right one, they are possibly the easiest way to bring the blue and gold flair in.
Try A Christmas Pillow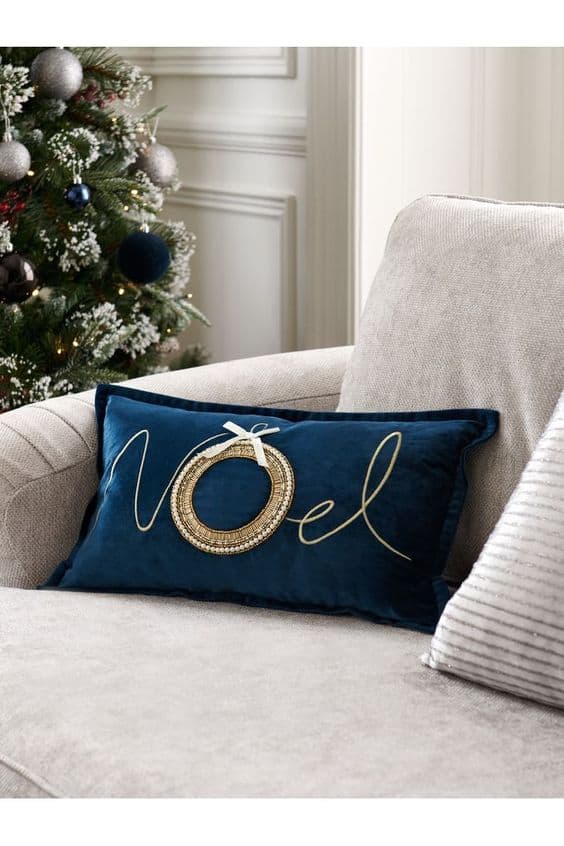 Cushions are true love. Once you add cushions to your space, they automatically become comfortable, welcoming, and cozy.
Try different color combinations to bring a highlight element to your place.
Add a blue and gold Christmas pillow, and voila! Here you have the color scheme.
Some More Blue To The Christmas Tree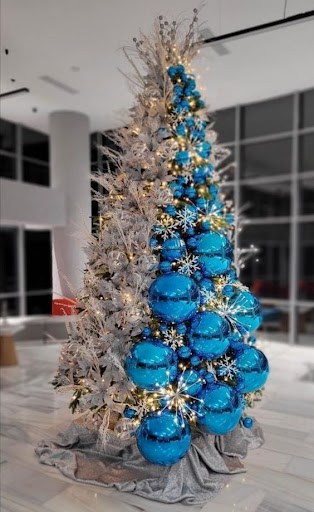 Blue-silver Christmas trees go best if you need some magic around!
Try dividing the tree into two, and then decorate one portion with blue accessories and the other portion in silver. On top of that, add warm white lights to beautify both shades. Then see the magic.
Pumpkins Don't Only Belong To Halloween!
Pumpkin helps you show off your holiday spirit. It helps you spread seasonal cheers!
Blue pumpkins add spark to your fall and winter decorations. You can arrange them under your tree, on your fireplace mantel, and on center tables.
The Endnote
Mesmerizing, isn't it? Christmas and Christmas decor always has been.
Now more than ever, there is space to decorate your home for the festivals in your favorite colors. No more sticking to the traditional colors.
And for a royal, truly festive look, a blue and gold Christmas decor is perfect.
We hope you liked the blue and gold holiday home decor ideas we shared in this post. Let us know which open was your favorite out of all.
Sip hot chocolate with some Ginger man cookies and be creative.
A very merry Christmas to your, your friends, and your family!
Until next time, happy decorating!
Decorating For Christmas? These Posts Will Help!