Sunflowers are happy for a reason! They look at the brightest side of the situation. All the time. Plus, they have the most bright color to their credit- yellow!
Their round brown face and the yellow beaming petals can elevate anybody's day! And so is the beauty of the sunflower. Today, we don't only desire this elevation. We NEED it. The pressures and the dinginess is unending, after all!
But since you can't spend all your day in the garden looking at the sunflower's beauty and happiness, you can get them to your bedroom and look at them as you get up and before you sleep!
If this idea sounds great, you'd love to look at the positive and refreshing sunflower room ideas below! Take a look.
18 Sunflower Bedroom Design Ideas
Everything- Yellow And Happy!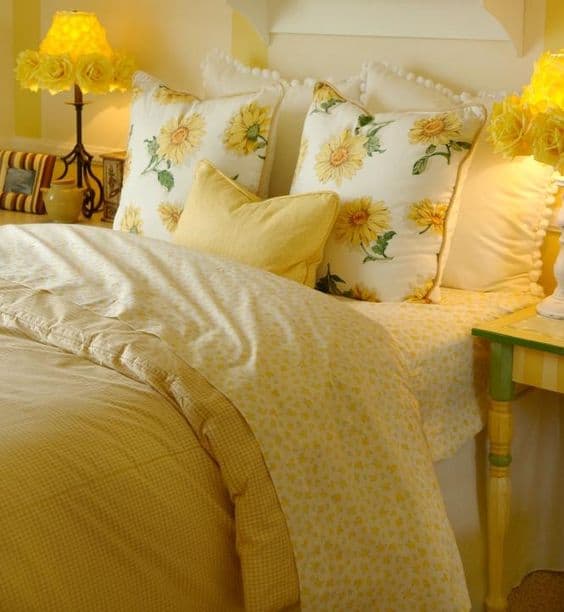 Why even go to the garden when you have a comfortable bedroom like this one?
Since you've already decided to add those cute and happy sunflowers to the bedroom, why not bring yellow across the entire room?
You can do that by having some sunflower-printed bedding, pillows, and yellow lamps with a lovely yellow quilt.
But an all-yellow room might sound (and look) intimidating. Marrying it with white is a perfect idea.
Make It Indie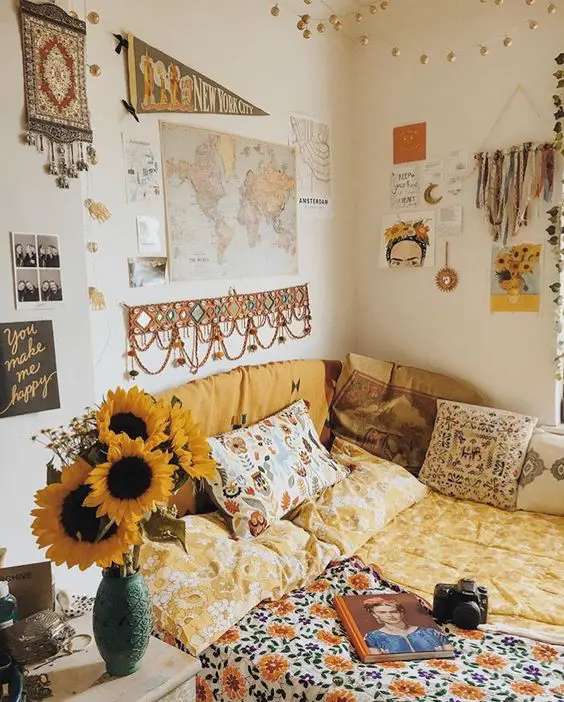 Since it's your room, it's your wish whether to make it look over-modern or just as you wish it to be!
Add all the decor elements you wish and make the bedroom look indie! A wall map, a few books, and some boho and modern wall decor look fab!
But for the sunflower theme in place, make sure you add a few real sunflowers with nice sunflower bedding!
The Sunflower Bedding Can Make Things Easy!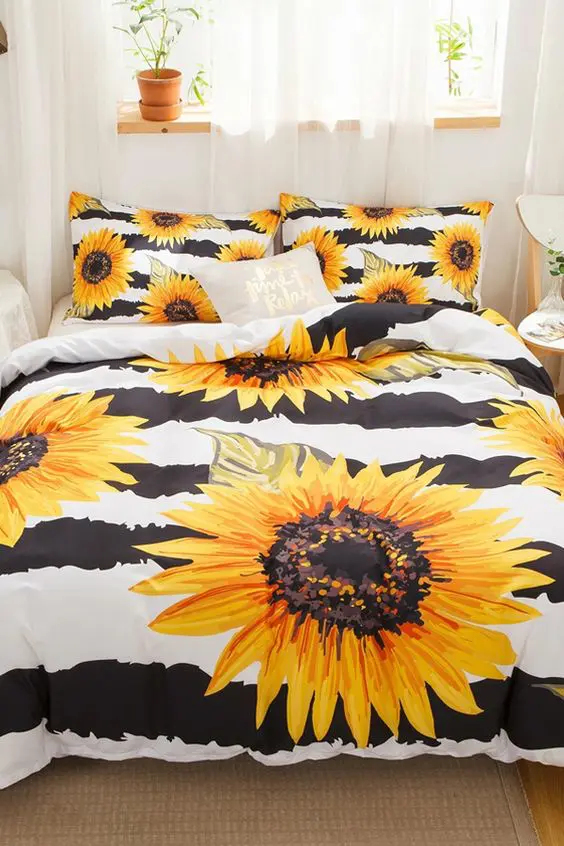 The bed is the focal point of the bedroom. If that's set, almost everything's set!
So, on a white bedroom backdrop, you might want to use a nice sunflower bedding and make your sunflower bedroom theme stand out!
The white backdrop won't make things look very cluttered or overdone, and the printed bedding against it is enough to undo the starkness an utterly white room would otherwise create. Plus, you can easily switch the theme once done with this!
Tapestries Are Trendy For A Reason!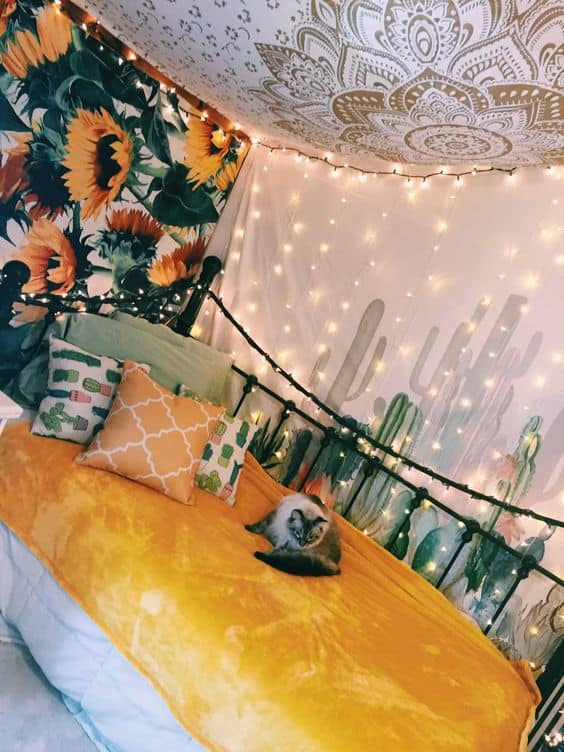 If you want to get your sunflower-themed bedroom instantly, a lovely sunflower tapestry is your thing!
Like in the bedroom above, add a sunflower tapestry behind the bed and use complementary bedsheets and throw pillows to intensify the look.
And if coziness is the goal this fall, you can't ignore tapestries over and around the bed adorned with some fairy lights.
The Sunflower Wall Decor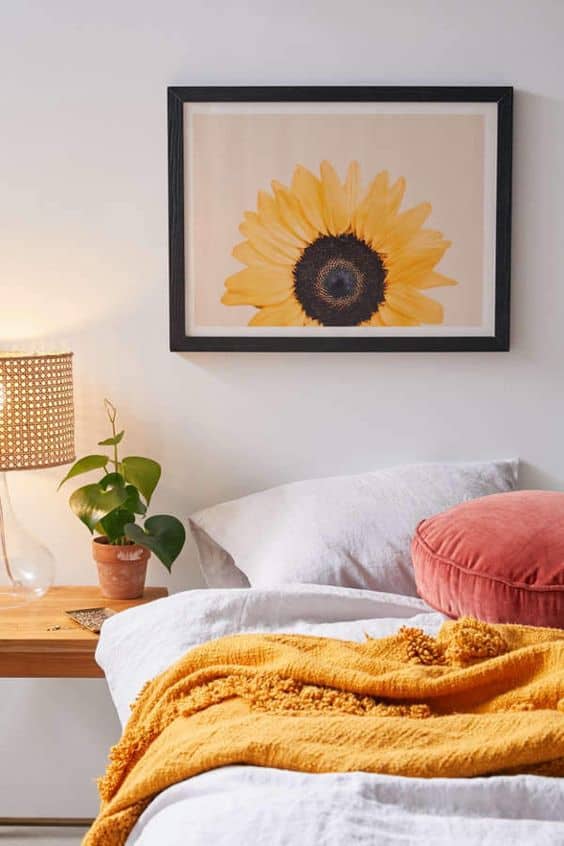 Now, if you already love your bedroom enough that you don't want to make significant changes to incorporate the sunflower bedroom theme yet want the theme, use sunflower wall decor!
And the wall decor isn't limited to the sunflower wall art, but you might want to use sunflower paper crafts, garlands, wreaths, and other stunning sunflower decors to your advantage.
Use complementary bedding, and what else?
Get The Sunflowers In!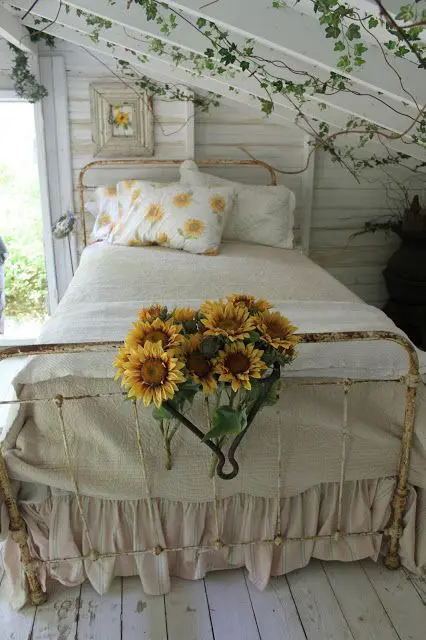 Probably the most straightforward and most elegant sunflower room idea! When you aim to decorate a sunflower bedroom, there is no point in not getting a bunch of sunflowers in!
Like in this bedroom with slanted walls, place a few sunflowers at your favorite place(s) in your bedroom, and add a few faux ivies to complement them.
Vintage shiplap walls and a vintage bedframe go perfectly with this bedroom theme! It looks natural.
Some Yellow And Black Around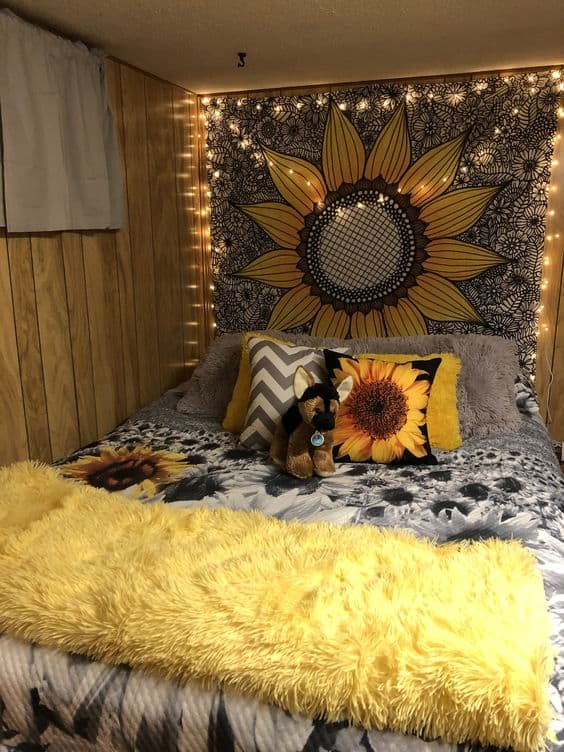 We've already discussed how much a tapestry can help bring the sunflower theme into your bedroom!
But it's not enough with a tapestry alone! Add some black and yellow around your bedroom, say your bedding and your walls, to complement the colors of the sunflower and intensify the theme.
Fairy lights can do the job well by bringing an aesthetic touch to your space!
And What About These Sunflower Ceiling Hangings?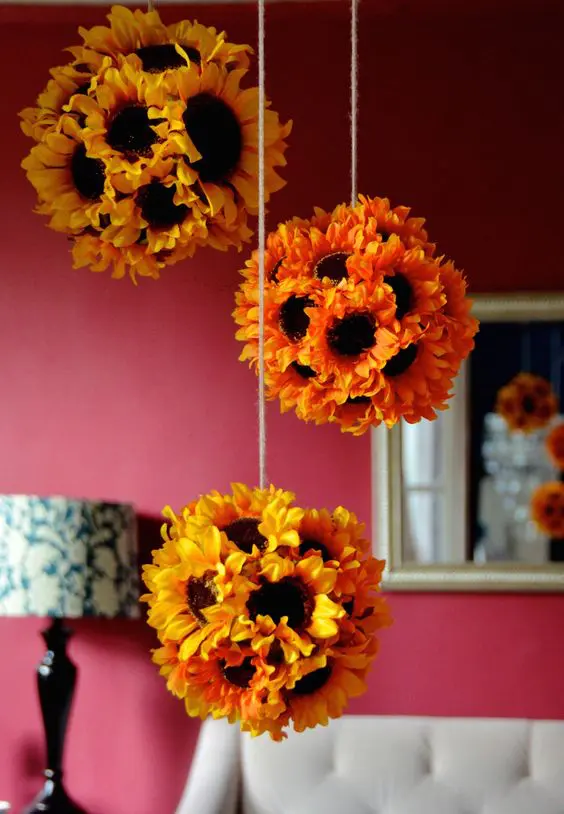 Adding a few ceiling hangings to the space can make it look exceptionally stunning and magical!
For this fall decor with sunflowers in your bedroom, you can DIY similar sunflower ceiling hangings or buy a few online.
Even when you make no other changes to your bedroom this fall, adding only these to your checklist is more than enough!
Did We Forget The Sunflower Curtains?
Couple all the other decor with some pretty sunflower curtains around your bedroom, and you nail the theme!
The above bedroom, for example, uses a stunning tapestry on the ceiling, and the look is sealed by pairing the sunflower curtains with the theme.
In the morning, when the sun rays fall passing through these sunny flowers, the feel is different!
Add The Boho Flair To Your Sunflower-Themed Bedroom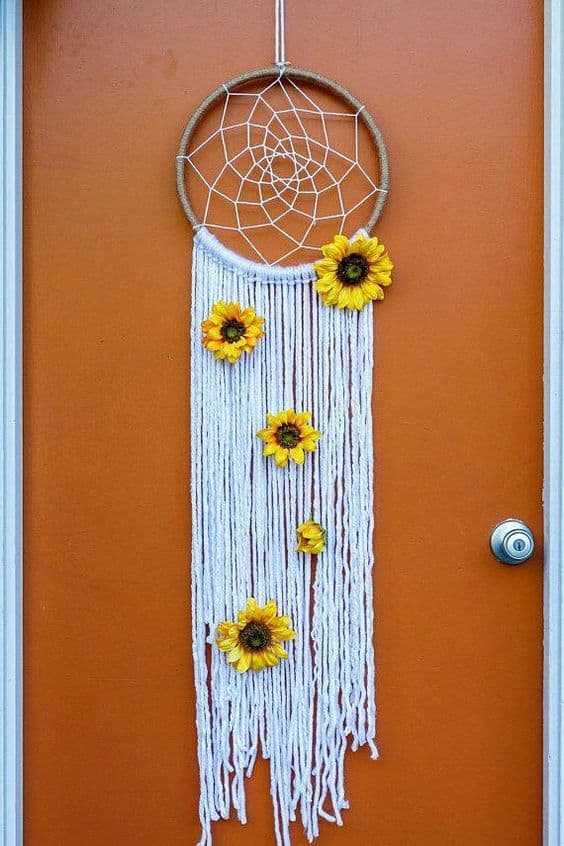 It's always best to keep your bedroom up to the trends and close to your heart. Boho is the trend, and the sunflowers are close to your heart, aren't they?
Mix and match the two to create something better! Say a macrame wall hanging like the one above and a few sunflowers tucked in it.
This idea can be DIYed by tucking some real/faux sunflowers into the macrame, or you could buy a hanging similar to this.
Add A Sunflower Wreath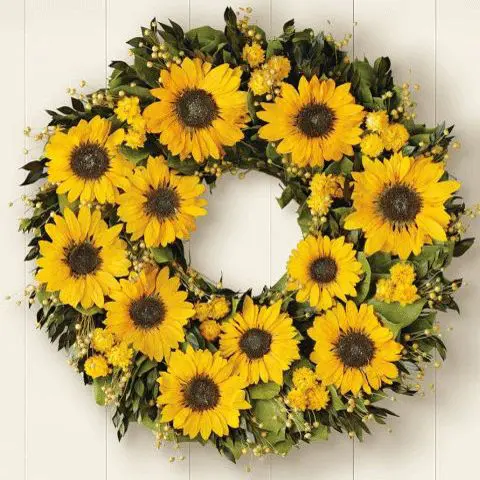 Wreaths are the perfect decorations to make your bedroom feel festive and merry! Be it Christmas, Halloween, or fall. You can use a wreath, and a good enough decor is already done.
Even for your sunflower-themed bedroom, you can use several sunflower wreaths across the room or just one above the headboard! And there you are!
Don't Forget The Sunflower Cushions!
A cute little sunflower cushion might be all you need to complete your sunflower bedroom design.
It's just a little extra thing that'll make all the difference between a good bedroom and a great one!
Many more color options and designs are available online, so why stick to yellow? Add more colors to make your bedroom even more enjoyable.
If you like the sunflower cushion above, it can be bought HERE.
Or A Sunflower Themed Rug?
It's not fair to pay attention to the room and not the floor. After all, it adds up to your sunflower decor and intensifies it!
Use a sunflower rug on your bedroom floor to see the flower everywhere, from the walls to the bed to the bottom. And if a rug seems like a small idea, go big with an under-the-bed carpet! Easy-peasy.
You can buy the above rug HERE.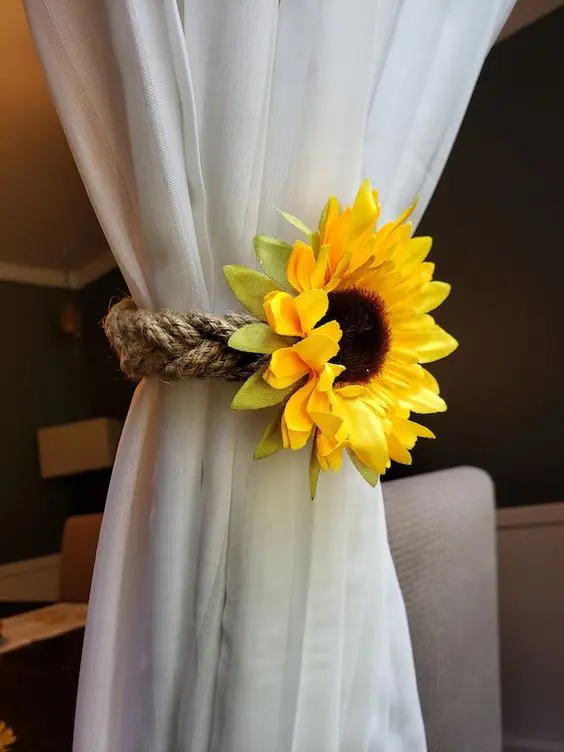 If you are a person who loves paying attention to the minutest of details, you might want to adorn your curtains with sunflower tiebacks to leave no corner left undecorated with the fall decor.
These curtain tiebacks may be DIYed or bought. Either way, they are pretty.
This curtain tieback can be bought HERE.
The Sunflower Garlands For An Aesthetic Touch!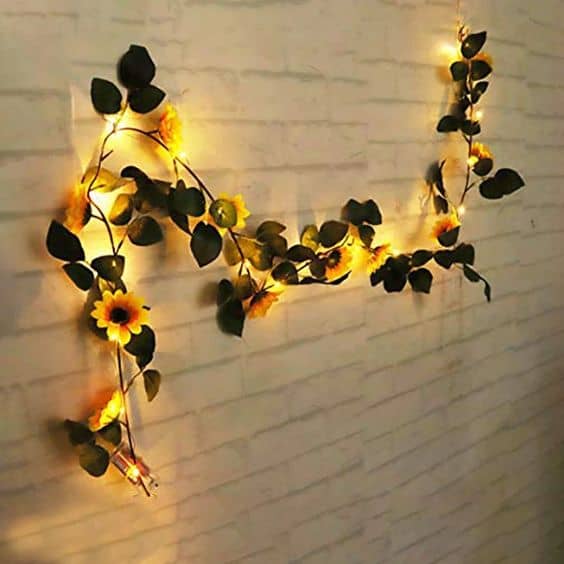 To add an aesthetic touch to your bedroom, an aesthetic sunflower garland can be helpful!
Use a lovely garland with fairy lights around the wall arts, on your headboard, and in other places to make them the attention centers!
Pair The Look With Green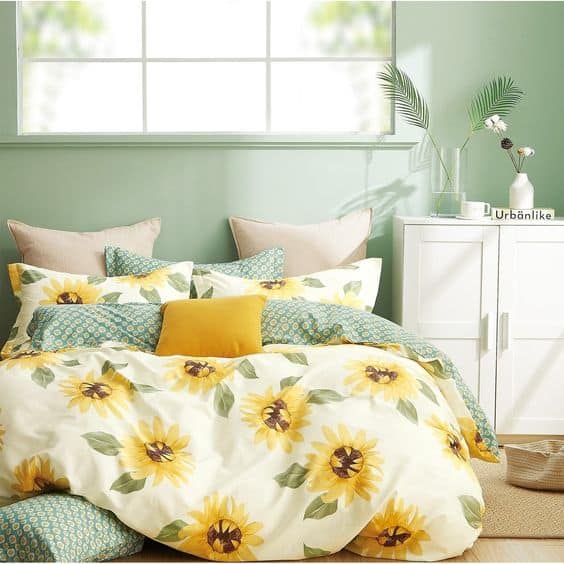 What are the sunflowers without the greenery that is around them?
Add some sage green to your bedroom besides the yellow sunflower decor to make it look more natural.
Also, like the bedroom above, you might want to balance and subtlety the look with white furniture and accessories.
Or Add Gray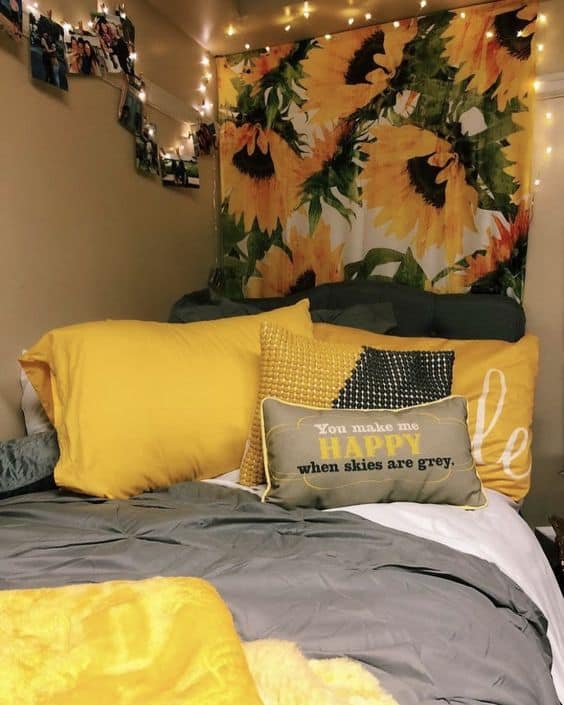 Another great color to balance the boldness of the sunflower yellow is gray.
Too much yellow might make a room look too bright and flashy- not an ideal atmosphere for a place to relax. So, to not let yellow dominate the mood, some gray and other neutrals like white and brown might be your go-to's.
Wall Decals And Wallpapers Will Make The Decor Easy-Peasy!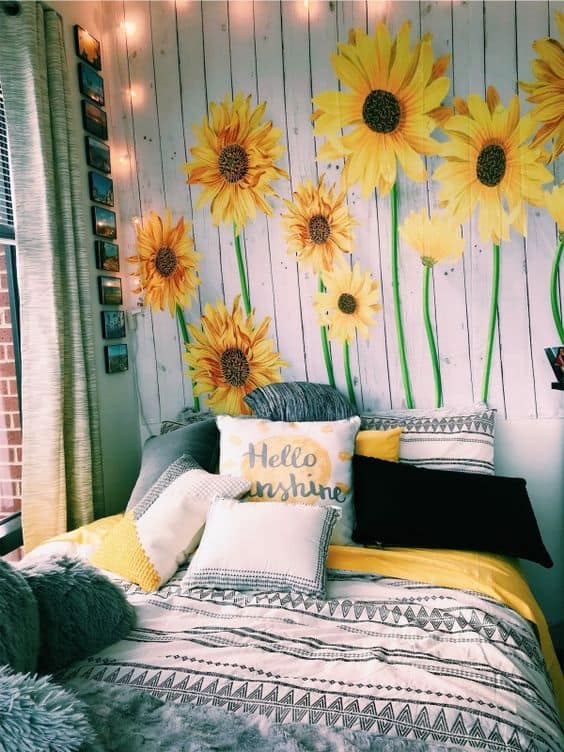 To introduce the sunflower theme to your bedroom, a sunflower wallpaper or sunflower wall decals nights come in handy.
You can quickly put them on the wall and remove them when you are done with the theme!
But to intensify the look, add a few sunflower colors around, say yellow and black, to create the perfect mood!
Or A Sunflower Christmas Tree?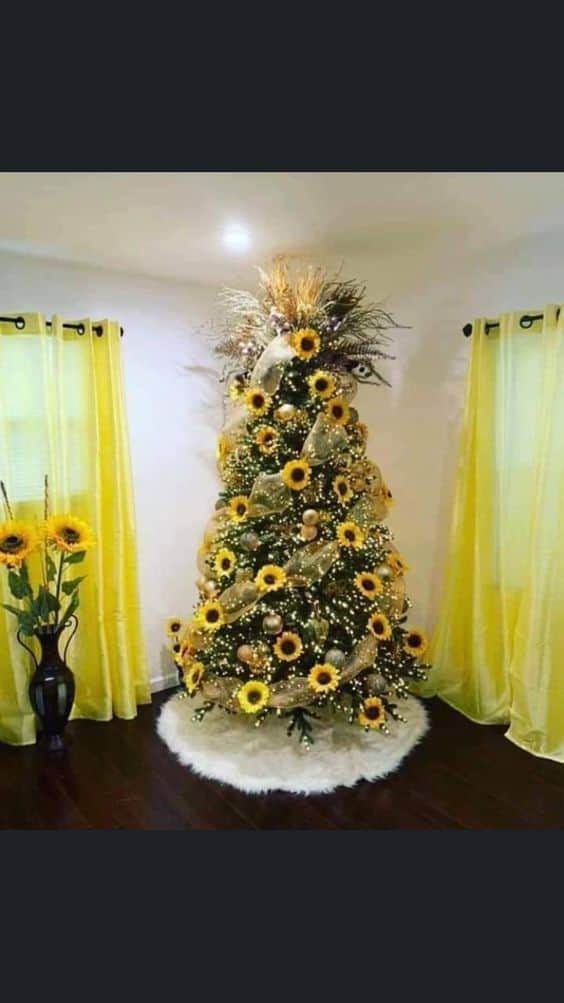 And if you are decorating a sunflower bedroom for fall, you won't go wrong with a lovely pine tree decorated with flowers.
It can be your signature decor and an attention grabber for all who visit!
But, just the sunflowers won't do. Add some other Christmas decorations to the tree to make it look even prettier and attention-grabbing!
Frequently Asked Questions (FAQs)
Are sunflowers suitable for fall decor?
Yes. Sunflowers are incredible fall decorationhey are yellow in color and usually bloom during early fall.
Also, since red, orange, yellow, and brown are some of the significant fall colors, sunflowers merge perfectly with the theme. They are a no-brainer when your fall decor is concerned.
Can You Decorate With Sunflowers All-year round?
Usually, sunflowers are a part of fall decor.
But then, it's your home, and you must decorate it the way you love, irrespective of the season your decor belongs to.
So, you can decorate with sunflowers all year round, if you like!
The Endnote
Whether you love sunflowers or want to decorate your bedroom for fall, sunflowers are perfect, and your bedroom is worth their beauty!
They bring the warmth, positivity, rejuvenation, and happiness much needed during fall, so you can't go wrong with them!
They are there as a popular decor for a reason, after all!
We hope you loved the sunflower room ideas in this post; maybe, they will help you with your sunflower bedroom decor.
Let us know in the comments which one was your favorite sunflower room idea out of all these!
Until next time, happy decorating!
Decorating Your Bedroom Anew? These Posts Might Help: