Now is the time to redecorate our bedrooms with this new neutral sage green color, which is everyone's favorite!
Since sage green is the new neutral, it is certainly there to stay! And it renders us with the exact amount of peace and serenity in our bedroom that we want! It makes our personal space FEEL personal and intimate.
Then, why wait to redo your space? Get going with these sage-green bedroom ideas that are nothing less than charming!
17 Sage Green Bedroom Ideas
If You Love Light Colors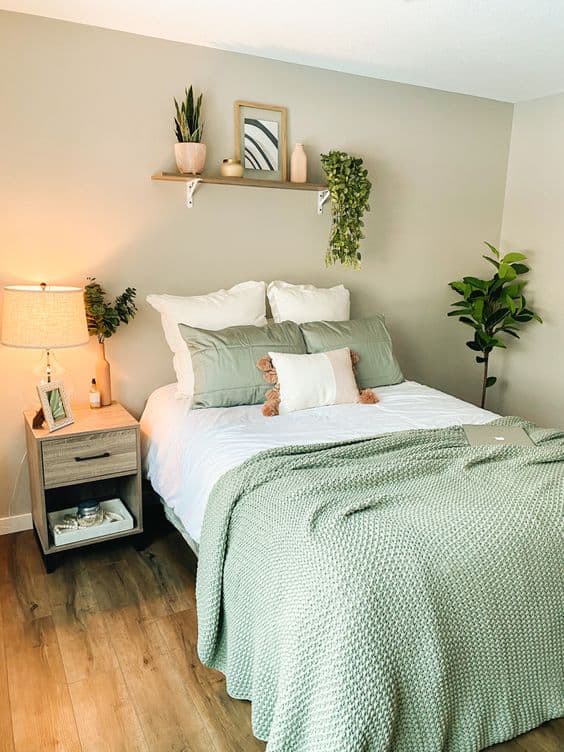 It is no compulsion that if you are going for a sage green bedroom, it has to be a dark color. No.
Just look at the image above. A tint of sage green on the wall is equally appealing and inviting. Plus, you can get all your walls painted in the hue if you wish. It's not going to age, after all. This color is there to stay!
That said, the plants and the floating shelves are worth copying for a look as simple and pretty as that. It isn't expensive to re-create, so it's worth taking a chance.
RECREATE THIS LOOK
Try A Throw Blanket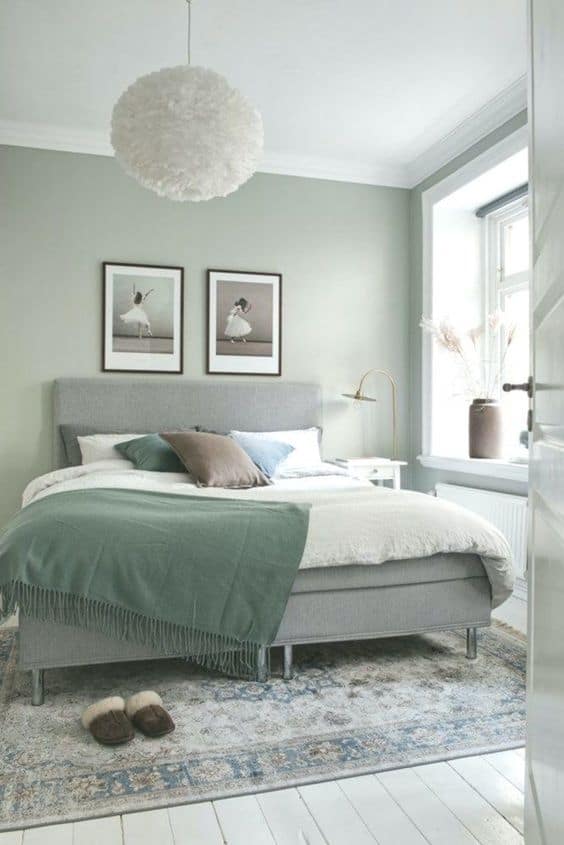 To add a pop of sage green color to your bedroom, you must try a throw blanket. It is an excellent way to add color to a space and remove it whenever possible.
This is your best bet for those whose minds keep changing regarding the interiors.
Recreate This Look
Match Your Bedding With The Walls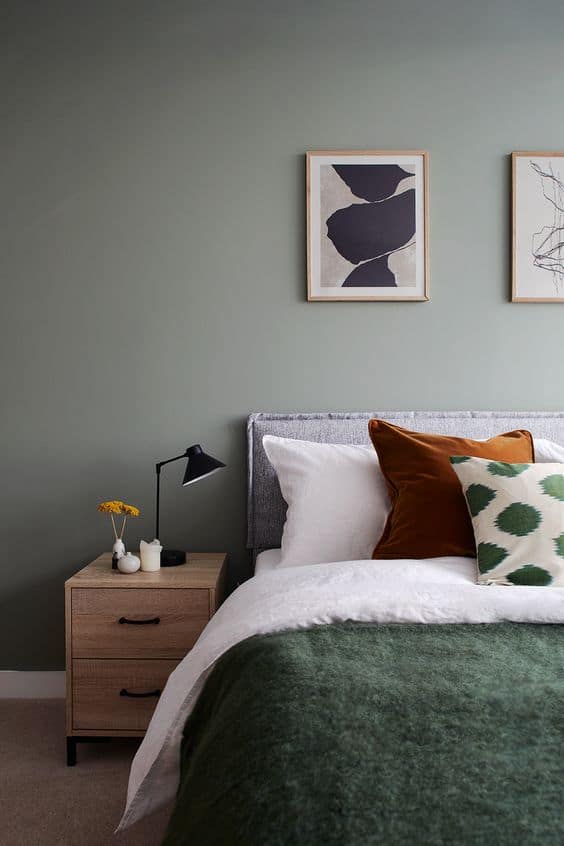 To get the pale green color to dominate, you can try having a monochrome color scheme where you use only the tints and shades of sage green.
To do that, you can buy dark sage green bedding, get your walls painted in a tint of the same color, add some sage green rugs, and some wall art of the same color would be ideal.
Remember that you don't want it to look overdone, so balance it with some white or beige.
RECREATE THIS LOOK
Sage Green And Grey Bedroom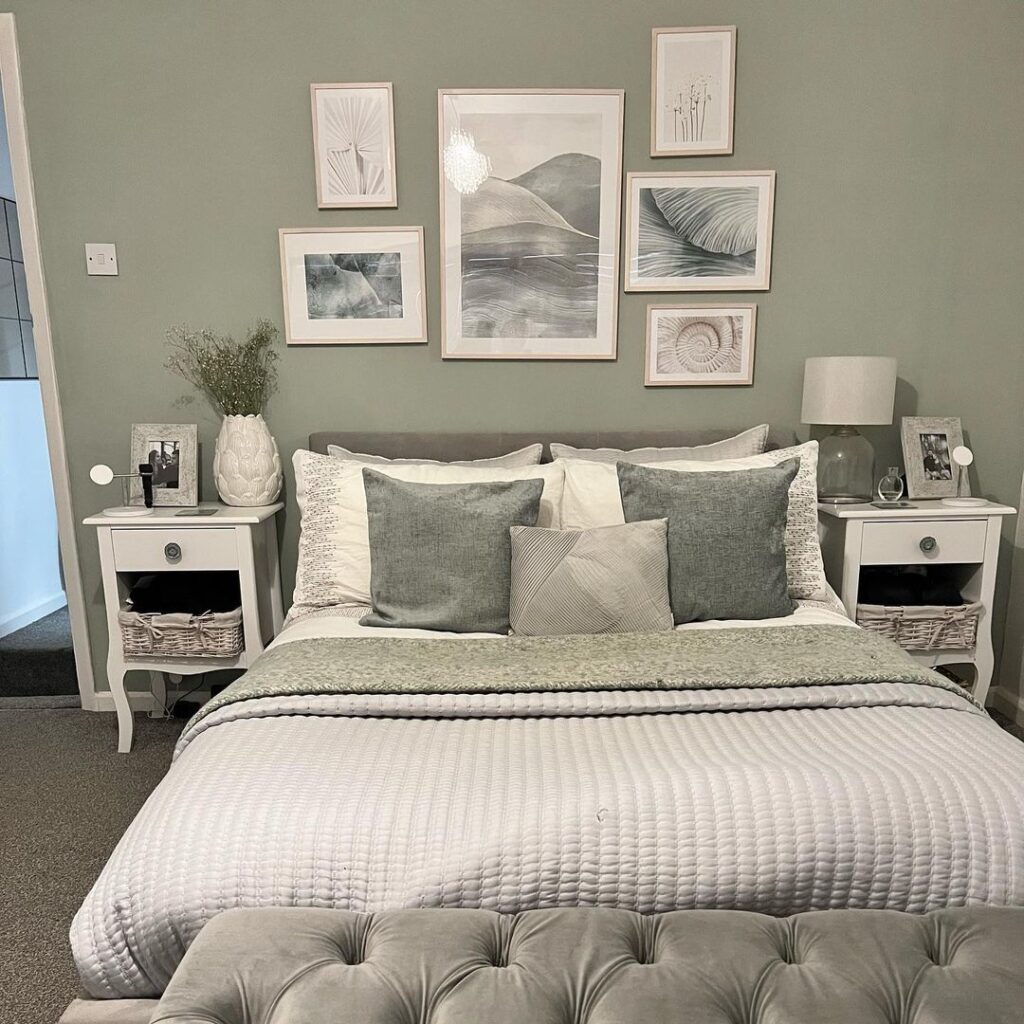 Although sage green is very close to gray, it still looks incredible when you marry these colors in a room.
To make it look balanced and carefully thought-out, you must have splashes of white or light colors. That could be in the form of wall art, rugs, throw blankets, or curtains.
But the focus has to be on how you can couple grey and sage green in a way that looks as fabulous as possible, and the design by @emilyjanehome_ is the perfect example!
Recreate This Look
Go Big On Sage Green In A Big Bedroom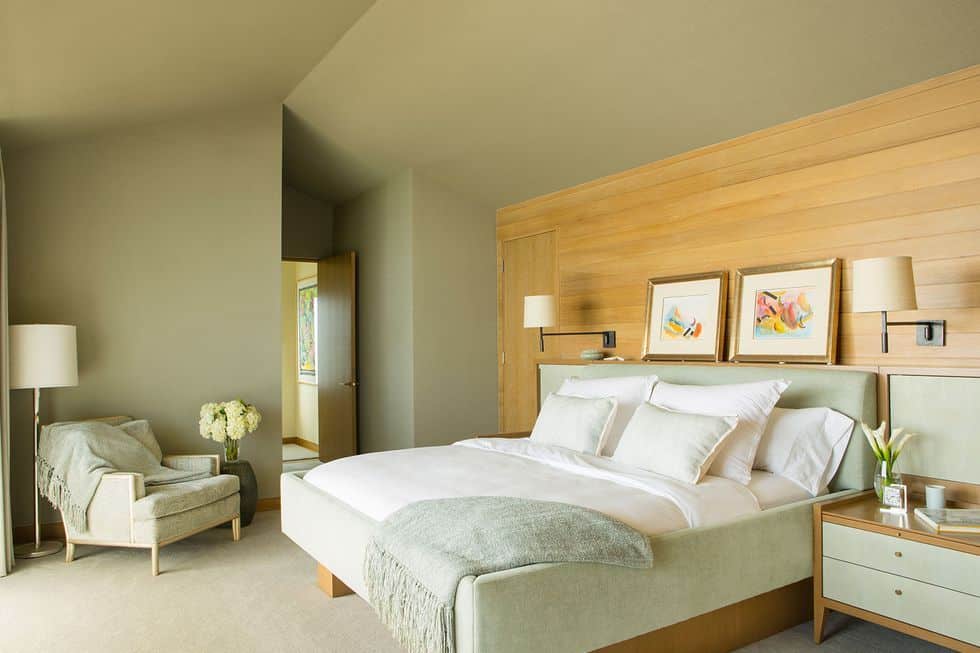 When you have a big bedroom with ample natural lights, then nothing can be a better idea than to have all your bedroom walls painted sage green like in the design by @warthenteamrealtors.
What makes this bedroom look modern and stand out here are the wall panels, agree? They are wood-like and marry very well with this green color.
Plus, this is a bedroom with slants in the walls, and nothing but this color can cradle it that gracefully!
Please don't overlook how much balance white brings in all this!
Recreate This Look
In Case Your Kids Love Sage Green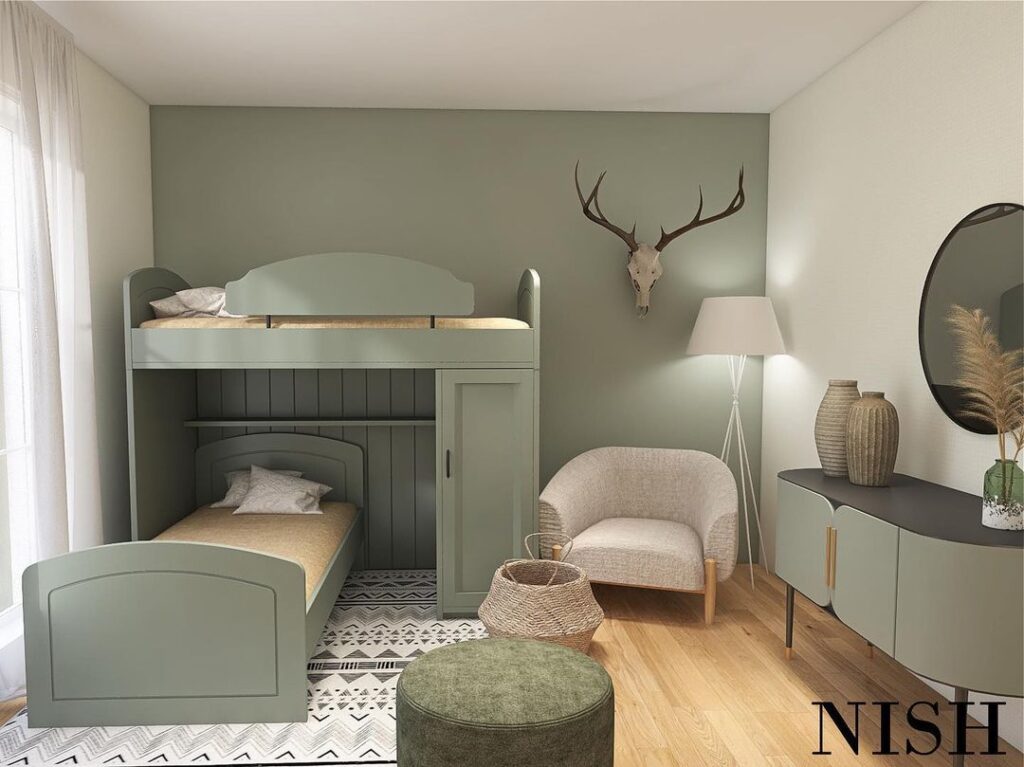 If your kids want a sage green bedroom, re-creating the design by @nish.edesign is your best bet!
There is just one wall accented with the color, and all other walls are white. The rest of the sage green color is creatively used on the bed, the dresser, and the ottoman.
So, if your kids want another color for their bedroom the next month (which isn't uncommon), you probably won't have to change the decor upside down. You can even let the wall color stay. It's neutral, after all!
Recreate This Look
A Small And Cozy Space Is All You Need!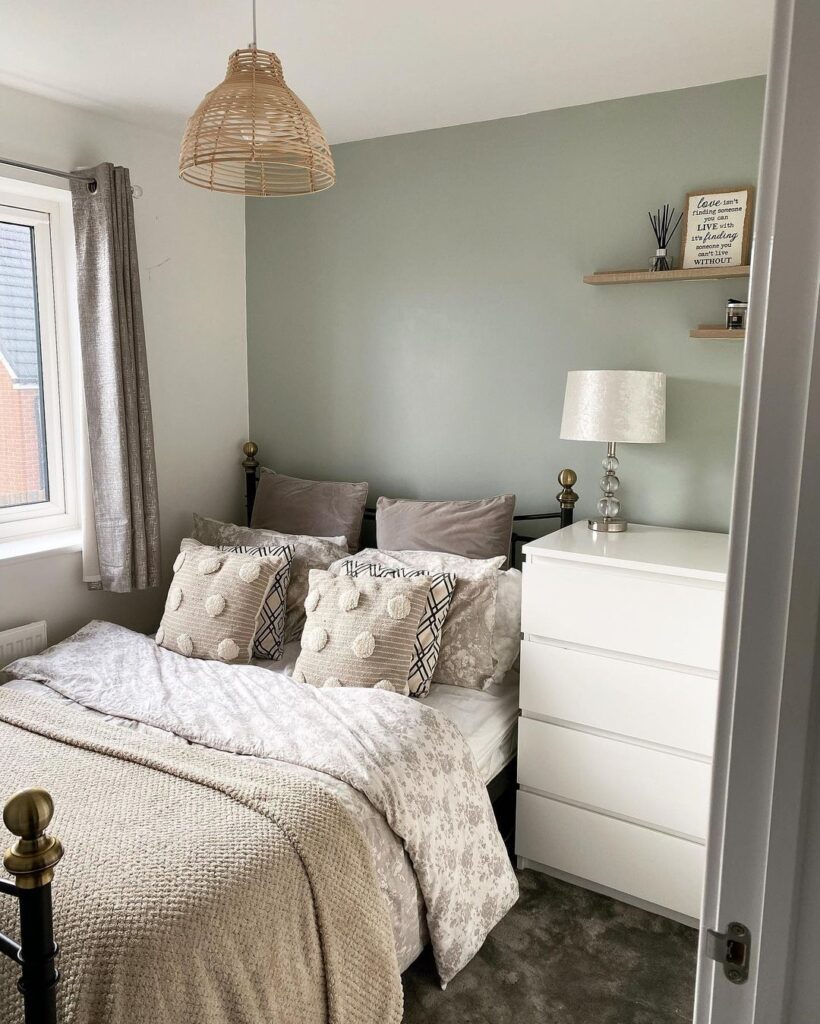 No problem if you have a small room. It is enough to be made into a pretty one, like the one above.
One sage green wall in the small room is sufficient to give it a cozy look; the rest is up to you how you want to place the rest of the things in the room.
Ideally, you'd place the bed in front of the wall and not clutter the rest of the room with a lot of stuff. Minimum is enough.
If a lot of furniture occupies the room, it will look cramped owing to the dark sage color and the scarcity of space. Try using light colors on the rest of the walls.
Recreate This Look
Color Blocking Is A New Way To Do It!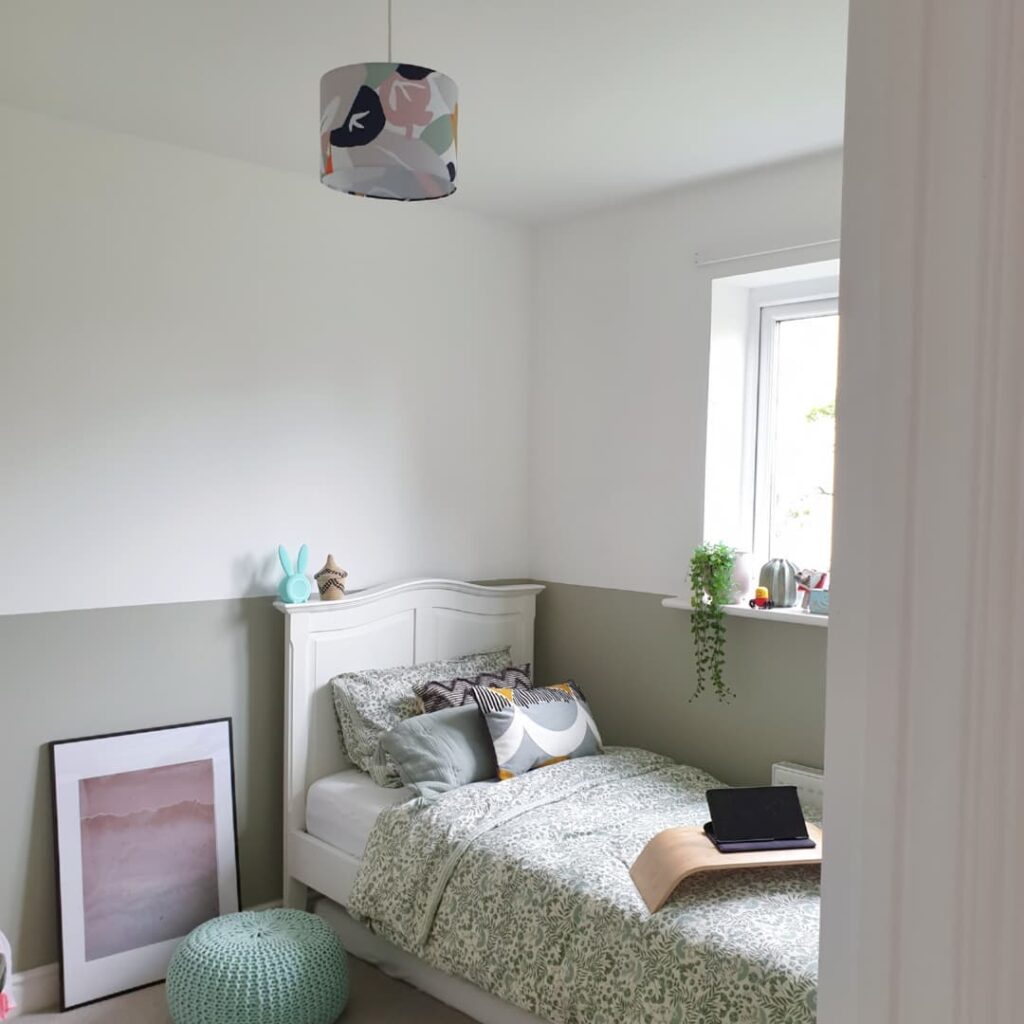 We can't get tired of praising how well white works in combination with sage green color! But it works better when you do the color blocking as @ambience_design_studio has done in the above design.
Using a sage green color in your bedroom might be modern, but sometimes, it makes the space look smaller than it is. The solution to it is color blocking, of course.
You can get the entire room painted in a light color and block the bottom part with sage green. To match it, choose the bedding of the same color. Simple! That way, it won't look overdone in any way.
Recreate This Look
Don't Forget To Add Some Plants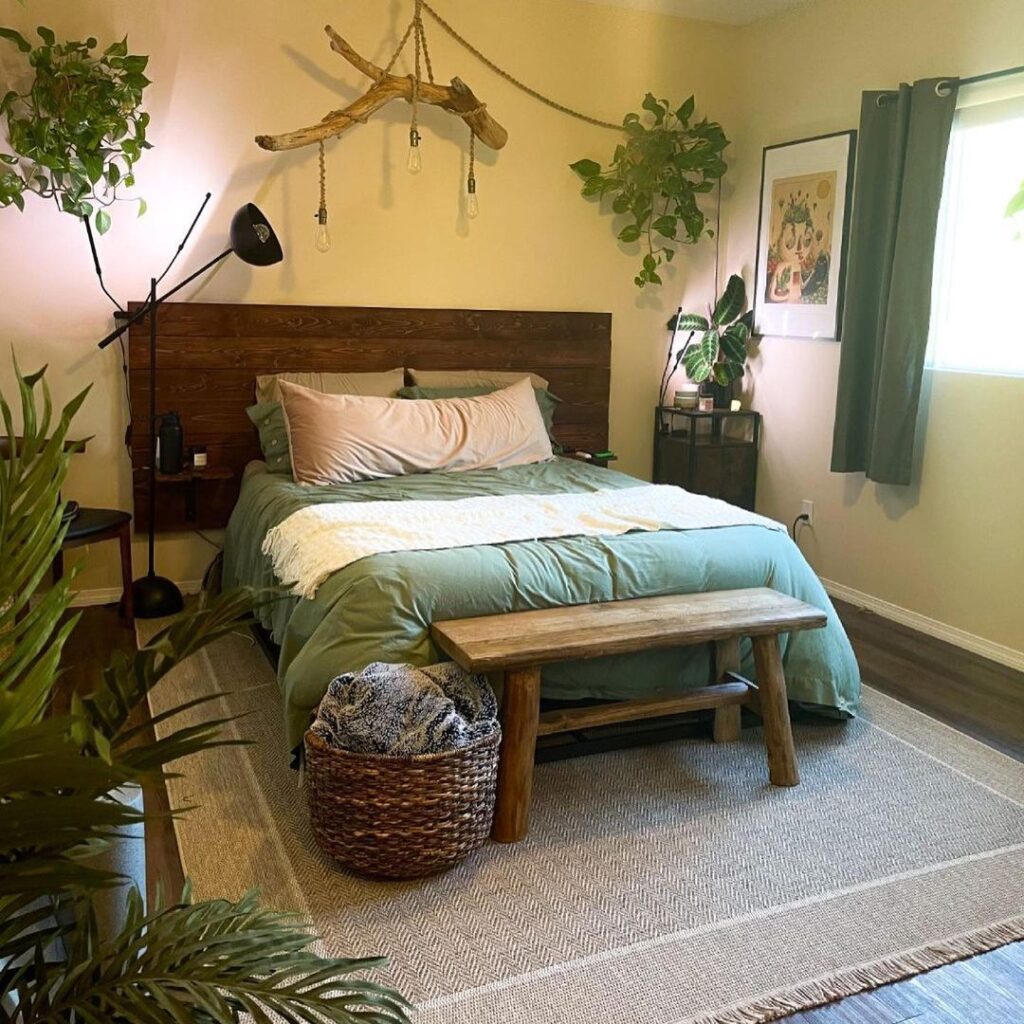 Sage green bedroom can give us the look of a forest-themed bedroom thanks to the green color.
If that's something you like, why not magnify the look with some plants all around the room?
Adding them won't just add a healthy and relaxed vibe to your bedroom but also make you get back to the naturality you belong to! It's always worth considering, you see?
Recreate This Look
Add Some Wall Art To Your Sage Green Bedroom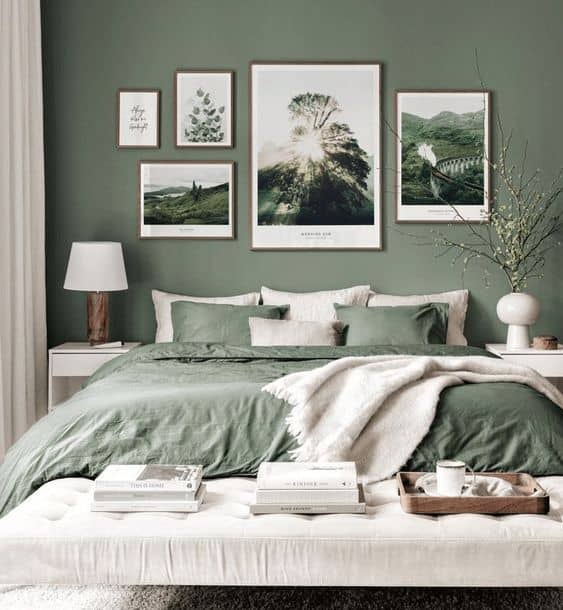 No room is complete without the wall art in place. If that is right, your decor stands out.
To match the color of your bedroom, you can add some sage green wall art to your bedroom, ideally above the bed.
To play a contrast, you might want to use wall art that is brighter, yellow, for example.
Whatever you choose, ensure that it looks good.
Recreate This Look
Wood Is The Best Practise
In the modern bedroom design by @scottage_doer_upper, wood is used in a very charming way.
This is primarily because the same color of the wood is used all around the room- on the cupboard, the floor, and the chest of drawers. If you closely observe, even the bedframe is the same color!
It is a perfect example that if budget allows or you can manage, use wooden textures with sage green! Nothing can beat the look it gives.
Recreate This Look
Consider A Dresser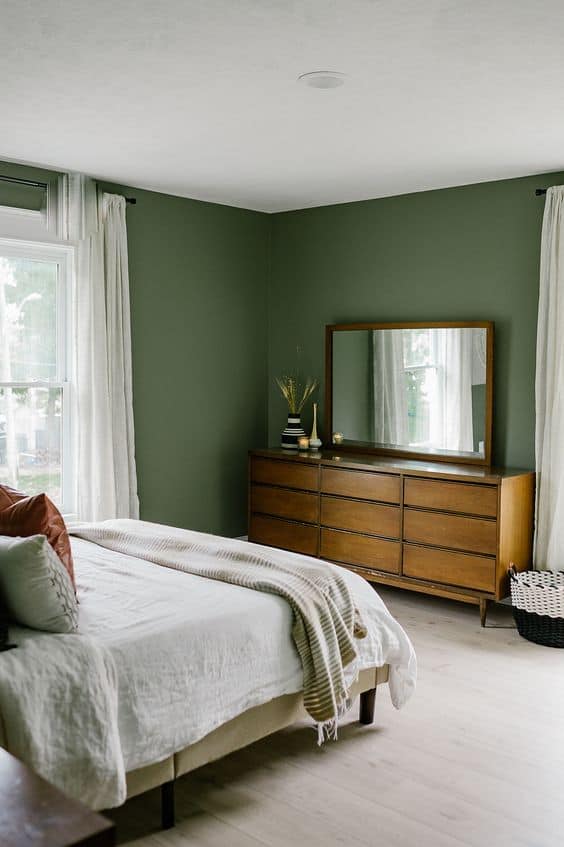 If you don't like gathering small stuff for your bedroom and want it to look neat and tidy, then this design from Miranda Schroeder is the one you want to look up to.
The design is nailed in a few big things, like the bed, dresser, and mirror. We can see tiny little things, which makes the room pretty easy to clean. Plus, a basket is something you might want to get your hands on.
That said, if you believe in Vastu, a mirror directly facing the bed isn't something ideal. So take care of that, please.
Recreate This Look
Give It A Japanese Touch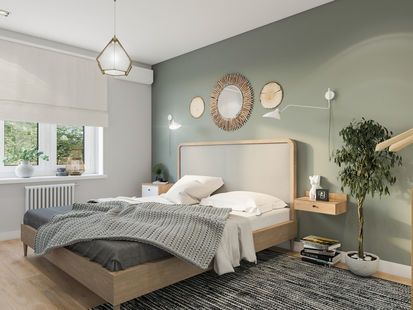 The zen bedrooms are the love of many. You might be one of them too.
For your sage green bedroom to look that way, you can use a low bed, some neutral and earthy colors, and some plants in the room, as in the image above. Don't forget a lot of natural light. It's crucial.
Although in terms of minimalism, the Japanese bedroom primarily focuses on this, this bedroom might be in some conflict. But a modern Japanese bedroom can look like that, so no worries going ahead!
Recreate This Look
Use A Canopy Bed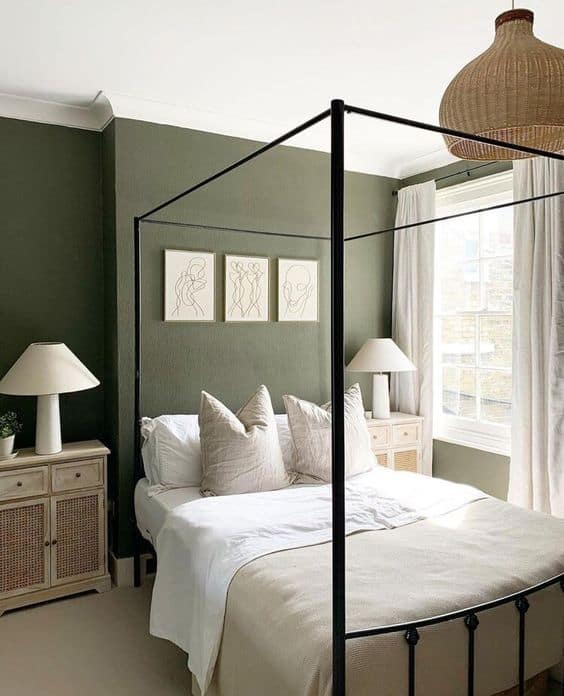 If it is a small bedroom that you want to color sage green or a bedroom with a slanted ceiling, a canopy bed can work wonders in enhancing the look.
Plus, if you intend to make the look cozier and warmer, try having nets around the canopy bed.
Coming to the colors, sage green always makes a room look smaller when used on all the walls. Suitable for a cozy feel. In connection to that, keeping the ceiling white is a good idea so it doesn't get a cave-like look. Natural light is a savior.
Recreate This Look
Having An Accent Wall Is Just Enough!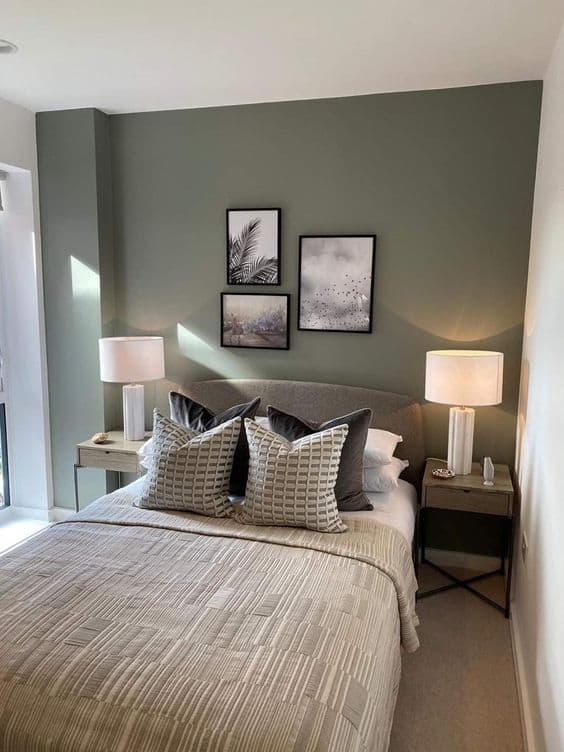 If you can just get just one wall in your bedroom painted in sage green, that can work fine. Take, for example, the above bedroom. Just one wall is colored, and all others are white.
After that, you can do the rest of the bedroom in other neutrals. That way, it will get a modern sage green bedroom look, and you won't go wrong.
Plus, in the future, when you would redo your bedroom in the 'then trendy' color, you can let the accent wall be. It is the new neutral, after all.
Recreate This Look
How About Giving A Scandinavian Touch?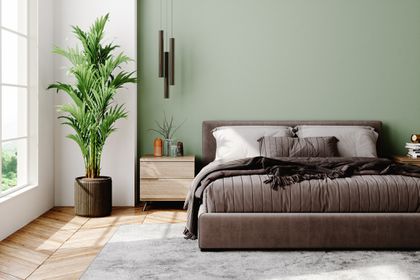 The Scandinavian design is as trendy as the sage green color is these days! So how about the fusion of these two?
You can borrow the minimalism and the plants from the Scandinavian decor. And you know what to borrow from the sage green bedroom, the color!
Try it out, and thank us later!
Recreate This Look
Wall Panels Can Do The Trick!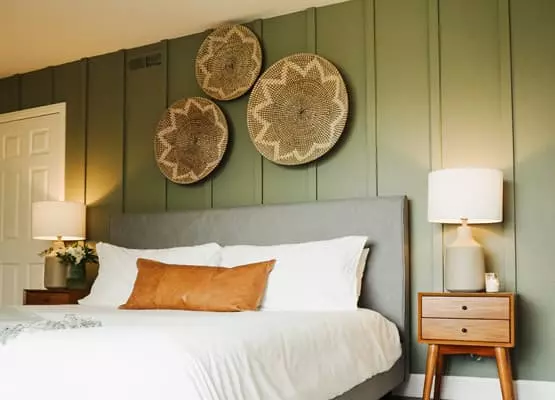 Wall panels are trending these days. And they can do the trick for you if chosen well.
Have them up on your walls and tada! Your bedroom has the color you want.
Plus, as in the image above, you can add a subtle boho touch to your bedroom, and it will be as good. What do you think?
Recreate This Look
Sage Green Bedroom Decor To Try…
Sage Green Bedding
Nothing can speak your theme as loud as your bedding can. Try this one to do just that!
Zen Mountains Canvas Painting
Are you a serenity lover? Then this wall painting is specially crafted for you. Don't let it slip.
Faux Fur Rug
Rugs can magnify the look of your bedroom more than anything else. Then this one is worth giving a try, right?
Sage Green Curtains
Let the light that enters your room be filtered sage green with these curtains! You have a sage green bedroom, tada!
Frequently Asked Questions (FAQs)
The Endnote
Sage green is trending for a reason. Owing to all the calmness and serenity, it brings to the bedroom. This color is there to stay!
So be creative and fearless while you work with it. It won't fail you!
Until next time, happy decorating!
Like Trying Different Colors For Your Bedroom? Here Are Some Posts That Might Help You: