When it comes to a vibrant bedroom, nothing can beat an aesthetic rainbow bedroom! Not just children but we adults to like it! Right?
After all, all the colors in the rainbow hit a chord in our psychology and make us better in one or the other way! For example:
Red makes us feel excited and passionate!
Orange instills joy in us.
Yellow is all about concentration and willpower.
If you want to relax, green is your savior.
Blue is the mother of trust and security.
And purple promotes richness and royalty!
When all these colors have such great effects on our psyche, how amazing would it be when they all are found together in a single room! Now that makes us imaginative!
And to cater to that imagination, we have for you 18 amazing ideas for the rainbow bedroom!
On we go.
How Can You Incorporate Various Colors In Your Room? – 18 Aesthetic Rainbow Bedroom Ideas!
Shots Of Colors On A White Base Is Pure Charisma!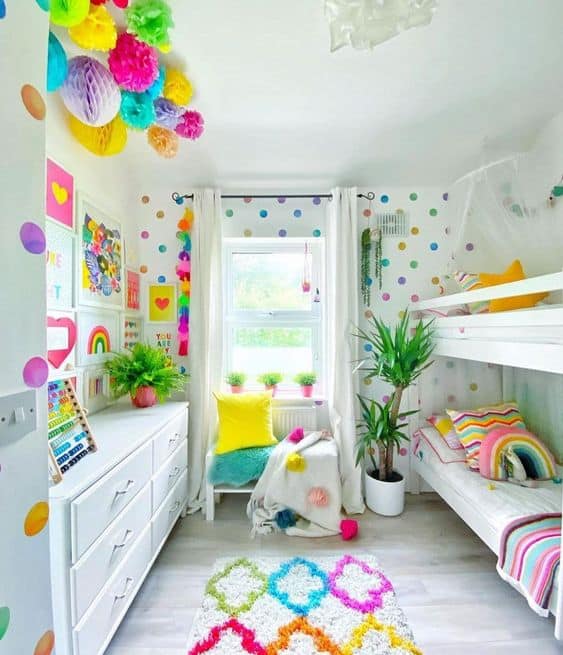 If you use all the rainbow colors liberally in your room, that might make it overly bright and uninviting, sometimes. That's why you need a base that can gracefully hold all of those colors.
In that case, what can be better than white? Try white as the base color and have colorful shots all around your bedroom.
In simple language, try having everything in your bedroom, white (especially the walls and furniture), and then have colorful decor, up! That's how you can easily create the look that's there in the image.
But, if you are creating a rainbow children's bedroom, then you want to resist using white! You know why. Try using another base then. Or we have other ideas following…use them!
Recreate This Look
The Wallpaper Can Get You That Aesthetic Rainbow Bedroom Look You Want…
The easiest (not the cheapest) way that exists to create any themed bedroom is by having a wallpaper that connects with it.
In this case, you can have colorful wallpaper on your bedroom wall to make it very rainbow-like and pretty.
If it's your child's bedroom you are decorating, what can do the work better than having cartoonish wallpapers? In the little girls' case, fairy wallpapers can make it a rainbow fairy bedroom! How creative is that! Your little one is sure to love the look!
Recreate This Look
The Lights Can Save You The Time And Money!
You don't need to break the budget to achieve any decor! And that's what these rainbow lights promise.
Even if you already have your bedroom set and love the rainbow, why not have a rainbow light in your bedroom so that you don't have to redo the bedroom and still, achieve that aesthetic rainbow bedroom look you want?
Now that's called beauty with brain, in decor.
Recreate This Look
A Rainbow Is A Must In The Rainbow Room!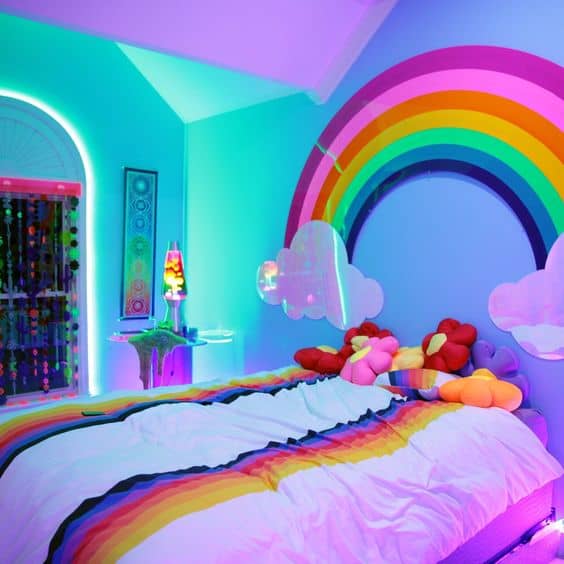 Okay! A rainbow bedroom without a rainbow? We're crazy or what!
If you can manage to get a rainbow art piece for the bedroom, there's nothing better than that. The walls can actually make or break a theme. Once you have them set, half your work is done. That's why you need a rainbow on the wall.
Now it's not necessary that you have an art piece up there. You can even get a rainbow painted. That's equally pretty.
And to give it a personalized touch, why not ask your child, which colors she wants in the rainbow? 😉
Now, that's interesting.
Recreate This Look
It's Not Compulsory To Keep It Too Bright!
Let's suppose it's not a kids' bedroom you are decorating, you are decorating a bedroom for yourself. And adults are famous for not liking bright colors! That's why we have this one up here.
You can have a wall painted with some dull colors and decorate the room in the same way. You have a rainbow bedroom now- a dull rainbow bedroom. Tada!
Recreate This Look
Colorful Bedsheet Is A Must!
Ok, we are trying to be too budget-friendly now, but…bear with us.
But we are assuming that your bedroom is already set and now, you want to give it the rainbow feel.
The easiest way? Change the bedsheet to something colorful. If you are designing a teen girl's rainbow room, this might be something you want to do. She would like the subtle colorful touch it gives and that won't overdo the room.
If it's a child's bedroom, having a colorful bedroom is the first thing they need. They'll absolutely love it.
Recreate This Look
Use Pastel Colors To Your Advantage!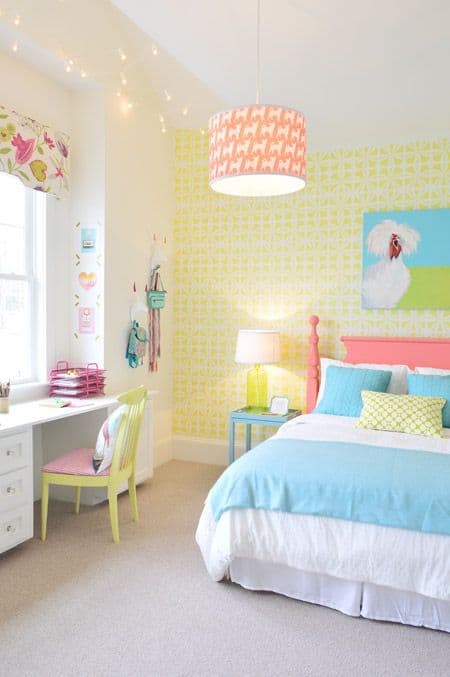 The rainbow-themed bedrooms are thought to be very bright and gaudy. But they don't necessarily have to be so!
Take for example the above image. You can use pastel colors to give your bedroom a subtle and decent look and still make it colorful. It'll now be a pastel rainbow room.
This, in particular, is great for grown-up girls as they don't usually like very bright colors. This can even make you very calm and peaceful as light colors are proven to promote peace and calmness within one. All to your advantage!
Recreate This Look
A Little Bit Of Colorful-Everything Is All You Need!
A touch of the rainbow in everything is the best thing you can do for your rainbow-themed decor.
It'll definitely take you time to pick and choose the best rainbow decor but imagine, you have a rainbow rug, a rainbow bedsheet, rainbow wall art, rainbow curtains, and some pretty tassels!
When everything depicts the rainbow, how on earth will you not achieve the look?
Recreate This Look
Colorful Wall Art Is A Savior!
Do you know what the best way of adding color to your personal space is? Wall art. Really.
When you know nothing about how to get your hands on the theme, the first thing to do is to get your hands on the wall art.
Once you have some colorful wall art up, have some colorful throw cushions and a pretty bedsheet. What else is needed after all?
Recreate This Look
Simple, Sweet AND Colorful…
This image has literally made us believe that simple changes in your bedroom can create a massive impact.
Don't want to make heavy changes? No problem. Just throw a colorful bedsheet, some multicolored wall art, and some matching pots.
All you need is that! The decor is not a big deal, you see?
Recreate This Look
Some Nice Throws And Pillows. Done!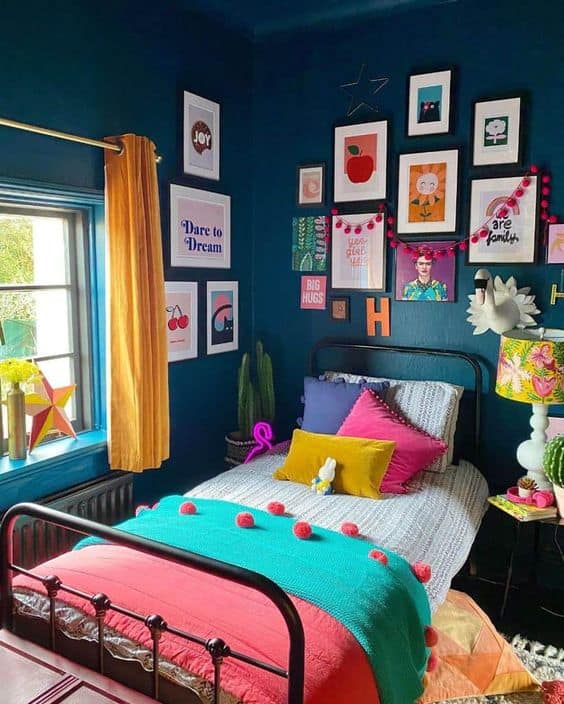 Apparently, the wall art of this room is the most prominent. But it is also true that we cannot afford to overlook the throw and the cushions when designing a multicolored room.
The first thing you notice once you enter a room is either the walls or the bed. That's why it's important that you keep your bed up to the theme.
And what can do that? Of course the throw and the cushions, man!
Recreate This Look
How About A Rainbow Ceiling?
Okay! So we have talked about the walls, the bed, the decor, etc etc etc. But what about the ceiling? It can really turn the look of your bedroom upside-down!
Take for example the above image. You just don't need to change anything in your bedroom and just get the rainbow painted! How easy can that be! It's creative and the moment your little girl lies in bed, she sees the rainbow. Surely, magic is done.
Recreate This Look
Use Wall Decals To Make It Work!
Wallpapers and wall-painting can be expensive. BUT why waste money on it when we can do it in a cheaper and smarter way?
Long story short, use wall decals (wall stickers.) They can create a big difference and they won't cost you a bunch of money.
And since your child might want a rainbow-inspired decor today and a LEGO bedroom tomorrow, it's safe to use wall decals. At least they won't cost you so much money and mental health 😉
Recreate This Look
Multi Color Pots Are Not A Bad Idea!
Surely, the attraction of this room is its wall art. But you know what? The pot on the left is equally amazing. After all, it gives us one more creative idea as to how we can incorporate the rainbow bedroom decor in the best way possible, to our own bedroom.
And there is one more positive. If we have a pot, we'll have plants! Two amazing benefits- decor and health.
Go ahead with this. And thank us later!
Recreate This Look
How About A Boho Rainbow Bedroom?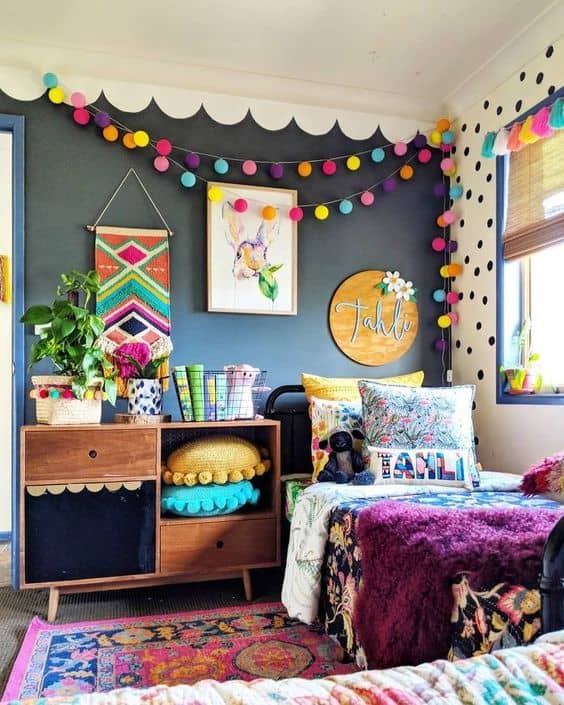 Certainly, a boho-style room is everyone's favorite these days! And especially when it is colorful, its beauty cannot be paralleled!
To achieve that look, use multi-colored heavy textured fabrics all around the room and you are almost done! The trick is to choose the right and pretty fabrics that lace well together.
Recreate This Look
Books Can Be Your Friends, Even In Decor!
If your child is keen on reading books, why not use books to make his bedroom into a rainbow room?
Out of all the rainbow decoration ideas for kids, this one is one of the best. It'll not just make the decor better but also they will feel good about the books and read them.
Certainly, books are not just your best friends in terms of life but also in terms of decor!
Recreate This Look
The Colorful Furniture Is Your Best Friend, For The Rainbow Theme!
Since we are talking about all the best friends out there, how not mention the colorful furniture?
One thing is clear, no matter what theme you have chosen, furniture is what distinguishes one from another. In Japanese theme, furniture is different, in a kawaii room, it's different, in a boho room, it's different, in a fairy-themed interior, it's different and certainly, it's bound to be different in a rainbow room as well!
Different in what sense? The colors of course. So whenever you go for buying the furniture for a multi-colored bedroom, go for some colorful furniture. That makes sense.
Recreate This Look
Don't Forget The Curtains In All This Excitement!
For themed bedrooms, you ought to be a fan of the fabrics! And what in fabrics can be better than the curtains?
Long story short, if you can, try using colorful curtains. Your kid (or maybe you!) would love it!
Recreate This Look
How About A Unicorn Rainbow Room?
You cannot separate the rainbows from the unicorns. After all, they both mean magic!
So why not get your hands on a unicorn rainbow room? That'll add double magic to our rainbow decoration ideas, won't they?
Recreate This Look
Rainbow Bedroom Accessories You Need To Get Your Hands On!
Foam Area Rug
Not just the sky but the floor too deserves to be colorful with this colorful area rug!
Rainbow Doormat
Let anyone who enters know, that it's a rainbow room by placing this mat on the entrance!
Ultra Soft Area Rug
If you are going for a pastel rainbow room, what can beat this area rug?
Rainbow Printed Bedsheet
We are not tired saying, that the bed is the first thing you notice the moment you enter a room. You can't afford to make that look bad! So buy THIS bedsheet. Simple.
Unicorn Rainbow Bedsheet
Here is a bedsheet that's as cute as your kid. Why not get them together?
Multicolor Bohemian Gypsy Bed Cover
Okay! Straight talk. This is too pretty to overlook, right?
Rainbow Bedding Set for Kids
What can impress your little girl more than this subtle rainbow bedsheet?
Rainbow Wall Art
The wall is as important as a bed. Don't let it empty or you lose the look. Why not fill it with these pretty wall art pieces that ensure learning for your kid, at the same time?
What's the rainbow without some lights? Nothing. Well then, this is exactly what you need.
Rainbow Fairy String Curtain Lights
The curtain must be stylish! And they'll define the room. What's better than these, in that sense?
Rainbow Projector Lamp
Rainbow doesn't just belong to the sky anymore. Bring it to your bedroom with this.
Multicolored Decor
Decoration is what can make your little girl excited! To add to the fun, these decorations are what you need.
Rainbow Curtains
Want simple curtains with a rainbow feel? Here you are.
READ NEXT: