Unconsciously or consciously, we've all fallen for a kawaii bedroom owing to their cuteness and the inviting feel!
There is such an artistic feel and beauty in these bedrooms that none can get his eyes off it! Even we couldn't! We are pretty sure, it's your dream bedroom too! That's why we have brought for you, this post which is LITERALLY an A to Z GUIDE TO KAWAII BEDROOM DECOR!
You need not look anywhere else now. Here are the 13 most amazing kawaii bedroom ideas, and a very comprehensive guide as to how you can make a cute kawaii room for yourself? At the end of it, you will also find a list of products you might like buying for your kawaii space so that it achieves a totally different dimension!
Without much ado, let's delve into this cute and creative space but before that…
What exactly Is A Kawaii bedroom?
In Japanese, the word 'Kawaii' means 'pretty and cute'. So understandably, anything that's cute and pretty is Kawaii. And if your bedroom is cute and pretty, it's a Kawaii bedroom!
Simple, right? Now you can add some cute stuff to your bedroom to make it look cute and pretty and thus Kawaii.
The biggest advantage of the Kawaii bedroom decor is that you don't have to redo your bedroom from scratch. Adding cute things would do. That's why it's not tiring but fun!
To add to that fun, we have compiled some really pretty (and cute!) Kawaii room ideas that you can refer to while you create your very own, Kawaii bedroom! Let's get started…
13 Kawaii Bedroom Ideas
It's Usually About Maximalism!
Although it's not a rule of thumb, what can usually be observed about the kawaii theme is that it is usually about maximalism.
So if you are aiming for it, the first thing you want to consider is getting comfortable with having a cute yet maximalist room decor.
For reference, you might want to consider the above image. It's cute, it's pretty and it's maximalist. That's an advantage of this theme, that you can add pretty much everything you like and comfortably get away with it!
RECREATE THIS LOOK
And Cuteness Overloaded!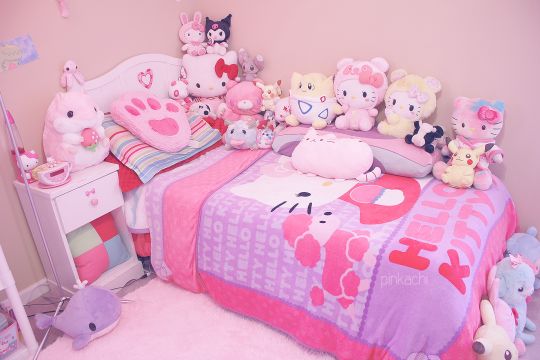 Accept it or not, we all have our hearts on the kawaii style because of its cuteness!
You can achieve it with a lot of plushies around your bedroom. They can flood your bedroom with all the cuteness in the world like they are flooding the above image with it!
RECREATE THIS LOOK
Pink Is The Goal!
Kawaii is especially the preference of girls. And what other than pink can win their hearts?
If it is subtlety and softness that you want to achieve in your bedroom decor, we highly recommend that you go for a pink room.
But pink is not compulsory! There are a whole lot of colors you can go after and achieve the best decor! You can find more about colors in the next section of this post where we tell you about how you can make your bedroom kawaii…
RECREATE THIS LOOK
Kawaii Wall= Kawaii Bedroom!
The moment we enter a room, we notice one of the two things first. It's either the wall or the bed.
In this image, both are prominent. But we want to particularly focus on the wall.
In your kawaii space, you must decorate the wall as brilliantly as possible. Here you can use, faux greenery, collages, and printables or quotes. Do the wall and you are halfway through the decor.
RECREATE THIS LOOK
It Can Be Simple AND Kawaii Together!
Yes! We talked about maximalism but who told you that it cannot be near minimalist and kawaii? It can very well be! like in the above image.
For achieving such style, you much go for pastel colors first and a cute bed second. To add to that, some plushies, wall art, and cute lighting! Done.
RECREATE THIS LOOK
Monochromatic Color Scheme Rocks!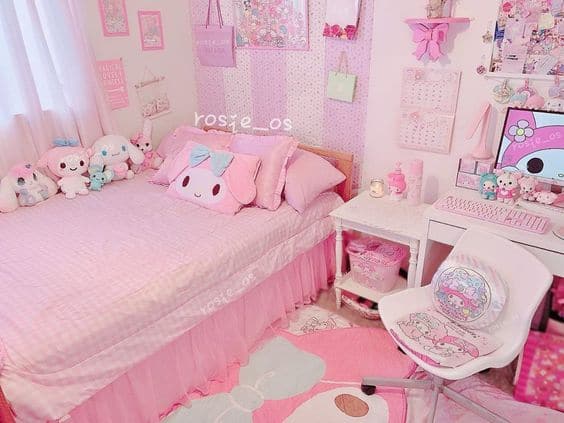 For your bedroom to look kawaii, it's best that you use a monochromatic color scheme.
That, we are sure, will create the bedroom of your dreams. It'll create a peaceful space and you'd love to spend time there. Just try it. But don't forget to stick to the kawaii color palette.
RECREATE THIS LOOK
Lights Will Steal Your Heart…
It's so unsurprisingly surprising that lights can create such a profound effect on the overall look of your bedroom.
Use them to your advantage. The ways in which you can do that is by installing some accent lights and some forms of cute lighting like bunny lights or kitty lights. (You can find super cute lights and stuff at the end of this post.)
Once the lights are set, you will find that half of your work is done! And surprisingly, you have started to love the look your bedroom has started to take.
RECREATE THIS LOOK
Anime Is Cool!
As anime is seeing a steep rise in its popularity, why not give it the space it deserves in our bedroom decor?
You can very well choose a theme in your kawaii style decor and get away with it very smoothly. It can certainly be anime as well.
To add that, you can use that screen on the wall and that little TV on the table. They are a great idea! And you of course remember the plushies!
RECREATE THIS LOOK
It's Subtle And Girly 🙂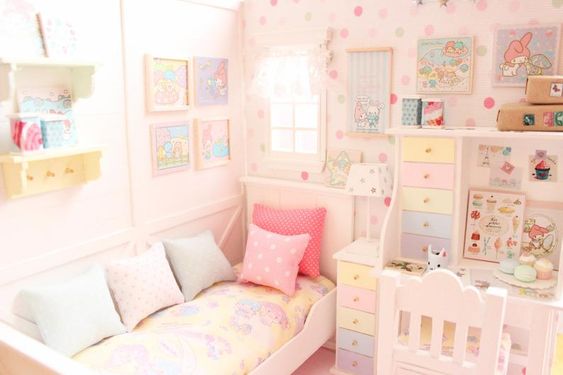 Kawaii style is all about it being subtle, cute, and girly. That's why pastel and muted colors go so well with them.
It is amazing how you can use one color (pink in this case) as the base and use splashes of other pastel colors to make it look even prettier and better. And don't forget to take a look at the bed design. It's flawless!
RECREATE THIS LOOK
The Chubby Beddings Are Calling You!
There is nothing in a bedroom that can be cuter than chubby beddings! That's why it is important to use them when you are aiming to design a bedroom that is kawaii.
If it is a general kawaii style you are aiming for, it is practical that you go for subtle and sweet colors and good prints. But when you have a themed bedroom like anime or 'hello kitty' then you would want to consider having those prints on your beddings. Now that's called 'taking the decor to the next level!'
RECREATE THIS LOOK
The Mood Lightings Are Set!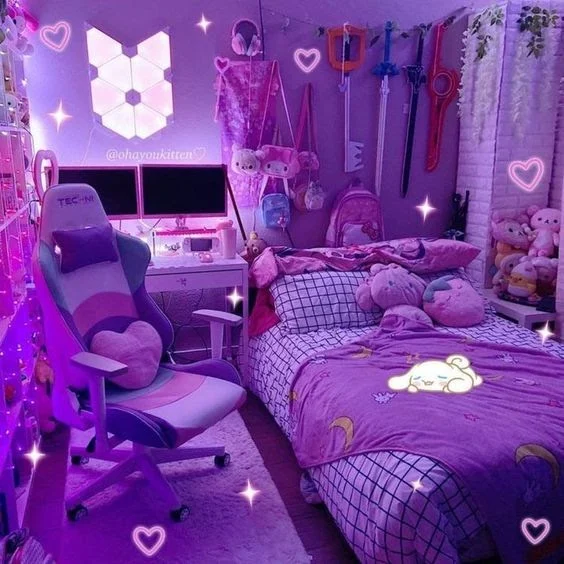 We have already talked about how you can use lighting in your kawaii room but since this image looked pretty, it's here.
But don't you think, accent or neon lights can set the mood of any space? They definitely deserve a place in your bedroom!
RECREATE THIS LOOK
A Splash Of Black… Is Elegant!
Although black is not very recommendable when you are designing a bedroom that's kawaii but what's stopping you, after all?
If you want the look of your room to be somewhat girly and somewhat classy, having shots of black in your bedroom is the way out. This image is the perfect example of that.
RECREATE THIS LOOK
Chandeliers Are A Cherry On The Top!
Since lights and decor play such an important role in the look and feel of our bedroom, it is of extreme importance that we give 'extreme importance to them. One way to do that is by using chandeliers.
They are the representatives of beauty and class. That's why they must have a place in your beautiful and classy bedroom.
RECREATE THIS LOOK
You Don't Need A Whole Lot Of Stuff To Make It Kawaii!
Of course, you don't need to spend a whole lot of money to change the look of your room.
Spending some amount can do. Just look at the above image. Everything there is simple. Just the attention to the color and throwing in some plushies has done the magic!
But that's not all! There's a lot you can learn about designing a bedroom in the kawaii theme. Let's find out…
RECREATE THIS LOOK
How To Make Your Room Kawaii?
Before you get your hands on anything kawaii for your bedroom, the first thing you want to pay attention to is the color scheme you most like that conforms to the kawaii standards.
Once you have the color scheme in place, it's quite easy to bring everything else together or you would waste a lot of time choosing all the kawaii stuff for your room. Once you know the color you want, you know what to pick and what to throw.
But but but, not to select any color that is not pleasing to the eye. The hack is to go for muted, soft, and pastel colors like baby pink, very light turquoise color, or a very muted yellow. You can couple any color with white for your kawaii room and you are sure to go right!
So before anything, CHOOSE the color scheme that you want for your bedroom.
A Room Theme Might Be Something You Want To Consider
When it comes to the kawaii-themed bedroom, you have a lot of themes to go after like hello kitty or anime. Although that's not of any crucial importance. Just in order to give you an idea that you can do this, we thought of adding this here.
So, if you are planning to abide by any theme, choose one that is cute and bubbly. That way, you won't have to put a lot of effort into making your space, cute and pretty. Because it already is.
One thing that needs repetition is that it is NOT compulsory for you to have any micro-kawaii (is there a word like that?) theme. You can do it as you wish. This is just an option.
And The Walls?
Now that you know the color scheme and the theme of your room, it is time to pay attention to the walls.
The moment you enter a bedroom, the first thing you take notice of is either the walls or the bed. That's why they are important. So, in order for the walls to match the color scheme you have chosen, they must be painted in that color.
You will be on the safest side if your walls are white in color as it goes well with all the other colors. Even though you already have dark walls and don't plan to get them repainted soon, no worries. You can still go for a kawaii theme.
The one thing you want to pay close attention to is that there are not a lot of contrasts in your bedroom. That'll ruin the look!
The last thing, since you have a theme in mind (if you do), you might as well want to go for kawaii wallpaper as your kawaii bedroom background. That certainly will take your room decor to the next level!
Choose The Furniture That Conforms To The Theme And The Color Scheme
Okay! So this one is pretty understandable. To achieve this step, all you have to pay attention to is the look and color of the furniture.
Since furniture forms a very crucial factor in your interiors, you must be very careful while choosing one. In this case, you want to go for cute furniture such as that shown in the reference image.
If it is wooden furniture you want to go for, go for the colors that do not ruin the overall look and feel of your kawaii-style bedroom. It must enhance the look, not distort it.
And let's suppose you already have the furniture in place and are not planning to change it to something kawaii, you can use cute-looking upholstery. That way you don't have to spend much and can create a bedroom with cheap kawaii bedroom decor! Tada!
Choose The Chubby And Cute Beddings.
In the above section of '13 kawaii bedroom ideas', you might have noticed that most of the kawaii room designs have in them the same element- cute and chubby beddings.
They give your space an inviting feel. And that's exactly what we want in a kawaii space.
So, if you are planning to get the bedding, make sure you get cute and chubby ones.
Also, don't forget to choose wisely the prints on your bedsheets. They should go well with the color scheme of your room. Because we don't want contrast, remember?
Get The Room Decor In Place- Plush Toys Are A Must
We never want the kawaii theme! We want the cuteness that it accompanies! Right?
That cuteness is brought to us by the cute kawaii room decor! And the essential part of it is the plushies. How beautifully they flood cuteness into a room1
So be sure you add enough plush toys to your bedroom. Keep in mind that they go with your color scheme and your theme. For example, if you have a 'hello kitty theme', you might want to get 'hello kitty' plushies only.
If you do not have a theme, you might go for any plushy toy but keep in mind, it goes well with the color scheme you've chosen.
Plus, when we are talking about room decor, we can't afford to overlook the wall decor either.
For the walls, you might want to go for that popular collaged walls or the posters of your favorite anime characters, or some good printables that you can buy from Etsy or somewhere else. There are a whole lot of ideas you can use for your walls. It's about creativity. One is fairy lights 😉
Remember The Curtains?
Curtains just can't be overlooked! They are so important.
For a kawaii room, sheer curtains are preferable. They give a very decent look and soften the lighting in the room. But they are not a compulsion. So long as you get better curtains that go pretty well with the color scheme of your room and the theme, you can freely overlook them.
But the major elements you need to focus on, while you choose the curtains are the colors. Don't buy very gaudy colors but make sure that they look cute and subtle.
Time For The Lighting
No room can get the charm it deserves if the lighting is not proper. That's why it is of crucial importance that we pay good attention to the lighting.
There are various lights you can use. One way to give it a kawaii look is by using cute lighting like the ones shown above. There are various lights like moon-shaped lights, strawberry lights, star lights, and many others that you can use to the advantage of your theme.
Another way to use lights is the mood lights that can make your kawaii bedrooms aesthetic.
It depends on how you want your bedroom to look, exactly. But lights, are a must! There are a few of them we've listed in the next section about the kawaii bedroom stuff. We're sure, you'd love to check them out.
The Kawaii Room Decor You Would Love!
Cute Nightlight
When such a cute lamp is around in your room, how will your bedroom not look kawaii? Grab this cutie HERE.
Bunny Night Lamp
Since kawaii bedroom decor is all about keeping it all cute and pretty, this bunny lamp is one the cutest things you would add to it! Click here to buy it!
Fluffy Doorway Curtains
Having these doorway curtains is a clear indication of a 'kawaii bedroom' the moment you enter! Get them here.
Pink Soft Rug
Since we are seeking that soft and beautiful look and FEEL for our kawaii room, this fluffy rug is what we all need! Buy it here.
String Lights For Wall
As we've already said, lights can make or break the look of your room, why not use these pretty lights that are sure to add beauty to your kawaii bedroom decor? Buy these fairy lights here.
The Star String Lights
Didn't like the simple fairy lights? Well then, use the intricate ones like these! It's all about creativity! Buy theme here.
A Pink Cartoon Duvet
The importance of using cute bedding in a kawaii-themed room cannot be overstated! That's why it's important that you use a chubby duvet like this one in your bedroom. You can buy this one here.
A Cute And Pretty Dustbin
You don't want to see your bedroom dirty, right? That's why you need a dustbin lest all your hard work should go to waste! How about buying this one? It's cute and very kawaii looking! Buy it here.
A Paw Seat Cushion
Where are you looking for cuteness when it's all in these paw seat cushions? Get them right here.
Cute Mushroom Plushies
Why do you need to stuff your bed with a lot of pillows when you have some cute plushies to throw in? Get these cute little plushies HERE.
Some Cute Succulent Pots
Add some cute plants to these cute pots, and what you have is 'healthy cuteness!' Now that's a masterpiece! Buy these here.
A Colorful Moon Lamp
When beauty means 'the moon', bring it to your bedroom. Steal it here!
The Star Lights
Because the moon is incomplete without the stars…Get this here.
Mushroom Night Lamps
Now here are the mushrooms you don't need to eat! But you want them! Get them here.
Kawaii Star Projector
What can me more kawaii than some colorful stars in your bedroom? It's made easy and affordable with this cute star projector! Have a look at its magic HERE.
Colorful Heart Area Rugs
Nothing can say kawaii and cute more than these heart-shaped area rugs can! Get them here.
Kitty Night Light
Here is a kitty that is as cute as your kitty but the only difference is, that you can switch its colors with just a tap! It's pure magic. Buy this here.
Like designing pretty bedrooms? Check these out: