Color dictates a room so much so as the lighting and other decors. This idea is quite easy to grasp, for sure. But in the case of a teenage girl, no!
When you are choosing colors for a teenage girl's room, you've to keep in mind her adult side and her childish side. Her love for her then-favorite pink and her now-favorite black and white! Her tastes are changing and so is she…
Tough to understand, we know. But that's how it is.
To make things a piece of cake for you, we've got some awesome color recommendations for a teen girl's bedroom, right here, that she is going to fall in love with, at first sight!
But before we begin, make sure you share this post with her, too. At least, she can choose her favorite bedroom color for herself! That's your safety zone.
Here we go.
25 Colors For A Teenage Girl's Room
A Monochromatic Dusty Pink Room Is One To Die For!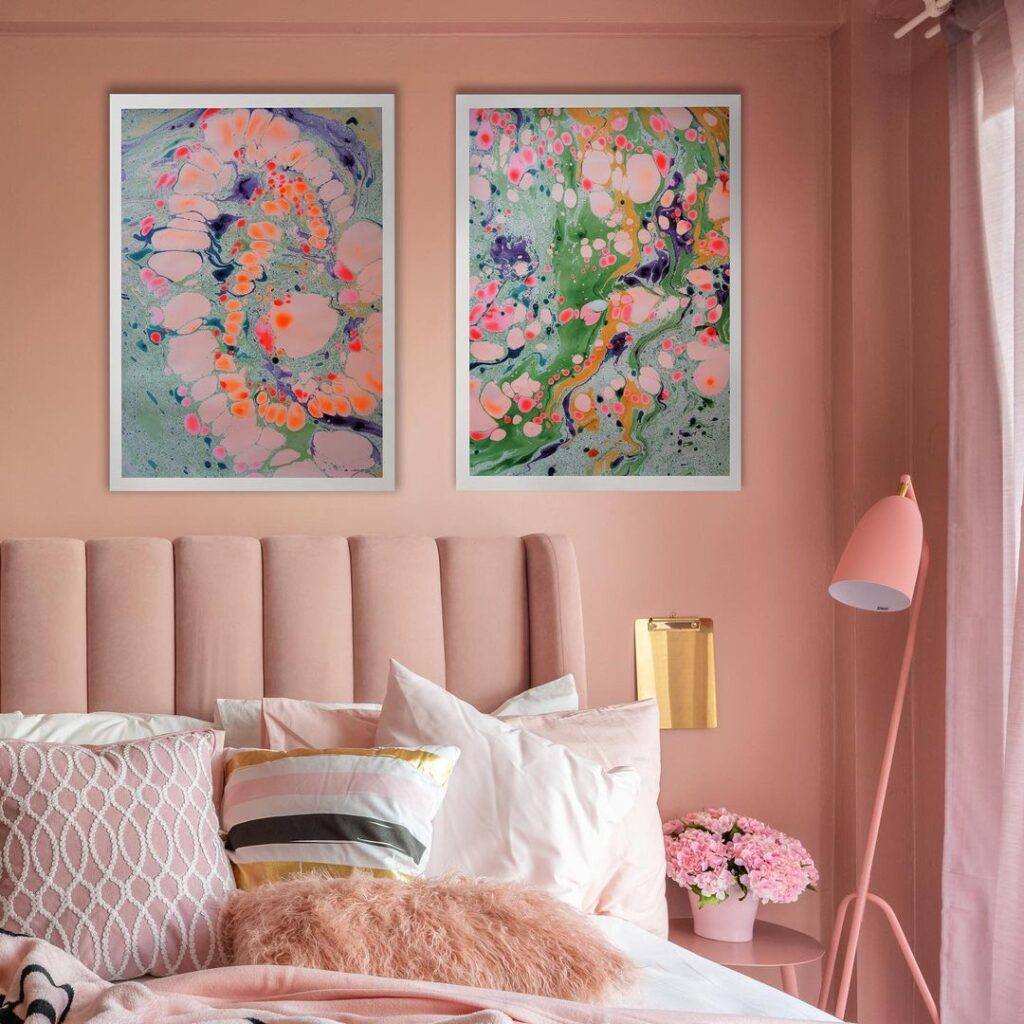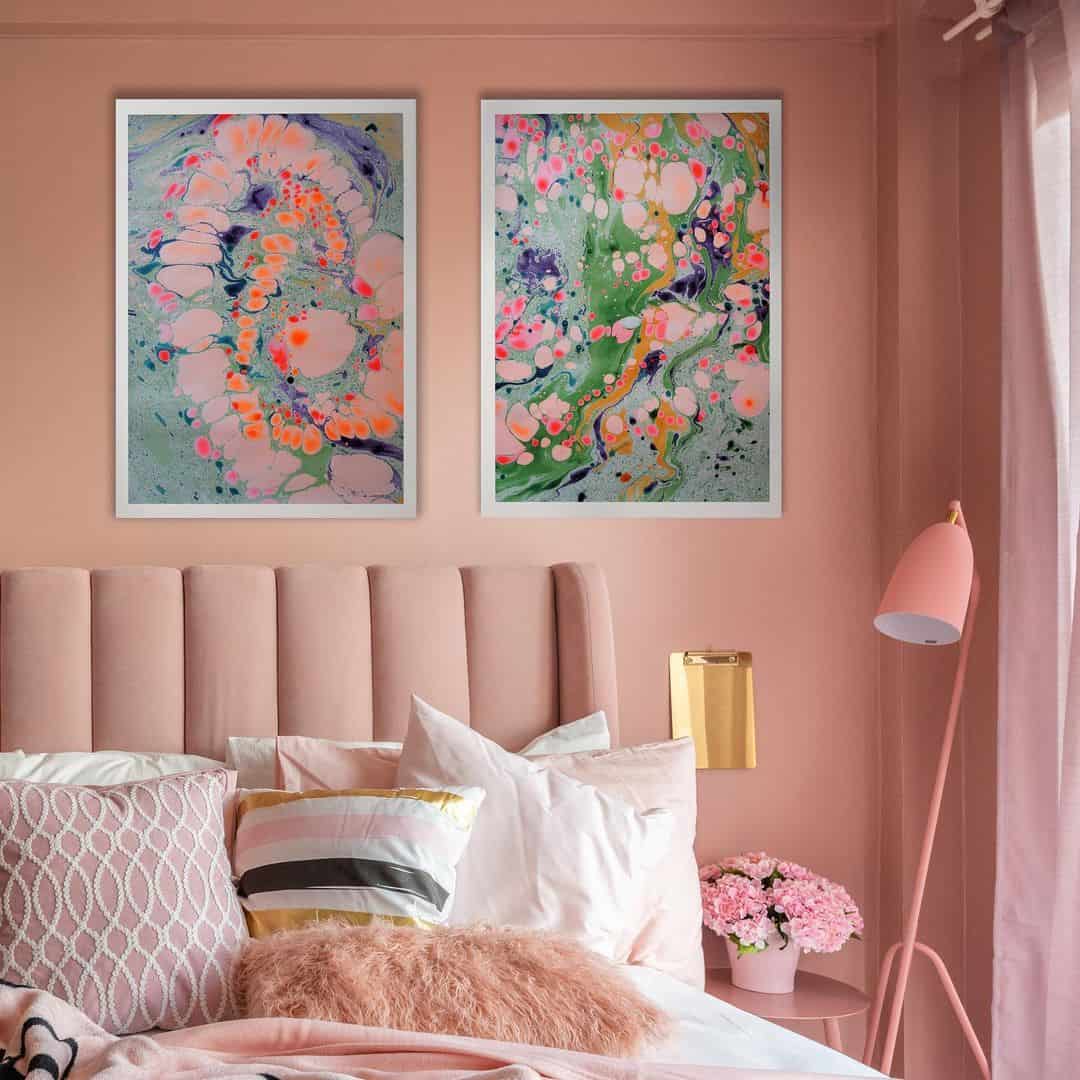 The normal pink might not be the one girls wanna get all over their bedroom these days. But dusty pink…Nah! Not the same story it.
It is so trendy that even boys are getting their bedrooms painted pink! (lol)
So, coming back to the point, playing around with dusty pink for your teen girl's bedroom is a safe bet.
It can be coupled with many other colors like green, yellow, and navy blue so it is quite versatile. So, in case your girl gets bored with the all-pink bedroom at some point, you can always stir things up without breaking the bank!
Related: 21 Elegant Dusty Pink Bedrooms That Won't Feel Too Much!
Some Eggplant Color With White Can Steal The Show!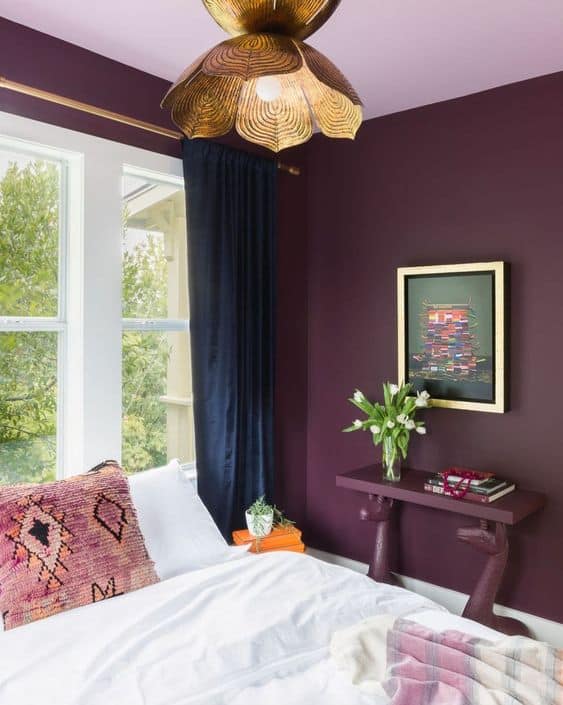 Since pink and purple are the most popular colors with girls, we'd better include them at just the beginning of the post!
So, here we are with another 'very' popular color that's downright royal, elegant, and a treat to the eyes! It's an eggplant bedroom– aubergine, in a more sophisticated language.
This color comes with its own mystery and beauty. All its qualities, spiritual and mysterious make it the one to die for. Couple it with white and you get the picture-perfect match.
Related: Best Aubergine Color Combinations Plus 15 Eggplant Paint Color Bedroom Ideas
Use Navy Blue With A Touch Of Gold…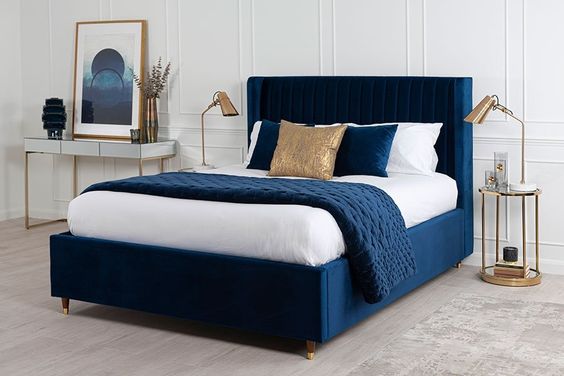 Now that we are talking about elegance already, how can we afford to miss the navy and gold bedroom in all this discussion?
Navy married with gold is one of the best colors for a teenage girl's bedroom. Navy brings forth the adult bedroom feel every teen girl would want.
And gold adds that royal flair sure to win the heart of every girl, teen, or adult.
Long story short, a navy and gold bedroom is a no-brainer, especially on a white backdrop!
Related: 17+ Navy Blue And Gold Bedroom Ideas That Are Royal, Moody, And Mysterious!
Terracotta Is The New Heart-Stealer!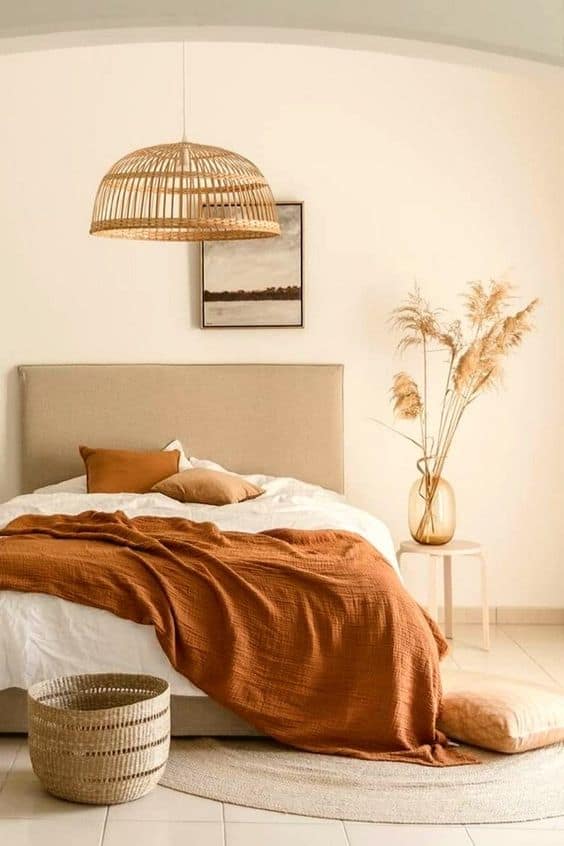 Teen girls absolutely love to go with the trends. So, whichever color is trendy, maybe it needs to be a [art of the teenage color palette!
In this case, it's terracotta (among others, of course!)
Terracotta renders an earthy and soothing feel to the bedroom most needed for a peaceful space (to binge watch and chill?) Anyway, terracotta looks extremely good when married with cream, white, green, and many other colors. For a cozy teenage girl's room, it's one of the best!
Also since girls' performance in their work doesn't really get affected by reds and yellows as that of boys', you are safe to go with terracotta as a teenage girl's room color.
Related: 15 Earthy Terracotta Bedrooms That Are Pure Peace And Elegance!
Some Mustard To Add A Color Pop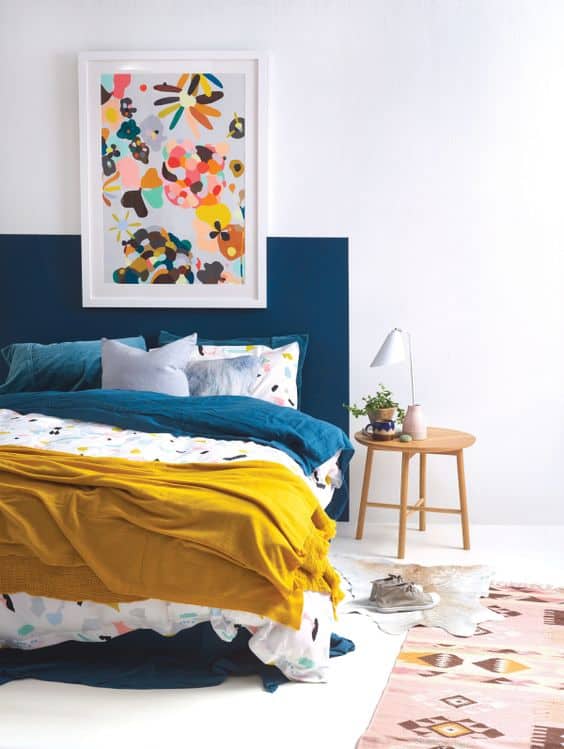 Yellow or any of its family members is good enough to give a pop of color and add some mood to your bedroom.
And when it's about a teenager's bedroom- girl or boy- a pop of color is a must!
It adds some mood, some flavor, and some 'extra' beauty to the bedroom. In this case, in case you have a navy bedroom or you're planning one, then adding mustard to it is the best decision you'd probably take!
A navy and mustard bedroom is not just an ideal combination for girls who love some bright colors but also for boys! After all, there's blue in it!
Related: 19 Magnetic Navy And Mustard Bedroom Ideas You Can't Resist!
Sage Green Is The New Neutral
Neutral colors are very popular among teenage girls and boys. Sage green is the new one!
To add some subtlety, elegance, and the evergreen look to your teenage girl's bedroom, sage green is the go-to.
Best, you can couple it with almost any color and it will mix, match and settle as easily as a neutral color does.
Some years down the line, you can always change the look of your then-adult girl's room without taking down the sage green as you do with the neutrals. Safe to say, it's a practical color.
Related: 17 Peaceful Sage Green Bedrooms As Serene As The Forest!
Teal Green Can Add Royalty As No Other Can!
Now, not every girl loves to have a light and girly bedroom. Some like to go for a bold-looking, dark, and mysterious bedroom.
For such tastes, you can go for dark colors like navy blue, aubergine, teal green, dark brown, and dark terracotta among others.
These colors have their own charm as the above teal green has it;'s own. Without using a leaf, you can get a forest-like peaceful feel in your bedroom!
Please note, that whenever you use a dark color in your bedroom, ensure that it's either balanced with a light color, there is plenty of natural light in the room, or there is enough space. If one of these is not the case, your room might start looking very small and compact.
Or Just Make It Colorful!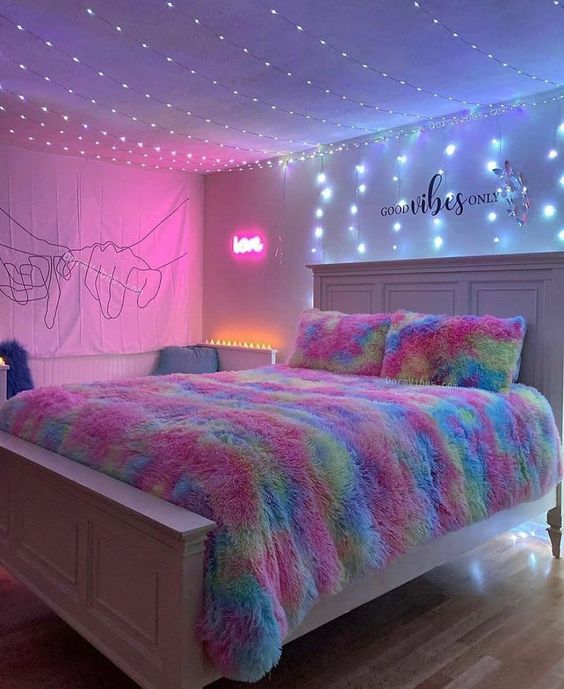 White is our all-time favorite because it's so flexible that it can stick with any theme, whatsoever!
So, even when you want a colorful teenage girl's bedroom, there is no need for you to plan things out. Just get the room painted white and use neon lights all over the room! Plus, keep them colorful.
What you get is a room that's heaven done on earth without much being spent on it! (but for the lights.)
Related: The Ultimate Secret Guide To Neon Aesthetic Bedroom Decor!
Lime Green Is Popular For A Reason!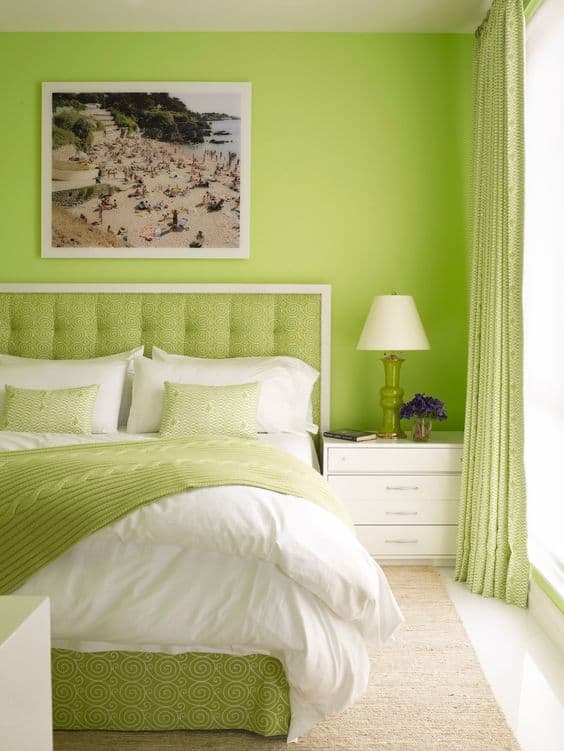 Lime green has an energetic yet innocent quality to it. That is why it is one of the best colors for a teenage girl's room.
That said, it lifts up the energy of the room and it stops looking boring! What else doesn't a teenager want? (many things, lol!)
But a whole lime green bedroom might look too gaudy and bright. That is why it is important to balance it with white, cream, gray, or some dark color.
The Ever-Peaceful Coastal Blue Is A No-Brainer…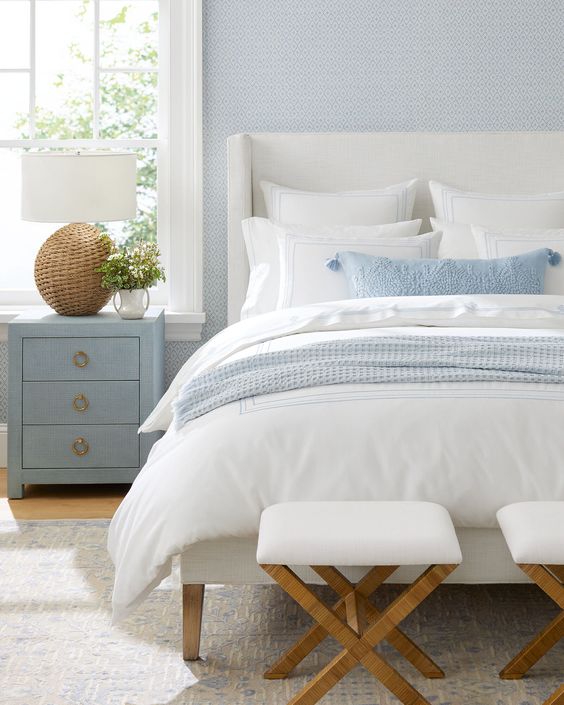 Here comes a bedroom that not just the teens but anybody can fall for, in a trice! It's a coastal bedroom with the ever-so-soothing coastal blue!
When there is no color that pops up in your brain for a teen girl's bedroom or you're confused, then go for the white and coastal blue combination and trust us, you won't ever be disappointed, nor will your darling daughter be!
Plus, it's a color that's quite near to white on the color scale, so you won't have problems pairing it with other colors a few years down the road.
Related: 13+ Gorgeous Beach-Themed Bedroom Ideas That Are Hands Down Awe-Inspiring!
Did We Just Miss Lavender?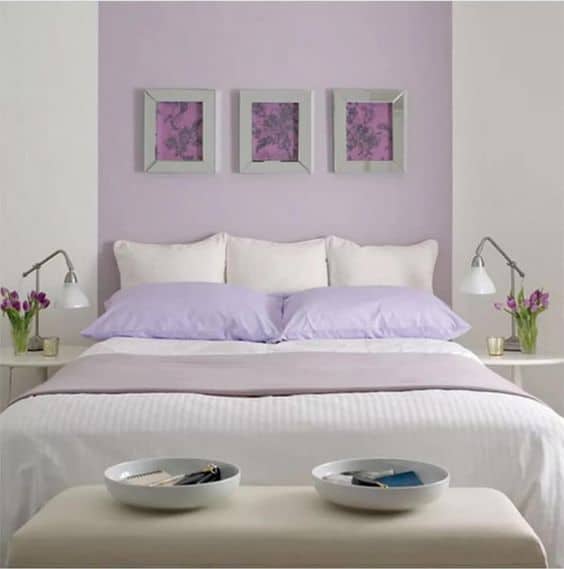 Here, we are talking about girls. And if the shades of pink or purple are left out of the post, it'll be a big sin! That's why…lavender.
With its feminine, subtle, and elegant vibe, lavender is a color that can be used for any room without a second thought.
It relaxes the mind, helps a person calm down and be a little less noisy- very important for teenage!
So, you know why you wanna use it! And your girl is gonna love it!
How About Some Colors All Around?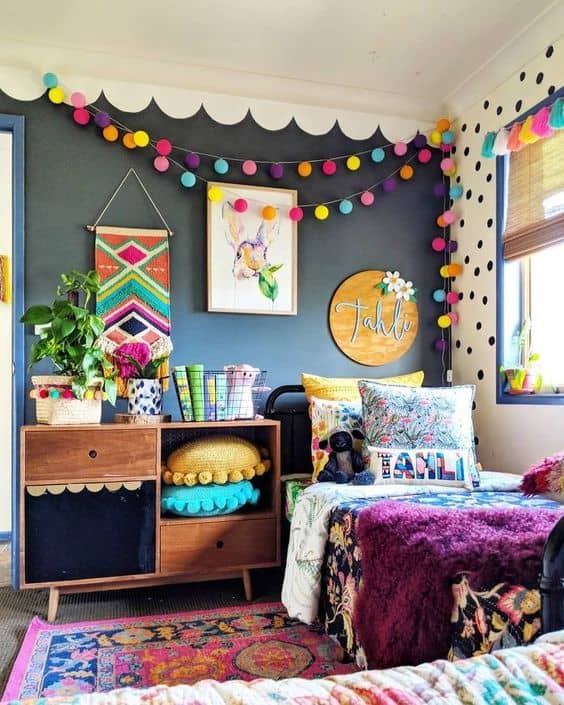 So, if adding colorful lights are not your thing, then maybe, adding colors all over the bedroom, is.
Girls LOVE colors. So, there is no 'right color palette' for a teenage girl's room. There are just colors. And there is just the room.
Simply put, use colors liberally in your bedroom and you won't regret it! You must, of course, use one or two colors dominantly but besides that, some colorful color pops are the way to go!
Related: 19 Aesthetic Rainbow Bedroom Ideas That'll Kick Out The Dullness From Your Room, Forever!
Red Is Magical!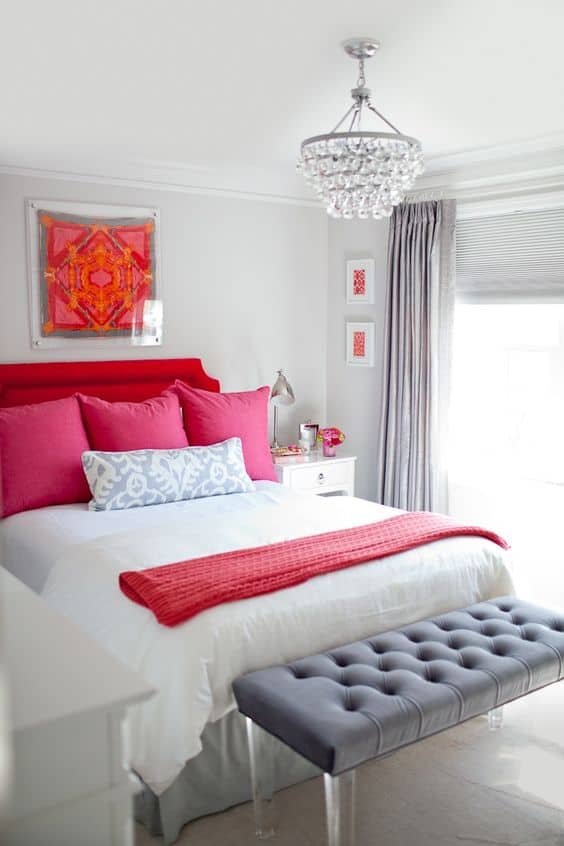 Red is energetic and most girls' favorite! This is one reason to plan a bedroom color scheme around it.
There are a lot of colors you can wed red with (oh! poetic!) and it all becomes so energetic, beautiful, and pleasing to the eyes.
You can create a warm-toned bedroom around this color by pairing it with yellow. But if that sounds too intimidating, then how about using a white backdrop? Lost your heart to the combination? we know!
The Classic White Can Ace Everything!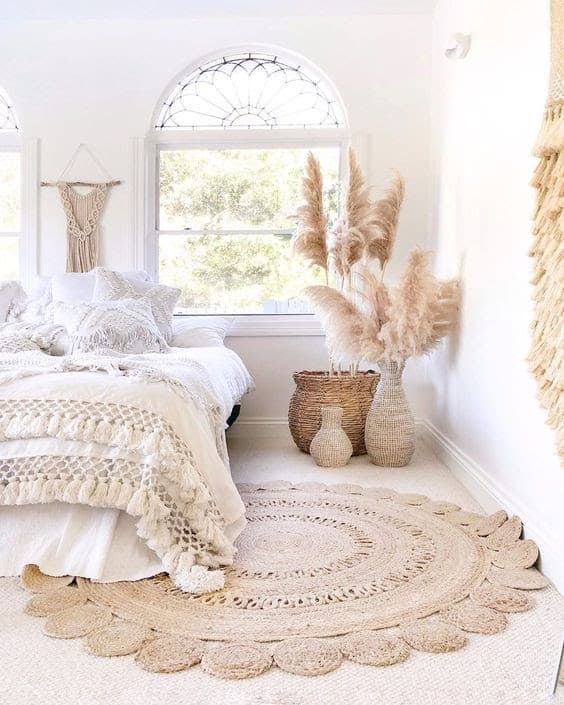 We haven't talked about white in full, right? So, here we are.
We can't praise white enough. For any space, be it a living room, a bedroom, a study room, a kitchen, or a bathroom, white is a no-brainer, a go-to!
So, if your teen girl loves to have different colors for her bedroom every now and then or she requires a simple-looking bedroom, you can always go for white. It doesn't have to be pulled down when you introduce a new color scheme in her bedroom and elegance is a surety!
Since teenage girls usually like cozy bedrooms, a white boho bedroom like the one above is the best choice.
Related: 15 Girly Boho Teenage Room Ideas, Girls Will Go Crazy For!
Who Won't Lose His Heart To A Peach, Blue And White Color Scheme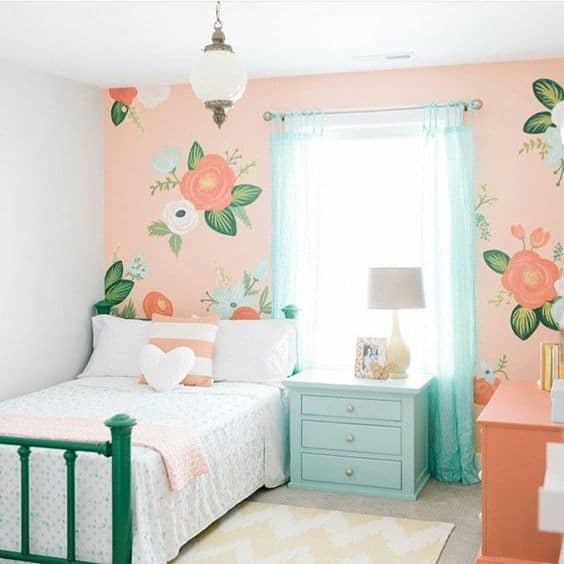 It's written nowhere that we need to stick to just one color for creating the best bedroom for teenage girls. Color schemes work very well too, see the above image for example!
A cool color scheme like peach, light blue, and white is a killer! It creates a peaceful and feminine vibe.
This is one of the best teenage girl bedroom ideas for small rooms. And what about those floral prints? Won't she love it?
Stir Things Up With Yellow All Around!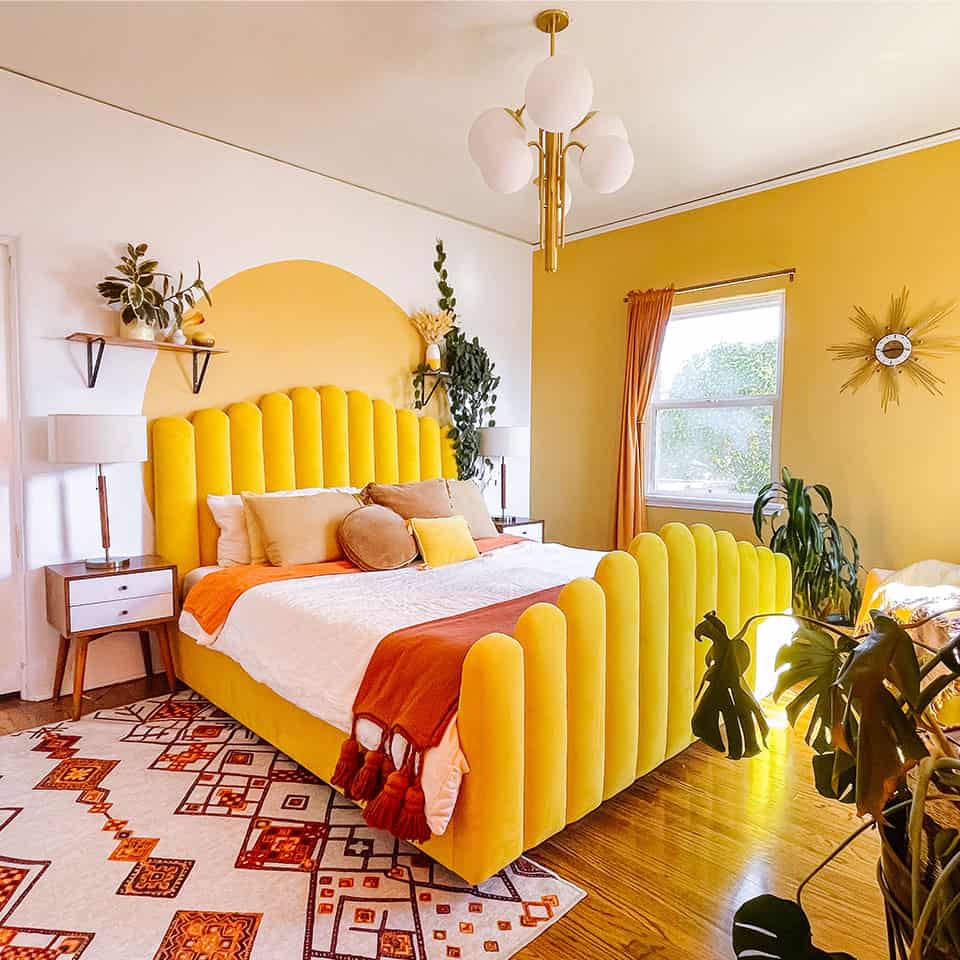 Taking advantage of girls' love for color, a yellow bedroom cannot and must not be nudged out of the list, right?
A full yellow bedroom might look a little too much so it is best to incorporate it in shots. You could paint the teenage bedroom wall yellow or throw some yellow furniture or decor in the bedroom.
A pop of yellow is always the best to lift the mood of the room and throw boredom out as nothing else…
Peach Color Is All You Need…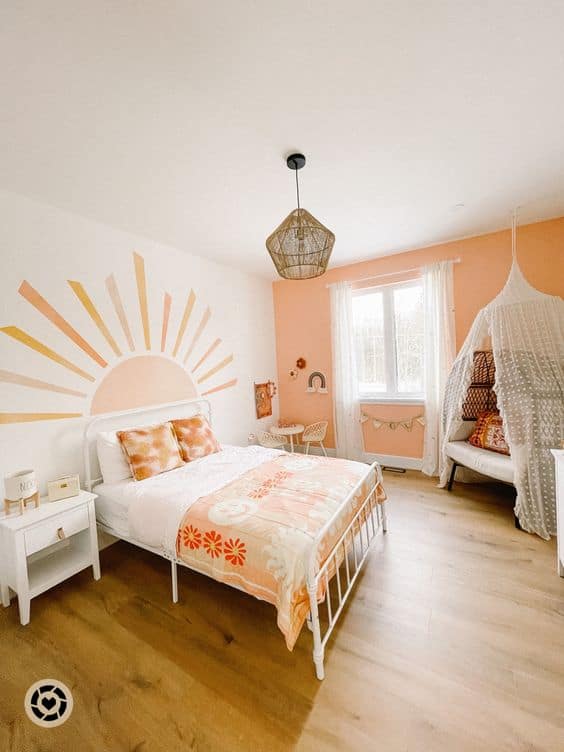 Since keeping it simple and subtle is the name of the game when it comes to a girls' bedroom, that is why pastel colors are the go-to, most of the time. One of the, is peach, of course.
Since peach comes from the family of orange color, it definitely has a creative side to it. It renders the teenage girl's bedroom with some kawaii vibe and elegance for sure.
Couple it with white and you get the prettiest bedroom at once!
A Pop Of Maroon Is What Girls Want!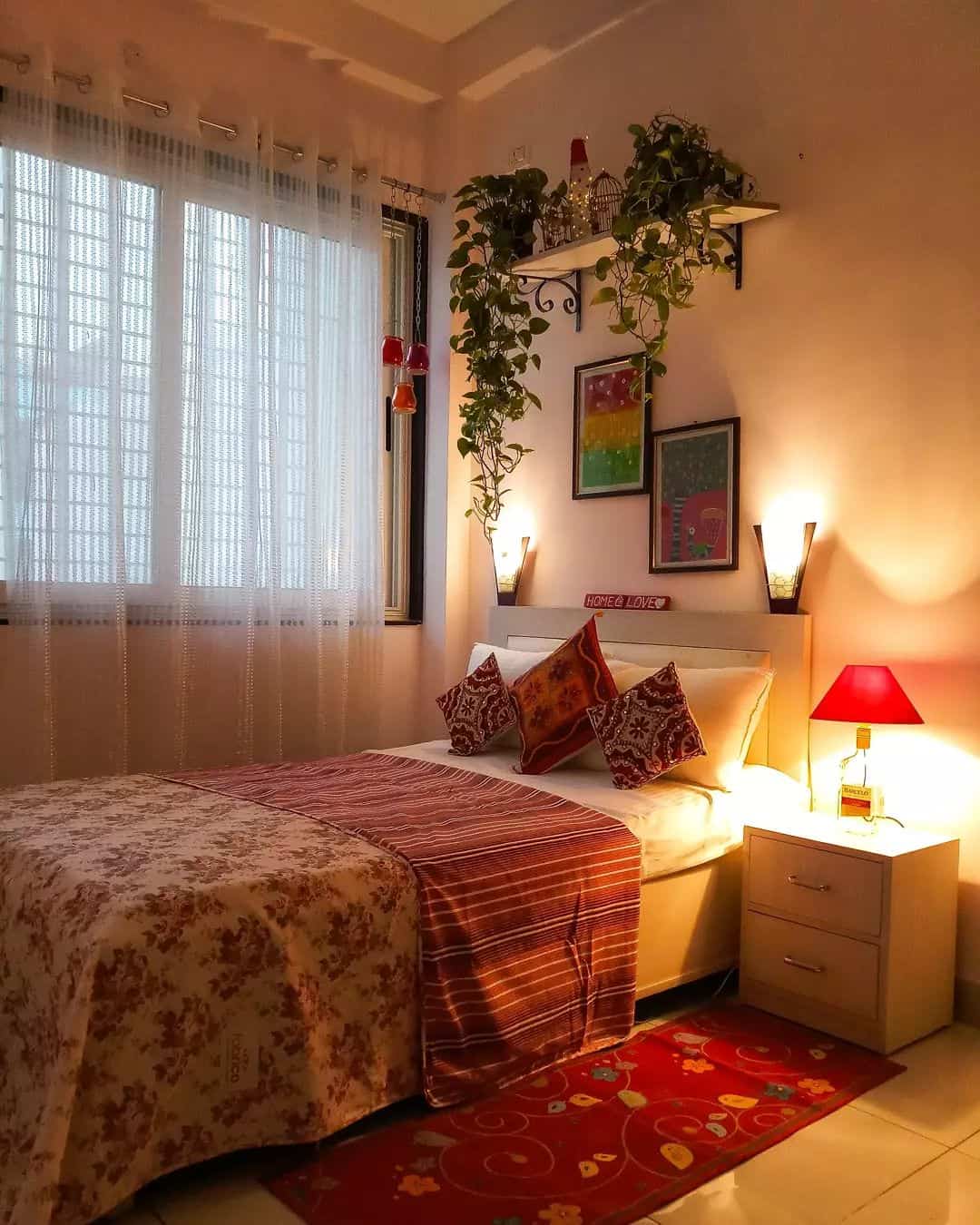 And here we come to a deep, mysterious, elegant, and royal maroon!
When paired with a light color such as white, beige, or cream, it is at its best. So, definitely, one of the best teenage girl room colors is maroon!
Now it's not necessary to paint the wall in the same color, you can choose to have a neutral backdrop, and then include some maroon bedding and decor as it is in the above bedroom. You're good to go, now.
Magenta is A Teen Girl's Love!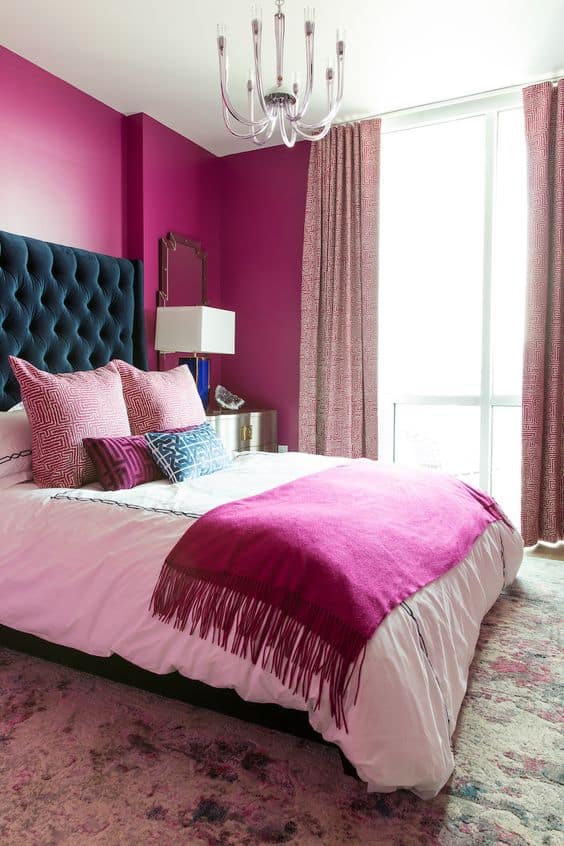 Again, pink is the color to fall for. And magenta…the one to die for!
Magenta can brighten up and give a color pop to any room, whatsoever. It is so versatile that it goes with pretty much every color. If a bright and energetic room is required, couple it with orange. And if a subtle one is to be designed, marry it with white or baby pink. You see?
In the room above, different tints and shades of pink are used, which creates somewhat of a monochromatic color scheme. And a pop of teal is given through the headboard. That's a pretty good idea, isn't it?
Turquoise Has A Charm Of Its Own!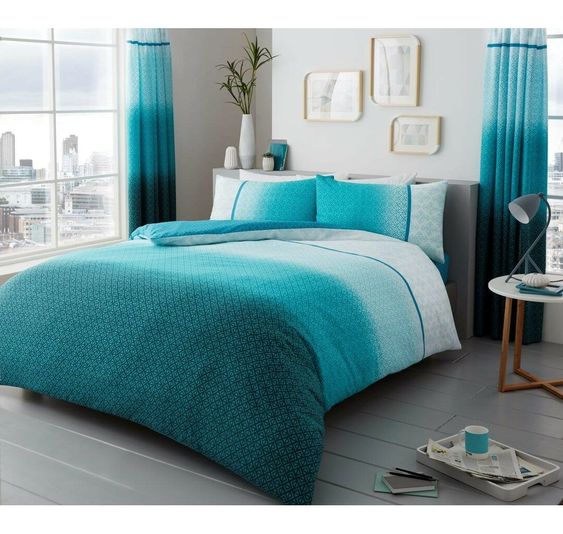 Turquoise is a cool color and works best when used with white! (it's just an opinion, by the way…)
It has the quality of a calm ocean, as serene and peaceful as it is. To bring more of that quality to the girl's bedroom, you may use different tints and shades of turquoise all over the bedroom as they are used in the above image.
When turquoise will be at the forefront, there won't be any need for another color to take charge.
Don't Get Away Without Coral!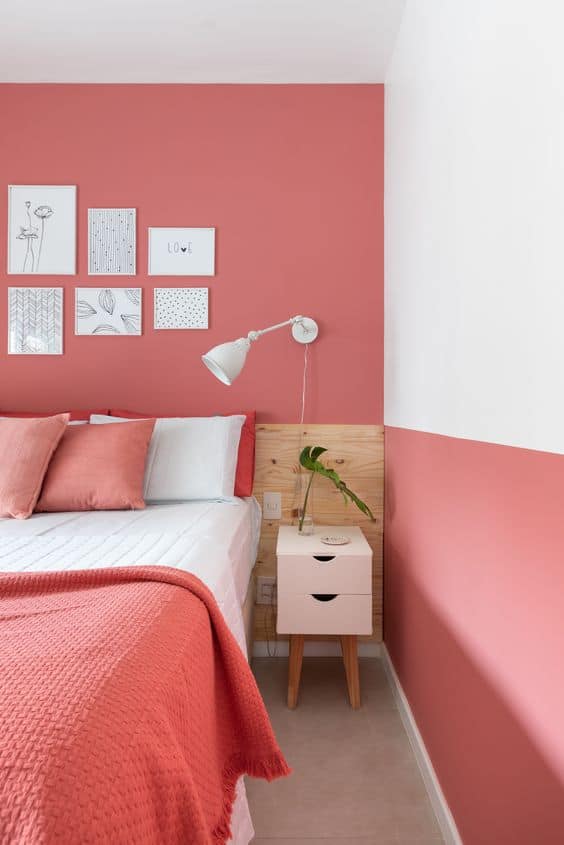 The coral color literally has our heart! It is so eye-pleasing, energetic yet subtle, bold yet kawaii, and trendy yet evergreen!
It's a no-brainer for a girl's bedroom because whatever the case might be, it is bound to impress whoever looks at it, don' you agree?
Now, any color is at its best when it's placed against a neutral; color. So, simple. Use coral with cream, white, or gray and there you are with a cozy teen girl bedroom!
Light Tiffany Blue Is The One!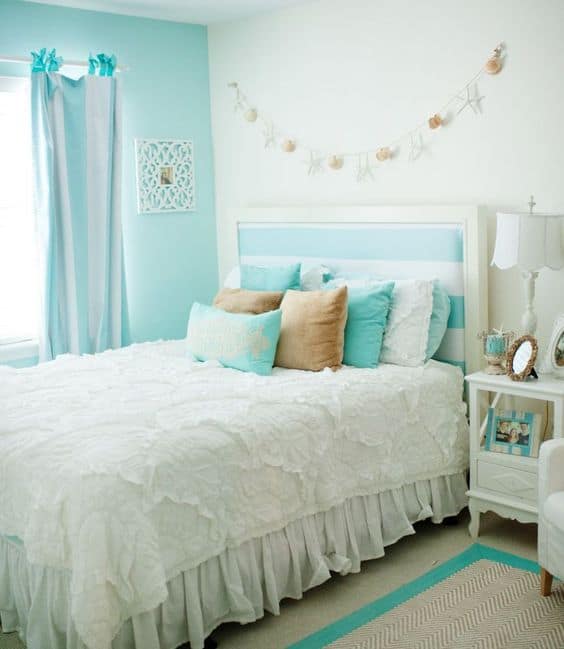 Now that we've already talked about a cozy teen girl room, let's talk about a cool one.
Blue is synonymous with the word 'cool.' Right? Light tiffany blue to be exact.
It is a color of calmness, tranquility ad serenity. Everything is so spiritual and soothing!
So definitely, it's not just the color that teenagers would love but adults and oldies too! It's versatile and that's why it's special.
Give A Thought To Black And White…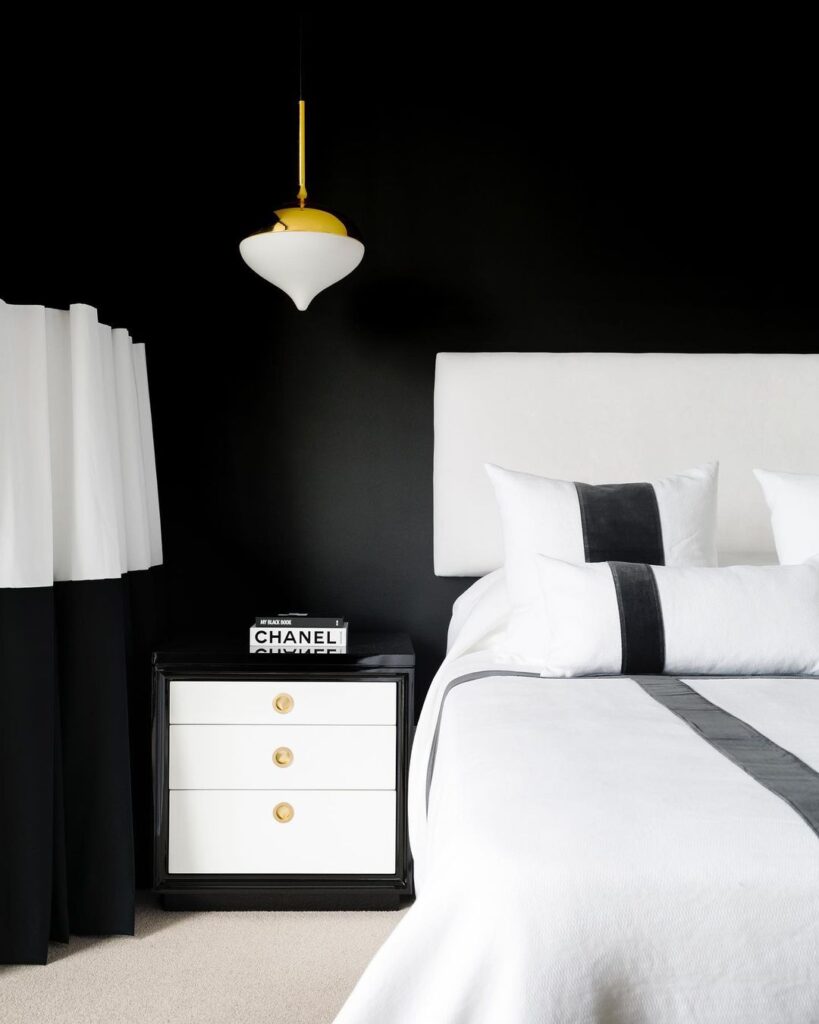 Not every teen girl loves to have a subtle or cute bedroom. Some wanna make it a bit bold and sophisticated.
Well, in that case, black and white is a good combination… It is bold, sharp, dark, mysterious, and everything serious and real!
But if used with the domination of white, this can be a very subtle, sweet, and pretty teen bedroom. Whatever the case may be, it's a nice one to have!
Related: 15 Aesthetic Black And White Bedrooms With Some Stunning Decor!
The Ultra Pale Blue Is Quite Practical Too!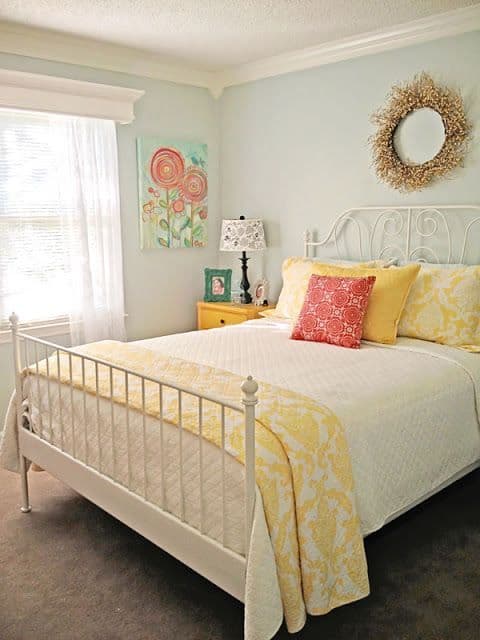 Ultra pale blue is a practical color since it is quite similar to white. You can use it with any color with no combination issues.
Since it has a neutral and cool effect, it is one of the best wall colors for a basic teenage girl's room. But that doesn't mean that the bedroom will look too bland. No!
Just throw in some pops of yellow and red like in the image above and see the magic happen!
Silver Thrives All The Time…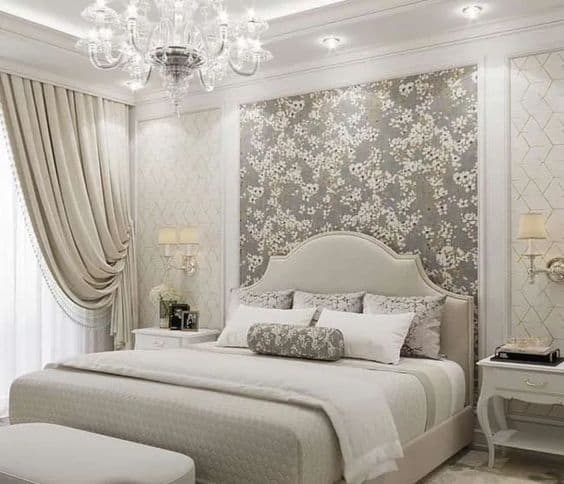 A princess deserves a royal bedroom! And what else can say royalty more than silver can?
That is why silver is also a good bedroom color for teenage girls. When the lights go on, everything sparkles! It's magical!
Silver has a cool quality and when coupled with a bit of gold or white reaches the next level of beauty, altogether.
To make it prettier, use wallpapers, chandeliers, and silver lights, and you are no longer in the bedroom but in a room in the imperial palace!
Use Muted Beige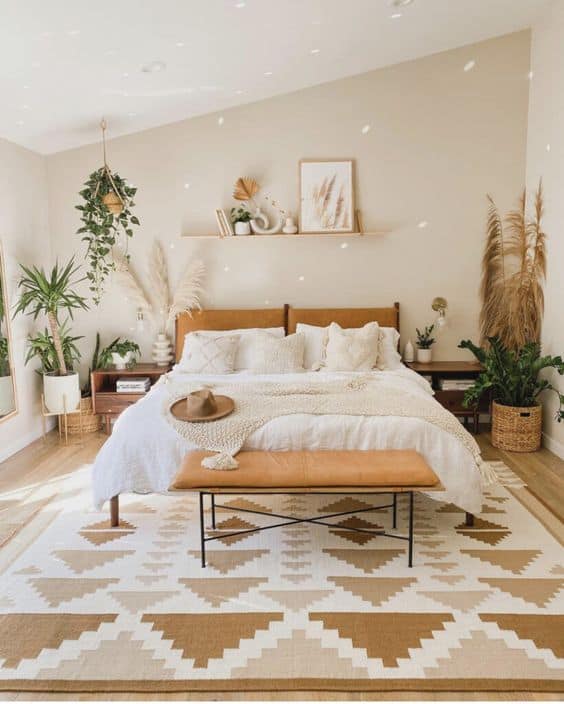 Muted beige brings the legance of brown but mutes it's loudness. That makes it so special and preferred in most popular bedrooms for girls.
So, taking the trend forward, you can always use beige for your teen girl bedroom and couple it with various other colors, confidently.
And since girls LOVE aesthetic and artsy bedrooms, you could always add a few plants and patterns to make it all the more appealing and pretty!
The Combination Of Pink, Purple And White!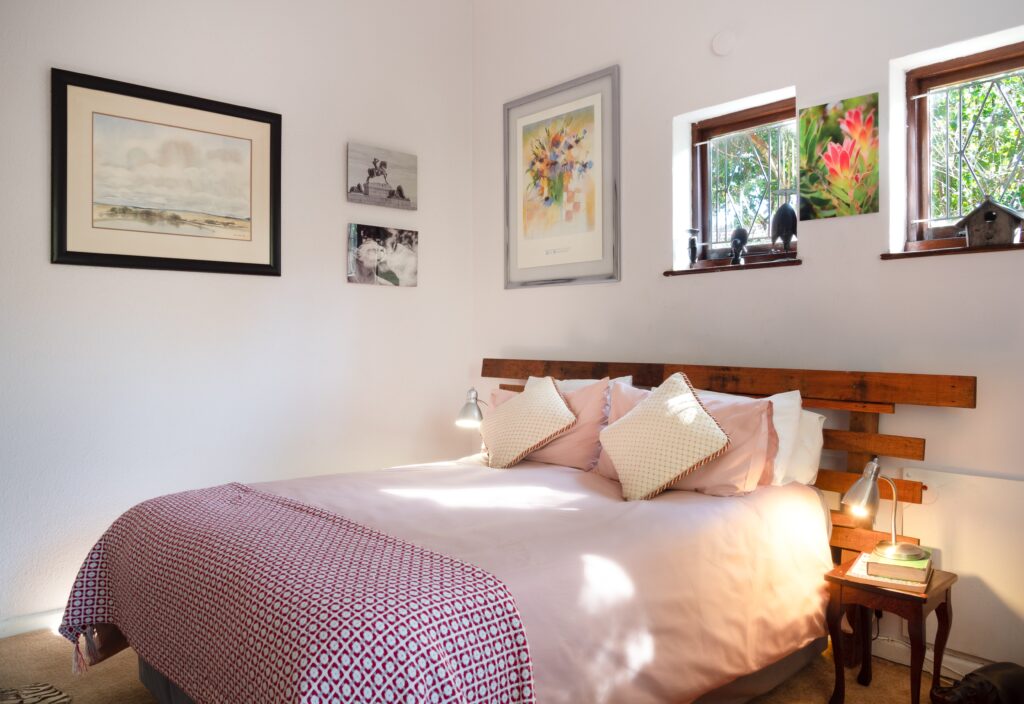 We've talked so much about the pink and purple bedrooms but not once about the pink and purple bedroom combination that is killer for girls! So, here we are.
Of course, the white base is what brings immense peace to the bedroom. It is in domination and pink and purple is only used in the bedding. That's quite balanced, easy to create and peaceful!
Plus, whener your teenager asks you to change the color of the bedroom (maybe, the next week) all you have to do is change the bedding! it's THAT simple.
Light Gray Is A Nice Color Too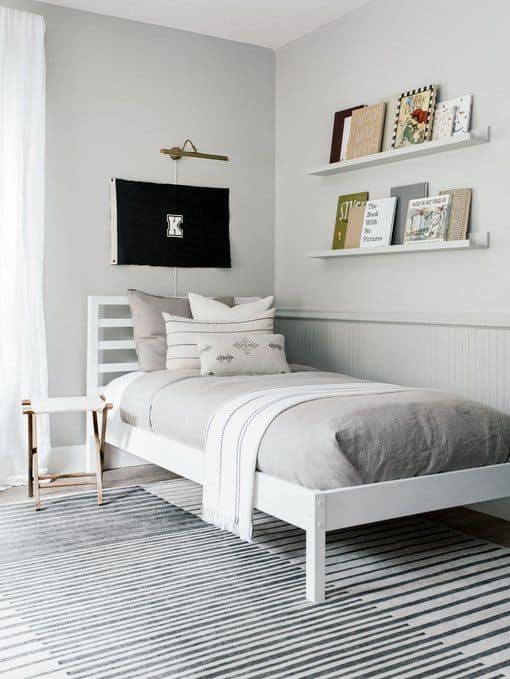 Another great paint color for a girl's bedroom is light Gray. It's not as bold or dingy as dark gray is and not so fun and enthusiastic as the other colors.
It's quiet, still and silent. But, it surely lifts the mood of the room when paired with colors like red, magenta or royal blue!
So, it is definitely dynamic! If that's how your teen is, look nowhere else.
Or Use No Color At All!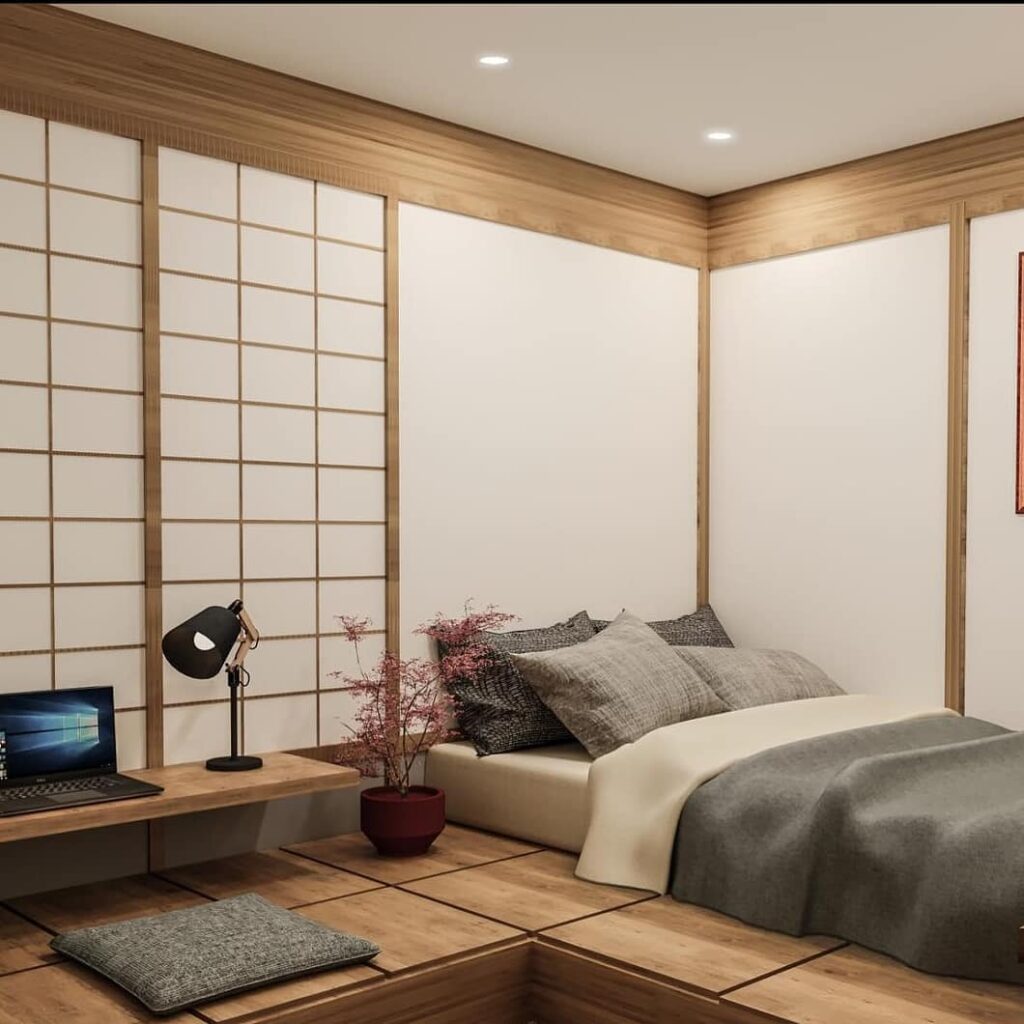 To keep up with the trend or maybe, create a bedroom interior that's evergreen, you can even consider skipping wall color altogether!
Instead, you could use wall panels of various designs, or even wallpapers. They are quite easy to maintain plus they look absolutely lovely!
The Endnote
There are so many color ideas for a teenage girl's bedroom but there were a few that we found the best of all!
All that you want to keep in mind while decorating a bedroom for teenage girls or anyone is that it must be balanced and not too gaudy or bright. That is why white, gray, beige, and other neutrals are used along with the other colors.
Plus, remember to engage with your teen while you engineer her bedroom because eventually, it's HER bedroom, right? She'll have some experience from doing it and you'll have some fun too.
No more sage advice anymore!
Hope you liked this post on the best colors for a teenage girl's room.
Let us know in the comments which color you chose, put of all the above ones? And feel free to give us your suggestions too…
Until next time, happy decorating!
Designing a Teen Girl's Bedroom? You Might Find These Useful: