Hey! Thanks for stopping by to see what we have for you in this post! By the way, Some links here are affiliate links which means, if you choose to make a purchase through them, we might earn a small commission, at no extra cost to you. Thank you so very much for your support! Happy decorating!
Aubergine is one of the best colors for the bedroom, for a reason! To magnify the reason itself, we have featured in this post, some fabulous eggplant paint color bedroom ideas that'll make your heart skip a beat!
Merely looking at these bedrooms can make you feel so peaceful and lively. Think about, it when you recreate them!
This eggplant color is also known as aubergine. In the entire post, we have used the terms 'eggplant color' and 'aubergine' interchangeably. So, please bear with us.
On we go!
15 eggplant paint color bedroom ideas
Let The Aubergine Dominate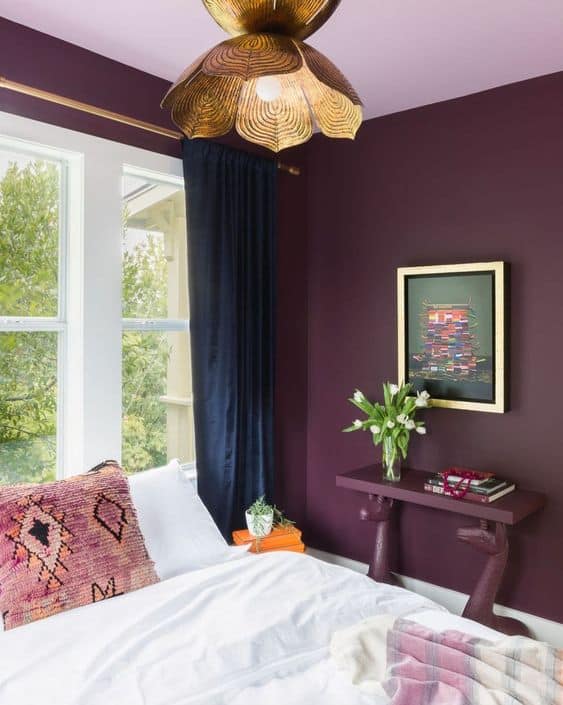 Provided that you have a large bedroom or that you are ready to use enough white color and natural light in it, letting the aubergine color dominate is not a bad idea. In fact, it's quite good to have an eggplant master bedroom, from the decor perspective!
See, for example, the above image where a monochromatic color scheme is followed. You can see light purple on the ceiling and all the walls are aubergine. How cool is that!
It is all balanced out with the use of natural light and white color. And the gold pendant light, of course, adds to the beauty.
RECREATE THIS LOOK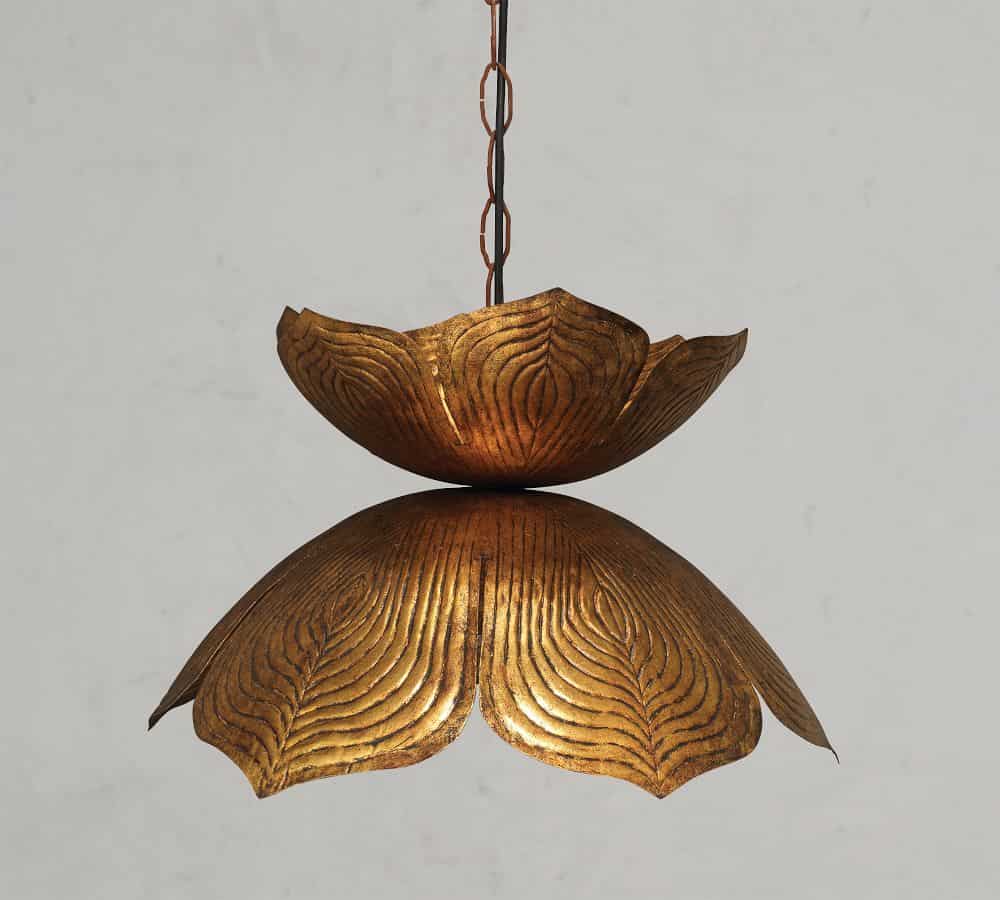 Use A Wallpaper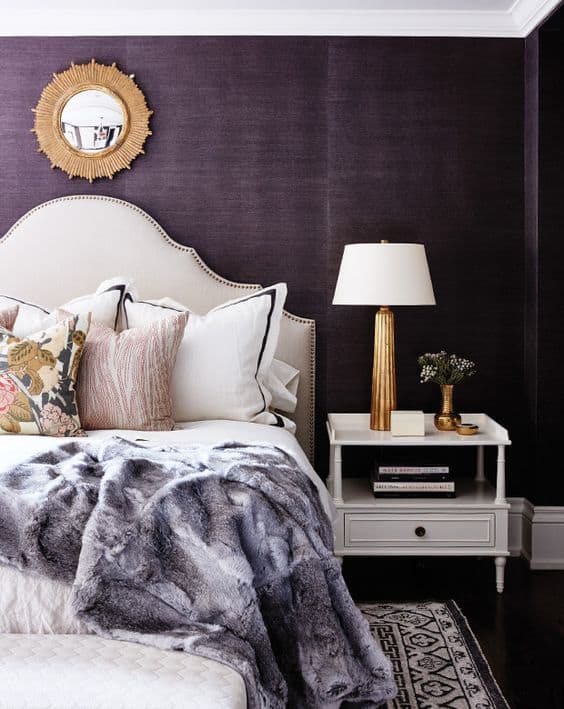 Now, if you've just recently fallen in love with aubergine, and can't wait to throw it in your bedroom then you might want to get a wallpaper- a quick fix!
A plain aubergine bedroom is pretty good, but if you like printed walls, there is nothing to resist.
Plus, some white accents in the bedroom balance the colors out. It's a nice choice. Let's look further at this combination.
RECREATE THIS LOOK
A White And Eggplant Color Combination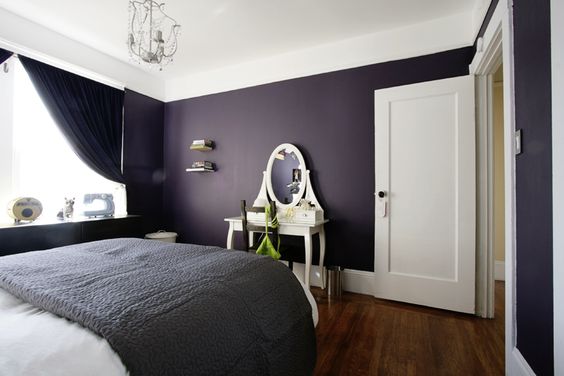 If you are looking for a large eggplant paint color bedroom idea, then this one is what you can look up to.
Aubergine color is used on all the walls and all the furniture is white so that it stands out and also (as our common dialogue goes), creates balance in the bedroom!
To not make the room feel overdone, grey is the perfect shot!
RECREATE THIS LOOK
Pair It With Some Green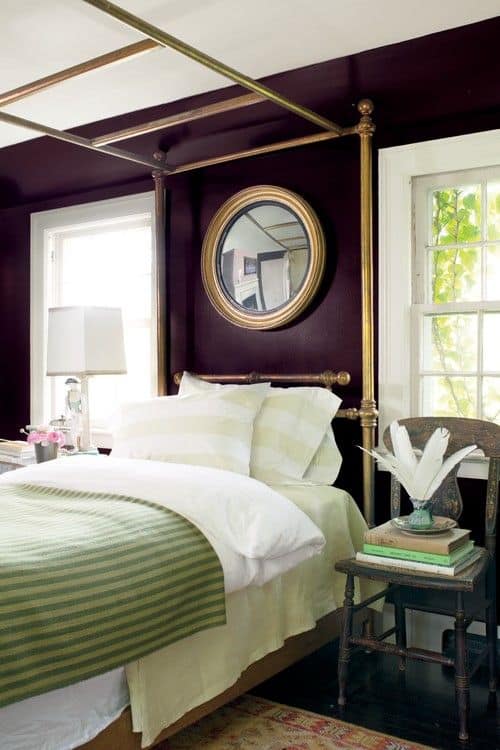 No color can ever look as gorgeous as it looks in nature, paired with green!
Although it's impossible to bring that liveliness and freshness of nature to your interiors, you can still recreate the combination to some extent by throwing aubergine and green together.
If you like more neutral green, then choose sage green for your bedroom and if you are okay with the full green vibe, then you can think of pairing some bold and bright green with the eggplant color in your bedroom.
RECREATE THIS LOOK
One Eggplant Accent Wall Can Make A Difference!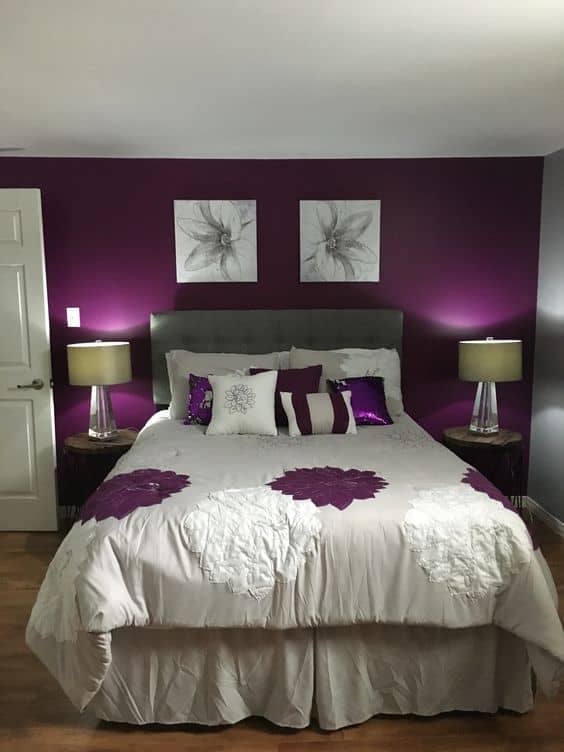 It's not always necessary to do all the walls in the color you want your room to be in. An accent wall is enough!
In the above bedroom that's all white and aubergine (and pretty, and fantastic and stunning), there is just one wall that's in the theme color. All the other walls are white.
So, in case you have a white bedroom and don't want to break the bank by getting it repainted in the eggplant color, this bedroom can be your go-to inspo.
RECREATE THIS LOOK
Use Eggplant Wall Panels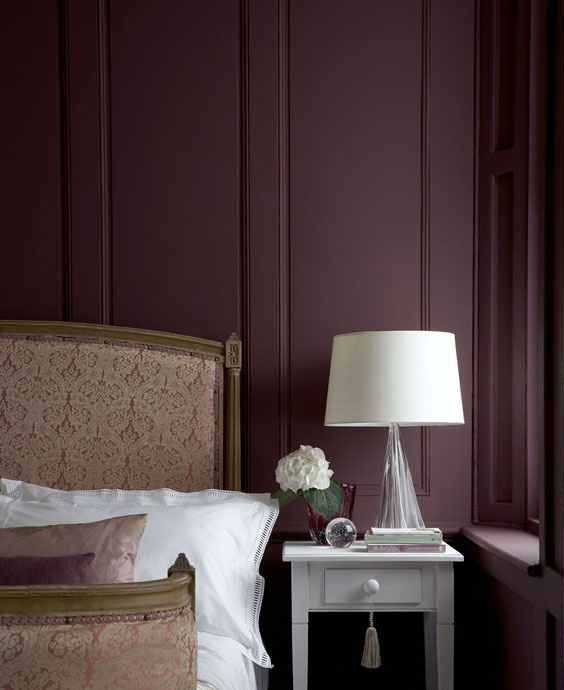 Another smart way to introduce the eggplant color scheme in your bedroom is by getting some aubergine wall panels up in your bedroom.
It's an easy yet effective way to achieve just the look you want, plus it doesn't keep the wall plain but adds some texture which is important to give your room, some depth!
RECREATE THIS LOOK
After All, Aubergine Is A Royal Color…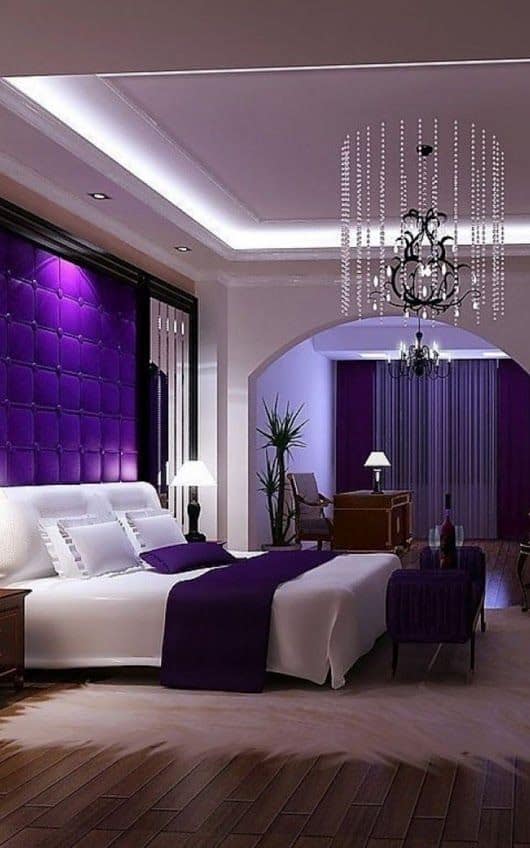 Since purple and its shades create a royal effect wherever they appear, it'll be a good idea to magnify that royalty this color brings with it.
To do that, all you need is some opulent decor like mirrors, glass chandeliers, glossy lamps, etc. Some rich-looking stuff also helps, think fur rug, a velvet throw blanket, and some accent lights.
RECREATE THIS LOOK
Just A Shot Of Eggplant Color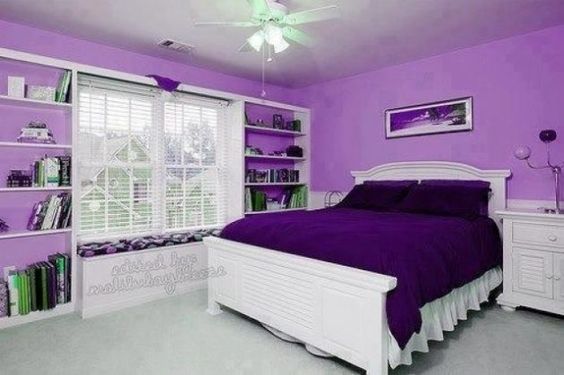 In case you like simple decor and light colors but still have lost your heart to the eggplant color, then we have you covered. Here is an eggplant paint color bedroom in Indian style.
Simply, what you can do is paint your entire room in a light purple color, lavender or lilac to be specific, and then throw an accent of the eggplant color in your bedroom. That can do the trick, easily. And don't forget the white, please.
RECREATE THIS LOOK
Then Comes A Fairy Bedroom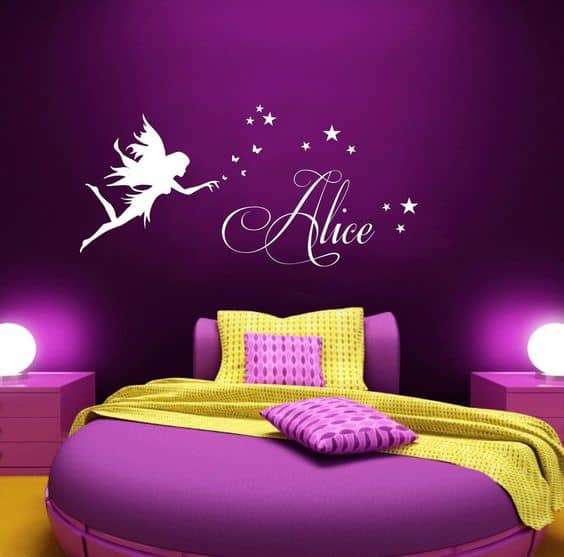 Since aubergine is so closely related to royalty and charm we can't resist thinking about some fairy bedrooms when we look at it!
If you are also creating a magical bedroom for your little fairy, then you ought to add some magical shapes and textures and a magical color!
All we mean is, a round be with a yellow throw complimenting it, is out of this world! Plus, when you have the entire bedroom in aubergine, how will the fairies not be attracted?
RECREATE THIS LOOK
A Canopy Bed Is Magical Too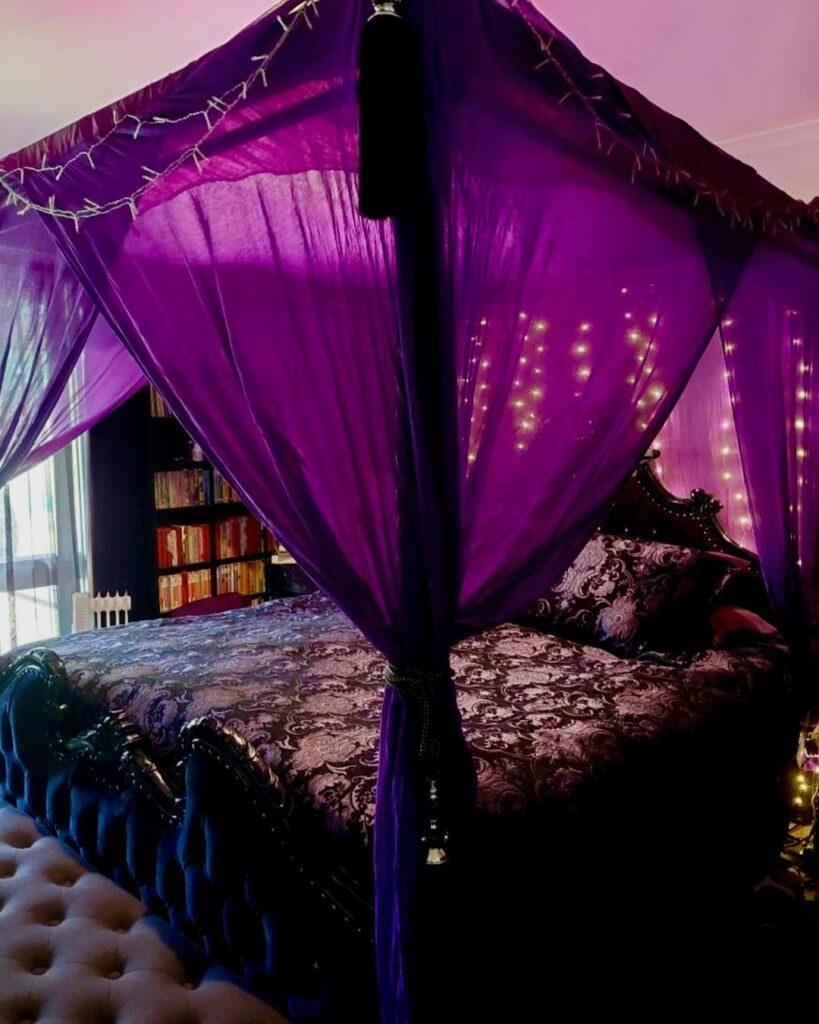 Again, there are so many ways to make your room aesthetically pleasing and budget-friendly, at the same time!
One way is to make use of a canopy bed. And to add that flare of aubergine to your eggplant bedroom color scheme, you can use aubergine fabrics around the bed.
And to add more of an aesthetic look, use fairy lights or neon signs.
Sounds easy and good? Well, that's why aubergine is one of the best bedroom colors.
rECREATE THIS LOOK
An Eggplant Bedframe Is A Good Idea!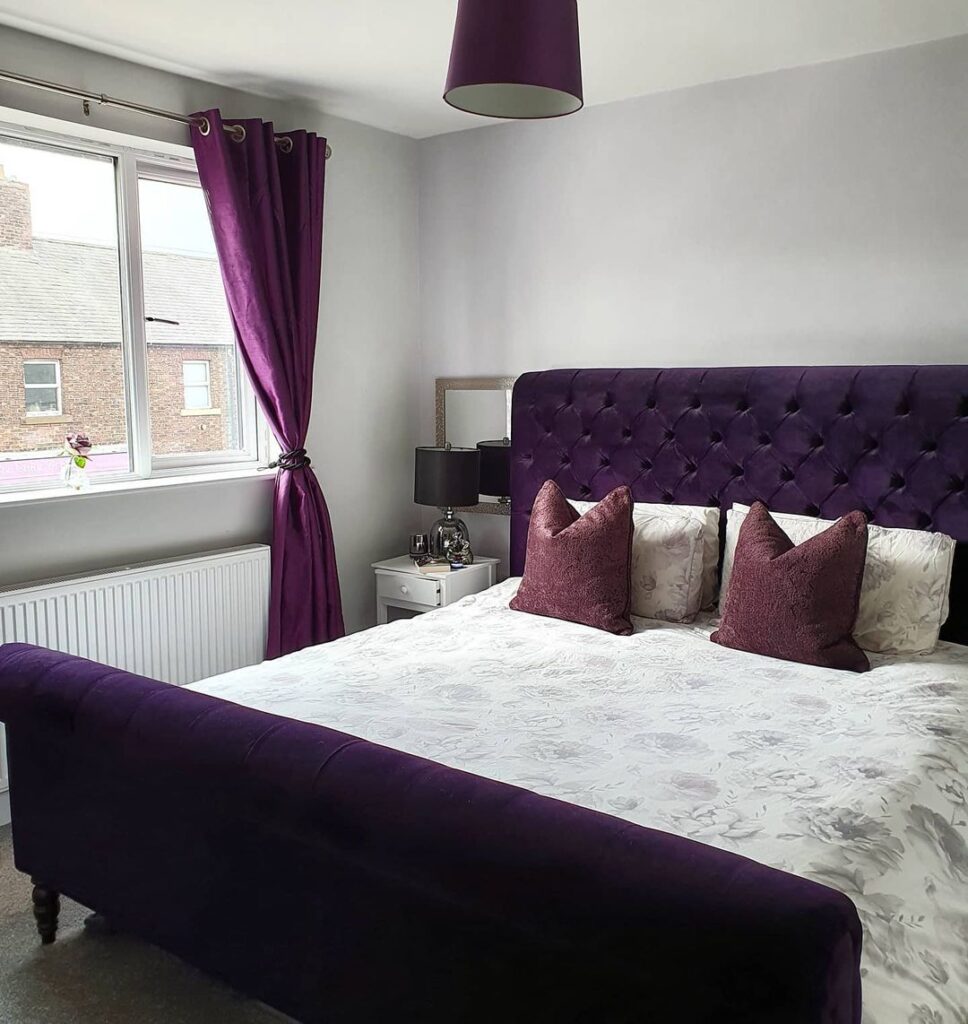 For all those lucky people who have white bedroom walls, you can follow any color scheme for your bedroom whenever you want! After all, white marries any color, so well!
Long story short, if you have a bedroom that has white walls, you can consider using furniture that's aubergine in color. A bed frame, in this case.
rECREATE THIS LOOK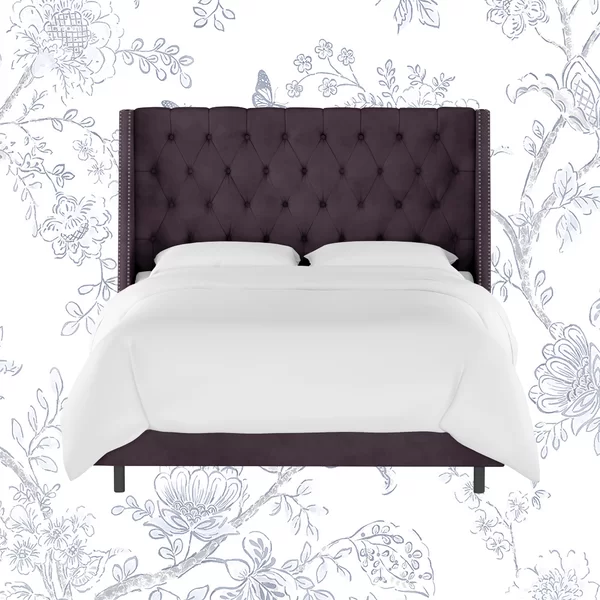 Yellow And Aubergine Make A Stunning Combination!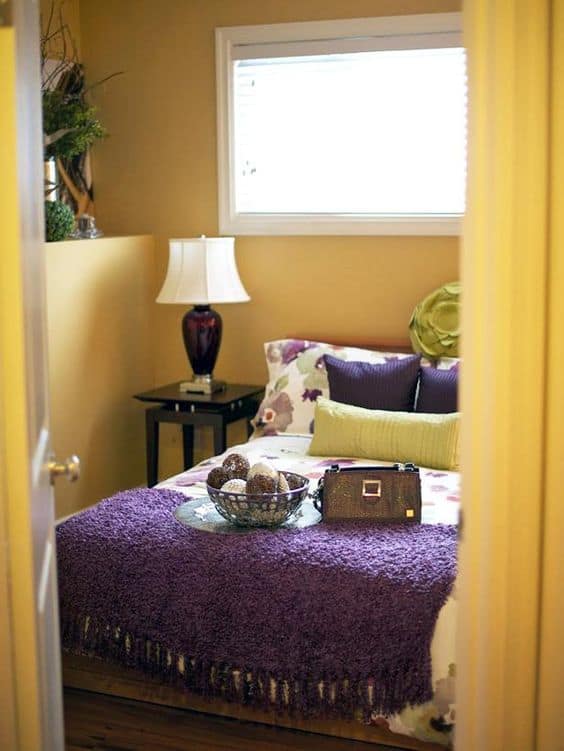 Although the color that is featured in the above bedroom is not exactly aubergine but amethyst, please bear with us.
Aubergine and yellow are colors that complement each other and when used in the right proportions they can make really bold interiors like the bedroom above.
RECREATE THIS LOOK
Then Comes Peace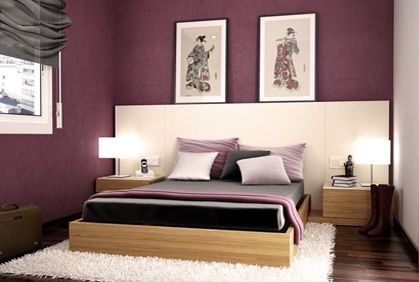 If you have ever read about the chakras in the body or color therapy for that matter, violet color is said to be the color that brings peace and spirituality.
Aubergine is quite near to that. So, if peace is what you aim for in the bedroom you are creating, then using aubergine and pairing it with a peaceful color like white is the way to go.
Plus, following a trick of the Japanese bedrooms, you can keep a low bed to make it feel more peaceful and minimalist.
RECREATE THIS LOOK
Make Use Of Eggplant Bedding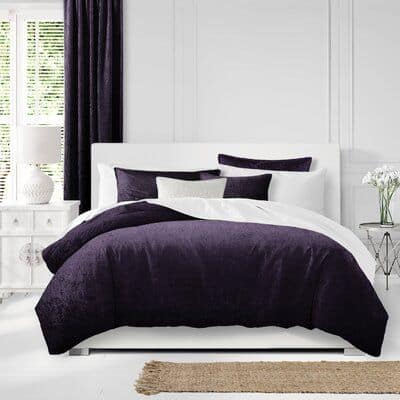 Another easy way to introduce color to the room is by using the bedding of that color.
Understandably, using eggplant bedding can do exactly that for you! Plus, it makes your bed appeal to you. It looks cozy after all.
RECREATE THIS LOOK
Throw In Some Silver Shots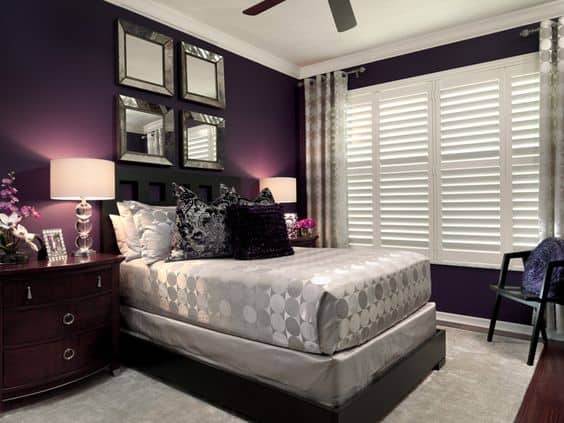 Mostly with all dark colors, silver can rock as it does with aubergine in the above bedroom!
To keep your eggplant paint color bedroom from looking too simplistic and dull, throw some shots of silver and see the magic happen!
RECREATE THIS LOOK
Best Eggplant paint color combinations
Eggplant is a color that goes particularly well with other colors with which it might be paired in nature.

Jill Harness at Hunker
Well, the above quote can't be truer.
In fact, no matter which color you are finding combinations for, your first go-to should be nature. It's the inspiration that can never go wrong- it has a real 100% success rate!
Anyway, since you've come HERE to find the best color combinations for your eggplant bedroom, so we aren't going to send you to the garden!
Below are the best eggplant paint color combinations that we could find. Take a look!
We have also used the term 'aubergine' for the 'eggplant color', so please, bear with us.
Eggplant And Gray Color
Gray is the absolute best when it comes it pairing it with aubergine.
When used in a light tint, it balances out the dark tone an all-aubergine bedroom might bring.
You might choose to use some gray accents in your bedroom, or it could be the other way around- using eggplant color accents on a gray backdrop in your bedroom.
Now, there is room for you to use one more color in the bedroom besides these two, that you can choose from the below ideas!
Eggplant And Cream Color
It is universally known that light color, think white and cream, goes well with any dark color, eggplant color for example.
The cream color adds a sense of calm to the bedroom and won't make it feel too much! It will also erode the darkness an all-aubergine room might bring with it.
Now, there are various ways to use cream in your eggplant paint color bedroom you could use color blocking, wallpapers, use accents, or have a cream backdrop. All are great ideas (thank you!) so you must go for the one that makes you love your room so much more!
Light Purple And Aubergine
How, on Earth, can a tint and shade of the same color NOT look charming? NEVER.
Well, just pair lilac, lavender, or a light purple with aubergine, and what you get is PEACE and beauty, both at the same time!
The best way to use these two colors together is to have all your room painted in a lighter color and have one aubergine accent wall.
Alternatively, you can use a light purple backdrop and then throw shots of eggplant-colored stuff here and there, think to throw pillows, throw blankets, area rugs, and an ottoman.
Eggplant And Green Color
The nature-inspired color theme again!
Not to mention, this can't go wrong. It looks as beautiful as an eggplant does when it's still attached to its plant.
Again, what feels you get in your eggplant paint color bedroom depends upon what type of green you use and in what proportion? You could use emerald green, olive green, sage green, or very light green. They all look stunning with aubergine and create a feeling of comfort and peace.
Deep Blue And Aubergine
It could sound dangerous to use deep blue with aubergine but if you are someone who loves dark and mysterious-looking interiors, this is the combination for you. Since it's uncommon, this combination can really stand out if used correctly.
Again, it's not a compulsion that you use ONLY these two colors in the bedroom. If you'd like to balance these out, then couple them with a light and neutral color, think light gray, cream or white.
Black And Eggplant Color
Same as the effect of navy blue, or maybe more than that, black creates the feeling of mystery and depth in the bedroom.
If you are comfortable with all the darkness that brings, why not go ahead?
But then again, copy and paste here, the advice that we gave for pairing navy and aubergine. It's NOT compulsory to add ONLY these two colors. You can always balance them out with some light ones.
Plum And Eggplant Color
Now, this might look intimidating. But really, adding two shades of purple can do all it takes to create a bedroom that stands out!
Plum and eggplant colors might not look different to you but when placed against each other, they are.
To create a perfect monochromatic color scheme, this is what you would want to look up to. But you are always welcome to use a light backdrop if you aren't comfortable with an all-purple bedroom.
Yellow And Aubergine
If contrasts are 'your thing', this color combination, too, is!
Exactly as yellow goes extremely well with navy blue, it can go exceptionally well with aubergine as well!
This bedroom color combination creates contrast and lets your bedroom stand out, immediately!
But, is yellow the right color for your bedroom? No. The fix? Try using maximum aubergine and just accents of yellow. That won't harm.
White And Aubergine
We can't overstate that white is the safest color out there!
If you aren't getting a color combination for a color in your bedroom, shoot for white and tada! Perfect!
So, with the eggplant paint color in your bedroom as well, white is the perfect one to use if a peaceful interior is what you seek…Accents or backdrop? your choice.
Red And Aubergine
Initially, even we were taken aback by THIS color combination but when we looked at how it looked, it was stunning!
You can safely use red accents in your bedroom to pair with the eggplant color walls.
But again, red is not an ideal color for a bedroom, so just accents of it are fine.
Please don't go for too much of it because it belongs to the family of warm colors. Warm colors stimulate physical activity, not relaxation. Your bedroom is a place to relax, remember?
The Bottom Line
Aubergine or the eggplant color is a wonderful one to use for the bedroom! It's one of the best bedroom paint colors!
We tried our best to compile the best eggplant paint color bedroom ideas out there, for you all! We Hope, that helped!
If there is anything you'd like us to remove, add or edit, feel free to reach out to us.
And don't forget to comment below, which is the eggplant bedroom idea that your heart settled for?
Until next time, happy decorating!
Frequently Asked Questions (FAQs)
Is The Purple Color Good For The Bedroom?
Absolutely. Since purple belongs to the family of cool colors, it has the tendency to relax a person mentally and physically. These are exactly the qualities, a bedroom must possess.
So no matter which tint or shade of purple you are using for your bedroom, it'll help.
What Is The Most Peaceful Color For The Bedroom?
There is no particular color that's the most peaceful for a bedroom but the cooler tone the color has, the more peaceful it'll be. For example, blue, purple, and green. White is also a great one!
Does Eggplant Color Go With Gray?
Absolutely! It's one of the best color combinations out there. Gray and aubergine, when married, look stunning.
Love To Decorate Your Bedroom With Different Colors? Check These Out: