Who doesn't like to break the rules? And if it is about home decor, the rules ought to be broken today or tomorrow for others to replace them. Agree?
Then start with your bedroom! Like the indies, hippies, and gypsies who hate rules, let your bedroom be a hippie gypsy boho bedroom too.
To help you with that against-the-trend decor, we have some really whimsical bedroom ideas, that we are sure you want to get in and steal, immediately!
So without any more waiting, straight into it:
Tapestries Can Help You So Much!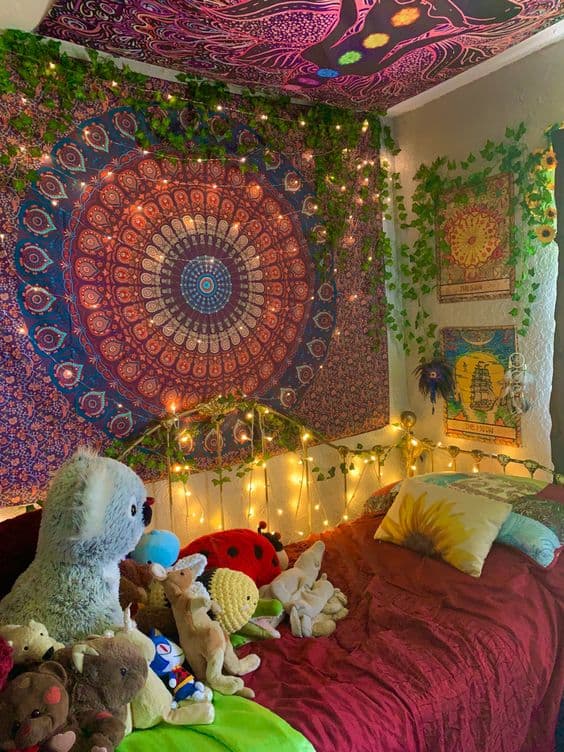 Now it's not always possible that you can change the look of your room upside-down. Especially if you are designing on a budget.
But what if you find a way that does just that without making you struggle hard? Well, use tapestries in that case!
In the image, it looks flawless how one tapestry is used under the ceiling and the other is used on the wall. These definitely give a hippie look and don't look overdone either.
Recreate This Look
You Need To Have Some Anti-Minimalist Tendencies
Designing a whimsical bedroom is not all about getting random stuff and throwing it all in. It's more about being whimsical! Now, that's where the hardest part comes in!
You need to stop thinking from, a what's-needed-and-what's-not-needed mindset and get into a what-I-like-and-what-I-don't-like mindset. So, whatever you like (they can be so many things), just make room for them in your bedroom! Sounds simple? Well, try and tell.
And God forbid, if you are a minimalist, hit the back button immediately! The hippie gypsy bohemian isn't your thing!
Recreate This Look
Make Room For Some Whimsical Artwork!
Now that you've chosen the room style of the whimsical and the creatives, go on displaying their artwork as well.
Doing this would give a more exact look to your hippie gypsy boho bedroom interior design. And above all, it saves you the time and money to buy other wall decors because the artwork has taken all the space and cast all the spells, already!
Recreate This Look
How About Using Some Pretty Colorful Lights?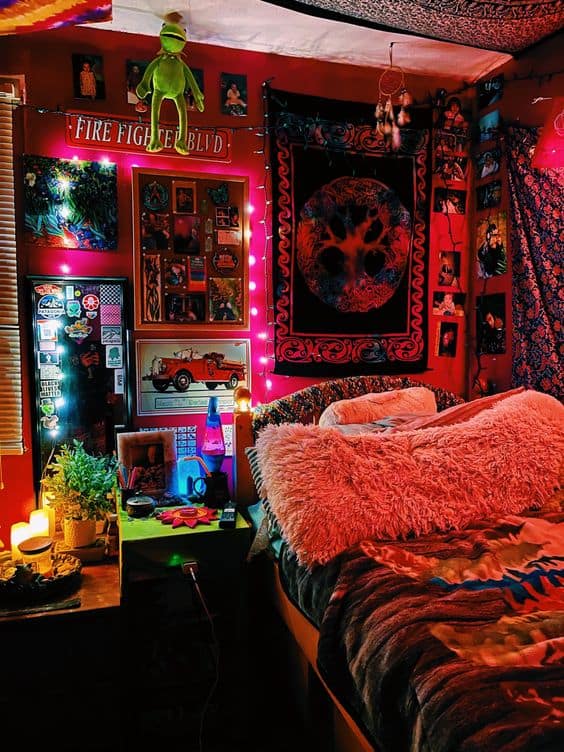 Lights can do the magic when everything else has failed. Such is true when you are up to your boho gypsy decor as well!
In the image, it is beautiful how the colors are splashed using the lamps and fairy lights of different colors.
If you also want to add colors to your bedroom, this is the idea to steal!
And don't forget to observe how the tapestries and the fur pillow give that perfect hippie boho look to the room. Couple them with the lights and just look at the charm they create!
Recreate This Look
Fabrics Can Create The Ideal Hippie Gypsy Boho Bedroom!
The ideal scenario in a hippie gypsy bedroom is an abundance of fabrics all around the room.
Not restricting yourself from using various fabrics is the key.
See, for example, the above image where no trace of the wall can be seen. Fabrics hang from the ceiling, they can be seen on the bed, the floor, the walls, the table, and where not?
Now if you have the courage and the energy to do that, why not go ahead?
Try Different Patterns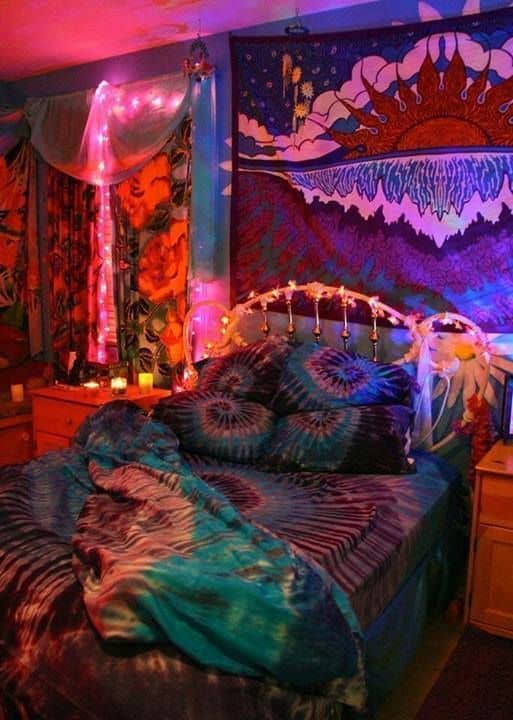 There is no restriction as to what kind of patterns you must use in your hippie boho room and what you must not use.
And because of this absence of restrictions, there are infinite patterns for you to experiment, pick and choose!
So, no matter you are choosing tapestries, boho wall hangings, or bedsheets, experiment with the prints and patterns!
Recreate This Look
Some Dark Wall Colors Can Help You!
Since there are no color rules in this decor, feel free to use some dark colors in your room to give it that cozy feel you desire. Scroll down to check the next segment where we are talking in detail about the usage of colors in this decor.
That said, the coziness of the room can reach the next level if you have some rustic or weathered furniture in there. It gives the room that old-school feel that is so dearly admired by the hippies and gypsies, isn't it?
How About A Lot Of Pillows?
Since this decor is all about anti-minimalism, we must not refrain from throwing in as many pillows as we want. They equal comfort and add some aestheticism to our bedroom! Who doesn't want that?
Recreate This Look
You Can Create The Hippie Room With Minimum Stuff!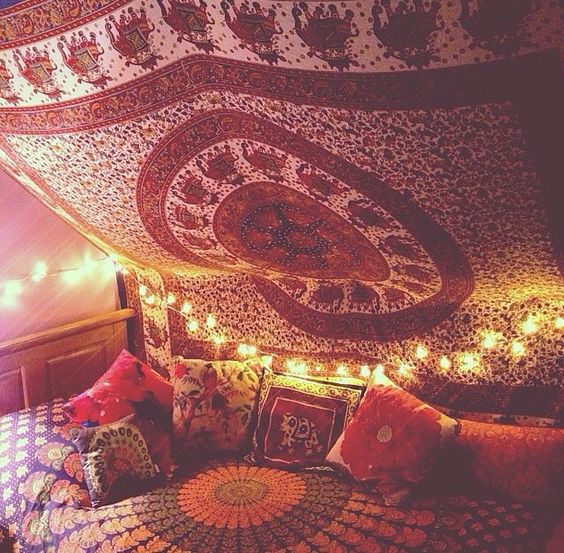 It's nowhere written that we must spend a ton of money in order to get our bedroom decor in place.
So is true in this hippie gypsy boho bedroom decor as well!
As in the above image, even if you can manage to get a tapestry, a bedsheet, some pillows, and fairy lights, you are sorted! Now that's crazy!
Recreate This Look
A Canopy Bed Will Steal The Show!
Even if you don't want to makeover the entire room and just want to get that hippie gypsy vibe when you get in bed, there is a solid plan for that! A canopy bed.
It's perfectly shown in the above image how you can simply add different colored and patterned fabrics to a canopy bed and easily pull together the look you want to!
Recreate This Look
Use Some Fairy Lights Too!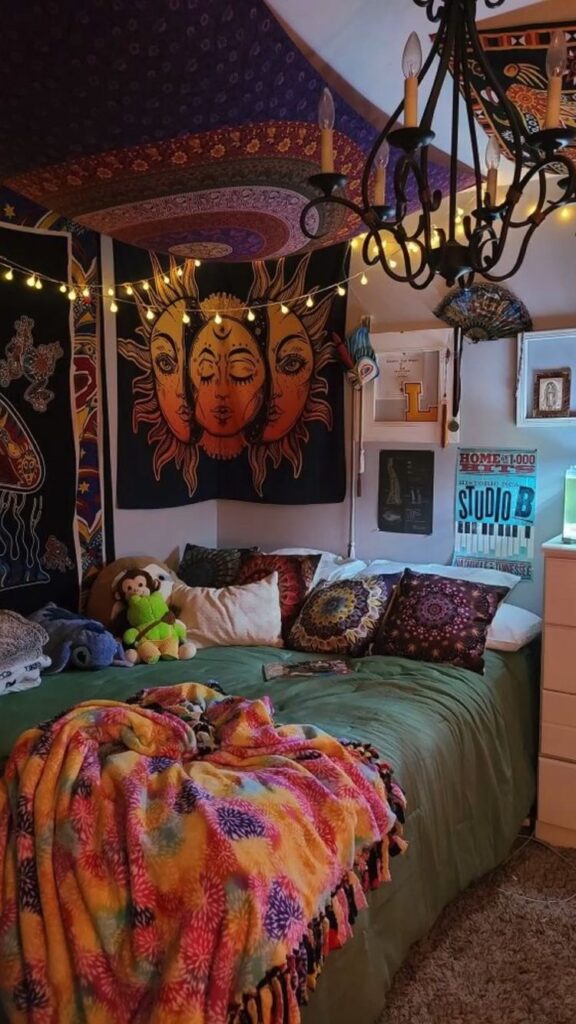 No bedroom is complete without the lights. And no artistic bedroom is complete without the fairy lights!
You get the point, right? In order to get that artistic and creative feel in your space, throw some fairy lights in!
Recreate This Look
Make It A Meditative Space!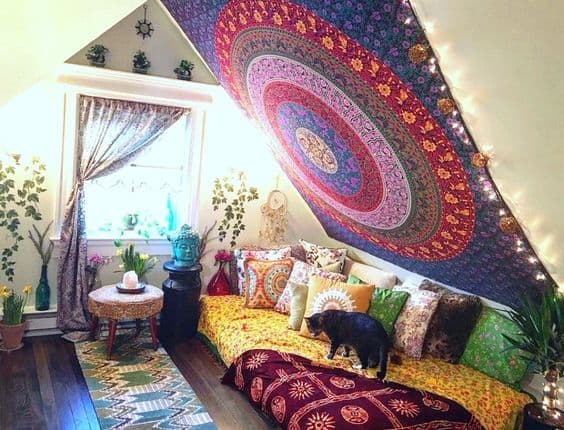 Now when it comes to decor, there are no real restrictions. You can pretty much throw in anything and call it a style!
But but but, there are real reasons you want to get some buddha figurines or some scented candles, or reed diffusers in if you want to make your bedroom not just LOOK creative but feel the same as well! And if you manage to create some space in your gypsy bedroom, you are a real meditative thing! Really.
Recreate This Look
Keep Some Space For All Your Books Please!
Now that we have brought the meditation stuff up, why leave the books aside?
For all the reading nerds and the book worms out there, if you are designing this bedroom for having that cozy space to curl up in with your books, why not just show the motive? All we mean is, have some piles of books lying around, dude!
Recreate This Look
Plants Will Uplift It All!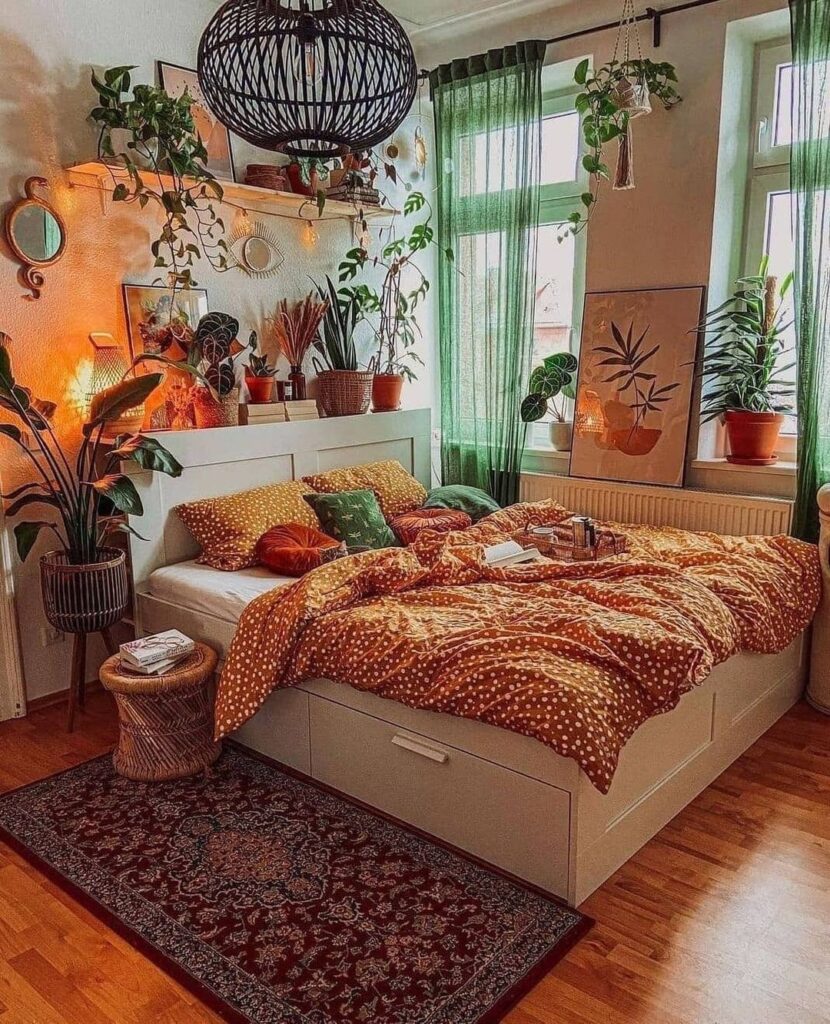 No matter which theme of bedroom you've chosen, you ought to give some space to the plants.
Not just they are healthy but also add to the overall beauty of your space. With your hippie gypsy boho bedroom, your main motive is beauty, right? So, you know what to add!
And no one is stopping you from over-adding them! It's YOUR bedroom, remember?
Recreate This Look
Wall Prints/ Stickers Are A Super Cool Idea
Adding themed wall stickers always magnifies the theme of the room. Use this to your advantage!
Add some pretty wall stickers of your choice to the bedroom, and let the world know, whatever you want them to know! (sorry! couldn't make that up 😉 )
By the way, it is a good idea to paint on your walls, your favorite symbols as well!
Recreate This Look
Colorless Is So Relaxing!
We've been singing the song of colors all throughout the post, but when your eyes rest on this image, a whole new story is written!
The myth that in order to follow hippie gypsy decor, you ought to experiment with the colors, is busted!
Let the colors not fool you! If white is what you like, go ahead! And don't forget the boho lamp, please!
How To Make A Gypsy Boho Bedroom?
Even though you've seen some pretty good hippie gypsy bedroom design ideas, there are certain things you'd want to know and keep in mind before designing one for yourself.
With these, you can be sure of one thing- that your bedroom LOOKS like a hippie gypsy boho bedroom and not like anything faraway!
So to be on the safer side with your decor, let's look into some guidelines:
Use Some Unconventional Colors
Since you've been courageous enough to choose a theme as undefined and ruleless (if there is a word like that!) as a hippie gypsy bedroom, we are sure you'd have no problem going for colors and color combinations that, in no way, conform to the design rules.
So you might want to go for a bright color combination like yellow and red or something of contrast like orange and blue.
To stick to a more boho feel, you can use some earthy and metallic tones.
But not to overthink this. No set rules. Remember?
Try Different Artwork At Your Place
Hippies and gypsies are considered to be creative and artistic people. So, if you are designing a space that vibes like them, art is fundamental.
Consider displaying some of your favorite artwork at various spots in your bedroom. That way, your wall decor will be top-class and you'd be able to add some personalization to your space.
And yes, don't think too much about matching the artwork with the overall theme. There's no theme after all!
The Macrame Wall Hangings Are Something Important!
In your strive to decorate a hippie gypsy bedroom, don't forget to include the boho touch that's going to uplift the look, eventually.
The best way to do that is by adding some pretty macrame wall hangings around the room. There are other ways as well, like using chenille throw blankets, using fur rugs, etc but this one is the easiest way to pull the look together. What do you think?
Why Not Experiment With A Lot Of Textures?
There are no set rules in designing a bedroom like this, and you must take full advantage of that!
The best way is to try out various textures of fabrics in the room. For example, you could experiment with macrame wall hangings, chenille throw blankets, fur rugs, sheer curtains, jute mats, cotton tapestries, and what not?
Sounds interesting? Get to work then!
Experiment With The Headboards
True bohos have never thought inside the square, so they are unlikely to have a padded buttoned headboard that matches their sheets. The backdrop to an exotic bed is a colorful suzani rug that lights up the room. Other ideas are a bamboo screen, a beaded curtain, a silk kimono, an heirloom quilt, a fringed shawl, or a length of vintage lace. Draping rather than making hospital corners is the boho way.

Houzz
Because this design is unconventional, there is no need for you to get the conventional 'decent' headboards in! (No problem if you already have one.)
You can try and go for some unusual, unique design of a headboard that in no way, looks common, sensible, and easy-to-find.
But then, as common sense says, for you as well, it won't be easy to find, so you can also consider skipping the headboard altogether. Use a tapestry behind the bed, instead. And see the magic, overflowing!
Don't Let The Lights, Shine Bright!
If there are bright lights shining in your hippie gypsy bohemian bedroom, there are chances that it has ruined the look, already!
What's the solution? Simple. Dim the lights.
If possible, consider using warm lamp lights that make the room look dark and cozy. Neglect or minimize the use of bright white lights. Also, consider using candles. They are awesome so far as this boho gypsy decor is concerned.
For themed lamp lights, the best choice would be to use colorful and artsy lamps such as these.
Why Even Give A Second Thought? No Need To Match!
We are tired of repeating, but still, the gypsy style home decor doesn't need to go by any set rule or matching furniture and colors.
The only rule of decorating a hippie boho gypsy bedroom is 'no rule.' That's what you ought to stick to.
Understandably, the moment you have your heart on a decor piece, feel free to get it home. How does that matter if it matches somewhere or not, anyway?
Use Some Rustic, Weathered Furniture
In order to bring home that casual, not-so-formal feeling, consider getting some rustic, weathered furniture. Remember, weathered does not mean damaged.
Normally, you can get good rustic furniture online and sometimes, in nearby stores as well. So hunt around, and see where you can get some that can feed your fantasies. That'll be fun!
Take Pleasure In Some Unusual Displays
The drawers don't need to contain all the treasure you own. Come on! Display it all around your bedroom and let everyone know, what's it that you possess that's so close to you?
It is not a usual decor trend, certainly but then what is usual, is not hippie gypsy! Right?
So take that unusual plunge and see you with your treasure lying around!
Let The Greenery In
In order to make any bedroom get an artistic touch, greenery is the go-to.
So, refrain not from adding some to your hippie bedroom as well. All it will do will add some color and beauty to it!
Hippie Gypsy Boho Bedroom Decor Your Must Try!
Hippie Cushions
Since you want every inch of your bedroom to say hippie, let these cushions covers do that for you!
Boho Tapestries
Tapestries are boho. Tapestries are gypsy. Tapestries are a hippie. When they are everything you want, there is no point resisting them, right? Get them HERE.
Turkish Lamp
Although Turkish lamps are not boho, they give the perfect feel! If you like it, buy it HERE.
Conclusion
No matter what kind of a hippie gypsy boho bedroom you choose, it is most important to add your personal touch to it! So long as that is maintained, you will be able to create a bedroom that nails it!
With that said, until next time, happy decorating!
You Might Also Like: