After a long day at work, where do you find yourself unwinding? Most of us would agree that it's our cozy little niche – the bedroom, and we often treat this like our sanctuary, so don't you think getting the bedroom essentials to build it is important? 
A few additions can go a long way and can help you create a bedroom you'll love. Having the right items in your bedroom can make a huge difference in how comfortable and cozy your space feels. Think about it, a comfortable mattress and pillows can help you get a better night's sleep, which means you'll wake up feeling more refreshed and energized. 
The best part? It doesn't have to break the bank! You can start small by investing in a new set of sheets, comfortable pillows, or some throws, and then build from there. So here is a checklist to help you out!
The Bedroom Furniture Essentials
Bedframe & Headboard
Since a bedframe occupies a major portion of your room, it is important to identify what fits your vibe! Just ensure it is durable and sturdy (these are usually the wooden ones!) so it works out great in the long run.
Now after you've picked your bedframe, choose your headboard! This is fun as it adds glam to your bedroom. But if your bedframe is good enough, you can even opt out of it.
For a bedframe, there are plenty of options to choose from, from metal frames, wooden platform beds, and minimalistic bedframes to a canopy bed frame. Add headboards that complement it!
Mattress
A mattress is a bedroom must-have and this can't be stressed enough. It can be very challenging to pick the perfect mattress, but keep these simple things in mind like durability. the firmness of it, the good support, the material it's made out of, and lastly, your budget!
Nightstand
There are so many perks of having bedroom furniture. But a nightstand is a hands-down bedroom essential considering how you get to have things conveniently within your reach, and how you can stuff everything into it saving you from all the clumsiness and the moments of embarrassment from a messy bedroom!
They also make a perfect spot to flaunt your lamp, alarm clock, or books, just in case you weren't impressed with the aforementioned points already!
Dresser
A dresser is a great addition to any bedroom, providing a great space for clothes and accessories, so you can give the chair a break! If you're always in a rush in the mornings to head to work, a dresser can solve your problems and make it a lot easier for you to use things you need on a daily basis.
Ottoman Or Accent Chair
The stylish accent pieces of furniture like an ottoman or an accent chair add so much sass to your bedroom! And the best part is that you can use it for many things! like a footrest, a place to sit, or even an extra seat when you have guests over. Bonus points if it comes with storage space!
RELATED: 17 Best & Beautiful Hunter Green Accent Chairs For Under $501
Armoire
A stylish way of making your bedroom interiors pop, an armoire is just a traditional closet that has multiple storage shelves and space for clothes. The best thing about this if you ask me, would be how you can shift them to different spots in your room according to your convenience. Overall, it's a pretty rad addition to any bedroom!
Shelves And Storage Units
If you're fond of organizing, keep your eyes out for this one! These storage units are a great way to keep your room neat, and tidy. Not just that but they can be tailored to fit your room in the style you want.
Some popular storage unit options include dressers, armoires, and storage beds, which have built-in drawers or compartments for that extra storage and even floating shelves and racks to use your vertical space.
Bedroom Décor Essentials
Wall Décor to glam up your room 
Art comes in many forms, shapes, and sizes! If you are an admirer of things that add a little personality to your space, a wall décor is a perfect bedroom essential for you!
You could have framed photographs that remind you of your favorite memory, paintings, tapestries, and murals on the wall of your choice, or an accent wall to make your bedroom feel like your own personal oasis!
RELATED:
Baskets for a boho vibe
These cute little storage items can make your room feel nice and cool while being functional. They are best for keeping your extra blankets, pillows, or some pieces of cloth that you don't have room for in your closet.
Use wicker baskets for giving your bedroom a cozy boho look!
Plants
Having indoor plants can do wonders for your well-being! They bring so much life to your space making it the #1 bedroom essential of all time. The fun part is picking a nice planter that matches the vibe of the room and hits the spot!
They are not very pricey either. So, if you're looking to spruce up your bedroom, consider adding a few plants to the mix. You won't regret it!
Candles And Fragrances
If you are someone who loves to romanticize little things that you find joy in doing or create an aesthetic bedroom, candles are a great bedroom essential. Whether you're trying to unwind after a long day or setting the scene for a romantic date night, a soft glow from a candle can help to create a cozy and warm space, effortlessly.
Bedroom Fabric & Floor Essentials
Duvet & Duvet Cover
Duvets are great to keep you toasty on a cold winter night! They come in a variety of patterns and colors, and you are free to choose what you like besides adding some extra laziness to your retreat.
That said, these bedroom essentials can greatly help if you are looking to add a color scheme to your bedroom but don't want to commit to it for long. Change the duvet cover and you change your bedroom colors!
Sheets
Sheets are like the cherry on top of a sundae, they make your bed feel complete. You want to make sure you have nice, soft sheets that are the right size for your mattress. And don't forget about the thread count! The higher the thread count, the softer and more durable the sheets will be. If you're feeling fancy, you can always add a pop of color or pattern with a decorative bedspread or throw blanket. Happy snoozing!
Pillows & Pillowcases
The final finishing touch – adding pillows, to make an extra cozy bedroom. You can mix and match different shapes, sizes, and materials to create a unique look that reflects your personal style. So next time you're making your bed, don't forget to fluff those pillows and make them look their best!
Curtains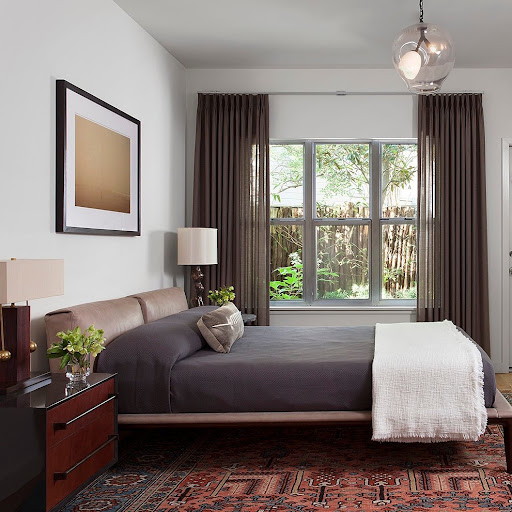 Curtains have a lot of power over your bedroom, especially when you have long windows. Based on how much light you want to let in and the color you want to choose pick the perfect curtain for your bedroom.
These bedroom essentials can even add some extra color and texture to your room. So, choose them with your end bedroom look in mind!
Quilt and throw blanket
Double up your coziness with a quilt to snuggle up with on a cold night. They make your bed extra comfy and cushy while keeping your bedroom cozy and warm. They make it to the top #3 items you should have in your bedroom!
Rugs & Carpets
These bedroom essentials are lifesavers on a cold morning when the cold floor sends chills down your spine. Rugs pull a room together and add some color, textures, and patterns to your space! They can be a great way to define areas within your bedroom like a reading nook or a place where you sit and watch TV from.
Bedroom Lighting Essentials
Bedside lamps & floor lamps
Those extra light fixtures in your bedroom come in handy! They are very convenient bedroom essentials if you want to do a quick read before bedtime or use them as ambient lighting to set a cozy mood. There are also many different types of lamps that you can choose from table lamps to floor lamps and even wall sconces! so go ahead and explore your creativity to create the ambiance you desire.
Mood lighting
Mood lighting is all about setting the right ambiance to wind down after a long day. It is easy to elevate your interiors with some good mood lighting, by using overhead lights, and by using warm or colored LED lights in your space.
FAQs