Blue is so timeless that will and can never go out of style. A perfect pair for every color, let's just say that blue is a blessing when decorating your home!
To create a sense of calm or simply add a pop of color to a neutral space, the navy shade of blue is the perfect way to get your desired aesthetic! Whether you want a bold and bright accent or a more subdued and soothing touch, we are lucky as navy adjusts itself to any color it's put against!
But when you don't want to commit to a full room makeover and still add navy to your haven, then a navy blue accent wall is your savior! Take a look at the ideas I've chosen and you'll have to agree!
Make A Statement With Wallpaper
When you wish to beautifully balance the look in your space and don't want to make it look too bland, use wallpapers to create a focal point.
They are great for your bedrooms, home office, and living room for creating a sense of flow and continuity throughout your space with an added touch of serenity. You can play around and add different textures like matte, glossy, or metallic to your navy blue accent wall for a more sophisticated look.
Transform It With Wall Panels
Having panels on a wall that you want to highlight can be a great way to glorify your space while adding some depth to it.
So, if you have a specific theme in mind like rustic or a coastal look, go for a navy paneled wall to add some color, so your space won't feel like, 'eww, so boring!'
Modern & Minimalist
Blue is such a versatile color that can work well with a variety of design styles and color schemes, so it will fit just right with your minimalistic or modern décor, exactly as in this boho-scandi dining room.
But any way you decorate your room with a navy blue accent wall, don't forget to throw in some plants. They'll pull the look just perfectly!
Make It 'The Perfectly Colorful Victorian Home!'
Since navy blue can fit in or tie any color scheme together, it is worth its hype!
Much like this bold and beautiful victorian space, use navy to create a sense of drama and make the room seem more inviting.  You can paint or add decorative elements that can enhance the wall more and add to its character.
RELATED: 19+ Victorian Bedroom Ideas That Feel Rich & Royal!
Sophisticated & Modern Farmhouse Vibe!
A combination of natural materials and navy blue can make a beautiful farmhouse interior!
You can go for the classic navy blue wall or pick a shade of blue that complements the color palette of your interiors. But I suggest pale shades of blue like light blue grey or robin egg blue for your wall. Consider adding a shiplap for a rustic touch or any kind of artwork you like with neutral-colored frames.
The Dreamy Nautical
Nautical-themed bedrooms are very dreamy. If you love the sea this theme is just right for you! There are many ways to design an accent wall, but make sure you get the colors right. The best option would be to go for a light blue or navy blue accent wall. You can use shiplap paneling for added texture and to evoke the nautical feel.
Or if you like to have a vintage touch to your nautical space, you can add décor like a map, a compass, and a ship wheel that has always been popular with this aesthetic.
Try Intricate Crown Moulding
Ornamentation, like this intricate crown molding on this navy accent wall, can never disappoint you. All the little details will always tend to hold your interest. It is safe to say that it's a work of art.
It complements the natural materials and is a great way to add interest and elegance to a room, from contemporary to traditional and everything in between!
An Exclusive Wall For Your Exclusive Photo Gallery
A plain navy blue accent wall might not do as well as the one with a photo gallery! It's nostalgic. It's fun. It's personal.
But you can do more than just display pictures on the wall. Putting these frames on an accent wall can create a nice visual interest or decorate with some vines and fairy lights to make it more aesthetic!
Home Office Can Be An Interesting Place (Sometimes!)
Navy blue has been a popular color choice for home office interiors for ages! It is royal, sophisticated, and not-disturbing after all!
Just like this elegant home office, add a navy shiplap wall to your space and throw some natural decor and plants into it. It'll be timeless and modern, so you can thank me now.
RELATED: 23 Serene Shiplap Bedroom Wall Ideas You'll Save!
Add The Boho Flair
The all-time favorite boho style is known for its use of warm, earthy colors like terracotta, rusty browns, and mustard yellow. Combining these colors with navy blue or powder blue can be a great choice for your room.
Don't be afraid to add your personal touches to your space. This could be anything from that wall art you have an eye on or your favorite boho chenille throw that's been waiting to be used since when you bought it years ago.
You can also consider adding a tapestry or macramé wall hanging with textured wallpaper in blue.
RELATED: 23+ Cozy Boho Bedrooms To Make Winters A Celebration!
Decorative Mirrors Can Help!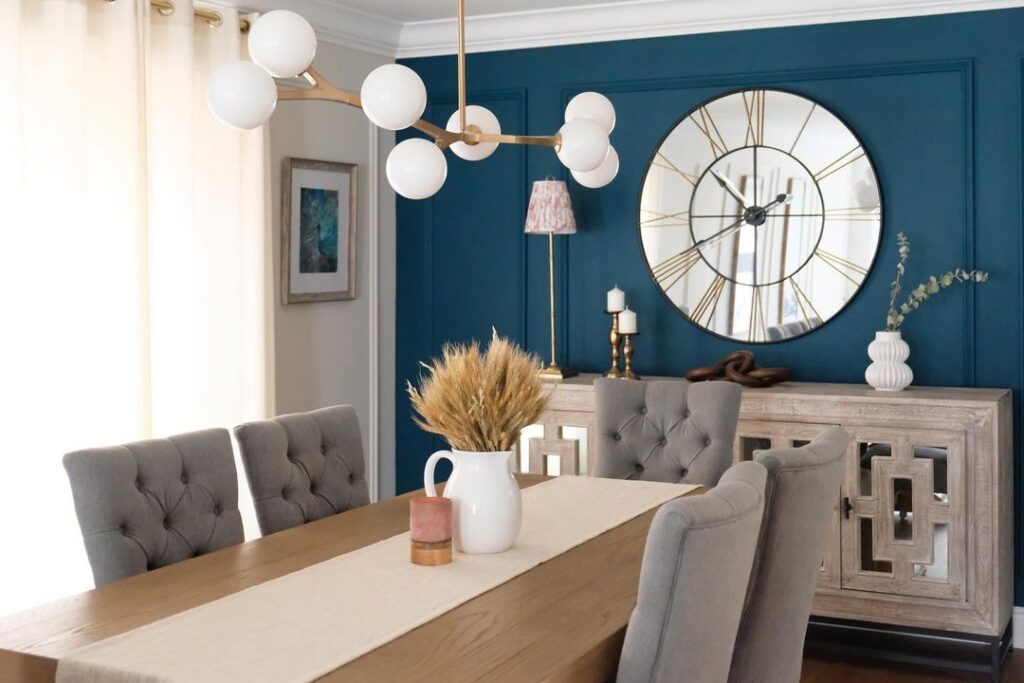 Mirrors are visually appealing and adding decorative ones to your accent wall will make it look very posh and pretty!
Just like this unique clock cum mirror, find one that's just as large, pretty, and vibey! You won't go wrong.
Why Not An Accent Ceiling?
A blue accent ceiling would be great for your dining rooms or kitchen, or just when you don't want to go for a traditional accent wall in your bedroom.
For a feeling of luxury, you can go for chandelier or pendant lights to create a nice cozy, and warm atmosphere while still keeping it classy and chic. If you're a fan of vintage designs just like this victorian bedroom, you can use a ceiling medallion too!
Bring Life With Complementary Colors!
If you like your interiors to feel bold and energetic, the key is to use bright colors that can resonate well with your surroundings.
For a room with a navy accent wall, go for complementary colors like mustard or magenta. For a more lavish feel, a navy and gold bedroom looks beyond pretty!
RELATED: 19 Magnetic Navy And Mustard Bedroom Ideas You Can't Resist!
Add Some Drama With An Abstract Wall
We all love art, don't we? And abstract art can always leave us fascinated by letting us create our definitions of it.
Similarly, make your accent wall seem intriguing and paint it abstract. Make it a work of art. It won't fail you!
Display Some Art
Just like a black accent wall can make any color look bright and beautiful, a navy blue accent wall created the same magic. Take advantage and add a pop of color to the wall by hanging bright wall art and decor!
And just like this elegant home office, add some industrial vibe to the space so it doesn't look too typical!
Make It Functional
We all know how useful a wall with storage space can be. It doesn't only add more texture to the room but makes your room look effortlessly aesthetic.
So just fix up some shelves and keep your favorite trinkets and books! Your accent wall isn't useless now.
All Fun And Play!
Kids' bedrooms are always fun to design. There are so many ways you can curate a child's dream bedroom with a blue accent wall, from using lighting as décor to putting up an open bookshelf or displaying their favorite toys. Be creative. Make it fun!
RELATED: 6-Year-Old Boy Room Ideas That Are Both Playful And Creative!
Add A Touch Of Luxury!
Marble can never fail to make things seem so much more sophisticated and luxurious. Now instead of going all the way and acquiring the stone you have an easier way to do things- by using a marble patterned wallpaper!
These are very budget-friendly and they come in various shades of blue with the perfect glossy look to glam up your space. Just like this stunning living room, grab a galaxy-themed wallpaper and you're good to go!
RELATED: 21 Aesthetic Galaxy Bedroom Ideas That Don't Belong Here!
Add Some Navy To The Bathroom
You can create a beautiful soft look with a touch of elegance in your bathroom with beautiful blue tiles. Use them as a blue feature wall behind your vanity mirror or on a ledge wall to create a nice contrast between materials. 
And if nothing else, then a pretty navy wallpaper is a no-brainer!
Perfect Color Combinations With A Navy Blue Accent Wall
Navy Blue and white: A classic combination that creates a clean and crisp look. This pairing works well in modern and traditional spaces.
Navy Blue and gold: This luxurious combination adds a touch of glamour and sophistication to a space. It works well in formal living areas or bedrooms!
Navy Blue and grey: This is a calm and sophisticated pair, that creates a cohesive and balanced look. It's a great choice for modern and minimalist spaces.
Navy Blue and beige: This pairing creates a warm and inviting feel. The blue adds depth and drama to the space, while the beige keeps it feeling comfortable and cozy.
Navy Blue and pink: A playful and expected combination, this pairing adds a touch of femininity and romance to a space. It works well in bedrooms or living areas.
Navy Blue and Yellow: This pairing creates a cheerful and vibrant look. It works well in sunny rooms or spaces that need a bit of brightening like your foyer!
Navy Blue and green: A truly fresh and natural combination, this pairing creates a soothing and peaceful feel, very much needed for spaces with a lot of natural light.
Navy Blue and red:  this might be a bold and dramatic combination, but this pairing creates a powerful and energetic feel. It works well in formal spaces or in rooms that need a bit of drama.
Navy Blue and Orange: This combination creates a warm and cozy feel. It works well in the fall season and can be used in the living room and bedrooms too!
Frequently Asked Questions (FAQ)