Red is love. Red has our hearts. Know why? Because it's the color of love, vibrancy, fearlessness, and confidence.
Red tells us, don't ponder, just go for it.
It makes its presence known.
But no, it's not egoistic. It is adaptive. It knows how to make friends with anyone and yet, how to stand alone. That's why it has its own charm, doesn't it?
But as beautiful as red is, it is integral that you have it around yourself in some form- a dress, some toys, etc! The easiest way, though, is to have it in your room, a red wall bedroom, probably?
Understandably, you already have that in mind (that's why you are here in the first place.) So, no wandering about anymore, and straight to the point. We've got 25 red wall bedrooms (and not red wall bedrooms) at your disposal!
How about taking a look?
23+ Red Wall Bedroom Ideas That Are Anything But Boring!
Golden Accents, Against A Red Wall, Nail It!
Golden merges with red in an almost surreal way. Both are royal hues and thus accentuate your wall.
Given the color combination, you can experiment with all styles, modern and vintage! It takes you back to the time of ancient Kings and Queens. Their royal colors and metals, remember?
To be precise, gold can (and must) be used as an accent against a red wall. And that's a no-brainer.
For example, these golden floating wall shelves make an excellent design statement. Add to that, they're super affordable accents to perk up your walls.
Needless to say, when you don't want to put your mind to work, gold is the go-to!
In case, You are a book nerd…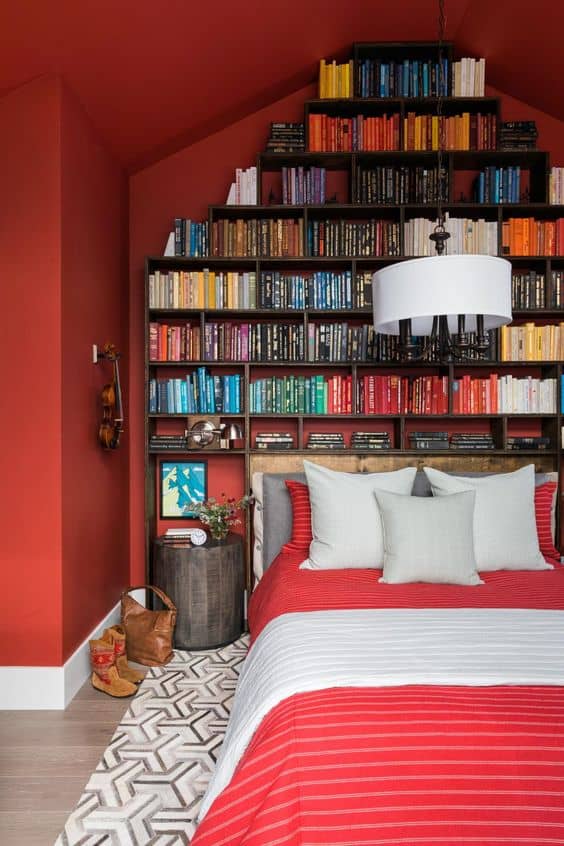 A book nerd and a lover of red? Here's the red bedroom idea you've been looking for.
Remember how you dreamt of living in a book haven where your mom couldn't call you for lunch JUST before you found out that Snape loved Lily, or how you had to hide your tears under the desk so your teacher couldn't spot you reading a book? Oof. A book haven would be your safe space.
But it's not always possible to have a separate library with a lot of bookshelves at home. How about adding one against your red wall in the bedroom? Now, you have all your best friends right next to you, at your disposal.
We can hear someone sobbing. The tears of joy, maybe. Did you just start crying?
Add some nice and subtle colors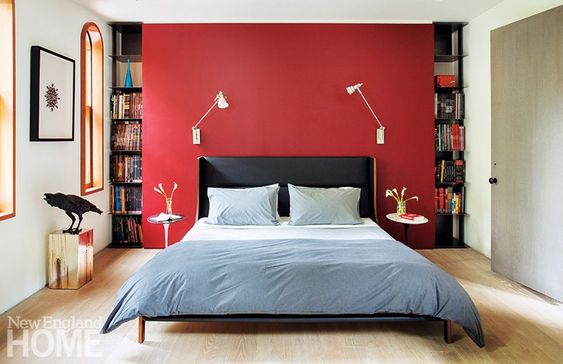 We love red but it can be a bit daunting and even intimidating at times. Why not add pretty, subtle colors like baby blue, lavender, or sage green to balance that out?
You may have a red accent wall, and to still keep things versatile, you can use different colored bedsheets, pillows, and duvets. Even a flattering carpet or area rug can work wonders!
A bright accent wall can steal the look and the muted backdrop can hold it, highly! And did you just see those corner bookshelves, above?
Red, Red All Around!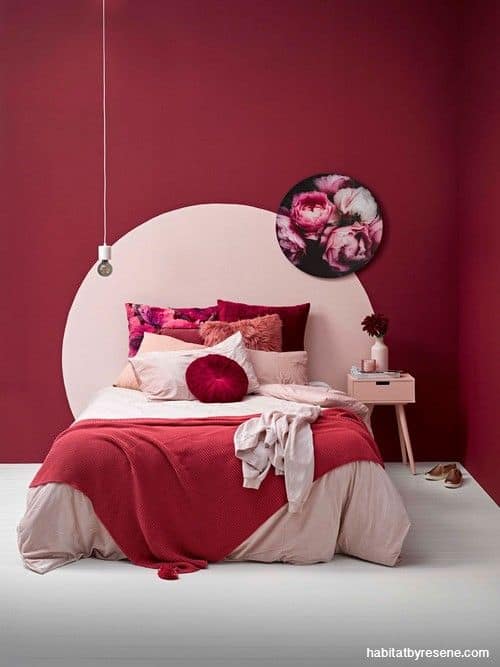 Not necessary that red must just be punctuated about the room or just one shade of it be used all over. Red comes in variety and why not take full advantage of that? Simply put, use different tints and shades of red across your bedroom to give it that depth and mood it deserves.
Surprisingly enough, a rosied frame and some printed pillows can add a nice, attention-grabbing touch to the bedroom against all plain walls.
That said, the bedroom doesn't have to be red in every nook and cranny. You can definitely pair it with a neutral to balance out the look.
A Red indie bedroom will steal your heart!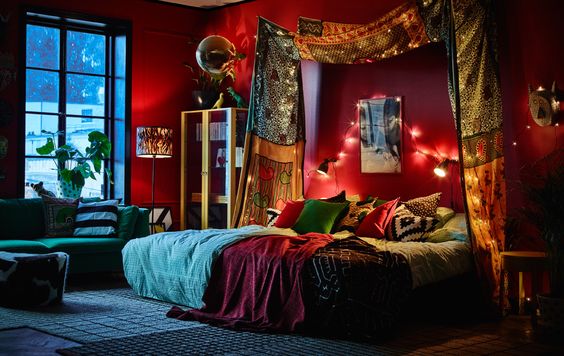 Since Indie decor means independent decor, you can add to the design what YOU best connect with. This means that there is absolutely no direction or rule applied to what you want to add to your indie red bedroom if you choose to create one for yourself. They could be fairy lights, tapestries, canopies, patterns, textures, and even colors!
There are a lot of such aesthetic trends prevailing right now, but the difference with Indie lies in its dark, murky tone with a maximalist, clutter-core pattern.
Essentially, you want a bedroom that resonates with your individuality. In an Indie red wall bedroom, you get all the liberty to add your personality to every corner of your bedroom! What more?
Red, white, and blue= pure elegance!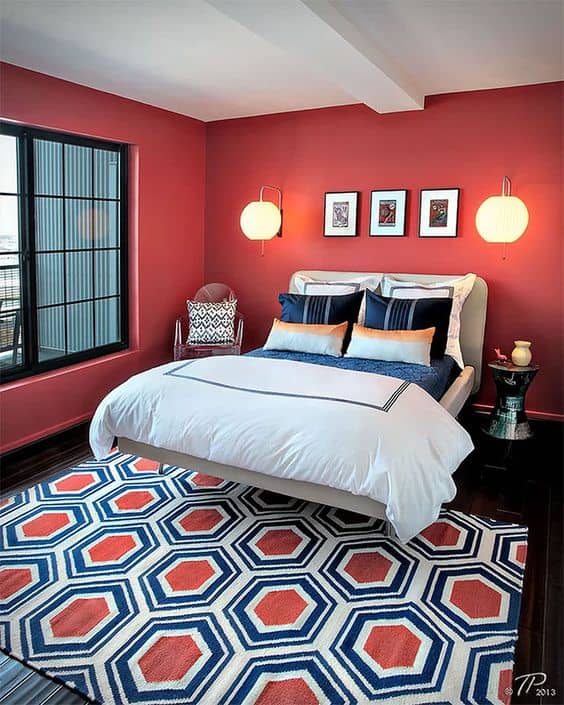 I red a joke about colors. It blue my mind. Hehe, just trying to pun your way into the world of combinations! These are the colors that create a serene yet bold feel when married. They're made for each other!
When used in the correct proportions, they can make your room look cohesive and put together. But it's up to you whether you try playful or try sporty. Or make it elegant.
It's a vast sea, but you get to choose the shore.
By the way, no matter with which color you pair blue, it's a guaranteed charm!
Balance the boldness with white!
White has its pristine elegance, whereas red is royal and bold. Together, they make an evergreen combination where neither lets the other dominate.
The white adds more than just balance. It neutralizes and brightens up your room. 
That said, try this look with a space that has ample sunlight and big windows. The white will reflect the light and the look would be majestic (if not more!)
To add to the monochromatic color scheme, you might want a few black frames to mount on the wall.
Add a lot of patterns and designs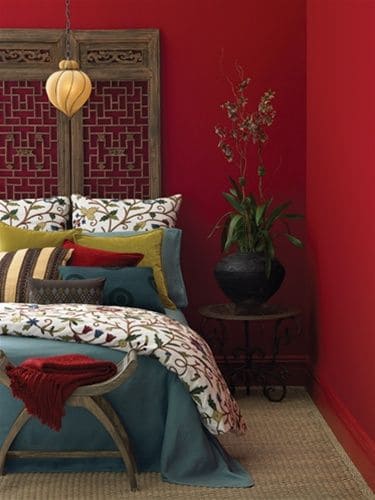 There's no written rule to keep the bedroom plain, devoid of all texture and design! To give it some depth, you might want to add some designs like polka dots, gingham, stripes, and prints across your bedroom, especially at its focal point. Your bed.
It must be added thus, don't store away your favorite vintage and artistic pieces in a dusty corner just because you couldn't find the right spot for them. Even your own handmade pieces. You've found their best place, after all!
A Red wallpaper has our hearts, Already!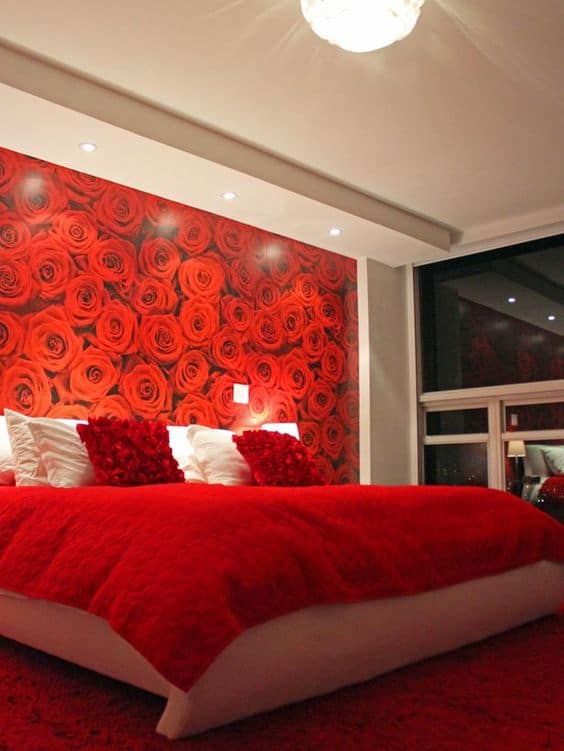 When given a choice between red wallpaper and red wall paint, the red wallpaper will always thrive provided it's stunning as this one!
A full red bedroom look can be nicely achieved with printed wallpaper. Plain wallpaper is as good as a plain wall so you don't wanna go for that…
But that doesn't mean, you have to limit yourself to just one pattern or print. There's an entire world of red wallpapers you can explore. There is variety. So choose your choice and thank us later!
Every day is Halloween in red and black!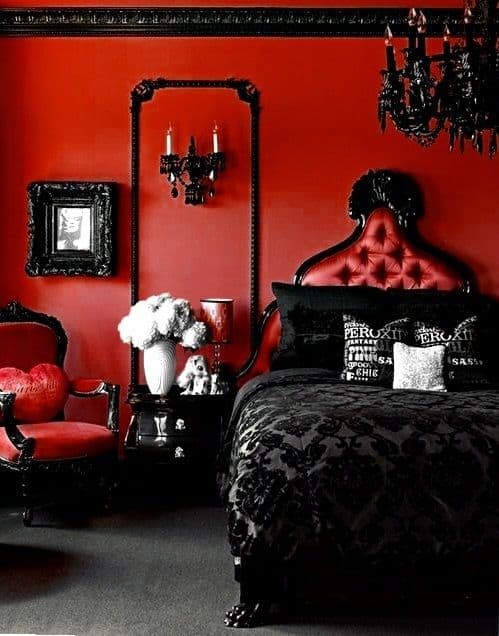 Now, not everyone loves that subtle white paired with the bold red! We all are different and so are our tastes.
Keeping that in mind, let's celebrate Halloween! Let's have a bold (and frightening) red and black bedroom, we mean. (Never mind our bad jokes, though!)
A Black and red bedroom is definitely an intimidating idea for many but for people who LOVE to experiment with this and that color all the time, this is YOUR thing! Who knows, you never want a pull this look down again, after you have it?
With red, it's 'Merry Christmas' all the time!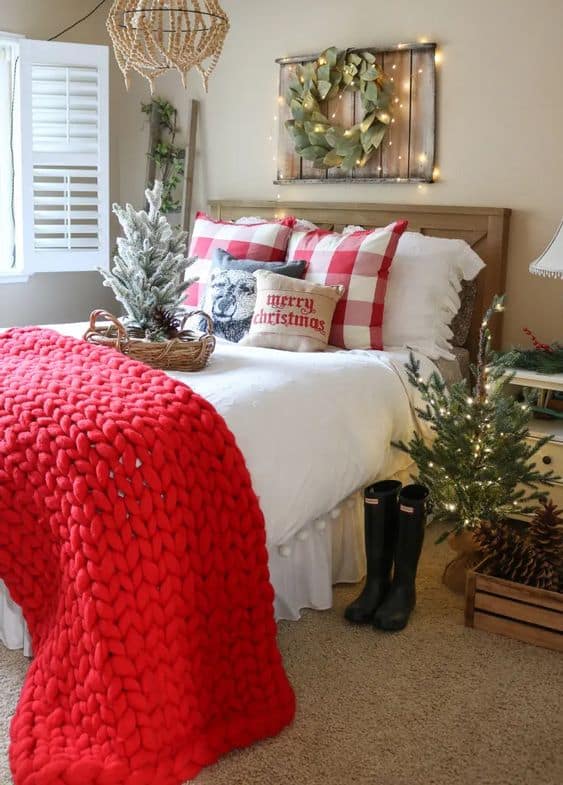 Ah, Christmas. Who doesn't love Christmas?
The coziest time to be around family and friends. Reading stories about Santa to your kids and becoming one to keep their faith alive! And dipping yourself in red, white, and green feels like magic, all at once! Festivals and colors make life beautiful!
Unfortunately, it can't be Christmas every day but once you try a red bedroom design with green and white, it does feel like Christmas every day! Skeptical? Try it and let us know.
A Multicolored red room sounds interesting, doesn't it?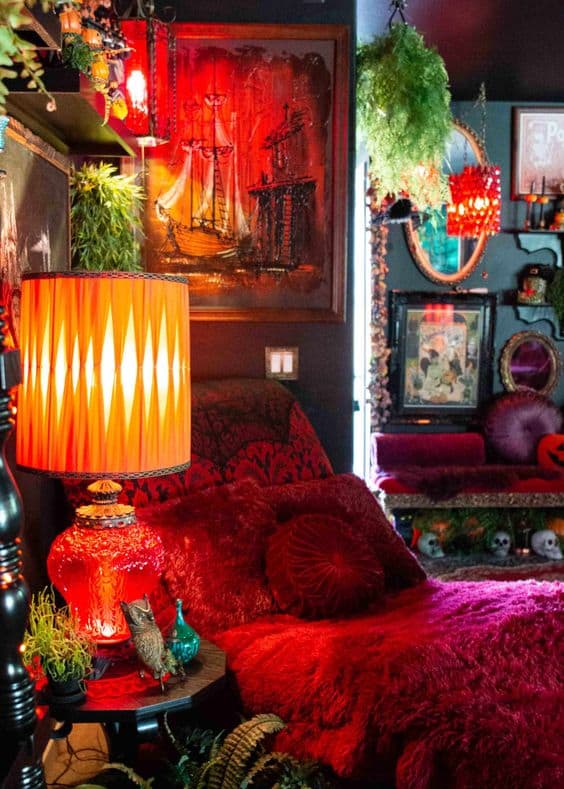 With an indie, a boho, a gothic, an aesthetic, and a hippie touch to it, this one is a modern artistic masterpiece!
Those fond of art and multi-colored surroundings (if that sounds good), can make their red bedroom interiors even prettier by making them colorful with pretty paintings and aesthetic lights!
This would give your room an eclectic yet modern touch. Add versatile textures that no designer would ever want to leave your room! So, no more waiting! Awe them all.
Pink+red=Girls' love of life!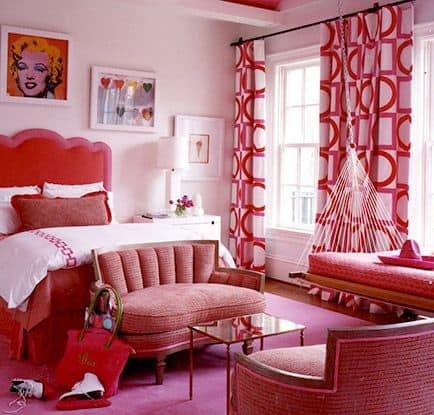 Since red offers boldness and pink, feminity, they make a tremendous pair. Also, being on the same scale of the color wheel (just different degrees), they create a room that looks pretty tied together.
Take it to the next level with some nice and bold red patterns on a pin backdrop. Also, there's no need to stick to just one shade of pink and red. Try various.
Hang your favorite bags and fluffy jackets. Oof. This look reminds us of Regina George from Mean Girls. Certain about herself, determined, and never embarrassed about her personal style or taste! Who are you reminded of, seeing this?
white and black, with red, is pure elegance!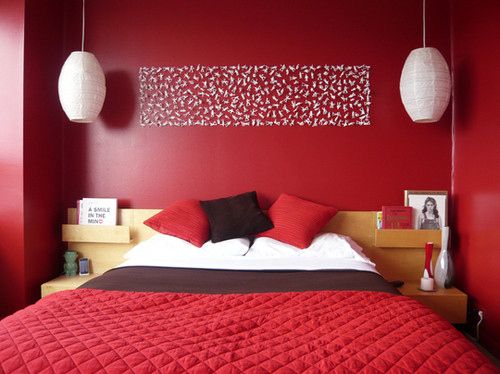 White and Black is within itself a classic duo that never fails to impress. But to add them to your red wall? Interesting!
These colors don't let red dominate and create a perfect balance (AND sophistication!)
Lavish and luxurious, this look is ever so bold and rich! So, pairing red with black and white is a no-brainer. We love how the pendant lights add a shot of white to the bedroom in an effortless way, don't you?
Who said that carpets are out of style?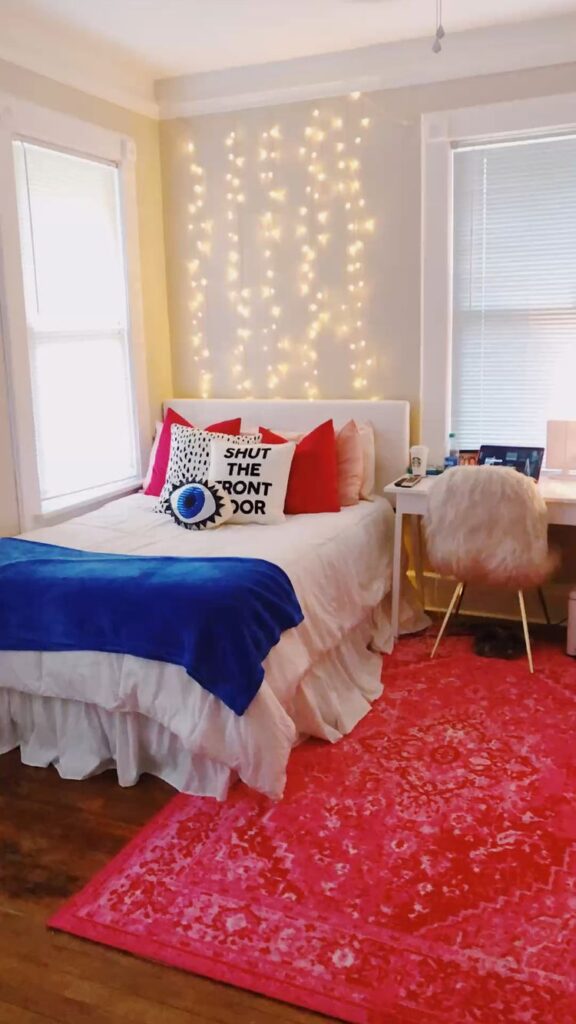 Another insanely easy trick to add red to your bedroom is by adding a red carpet/ area rug to it. Complementary colors like white, blue, or even black could let red pop up and make it the main highlight of your room, altogether!
You might as well want to add some subtle colors across the room like white or yellow so it doesn't look too overboard.
That said, in case, you wish to add other dark colors like navy blue, or black, to your room, consider toning down the color of the carpet to make it the show stealer(again!)
A canopy is all there is to royalty!
You might find it interesting to know that canopy beds were intended for privacy and warmth in medieval times. But with time, they've become an adorable addition to a designer bedroom.
This red bedroom design definitely turns the volume up. It is luxurious AND imperial, all because of a canopy that has stolen the show AND our hearts, all at once!
So, for all you lost kings and queens out there, who just know they were born for royalty, but ended up elsewhere, this is the red bedroom idea you've been desperately looking for!
After all, red walls aren't the only way to have red up in your room!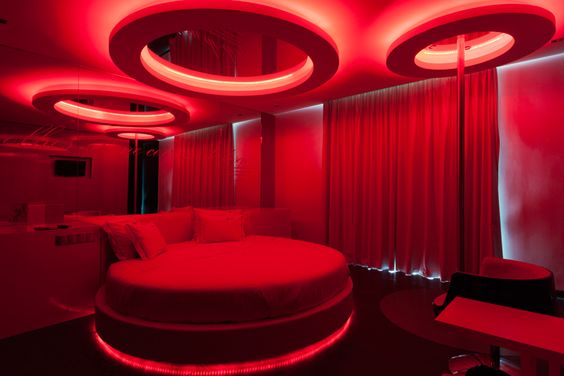 Another great way to add red to a bedroom is to add a red false ceiling to achieve the best red accents.
If that's out of budget, even red lights can be added to give your room that bold and warm flair the color brings.
Red lights all around can make your bedroom look very mysterious and horrific. You might as well feel as if a ghost is hanging from a ceiling somewhere in your room (lol)
So, take the next steps only if you are comfortable with witches and ghosts wandering about your room at night! When you see them, switch off the red lights and welcome back to Earth!
Marry Some Bold Red And Sassy Magenta!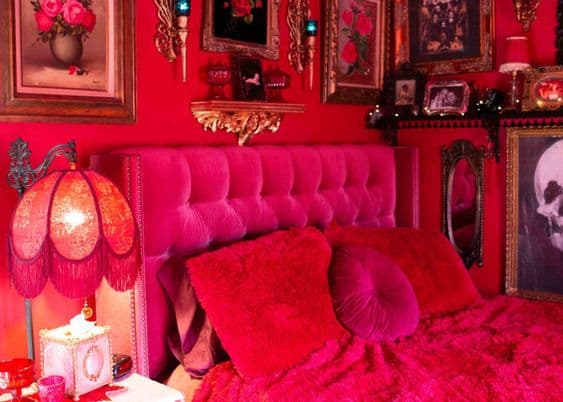 While red is bold and energetic, Magenta is sassy. So it's a look on a bolder side if you pair the two. 
This combination might feel a bit intimidating but why not can play around with these colors if you're looking to turn some heads?
Either go all the way. Or pair these shades softly by just using them as accents against a white backdrop. (Oh, come on! No need to thank us all the time…)
Or, maybe you'd like the fabric upholstered wall panels?
The idea is to have red in your room, right? It doesn't have to be just a red wall bedroom. These fabric upholstered wall panels have such a royal, and kingly feel to them as the idea of upholstering furniture was a trend, back in the 1700 and 1800s, when only the wealthiest and richest people could add charisma to their homes.  
It is definitely a trend in the modern days too but the elegance it brings to the table now is the same it brought then.
Fabric upholstered wall panels add charm and charisma to your bedroom without much effort. We even love how the satin white and red pillows and bedspread add to the glamor of this room.
Red pops on a white backdrop are the second name of charisma!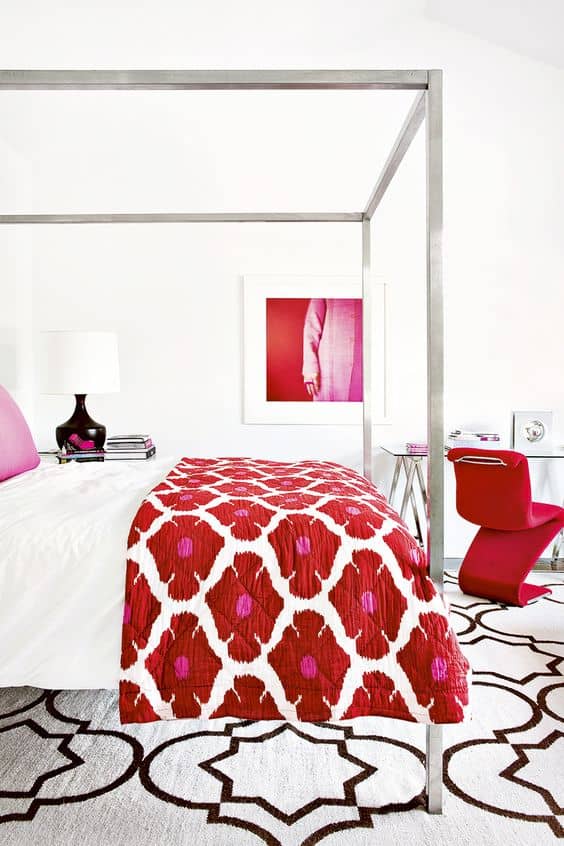 It is safe to say that a white backdrop is an all-accepting color. It can make any color pop and be prominent. That's precisely what makes this look adorable and precious- an ideal room for girls which isn't tacky or gaudy.
This is a very minimalist and clean look with those accessories that only accentuate the room, not overboard it. 
For the lovers of subtlety yet 'red', there you have it!
Red and green are a safe bet, definitely!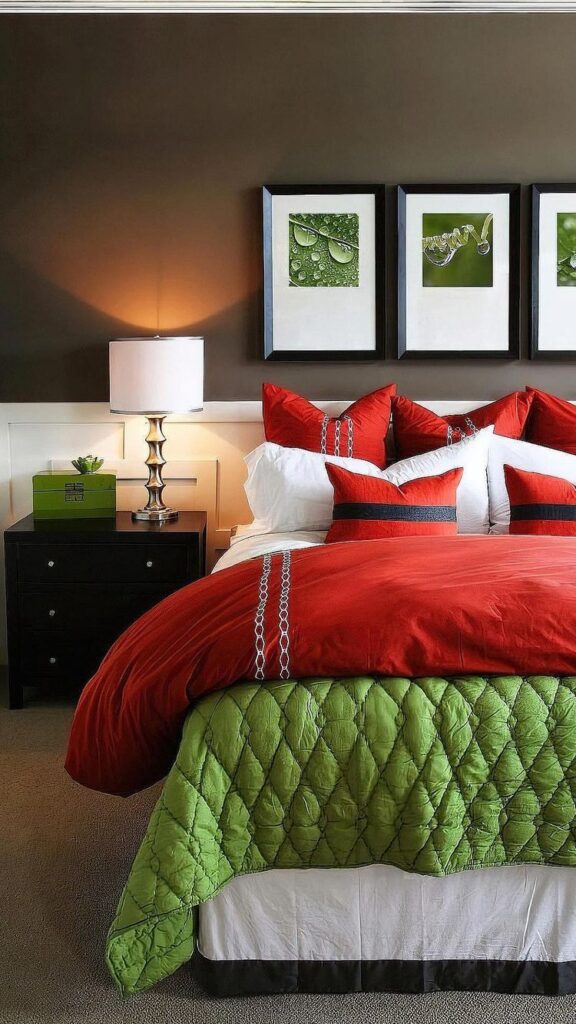 If not a full Christmas bedroom, then why not this Red and Green look that's beautiful and a lot different! These colors, in the right proportion, can make your room livelier and brighter. Red alone is enough but green just magnifies the beauty!
Bright accents like these green and red ones work wonders against a muted backdrop. But a dark gray wall like the one here is also a safe choice since you're never gonna go wrong with the neutrals, after all!
And Here Comes A red Heaven For The Red Lovers!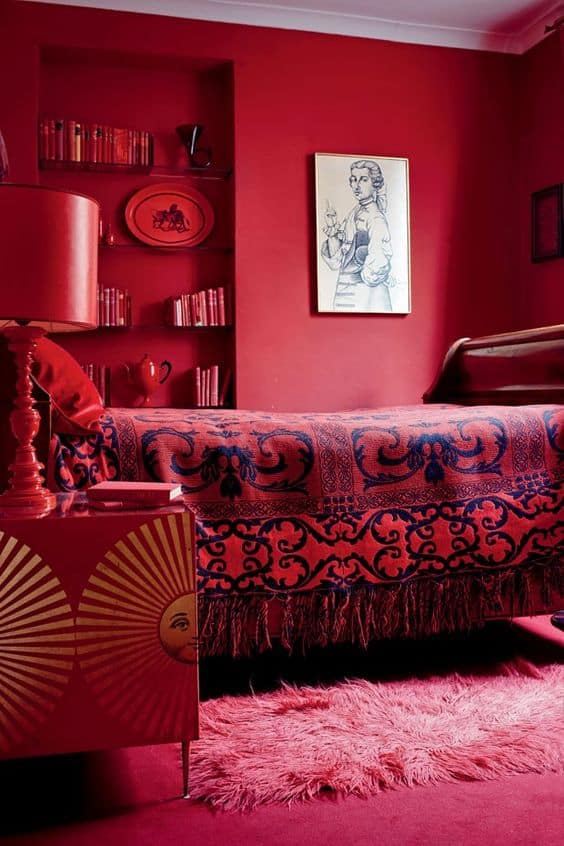 For die-hard red lovers, a full red wall bedroom is a safe space. From your bedroom walls to your foot mat, add red.
To add some texture along with a traditional and vintage vibe to your red interiors, consider adding a jute bedspread like the one that's shown.
Also, the matte-finished red wall needs no extra words to explain how much it contributes to the boldness of this look.
But in case you like the look but don't want it in full red, white as a backdrop is your savior!
a red headboard!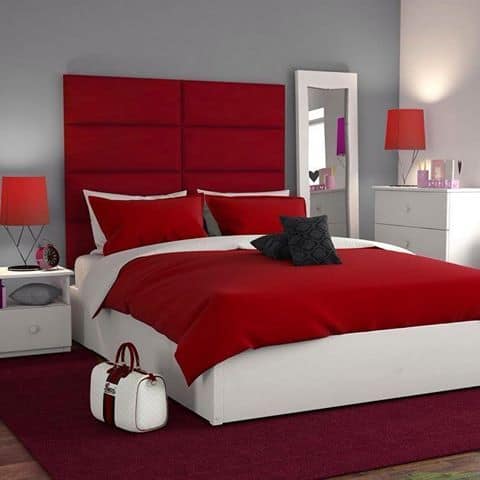 Neutrals always pair well with red as this gray color does in this red and gray bedroom!
A red headboard can make things easier for you in case you are finding it tough to squeeze in red, somewhere in your bedroom interior.
The gray color in the background with the red headboard, the maroon carpet, and the red bedspread make the room look cohesive and balanced. And shots of white have their charm, as always!
Princess Please!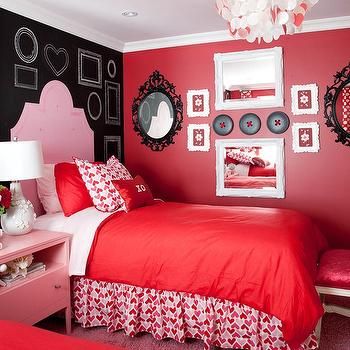 Here we have another red wall bedroom for girls, which gives off a quite princessy feel.
For little girls, this one is a good color combination. When a lot of geometric shapes and patterns are added to it, it becomes imperial automatically! Apparently, Red and pink together enliven a room when paired with fun patterns as they do it here.
But there's no rule of thumb. You could swap some colors in this design and something more lively, might come out of it! Who knows?
You thought Red is only for adults?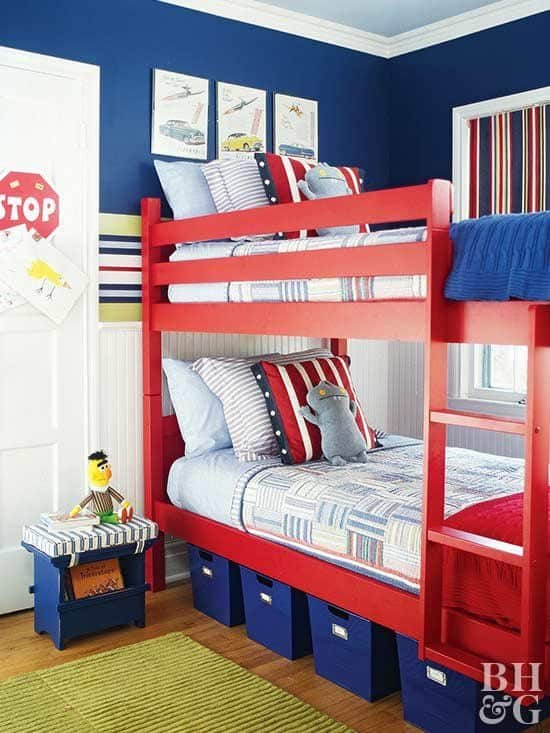 Kids of all ages and genders love the color red! So parents, no worries if your child's nagging for red in their bedroom. Paint their bunk beds in red, if not the walls!
This would add a shot of red and won't make your kids' bedroom look overdone.
The rest of the room is a blank canvas for you and your kid to decide! With red, multiple cartoon themes like spiderman or superman can be incorporated pretty effortlessly. So, congratulations!
The Endnote
So, there you are! 21+ ideas to style a bedroom with red walls or have red in your room in some way.
We know that red can be intimidating and most people think twice before including it in their rooms. But it's great for those of you who find yourself compatible with the color.
Red has multiple qualities as it's a color that's fiery, outright, and confident and when it's in a room, you have a wide range of choices to embellish it, from golden accents to wallpapers, patterns, carpets, false ceilings, statement furniture upholstery, and even a bookshelf!
We hope you liked the ideas!
Don't forget to comment below your favorite red wall bedroom and until next time, happy decorating!
Frequently Asked Questions (FAQs)
Is Red Color Good For Bedroom?

If you are asking about an all-red bedroom, no. Let us explain.
A bedroom is a place that's for rest and peace. Red is a fierce color, a color that;'s totally and bluntly devoid of all traces of peace.
So, it forms the least ideal color for a bedroom.
But, in case you want to punctuate your room with it, it's one of the best. It just embellishes the look of your interior and does the least harm.

What Looks Good With Red Walls?

There are a lot of things that look great against red walls, such as:
1) Golden accessories like golden accents- frames, gold-plated mirrors, gold curtains. . 2) A pristine carpet. 
3) Complementary-colored wall panel
4) Satin Red/ white (or any neutral) Sheets and pillows.  
5) Shades of Green, Gray, and Yellow.
6)A canopy bed in colors like golden, white, or red itself.
7) Wallpapers,
8) Fairy lights,
and other accents.

Which Colors Go With Red Bedroom Walls?

Red bedroom walls pair well with a lot of colors. 
If you're looking for subtle colors then you can go for white, butter yellow, light green, baby blue, baby pink, or light purple. These are just examples and you can try with a lot of colors in the 'light hue' zone.
For colors that are on the darker side, you can try daring black, dark green, mustard yellow, golden, or even dusty pink and orange.
But please don't limit yourself to these. Experiment and something great is gonna turn out!

Which Curtains Color Go With Red Bedroom Walls?

 In terms of curtains, there are various options that are there to explore. Allow us to list some of them below:
In case you want to go for light-colored curtains, then:
1) Butter Yellow
2) White
3) Light green
4) Cream
5) Muted gray
6) Beige

In terms of dark colors, you may go for:
1) Black
2) Dark green
3) Magenta (at your own risk)
4) Eggplant/ Aubergine
5) Mustard

And in case you want to take advantage of both dark and light colors, then printed curtains are your go-to!
Love to add colors to your bedroom? Check these out: