As a child, we often dreamed of sleeping under the stars. Looking at the night sky and imagining the endless Universe, whether it be the milky way, planets, stars, or infinite space, often filled our dreams!
But, even when you can't always sleep under the stars, bring those stars to your bedroom! Create a galaxy bedroom, we mean.
An aesthetic galaxy bedroom is the perfect combination of all that is wondrous, magical, and calming. But how do you style one into the shades of the Milky Way? How do you make it galaxy-themed?
Not a tricky question to answer! There are various ways to style an aesthetic galaxy bedroom, and below are 21 ideas for you to do just that!
Mind taking a look.
21 Galaxy Bedroom Ideas
a Galaxy Projector Light Is Worth It!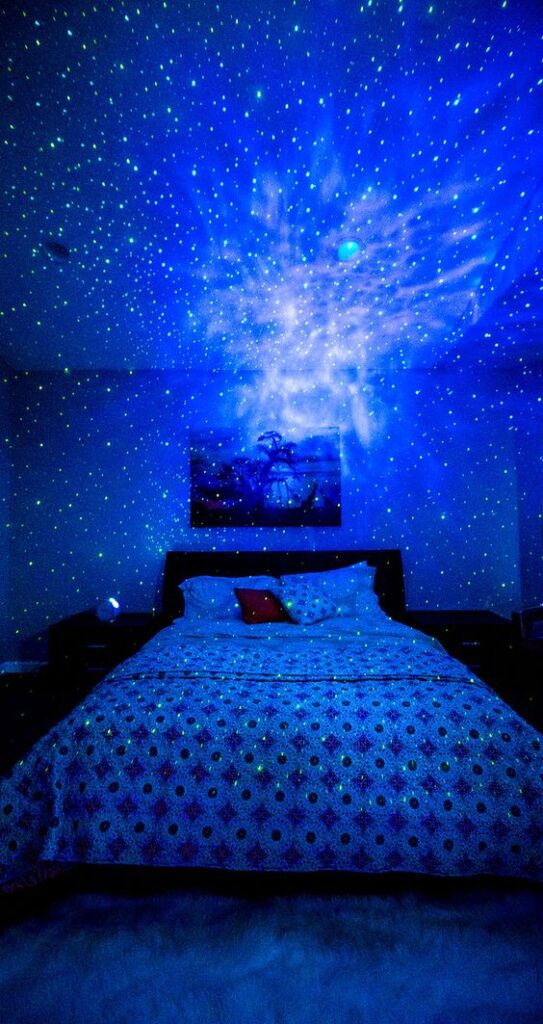 A galaxy projector is a type of star projector that combines visions of starry night skies and nebula clouds for an intergalactic feel. The galaxy projector covers your entire room with pictures of the Universe. Many galaxy projectors surround you in lights that transform and transport you to new dimensions (so to say!)
But they don't just come in blue. You may choose from various colors, modes, and patterns. So, congratulations!
They are great options for people who do not want to commit to the galaxy theme entirely but still want elements of the Universe in their bedroom. You can get an excellent galaxy projector HERE.
Don't resist wallpaper, please!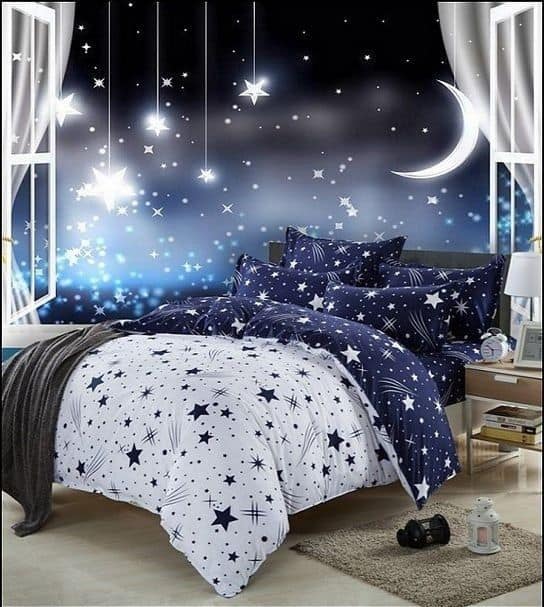 Imagine coming home after a long day at your school or office, and the first thing you see is super bland walls! Would you instead spend time outside or stay in your bedroom, bored under your boring white walls? We got you!
The best way to bring the wondrousness of the galaxy to your bedroom is by having a galaxy wallpaper!
A star constellation wallpaper can quickly turn boring white walls into a glorious night sky! There are various peel-and-stick, easy-to-apply wallpaper to create instant galaxy murals. Add to that. They aren't too expensive in your pockets!
Themed wallpapers are the best options to immerse yourself in a galaxy experience fully.
The fairy lights can make things easier (and cheaper!)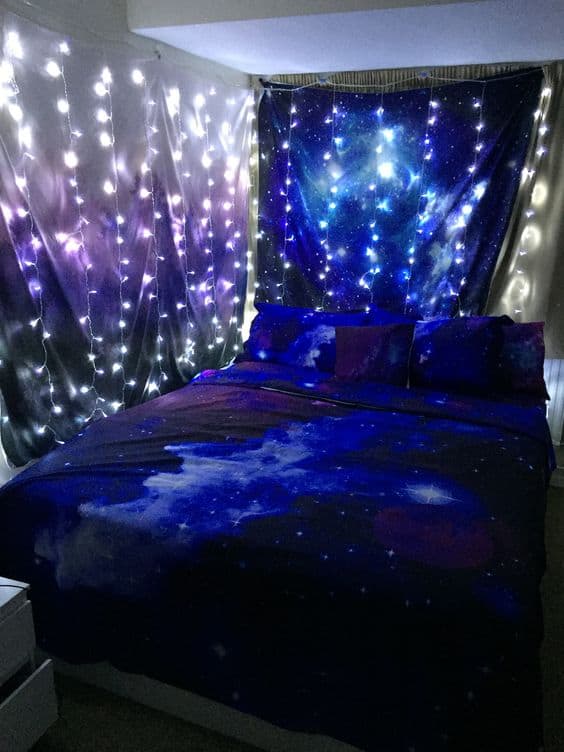 If you are confused between different themes and do not want to commit to the galaxy theme to style your bedroom easily. Or if you wish to use the galaxy theme but do not have the budget, don't worry.
To design an aesthetic galaxy bedroom, you can use fairy lights in multiple ways to design an aesthetic galaxy bedroom!
It is decorated in the best way when you place these glowy lights against a dark tapestry, as it is done in the above image!
You can cascade lights from the ceiling and put them above your bed or all around it. Fairy lights also come in different designs and colors, and you may use glowy white or warm yellows that you LOVE!
Stars All Around!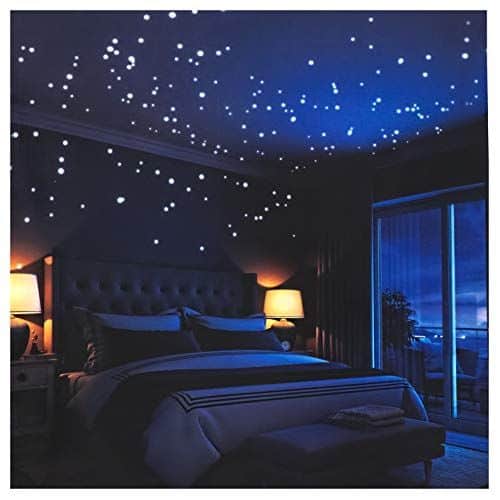 The most affordable, cheapest, and most effective way to completely transform your room into a (faux) galaxy is by pasting glow-in-the-dark stars across your bedroom!
While we're sure we have all seen and pasted those glow-in-the-dark packets of stars on our ceilings when we were kids, there are various options of classier and maturer paste-on stars that can transform your room and make it into something magical, if not more!
Once you have them up, wait for the night, and magic awaits you! You may find these paste-on stars right HERE.
And then, some planets among the stars.
A universe of billions of stars also consists of various other beautiful aspects. They, too, deserve to be displayed in the room. A great example is the wondrous world of planets.
Bring these pretty planets straight to your bedroom with some sassy neon signs that do nothing but make your room seem like a glowy galaxy you want to stay in forever! These neon planets are HERE.
A Wallpapered ceiling can nail the look!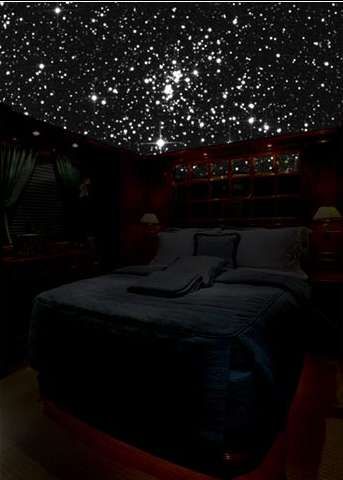 If having galaxy wallpaper all around your room sounds too much, the best way to incorporate a galaxy theme and sleep under the stars is by having a wallpapered ceiling.
That way, you always have the pretty stars over your head! Plus, that is easy-peasy, so it won't require you to work hours setting a bedroom in the galaxy theme!
But, if that is not your thing, then maybe the glowy paste-on stars are your go-to! What do you think?
Or, How about a tapestry?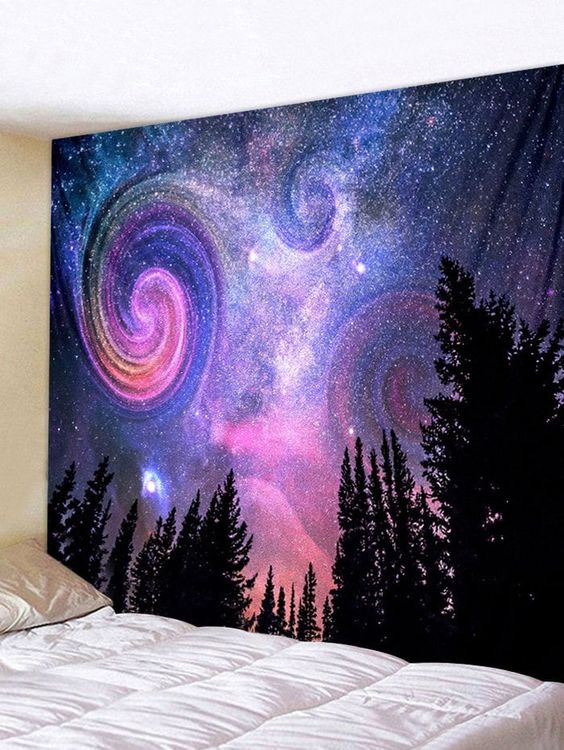 While tapestries are typically associated with designs of idols, they are handy to bring the galaxy into your bedroom effortlessly! You can easily hang them with pins behind your bed or beside it.
When you get bored with the galaxy theme, take down the tapestry, and voila! You have a simple bedroom that is a blank canvas again! Another theme awaits.
Tapestries are the best options for people who love to try different styles for their bedrooms now and then! Plus, they are cheap! (thank us later)
A lovely galaxy tapestry is right HERE.
Or, how About Some Galaxy Wall Art?
If you are someone who wants additions relating to the galaxy and the room in a subtle way but still want them to stand out, look for adding elements of art about the galaxy, putting in various star maps and dark galaxy maps.
They can add a nice touch to your bedroom decor and not overdo the theme if you like it that way.
And even if you have set up a nice aesthetic galaxy bedroom, they can add to it! Either way. It's a win-win! You can buy this wall art HERE.
A Galaxy+A Dark Room=Deadly!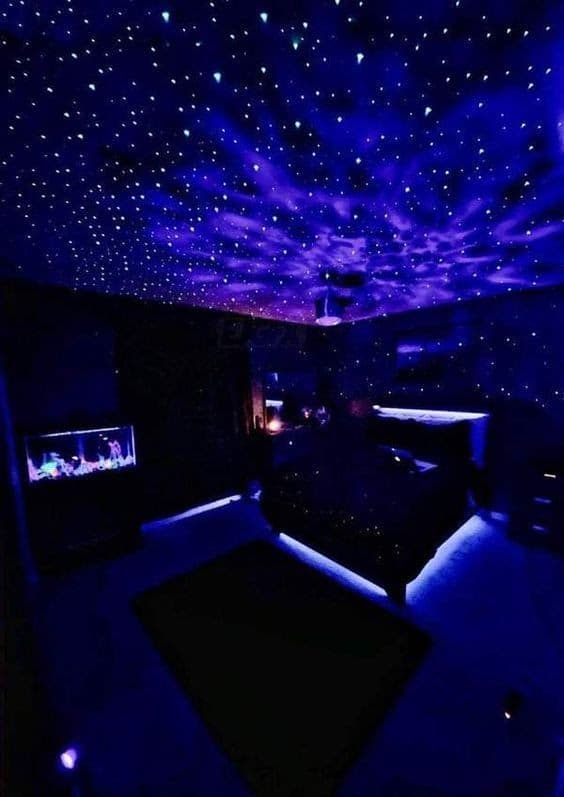 We often think of space as an endless array of black, associated with vacuum and nothingness. While painting your walls and ceiling black might be quite unattractive all on its own, combining it with starry backdrops and patterns will make it a deadly combination!
The loudness of the galaxy is perfectly offset by the simple nature of a black backdrop. There are various ideas you can style in both a galaxy and a dark room. So, you don't have to limit yourself! How does that sound?
Tip: For the best effects, use a galaxy projector light in a dark bedroom!
The canopy is the sky, and the fairy lights are the stars…
If it's not a perfect galaxy that you want to create in your bedroom and just a galaxy feel, then why waste a lot of money? The easiest way to get by is to have a net canopy adorned with fairy lights around your bed.
That won't be JUST galaxy. It will look more aesthetic, artier, and more intimate!
The added advantage is that you can choose from the many colors that the fairy lights come in. This might not be an option when you go for a galaxy projector ( though it has its advantages for perfectionists!) DIY is a deadly thing!
Don't Resist The Neon Signs Please!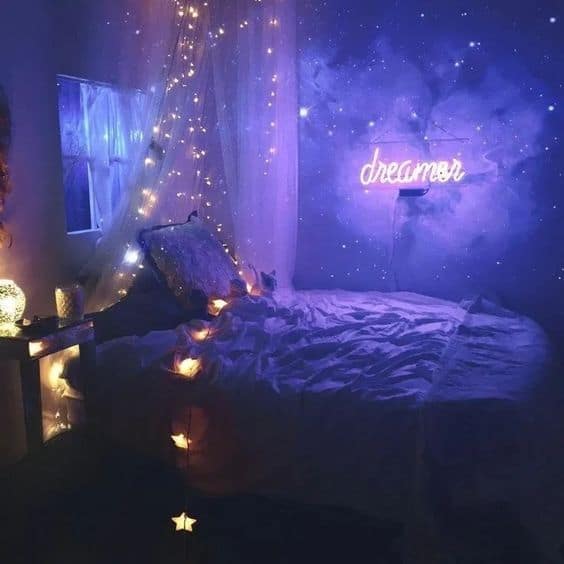 You can enhance even the simplest rooms with a beautiful, bespoke neon sign. It creates a very inviting and chill-out vibe!
You can use neon lights in numerous colors and at various angles in your bedroom to enhance the overall look and add personality.
These lights can be ordered online with your custom word! So, there is no reason you must avoid it in your galaxy bedroom, is there?
Don't forget the galaxy bedding, please!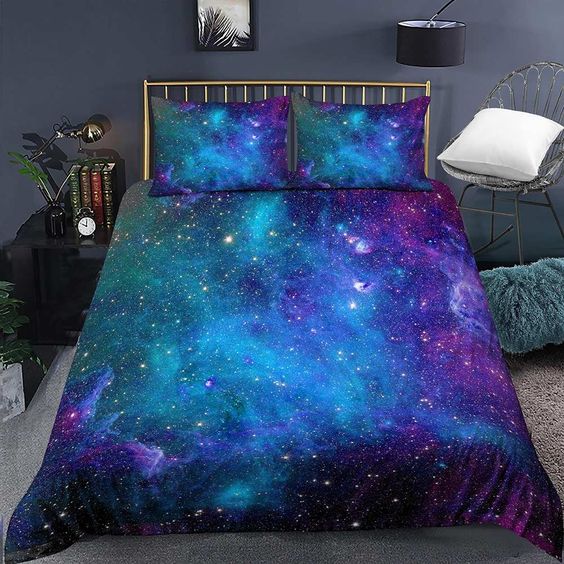 The place where you sleep and dream about the endless expansion of the Universe needs to be designed in the galaxy theme, too!
A blue, purple universe-themed bedding like the one above can highlight details like stars in subtle and loud ways. Plus, having a galaxy print in the focal point of the room (the bed) can save you a lot of time decorating the other areas of the room! (because the bedding will have all the attention!)
To increase the intensity of the galaxy decor, besides having a galaxy-printed bedsheet, you can have a galaxy projector, or, for an economical purchase, how about some fairy lights across the room?
Is It A Fairy Bedroom Or Galaxy Bedroom? No Idea.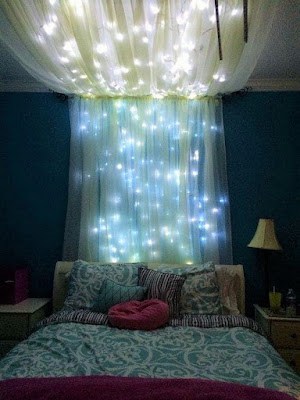 Bored of having just an aesthetic bedroom that is galaxy themed? Opt for elements in your bedroom like canopies and fairy lights that combine mystical elements and starry ones.
In many ways, we look at the Universe as magical and wondrous, and combining magical elements like fairies and others provides the perfect element of magic. Other elements could include moon lamps, posters, and white curtains and sheets.
So now, there are a ton of things you could add to your room. What are you adding?
A Galaxy lamp is what you need!
There's just something about space that recenters us and puts life into perspective. A way to slow things down is by having a  must-have lifestyle accessory that turns a room into a playground for NASA; the galaxy lamp.
You'll discover a beautiful, multicolored surface that feels like it's fallen straight from the stars, glowing silently as you work, rest, or play. 
The Mind-glowing galaxy lamp lets you marvel at our Universe and galaxies- all from the comfort of your own home. The awe-inspiring galaxy lamp makes the perfect kids' ( and adults') night light. Besides being an absolute stunner,  galaxy lights will channel your inner explorer, spark their creativity, get you excited about space science, and foster curiosity. What more?
You can get this galaxy lamp HERE.
A purple galaxy is all you need!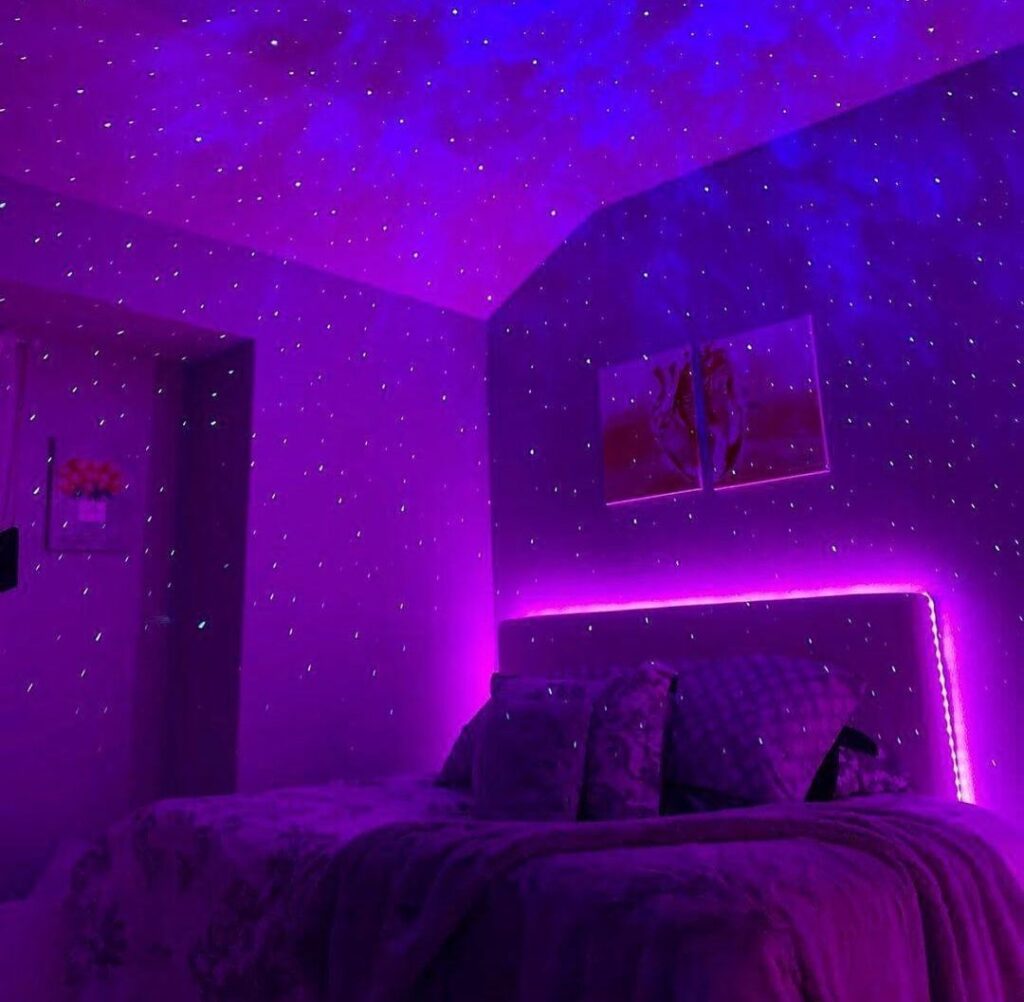 The best thing about the galaxy is how it's a myriad of colors, and the most prominent and colorful is the color purple. The color purple speaks for itself in a lot of ways and is also a calming yet fun color that you can use in lots of ways, especially when designing a purple aesthetic galaxy bedroom.
The best example is using purple galaxy lights with purple bedding and wallpapers. Since these colors are that of the galaxy, a black and purple bedroom is also sure to be appealing.
Even a soft purple duvet could be a good contrast to a black bed frame and also a nice welcome change for all of the blacks in the room.
Galaxy Cushions Are Love!
Cushions constantly provide the perfect pops of color required in bedroom decor. They are understated yet so loud.
So, if you are not fully committed to the galaxy theme but still want to add elements to a simple bedroom or an already completed galaxy-themed bedroom, add galaxy cushions to your bed. You can buy customized galaxy cushions in the form of planets, stars, galaxies, or simply galaxy colors. Isn't that cool?
Sleep with your head on a pillow of stars because you don't deserve any less! These pretty cushions are right HERE.
The Lighting is Integral! And so is the darkness…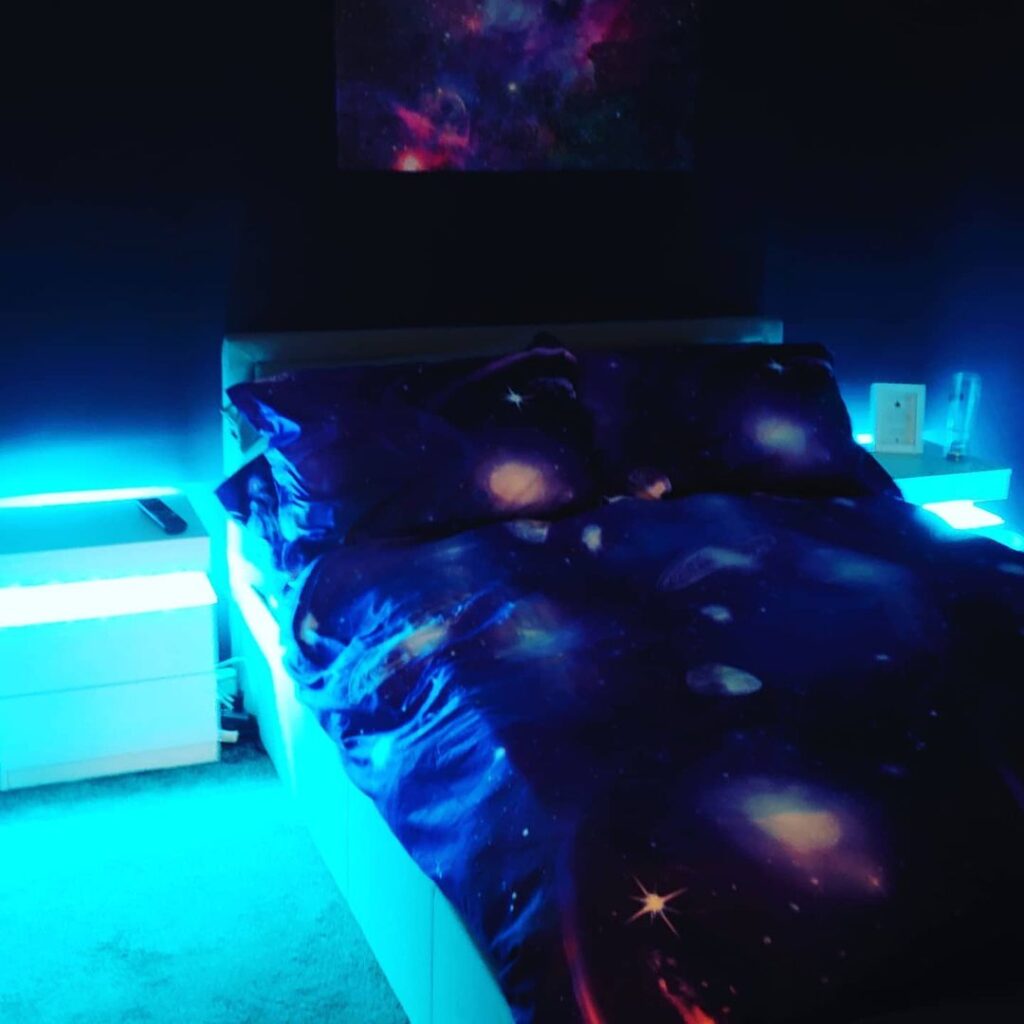 Finding the perfect lighting level for an aesthetic galaxy bedroom can be challenging yet fun. Playing with different shades of light in varying degrees of darkness is integral. Just like we know, the Universe is not just fantastical, with magical light and color, but also extremely dark. We have to design a room balancing both these aspects.
Play with various types of light. If you're looking to add just a touch of more light without overdoing it, you should try to decorate with some fairy lights, some large candles, orb lights, or other ones out there. Not only will they offer just the right amount of light, but they also add tremendous charm and a therapeutic feel to your room.
Let Your Curtains Say, Galaxy!
Now that you've made all the aspects of your room galaxy-themed, you can't forget the curtains, right?
So, simple as it sounds, you might want to use galaxy curtains. They will add a different level of charm to your walls and not let the intensity of your galaxy bedroom go down by any chance!
And, if you even plan to add some fairy lights to your galaxy curtains, you have BECOME a designer already! Voila! By the way, these galaxy curtains are waiting for you HERE.
But Don't forget the floor, in all the hustle-bustle…
The galaxy area rugs can transform the plainness of your galaxy bedroom's floor almost immediately! Dazzling colors, sparkling highlights, and a comfort-soft pile are the canvas for these marvelous works of art for modern home decor.
Finely woven for easy-care and lasting beauty, Galaxy area rugs are the perfect choice to accentuate contemporary furnishings in your bedroom.
The galaxy is often associated with looking up at the sky, and similar interior design relates galaxy-themed bedrooms to starry ceilings, lights, and everything else. But in a lot of ways, a universe theme is supposed to be completely holistic, and we should look at the Universe on the ground as well to completely make our bedroom universe themed. Don't you agree?
Get this galaxy rug HERE.
Then, A nice galaxy throw-blanket…
Your bed is always incomplete without a throw, thrown casually over it.
But for a galaxy room, it can't be just any throw blanket on the planet (oh, rhyming OP!) You want a throw that complements your overall bedroom theme. What better than a galaxy throw blanket?
It can add an extra layer to your bedroom theme, and when you sleep wrapped up in the galaxy, you'll know how it feels! You can buy this throw blanket HERE.
Or do you want to see the moon all the time?
One of the most important aspects of creating a relaxed environment is the light. The light makes a room look hard or cozy. The light can change a mood from nervous and rushed to quiet and peaceful.
For a galaxy bedroom, you require a light that creates a serene atmosphere. Here comes the wonderful moon projector and lamp that completely fulfills the meaning and purpose of being calm and composed.  
The moon projector is the perfect addition to your galaxy-themed room. After all, what is the galaxy of stars without the moon at the center? Buy this moon projector HERE.
Things to keep in mind before designing an aesthetic galaxy bedroom
Overall, there are various things to remember before designing a galaxy-themed bedroom. Let's look at a quick guide of things to keep in mind while designing a galaxy bedroom. 
Lighting
The first and foremost is lighting. Looking at the various types of lightning is especially important when designing aesthetic bedrooms.
Some serene lights, a galaxy projector, a moon projector, or some fairy lights could be used to bring your galaxy bedroom to its full potential. To add a bit of personalization or a sassy touch to the room, consider adding some custom neon signs to the wall, and voila! You're done!
Colors to use
There are various colors you can use while planning a galaxy-themed bedroom. These can range from purple and blue to black and silver.
Safe to say, they make a perfect backdrop for a galaxy bedroom and you won't go wrong with them.
Bedding
Bedding in all its forms is a great way to utilize and incorporate a present theme. But to give your galaxy theme some more intensity and charm, the galaxy bedding is the best!
Furniture
Dark furniture is especially good in a galaxy themed bedroom as you don't want it to look like the odd one out in your room.
Just in case, you already have light colored furniture and then want to create a galaxy bedroom, then go about it confidently and choose the colors so that the furniture doesn't look too odd. Medium colors would be better than extremely dark colors, in this case.
Other decors
Paintings, murals, throws, cushions, and tapestries that are galaxy themed or are just dark in color are the perfect complement to your galaxy themed bedrooms. They are little things, but make a BIG difference. So, don;t overlook them please!
The endnote
Overall, we hope this comprehensive guide on how to style your aesthetic galaxy bedroom has been helpful. Galaxy bedroom accessories transform your space into an adventurous, instant portal to destinations light-years away. And that's all without actual space travel!
With Bliss Lights, you can hop aboard your spaceship without leaving home. No matter what age you are and what your interests are, you will love styling your bedroom in this way. An aesthetic galaxy space for your bedroom is the perfect sanctuary of wonder and calmness.
Let us know in the comments, which one of all these galaxy bedroom idea was your favorite?
Also, let us know if you have any suggestions or recommendations for us, regarding the overall site or the post.
Until next time, happy decorating!
Love decorating your bedroom in Aesthetic themes? Check these out…