Hey there, design enthusiasts! Are you ready to add a touch of flirty charm to your bedroom? Well then, get cozy and prepare to dive into the enchanting world of coquette aesthetics in bedroom design!
Imagine your bedroom is your sassy best friend, but with a playful blend of elegance and whimsy that can make you swoon. We're talking about a style that whispers, "Come hither and let's create a dreamy, feminine haven together!"
So, get ready to infuse your bedroom with a pinch of mischief and a whole lot of romance. Because now, we're about to spill all the secrets to achieve that coquette room décor idea you've always dreamed of!
What Is Coquette Aesthetic?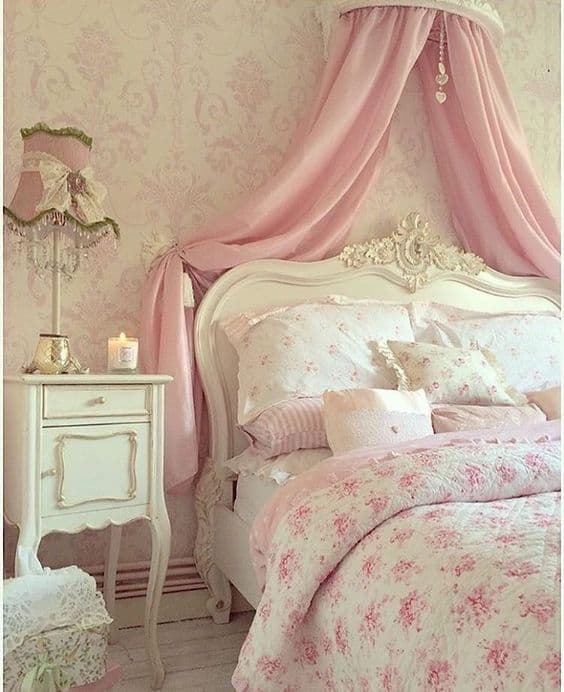 Now, you might be thinking, "What in the world is a coquette room décor?" Well, it's a space that effortlessly exudes charm, a whimsical mix, and flirtation with a dash of vintage flair! It's a style that screams, "I'm cute, but I know it, and I'm gonna own it!"
The name 'coquette' means "a woman who flirts". So, the coquette aesthetic room embodies everything light, flirty, and feminine. Neither too deep nor too dark. Just vibes for days! 
Elements of Coquette Aesthetic
Color Palette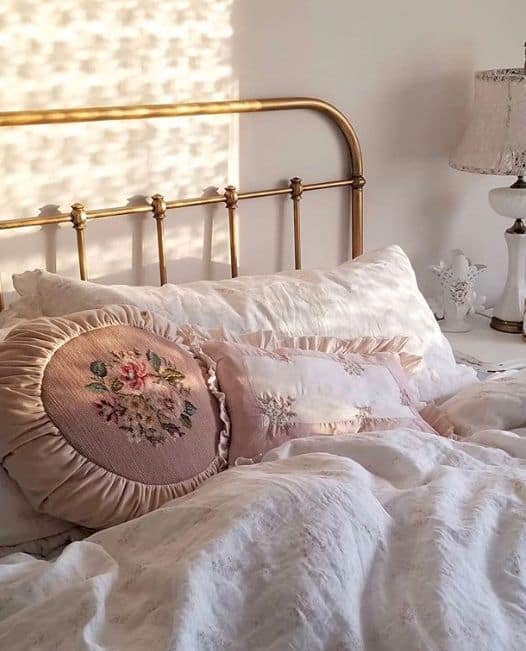 A coquette bedroom thrives on a combination of soft pastels, pops of vibrant hues, and delicate neutrals. Think about blush pink, mint green, baby blue, and lemon yellow – the ones that make your heart flutter!
You can even combine these playful shades with soothing cream and dreamy gray shades. Together, they can create a harmonious atmosphere. After all, design is all about finding the balance!
Furniture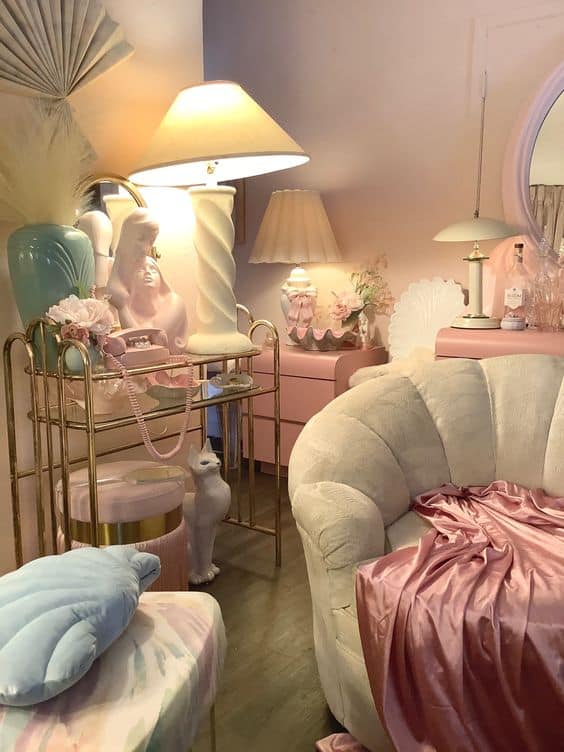 Coquette room décor takes a playful approach to forms. It transforms everyday objects into works of art that can be as functional as eye-catching! From chairs that seem to dance on tiptoes, to tables that flirt with your décor – Each piece exudes a mischievous personality that is simply irresistible!
With their vibrant colors, intricate patterns, and unexpected details, coquette furniture can effortlessly turn your bedroom into a vibrant carnival of magic! 
Bedding And Other Fabrics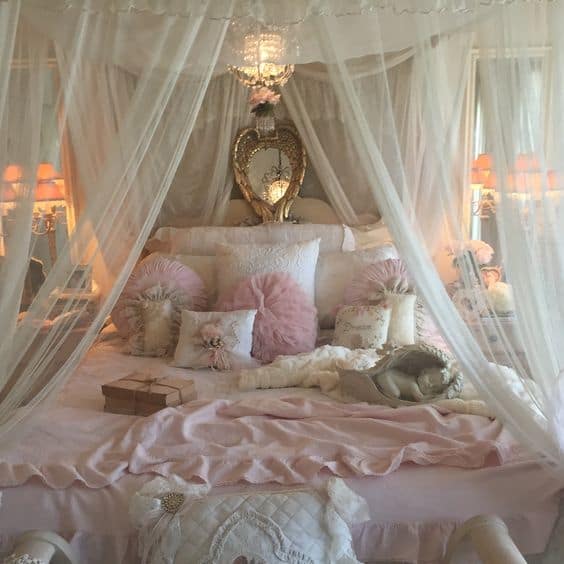 If you believe that your bed has to be a sanctuary of relaxation, or a canvas of self-expression – The coquette room décor is here to make all your dreams come true! The luxurious fabrics will have you sinking into a cloud of bliss every night. 
From silky smooth satin to crisp and cool percale – The coquette aesthetic ensures that your beauty sleep is as comfortable as it is stylish. So go ahead and embrace your inner sleeping beauty! Indulge yourself in the allure of coquette bedding. Your dreams will thank you for the upgrade!
Wall Décor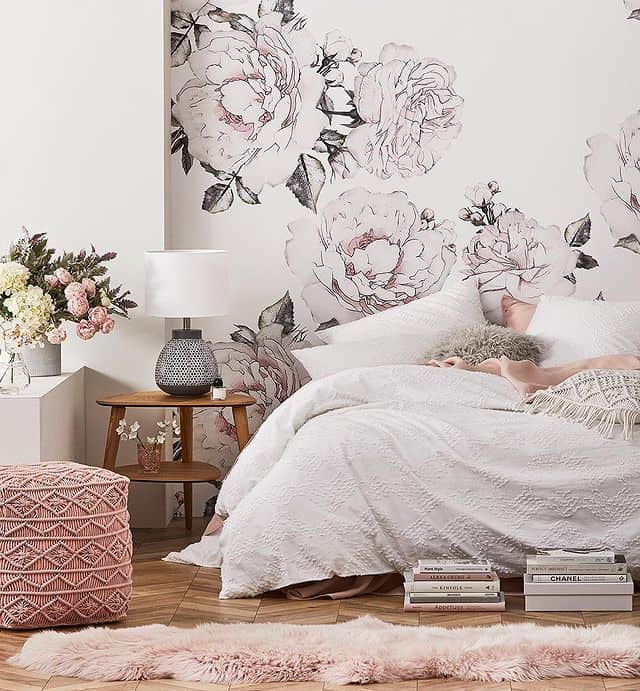 Whether you're a fan of bold florals or subtle geometrics –  Coquette room décor always has something to suit every taste! Coquette wall art brings a dash of humor and a whole lot of personality to any room, instantly transforming it into a vibrant conversation starter.
From a vast collection of quirky prints to whimsical animal-shaped hooks – The coquette style has got you covered! Let's not forget about the funky neon signs that are too cool for traditional art! Who needs a snooze-fest gallery wall when you can have a wall full of sass and charm, right?
Lighting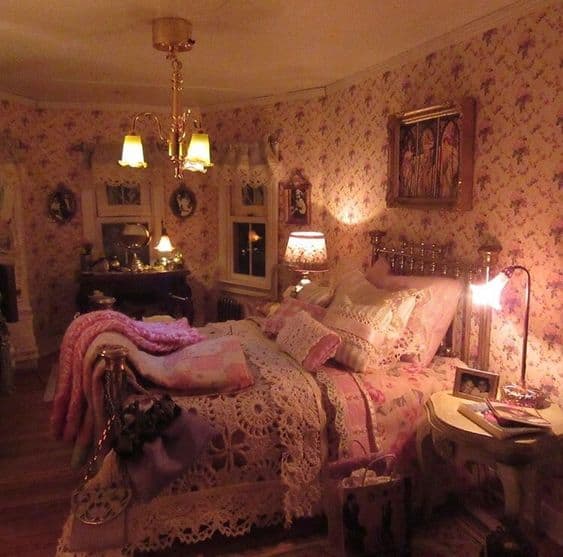 Speaking of neon, lighting plays a crucial role in setting the mood of your coquette haven! Swap out your harsh, bright ceiling light with a soft, ambient chandelier or a whimsical pendant lamp. Yes, this means you can have a dark coquette room too! So it doesn't need to be white and bright all the time. 
Table lamps with frilly lampshades or ones shaped like animals can create a dreamy glow in your space. You may also add a dimmer switch to control the intensity of your lights, allowing you to enhance a cozy ambiance perfect for indulging in your favorite book!
Related: The Ultimate Secret Guide To Neon Aesthetic Bedroom Decor!
Accessories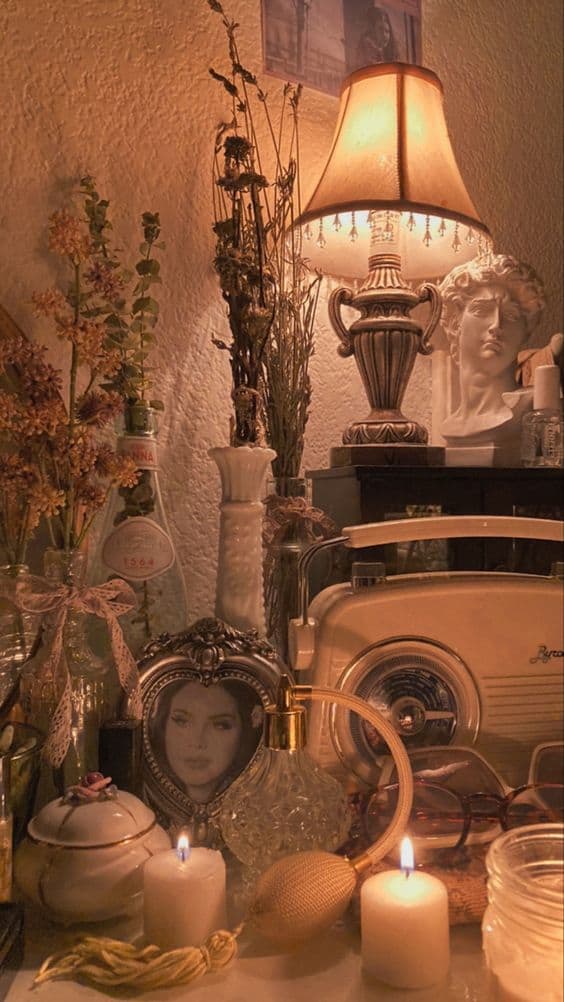 Intricate accessories are like the cherry on top of your coquette sundae! They bring a big personality and intrigue to your bedroom. Some of the accessories that you can use in your space include:
Decorative pillows with cute prints like polka dots or floral patterns.
Delicate dreamcatchers
Vintage-inspired mirrors
Photos with intricate frames
Decorative perfume Vanity Tray
Angel Statues straight from the Greek museum
A Vintage Radio or CD/Record Player
Fancy elaborate candle holders with pretty candles, etc.
15 Coquette Room Décor Ideas
Throw In A Rug!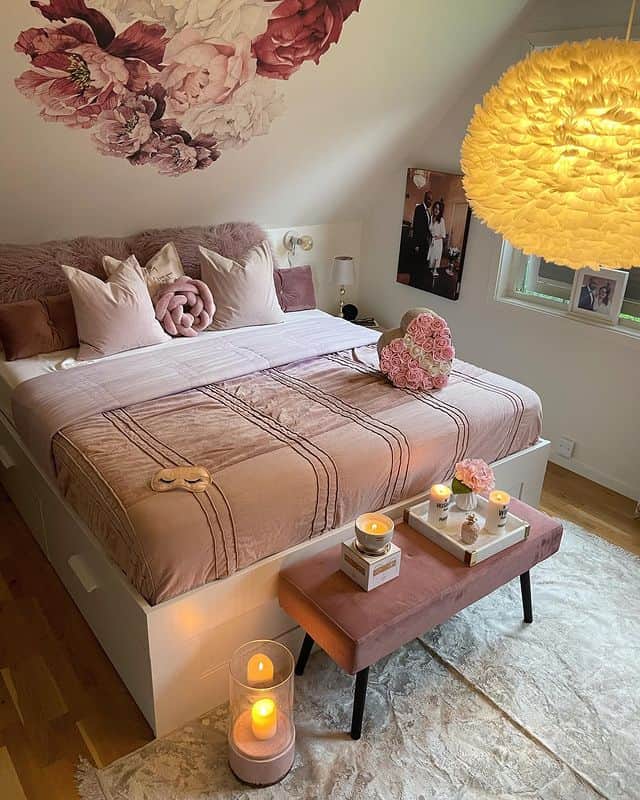 Welcome to the world of elegance and femininity, where the rug is the crown of your coquette bedroom! Rugs possess the art of indulgence so that your feet sink into a plush wonderland with each step! 
Coquette Rugs are powerful enough to elevate your coquette room décor to a serene oasis, fit for a princess. So, go ahead and add this first step into pure bliss every morning!
Go, Green!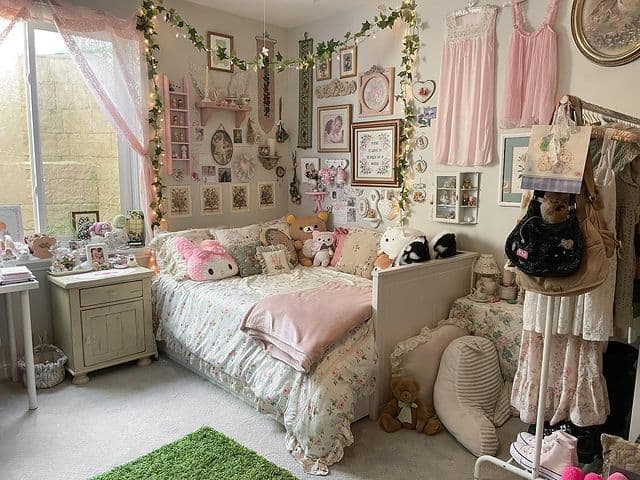 If the normal rug doesn't catch your fancy – Just go green. Not just a green-colored rug, but a literal GREEN rug! Faux grass rugs in your interiors are the cherry for this coquette room décor cake. 
You can chill in your comfortable home and feel like you're having a picnic in the park. Sounds like heaven to a homebody like me! On a side note,  you can display your outfits on the wall as a statement too! Now if that isn't a girl boss move, I don't know what is!
Give Way For Natural Light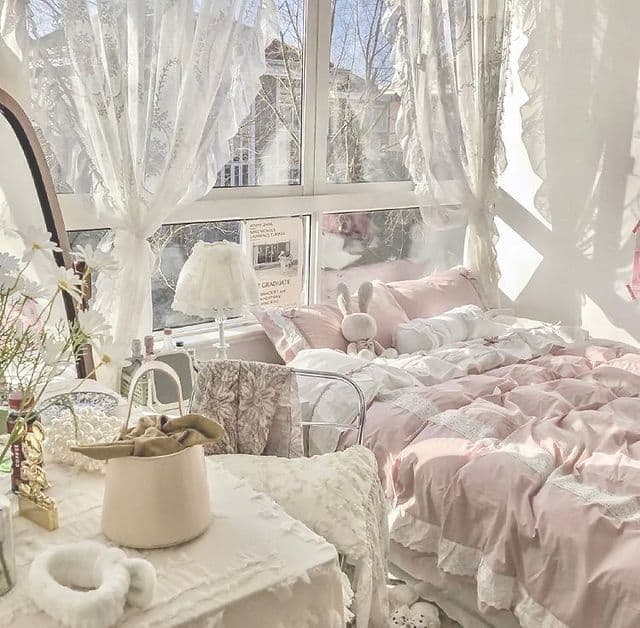 The Coquette room décor welcomes the beauty of daylight and embraces it! This breathes life into the space and infuses it with more warmth. 
Large windows, sheer curtains, and strategically placed mirrors work together to invite the sun's rays, illuminating the beauty of your room! So open the curtains and watch the sunshine, sunshine!
Coquette In The Dark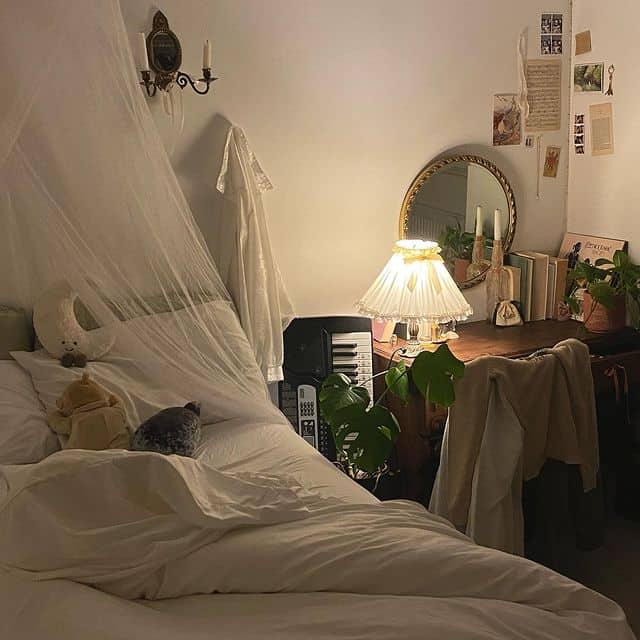 Are you a night owl and daylight is a no-no for you? Don't worry, you can still be a coquette! Just pick the perfect mood light to fit with all the lace and sheer. You can even throw on a cute pile of vintage décor pieces, posters, and you're all set!
Drown In Pink!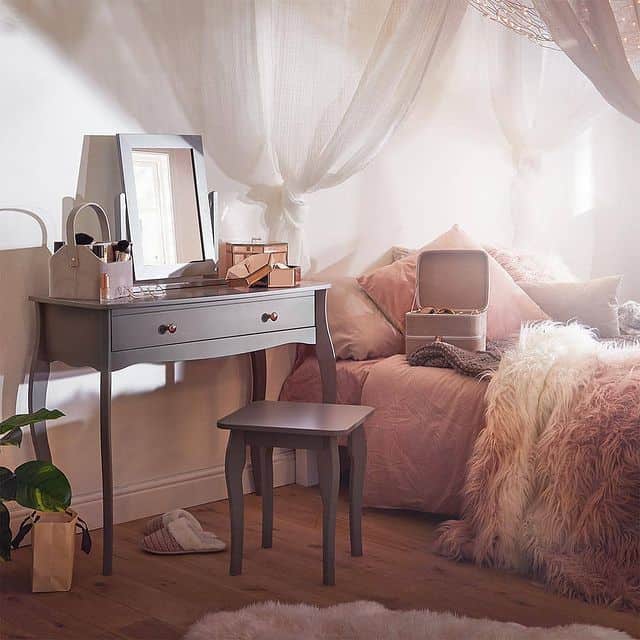 Small adventures are also adventures! So, be brave and bring out the frills, furs, and sheer curtains. Every prince or princess needs those floaty vibes in their pink bedroom because that's what being royal is all about, isn't it? 
On a personal note, baby pink is really superior to all other pinks. Like hot pink,  who?
Unleash The Pastel Power!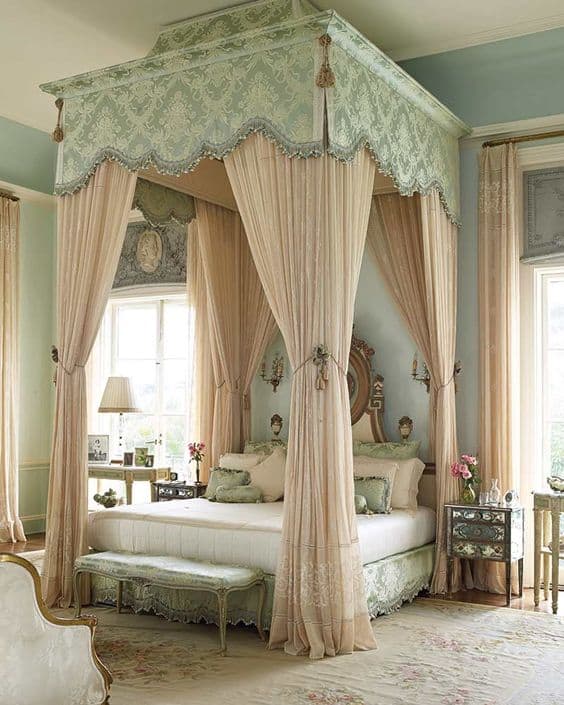 There's a common misconception that the coquette room décor is just all about pink and frou-frou. The good news is, no it's not! 
You can always opt for a pretty pastel color like this room with pastel green and yellow contrast for a refreshing change! As long as it's light and awakens your inner feminine, anything goes!
Related: 15+ Calming Bedroom Colors For The Best Night's Sleep!
Old Meets New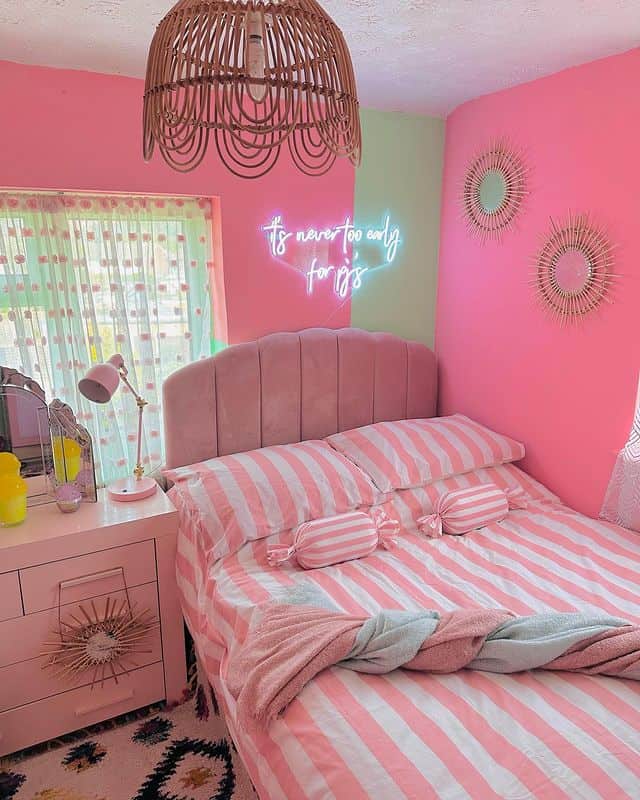 Vintage glamor paired with modern elegance is the most gorgeous style! These luxurious textures, ornate details, and a whimsical touch can transport you to a bygone era while staying firmly rooted in the present.
It's a space where romance and playfulness co-exist and classic silhouettes are reinvented with a bold contemporary twist!
Add A Chic Twist!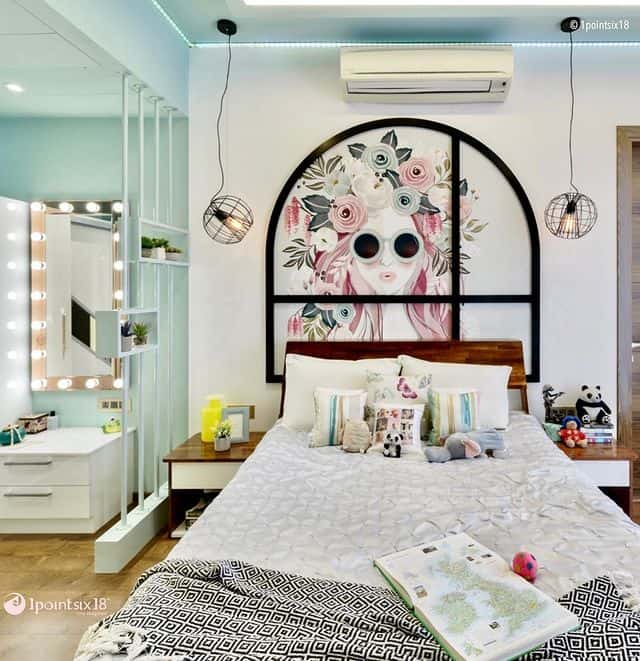 Channel the spirit of a modern-day princess by giving your coquette room décor a chic twist! Just pick a pretty modern art to adorn your wall and highlight it with sleek geometric forms.
The modern pendant light fixtures can add focus to all the different patterns in your room. They can even turn down the frills a notch, bringing attention to the other elements of this chic coquette aesthetic! 
Go Neo!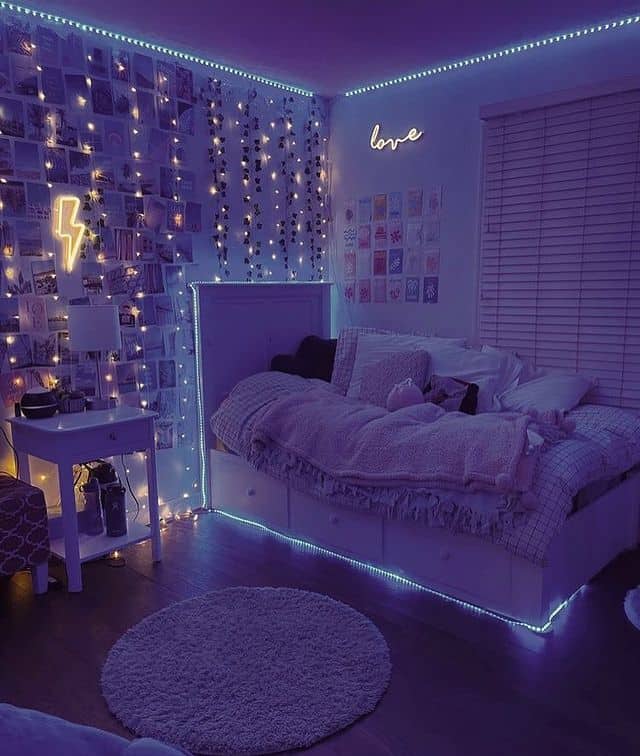 The electrifying coquette world of a neon aesthetic bedroom is all about vibrant colors and contemporary style!  This style creates a space that's bold, energetic, and undeniably cool! Picture walls with eye-catching neon signs emit a vibrant glow while infusing the room with infectious energy! 
Sleek furniture with clean lines acts as the perfect backdrop for bursts of neon brilliance. You can throw in some cute shelves to display your quirky pieces and experiment with some modern-age digital details! Just keep it light and flirty! 
Pro Tip: Craving an extra sparkle? Don't forget to sprinkle some fairy lights or dainty bunting across your room! 
Keep It Messy!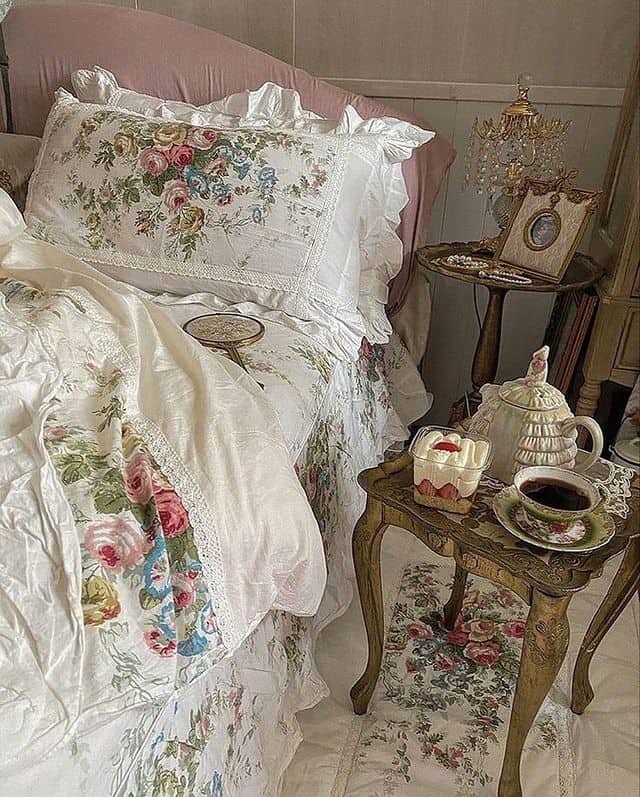 This is an example of a coquette aesthetic bedroom, where beauty blooms amidst the creative mess. This is not your typical tidy bedroom, but a curated explosion of artistic flair! Every corner tells a story. The room is adorned with piles of crockery and eclectic décor, creating a charming aura! 
Floral patterns dance on every surface, breathing life into your room with vibrant colors and tiny designs. You can find a unique blend of coziness and inspiration. So, let your inner femininity soar high! After all, messy is the new beautiful!
Or Keep It Clean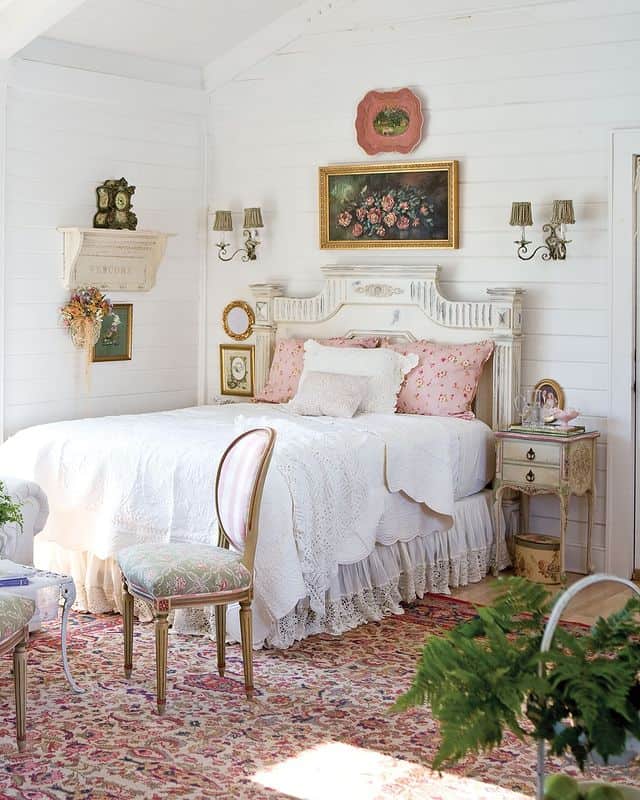 Coquette room décor also offers the art of organization, combining with its signature style to create a haven of serenity. From shiplap bedroom walls, and clever storage solutions to sleek furniture designs that maximize space – a coquette room décor ensures that order and elegance go hand in hand! 
Every detail is thoughtfully curated, from charming color schemes to practical accessories. So, say hello to your personal sanctuary, where a clean and organized coquette bedroom invites you to recharge and embrace simplicity! 
Simple Is Best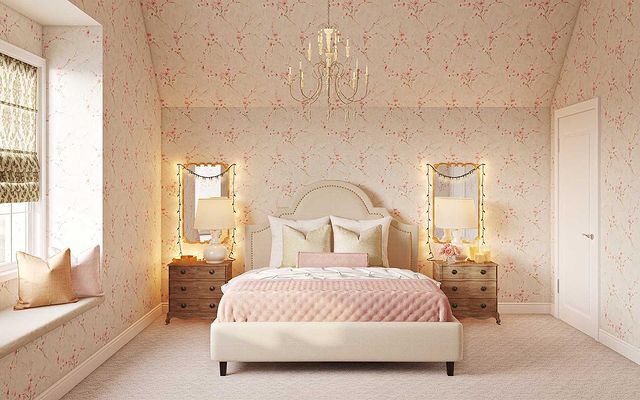 Keep it simple and stick to the basics of the style! Aren't you tired of hearing that floral patterns, cardigans, and pretty blankets are something grandmothers prefer? Throw that stereotype out of the window! Bring back the 1800s and 1900s, and everything comes back in style.
So, go ahead and pick up that courage to insert some pretty patterns in your life and in your room. You won't regret it!
Related: 19+ Preppy Room Ideas That Are Calm & Classy!
Style With A Canopy!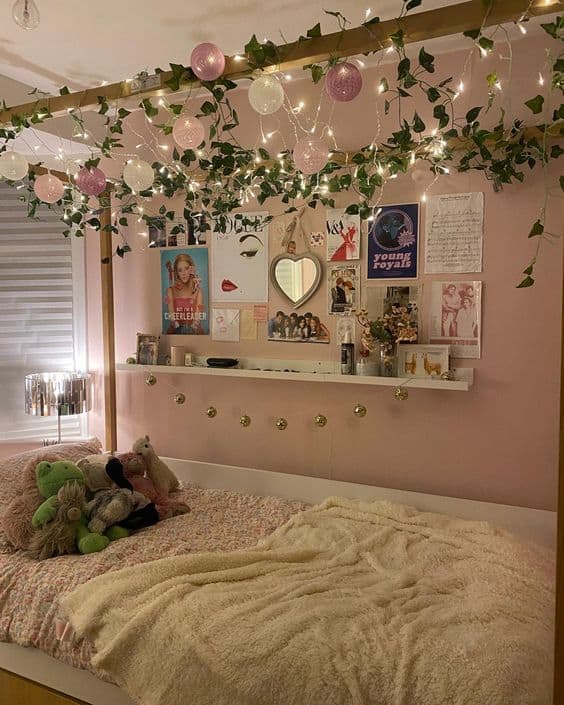 Get ready to bring some natural beauty indoors with a faux plant canopy! This little addition can bring life and vitality into your space without the worry about maintenance. Even though everyone adores a little greenery in their homes, not all of us are into gardening. That's when the faux plants come to your rescue!
Fairy lights are the perfect solution to bring some aesthetic appeal to your bedroom. Just throw them in, and you'll have a jolly festive cheer at any time of the year! But guess, what's more? You can keep them on 24 by 7, emitting vibes for days! Plus, they also don't consume much energy and are soothing for the eyes. 
Display Some Art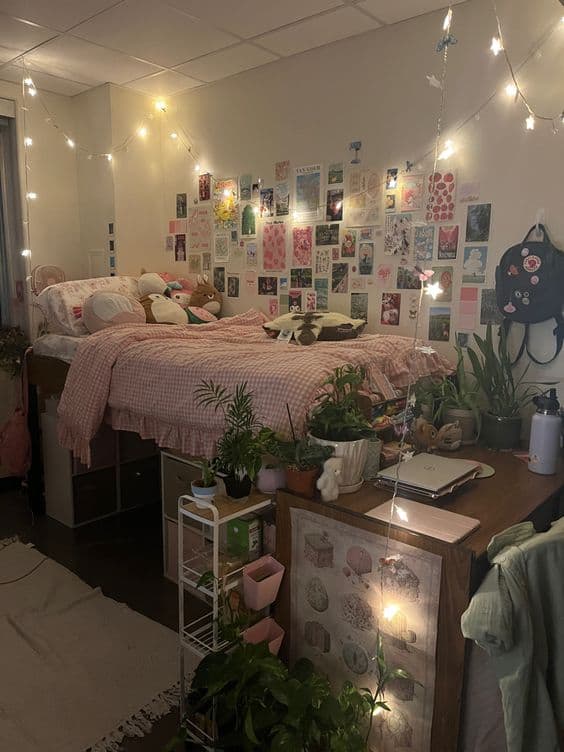 Yes, your dorm room can also enjoy a coquette makeover easily! This is every fangirl or fanboy's dream come true. You can go ham with the posters, CDs, and all your collections on the walls and shelves; an indie-style bedroom.
You may also keep it retro, and watch your beautiful coquette room going prettier. Wait, is that Lana Del Ray I'm hearing in the background?
Highlight The Fabrics!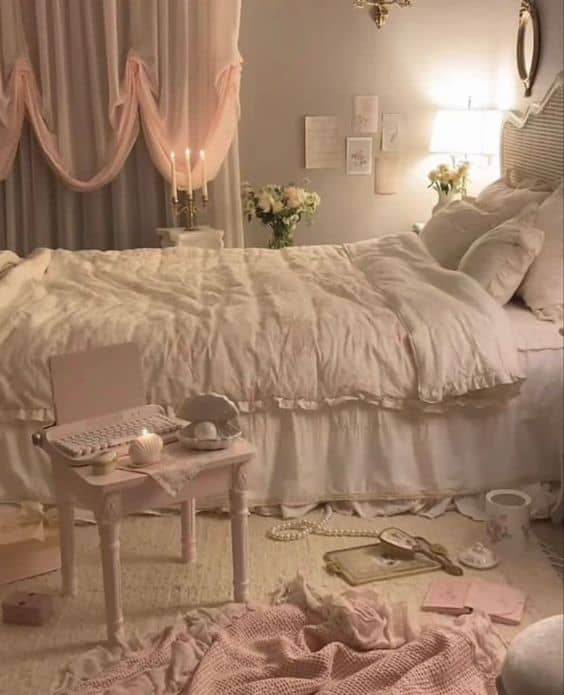 Everyone loves to reminisce about the happy things in the past. The combination of sheer curtains, hefty fabric, and vintage layers are definitely those happy things in the past. So let them take center stage!
You can always count on creative and elaborate vintage pieces for your interior. These can help your home feel cozy and light at the same time!
Related: 19 Artsy Vintage Aesthetic Bedroom Ideas That You Can't Resist Falling For!