When it comes to designing a girl's bedroom, their first choice is pink no matter you are designing a boho bedroom for them or a fairy bedroom! That's why we have pulled together some extremely pretty and girly pink bedrooms. They will definitely suit the tastes and preferences of almost every girl. So, consider taking a look at all that we have for you, here! Let's dive into the world where pink is the only color…
Are Pink Walls Even Compulsory?
If you already have a bedroom that's set and pretty and now you wish it were pink, well, it can be.
It is not at all necessary that you have the walls pink or any tint or shade of it. All you have to do is, throw in some splashes of pink. They can be a pink carpet, a pink duvet, and pink curtains as they are in the image. You can be creative with how you use pink in your bedroom but one thing is certain, you don't have to get the walls repainted pink in case you want a pink theme.
It's just about being creative, you see?
The Behind-The-Bed Wall Can Create A Statement!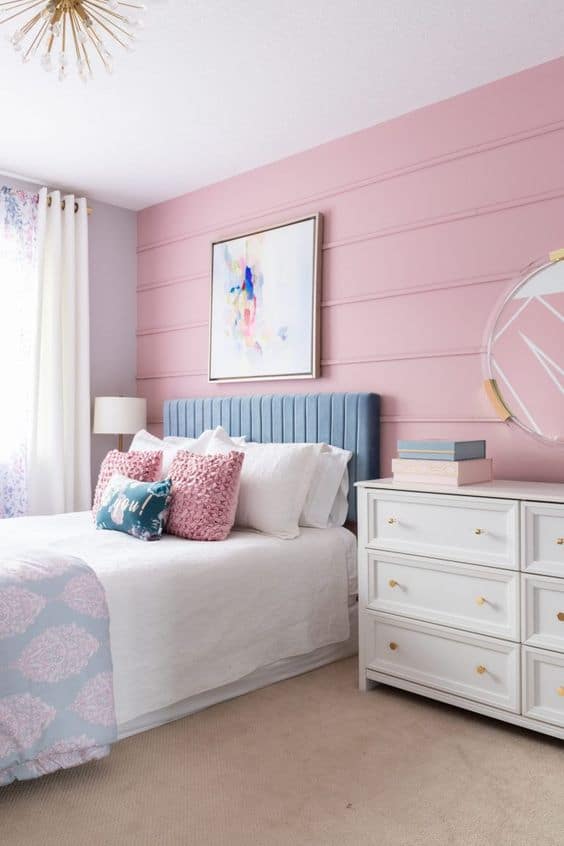 If you are designing a room from scratch or refurbishing it, then we think you must consider getting one of your walls painted pink (best if it's behind-the-bed) or you might want to use wall panels for a look similar to the one in the image.
To make the look even better, why not throw some pops of pink in the form of cushions, etc. To balance that out, it's great how white is used in bedsheets, curtains, and the nightstand.
Recreate This Bedroom
Play With Some Lines…
It's a good idea how you can play with some lines in your bedroom.
The way these horizontal black and white lines are used in combination with pink is pretty cool. You can observe how the design of the bedsheet and the pillow align with the wall art on the wall behind the bed. It even creates a look of unity with the black ottoman that's kept before the bed.
If the entire room including the bedsheet were pink, it could be out of balance. And since the wall is pink, it's a prudent choice not to have the bedsheet the same color. Neutrals are rather better if you don't want to overdo it. But if you wish the world was pink or nothing, then you may choose to go for 'just pink!'
A Girly Pink Princess Bedroom For A Princess!
If it is a fresh space that you have and you are designing a room from scratch, you might want to consider this one for your princess. This actually gives a quite royal princess kind of a feel.
This is particularly because of the texture of the fabrics that are used in this room. Everything from the headboard to the bedsheet and quilt looks chubby and full. That's giving it the look of richness. So, if it is a girly pink princess bedroom you aim to design, this might be an option.
Even Peach Color Belongs To The Pink Family!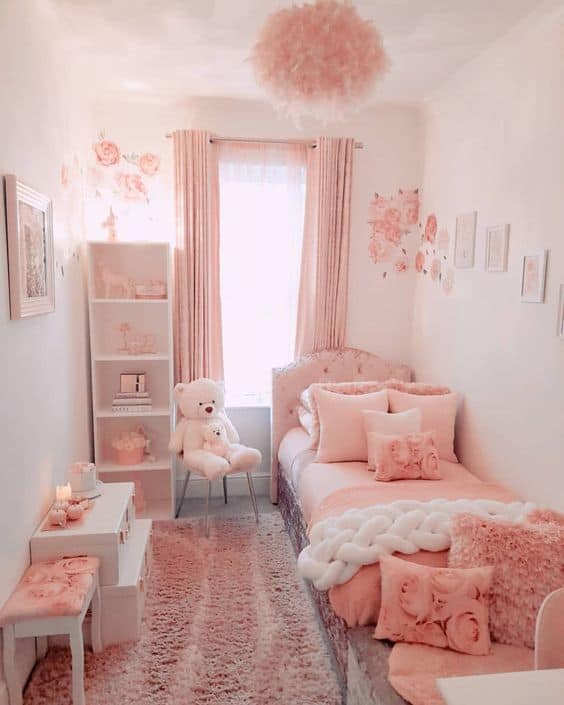 Peach color has the class that even pink can't match! No offense though.
The elegance this room gets is owed to the oneness the bedsheet and the curtains have with the wall. We mean, since it's plain, it goes well.
The rose prints are pretty around the room. And the white walls, of course, prevent the room from being too gaudy. It is yet balanced.
It's a pretty girly peach room and a great idea if you have a small room!
Pops Of Pink Can Do The Job Well!
Once you carefully observe this room, you'll be able to see this just gives the look of a pink room. There is nothing very pink here.
If you already have a room that's decorated and set, you can still achieve this kind of a look. All you need to do is throw in some pink wall art, a pink rug, and a somewhat pink bedsheet. The fabrics, indeed, make a difference.
A Wallpaper Can Make Or Break the Room…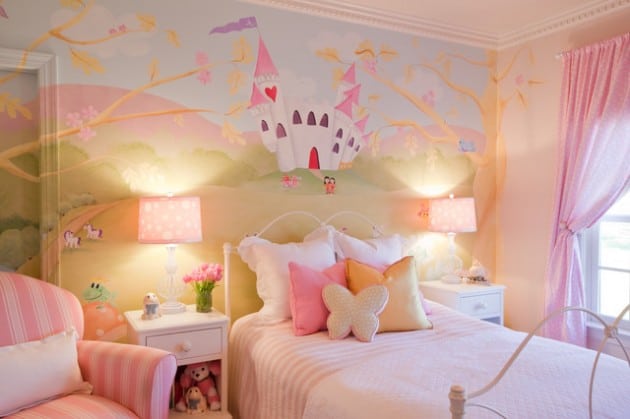 In case you looking for pink bedroom ideas for a little girl, then this reference image might be of great importance to you!
Since the wallpaper of this room itself has some splashes of pink in it, using pink furniture and bedsheet, etc makes it even prettier and girly.
What makes the most difference in this bedroom design is the usage of pink in complete balance. It is neither very dark nor very light. It is well understood that a darker pink bedsheet could have made the room look overdone, the designer has gone for a lighter pink, which is brilliant!
So if you are looking for a pink bedroom design for a small room, this one won't fail you. Yes, but if you are designing a pink room for teens or adults, you might want to make some changes.
Pink Wall Art Is A Must
When you choose your wall to be in one color, it is a rule of interior design that you must throw in the pops of the same color to make the space look more connected. It should not look very split.
That's why it is so important that you add pink wall art to your bedroom if you choose to go for pink walls. You can have pink accessories in your room even when you do not have pink walls but aim for a pink theme.
Apart from that, what you can learn from this reference image is how the usage of vertical lines can attract attention to that space. Doesn't your attention go to the bed the moment you look at this image? All the credits to the vertical lines.
It's All About Balance…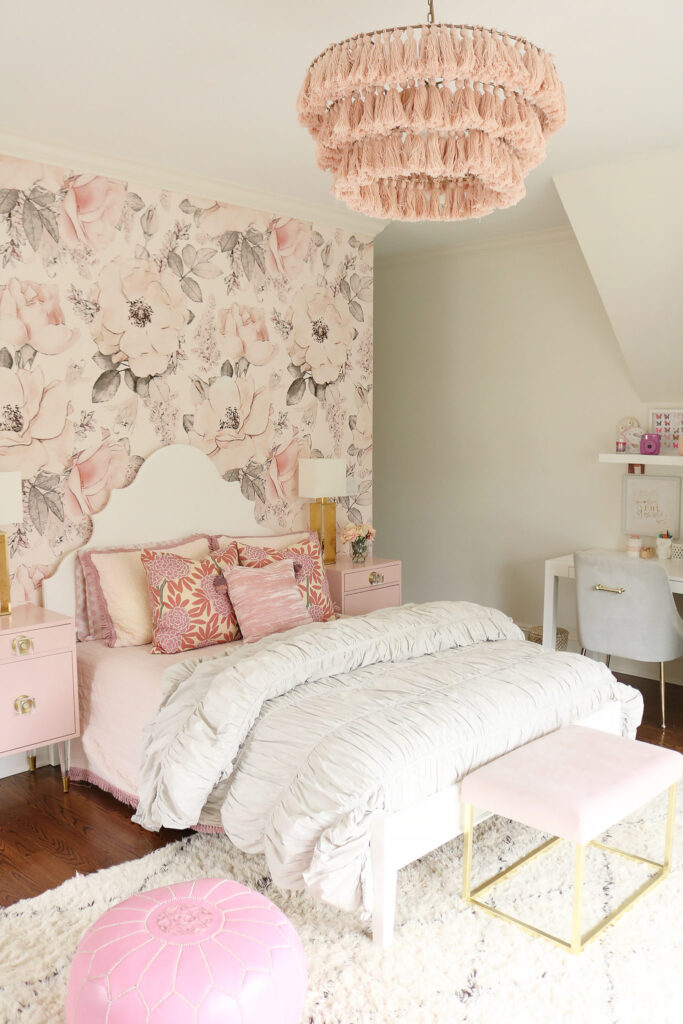 If you are looking for a girly pink bedroom idea for a teenage girl, this one is something you can look forward to.
What makes this design special is the balance between the colors and the balance between the design and the texture in the room.
Coming to the colors, different tints and shades of the pin are used. The most prominent piece is the ceiling hanging. Also, you get a very subtle touch of pink in this space since not very distant pinks are used. Every tint is somewhat close to one another.
So far as the design is concerned, there is just one wall having wallpaper, and the rest of the room is plain. That's what is creating balance.
The textures are mixed. The walls are plain whereas the fabrics that are used are somewhat chubby, which gives a feminine and girly look to the room. Plus, it's boho! What else do girls want? (Check some extremely pretty boho bedrooms for girls, here.)
It Can Be Pink When Nothing Is Pink!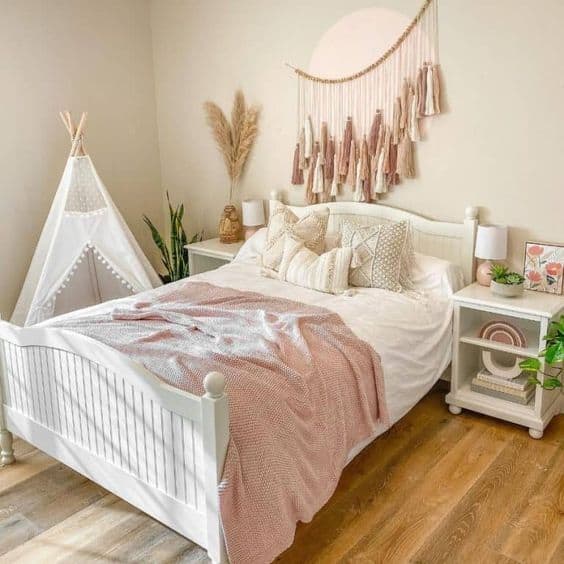 This bedroom has nothing really pink. Everything is neutral from the ceiling to the floor and yet, this bedroom is giving a pink bedroom look.
That is primarily because of the area that the dusky pink sheet on the bed is covering. The cherry on top is the wall hanging that is used. It seems as if this is so carefully picked and chosen that it couldn't have gone wrong! But you know what? The little things make the most difference. Just look at that pink lamp and the photo frame on the right. Agree now?
In Case You Are Staunch Pink Lover!
Since all we are talking about today are the girly pink bedrooms, this one could not be pruned out of the list!
We don't recommend going for everything pink like in this image unless you love pink like nothing else. This room does not get a very spacious look because of the pink curtains behind the bed. If they were not there, it could have looked airier. Another reason for this is the color. The same color is used in every inch of the room.
If you like the design but want to change the stuffy feel of the room, there is just one recommendation. Change the tints and shades of pink. don't use the same shade all around.
A Very Subtle Pink Is Classy!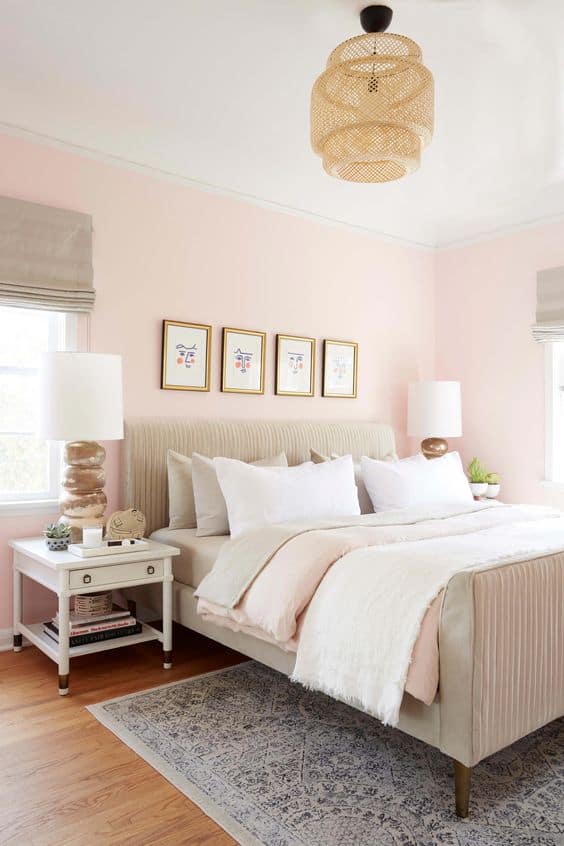 What gives class and beauty to this pink bedroom is the very light color of the walls. It is not absolutely and completely pink that's very girlish. It's very light and that's why quite royal.
The cherry on the top is the grey bed. Grey always goes quite well with pink. But the shade of grey that's used here, is particularly classy. And you know how important a role the vertical lines play in the decor of a space. (If you have a taste for grey bedrooms, check them out here.)
But don't overlook the blinds. They match the bed and thus, create a look that's most pleasing to the eye and relaxing to the heart.
White And Pink Is An Unfailable Combination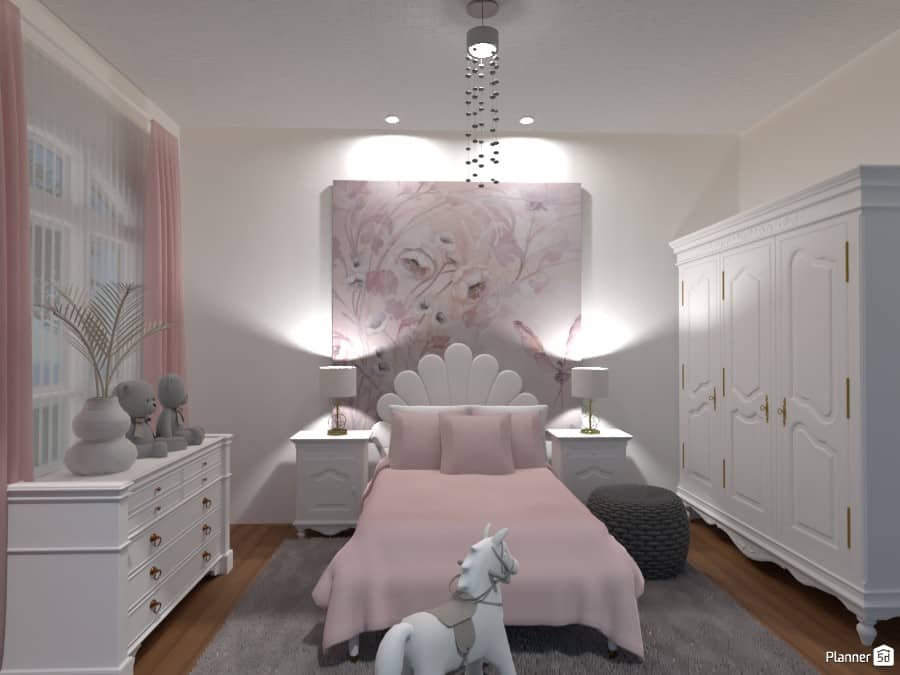 When it comes to a color that goes well with pink, it's white. It's mostly white. And it won't ever fail you. If you want to be on the safer side with your pink bedroom decor, then this is the ideal combination you want to go for. Let the pink be light so that it looks decent with white. Too dark a pink would create too much contrast.
Like in this image, you might want to go for everything white and some things to be pink. That's also a pink bedroom.
One of the most crucial factors of interior design is the 'light'. You can use light in various ways in your girly pink bedroom too so that you get that pink bedroom design you want.
Not beating around the bush anymore, the best way you can do this is by having pink lighting in your room. The ones who have white walls in their bedroom are at an advantage as white reflects the colors extremely well. That way, you will not have to spend a bunch of money on purchasing anything else or getting anything fixed in your room. Plus, it will make your bedroom aesthetic too.
Pink light is all you need for the girly pink bedroom of your dreams!
READ NEXT