Art is personal so our notion of art must also be personal. There is no need that we ask for society's approval for achieving a bedroom design that we like even though it doesn't conform to what the general design rules say.
Such bedrooms that have our personal artistic touch are aesthetic! So to inspire you with some pretty and out-of-the-world aesthetic decor, we have 19 ethereal artsy vintage aesthetic bedroom ideas for you!
We know, we have tested your patience a lot. But no more. Let's dive straight into our very own artistic world! Here we go…
Pink Is Always Artsy For Girls! Right?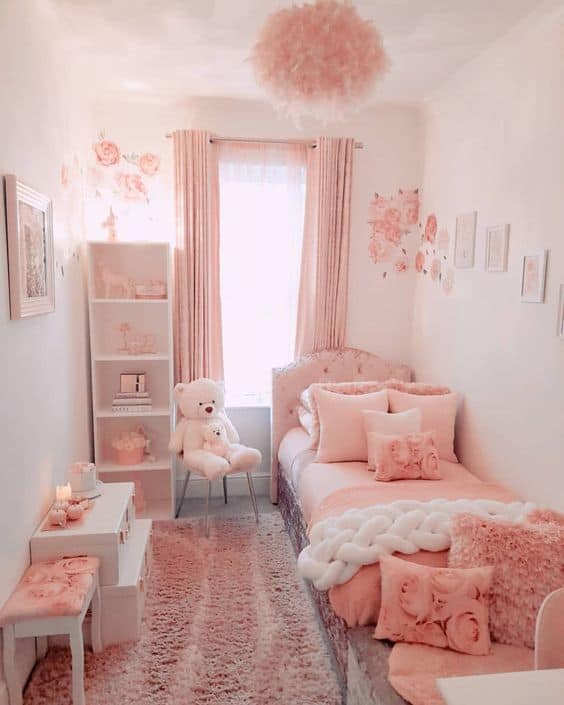 Since it is a surety that girls are the ones who love the aesthetic bedroom decor, we thought of throwing a pink aesthetic bedroom as the first on the list!
It looks great how everything in this bedroom, is pink and it doesn't even look overdone! This is because the splashes of white are balancing it.
To achieve an artistic touch, you can use the floral pillows, floral wall stickers, and a resembling ceiling hanging, as in the image. And don't overlook the teddy, please!
Pink is definitely NOT a compulsion and you can use any color or colors for this design. That'll definitely add to it, YOUR personal touch.
Recreate This Look
You can get the braided throw blanket (on the bed) HERE. Or if you are designing on a budget, then consider going for THIS ONE.
If you like the rug on the floor, well, HERE is the link to it!
Although the same pillow covers could nowhere be found, HERE are the ones that quite resemble the ones in the image. The rectangle Pillow covers are here.
Wall Stickers Can Do The Magic!
Okay! Don't be offended by other pink bedrooms but all we wanted to display were these pretty floral wall stickers!
For lovers of art, empty walls are torturous! And so, having wallpapers of your choice for a cheaper option, wall stickers can do the artistic work for you!
We have even seen people painting things themselves on their bedroom walls. If you want to do that, comfortably go ahead. But the point is, make your walls LOOK artistic.
Recreate This Look
Boho Is Artsy And Aesthetic!
Since the first rule of creating an Artsy vintage aesthetic bedroom is to ditch the design rules, what can do it better than a Boho bedroom?
To add an aesthetic touch to your bedroom, add some macrame wall hangings, and a thick textured rug. The Wall mirrors that are used in the image are of course enough to steal the show. So just go ahead, steal it! And not to mention that triangle shelf. Anybody can fall for it, you see?
Recreate This Look
The pendant light that's quite typical and pretty in the boho rooms, can be found HERE.
You can get similar (not the same, sorry!) macrame wall hanging HERE.
A Vintage Bedroom Is Royal!
It's incredible how by using high-quality fabrics in the room, you can create a good royal look! This bedroom design is definitely maximalist and maximalism is trendy.
It gives you a cozy feeling and gives a feeling of abundance. Use as many wall arts, showpieces, and high-quality fabrics in your room to achieve this look. Basically, we want to cover the empty spaces. That's all.
Recreate This Look
If you liked the bedding, you'd be elated at what we found HERE.
What, On Earth, Can Be More Artistic Than The Traditional Wooden Designs?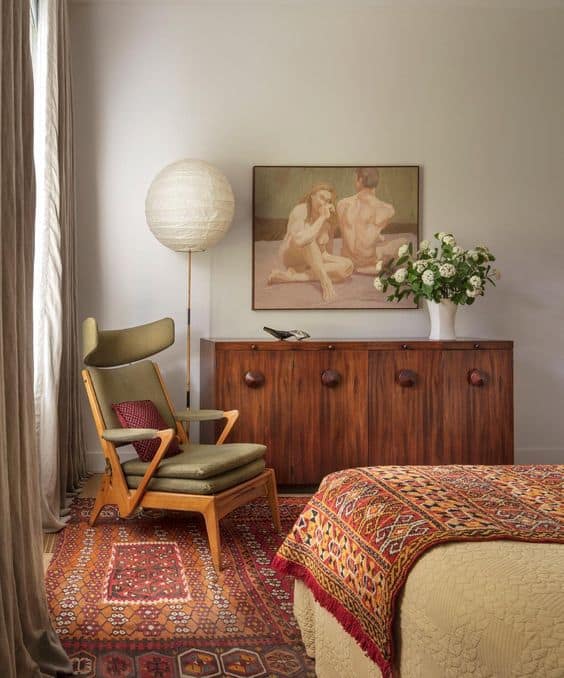 For those who value art and want to be closely in contact with it, but don't want to let go of their need for an organized space, this is an awesome vintage artsy room idea.
All you need is a good, sober-looking credenza, a pretty artistic lamp, a comfy chair, wall art, and compulsorily a rug! Place them in such a way that an artistic feel comes out naturally, such as in the image!
Recreate This Look
How About The Canopy Beds?
Canopy beds can make any room ethereal! really! They are such a vital part of the fairy bedrooms but when it comes to aesthetic bedroom decor, we can't be blind to them.
Now that depends on you what design you choose for yourself. That also depends on what the rest of your bedroom decor looks like since the fabrics you use on the canopy bed would vary in a minimalist bedroom vs a maximalist bedroom. It is also not necessary to use a piece of fabric but then, that looks pretty you see?
Recreate This Bedroom
What Can Be More Aesthetic Than The Lights?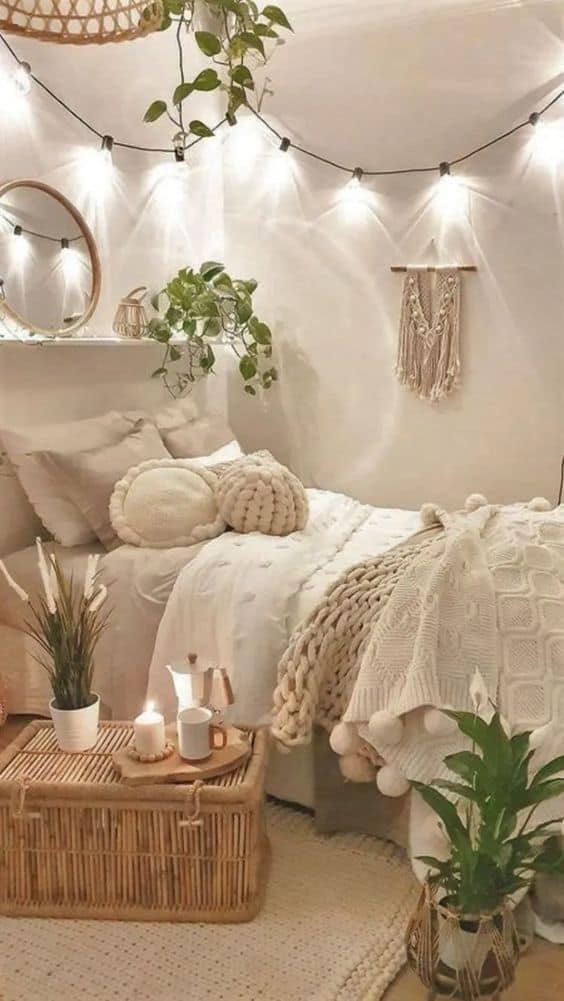 Another aspect of the aesthetic room decor is the lights, which we can not afford to overlook. It is incredible how the lights can change a sober-looking, boring space into something lively and rich. Use them to your advantage.
One way to use lighting is by having some accent lights in the room. Or maybe, using the fairy lights or candles or anything that appeals to you would do. The focus is to make the room look inviting and full of life. And lights can do that.
Recreate This Look
For Girls, Wall Art Is Love…
As girls, we just cannot live without good and personalized wall art! So it is the best thing that we include them in our artsy bedrooms. A great way to have personalized wall art is to shop for printables on Etsy. That way you can have your custom quotes and can choose the frame that you want. Compromise is not an option. Or the other way to shop wall art is universal, go surf the e-commerce stores!
And how about having the posters of your favorite actors and stars in your room? We know, that's what you wanna do!
Give Plants Some Space…
You know what? Plants give your room that magical look you have always been wanting. Plus, it's healthy if they are around! The pollution you see?
Although adding plants is part of the biophilic decor, having them around in your room adds a wave of creativity to it. The bedroom, in itself and by itself, becomes magical. Then there's little that you need to do about it. Because plants have taken half the care of your artsy vintage aesthetic bedroom decor! Huh! That word takes too much time in typing!
Recreate This Look
Give Different Shapes And Fairies A Try!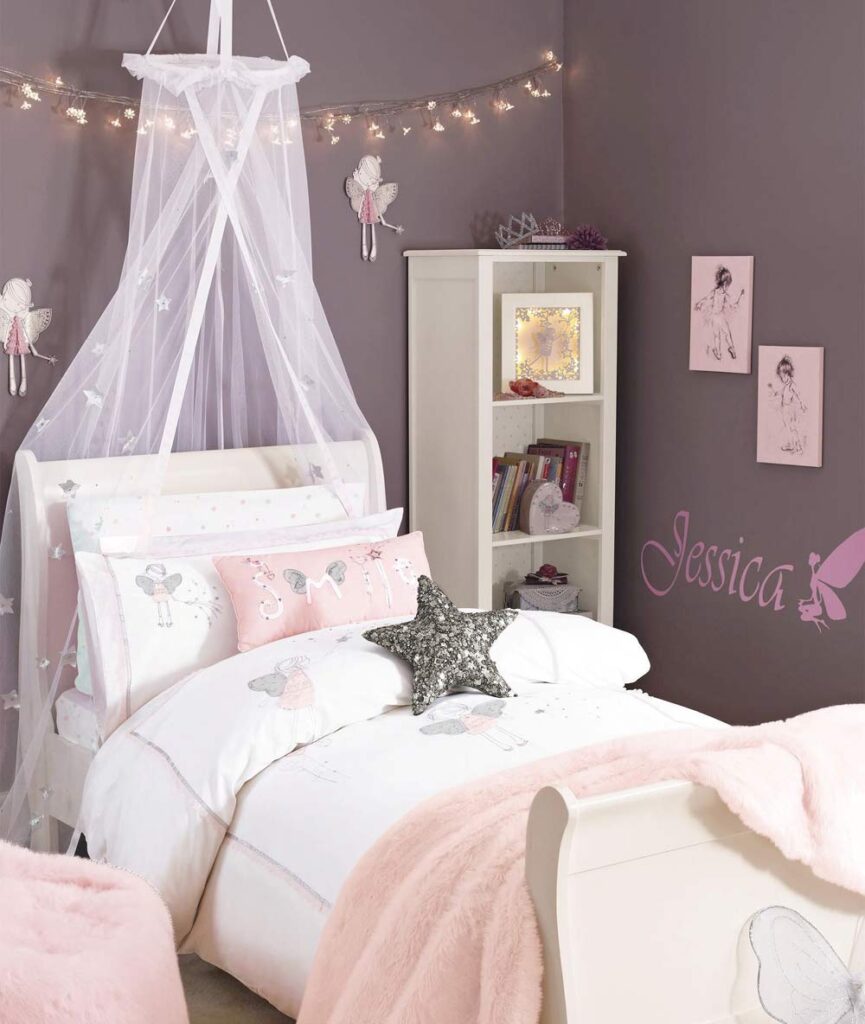 Although the recommendation to try out with various shapes is not a common one we have seen in the artsy bedrooms, you can still consider giving it a try.
We don't mean you have a lot of rectangles and squares thrown around the room, that'll be a geometric bedroom. But all we mean to say is, try using some shape that's not typical and not very common. Exactly like the glittering star on the bed.
It's even great how beautiful the fairies on the wall look. Although that's one of our fairy bedroom recommendations, how does art discriminate?
Recreate This Look
Give Your Bedroom A Boost With Some Tasteful Colors
If you are a person who values subtlety above everything but at the same time, wants the artistic side of it, here you go!
First of all, you ought to use very decent and balanced wall prints like the ones in the image. They, in no way, look overdone. There is minimalism and there is high-quality furniture. Even the colors that are used are so well thought-out and balanced that how can anybody not fall for them at the first sight? Love, at first sight, is something true now. So far as home decor is concerned, at least.
Recreate This Look
Or Make It Extremely Colorful!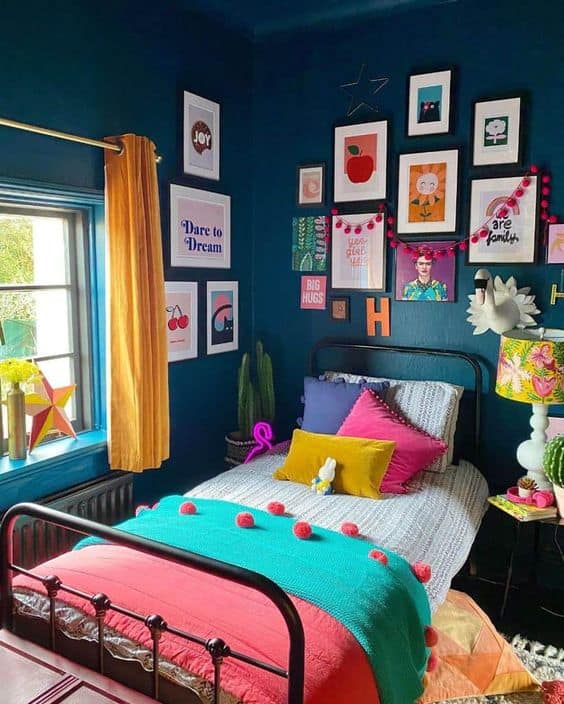 Not everyone loves subtlety and pastel colors and we respect that! So for those of you who have different tastes, how's the idea of a colorful bedroom like the one above? It's your bedroom and you do not need to conform to any design rules or color combinations. Use whichever color you like.
The real beauty of this bedroom comes from the balance between light and dark colors and the printable wall art! It's tasteful and it's lively and it can be yours.
Recreate This Look
Keep It Royal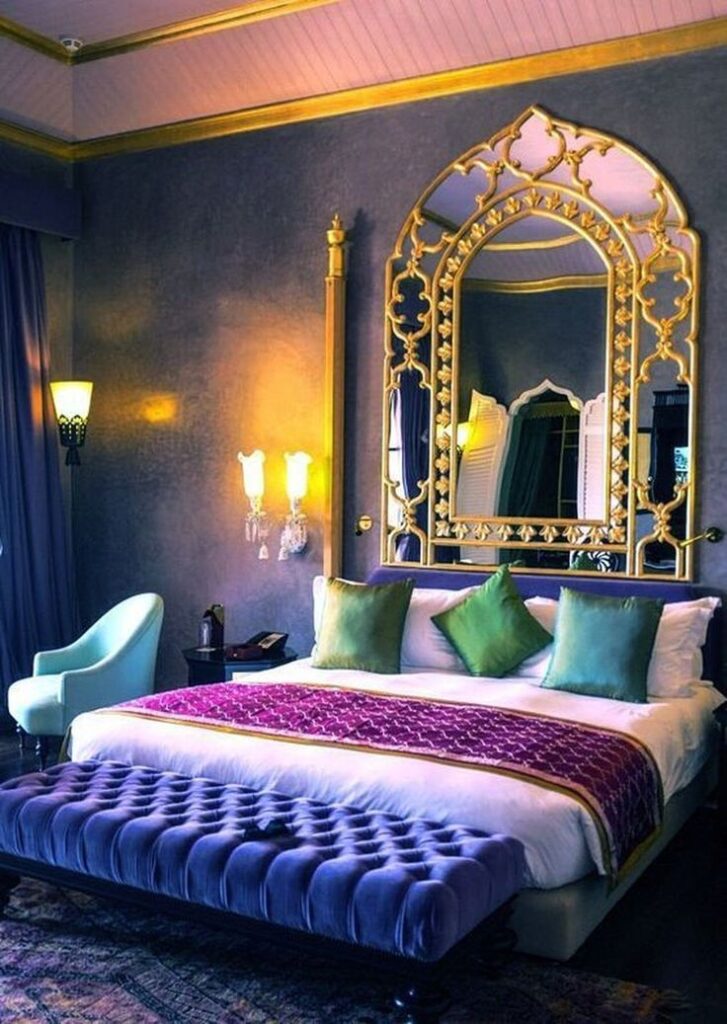 Admit it, as girls you've had your heart, beat for the royal palaces in the movies! The fabrics they used, the chandeliers, the colors, the mirror, everything seemed to be calling us in! Why not make that childhood dream a reality now?
All you need is to use high-quality fabrics, high-quality bedding, and some royal-looking mirrors, chandeliers, and a carpet, compulsorily! That won't be cheap we are sure. But if you are designing on a budget, don't go ahead. If not, what's stopping you?
Recreate This Look
Aesthetic Lights Can Nail It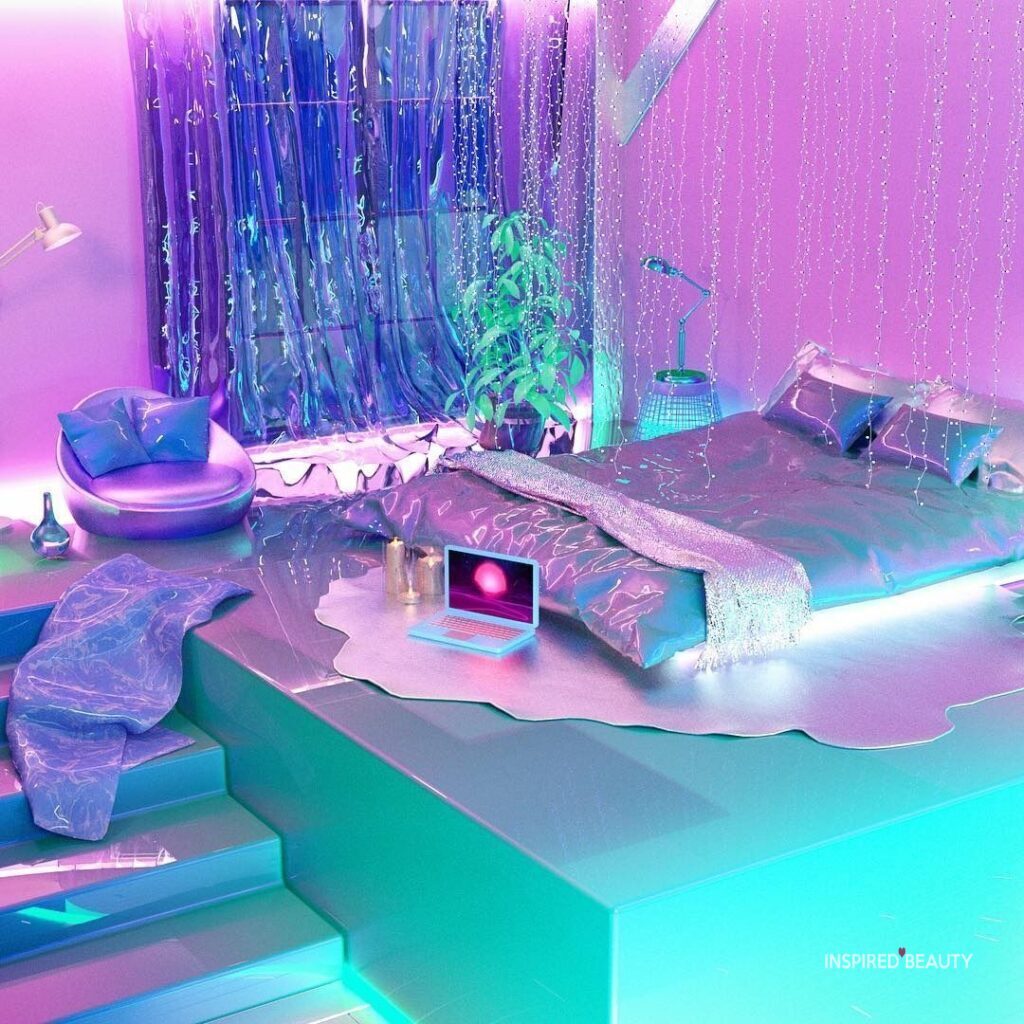 The first rule of aesthetic decor is to use color combinations no one can imagine! This image shows just that!
If you too are a person who is tired of conforming to the rules and regulations of society and now, wants to do your own thing, maybe you should start with your bedroom! And you know what you need to do…use the colors that no one thinks must go together. That's aesthetic and neon! (Find some more neon bedroom ideas HERE.)
Use A Pin Board To Personalize Your Space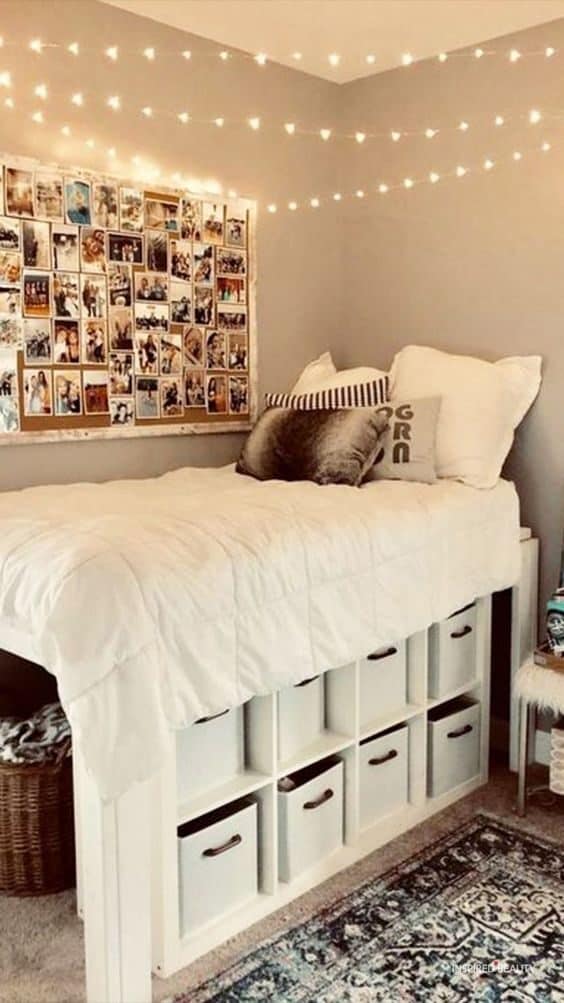 Since it's your personal space, it's a good idea to have a pinboard where you can either pin the images of your friends and family members that are close to your heart or where you can pin your goals or to-do list sticky notes! Any way you use it, it's to your advantage.
That way, you'll have everything you want to remember, before your eyes. And a silent message hanging in the air, 'It's MY space.'
Recreate This Look
Wanna get a pinboard? Find One HERE.
Remember The Books
For the nerds who love reading and showing off their reading list, what can be better than having floating bookshelves in the room? The creative book covers add creativity to the room too, quite easily!
Then there are these fairy lights, candles, and faux ivy you can decorate your bookshelves with! Awesome? we know 😉 Plus, if you have a small room, this is one of the best aesthetic room ideas for small rooms! Don't you think so?
Keep It Simple…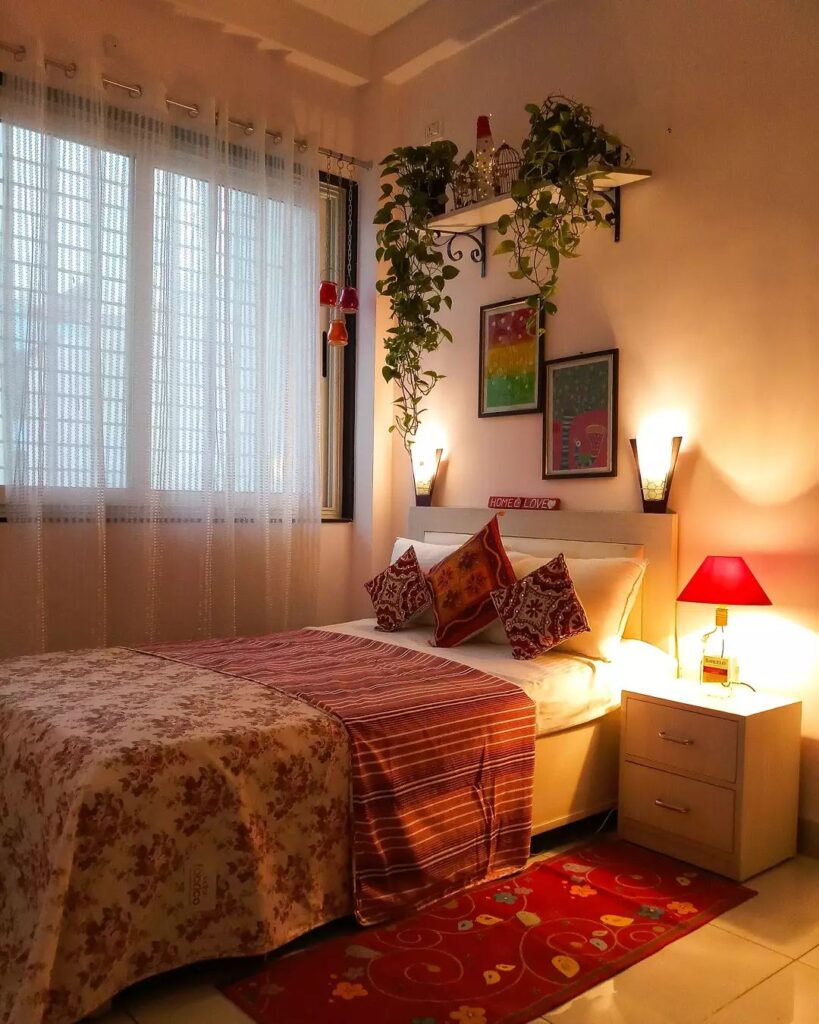 Simplicity simply cannot be beaten! And this simple aesthetic room with led lights design is one example of that! Everything that is used in this room is artistic yet simple and inviting. What makes it so is especially the lighting.
Everything in here is chosen very tastefully. So one myth about the aesthetic room decor is pretty easily broken here that artsy bedrooms need not be of a complicated design. They can be simple and can yet, win hearts!
Recreate This Look
Artsy Bedroom And No Art?
Since what we are aiming to achieve is an artsy vintage aesthetic bedroom, art needs to be there in the room! That is what adds the REAL artistic touch to your artsy bedroom.
If you are an artist, that's to your advantage definitely. But if not, there are various economical options available to buy high-quality artwork for your bedroom decor. You might want to consider going for that.
How Can We Separate Candles And Coziness?
As we have already said, aesthetic room decor cannot be separated from good lighting, we can't even dream, of overlooking the candlelights. They make the room feel cozier and more inviting.
To make it even better, why don't you consider using scented candles? That would be better and more fun. Your room will smell good and you will not want to ste[ pout. After all, it's YOUR PERSONAL HAVEN now!
Recreate This Look
Frequently Asked Questions (FAQs)
What Is An Aesthetic Bedroom?
An Aesthetic bedroom is anything that does not follow any set decor rules and makes one feel quite lively and fun. Add to that, they make the space feel cozy and safe. These bedrooms are usually characterized by fun light fixtures, faux and natural greenery, and some muted colors like pastel blue or pink.
How Do I Make A Vintage Aesthetic Room?
To make a vintage aesthetic room, the best way is by using some old furniture that has some wear and tear. You might use an old bed frame or some old chairs in the room. Most of the vintage part is done. If you have the walls that are somewhat earthen colors, that's a point to you. To add an aesthetic touch to it, you can use fairy lights or string lights around the room. To personalize it, why not use clip lights that have your photos clipped to them?
How Can I Make My Bedroom Look Artsy?
The best way to do that is by adding the REAL artistic element to your room like wall arts and some paintings.
There are other ways like adding a lot of color to your bedroom, or by having different accessories in the room. A chandelier or a windchime could be two great options. You might consider getting wall mural or for a cheaper option, have wall stickers on.
Like The Aesthetic Designs? These Posts Come Under Your Taste…