Now, with the scarcity of space increasing, some of us really have to struggle with decorating the slanted walls in our spaces. But trust us for that matter, challenging as it can be, it is as much fun.
Slanted walls let our inner home decor creativity shine through! So if you too are struggling with the question, 'how to decorate a bedroom with slanted walls?' we have 17 answers for you!
But before we begin, you first need to see it as a fun challenge and not a problem. Only then can you do something good and worthwhile about it.
You are likely to get super excited to decorate your bedroom after seeing these ideas! So tighten your seatbelts and let's begin!
How To Decorate A Bedroom With Slanted Walls? 17 Ideas
Embrace It! Simple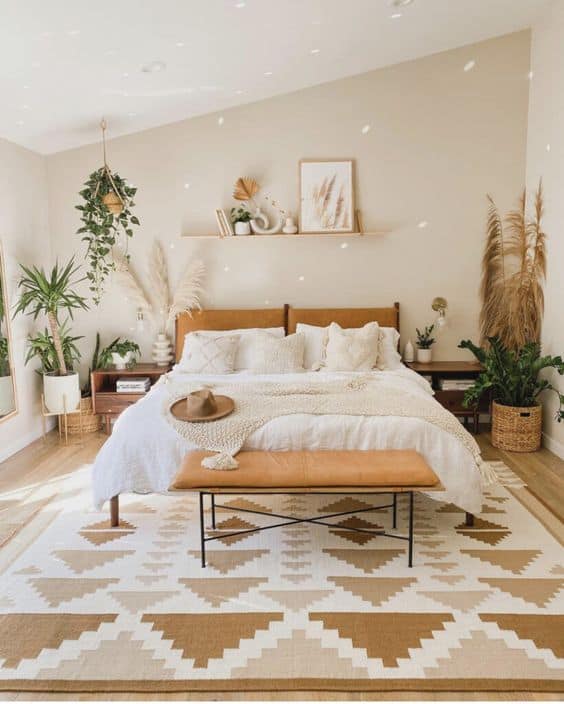 One of the best ways to decorate a bedroom with slanted walls is to show that you DO have slanted walls. It adds some pretty angles and an aesthetic touch to your space.
To do that, what you can do is to color the walls in cream color or some other color you like and paint the ceiling in a lighter tint. That would show the transition of shades and also create the illusion of space.
If you are considering painting your bedroom, this one is an idea to highly consider.
Utilize that Little Space Please!
It's not your fault if you have a sloped wall and less space, but it's definitely your fault to not take advantage of it!
The best way to do that is by creating some storage space there. For that, you could add a bookshelf, a nightstand, or a dresser that can fit!
As an alternative, you can even try getting a bed (as in the image) that is so creatively designed to utilize the space under a slanted wall! Anything you choose, focus on utilizing the space. That's the best choice you'd make.
Use Vertical Lines On The Walls
In bedrooms with vaulted ceilings, our main goal is to use patterns that make the eyes move from bottom to top. That gives the room an illusion of height.
Now there are many ways you can do that. It could be by using canopy beds or using vertical lines on the walls (as in the image.)
It even separates one wall from the other and thus gives a pretty and quite sought-after finish to the bedroom.
Use Tapestries On Slanted Wall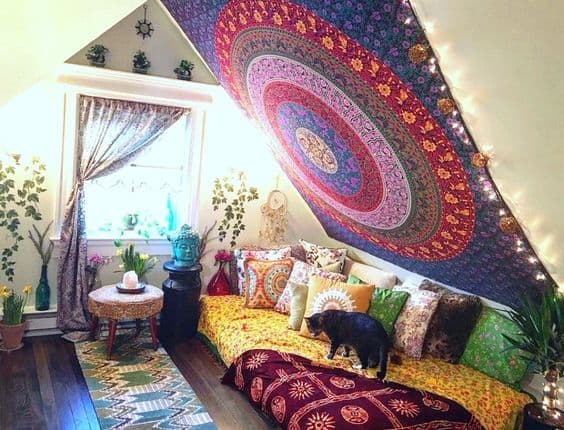 One of the best and the most creative ways to decorate slanted walls is by using tapestries.
Now that would look bad if you just nail the tapestry on two corners and let it hang. But keep it decent and pretty by nailing all the four corners of it on the slanted wall.
Keep it flat and stick to the wall if it has some portrait or something. You could nail its four corners and let it loose from the center if it has patterns. Whatever be the style, the goal is it must look pretty.
Balance Stuff Out
If you have two kids to stay in a room, this attic bedroom design with sloped walls is one of the best you could find out!
The key is to use the slant as a divider for the room and then do the decor on one side and recreate it on the other. And the middle? Well, it's time for you to be creative there or just copy what's shown! Easy peasy Japanesey…
Create A Gallery Wall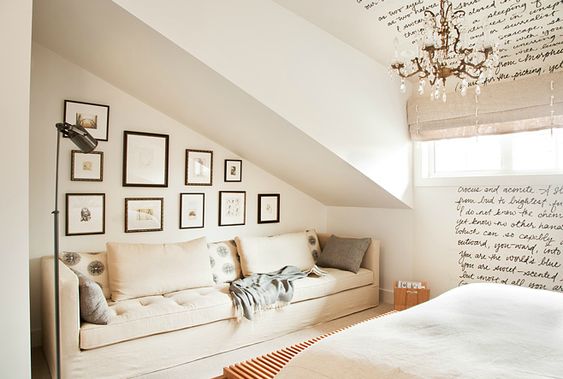 When you have an unwanted (or maybe a designer) corner in your room, you must definitely try to think of the design for it.
And in modern-day decor, nothing could be more designer than a gallery wall. So why not just have one in your room itself?
Once you place the photos right, it would make that slant so pleasing and planned (or pleasingly planned for that matter!) It'll overpower it and tada! A pretty bedroom is yours.
Or Cave In!
Now that here and there, and everywhere around the internet, they say that sloped walls can make your bedroom look like a cave! What's wrong with that, after all?
We all (admit it please) sometimes need a place where we can just cave in and don't want to come back to the world- a cave where we can binge watch Netflix and chill! THIS is that cave!
What do you have to do to create it? Wooden panels, wooden panels, wooden panels. The key is to use wood-like stuff around the room. It could be plastic wall panels that look like wood, it could be wooden furniture and other stuff.
Plus, remember to add some fairy lights and faux vines. It'll give an aesthetic touch to your bedroom.
Place The Bed Under The Vaulted Ceiling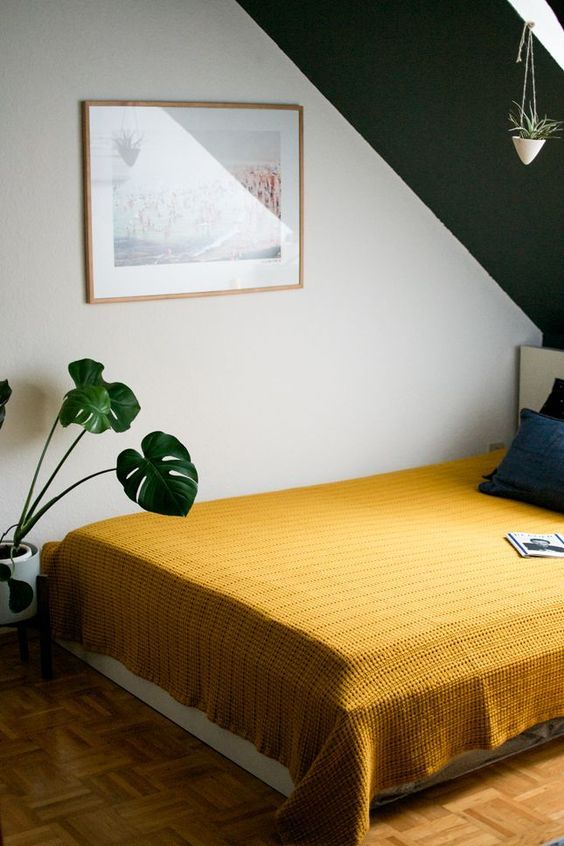 If your slanted roof is not very low to bang your head every time you draw near, then maybe you must consider placing your bed underneath it.
What it will do is save some space that the bed would otherwise have occupied and also, make that bed-area feel cozy and safe.
To add some more aesthetic touch, you can consider painting the slated roof in a darker color but be aware that it will make the ceiling look lower than it actually is. So, if you don't want to compromise the height of that corner, don't consider a dark color. A light color would be a better idea.
All White, Light, And Bright
Again, our main goal in decorating a bedroom with slanted walls is to create an illusion of height.
If you do not want to use any vertical lines in the room for that, alternatively you want to go with light colors, the best being white. It creates an illusion of space in the room and even makes the ceiling look higher than it actually is. If white is not something that you like, go for any light color.
Once you are able to do that, you'll notice a difference, literally!
Design The Ceiling Of Your Attic Bedroom!
Usually, attic bedrooms have such kind of steep-sloped roofs. Now when you can not change it, it's better to decorate it!
It is a good idea how the ceiling above has some designer touch to it that you can also have.
Plus, when the room is all white, it looks stunning if you have shots of colorful stuff in your bedroom. Try that out, if you want!
Place Some Decor Underneath The Slant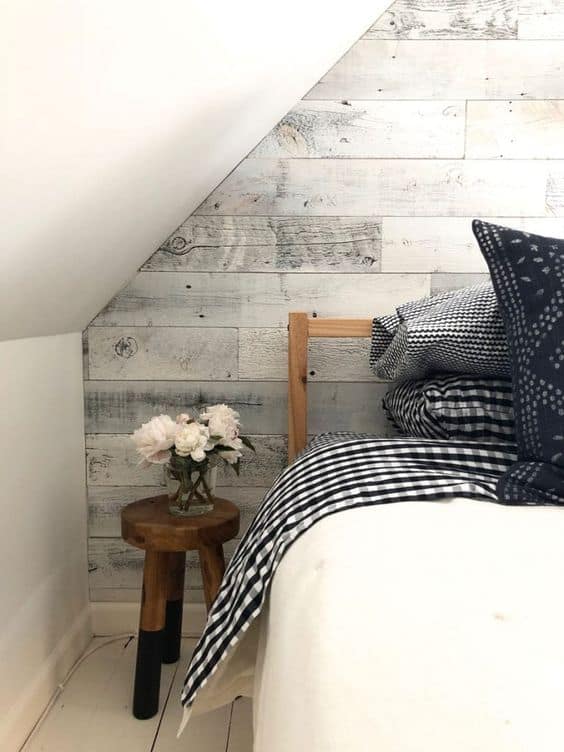 If the slanted ceiling doesn't take a lot of space but just a bit, then you might want to consider placing a flower pot, a figurine, an indoor plant, or some bedside table underneath that, just in order for that space to be occupied.
If you want to keep that little space empty, that would be just as good. See what works for the overall look of your room and then decide!
Place A Window On The Slant
Although this could be pretty expensive and even out of budget if you can manage to get a window on the slant of the wall, what's better?
Basically, it adds that extra level of brightness and light to your room and even makes you see the night sky when you lie in bed. Plus, it's the new kind of decor, isn't it?
So, girls! Don't tell us, you don't want that!
Use Wall Panels
In the image, it seems a good idea to use different colored wall panels on both walls especially when you have a small bedroom with a slanted ceiling.
Plus, don't forget to overlook the window on the wall that gives the white slant the brightness and the charm it has!
Keep It Simple
It's not every time that you will have to decorate a bedroom with slanted walls in unconventional ways. If you can manage to get by with it, what's the problem?
See for example the above image. It looks like a simple bedroom that anyone can create irrespective of slanted or straight walls.
The only rule is, that you must not color the vaulted ceiling or the slanted wall in a way that it zooms itself or stands out in some non-aesthetic way. Rest, everything is fair in love, war, and decor!
Keep It Sweet, Simple, And Small!
Again, if you have a small bedroom with a slanted ceiling, then maybe this is the design you must aim for.
The ceiling has a light color that creates the illusion of it being higher than it actually is and some woodwork so gives it a pretty and cool vibe.
Besides this, all there is, in this room is a bed, a bedside table, and a lamp. What more can you want? And what more do you want to create?
Create An Excellent Accent Wall
To go against all that conventional decor style, you can even magnify (and not minimize) the look of the angled wall in your room.
The best way to go about it is to create an accent wall out of it. The wall can be a different color than the rest of the room. And how about adding some neon signs to it to make it even more aesthetically pleasing. That's a tough game, but if you can, why not try your hands on it?
Give It A Scandi- Boho Touch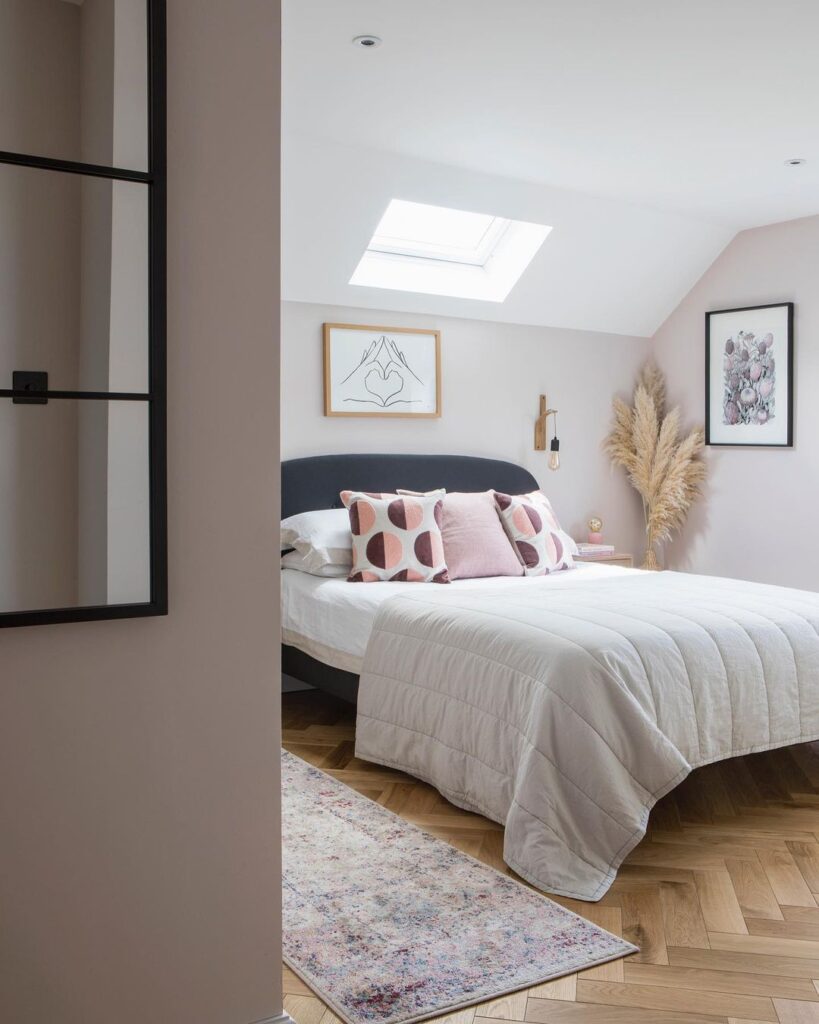 If you do not have a very steep slant in the ceiling, you can treat your bedroom like any other normal bedroom in terms of design and decor.
And then, if you have an interest in a minimal boho design, then what can be better than this scandi-boho bedroom we have up here! Plus, the pink accents in the room just make it look all the more soothing and inviting.
All you need is a white backdrop, some pink accents, an informal rug, wooden frames, and pampas grass. Easy peasy? Well, it is.
Frequently Asked Questions (FAQs)
How To Make A Room With Slanted Walls Look Bigger?
No matter what kind of room you have, irrespective of slanted or straight walls, light colors can always make a room look bigger.
If you want just the ceiling to look higher, paint it in some light and cool color. The same goes for the walls as well.
To give the room an illusion of height, vertical lines must be used. It is not necessary that you use them on the walls, furniture with vertical shapes like the canopy bed or a long cupboard can be used.
How To Decorate A Wall With Slant?
There are a couple of ways you can go about it. Some of them are:
Creating a gallery wall
Decorating it with tapestry
Hanging a vinyl name
Making it an accent wall
Hanging plants from that wall
Getting the wall wallpapered
Conclusion
Decorating a bedroom with a slanted wall is more fun than a challenge. If you take it like that, then it will become quite easy for you to decorate!
Remember that and it will be right!
Until next time, happy decorating!
Want To Fix Your Bedroom In The Best Way Possible? Well, These Might Help: