Do you lack space to add a separate study room to your house? Or, does your kid love his bedroom so much that he doesn't want to get out into any other room and study? Well, we have you covered with these 23 amazing study cum bedrooms that'll make things easier for you by 100X. Really!
We completely understand that a lack of space in the house is increasingly becoming a problem, but it mustn't be considered one! After all, there are so many fixes in interior design that can solve your purpose without being overly heavy on your pockets!
With this article, we are bringing to you exactly those fixes for your bedroom made into a study cum bedroom!
Let's get started…
17+ Study Cum Bedrooms You'll Absolutely Want!
Try A Systematic Approach To It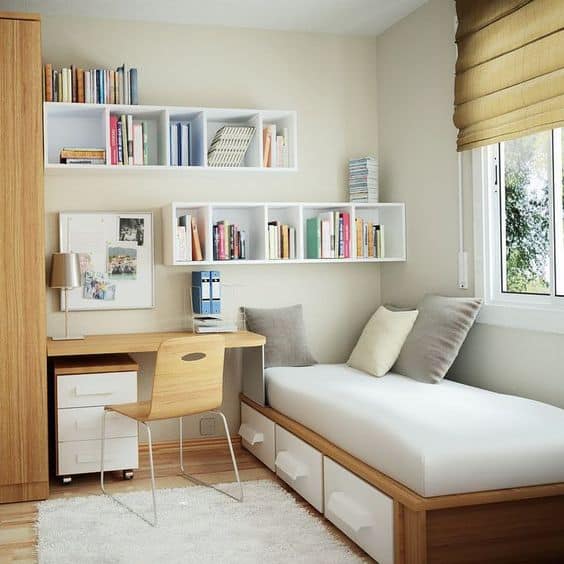 If you are a person who loves an organized and clutter-free environment, this study room design with a bed is for you!
To utilize the space well and not add anything unnecessary to the space, a single bed is used right beside the study table. So that you don't miss the storage space that a general bedroom provides you with, there are shelves in the bed frame.
To make the study area quite organized and increase the utility of the space, you can use the floating shelves on the wall above your study table.
That said, the clean feeling that this small bedroom with a study table gets is primarily because of the abundance of natural light and the use of white and beige. If you can manage, do try the combination out.
Recreate This Look
Simple Study Cum Bedroom Design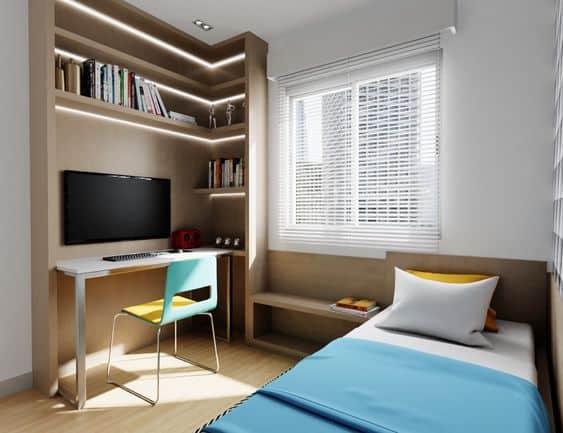 If you urgently need a study space in your bedroom or rather a simple study cum bedroom design, then this is exactly what you are looking for!
All you have to do to create this is to move the bed to one side of the room so that it sticks to the wall, and install a table and a chair on the other end of your bedroom.
Doing this of course would create a rough setup and then you can add all the decorative stuff you want for your study space. If you section your study space as decoratively and elegantly as the one in the above image, what can be better than that?
Again, here is a white and beige color combination with a pop of blue. This is worth a try.
Recreate This Look
In Case You Don't Love The Bed So Much!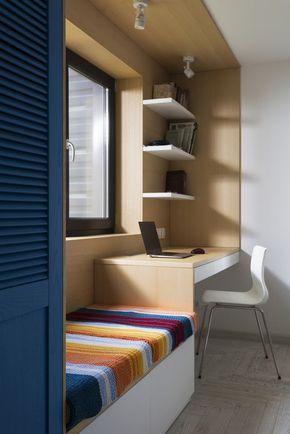 Sorry to say that! But here can be some of us, maybe a 0.0001% of us who don't love the bed. This study area design is for you (to that 0.0001%, if you exist at all!)
Since you are primarily aiming to create a study area more than a bedroom, you can give little space to the bed as it is given in the above image.
This small study room design with the bed is also pretty good for those who don't have a large enough space for a separate bed and study table in their bedroom. In that case, you can attach both, in the way it's done above.
Recreate This Look
Ultra Modern Bedroom And Study Room Combined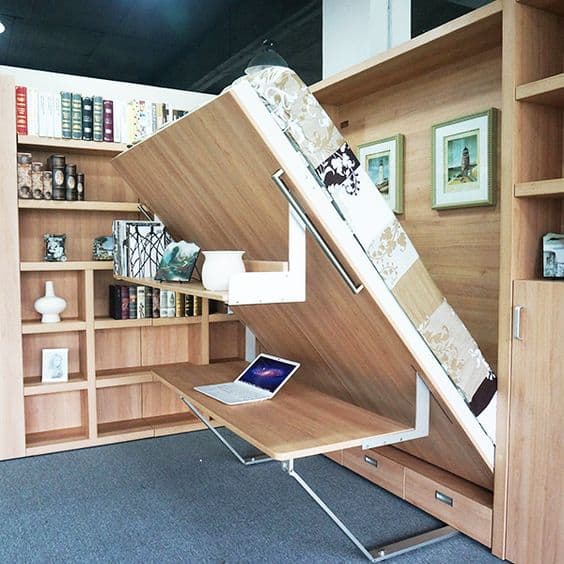 The interior design industry is growing and so is our ability to accept new and modern furniture. If you love new trends, you can't say no to this bed design for your bedroom cum study room.
Needless to explain, this bed can be pulled in shape whenever you need it and fits itself into the wall and the study table juts out of it when you wish.
It's not just a good idea for small spaces but for those who love to upgrade their interiors. It's a simply must-have!
If You Want It To Be Aesthetically Pleasing…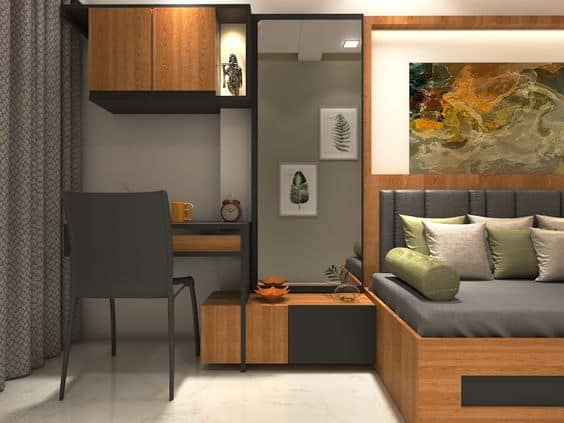 Not all of us love simple spaces, right?
Well, in that case, some lights and colors can come to our rescue. You can try a sofa bed, that can be made like a sofa when not in use and used as a bed at night.
On the other end, there is this chair and table set that won't require you to spend on a heavy setup but still looks classy.
Most of all, you ought to pay attention to the colors in this study cum bedroom design. Grey bedrooms are of course elegant, and wood does nothing but magnify its elegance!
Make Your Study Space Stand Out!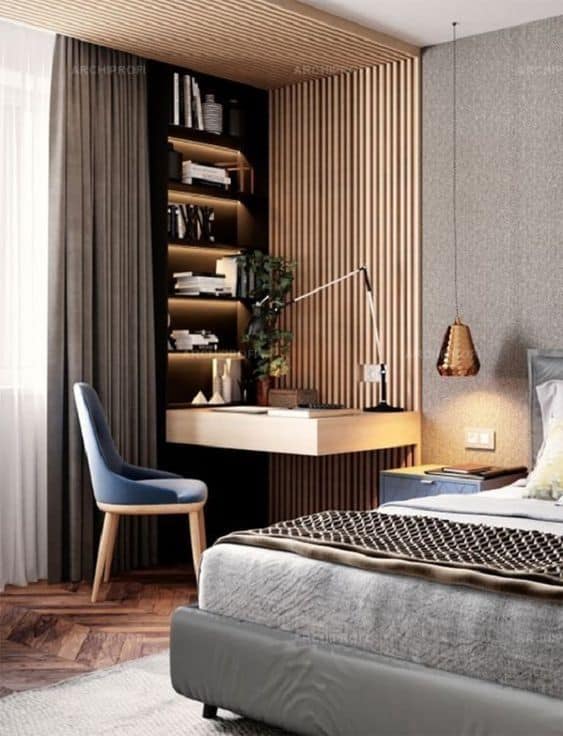 In case you wish to have a combined study room and bedroom but still want both to look separate and on their own, vertical lines are the way to go. They immediately make the space attention-grabbing and different! Even the area rug separates the two spaces quite effectively.
To make the space even more special and pretty, you can add a floating desk, some pretty shelves, soothing lamplight, and a comfortable bucket chair.
In Case You Have A Large Bedroom…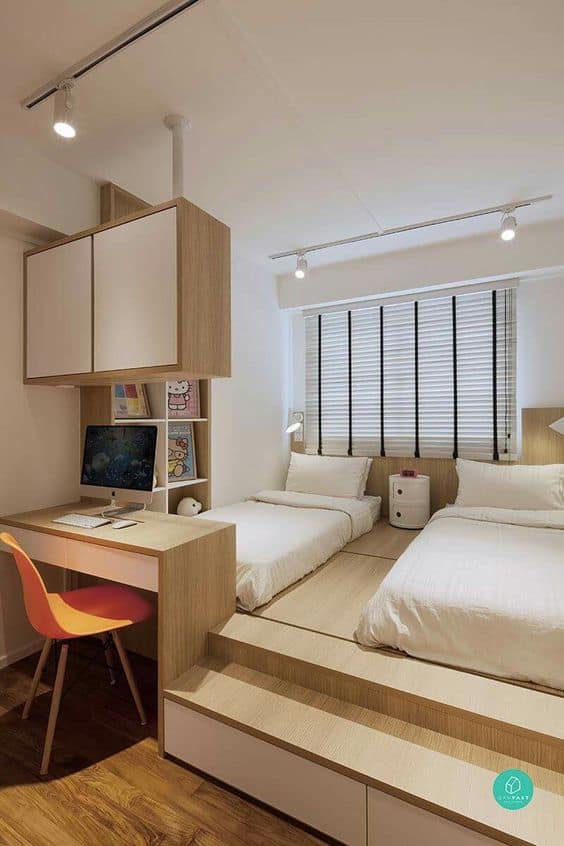 In the case of a large bedroom or a bedroom shared by two, this study cum bedroom design is what you ideally want to go for! You can place the bed high up and use a separator to separate the study space from your resting space.
That way, you won't mess up or feel the need to go and sleep the moment you catch sight of your bed from your study area.
Plus, you would definitely want to pay attention to the soothing lighting in the room. That's ideal for a bedroom but make sure to have special lights for the study area in case you intend to recreate this study room design.
How About Placing Your Desk Beside The TV Unit?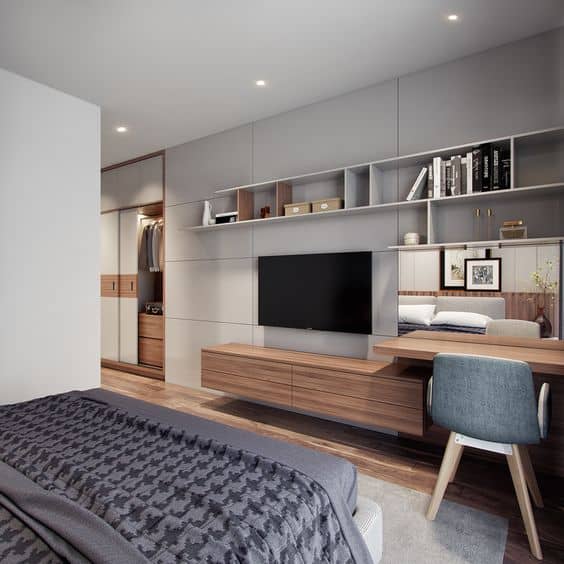 Most of the bedrooms have a TV unit these days. In that case, it is not a bad idea to place your study stuff next to the unit. That way, it would look clean and systematic.
In the above study cum bedroom, a simple neutral color scheme is followed, comprising grey, white and tan.
All you need to create this study space is to have the bed on one end of the room and place the study accessories facing opposite to it. You can get the floating cuboid shelves installed in the walls like the one above. They add elegance, right?
A Minimalist Study Area Design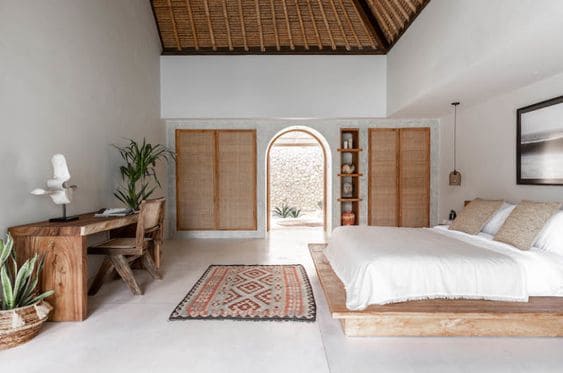 For all the minimalists here who want a master bedroom with a study area design, this is your treat!
White walls are used to make the room look more spacious and airy. Then some wooden furniture is used to give the room a subtle and peaceful feeling as you do when you create a zen bedroom design.
To add to that, only a simple table-chair setup is given for the study area. This design is quite easy to pull together and you can pretty much do that in any bedroom without any special effort.
Try A Floating Desk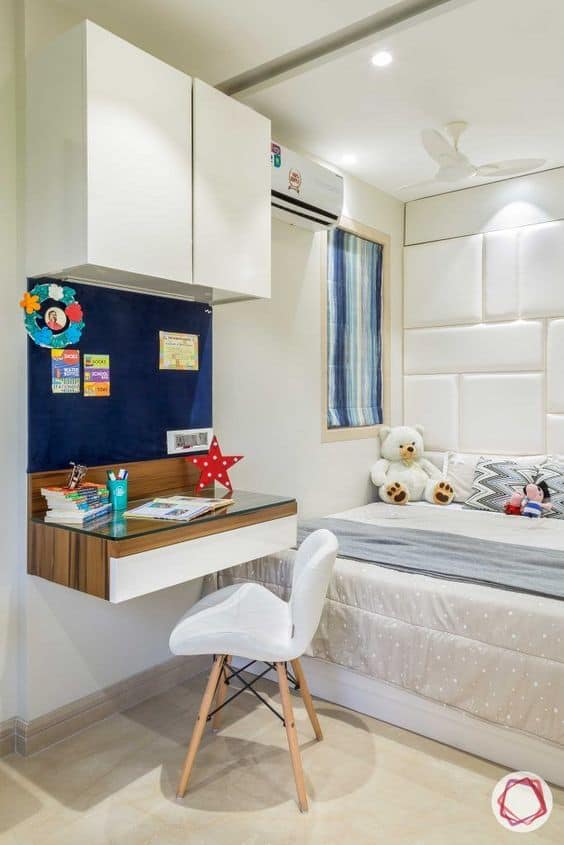 This one is a good idea so far as a combined study and bedroom for a child is concerned.
The floating desk ensures less clutter because you can't stuff things up in the lower drawers since it doesn't have them. Also, the level of comfort increases in this kind of seating arrangement.
You can also consider having a soft board before your seat so that you can stick the notes of whatever you want to remember and above that can be placed your floating cabinet. Overall, it's a well-thought-out and convenient setup.
A Room Divider Is A Good Option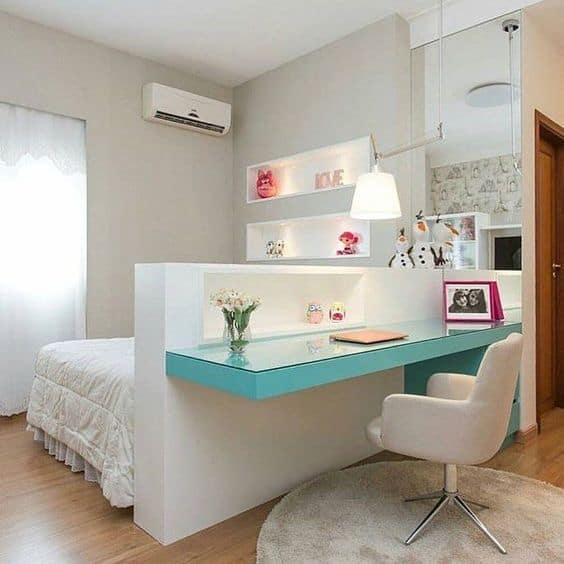 Some people don't like to mix things up, even their bedroom and study room. If you are one of a kind but lack enough space, then this is what is tailored for your preferences.
In your bedroom, you can use a room divider to separate your study space and your bed. That way, it will give a feeling of two separate rooms and you can decorate both in different ways as you would do in two different rooms.
Also, that you won't be able to look at the bed every time you are on your desk, it's not going to attract you to come and sleep! Another plus.
Less Is More, Right?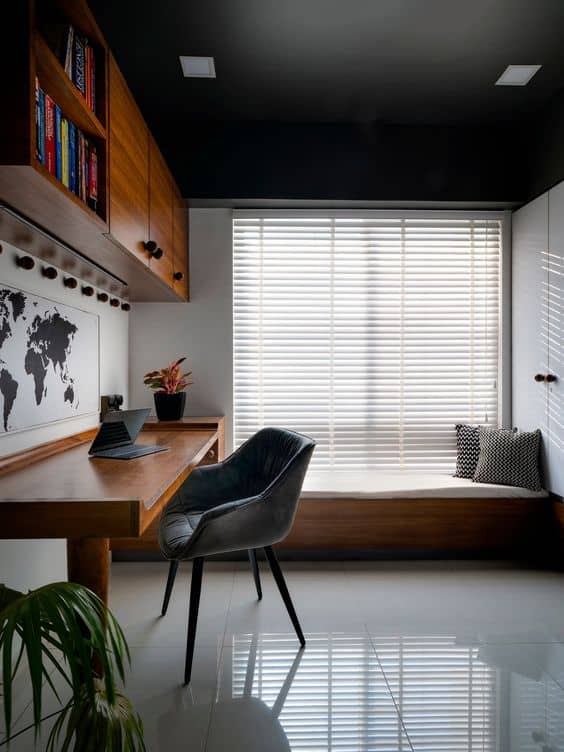 Many of us admire the philosophy that 'less is more.' Simply means, that we do not need much to get by. Less is enough.
So simply, when you apply this philosophy in your study cum bedroom, this study table design in a small bedroom is something to look up to!
Most importantly, this is easy to create and does not require a lot of effort on your part besides controlling your desire to add more and more to the decor (that's tough!)
Simply, go for a neutral color palette, add a bed in one corner, and add a study table and a chair on another. Make sure that everything and high quality and good-looking since you are going for a few items only. Do the decor, and done!
It's Just A Bed In The Study Room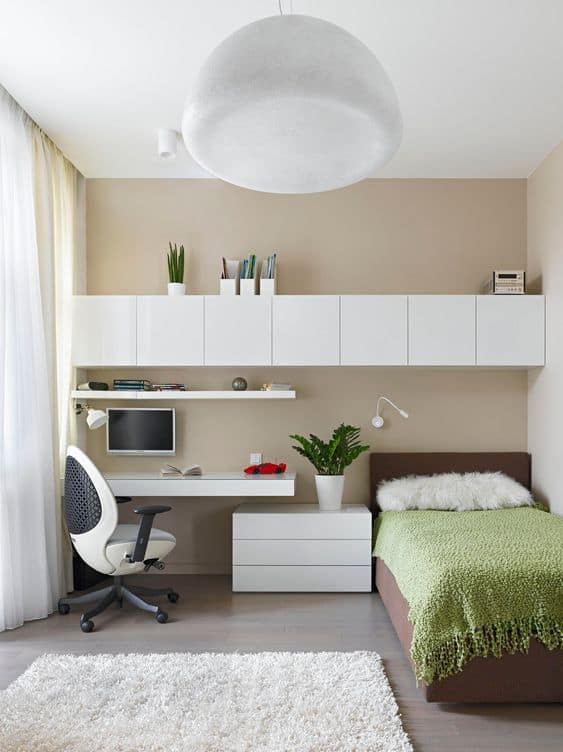 We have heard so many times that we can set up a study area in a bedroom, but how about creating a full study room and placing a bed in it? Sounds good?
Well then, you know what to do. Create a study room as elegant as the one above and throw in a bed! Yada! Done!
Set Up A Simple Study Space In Your Bedroom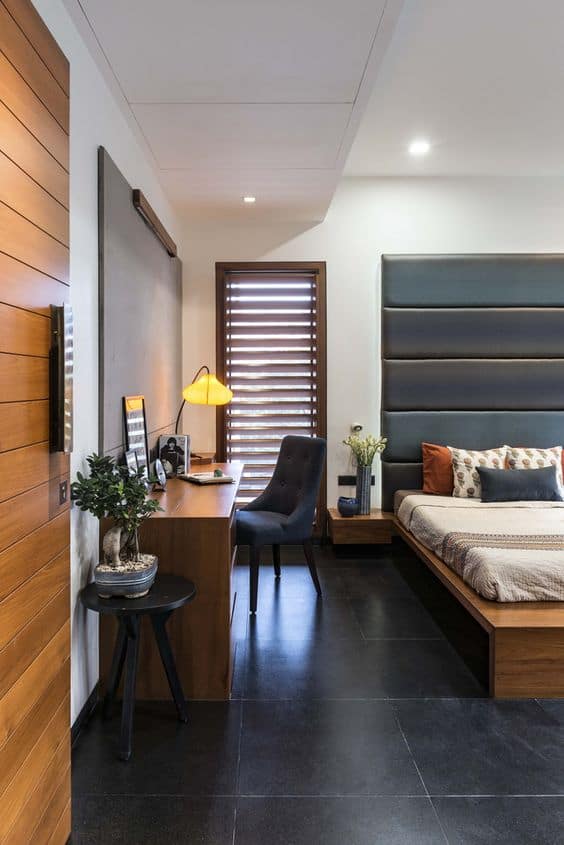 The easiest way to make a combined study room and bedroom is by installing some simple study furniture in one part of your bedroom.
The one above is one of the easiest ones to install. You can easily get this table and a chair in the market and done!
The decor is the whole new story you would want to focus on. But for now, this study area design is easy to create.
How Would A Floating Desk Be?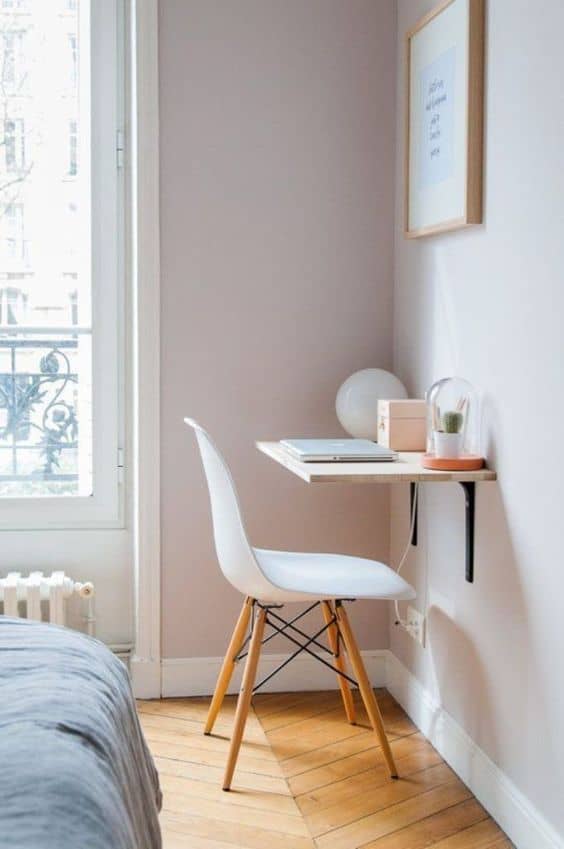 To ensure a clutter-free environment, a yet simpler study area setup would be to install a floating desk and get a comfy chair for yourself.
There is nothing more to explain in this one, we guess. That's what makes it so simple and worth going after, right?
A Study Area That Looks One With The Bedroom!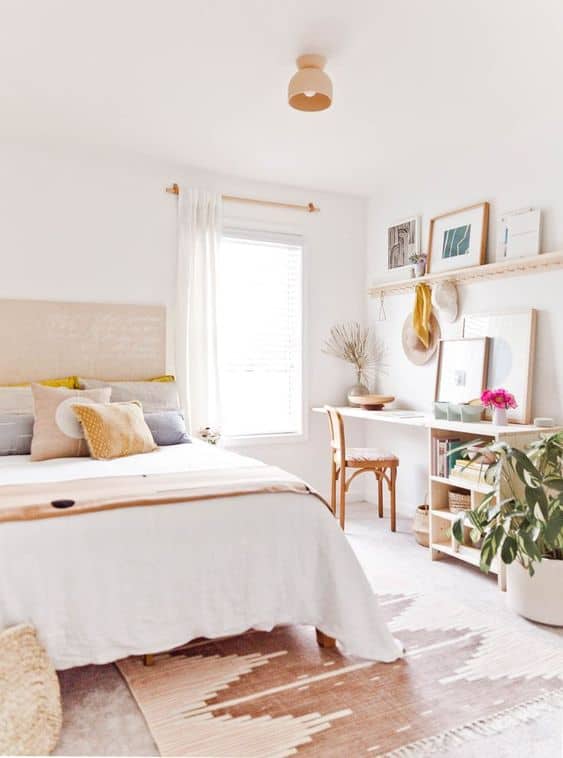 Not all of us wish that our study area must look separate from the bedroom. It must not stand out. It should look one with it, instead!
Simply, you would want to use the furniture that matches. The above image is the perfect example of that.
Wooden furniture that is either tan or beige in color is used for both the bed and the study area. White connects both the areas making them look as if the bedroom was planned like that from scratch.
Simple Study Spaces Are A Treat!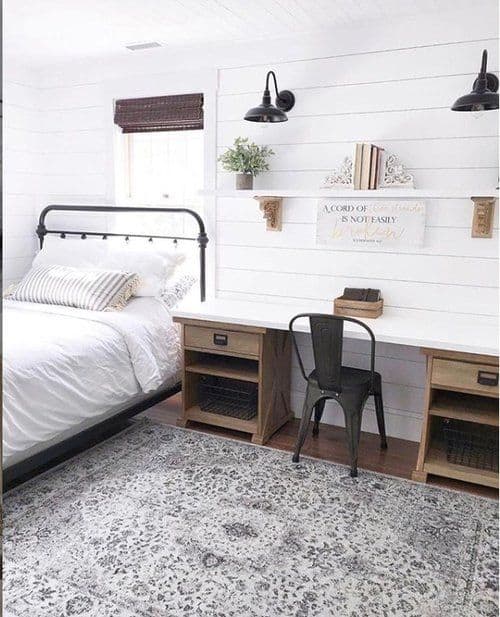 Simplicity is elegant. The above bedroom cum study room shows exactly that.
If you don't have a lot of dreams about designing a posh and extremely expensive study space, then this one is the way to go!
Everything here is quite white and simple. All the elegance is owed to the shiplap wall panels that are on the front wall. Well, this is how you can create a budget-friendly space!
We All Love Our Comfort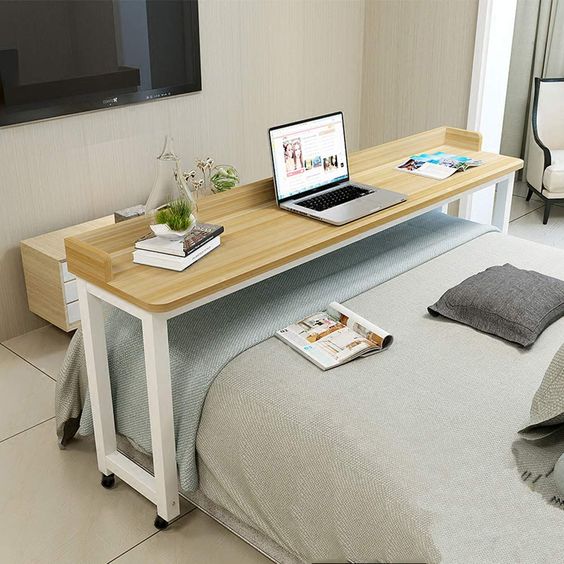 If you can't go to a study table, call the study table to you. Sounds cool? It is.
It's sometimes not possible for us to get out of bed and sit at a desk to study, especially in winters when getting out of bed is real hell! For all those lazy lucky people, there's this desk that can come in handy. Congratulations! There's a product tailored just for you 🙂
Recreate This Look
How You Can Design An Effective Study Space
No matter where our study space is located, it must be such that it promotes our feeling to study. Not only that, it must be comfortable enough and positioned in a way that it does not affect us adversely on a mental or physical plane, no matter how long we work while we sit there.
Keeping all this in mind, below are a few tips as to how to design a study room so that it provides maximum satisfaction and comfort (and concentration.)
Make sure there is enough space
Space in the study area simply means that there must be no clutter there.
An organized and uncluttered study area keeps the mind sane and does not impose any unnecessary stress on the mind. Seeing stuff lying here or there creates uninvited stress and pressure. You don't want that right?
So simply, make sure you have enough space, especially on your study table. You can have a burn-out if you constantly see stacks of unread books and incomplete notes lying in there.
Comfortable Furniture Is A Compulsion
Keeping in mind that you will sit for long hours while you study, comfortable furniture is something that's a necessity for you lest you should suffer from back pain.
You could choose the chair as per your comfort and the ideal desk is that which comes at your elbow level (not a rule of thumb, of course, it might vary for some.)
If you are to work on the screen in this study area, then you would want to place the screen at your eye level so that it does not strain your neck muscles.
The Color Also Matters… a lOT!
When you are designing a study area or any area for that matter, colors have a high impact on setting up the mood of the room.
When it is a study space you are designing, light colors are always what you must look up to. It could be a beige, white or cream color. Blue and green can also fit well. Dark colors must not be used, as they don't promote concentration.
So, if you have a combined bedroom and study room, you must consider using light colors to suit both your needs.
We have a whole article dedicated to how you can choose the right color for your study room. Consider reading that, if you want to dig deeper into this.
Remember The wall shelves and other organizers
Books and stationary can really mess things up when not organized properly. That is why wall shelves and stationary organizers are important to be installed in your study area.
For your books, you could choose some floating wall shelves or cabinets under your study table. For pens and pencils, pen stands work the best of course. And, if you have more space, a full wall bookshelf is something to die for!
Related: 31 Best Bookcases For Small Spaces For Under $187
The lighting Is Very Important
Since you have to study, there must be proper lighting in the room, especially on your study table.
If you can manage to get the natural light in, that's the best.
You can make the arrangement for artificial lights by using table lamps, wall lamps and recessed lighting. Whatever you choose, ensure that it aids your purpose.
The Decor Is Good To Have
Although it is completely your wish whether you wish to accessorize your study space or not, study room decor is great to have!
It adds mood and beauty to your space and makes you feel more connected to the room.
There are a lot of ways you can beautify your study space. It could be in the form of wall decals, some wall stickers, wall art, adding some pops of color, etc. It all depends on what your taste is!
Conclusion
When you are designing a study come bedroom, there are a few things you would want to keep in mind like the wall color, the lighting, the placement of furniture, etc. We hope you got all that was required from this post, including some good ideas as to how you can decorate your study space in your bedroom.
If you have any questions or suggestions, do let us know in the comment section below. Also, don't forget to tell us which study cum bedroom design was your favorite out of all these…
Until next time, happy decorating!
Interested in designing your own study area? These articles will help you: