Having a study room is important, but having a good one is more important! And by 'good one' we don't mean, you must spend a lot on the decor, but just that, it is organized and set in a way that aids your studies!
That's why study room organization is important!
To help you with it, below are some ideas that you can copy to redesign your study room and organize your study desk and get the most out of it! Plus, you get the desk organization ideas, handily here and some organizers you'll most probably want to get your hands on!
So without wasting much time, let's dive in!
7 Ways You Can Organise Your Study Room
Use A Lot Of Shelves And Cabinets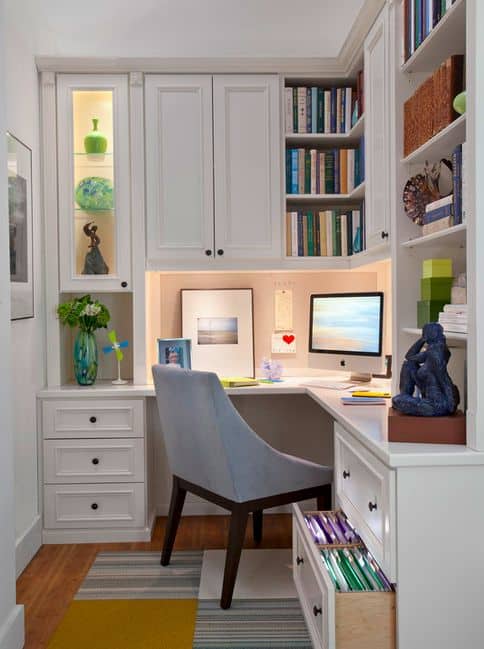 The best and the most universal way to organize a study room is by using abundant wall shelves and cabinets. They must be enough to store all your books and other stationery so that it's not lying here and there.
From the study room decor perspective as well, cabinets and wall shelves are a good idea! They don't make the room look 'organized yet crappy.'
Rather, you get the aesthetic look and feel without wasting much of your time and energy on choosing the decor for your study room.
Use A Pin Board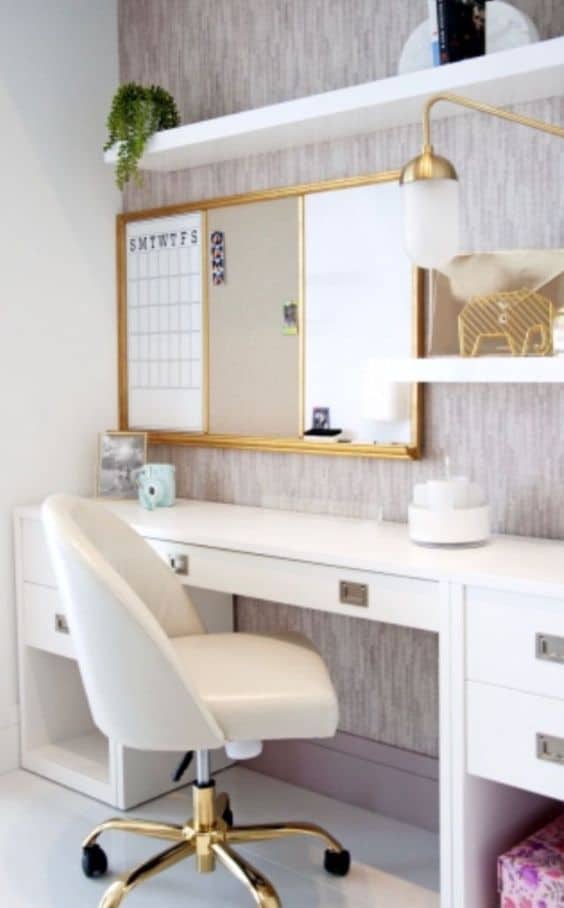 When you sit at your study desk, things need to be clear not just on your desk but in your head as well!
For that to happen, having a pinboard is a great idea!
Once you install it before your desk, you can pin all your to-do tasks, motivational stickers as well as something you would want to revise and remember till your exam.
Either way, having a pinboard is a good and creative way to be productive yet organized. Agree?
Turn Towards Minimalism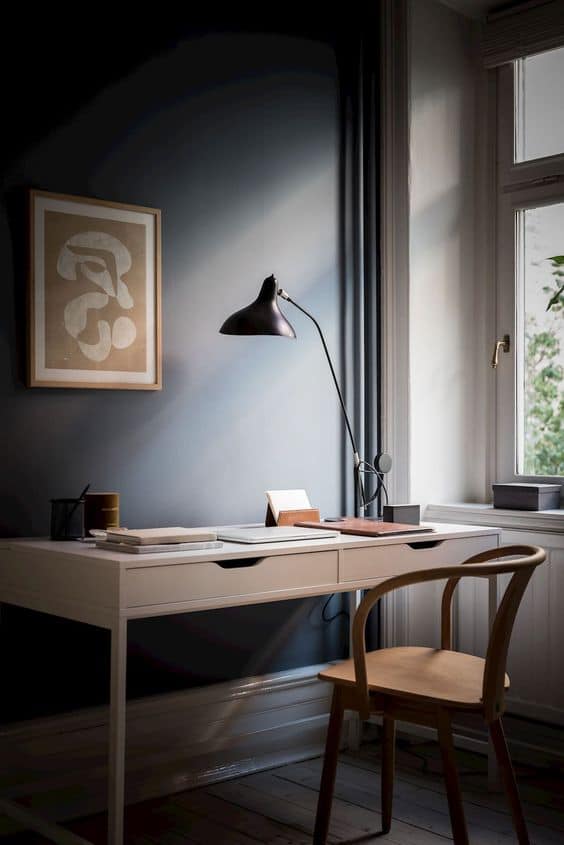 At Room You Love, we stand for the interdependence between your interior decor and mental health. This also stands true for how your study room is organized.
If you fill a lot of stuff in the room or have a lot of stuff lying around on your desk, this means that you have a lot of thoughts going on in your mind. This is not an ideal characteristic of a student or anybody in that case.
Long story short, to increase focus when you sit to study, you need to adopt minimalism as much as you can.
When you have less on your plate, it's more likely to be done. Don't scatter things.
Let The Lights In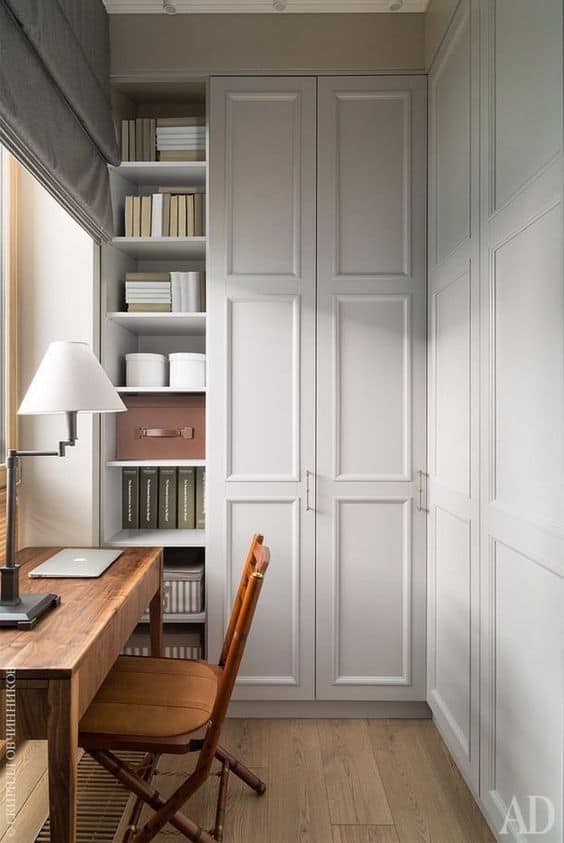 Not only we but Vastu and feng shui also say that you must let ample natural light in your study room.
This ensures that all the unnecessary bacteria are killed and the energy in the room is refreshed. Plus, it increases the visibility of your environment
Simply put, natural light is a must-have for your study room organization if you want to ensure cleanliness and visibility in the space.
Ditch The Conventions, If You Wish!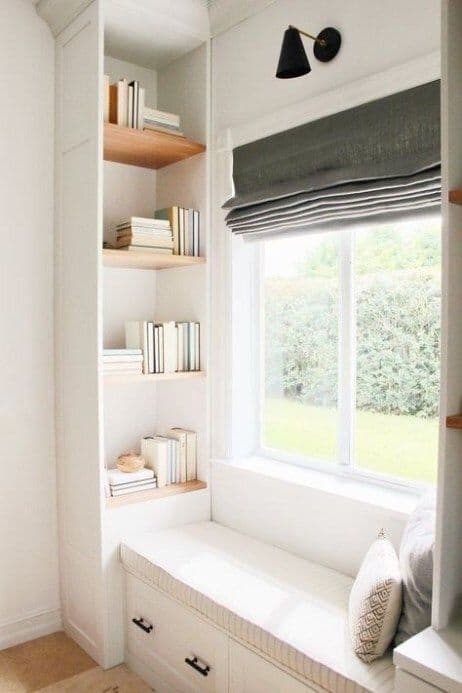 Not everyone likes to study when sitting in a desk and chair setup. Although this is NOT recommended, you can have a bed-like set up somewhere in your study space so that you can comfortably do your work.
It can also form a bedroom cum study area so you don't have to spend additional money on your bedroom decor.
But in all your excitement about seeing a comfortable setup, don't forget to install a bookshelf!
Increase The Space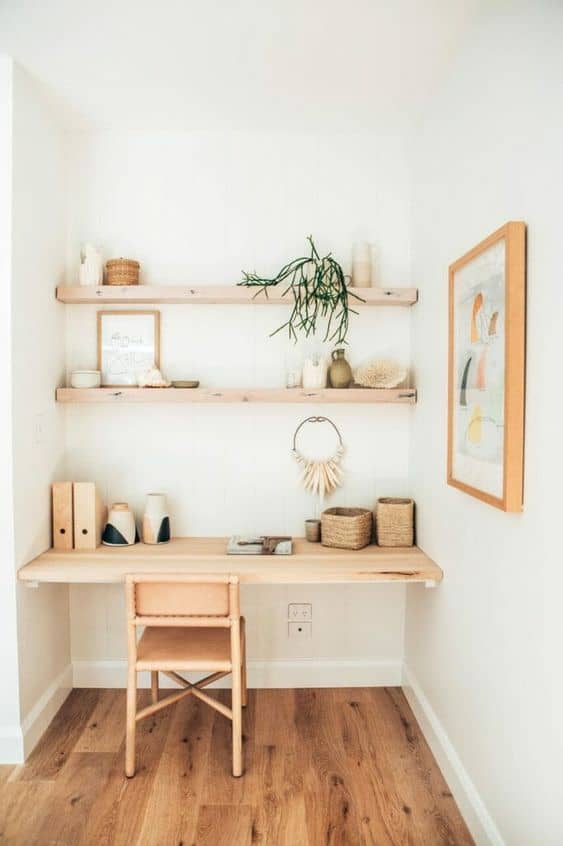 It is not always possible to have a big study room, but even if you have a small one, there are tricks that can increase the space to suit your needs.
Understandably, when you increase the number of wall shelves, the storage space is automatically increased and your study room organization becomes easier.
As an example, the above image forms one of the best study room ideas. Add to that, if you love minimalism, this is a treat!
Use A Comfy Chair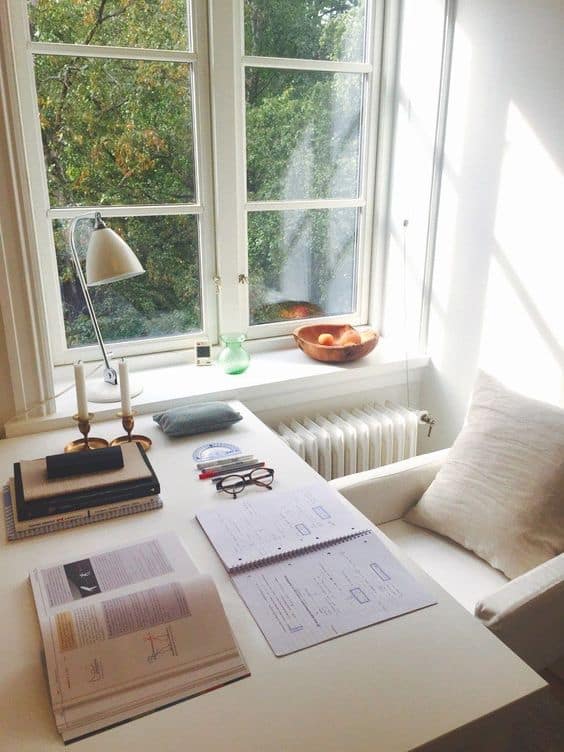 If you keep fidgeting in your chair, you can't study, far from concentrating!
Simple as it sounds, you must use a comfy chair so that you are able to sit properly and concentrate on what's before you!
But please remember one thing, don't use a chair that is too comfortable, too soft and spongy that when you sit on it, you sleep! It must be somewhere in the middle of comfortable and uncomfortable.
Use Desk Organizers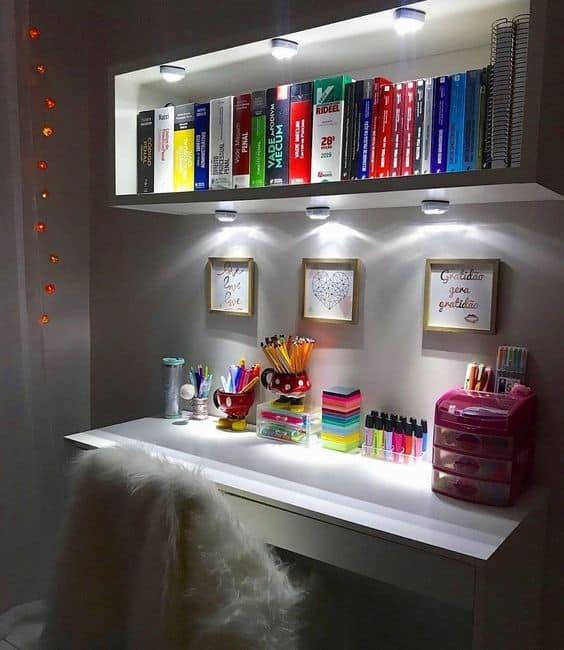 The most important thing with your study room organization is your desk. If you don't like it, you don't feel like sitting and studying.
That is why it is important to use desk organizers like pen stands, book holders, desk shelves, and drawers to keep things nice and proper.
Let's look further into desk organization in the next section of this post.
How Do Your Organise A Study Table?
Use A Book Stand
Using a book stands helps you keep a book at the right angle while you read it.
It helps with proper visibility, focus, eyesight, and the correct posture.
So, if reading is what you often do at your study desk, buying a good book stand is a must.
Use A Book Rack
Sometimes, you don't need big bookshelves to store the books, a mini rack to keep on the desk is enough.
Plus, it's good to have a rack to keep things organized on your desk. You can keep the clock, the books, and the stationary in just one place. There is little chance of things being lost.
This is something one must go for, without a second thought!
You won't regret it.
Use A Stationery Organiser
A desk without some stationery is incomplete. But this is also true, that your stationery when lies around on your desk, makes it the messiest place in the world.
Using a stationary organizer is a simple solution to organizing your study table. It can sound simple but makes a world of difference!
A Table Lamp Is A Must
You CAN'T even think of organizing or setting up a study table without a study lamp.
A study lamp helps you improve the visibility in your study area and also helps improve focus owing to its concentrated light.
If you don't have one for you already, please go for it!
Some Study Room Decor Students MUST Have!
A Book Shelf
A Study Desk
A Comfy Chair
A Tree Book Shelf
A Bookcase Cabinet
A Pinboard
The Endnote
Organizing a study room is not hard. It's just a matter of choosing the right things and placing them correctly in your study area.
We hope, this post helped you choose the right things for the study room that can help you in your study room organization!
If there is anything you want to let us know, good or bad, please comment below!
Until next time, happy decorating!
Frequently Asked Questions (FAQs)
What Should A Study Room Have?
The most important things in a study room are:
1) Study Desk
2) Chair
3) A study lamp
4) Some bookshelves
Which Study Room Color Is The Best According To Vastu?
The best colors for a study room as per Vastu are the light colors, think white, green or blue.
Which Study Room Color Is Best According To Feng Shui?
No matter, if it is Vastu or feng shui, the best colors for the study room, are the light ones like white. green, blue, or cream.
To learn more about the best colors for the study room, you might want to read THIS POST.
Like Decorating Your Study Space? These Might Help: