Blankets are such an essential part of any cozy home that whether you're snuggling up on the couch for a movie night or bundling up in bed on a chilly evening, you can't do without them!  But let's face it, they can quickly become a nuisance if you don't have a proper storage solution. We all dream of a home that's cozy and inviting, but not cluttered and chaotic, that's where these ultimate storage options come into the picture!
From DIY storage baskets to stylish built-ins, there's a blanket storage idea for every type of home and budget. If you're looking for efficient and creative ways to store your blankets, there are several options to choose from. That's why I've scoured the internet and gathered the best blanket storage solutions that are both practical and chic! Check them out!
Bring In the Farmhouse Vibe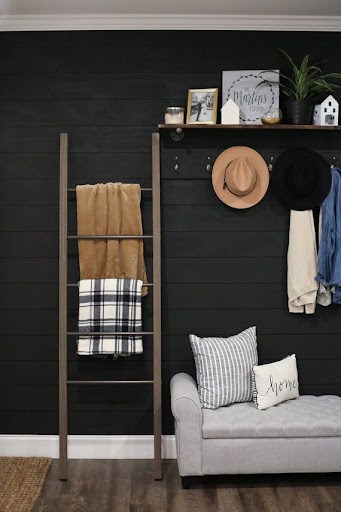 When you are tired of cramming your blankets into overflowing closets or stuffing them under your bed, it's time to step up your storage game with ladder storage for your blankets! This is the perfect solution for those who want to add some personality to their room and a great way to store your blanket while adding some visual interest to an otherwise boring corner! 
Add A Boho Flair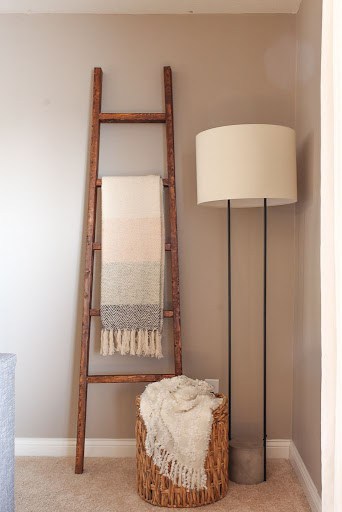 Baskets are a stylish and practical solution to all your storage woes! They'll at least help your blankets not to pile up and become an eyesore. 
Get your hands on some beautiful hand-woven baskets and turn your cluttered mess into a chic and organized display. Not only do they look great, but they also keep your blankets neatly tucked away and easily accessible. You can place them by the bedside or like this blanket storage idea- by a storage ladder for some additional storage, perfect for a small space!
Maximize Your Storage With A Rack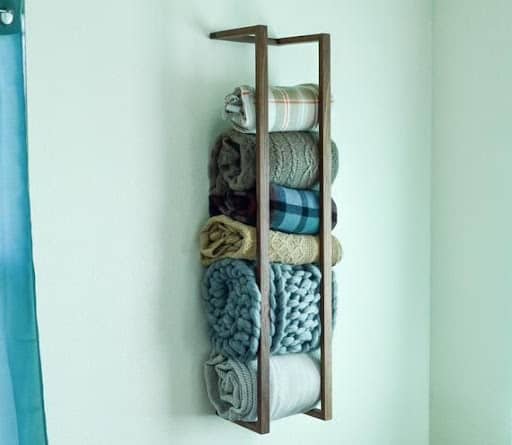 Make the most of your space with the storage rack! You can easily store all of your throws from large blankets to soft bedspreads all in one place, so that means no more rummaging through piles of blankets to find the perfect one for a cozy night in. Plus, it's a great way to show off your favorite blankets right on the walls! 
Ottoman: The Classy Storage Option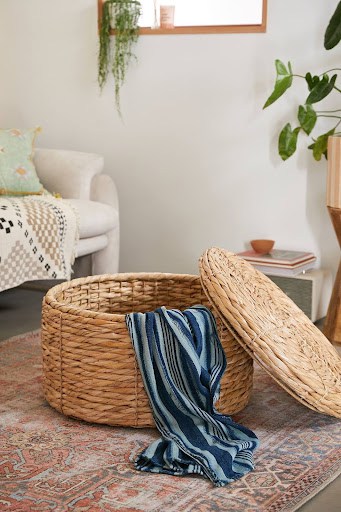 Ottomans make one of the best blanket storage ideas for small spaces. Not only are they great for storing blankets but Ottomans can also be used to store other things – such as pillows, magazines, and even toys. They add a touch of flair, effortlessly. And you can get really creative with this one with so many colors and designs to choose from. The best part is that they double as an extra seating area or a footrest when needed. With so many versatile uses, a storage ottoman is a must-have for any home!
Store The Blanket In Chest & Trunks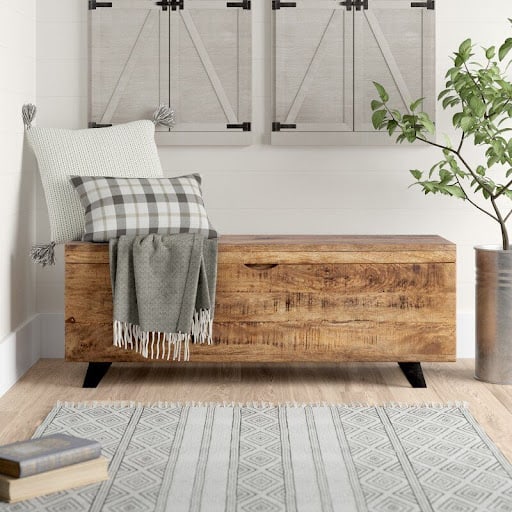 If you're looking for a stylish way to store those cozy blankets that always seem to pile up on your bed, then look no further than the storage chest. Not only will it add a touch of charm to your living space, but it's also a space-saving solution that will keep your blankets organized and out of sight when you don't need them! Perfect to store your blankets away during winter, without compromising on the aesthetics! 
Utilise The Under-The-Bed Space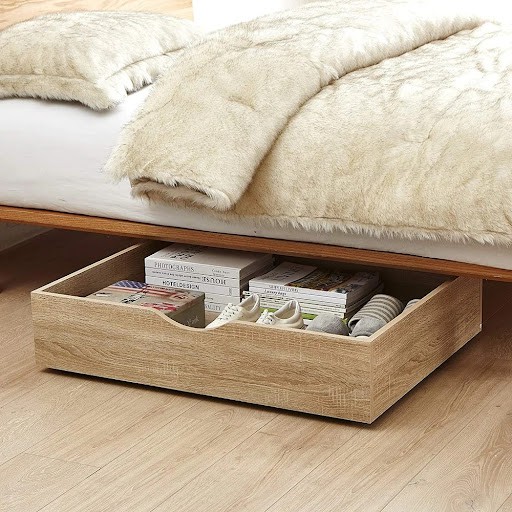 There are a couple of unignorable wonders of under-bed storage for blankets, not only does it free up most of your closet space and you don't have to stumble around in the dark searching for that extra blanket! So if you are struggling to cram all your bedding into a tiny closet get your hands on the under-bed storage that'll help keep your blankets tucked away gracefully.
Easy Garment Bags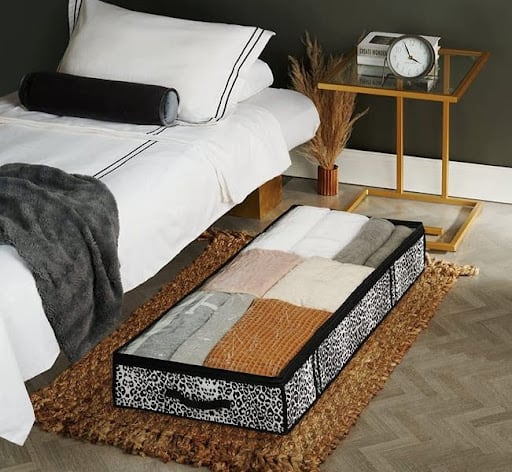 Garment bags as the blanket storage ideas don't just save your precious storage space, but they also keep your blankets clean and dust-free! A win-win. 
So no more crumpled-up blankets shoved in the back of the closet, you can easily swap out blankets that can depend on the season or your mood. Feeling like a chunky knit on a chilly winter night? Grab that blanket right out of the hanging bag or if you are craving a lightweight cotton throw for a summer picnic? You will know just where to find it.
Wall-Mounted Shelves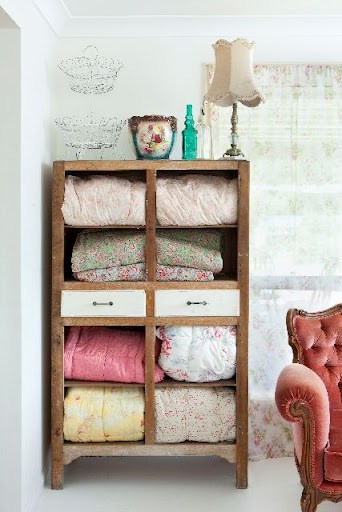 Using wall shelves is always a brilliant blanket storage idea for small spaces. Not only will you free up some space in your closets and drawers, but you'll also create a cozy & appealing display of your fluffy blankets. 
Get yourself some stylish and sturdy ones that match your decor. There are plenty of options to choose from, like rustic wood, sleek metal, or even funky geometric shapes. And if you're worried about your blankets getting dusty, either choose wall cabinets or just give your blankets a quick shake or toss them in the wash every now and then, and voila! as good as new.
Organize The Blankets!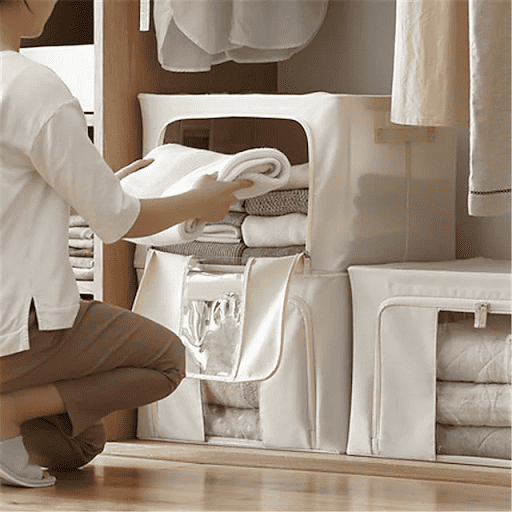 Using closet organizers as the blanket storage idea is a game-changer! It will help you keep your space tidy and organized. You can neatly fold and stack your blankets, making them easily accessible whenever you need them.
Make sure to choose closet organizers with ample space and sturdy shelves that can hold the weight of your fluffiest blankets and show off your organizational skills!
Use Seal bags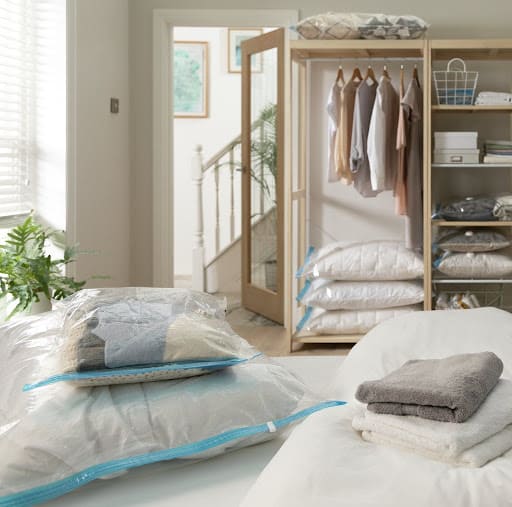 Seal bags are one of the easiest blanket storage ideas. You can easily pack them away in your closet or under your bed without having to worry about dust and dirt getting in. Plus, they're so easy to use! Just stuff your blanket inside, seal it up tight, and you're done! It's the best space-saving and affordable option you can go for, and there are all sorts of colors and designs to choose from to match your style! Plus they're reusable, so you're doing your part for the betterment of the environment!
Built-In Storage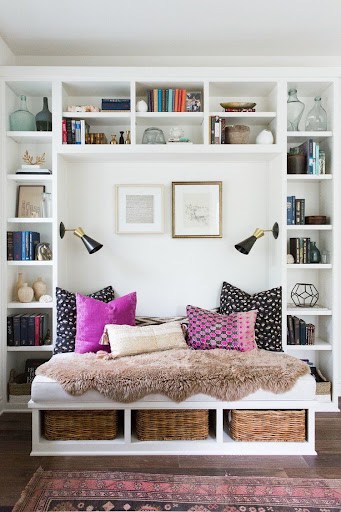 Make your room look like a Pinterest dream with this one! The built-in storage options seem endless. From under-bed storage to ottomans with hidden compartments, you're bound to find a solution that works for your space and style. And let's be real, who doesn't love a multi-functional piece of furniture?! 
Customize It!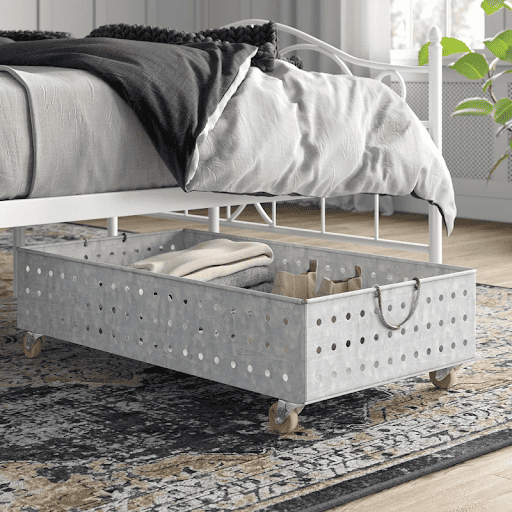 Blankets are bare essentials but they take up a lot of space and make our homes look cluttered. That's where customized storage comes in! By investing in customized storage for your blankets, you can create a space that not only looks neat but also reflects your style! Whether you prefer a rustic wooden chest or a sleek modern container with rollers, there are countless options to choose from!