Are you tired of your old kitchen island? do you dream of spicing things up with some fresh decor? Well, you've come to the right place! As it is the centerpiece of the room and the perfect showstopper if done right, the kitchen island is the perfect place to start decorating a flaunt-worthy kitchen!
Whether you're an avid home cook or a lover of all things design, there's something for everyone when it comes to kitchen island decor ideas. From a rustic, farmhouse vibe, to a sleek, modern aesthetic, there are many options to choose from. So get creative while decorating your kitchen island, mix and match different textures and colors, and have fun with them. After all, the kitchen is the heart of the home, and your island should reflect that! Check these awe-worthy Kitchen island decorating ideas out!
A Hint Of Freshness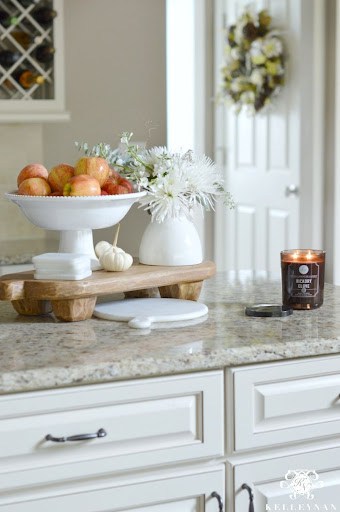 Fruits can be a delicious and colorful addition to your kitchen island decor. Not only do they add a pop of natural color, but they also provide a healthy snack option for when you're feeling peckish during meal prep! 
But why stop at just displaying the fruits? Get creative and use them in unique ways! Try stacking oranges or grapefruits to create a striking centerpiece, or arranging kiwis and strawberries in a decorative pattern in a nice bowl that will complement your kitchen decor.
Display Some Cookbooks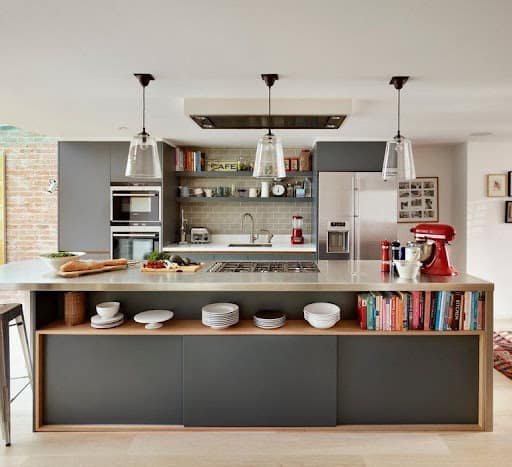 If your cookbooks are collecting dust on a shelf somewhere, you know it's time to give them a purpose and let them show! Who knows you might even discover a new recipe or two along the way. You can stack them up on your kitchen island and mix and match different sizes and colors to make a visually appealing display. Or take it up a notch by adding a bookshelf!
Tip: add some of your favorite kitchen gadgets or a plant or two and some pendant lighting to tie the whole look together.
Add A Cutting Board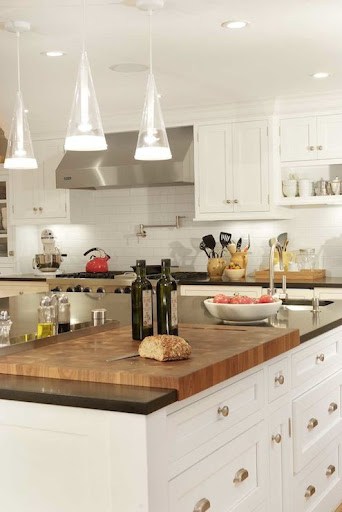 Think about it, not only is a cutting board versatile in its use for chopping up your veggies and fruits, but it also adds a rustic touch to your kitchen island besides being easy to clean. It can withstand the heat of hot pots and pans, making it the perfect spot to place your food! 
So, why settle for a plain cutting board when you can get creative with it? You can use different shapes and sizes to add some dimension and texture to your island and play around with different materials like marble or bamboo for a more polished and elegant vibe.
Use A Table Runner For Your Kitchen Island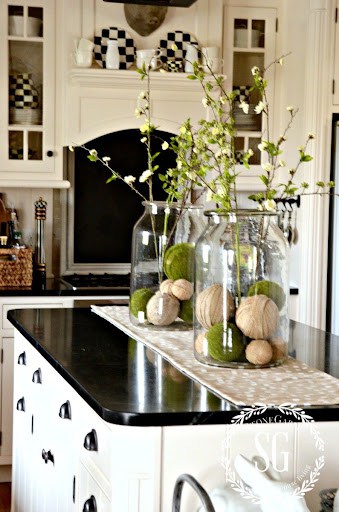 Not only is adding a table runner an easy and affordable kitchen island decor idea, but you can also switch up your decor seasonally or as your mood changes! It is indeed a great way to protect your island from scratches and spills. Choose a bold color or pattern that reflects your style, whether it's a classy polka dot or a chic geometric print. And if you want to make a statement, go for one with a cheeky phrase or graphic. 
Want to try your hand at DIY? Make your own table runner by repurposing an old scarf or fabric scrap. Mix and match patterns and textures for a unique look! 
Add A Vase To Your Kitchen Island Decor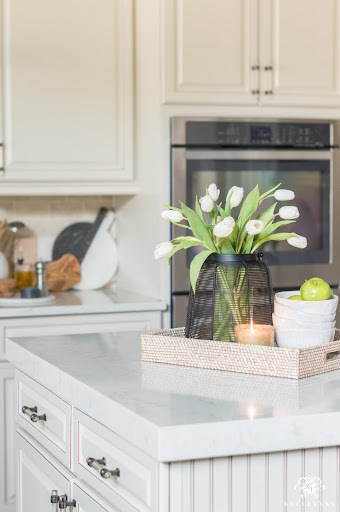 A great kitchen island decor idea to showcase the flowers and herbs that you have grown yourself is by adding a vase to the kitchen island decor! (or bought from the store!) It creates a unique focal point for the space while adding some color to your kitchen island. And once you've found the perfect vase, experiment with different ways to style it, fill it with fresh flowers, arrange a few stems of herbs, or a dried flower bouquet, and add a candle to enhance the vibe. 
The Tray Is A Bare Essential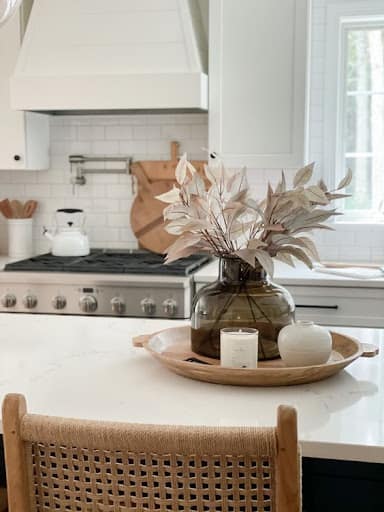 You can use a tray to corral items on your kitchen island, like a salt and pepper shaker, candles, or a small vase of fresh flowers! If you have limited storage space in your kitchen, opt for a tiered tray that can hold multiple items that won't take up a lot of counter space and still make your counter look so much more chic!
Place A Jar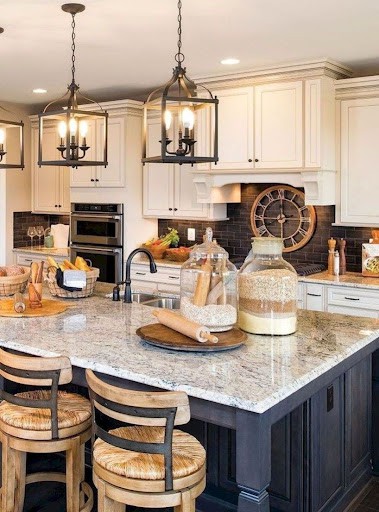 A jar filled with grains (or chocolates) can also be a fun and functional way to add a touch of color to your kitchen! You could store anything you want within your hand reach, like dry fruits & nuts to occasionally snack on! If you're feeling extra crafty, try painting your jars with bold and bright colors for a more personal touch.
Some Greens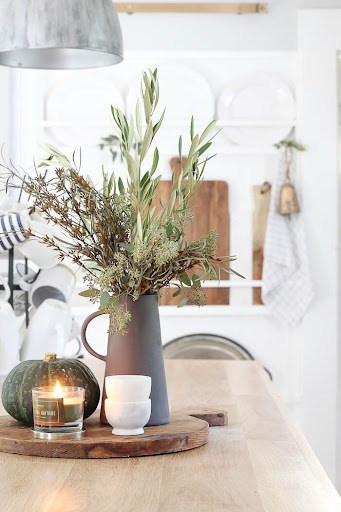 Adding some plants can be a great way to elevate your kitchen island decor ideas! It is easy and affordable. All you need to do is find a cute little container that complements your kitchen decor, maybe a funky ceramic pot or a classic glass pot & grab yourself a plant (or two, or three, who's counting?!), and give your kitchen island the makeover it needs.
Candles Are A Must!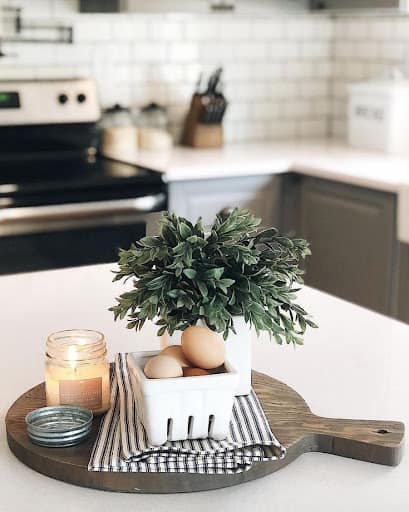 There is no doubt that a candle will look great against a white kitchen island. The warm and cozy glow of a candle can set the mood in your kitchen, with the most delightful aroma, whether you prefer sweet and floral or spicy and woodsy. 
It's like having a built-in air freshener that doubles as decor! you can combine it with a vase to add a little bit of sophistication and place them on a tray to stay clear of clutter. 
Pendant Lights Are A Must!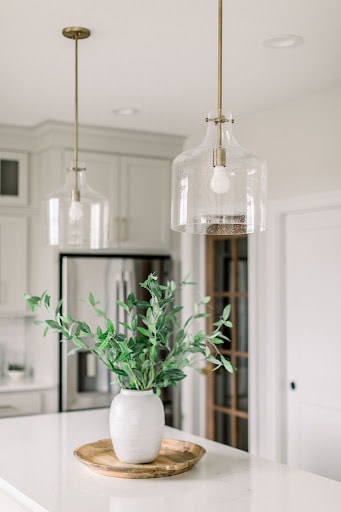 Pendant lights can serve as the statement piece of your kitchen island decor ideas. Opt for a sleek, modern design or you can also go for a rustic, farmhouse-style pendant light, that is sure to catch the eye of anyone who walks into your kitchen! You can hang a cluster of pendant lights for a dramatic effect or keep it simple with just one statement piece.
Show Off Your Coffee Mugs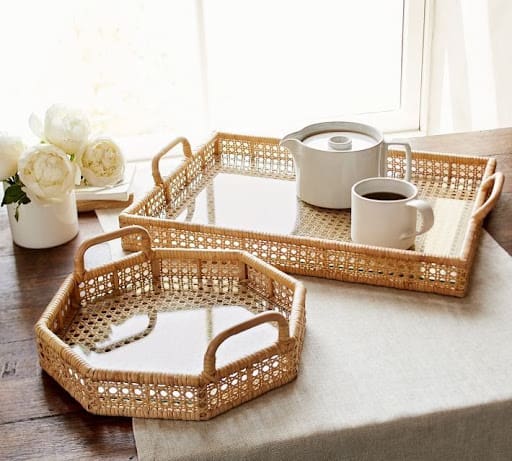 Your coffee mugs are more than just a pretty decoration, they're a comforting reminder of lazy Sunday mornings and cozy nights. So why not showcase them as one of your kitchen island decor ideas? You can easily grab your favorite mug for your morning coffee or tea on your busy mornings, and a collection of cute and quirky mugs will add just the right amount of personality to your space.
Add A Few Decorative Plates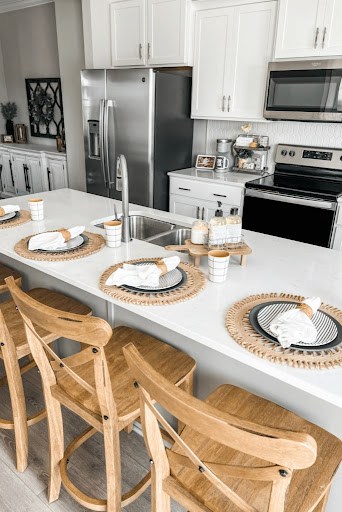 Whether you opt for bold patterns or intricate designs, decorative plates are a wonderful way to inject some of that color and flair into your kitchen island decor, like this coastal kitchen above.
Use them to showcase your favorite fruits and veggies, or layer them with other decor elements like candles and plants for the perfect kitchen island centerpiece.
Place Some Cute Baskets!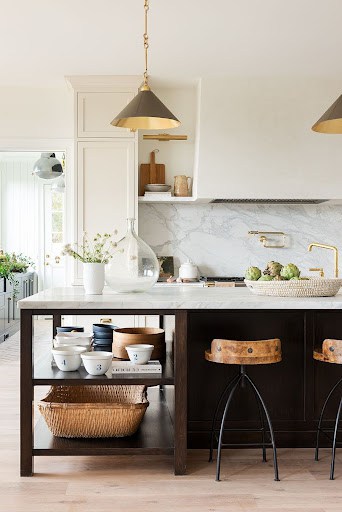 For a new and out-of-the-box kitchen island decor idea, you can mix and match different types of baskets to create a unique and visually interesting kitchen island. And if you're feeling extra daring, you can even add some pops of color with brightly colored baskets. 
But let's be real, the best part about using baskets as kitchen island decor is the convenience. If you need a place to stash your fruits? Toss them in a basket! or want to keep your cooking utensils within reach? place it in a cute little container. Baskets make it easy to stay organized while still looking chic! 
Give It Some Antique Touch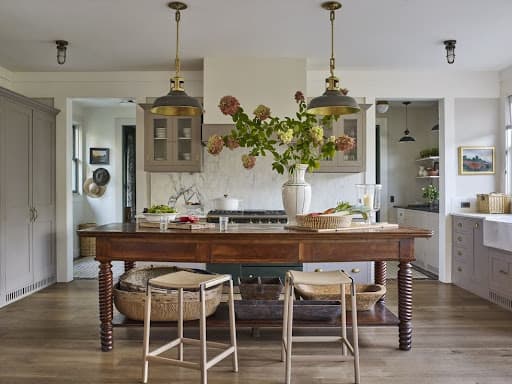 It's just plain cool to have something in your kitchen that not everyone else has. If you're ready to up your kitchen island decor ideas game and show off your vintage flair, consider using antiques as decor.
If you are not sure where to start, head to your local flea market or antique store and keep your eyes peeled for items that speak to you and give off your vibe. The best part is, antique pieces are often made from high-quality materials and built to last, so you know they'll stand the test of time.
A Splash Of Color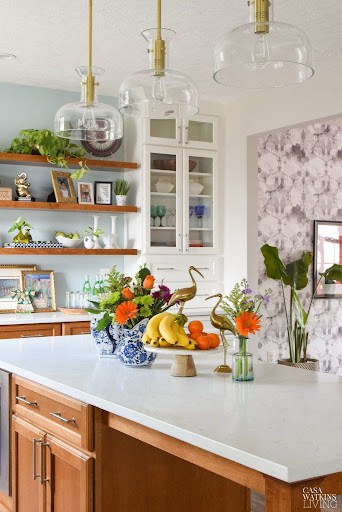 A playfully patterned tile on the countertop or a funky pendant light hanging above is easily one of the best ways to style your kitchen island. It can take your island from basic to bougie in no time, with the right accessories of course! While picking the right décor (remember being bold with your color is the key!) choose a hue like a vibrant red or a sunny yellow to make a bold statement or opt for a softer shade like a pastel blue or a gentle green for a more subdued look.
Use Soap Dispenser As Decor!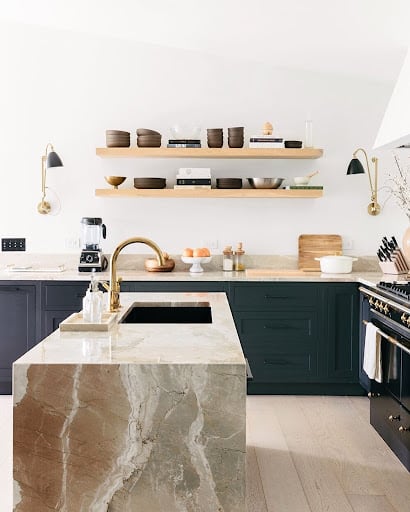 Who would have thought having a soap dispenser could be a décor by itself? Definitely not me! You're not messing around when it comes to home improvement, and we are here for it. There are so many aesthetically pleasing soap dispensers that you can keep by the sink on your kitchen island, from florals to a posh marble look or even glass, and that is all you need to nail the look! 
Add A Cake Stand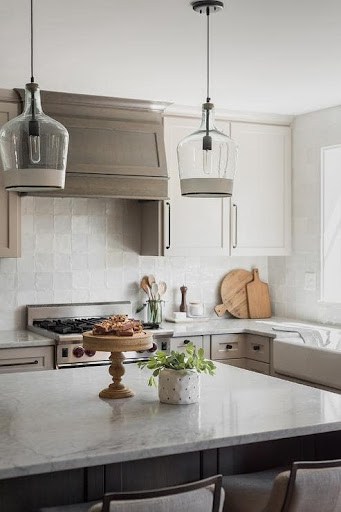 A cake stand can come in handy if you want to display your baked stuff or even as a fruit bowl as your kitchen island centerpiece (let's not forget how versatile a glass cake stand can be!)
You can switch up its contents depending on the occasion or season, fill it with mini pumpkins for a fall-themed display, or use it to showcase your Christmas cookies during the holiday season. And when you're not using it to show off your baking skills, it can double as a centerpiece on your kitchen island. Add a few flowers or a decorative candle, and voila! Instant chicness. 
FAQs
What is the most popular color for a kitchen island?
Based on current trends and what homeowners are opting for, grey and white are the most popular colors for kitchen islands! These colors are versatile and can easily complement various kitchen island decorating styles and color schemes. 
Additionally, a grey or white island can serve as a neutral base, allowing you to add pops of color with accessories or decor. Of course, this is just a trend after all, at the end of the day the color of your kitchen island ultimately depends on your personal preferences and the overall aesthetic of your kitchen.
Should the island be lighter or darker than the cabinets?
This depends on the look you're going for and the overall aesthetic of your kitchen. If you want to create a more spacious and open vibe, then choosing a lighter color for your island could be a great option. Lighter colors tend to reflect more natural light and can make the room feel larger and airier. If you have a large kitchen island, going for a lighter color would always be better. 
But if you're going for a more cozy and intimate feel in your kitchen, opting for a darker-colored island would be a good choice. Bonus points, if you have a lot of natural light in your kitchen, a darker island can help balance out the brightness and create a more cozy ambiance.