If you're thinking about adding some charm and vibrancy to your tedious kitchen space, worry no more! Cabinetry can immensely help you out on this by offering lovely aesthetics along with lots of convenient features!
Floor-to-ceiling cabinets are the latest talk of the town and also the perfect style to uplift the mood of your kitchen. These cabinets bring out a sleek and modern vibe while also providing ample storage space. But don't worry about the upper cabinets! It's up to your preference whether you want to replace them with floor-to-ceiling cabinets or not. But if you do replace it, it will help you a lot by freeing up the wall space for more design elements, like tiles or a backsplash!
To add to that, these cabinets are so easy to work with! They offer you plenty of storage space for all of your kitchen essentials, including pots, pans, small appliances, and even pantry items. They can even be customized to fit any design aesthetic, be it minimalist, contemporary, or even more traditional!
Color block your wall
If you have a neutral-themed kitchen in your house, a green and blue color-blocked floor-to-ceiling cabinet can just do the magic for your space! Since the cabinets are in bright colors, the base colors must be neutral so they don't overwhelm your eyes or your kitchen space! Countertops, backsplashes, and flooring would be great with white, beige, or gray colors. The beautifully colored block cabinets have to be the star highlight of your kitchen!
Glam Up With Glass doors in units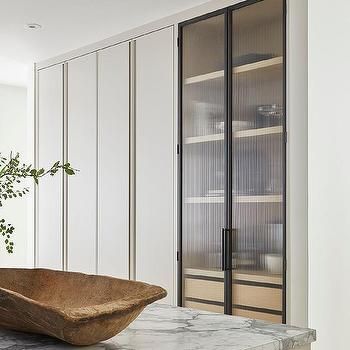 Are you aiming to break down the wall cabinets to add more visual interest to your kitchen? Don't worry, use fluted or textured glass doors to do this easy trick! Fluted or textured glass offers a unique and charming look to your space! But if you want a more glamorous look to stand out, try out the frosted, stained, and mirrored glasses!
Now that you know your preference, it's time to choose a glass type that complements the overall design of your kitchen. Use clear glass doors to create a great contrast and highlight the colors of your stylish, colorful cabinets or frosted or textured glass to add some soothing aesthetic without overwhelming your kitchen space!
Steal Extra Space With Pull out units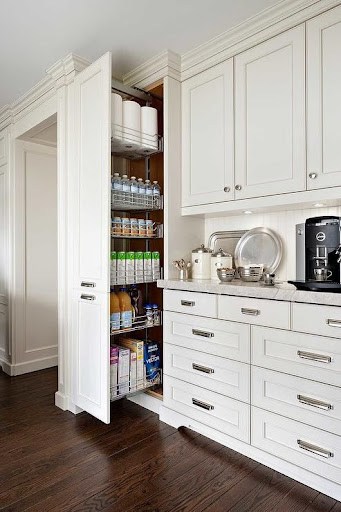 Pull-out kitchen pantry units are an excellent choice for your cabinets. They offer access to a lot of space in your kitchen without taking too much of it! You can easily use the entire depth of the pantry cabinets, which is not always possible with the standard shelves! These units are made to give you convenience in accessing the items stored within them. Especially with smooth sliding mechanisms, you don't even have to dig deep into the cabinets for items!
Dual toned pastels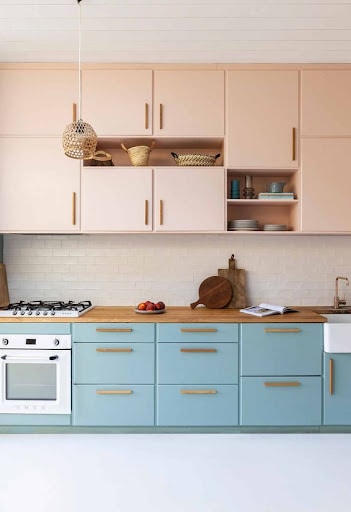 Pastel cabinets could bring an aesthetic vibrancy to your kitchen with some fun pops of color! Adding soft pink, baby blue, or powder blue and lavender as two pastel color combinations for your cabinets can make fall harder for your kitchen! But if you want to break down the monotony, try adding happier colors, like bright yellow or coral. Color both the upper and lower cabinets with separate colors for a sophisticated visual feast for the eyes! Finally, to combine everything, invite a third color for accents, like handles or door knobs.
Sleek whites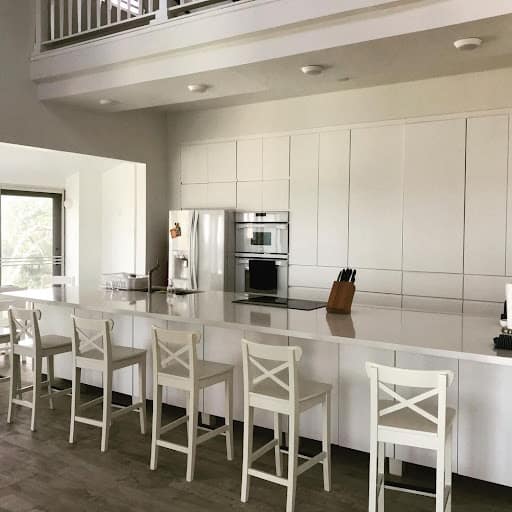 An all-white kitchen with floor-to-ceiling cabinets is the definition of a classic and timeless design that is also very easy to recreate! Make your cabinets fancier by adding silver accents to the kitchen appliances! But positioning these appliances is similarly important! Add a symmetrical twist to your kitchen design by placing the sink at the center, with the refrigerator and the oven at the two opposite ends, to give it a more balanced and warm look!
Lighting is the most important aspect of an all-white kitchen since it can make or break your entire kitchen design. Try using under-cabinet lighting for this! It will highlight the charm of your silver accents on the appliances while adding great depth to your cabinets as well!
Black and wood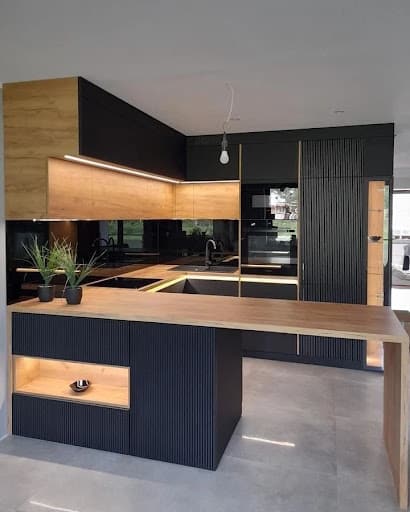 A black and wood kitchen with floor-to-ceiling cabinets is perfect to create a classy and timeless design. The use of dark minimalist interiors enhances the space's sophisticated appearance. For your cabinets, countertops, kitchen pantry cabinet, and flooring, consider using black and natural wood tones, and then to add contrast and interest, use white or light-colored accents, such as backsplash tiles or pendant lighting. Bring in some natural texture and warmth to the space by experimenting with some wood-grain tiles or a wooden ceiling.  
Some Antique finish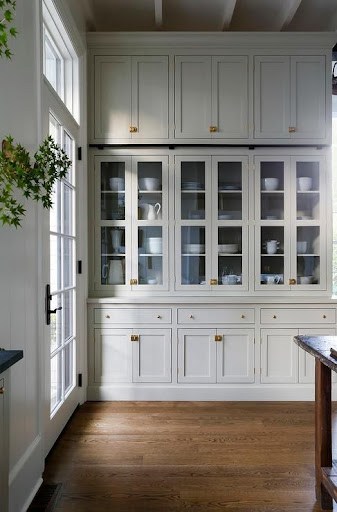 Antique white shaker cabinets are meant to bring a classic flair to your kitchen. They add a timeless design with character and warmth to any kitchen. Consider displaying your crockery in antique white shaker cabinets with glass doors as they add visual interest and depth to the space while also allowing you to display your lovely dishes. To add contrast and interest, consider using warm wood tones for your flooring or bold accent color on your walls or in your accessories.
Go All wood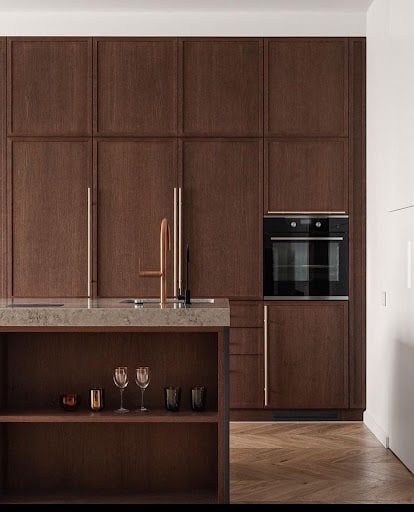 A kitchen with all-wood cabinets exudes a warm and inviting atmosphere plus natural beauty and charm. Wood is timeless and versatile. It can add character and warmth to any space while fitting into literally any design out there! Wood cabinets can be incorporated into a variety of kitchen styles, from traditional and rustic to modern and minimalist, depending on the type of wood and the finish. Cherry, mahogany, and walnut are some of the best woods for this.
Add A Wine rack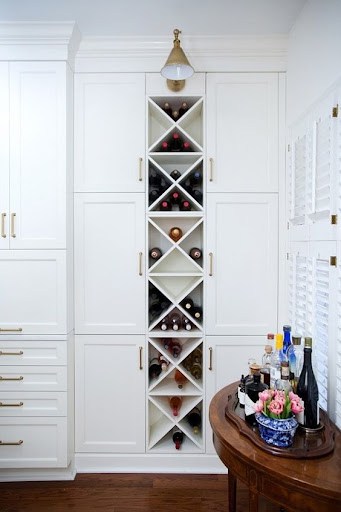 A built-in wine rack is an excellent way to add a distinctive and functional element to your kitchen design. The rack can be integrated into your floor-to-ceiling cabinets rather than having a separate wine storage unit that takes up just a bit too much space.
A built-in wine rack can also increase the value of your home. If you intend to sell your home in the future, having a built-in wine rack can be a great selling point for potential buyers who value the added functionality and aesthetic appeal.
Interested in a home bar? Check this post out!
Use A Classy wallpaper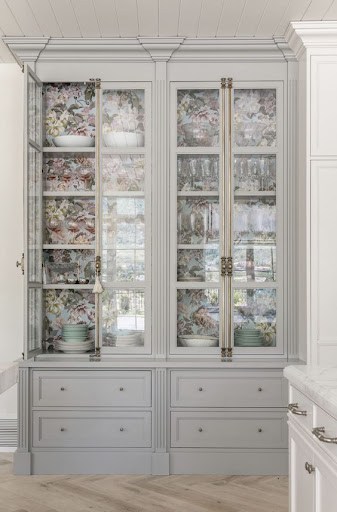 Adding wallpaper to the inside of your glass-front cabinets is a simple yet effective way to add a pop of color and elegance to your kitchen design. This technique can make your cabinets stand out and add character to your kitchen, while also highlighting any decorative items you may have on display inside.
Using wallpaper inside your cabinets can draw attention away from the contents of your cabinets, particularly if you're not interested in showcasing your dinnerware or other kitchen items. This means you don't have to splurge on expensive or fancy dishware sets just to keep up with the aesthetic of your kitchen.
Create A Coffee Nook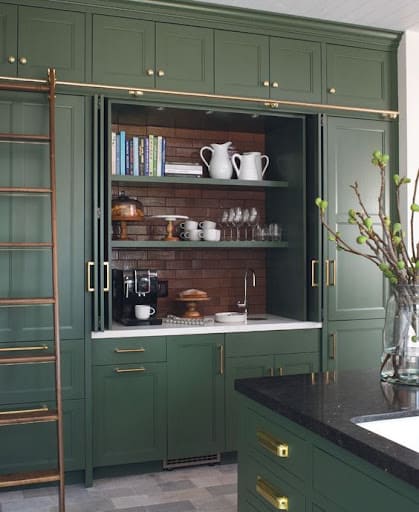 A hidden coffee bar within a floor-to-ceiling unit in your kitchen can be an ingenious and stylish way to keep your kitchen organized.
Let the cabinet door be like a standard cabinet door, but with a small handle or knob that, when pulled, reveals the hidden coffee bar. Alternatively, a sliding door or a door that lifts up and out of the way to reveal the coffee bar would be a beautiful way to bring in the romance you'd expect of a pretty coffee corner!
Make A Farmhouse Kitchen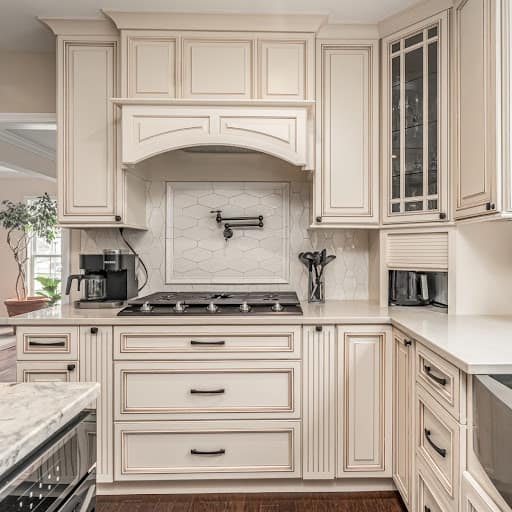 With this cute floor-to-ceiling cabinet design inspiration, you can give your kitchen a farmhouse look. Begin with the cabinets. To achieve a rustic look, choose cabinets made of natural wood with a distressed finish. Or for a bright and airy feel, choose a neutral color palette for the cabinets, such as white, cream, or beige.
Such cabinets can be used to store everything from pots and pans to small appliances and pantry items in your kitchen. You can also add open shelving between the cabinets to show off your favorite dishes or decorative items.
RELATED: 18 Elegantly Rustic Farmhouse Blue Kitchen Cabinet Ideas!
Glass all over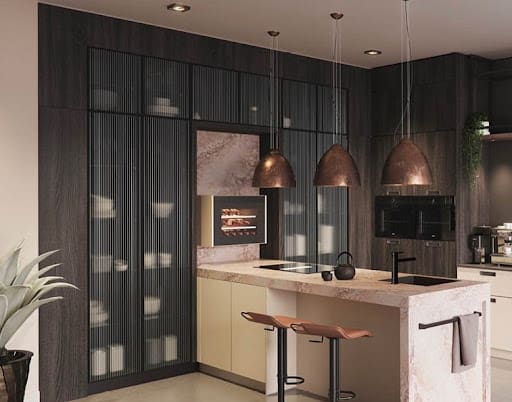 Fluted glass is a type of textured glass with vertical grooves or ridges that create a pattern on its surface. It can give your cabinets visual interest while still allowing you to see what's inside. The glass grooves might add texture and interest to your cabinets while also diffusing light and creating a softer look; the ideal kitchen you'd ever want!
Some bright yellow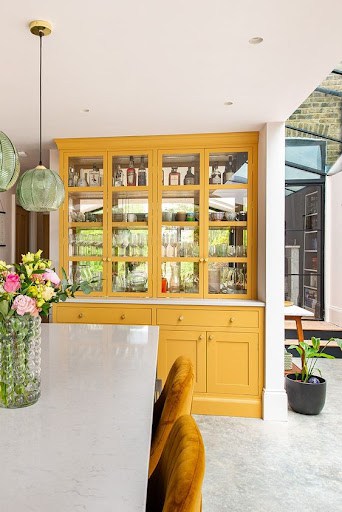 A bright yellow kitchen cabinet for a crockery display is perfect for adding a splash of color and personality to your kitchen while also highlighting your lovely crockery collection. Go all in and use built-in lighting to highlight your dishes and create a warm and inviting ambiance. Add texture and interest to the display by including some decorative items such as small plants, vases, or books.
Some Display units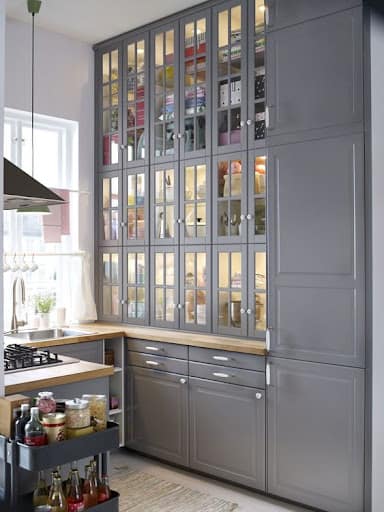 A floor-to-ceiling cabinet must not only maximize storage space. They must also add aesthetic appeal. To create a visually appealing display by having glass cabinet doors. organize your dishes or decorative items inside the cabinets by color, size, or type. You can also include some built-in lighting to highlight your items and create a welcoming atmosphere.
Pretty pinks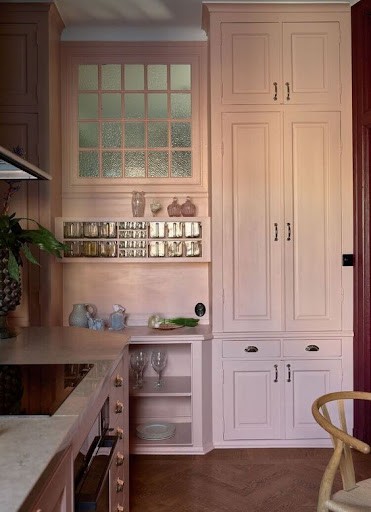 Pastel pink cabinets in a kitchen can create a soft and inviting atmosphere, adding a touch of warmth and femininity to your cooking area. Consider incorporating neutral elements such as white countertops, light wood flooring, or stainless steel appliances to balance out the pink.
Add some complementary accents, such as tinted glass jars, fresh green plants, or decorative wall art, to complete the look. This will help tie the pastel pink cabinets into the overall style of your kitchen, creating a cohesive and stylish appearance.
The Classic Mid-century modern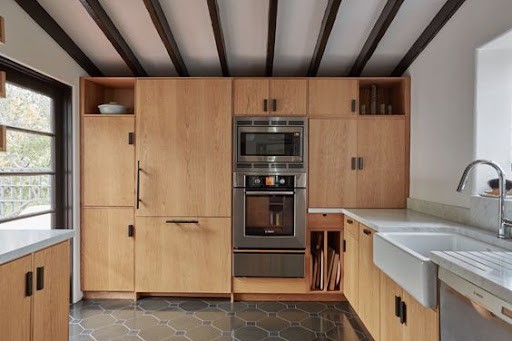 If you want to create a mid-century modern vibe in your kitchen, all-wood floor-to-ceiling cabinets with built-in appliances and open shelves are a great choice. Consider including some open shelves in the design to break up the wood and add visual interest. These shelves can be used to display decorative items like plants, books, or vintage kitchenware, giving the space personality and charm.
Should you consider floor-to-ceiling kitchen cabinets? And things to consider before installing Them!
Many homeowners who want to maximize storage space while also creating a sleek, modern look in their kitchen may benefit from floor-to-ceiling kitchen cabinets. However, there are a few things you should think about before installing them.
For starters, these giant cabinets can be more expensive than traditional upper and lower cabinets because they require more materials and labor to install. Furthermore, they can make the room feel more enclosed and may not be appropriate for smaller kitchens.
Consider your storage requirements as well as the functionality of the cabinets. While these kitchen units can provide plenty of storage space, make sure the items you use the most are easily accessible. Consider incorporating pull-out shelves or drawers to make it easier to reach items on higher shelves.
Finally, consider your kitchen's design aesthetic. Floor-to-ceiling cabinets can provide a sleek and modern appearance, but they may not complement a more traditional or rustic design style.