If you want to spruce up your kitchen, you have come across the right place. Brick backsplash has been a hot trend in kitchen design for some time now and for good reason. It is the perfect way to add texture and warmth to your kitchen and they're versatile enough to work with a range of styles, from rustic farmhouse style to modern industrial. After all, who doesn't love the look of exposed brick?
So, whether you wish to add a modern flair to your kitchen, or add a rustic vibe, adding brick backsplash is a no-brainer. Below are 15 ideas to help you, just right, to get started!
The Classic Red Brick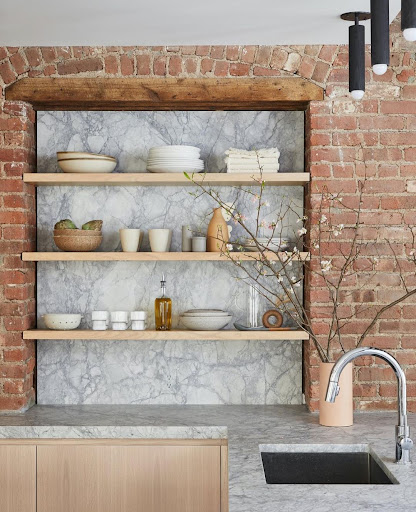 The red brick backsplash is the hottest kitchen trend of today. Bring some rustic charm to your kitchen with the timeless beauty of brick, just the way it is! Not only will it add depth and texture to your walls, but it'll give your kitchen a pleasant sense of warmth, and the perfect vibe for whipping up some comfort food! So, whether you're going for a bold statement or a subtle nod to farmhouse chic, a red brick backsplash can be the perfect addition.
A Clean And Minimalist Look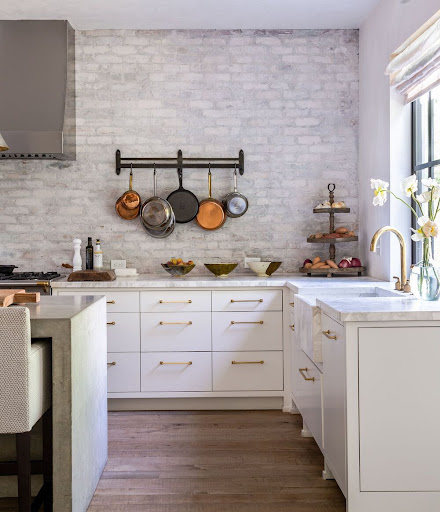 A white brick backsplash is a perfect combination of classic and modern, adding texture and depth to your kitchen while still keeping it chic! Since white goes with everything, you can change up your decor as often as you like without having to worry about clashing colors. You'll love the way the white bricks brighten up your space and give it that extra touch of style!
Add Interest With Herringbone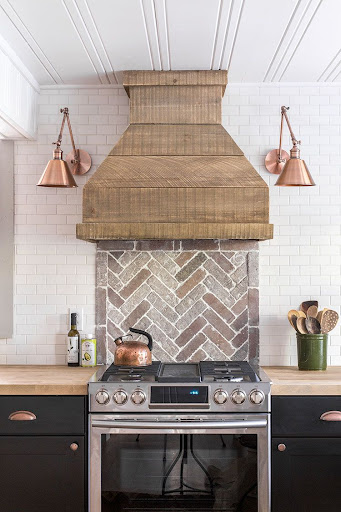 Whether you're a culinary connoisseur or just looking to spruce up your space, the herringbone brick backsplash is a sweet and savvy choice that will have your kitchen looking fresh! The herringbone pattern is a classic design that has been around for ages, but when paired with brick, it gives off a chic and rustic vibe that is surely hard to beat! Not to mention, it's a super durable and easy-to-clean option for those messy cooking nights.
Add Some Colour!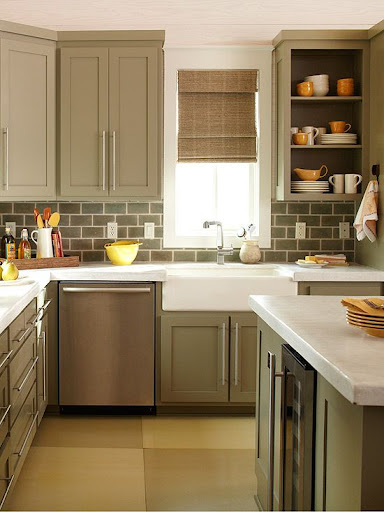 Nothing says "wow" like a pop of color against a natural brick. It adds some personality to your space and breaks up the monotony that the traditional white tiles might create. Plus, the durability and timeless look of brick mean you won't have to worry about any pesky wear and tear but only about spicing up your kitchen effortlessly!
Add Some Texture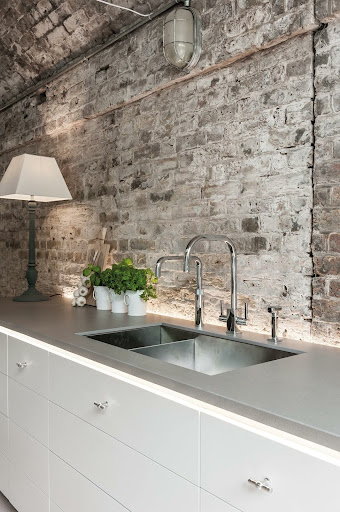 The perfect way to add a touch of edgy sophistication to your kitchen is by adding rugged bricks that give off some texture and mood to the space.
You might think it is old-fashioned or maybe too traditional, but trust me when I say that it can be the perfect addition to a modern and chic kitchen. You can play around with different colors and finishes, like off-white-washed or black bricks, to nail the look.
Some Ruggedness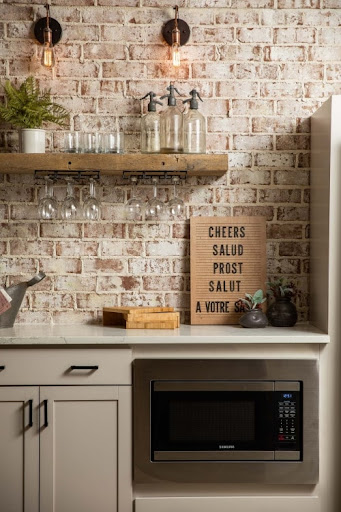 A rugged texture in your brick backsplash adds some rustic charm to your kitchen with the expected coziness and warmth. You can add wood to complement the look and make the kitchen feel earthy and grounded.
It's incredibly easy to put up, making it the perfect DIY project for anyone looking to revamp their kitchen. Plus, with so many different colors and styles of brick to choose from, you're sure to find the perfect match for your taste and style! 
Play With Patterns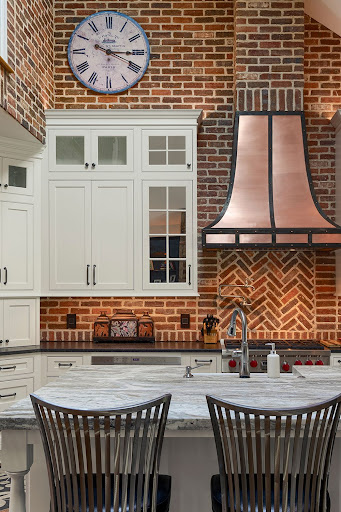 Have you ever considered using bricks in various patterns in your kitchen? It's a fantastic way to add a unique touch to your kitchen while still keeping that classic brick look! Opt for something more modern and graphic to create some interest in the places you want to highlight- like a combination of subway and herringbone tiling. Whether you want to stick with the natural tones of the brick or introduce a pop of color with painted geometric shapes, you pick the backsplash design that is unique to you! 
Brick Archway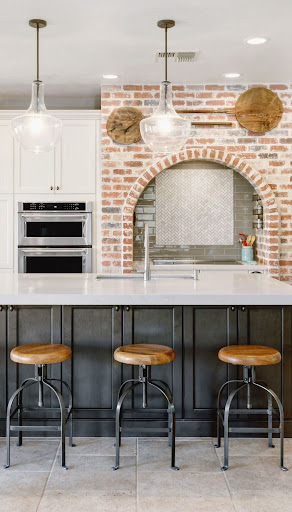 A brick archway is a bold design choice, and it is perfect if you want your wall to stand out! Not only does it add depth, texture, and character to your space but also makes an aesthetically pleasing statement. It is the best way to highlight a certain part of your kitchen, and give it a frame! This works just as well as an accent wall would.
A Brick Accent Wall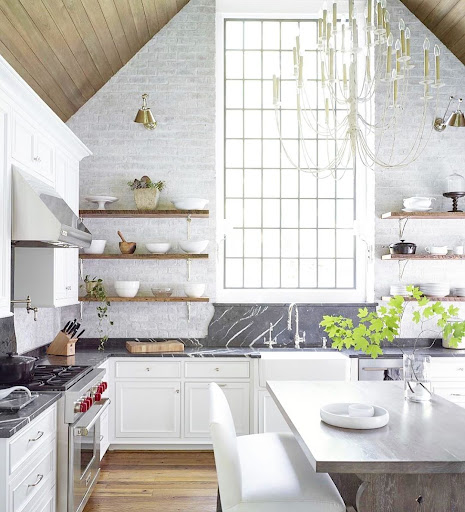 If adding a brick background to the entire kitchen sounds a bit too much, then maybe a brick accent wall will do the job pretty perfectly. It will add the right amount of character to the space without overwhelming it.
Add some floating shelves and gold accents to pull the right look and keep it from becoming just too back in time, unless you want it!
Brick & Mosaic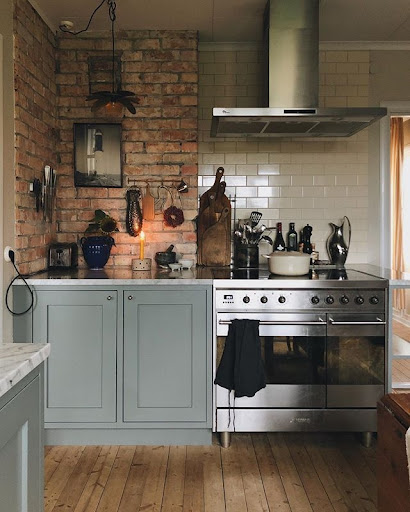 The combination of brick and mosaic tiles is the perfect marriage of traditional and modern. It is ideal if you love rustic, industrial, or vintage style. It adds contrast to your kitchen walls and becomes the focal point of the space. You can choose from a variety of mosaic tile patterns, colors, and textures to create a one-of-a-kind look!
Dark With Wooden Countertop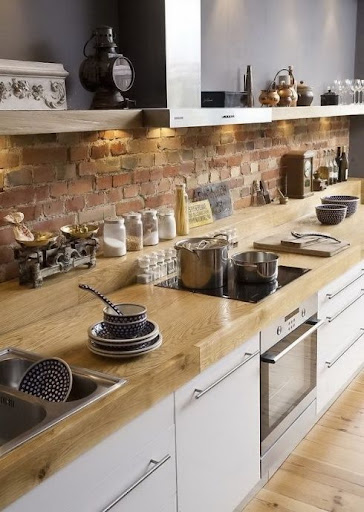 Want the best of both worlds of rustic charm and modern touch? Add a wooden countertop to elevate your brick backsplash! The brick adds texture and warmth to your space, while the wood gives it a natural and inviting. They make the perfect match. For a sleek and polished look or a more cozy and eclectic vibe, a brick background and wooden countertop can fit into any kitchen style.
Try A Wallpaper Instead
If you want a low-budget DIY project that's super affordable, getting a brick wallpaper for your kitchen is the best thing to do! Not only are they incredibly easy to install (seriously, anyone can do it!) but, they also come in a variety of styles and colors so you can find the one you love or even switch them every now and then to change the look and feel.
Black Brick Is Classy!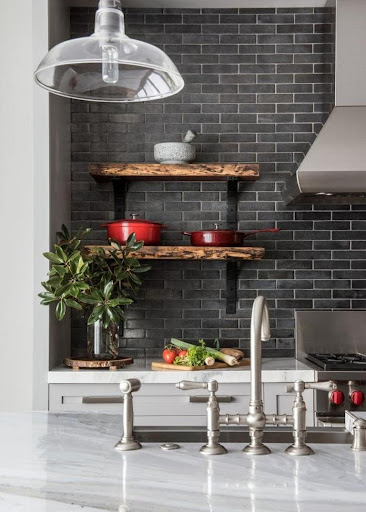 A black background is simply fresh and edgy and sets it completely apart from the usual brick backsplash. Now, I know what you're thinking – "Black? Won't that make my kitchen look dark and gloomy?" But when paired with the right colors and textures, a black backsplash can add a chic and modern vibe to your kitchen that is simply easy to embrace! Just ensure you keep the perfect balance of light and dark or ideally, a lot of light colors and minimum dark tones.
Minimal Grey
If you want to keep things simple but still want to add some style to your kitchen, a muted gray tone is a go-to. With a gray brick wallpaper, you won't be overwhelmed by bold patterns or colors, but you won't be bored to tears by a plain, flat wall! The subtle texture of the brick adds dimension to your kitchen without stealing the show. Plus, grey is such a versatile color it pairs well with almost anything! Whether you have white cabinets or dark wood, this backsplash will complement your existing decor beautifully.
All Beige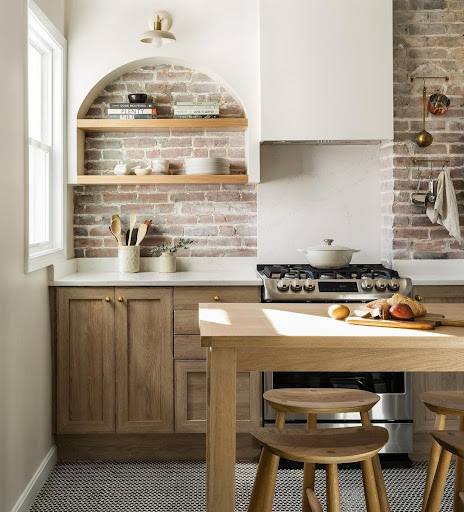 Beige not only adds a touch of rustic charm but also brings a cozy vibe to your kitchen, Since it is a neutral tone, you can create a subtle and understated look that complements any kitchen style, from modern to farmhouse. You can include shades of beige, grey, or even white, that will brighten up your cooking space and make it feel airy and inviting!
FAQs:
Is brick a good choice for a backsplash?
Brick is an excellent choice for a backsplash idea in your kitchen, and it's no wonder why it's a popular option among homeowners and interior designers. Not only does it add texture and warmth to your kitchen, but it's also a durable and long-lasting material, so if you're the type who loves to cook up a storm, brick is a great option that won't easily crack or chip.
But let's not forget about the aesthetic appeal. A brick backsplash adds texture and warmth to your kitchen, creating a cozy and inviting atmosphere. It goes with just about any style, from modern to farmhouse chic. It is also super easy to maintain! It doesn't require any fancy cleaners or treatments. Just a simple wipe-down with a damp cloth should do the trick.
Overall, if you're looking to add a touch of rustic charm and durability to your kitchen, a brick backsplash is an excellent choice. This is the makeover your kitchen could need.
What is the cheapest backsplash material?
There are plenty of affordable backsplash options that will give your kitchen a chic look without breaking the bank.
One of the cheapest backsplash materials out there is good old-fashioned paint. Yes! you heard me right, paint! You can create a trendy and personalized backsplash by simply painting a section of your wall in a color or pattern of your choice, and if you're feeling creative, you can use stencils or tape to add some more details!
Another affordable option is peel-and-stick tiles. They come in a variety of styles, colors, and patterns, and they're super easy to install. You can even find peel-and-stick tiles that mimic the look of more expensive materials, like subway tile or marble. Truly the best one out there!
And if you're feeling thrifty, you can always opt for a basic white subway tile. It's a classic look that never goes out of style, and is also relatively affordable. Shop smart!