If you are tired of feeling like your living room and dining room are separate spaces that just don't quite flow together, it's time to break down those walls (metaphorically, of course!) and embrace the concept of open space that you can make the most of!  Whether you have a small or large space, there are plenty of creative ways to combine your living room and dining areas without sacrificing your style. 
From open-concept designs to clever storage solutions, we've got you covered with a variety of ideas that can be your next inspiration to create a space that seamlessly transitions from lounging on the couch to hosting a dinner party with friends. With so many living room dining room combo ideas, it can be overwhelming to know where to start, but do not worry! Just sit back, we've got you covered. 
Go Modern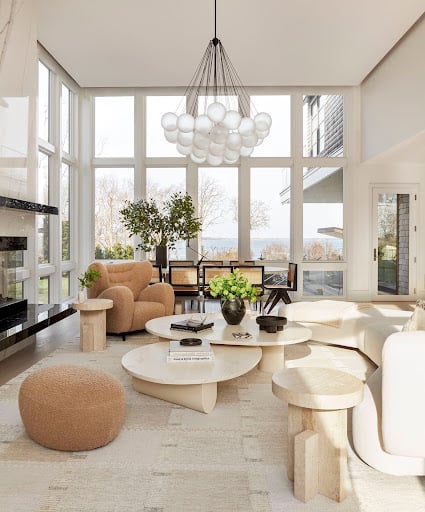 This is one of the most sought-after dining and living room combos. Whether you prefer an all-white palette or a mix of cool greys and blues, modern open living and dining is all about keeping things simple, yet sophisticated. You can minimalist furniture, bold statement pieces, and neutral colors with pops of color here and there to get the look. 
Less Is More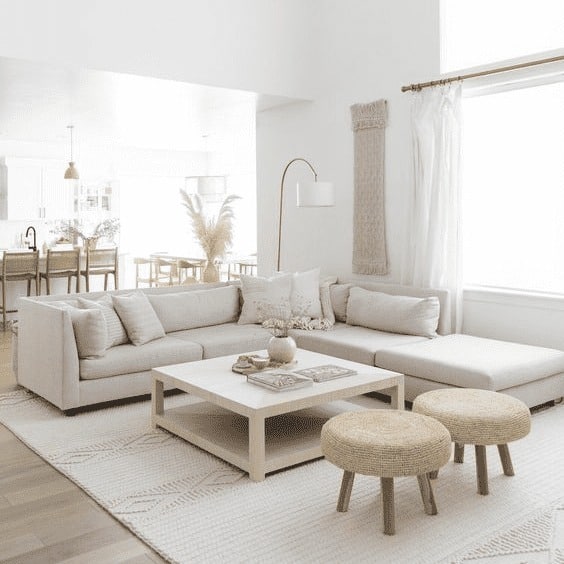 Whether you have a small or large space, you can have it all! Open living and dining will make your space feel bigger and better than ever before. Opt for multifunctional pieces like a sofa bed or a coffee table with hidden storage. When it comes to picking colors, use bright colors they can make a small space feel bigger and airier. This way you can maximize your space without sacrificing aesthetics or your comfort!
Add A Rustic Touch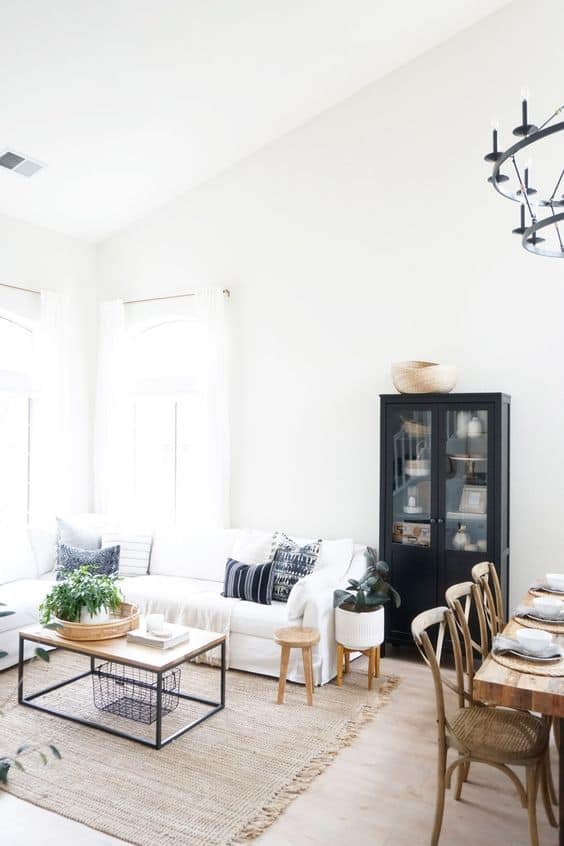 When it comes to rustic open-concept design, less is more! You don't need a lot of fancy furniture or accessories to make it work – just a few carefully chosen pieces and some well-placed decor items will do the trick! Add in some cozy textiles like chunky knit blankets or faux fur rugs, and you'll have a space that transitions smoothly, and there you have it! The perfect living room and dining room combination!
Add A Colorful Flair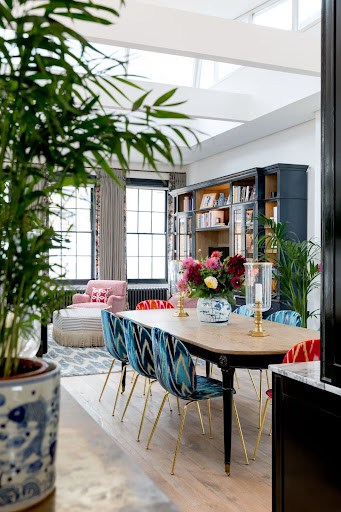 You can mix and match different styles, colors, and textures in your living room dining room combo to create a truly one-of-a-kind space. You can combine vintage and modern furniture, bold patterns and textures, and a variety of materials like wood, metal, and glass for that good groovy eclectic vibe. Play around with different colors – a vibrant rug or a statement wall can add just the right amount of pop to your space.
It's All In The Details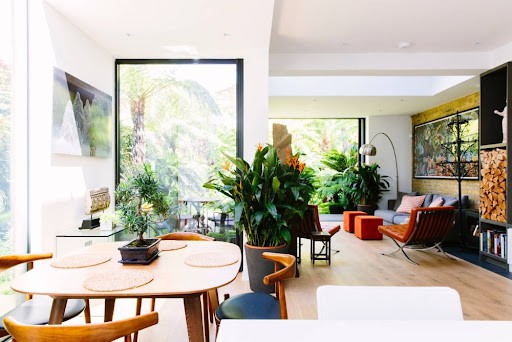 This style is perfect for those who want to stay ahead of the curve with the latest design trends. A contemporary open living and dining area can still pack a punch with bold accents, geometric patterns, and eye-catching artwork. It's all about finding the perfect balance for your living cum dining room!
Go For Traditional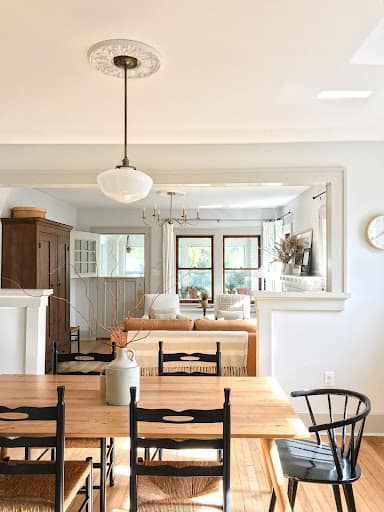 This living room dining room combo might seem basic, but it's a classic for a reason! This design is all about simplicity, with a layout that allows for a smooth flow between the two spaces. To make it stand out a bit, you can add your unique touches with furniture, decor, and lighting choices. 
Plus, it's a great base to build upon if you want to mix in other design styles later on. Its cozy furniture, warm lighting, and soft, neutral colors make you want to curl up with a good book or enjoy a home-cooked meal.
A Combo For Small Spaces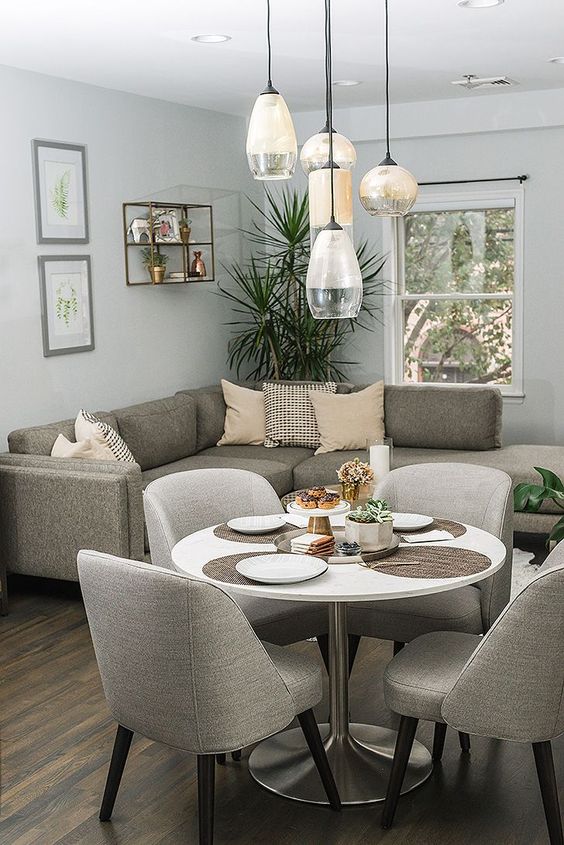 If you have a small space that you want to use for a living room dining room combo, then going for the same color for your sofa and dining space is the easiest hack to create a sense of space and not make your room look cluttered. But break the monotonicity of the same tone, and punctuate an accent color across your space to make it look very thoughtful and put-together. Don't forget the plants in the rush.
Bohemian Is Evergreen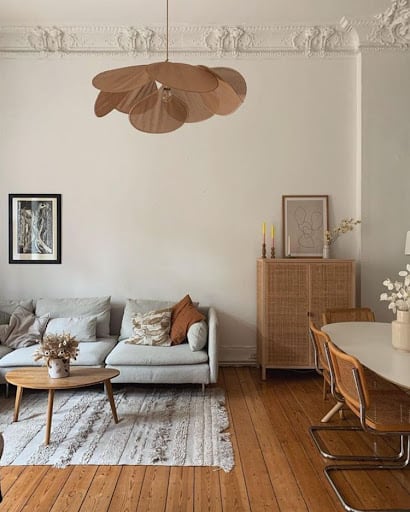 With a bohemian open living and dining idea, you can mix and match pieces from different eras. From vintage rugs to macrame wall hangings, there are so many ways to add a boho touch to your space. It is all about rich, vibrant hues like deep reds, oranges, and purples, as well as earthy tones like browns and greens. And to bring the outdoors in, use natural materials like wood and rattan.
Go Coastal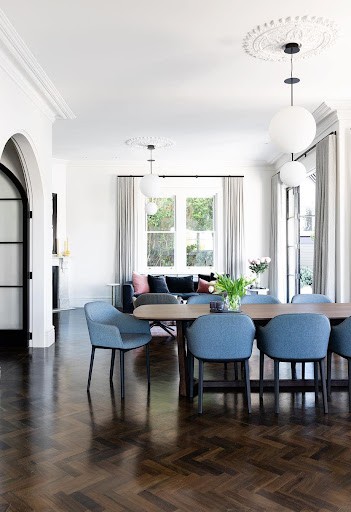 Whether you're living by the coast or simply want to bring the beach to your home, coastal-themed dining space is much sought after. Use light colors, neutral colors, natural textures, beachy decor accents, and plenty of natural light to transform your living room dining room combo into a beachy haven.
Add An Industrial Touch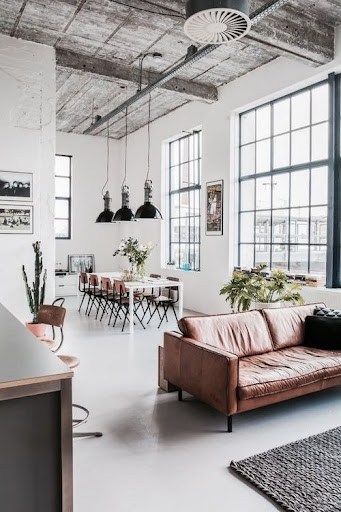 Industrial living and dining spaces are perfect for those who love a bold, edgy look. Whether you live in a loft or a suburban home, you can easily incorporate industrial elements into your space. Just remember to balance out the rough textures with soft fabrics, like cozy throw pillows and plush area rugs. 
Scandinavian Living Room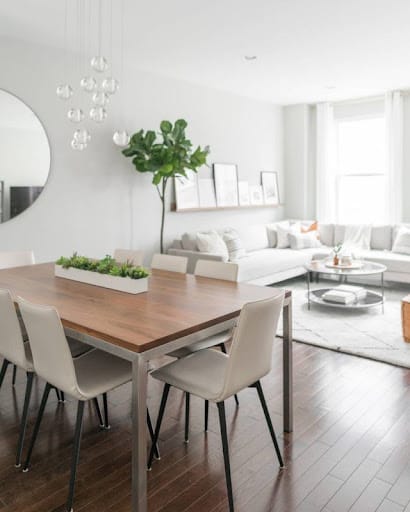 If you're ready to embrace the hygge lifestyle and create a living and dining space, turn to Scandinavian design for inspiration and use neutral colors like white, grey, and beige. Simplicity is the key but Scandinavian interiors can be anything but boring! With a focus on natural textures, cozy fabrics, and pops of color, this style is very calming and can be great for blending the two spaces. 
Opt For A Victorian Space
With a Victorian-inspired living room dining room combo, you can channel your inner royalty and feel like you're living in a grand, old mansion! You can go all out with chandeliers, ornate mirrors, and even a fireplace in your living room for the ultimate vibe. Consider using rich velvet drapes, carved wooden furniture, and intricate patterns in bold colors like deep reds, purples, and greens to tie the whole place together. 
Wabi-sabi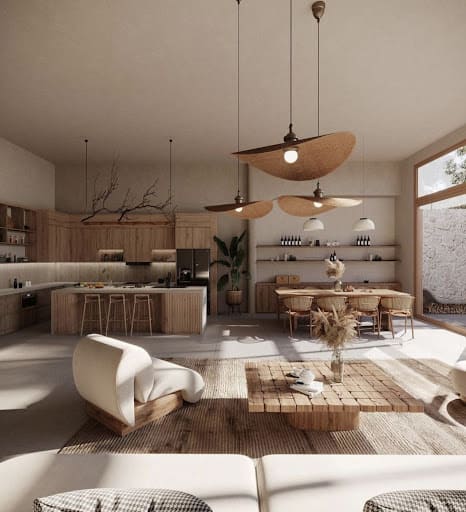 Wabi-sabi interiors are all about incorporating raw materials, natural textures, and muted colors to create a calming and serene environment. So if you're tired of striving for perfection and want to create a space that feels warm, welcoming, and lived-in, a wabi-sabi living cum dining area might just be the style for you! 
Keep It Simple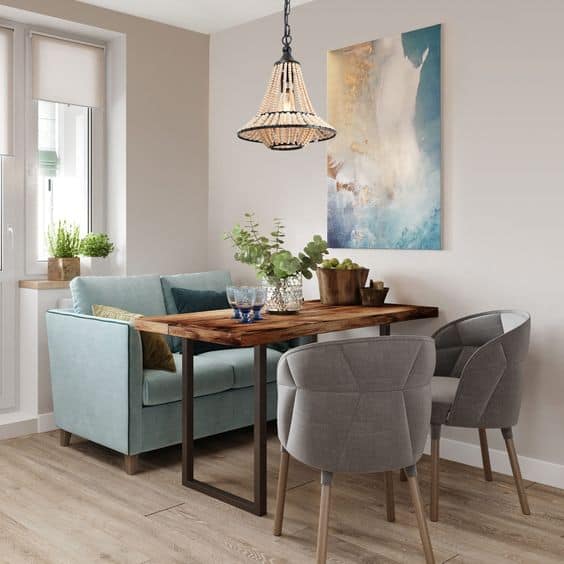 Minimal living and dining ideas may not be for everyone, but for those of us who love the simplicity and elegance of a clutter-free space, it is everything best. Plus, it's much easier to clean and maintain a minimalistic space. Choosing a few statement pieces that shine will enable you to connect your spaces better! 
French county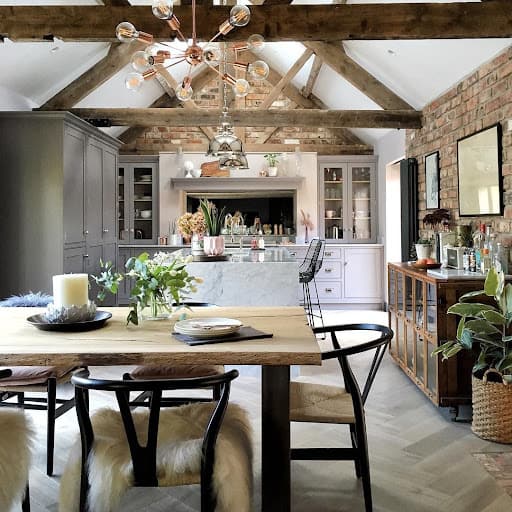 Imagine yourself sipping a glass of wine in a cozy, rustic dining room. Or lounging in a luxurious living room with plush cushions and ornate decor, feeling like royalty-I am talking about the French country design style. Use distressed wood, soft florals, and muted colors paired with ornate chandeliers and intricate detailing, and you are good to go! 
Mediterranean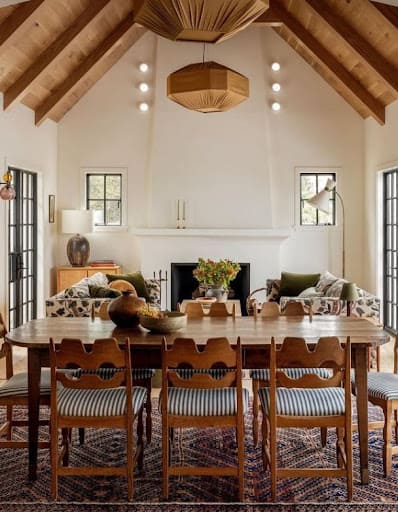 Whether you're dreaming of a villa in Tuscany or a seaside retreat in Santorini, Mediterranean-style living and dining ideas are the perfect way to bring a touch of luxury and warmth into your home. For your furniture, think about using natural materials like wood or rattan, with warm and earthy tones. And when it comes to decor, don't be afraid to use vibrant pops of color, especially in your textiles and accessories.
Invite Luxury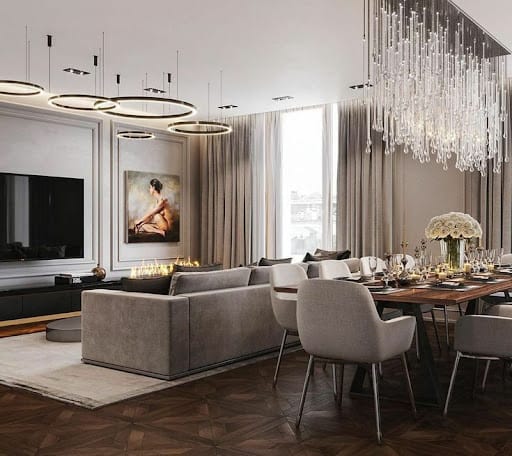 If you're all about living your best life, you need to add some luxury! A luxurious open-concept living and dining area also means spacious layouts, beautiful views, top-of-the-line décor, and a nice chandelier to add that extra sophistication and glamour to your dream space.
FAQs
How do you split a living room and dining room combo?
Splitting a living room and dining room combo can be a great way to define each space and create a sense of separation. One easy way to split the two areas is by using a room divider or a large piece of furniture like a bookcase or console table. This not only creates a visual separation, but it can also provide additional storage and display space.
Another option is to use rugs or different flooring materials to differentiate the two areas. You could use a plush area rug in the living room and hardwood or tile flooring in the dining room. This creates a clear boundary between the two spaces while still maintaining an open concept feel! So have fun with it and create a space that works for you.
Can you put a sofa in the dining room?
No rule says you can't put a sofa in your dining room! It can be a great way to add extra seating and create a cozy, inviting atmosphere. The key is to ensure the sofa works with the overall design and layout of the room. 
If you don't want it to feel out of place or take up too much space, consider a smaller streamlined sofa that won't overwhelm the room and pair it with a couple of comfortable chairs for a balanced look. This can be especially useful if you have a larger dining room that is rectangular to break up the space and avoid it from becoming too narrow.