If you are searching for a dining room design that is both relaxing and refreshing, a beach-themed space might be the perfect fit for you.
Coastal dining rooms are popular for their light, pastel color schemes focusing on blue and white that make you feel as though you are instantly transported to a peaceful seaside retreat. This makes the space airy and spacious, ideal for enjoying a meal with family and friends or having fun chit-chat.
Besides the color scheme, the furniture and décor are crucial in creating the coastal ambiance. Rattan and wicker furniture are popular choices for coastal décor because they add a natural and organic element to the space. These materials are also lightweight, making them easy to move around and rearrange to fit your needs. Now, let's get to the ideas!
Use Beachy light fixtures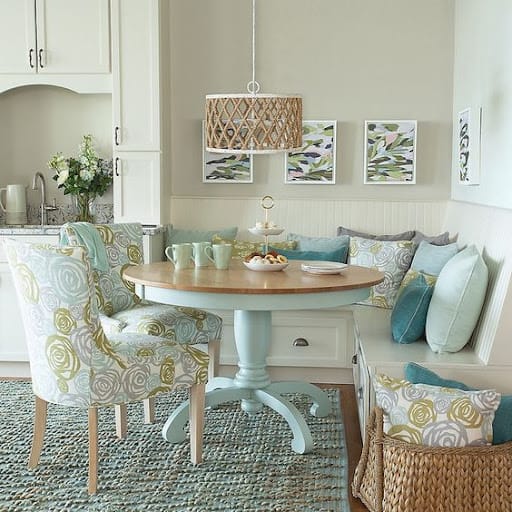 A pendant light is an excellent choice for tying a room together. Placing it above the dining table can draw attention to the area where meals are served and create a sense of intimacy and warmth.
Make a statement with a beachy chandelier or pendant light fixture above the dining table. Look for nautical or beach-inspired lighting like rope, shells, driftwood, or rattan. These materials can add texture and warmth to a space while creating a relaxed, beachy vibe. Since it creates a strong visual impact, you can even use it as the focal point!
Use driftwood or reclaimed wood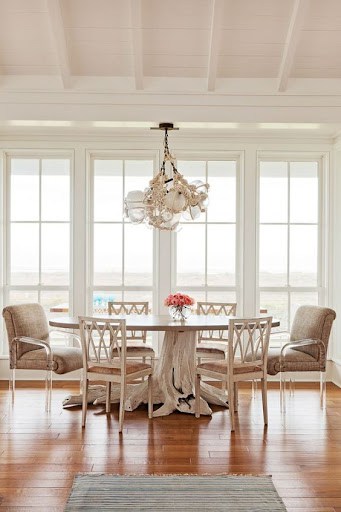 Making a dining table or bench out of driftwood or reclaimed wood is a great way to add a unique and rustic touch to your dining room. While wood can effortlessly add that earthy, beachy vibe, it's highly recommended to dig deep into what kind of look you want to achieve, modern or organic, and then choose your wood.
Driftwood may be the ideal choice for a more natural, organic look. Reclaimed wood with a more polished finish may better fit an industrial or modern look.
Fill up your Coastal Dining Room walls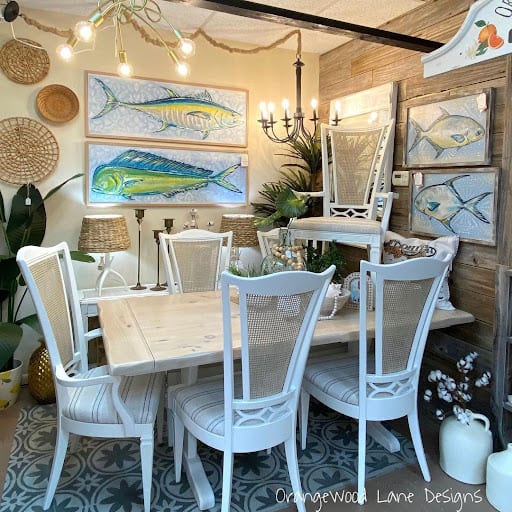 Add a touch of coastal charm to your dining room by incorporating sea-inspired artwork or photography on the walls. Look for nautical or beachy artwork or photography, such as seascapes, sailboats, beach scenes, or marine life. Consider your dining room's style and select pieces that complement it.
For example, if you have a more modern dining room, you might want to choose abstract seascapes or minimalist ocean photographs. Don't be afraid to mix and match different styles and mediums of artwork or photography to create a more dynamic display.
Furniture choices are important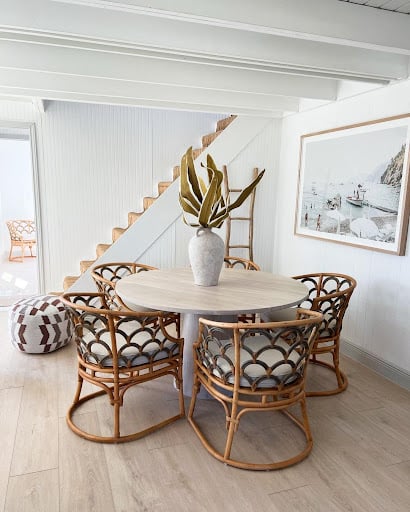 For a natural and airy feel, choose rattan or wicker dining chairs. These furniture pieces are lightweight and easy to move, making them an excellent choice for a dining room.
Rattan and wicker chairs add texture to a space with woven patterns and natural fibers. Combining them with natural materials such as wood, stone, or linen can create a more layered and interesting look.
Add A Rug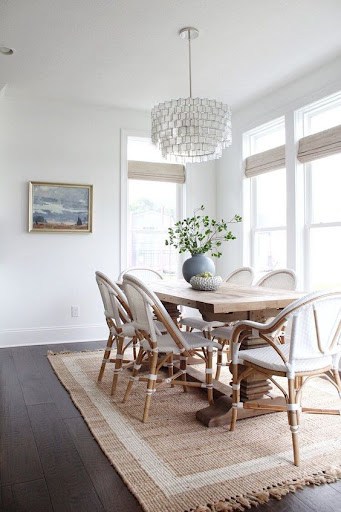 Adding texture and warmth to your coastal style dining room with a jute or seagrass rug can reinforce the natural elements often associated with coastal décor. Jute and seagrass are natural fibers sourced sustainably, making them an environmentally friendly choice for your home. They are both long-lasting materials that can withstand heavy foot traffic and are easy to clean, so yes, no anxiety about spills and stains now!
Mix and match The Shades Of Blue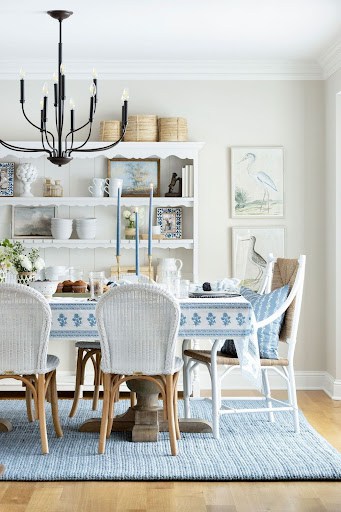 Mixing and matching different shades of blue and white in your coastal design is a classic and timeless way to create some depth. Begin with a neutral foundation of white walls, tables, and dishes. This will give your blue accents a clean and classic backdrop.
Incorporate various blue hues into your décor, such as navy, sky blue, teal, and baby blue. It'll add depth and interest to your space while keeping it from appearing too monochromatic.
Mix patterns like stripes, plaids, and solids to create a layered and interesting look. Mixing textures like cotton, linen, and wool will add depth and dimension to the space.
Greens are here to stay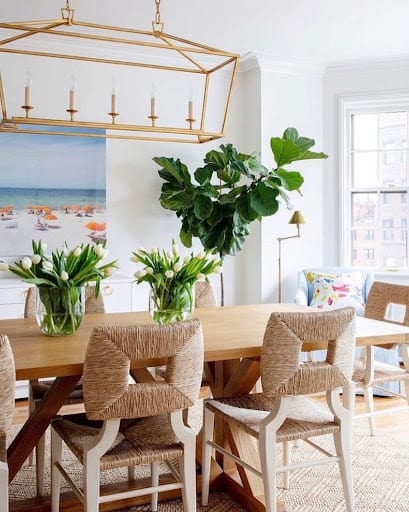 If you want to add life and color to a coastal dining room, various fresh flower and greenery options can help. Include coral-inspired elements, such as coral-colored flowers or coral branches, in your floral arrangements. Fill clear vases with fresh flowers for a simple yet elegant coastal centerpiece.
Go all out and make a centerpiece out of seashells and succulent plants for special occasions. This will not only bring life and color to the room but will also add a coastal flair!
Don't Forget Natural materials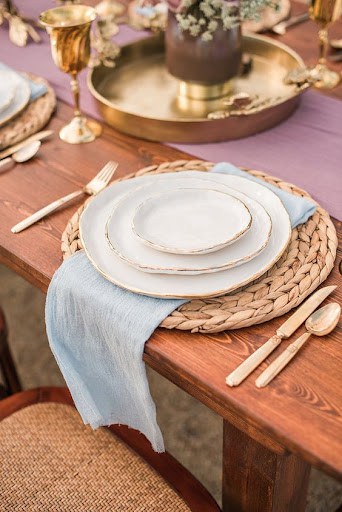 Linen napkins are a traditional option for table settings. They are long-lasting, absorbent, and have a natural, rustic appearance. To complement your coastal theme, use neutral or muted colors. Choose chargers made of natural materials such as seagrass, rattan, or bamboo to keep with the coastal design and add some texture and interest to the table setting.
Hang sheer curtains In Your Coastal Dining Room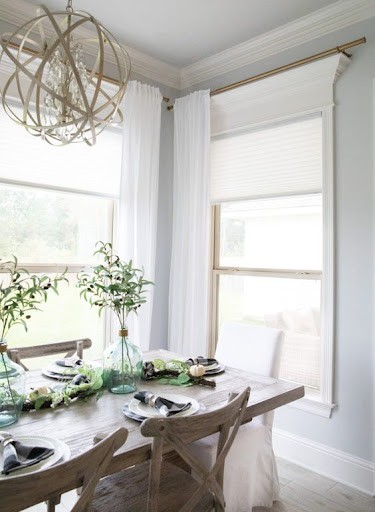 Hanging sheer curtains in your dining space is a great way to let in natural light while creating a breezy atmosphere. Light-colored sheer fabrics, such as white, ivory, or beige, look great in coastal-themed rooms. They allow natural light to enter and create a soft, airy atmosphere.
Consider using a patterned fabric for your sheer curtains to add visual interest. Look for sea-related patterns, such as coral, seashells, or waves.
Hang your sheer curtains as high as possible to give the appearance of higher ceilings. This will also aid in increasing the amount of natural light entering the room.
Add Interest With Nautical elements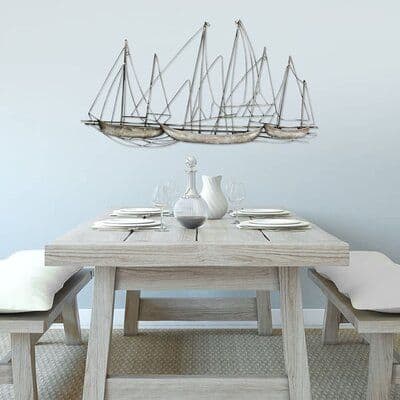 Display paintings or murals of sailboats, seascapes, or lighthouses on your dining room walls to bring in some real nautical flair. Using nautical elements in your wall décor is fun and playful to complete your dining room's coastal look. Balance your nautical accents with other natural materials and colors to create a consistent space.
Consider Glass & Acrylic furniture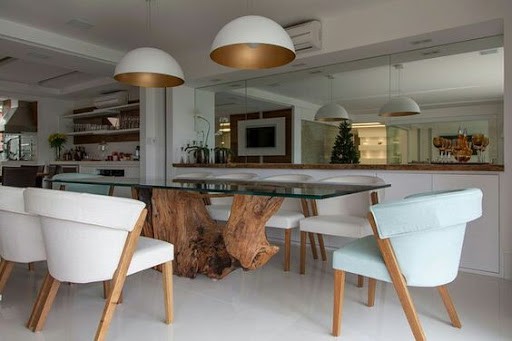 Using glass or clear acrylic furniture in your dining room will help to create a sense of openness and space. A glass dining table can make your dining room appear larger and more open. Look for a simple, elegant table that will go well with your coastal décor.
Consider replacing the doors on a hutch or cabinet in your dining room with glass panels. This will create an open feeling and allow you to show off your coastal-themed décor items.
Bring in Dining Room mirrors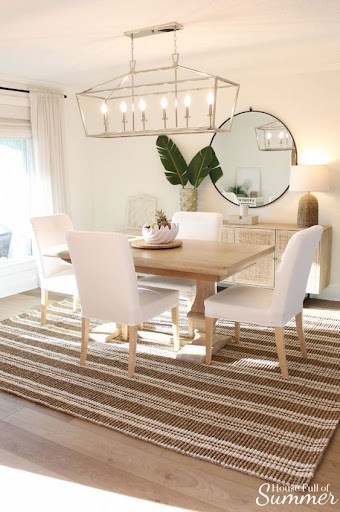 A large mirror in your coastal dining room is an excellent way to reflect light and give the illusion of a larger space. Mirrors can make a room feel brighter and more open by adding depth and dimension. Look for a mirror with a frame or design that matches your coastal décor.
Consider hanging your dining room mirror on a wall opposite a window or door to maximize the amount of natural light reflected. This will help to create a brighter and more open feeling in your dining room.
Distressed furniture Is Best!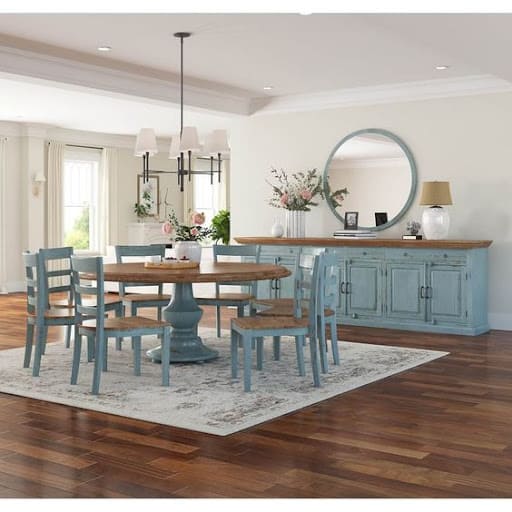 Using a weathered or distressed finish on furniture is a great way to create a casual and relaxed look in your dining space. It adds character and charm to your furniture and can give your dining room a lived-in and welcoming feel. Look for a dining table with a weathered wood finish, such as reclaimed or driftwood.
Consider distressing painted chairs to give them a more rustic and casual appearance. You can also do this by lightly sanding the edges and corners to reveal the wood underneath. If you have a hutch or cabinet in your dining room, consider giving it a distressed finish to match your weathered wood dining table.
Add a pop of color To Your Coastal Dining Room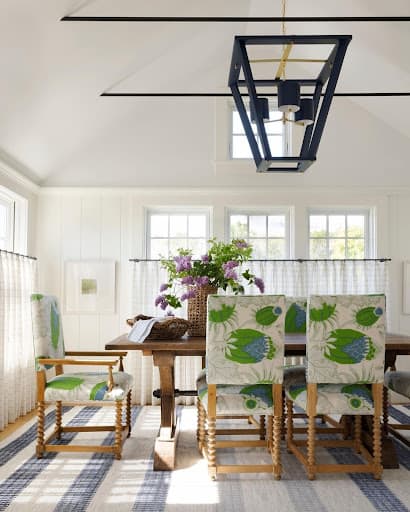 A bright or patterned upholstered chair is a great way to add fun and personality to your coastal dining room. Look for chairs in vibrant colors like turquoise, green, or coral to add a vibrant and cheerful element to your dining room. These colors are ideal for a coastal theme because they mimic the colors of the sea. If you prefer patterned chairs, look for ones with a coastal theme, such as seashells, starfish, or coral.
Balance your colorful or patterned chairs with neutral décor elements such as a natural fiber rug, white walls, or a weathered wood dining table to keep your dining room from feeling too busy or overwhelming.
Bring In Beachy textures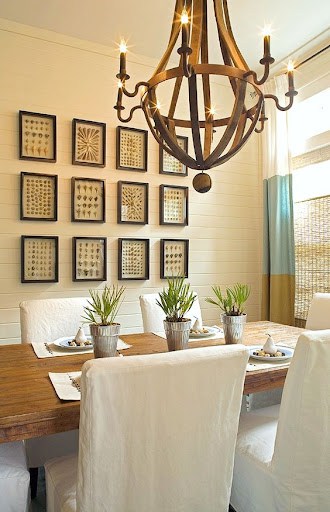 Incorporating beachy textures into your dining room décor, such as shells or coral, can add a natural and organic element that complements your seaside theme. Hang framed prints or photographs of shells or coral on the walls. As shown here, you could also make a gallery wall out of seashell shadow boxes or framed coral specimens. These sea shell collections are bound to impress all who enter your cozy dining space.
Mix up your materials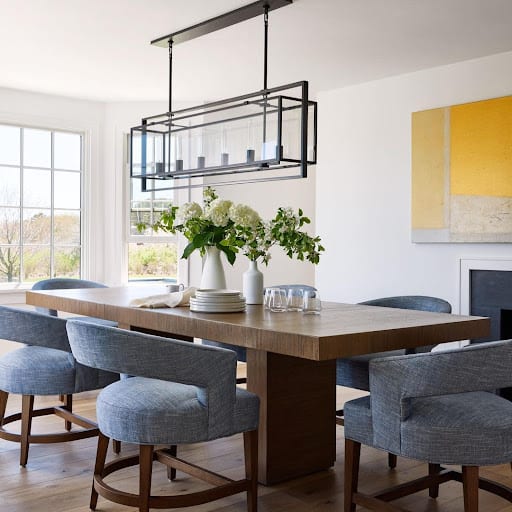 You can create a dynamic and eclectic space that reflects your style and enhances your seaside theme using a mix of materials in your dining room décor. Wood is a natural and versatile material that can add warmth and texture to the décor of your dining room.
Metal accents can give your coastal dining room décor an "industrial chic" feel. To add a sleek and modern element to your space, look for metal chairs or pendant lights in brushed brass, copper, or silver.
Surfboard wall décor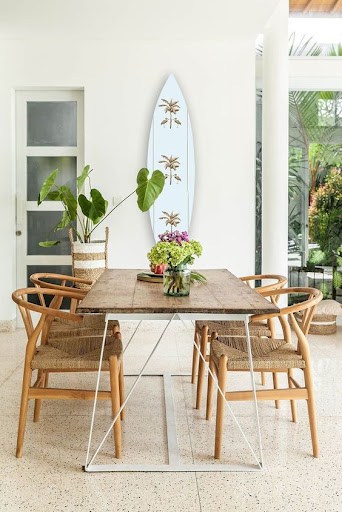 A surfboard hung on the wall of your coastal dining room can create a one-of-a-kind and eye-catching focal point that complements your seaside theme. It can add a playful and colorful element to the décor of your dining room. Look for a board with eye-catching graphics or colors that complement your current color scheme. You can hang sturdy brackets vertically or horizontally on the wall.
If you have a collection of driftwood or surfboards, consider displaying them in a gallery-style display on a large wall. This can add depth and interest to your space and be a focal point for your seaside theme.
Create Cozy Coastal corners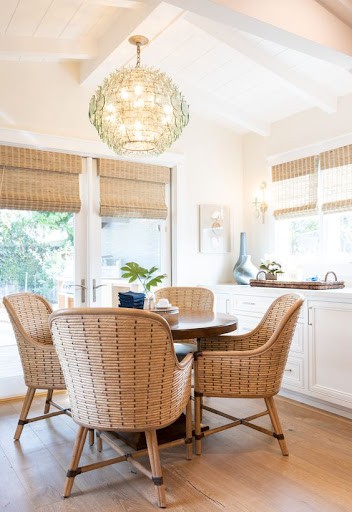 You can provide a comfortable and inviting space for relaxation and conversation by creating a cozy seating area in the corner of your dining room. To create an inviting atmosphere, choose comfortable chairs, add a small table, accessorize with pillows and throws, incorporate lighting, and add décor elements that complement your overall design theme.
A small table can store drinks, snacks, or reading materials. Choose chairs with plush cushions and sturdy, comfortable, and supportive frames. To complement your décor, look for chairs with coastal-inspired designs, such as woven wicker or rattan.