What's your favorite comfort place in the entire world? I'm sure it's your lovely home! Your home is a radiating space of warmth, and comfort, and is the ultimate escape to relax after a tedious day. On your bad days, the only motivation is to come back to your nest, and unwind a cozy evening with your loved ones!
Our homes are the most precious and intimate space for us and our families. It is also equally important to make the space extra comfortable especially when you all are getting at the dining table! Dining tables are often overlooked, but they too need equal attention while choosing the right decor for your home. 
After all, it is the space where you end up gossiping or sharing love, with some delicious food! Some modern farmhouse dining room ideas might help you achieve a wonderful balance with an unmatchable comforting vibe with elegant elements!
What Is Farmhouse Design?
Farmhouse design is a well-known interior design that draws its inspiration from those countryside farmhouses you've always adored, along with gorgeous rural aesthetics! 
This design aims to combine functionality with comfort, creating a warm and inviting ambiance to draw you in instantly! 
Farmhouse Design Necessities:
Exposed Beams
Shiplap Walls
Barn Doors
Farmhouse Sinks
Vintage Accessories
Mason Jar Decor
Farmhouse Tables
Rustic Lighting
Woven and Natural Fiber Elements
Farmhouse Exterior Elements
Light Linens
Industrial Touches
Exposed Wood
Open Shelving
17 Modern Farmhouse Dining Room Ideas
Earthy Tones Are A Must!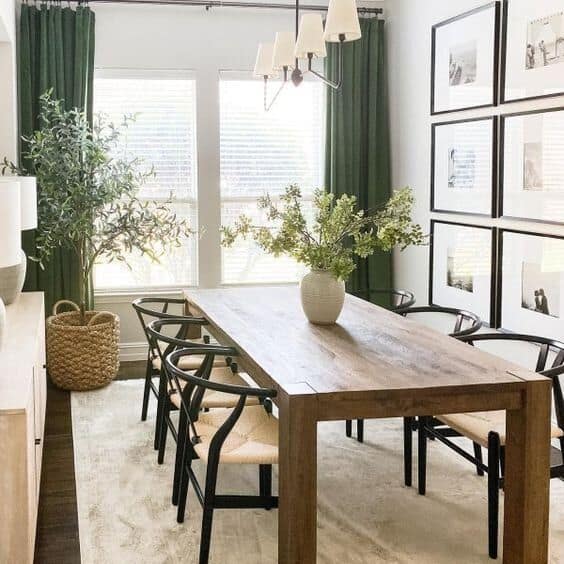 Now, what could be better than a space that makes you feel closer to nature? Imagine walking into your dining room on a Monday morning, and discovering the alluring sage green curtains with rustic brown tables on softwood flooring! Doesn't that sound just perfect? 
Earthy tones like soft blue, sage green, and beige are some of the best picks for a modern farmhouse dining room idea. These color tones are soothing for the eyes, and are something you wouldn't want to miss out on!
A Dining Hutch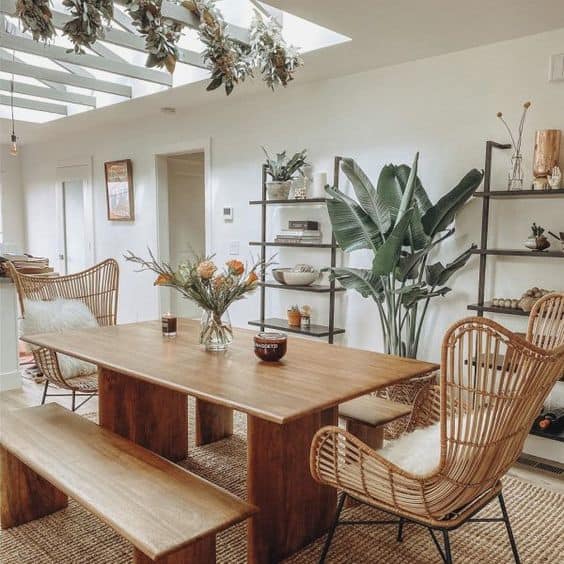 Do you have a range of your favorite crockery to display? A dining hutch is an ideal way to pull that off, but not in an extravagant way. Here, we do everything with subtlety!
These amazing storage pieces can take in any sort of crockery! Whether it is an elegant chinaware set or some pretty pots that you had painted, you name it.  
Pro Tip: Wanna upgrade your dining decor game? You can place an open dining hutch against a wall, or an accent wall with a plant amidst two different sets! This can make your dining aesthetic way stronger. Just make sure your display items are always in sync with the surrounding space. 
Patterns For The Go!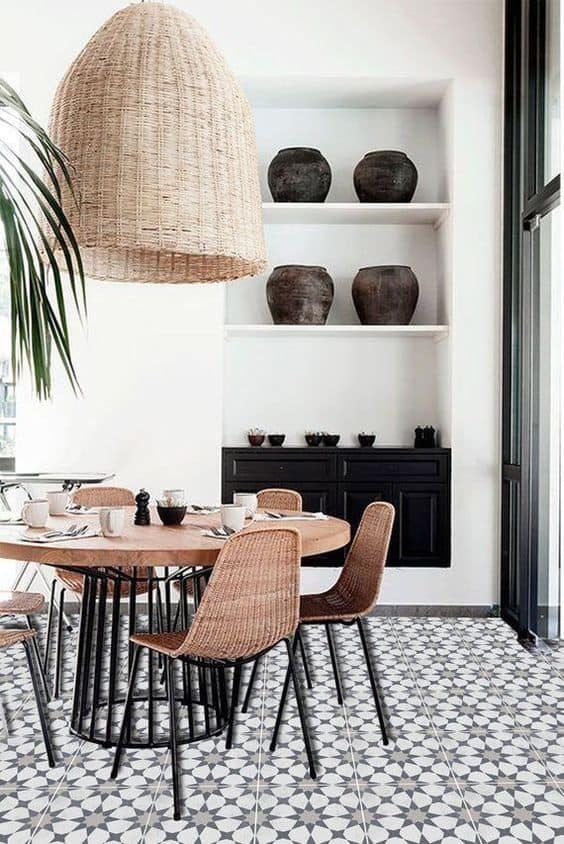 An ideal way to stoff your wintry days is simple! You can add an intricate black and white flooring pattern, gleaming against the warm sunlight on a cold winter morning. Patterns are the safest option for not going overboard with the rustic farmhouse-style dining room design. 
They can either be an intricate pattern or something more open, it depends on how you like it! You may modify, you may play around, or you can just let them be – The choice is yours!
Try Open Shelving!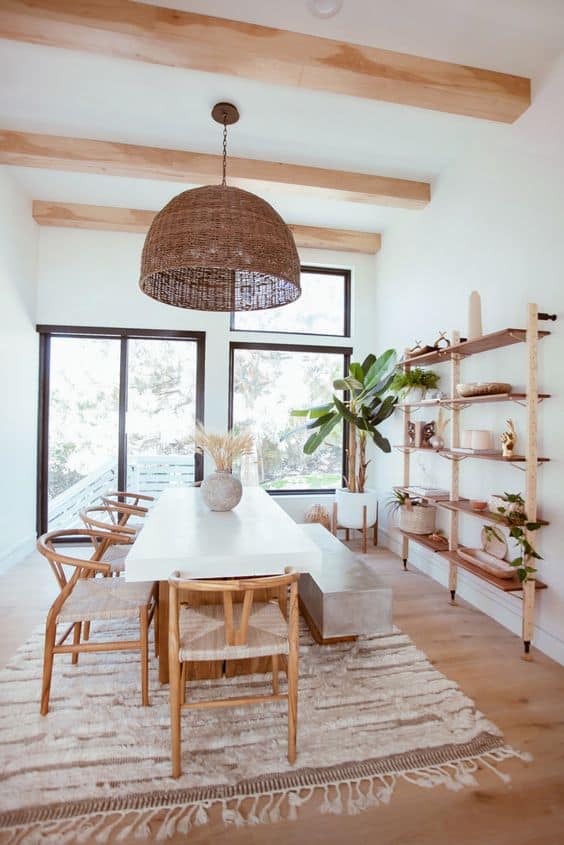 If you're wondering how to show off your creativity with the modern farmhouse dining room ideas – Open shelves are the best bet! These shelves stay right in front of your dining table, and have the power to divert your guest's attention! 
They can leave them spellbound with this quirky additional decor element. So, next time you're planning on your modern farmhouse aesthetic, don't forget about this incredible yet simple dining room decor piece!
A Table Centerpiece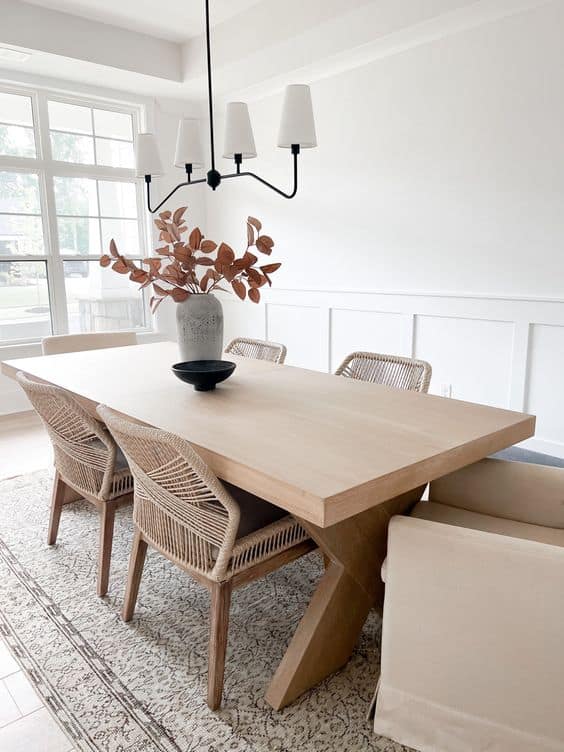 Central focal points are essential, whether it is your home or a public space. How about an alluring mosaic vase with beautiful flowers? It caught your eyes, didn't it? Table centerpieces are a must for your modern farmhouse dining room ideas! 
They help in finishing up the look of the space within a minute. They create a focal point and draw attention subtly, without being obvious. Focal points not only enhance the depth of space but also make you follow a specific viewing path, which is more comforting to the eyes!
Let In Some Fresh Air!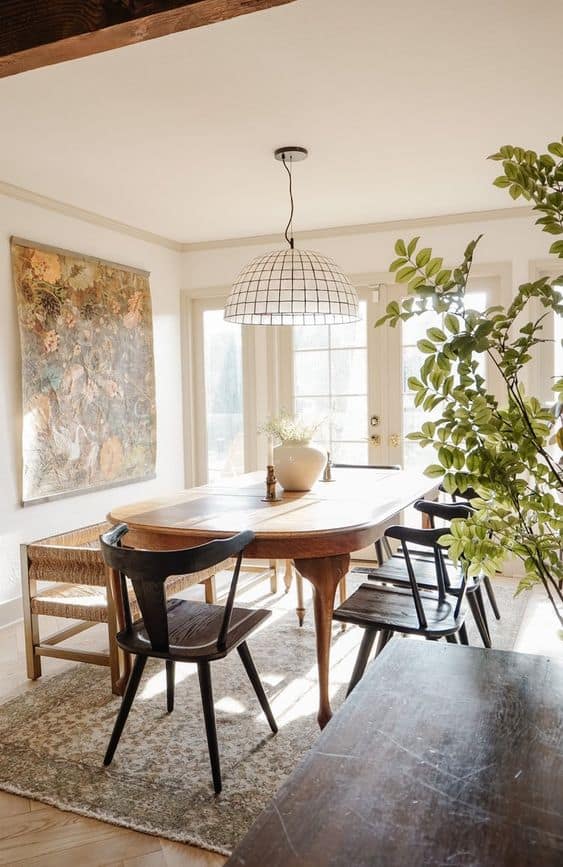 A space that has plenty of natural light with earthy tones and light furniture, instantly makes it light and airy! A bay window with a rustic earthy color is perfect for creating a space to be loved by many. 
Pastel colors are a mass-favorite and are all over the interior digests. So, don't miss out on these beautiful things either! Another thing I'm sure of, this idea will help you build the ideal Sunday brunch spot in your home!
Antique Experiments!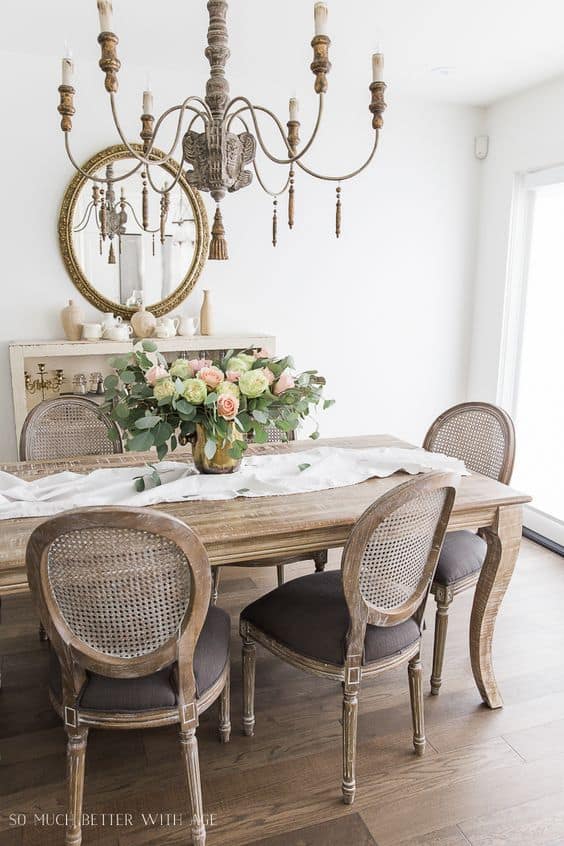 One of the toughest things is to resist staring at a gorgeous, ash-gray vintage chandelier hanging off your ceiling above your dining table! This can be a massive head-turner element that will be loved by many, because of sophistication amidst a relaxing space. 
It is important to choose the right proportion of your vintage element because it can make or break your space equally. You don't have to go over the line with these vintage pieces as they can also make your space overly gaudy. So, just put more balance! So, it is easier to refine the image. 
Exposed Beams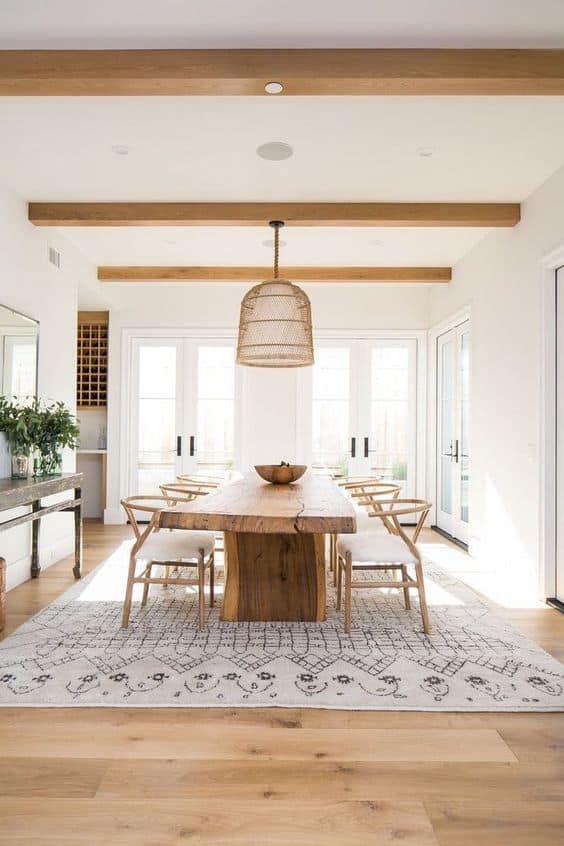 It's time to embrace the raw beauty of things like exposed timber beams spanning across your glamorous dining room. Oh, it is a huge yes from us! Wood is all about comfort, warmth, and something you'd certainly need in your modern farmhouse dining room idea. 
Timber is already a popular material in this specific design. So, using raw beams will not only enhance the farmhouse style but will also show your unfiltered side! Now, that is something worth staring at! 
Leafy Greens!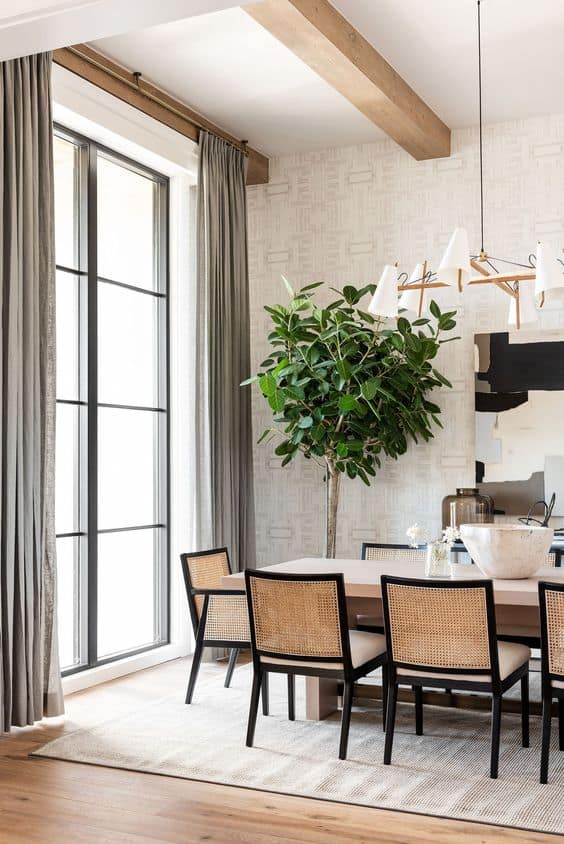 If there's anything that naturally blends well with every aesthetic, that would be indoor plants! Hanging an indoor plant from the ceiling, as it reaches to the corners of a space is a sure shot way to enhance an immaculate hangout spot or just place one in a corner.  It gets even better when the natural sunlight hits on plants offering extra charm!
Pro Tip: A bay window will not only enhance the views from your dining area but can also create scope for more seating! It just becomes the ideal backdrop as well. 
Lighting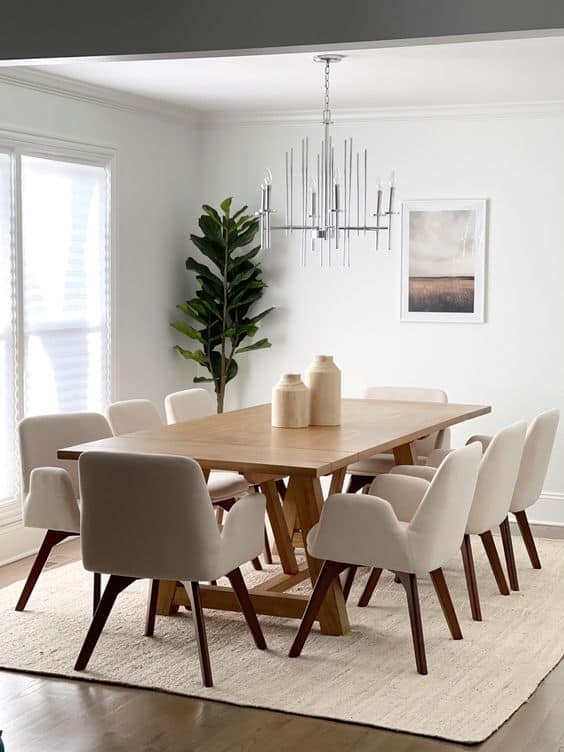 Let me tell you the secret to a lighting solution! You can use a beautifully handcrafted jute light cover, on top of a simple light. Trust me, it can be your next game-changer. 
Lighting in a modern farmhouse dining room idea incorporates pendant lighting with a rustic finish to it. But, let's not limit ourselves to rustic, and be open-minded for more modern, elegant pieces because that can do wonders as well!
Pro Tip: You can also create a more dramatic vibe with the correct lighting choice! Just go for focused lighting with darker hues, because a little bit of drama doesn't hurt anyone! 
Play With Textures!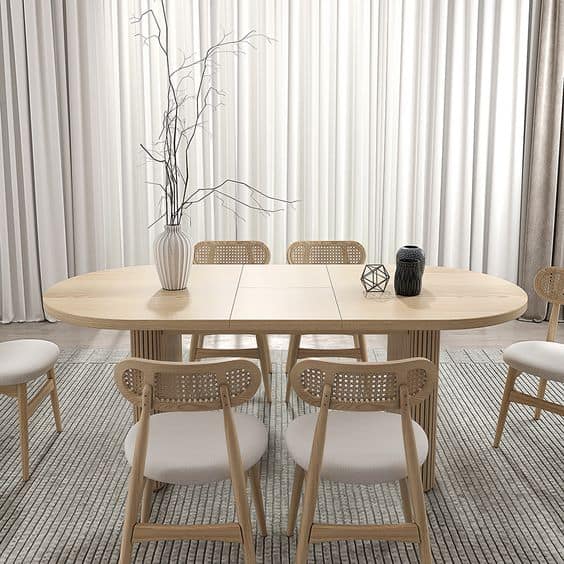 How about a soft translucent curtain with a rough texture of the carpet, paired with woody chairs? Oh, this can be the perfect Pinterest-worthy coastal dining room aesthetic! Different textures in the dining hall can make you fall in love with this well-designed space. 
So, choose textures that speak volumes about your dining area! You can always go for velvety, grainy, or even smooth, and silky textures. But, you better add textures at your own risk, since it would be impossible to take your hands off of them! 
A Moody Approach!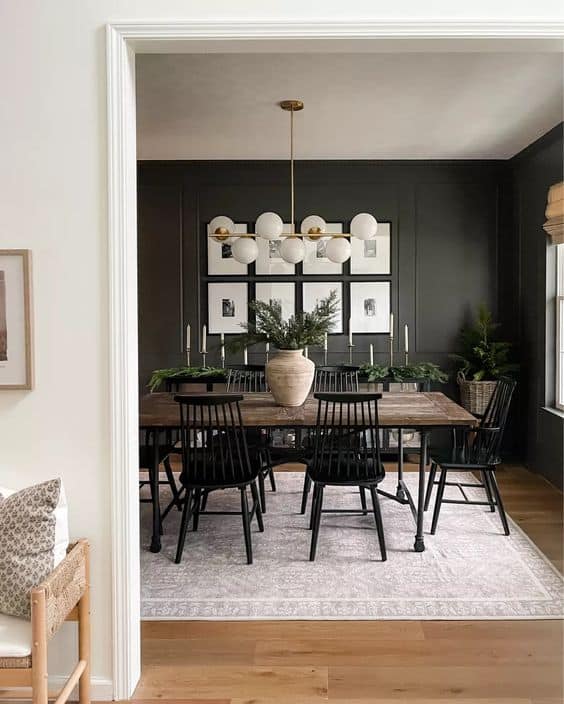 Introducing the most popular and versatile color, depicting class and sophistication – Black! Go for a dining room approach with a dark color, by adding a textured black backdrop with gorgeous spindle back chairs. 
Bring some contrast to the palette by using white, or off-white accessories in your dining area for highlighting the space. I'm drooling already when it comes to this moody setting for your dining makeover. 
Related: 15+ Versatile & Glam Dining Room Accent Wall Ideas
Seating Style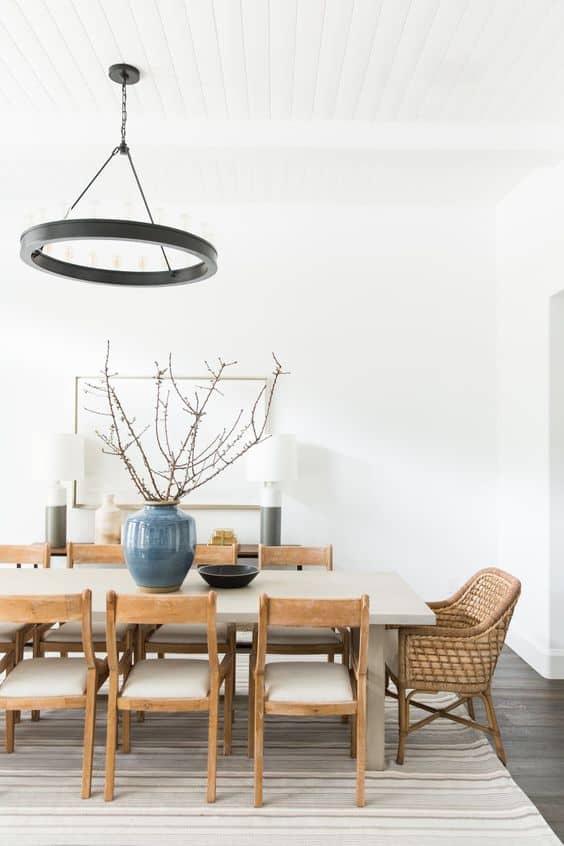 How about adding some more fun to your dining space? Just add a few mismatched chairs, that are a classic farmhouse theme element! A jute chair along with formal-looking chairs would offer an intriguing vibe while also creating a decor your guests won't ever forget. 
As a side tip, a bench can also do this job wonderfully! Instead of chairs, you can place an elongated bench on one side to enhance the ideal mismatched vibe. The bonus point is it can also create additional seating space if you're up to fighting for your food rights! 
Smaller Elements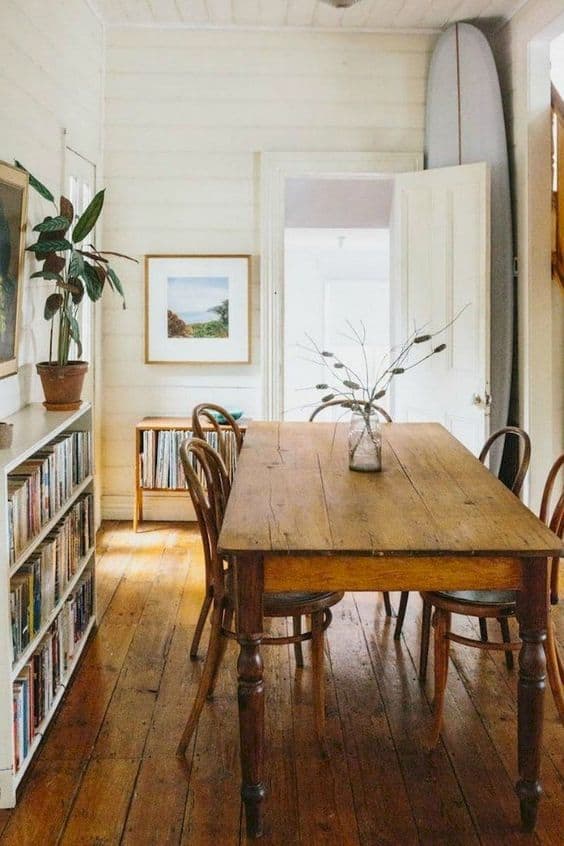 Smaller tables are the perfect table-turners (quite literally!) for intimate family conversations. A 4-Seater dining table develops a comforting ambiance that will suit your modern farmhouse dining room idea! You can throw in a small planter at the center and watch how conversations bloom, making this spot your favorite. 
Don't be shy to go for smaller tables as longer ones can also be intimidating for some. Trust me on this, small tables can easily beautify your modern farmhouse dining room ideas! 
Display Some Art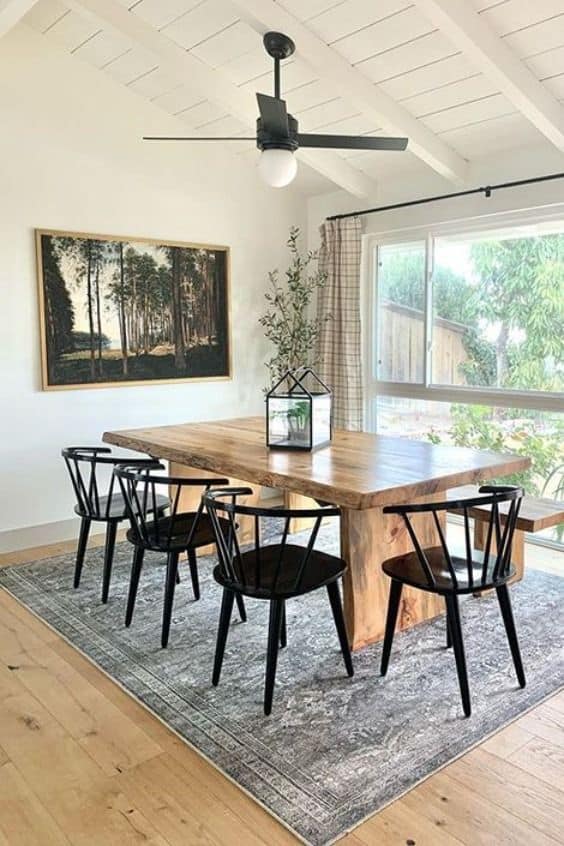 Art is the language of emotions! It is also a strong wall decor element to hang in your dining room space. A minimalist painting is often more suitable for a modern farmhouse dining room idea. 
You can go big, small, in pieces, or even as a whole! After all, all forms of art are fascinating and glorious. Make it more vibey by adding a shiplap ceiling to your dining room.
Flooring Matters!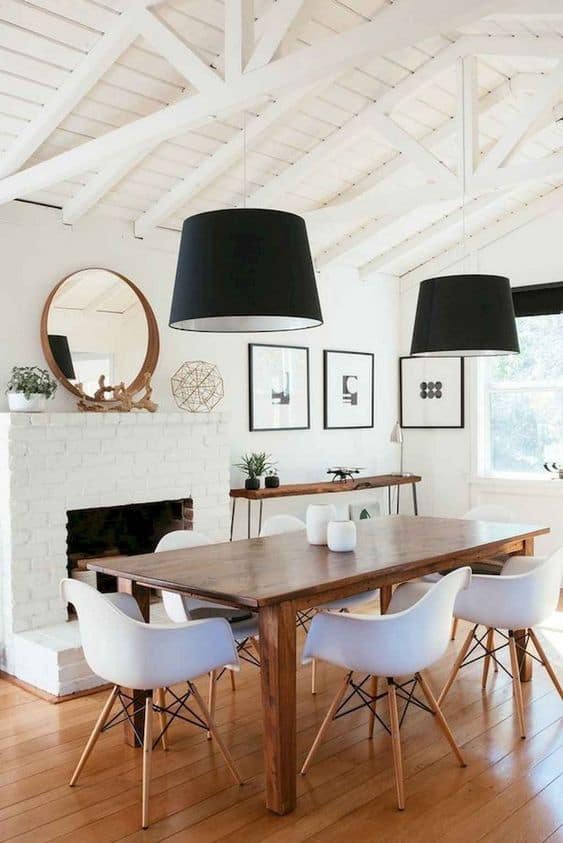 Flooring is the liveliest element for any room in your house. It is where your feet interactions take place, and choosing the right color and material should be your top priority! Like this modern farmhouse dining room idea with a mirror – You can go with dark or light wood, depending on the context. 
Wood is a natural material that keeps the temperature warm and cozy, so you will never go wrong with it! Dark wood is often preferred when the furniture and accents are in lighter shades, forming a stronger contrast and vice versa. You won't ever regret using this versatile material in any way!
Fireplace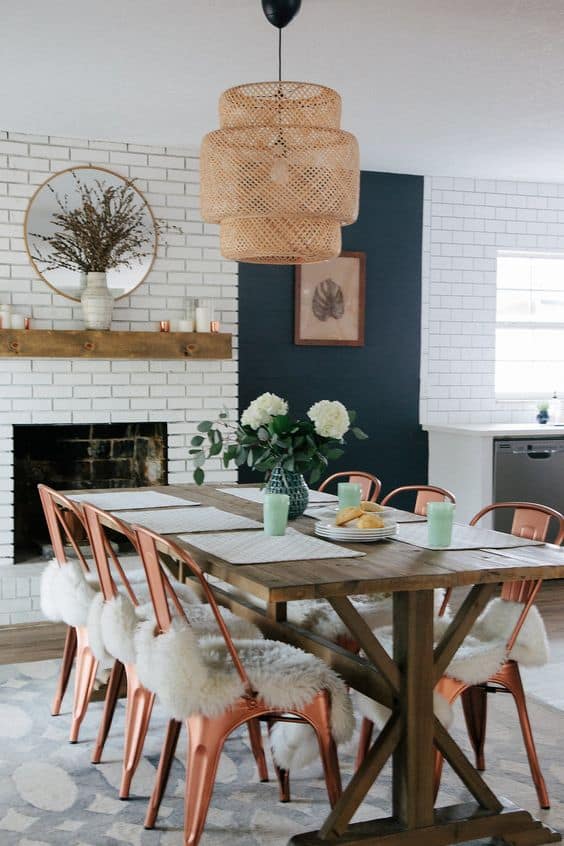 The perfect gathering spot for a chilling winter night has to be the fireplace! It is that one element that radiates life and keeps you warm. Combining this with your space is the latest trendy style for both functional dining rooms and living rooms!
Some furry chairs are another great accessory to step up your modern farmhouse dining room ideas! Get ready to have the best conversations snuggled up in your seats as you watch the fire crackle.