Dining rooms are more than just a room for eating. It's where our families gather, memories are made, and guests are served. That's why it's so important to glam up your dining room into a warm space you can be proud of. So, let the dining rooms reflect your style!
An effective way to add some charm to your dining room is to create a focal point, and an accent wall is just the perfect thing for this! Whether you fancy making a  dramatic statement or just an understated backdrop – An accent wall in the dining room is a powerful way to bring aesthetics and depth to your space!
From modern wallpapers to rustic wood, and shiplap, the varieties for an accent wall are countless. It doesn't matter if you're creating a coziness for intimate dinners or a grandeur setting for large gatherings. A dining room accent wall is all you need to make your eating space a gorgeous showcase!
Dining Room Accent Wall Ideas
Bold Geometric Patterns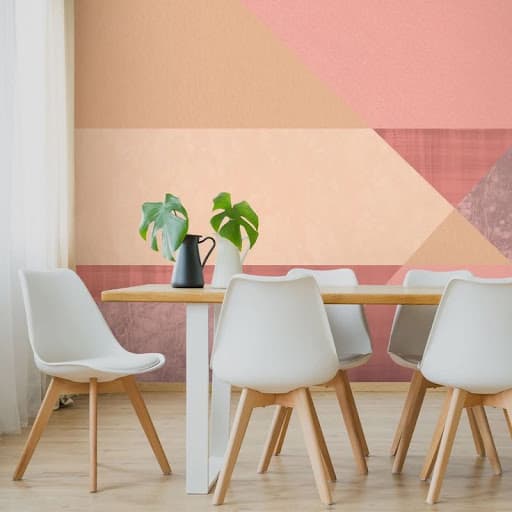 Wanna introduce an elegant visual appeal to your dining room? Use Bold Geometric Patterns! Just pick your preferred color palette, choose from its several shades, and begin splashing on your accent wall. But, while mixing the patterns and textures – Always remember to choose patterns with a common color or shape.
Try using various textures with different patterns to bring more intrigue to your accent wall. You may combine a fine matte with a glossy, high-shine finish. You can also pair textured wallpaper with a smoother, and streamlined pattern.
Pro Tip: Keep three to four shades of your palette, ready at hand! Make one the dominant color, and keep others to complement. This will add more vibrancy to your space, without overwhelming your eyes. 
Stripe It Up!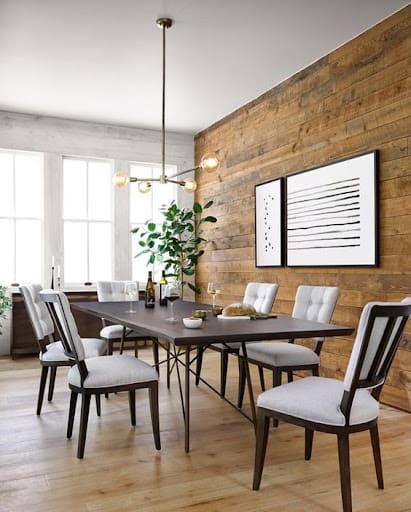 Stripes are timeless patterns that bring sophistication and playfulness to your rooms. You can try different moods in your room by adjusting the widths of the stripes on your feature wall. For making a bold and graphic statement – Try using wide stripes with contrasting colors! 
Like this wooden accent wall idea, it will leave a strong visual impact while drawing attention to the design. But, if you prefer a subtle look instead –  Use narrow stripes in similar shades from the same color tree! This will form more texture and depth, without confusing your eyes.
Add Rustic Wood!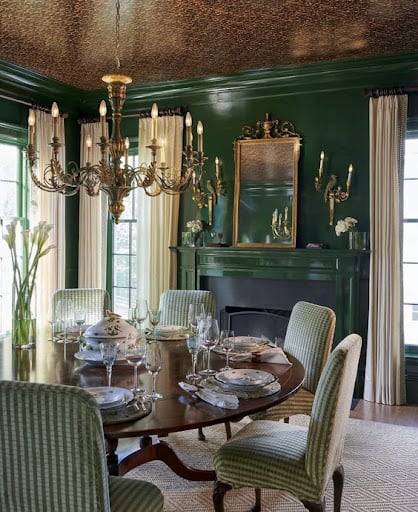 Rustic wood planks are an excellent way to add warmth, and texture to the accent wall! Depending on your preferred look – You can choose from a variety of wood types, finishes, and installation methods to design the ideal wood accent wall for your room! 
Do you want to bring out the natural beauty of the woods? Leave the planks unfinished or try applying a stain or sealant, for additional color and protection. You can also distress the planks! It brings out an aged appearance, which further complements the rustic charm of your dining space.
Metallic Accents For The Decor!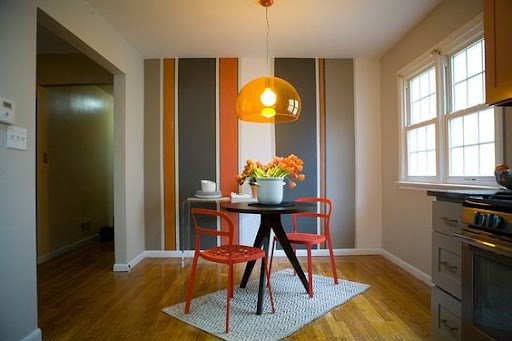 Invite a luxurious look with Brass Candles and Ornate Mirrors against a colored wall in your warm dining space! With the metallic accents, you don't have to worry about the color of your accent wall. Accents Walls don't necessarily have to be of separate colors from the other walls. 
Instead, they can be highlighted with other features like metallic décor and unique architectural details. For a bold, colorful dining room – You may choose metallic accents from similar color trees, to enhance a coordinated look. But, for a neutral dining room – You could simply attach metallic accents with contrasting colors. It just brings visual charm and aesthetics to the room!
( Enjoying the accent wall designs? Check out these posts about Black, White, and Navy Blue Accent Wall Ideas, for more room designing tips!) 
Throw Some Bold, Bright Colors!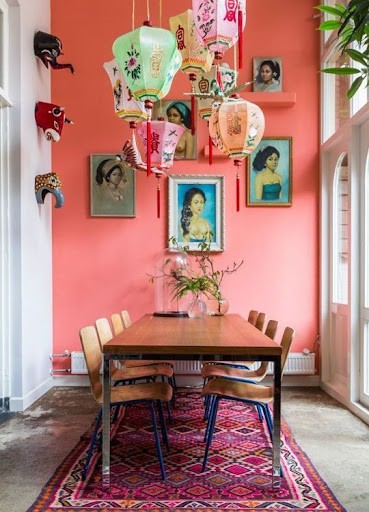 Try introducing some bold colors like Coral, for your dining room accent wall! It is a fun and cheerful way to bring more depth to your space. You can also highlight the coral wall with colorful paintings and prints with the general color scheme. 
Don't be shy to add hues and more vibrancy to your dining area! You can start by adding colorful pendant lights, or a rug to match up with your coral wall. Finally, you can balance out the boldness of the décor, by attaching some neutral elements like a wooden dining set!
Add an Artsy Wallpaper!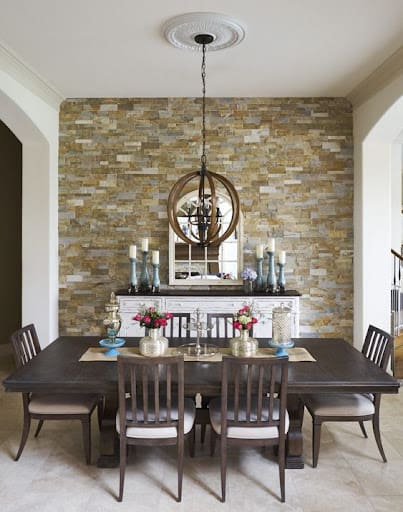 Wall art is that special ingredient behind the charm of every accent wall!  Don't forget to consider the overall style, look, and feel of your intimate eating space. Scale and size are other important aspects you must always remember, to bring the best out of your dining room! For a small dining room, smaller patterns are the best fit! 
Make sure the artwork and colors always complement the furniture and other room elements. A dining room accent wall draws focus on certain elements. So if you own any traditional fireplace, a shelf of fine china, or even a rack for a classy gramophone – Go ahead and show it off, with the right lighting and wallpaper choice!
Textures are a Great Choice!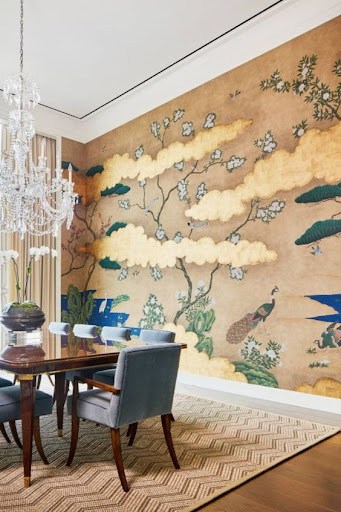 Not many suburban family homes realize the potential of exposed stone and bricks. For a dining room accent wall – A warm-lit room shining with ochre yellow, gold, hints of gray, and brown, sounds just right! Dark wooden furniture or cream-white shelving units for cutlery and crockery is bound to woo all who see them!
Add a Shiplap Wall! 
A painted shiplap accent wall in a dining room is always a versatile option! It creates various aesthetics, depending on the color, style, and decor of the room. Blue or green walls bring a light, airy coastal vibe! 
It could also be combined with natural materials such as woven textures, seashell décor, and light-colored furniture! A white or cream shiplap accent wall forms a classic and timeless farmhouse vibe! So, it will look amazing with wire baskets, galvanized metal accents, and distressed wood furniture.
RELATED: 15+ Ideas To Add A Black Accent Wall In The Bedroom!
Try Large-Scale Artwork!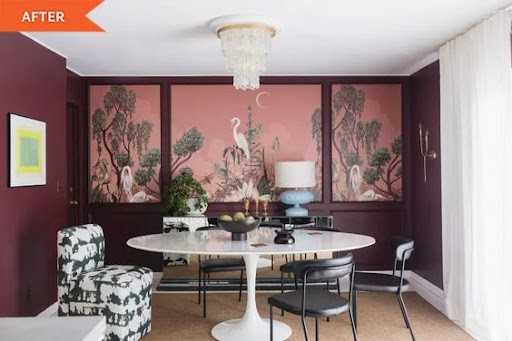 For a dining room accent wall, some large art panels can be a fascinating choice to highlight your space! Try using art with contrasting colors to make your accent wall stand out in a bold finish. But, if the wall has a subtle texture, using art with bold lines or shapes would be the best!
Hang the panels at eye level, and center them on the accent wall for drawing more attention and intrigue. If your dining room has a formal atmosphere, try using traditional art pieces instead! Otherwise, for a more casual one, play around with abstract or contemporary pieces!
Mirrors to an Accent Wall!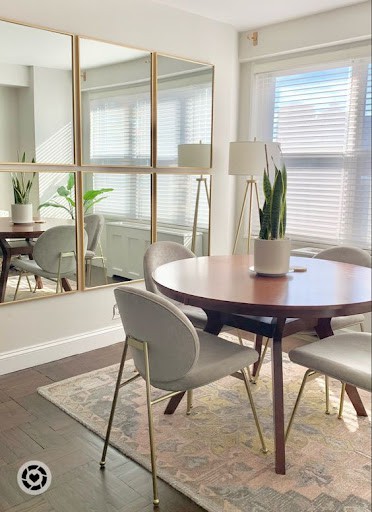 Cafes and restaurants feature plenty of mirrors and reflective surfaces near the tables! Of course, it's a perfect ambiance to feel calm in your presence, and also an incredible idea for an accent wall. 
This idea is best to apply especially when your walls are in light-colored spaces like white. Build some depth to your dining room accent wall and add a plant or a lamp alongside the space. Adding pieces of wooden nature and a smooth texture is a lovely choice too!
(If mirrors are part of your taste for dining rooms, check out this post: Dining Room with Mirror Ideas, for more stylish inspo!)
Subtle Tone-on-Tone Patterns!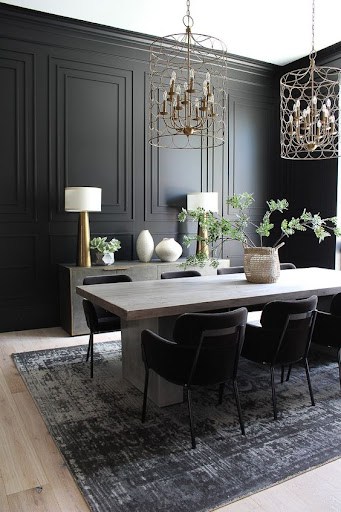 For a formal dining room, a board and batten accent wall can enhance elegance and sophistication. The trim adds height and grandeur, while the subtle texture adds visual appeal and depth! A subtle pattern in a tone-on-tone color scheme adds a cohesive and understated look.
It allows the other design elements to shine, such as the furniture and lighting! The accent wall combines these elements while adding texture and aesthetics.
RELATED: 15+ Ideas To Add A Black Accent Wall In The Bedroom!
Try Wine Bottle Décor!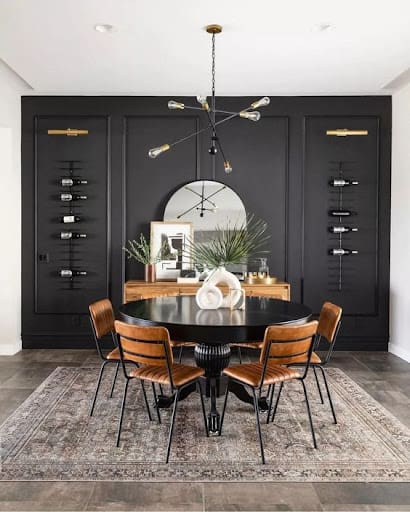 Wine is the symbol of class and authenticity. So, go ahead and show off your collection of fine wine bottles in a subtle and visually soothing way! You can place these bottles either vertically or on smaller racks to create an elegant, worth-the-show-off home bar. 
Keep checking on the grip and placement of these bars often. You can use darker shade backgrounds like Obsidian Black, Teak Brown, or Navy Blue to blend them in together!
Bring A Painted Niche!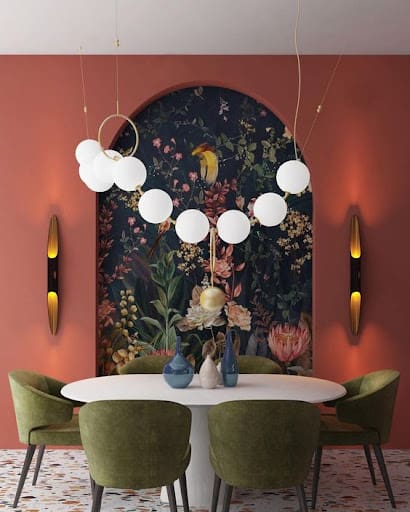 A dining room space can be a wonderful place to display large floral wallpapers or paintings. It gets aesthetic if you can match up the wallpaper colors with other room elements like furniture or table settings. Keep your niche well-lit, so that the colors and textures appear more vibrant and visually appealing!
( Love decorating your dining room? Then, you'd love this post about Coastal Dining Room Ideas, if you're into peaceful spaces! )
Tapestry or Patterned Fabric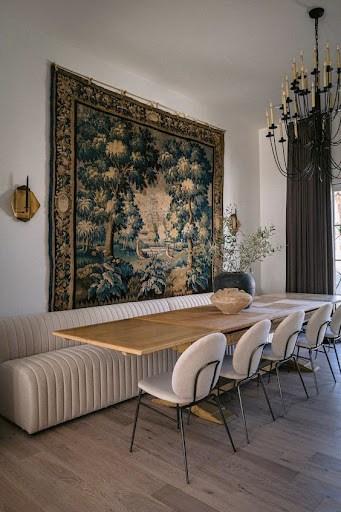 Wall coverings are all the rage in several countries! Adding an authentic rug or tapestry for your walls is such a clever way to fill in the white space! It further creates a visual focal point for every family member at the dinner table! 
Make sure the patterned fabric isn't overwhelming for the eyes. Instead, ensure that it complements the colors of the wall as well!
Simple Color Block!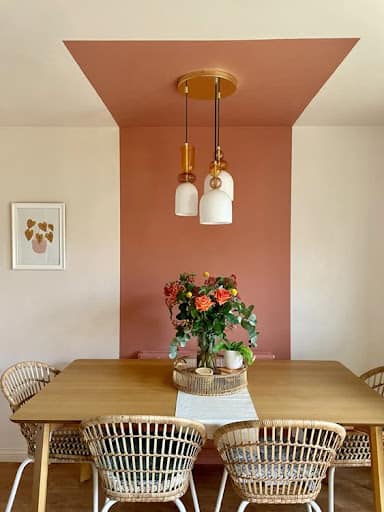 Keep it simple! Even a thick splash of color that goes along the original palette can complete the room design. Some color combinations are easy to implement while others take a little time. A dark color block over a lighter shade is a surefire feast to the eyes and a wholesome visual delight!
FAQs
Which Wall is the Accent Wall in a Dining Room?
The accent wall in a dining room is primarily the wall that is the most prominent in the space. It is often the wall that draws the most attention and adds a charming flair to your dining zone. It is always best to choose the wall behind the dining table, the wall with a large window or artwork, as your accent wall. 
But ultimately, it depends on the layout of your room and your preferences! You may choose a wall that is already a focal point, or create one by adding an accent wall. Either way, you can build a space visually interesting, and add personality to your dining room.
What Color is Best for an Accent Wall in the Dining Room?
When it's time to choose a color for your dining room accent wall – There are endless options! You must keep the overall color scheme, and your style in mind, while making your decision. Some popular options include bold colors like red, navy blue, or emerald green. 
They can form a dramatic and eye-catching look in the dining room. But instead, if you prefer a muted and understated look – Go for colors like gray, beige, or taupe! They effortlessly build a subtle and classy charm for your space.
Remember that the colors must always complement one another to create an eye-soothing effect! If you have a neutral color scheme, try adding a pop of color with an accent wall. But, if you have a bolder color scheme, choose more neutral colors for your accent wall to balance out the overall look of your dining room!