There's a reason why wood has been a go-to material in interior design for centuries now. It's warm, it's cozy, it's versatile, and it adds character like no other. And when you use it as an accent wall, it can take your space from drab to fab in no time!
Think about it, you could have a plain white wall or a stunning wood accent wall that brings a touch of nature indoors! Plus, with so many different types of wood and finishes available, a wood accent wall is versatile enough to fit any style with a woodsy charm! Long story short, whether you're a DIY expert or prefer to leave the installation to the pros, these wood accent wall ideas are sure to inspire you
Paint It!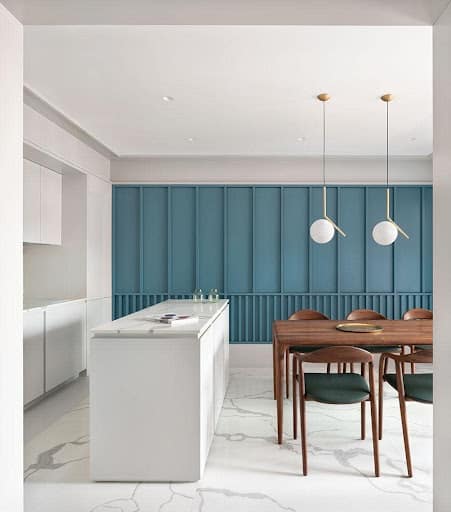 Adding color is an excellent wood accent wall idea when you are in for the woody texture but not really the color. Depending on the style you have set your heart on, test different colors to find the one that sits perfectly in your heart and mind. Go bold with a bright hue or keep it neutral with classic white or grey paint. 
Keep It Simple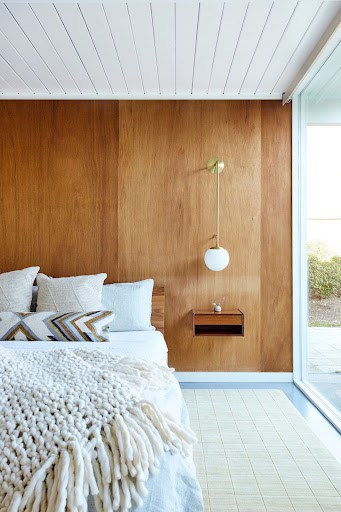 Nothing can beat the natural grain and texture of the wood. You can create a timeless look with just plain wooden planks that looks like they came straight out of the woods! And if you want some extra warmth, stain it to add character to the space.
Whether you cover an entire wall or create an accent section, a plain wood panel is just the perfect wood accent wall idea. But to avoid overwhelming the room, adding some other neutral tone like a white shiplap ceiling is the no-mistake zone you'll love!
Customize The Wood Accent Wall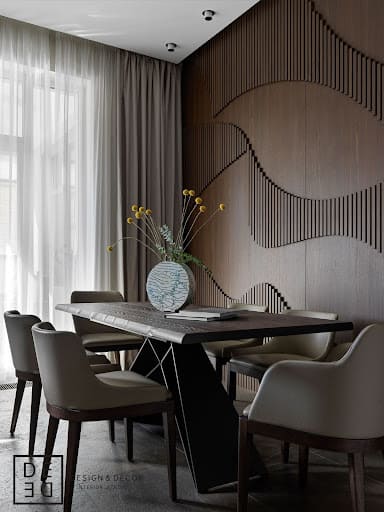 If all you want is a good amount of texture, this is the one for you. Patterned wood accent walls are unique in that they can be customized to fit any design style. So why not try something new and create a stunning feature wall in your dining room that will have you swooning? 
Use Wall Panels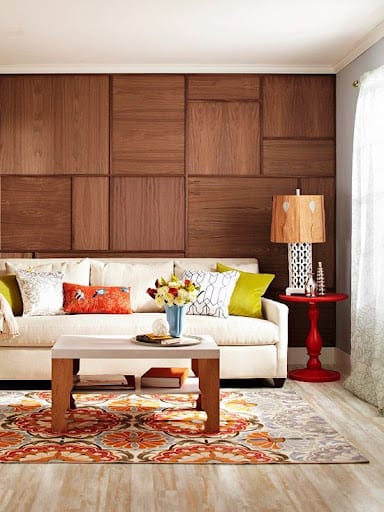 A wood panel accent wall idea can come to life in just about any room of the house. Whether you want to create a cozy bedroom retreat, add some warmth to a living room, or make a statement in your entryway, a wood panel is versatile enough to do them all! And it will compliment all sorts of furniture or décor, so you can always get this with no second thoughts! 
Try A Slat Wall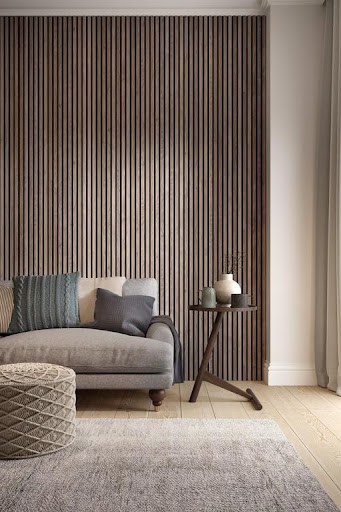 Slat walls are a trendy and versatile option for creating an eye-catching feature in any room of your home. With their clean lines and modern aesthetic, slat wall panels can bring some sophistication to any space! 
They are best when you don't want to hang any unnecessary art on your walls and still want some texture. They add sophistication without clutter.
Make It All White!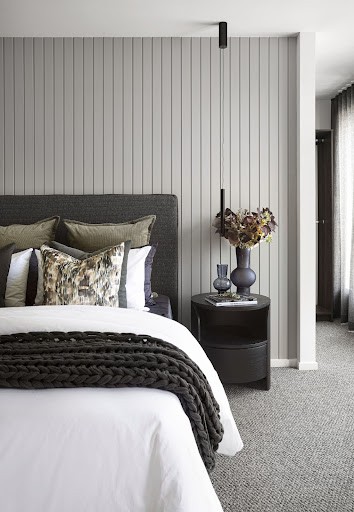 The neutrality of the wooden white accent wall can make it easy to incorporate into any existing design scheme. Whether you go for a classic shiplap look or something a bit more intricate, like a chevron pattern or a herringbone design, a white wood panel accent wall can create a focal point that can draw your attention, subtly. 
Go For A Rustic Vibe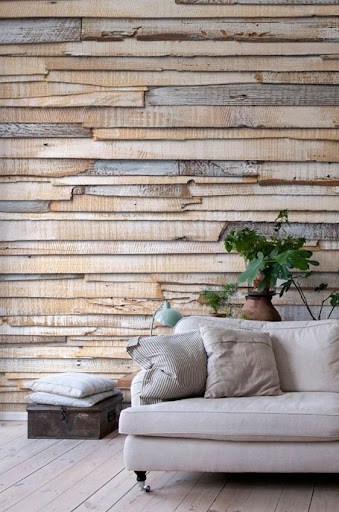 Add a touch of rustic charm to any space, by using reclaimed wood for paneling. It'll give off really woody vibes and they're also an eco-friendly option. Give new life to old wood! Whether you're using it as an accent wall in your living room or bedroom, or as a backdrop for your dining room table, it's sure to make a statement. 
Use Shiplap Panel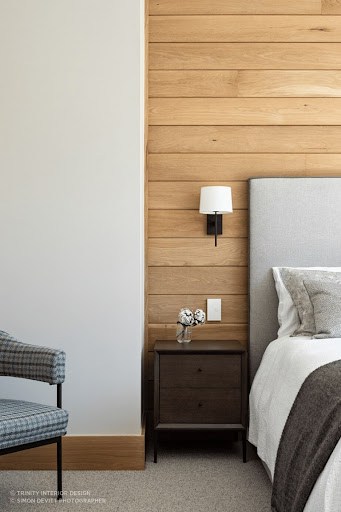 The trendy shiplap design element is popping up in homes everywhere, and it's not hard to see why! It has a clean and classic look that can be used in a variety of design styles, from coastal to farmhouse and even modern. 
Not only are shiplap walls visually appealing, but it's also effortless to install (and easy on your pockets!). Shiplap is a great DIY project for those who love creativity and hands-on experience. 
RELATED: 23 Serene Shiplap Bedroom Wall Ideas You'll Save!
go For The Herringbone Pattern
Herringbone is one of the most common design trends that you can find on the internet, and it just never goes out of style! The pattern resembles the bones of a fish, hence the name herringbone. It is eye-catching and makes a great wood accent wall idea. It works equally well in modern or traditional settings and can be stained or painted to match any decor.
Add Some Shine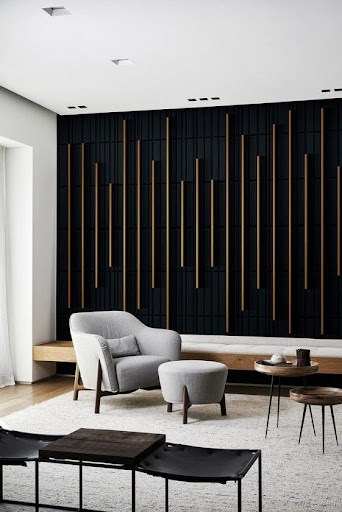 I am not going to lie when I say this but this is the epitome of luxury. Wood combined with the shimmering gold accents is unmatched, elegant, and chic. This can give your space a complete makeover! To create a unique look, paint over your wood, and add gold accents to highlight the black accent wall.  
RELATED: 15+ Ideas To Add A Black Accent Wall In The Bedroom!
Create A Chevron Wood Accent Wall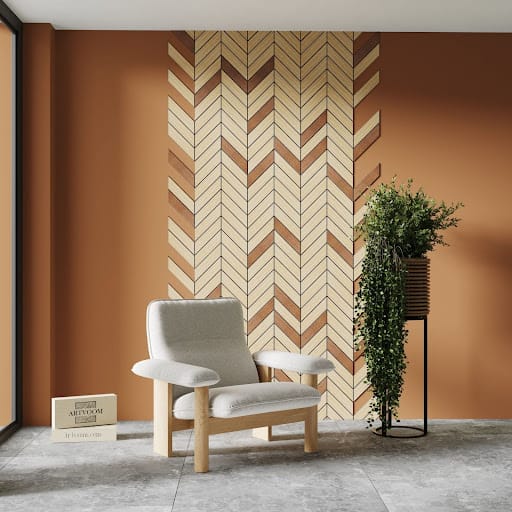 Chevron- a trendy and stylish design is a modern take on the classic herringbone pattern. This pattern creates a sense of movement and depth to keep the place from being too boring and bland, while the natural wood adds warmth and texture to your walls. It is the perfect wood accent wall idea if you want to make the wall the focal point of your room.
When you have a highly patterned wall like Chevron or any other in general, it's important to keep the room decor minimal. It'll keep the overall decor from looking overwhelming and create balance.
Some Dark Wood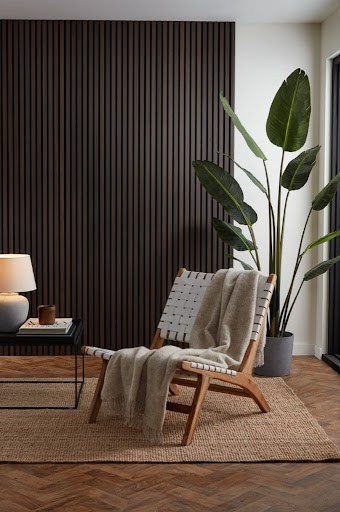 Dark wood paneling pairs beautifully with a variety of decor styles, from rustic to modern. If you want to add some drama to your space, dark wood paneling can do the trick.
To balance the dark and heavy feel of the wood, consider adding lighter elements such as white or cream-colored furnishings or light-colored decor accents. 
Accent Wall With Light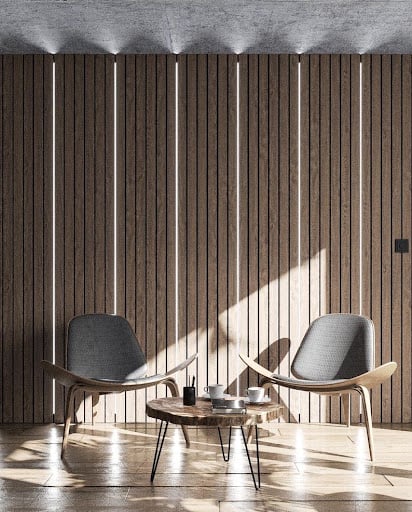 A wall treatment with lights combines the warmth and texture of natural wood with the soft glow of integrated lighting to create a truly stunning effect. You can also experiment with different lighting types and arrangements to create different moods and effects, such as spotlights, backlights, or hidden lighting. 
Accent Wall With Perforations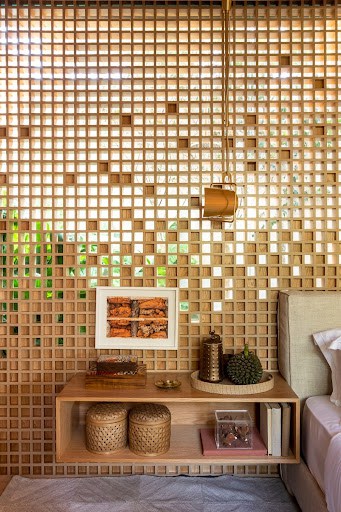 A wall with perforations like this wood accent wall idea can create a stunning visual effect by allowing light to shine through and cast interesting shadows on the surrounding surfaces. There are plenty of practical benefits too- the perforations allow for better airflow and natural light to flow through the wall, which can help regulate the temperature and brightness of the room. Plus, it can help with acoustics by absorbing sound and reducing echoes.
Add Some Contrast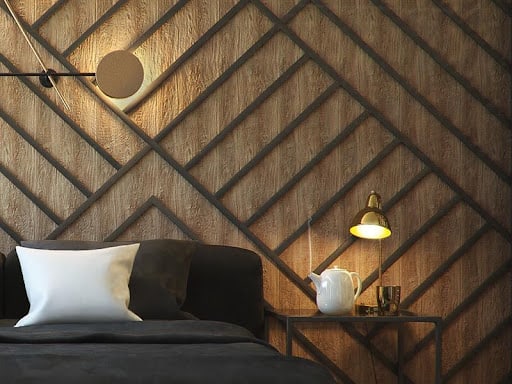 Take your wood accent wall up a notch by adding contrasting elements. One way to add contrast is to mix wood tones – using a darker wood for the trim or paneling and a lighter wood for the wall. This creates a striking visual effect that highlights the natural beauty of the wood grain. Or if you want a cheaper option, just paint it! 
Log Wood Accent Wall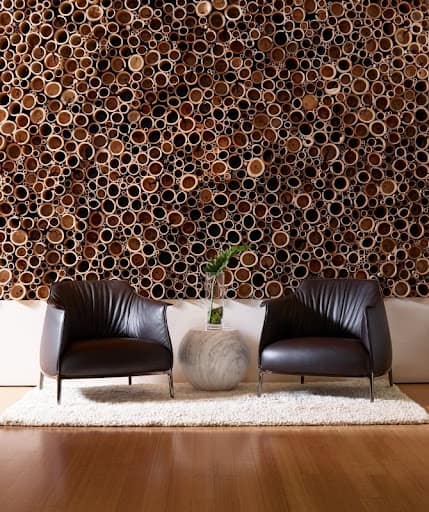 Infuse your walls with some logs to add some ruggedness to your space and avoid blandness- consider adding some contrast to it. You can get that by pairing your log wall with furniture or decor that has a different texture or color. This style particularly works best in rooms with minimal or streamlined furniture.
Artsy Wood Accent wall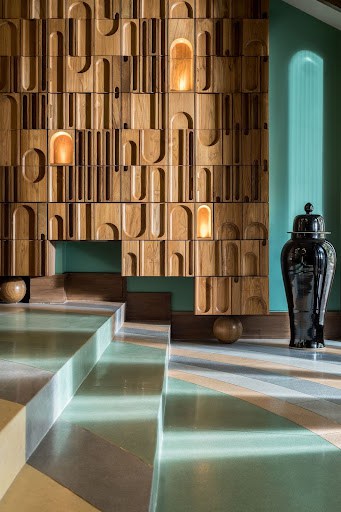 What if I told you you can make the most of your wall with lights and patterns? You can turn your whole wall into a work of art. Whether you go for a bold geometric pattern or a more subtle and organic design, an art wood accent wall idea is worth the effort (okay, my bad! money.)
FAQs
What type of wood is best for accent walls?
When it comes to choosing the best wood for an accent wall, there are a few factors to consider. you'll want to choose a wooden material that is durable and can withstand the test of time (Like reclaimed barn wood, cedar, pine, and oak).
Reclaimed barn wood is a great choice if you're looking for a rustic, farmhouse vibe. It often has a weathered, aged look that can add character and charm to your space.
Cedar and pine are both lightweight and easy to work with, making them a popular choice for DIY projects. Cedar has a beautiful reddish-brown color and a distinct wood grain, while pine has a softer, lighter color and a more uniform grain pattern if you want a minimalistic look!
If you're looking for a more classic and timeless look, oak is a great choice. It's a dense and durable hardwood with a beautiful grain pattern that can add warmth and elegance to any room.