Side tables may seem like small and unassuming pieces of furniture, but they play a crucial role in a room's design and functionality. Just like the supporting cast in a movie – Side tables secretly enhance the overall performance of your space! These tiny titans serve as both functional and aesthetic elements, making them an indispensable part of any well-designed room. 
Side tables provide a practical purpose, serving as convenient landing spots for essential items. But they aren't just utilitarian workhorses! They have a huge potential for visual composition in a room. Imagine side tables as your decorating playground where your creativity has no limits. The way you style these pieces can entirely transform your room's character. 
From elegant sophistication to a whimsical charm – Your side table décor ideas speak volumes about your personal style and taste! So, next time you're decorating, remember to give your side tables the spotlight they deserve! It's time to bid farewell to the boring, and greet the fabulous world of side table décor ideas!
21 Side Table Décor Ideas
Add A Lamp Shade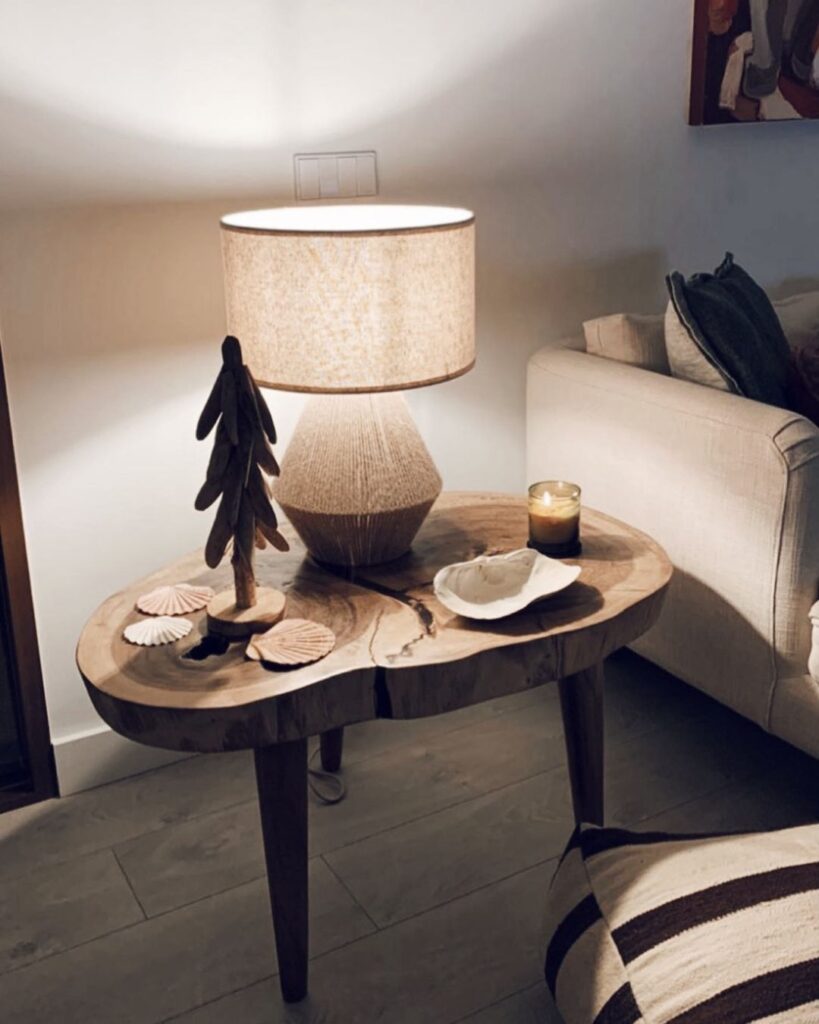 Place a simple decorative table lamp with an elegant shade for both functional lighting and aesthetics! You can even pair it with figures that add more shadows, as an accent table décor with the lamp. 
A well-chosen table lamp can set the perfect mood, enhancing a cozy ambiance with an artistic statement. Just with the flick of a switch, your side table can transform any stark room into a warm and inviting sanctuary!
Decorate With A Stack Of Books!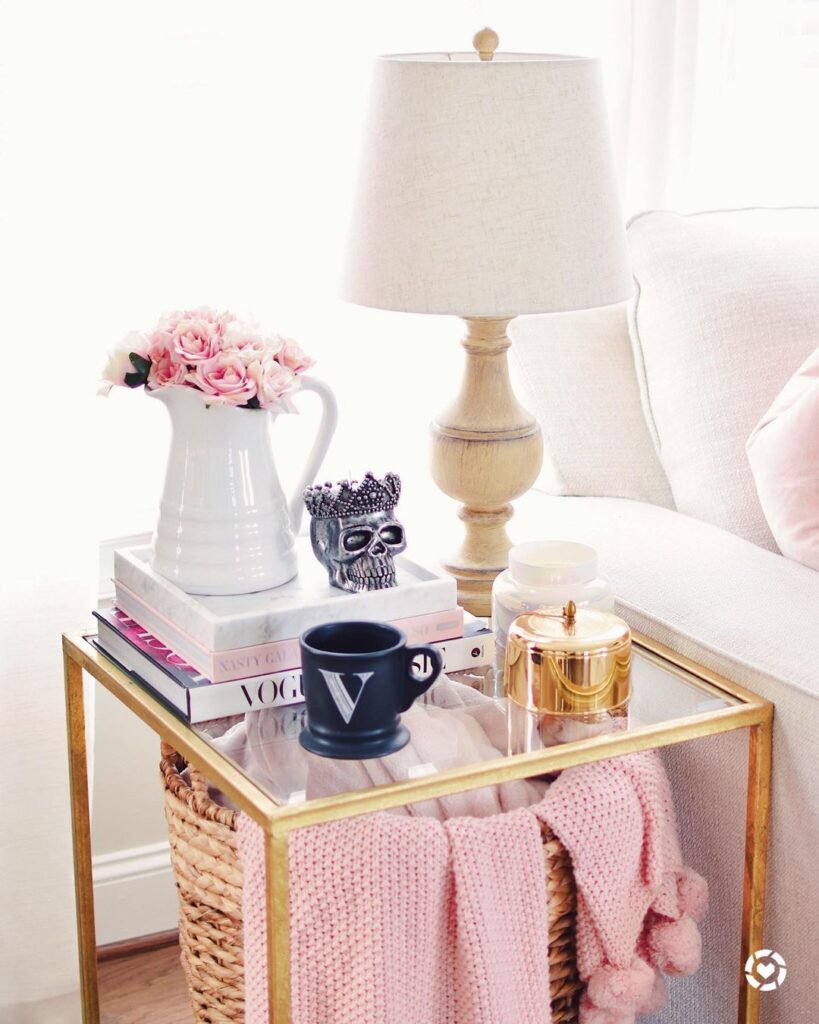 One common end table décor idea is books. Yes! Oh, books – your forever friends. Arrange a stack of your favorite fashion books to add height and interest! Go ahead and turn your side table into a cute mini library. 
From the coffee table glossy books to literary classics – Books are not only for reading but also for flaunting your impeccable taste in literature! Let your side table make this statement about your love for reading and style. 
Try Picture Frames!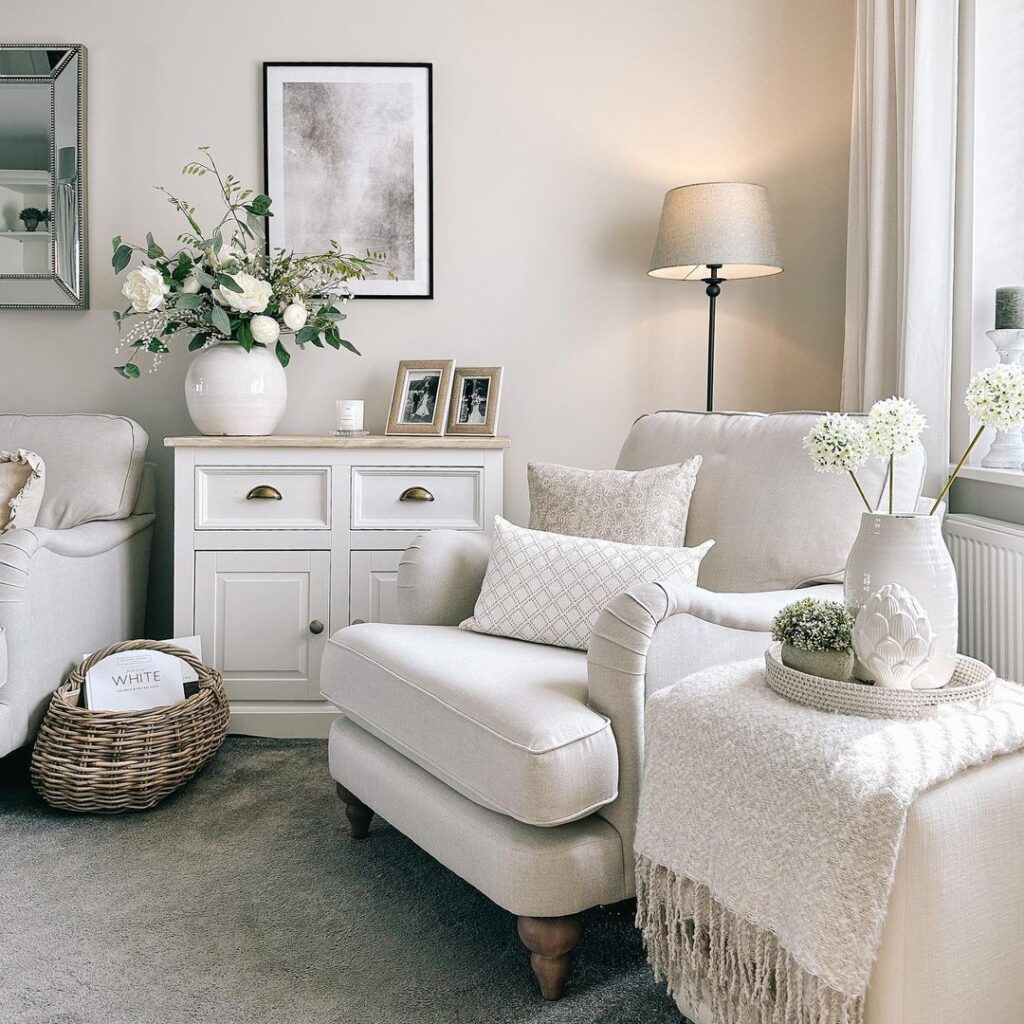 Display your cherished photograph or a gallery of framed pictures! Side tables present an opportunity to showcase your prized possessions and tell your unique story in your own way. 
A carefully curated display of personal mementos, beloved books, or favorite décor items can turn any ordinary side table into a captivating conversation piece!
Fresh Flowers Are No-Brainers!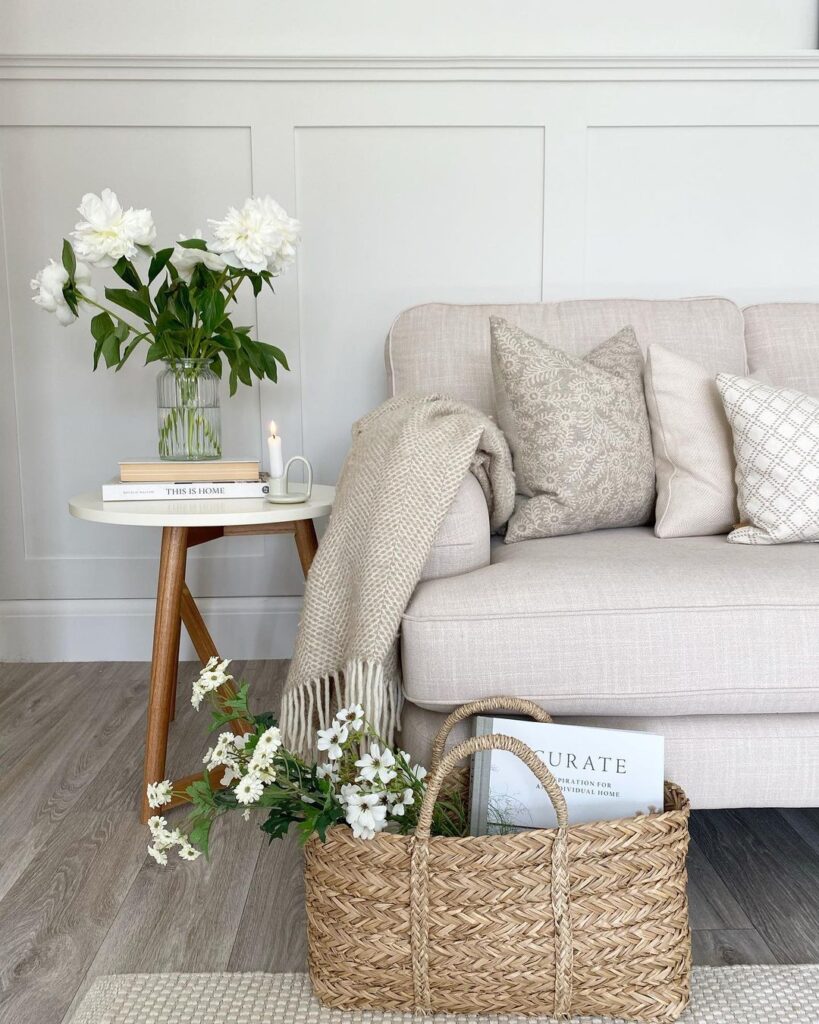 You can place a small vase with fresh flowers to add a touch of nature and color! Fresh flowers on a side table are a sure-shot way to bring lively beauty into your room. For a simple and elegant look – Consider a single-stem flower in a sleek bud vase. 
To add more drama and fullness, you may opt for a bouquet of mixed blooms with varying heights and textures! You can also pick a classic centerpiece of roses to exude romance and sophistication. Want a more rustic charm? Play with wildflowers or seasonal blooms in a mason jar.
Pro Tip: Don't be shy to experiment with different colors and flower combinations to match your room's décor and style! After all, your room must be all about YOU. 
Place A Sculpture Or Art Piece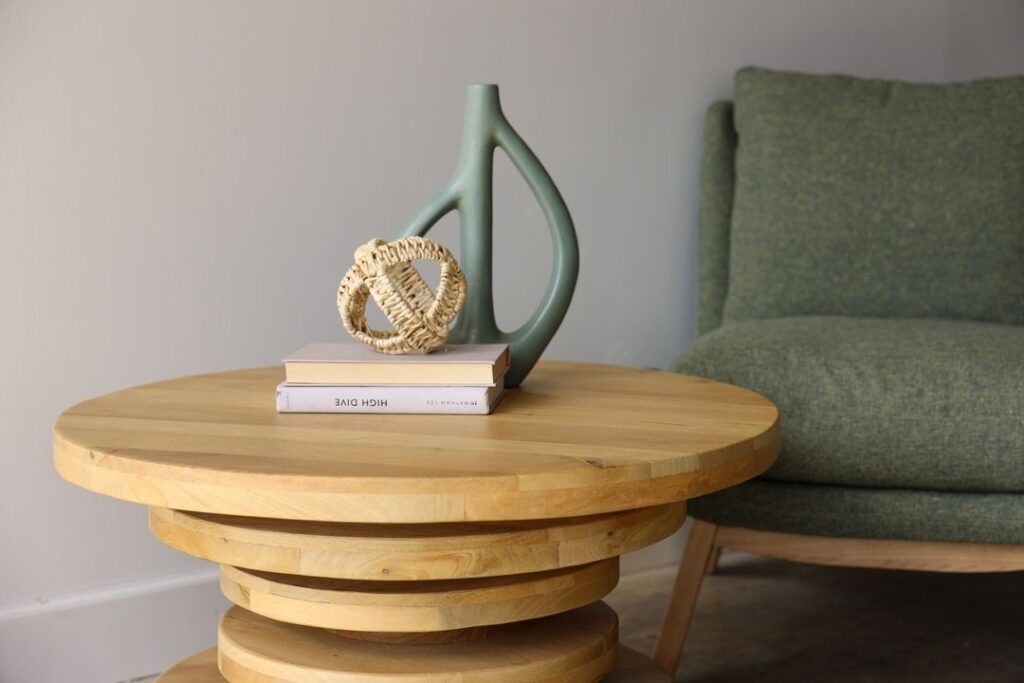 A unique sculpture or art piece is a great element as a focal point, and to elevate the style quotient of your room! A small and striking sculpture can become the centerpiece while drawing attention and sparking curiosity. Its elegant curves or bold lines add an artistic flair that can light up the entire space.
An art piece with intricate details or unique textures adds a tactile exploration, engaging not just the eyes but also the senses! Whether it's an intriguing abstract sculpture or a delicate figurine with sentimental value – An art piece on your side table becomes a showstopper, reflecting your taste and passion for creativity.
Adorn With A Decorative Bowl Or Tray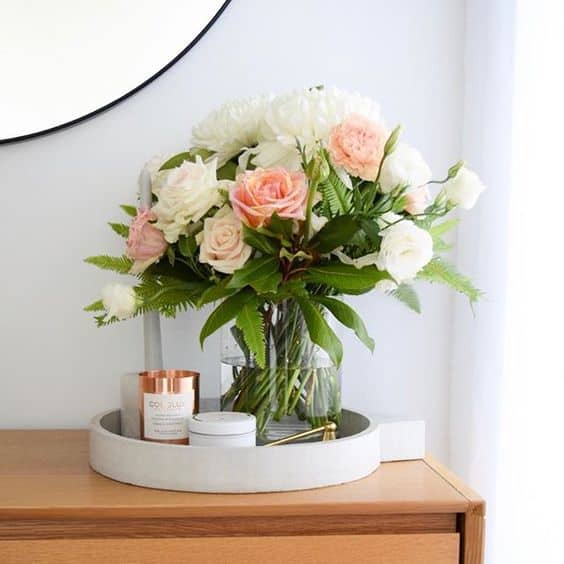 You can use a decorative bowl or tray of corral smaller items like keys, coins, or remotes for easy access! Just like an end table with a lamp – The tray can hold your glasses, mobile phone, or even crockery for your evening cup of tea. This quirky element also acts as the perfect bedside table décor. 
Place Scented Candles!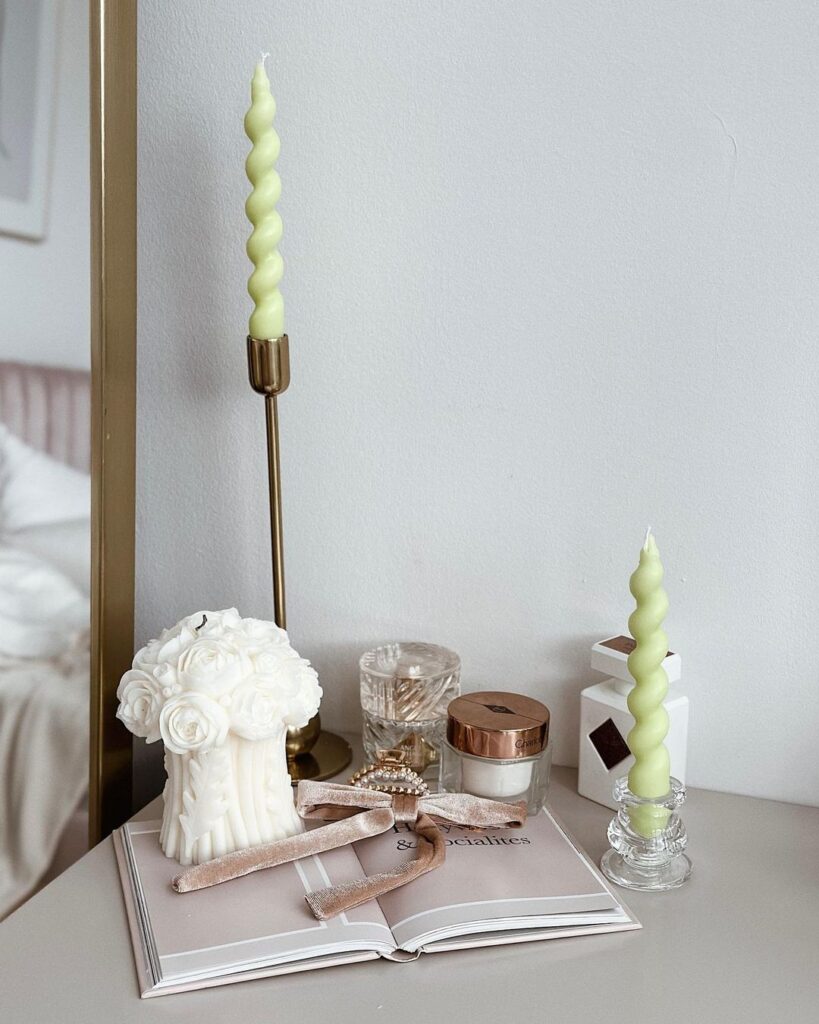 Bring some scented, decorative candles for ambiance and warmth among your corner table décor pieces! The soft glow of a candle can instantly create an inviting atmosphere, setting the mood for peaceful moments. 
Whether scented or unscented – Candles on side tables enhance the air with a subtle fragrance, adding an extra dimension to your senses. They also serve as a stylish element, with a range of candle holders available to match any décor theme!
Design With Coasters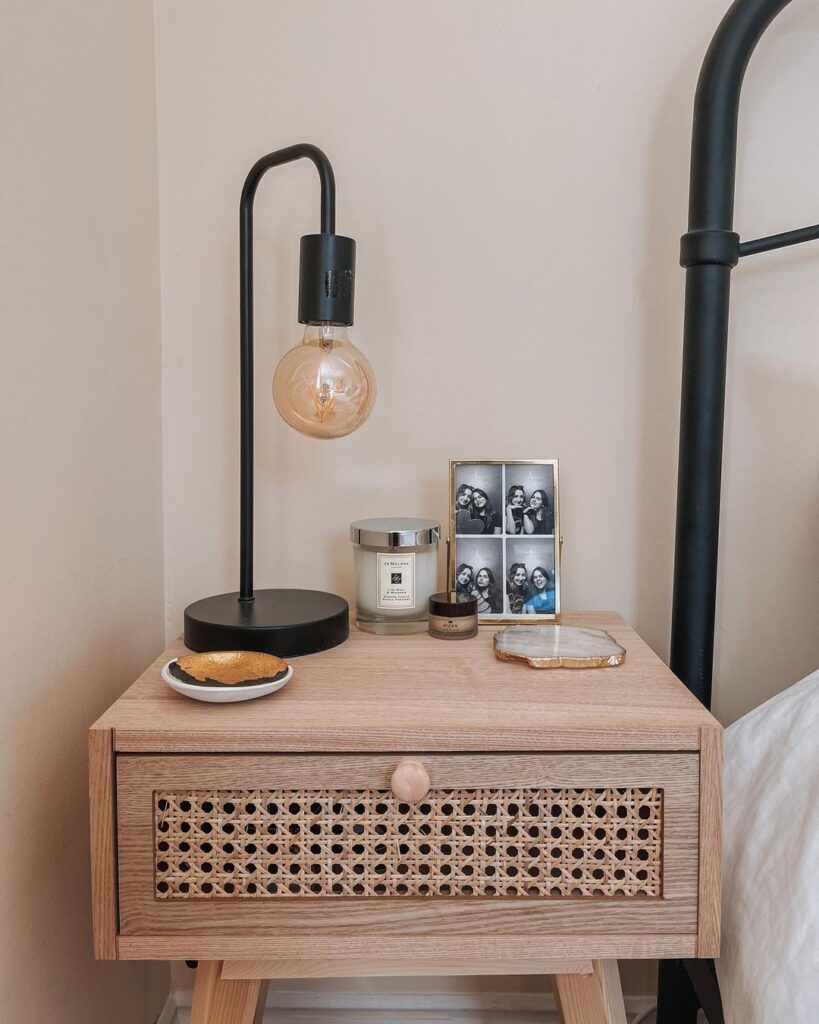 Are you having a shortage of space and need a small side table décor idea? Don't worry! You can display some stylish coasters for practicality and the table's surface protection! Despite their small size, the coaster has a significant impact. These underrated accessories are the unsung heroes of furniture protection. 
They safeguard your table's surface from water rings, and scratches, and act as a functional addition to any living space. These are available in a variety of materials, colors, and designs, and they can easily complement your room's décor while adding a touch of personality. These little guardians ensure that your side table remains neat and clean, as you enjoy your beverages without any worry!
Place Potted Plants!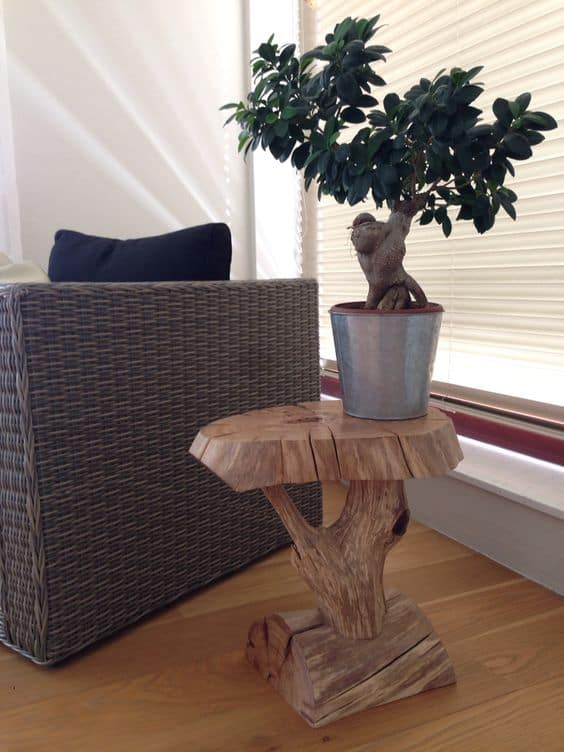 It's time to add a touch of nature into your living space with a botanical side table décor idea! Just bring some greenery indoors with a small potted plant or succulent. Among other plants – Bonsai steals the spotlight with its miniature allure and ancient artistry. A bonsai placed gracefully on a side table can build a captivating focal point, grabbing the essence of a vast tree in a mini form. 
It has pruned branches and delicate leaves that add tranquility and elegance. You'll find yourself transported to a peaceful and meditative state, as Bonsai makes a perfect companion for moments of self-reflection. It simply turns your living room into a Japanese-inspired one!
A Decorative Clock Is Great!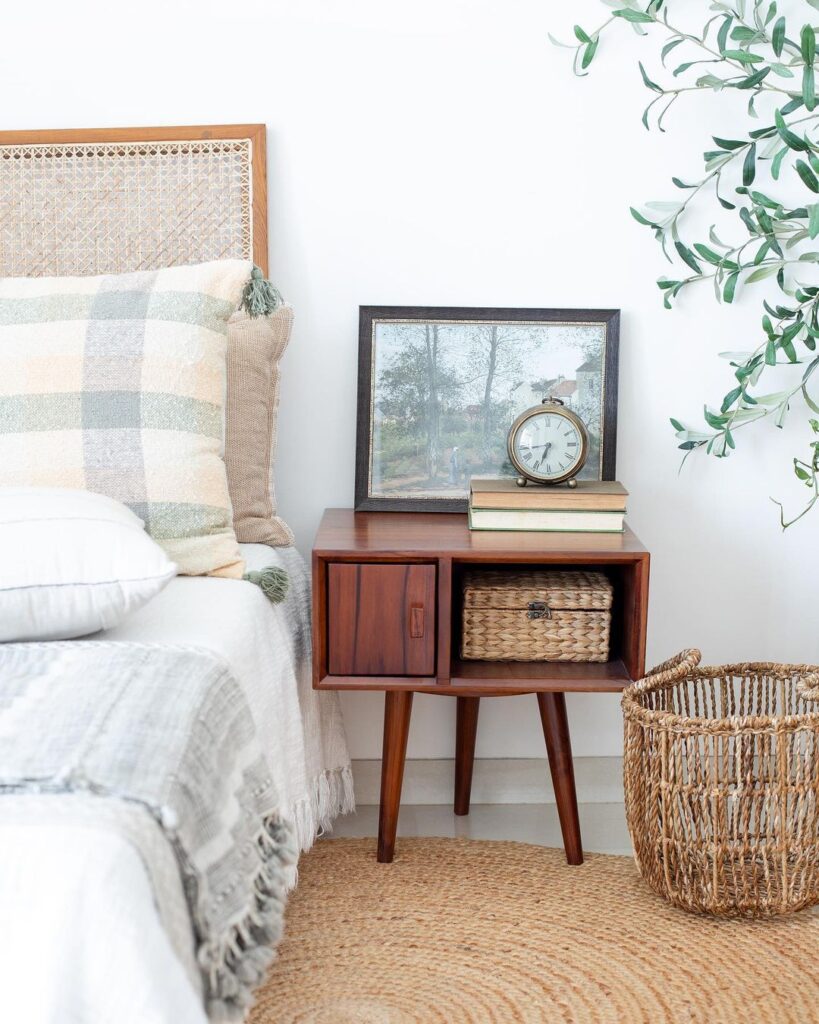 How about a decorative clock that complements the table's style? Beyond its practical purpose of telling time – A well-chosen clock can become a focal point with an artistic statement. 
There are options like a vintage-inspired timepiece with intricate details, or a modern, minimalist design. A decorative clock is all about adding sophistication to your side table!
Put Some Reed Diffusers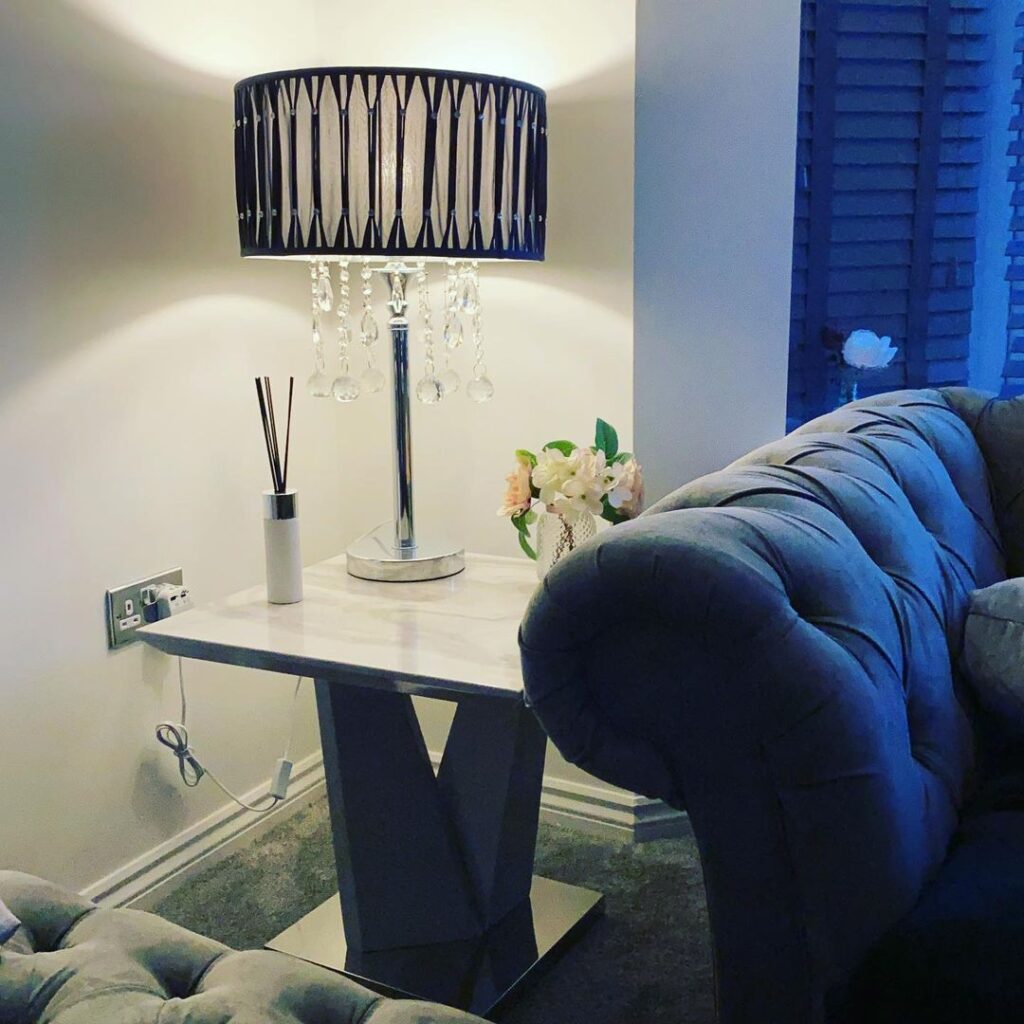 You may add a diffuser to invite a pleasant fragrance all around your living room side table! These small wonders silently disperse essential oils, infusing the air with soothing fragrances that can shift the mood of any room.
Placing a diffuser on your side table allows you to enjoy the benefits of aromatherapy while adding a stylish touch to your décor. It also has various designs and shapes available. So, you can effortlessly match the diffuser to your room's theme, making it another practical and aesthetic choice!
Embellish With Decorative Figurines!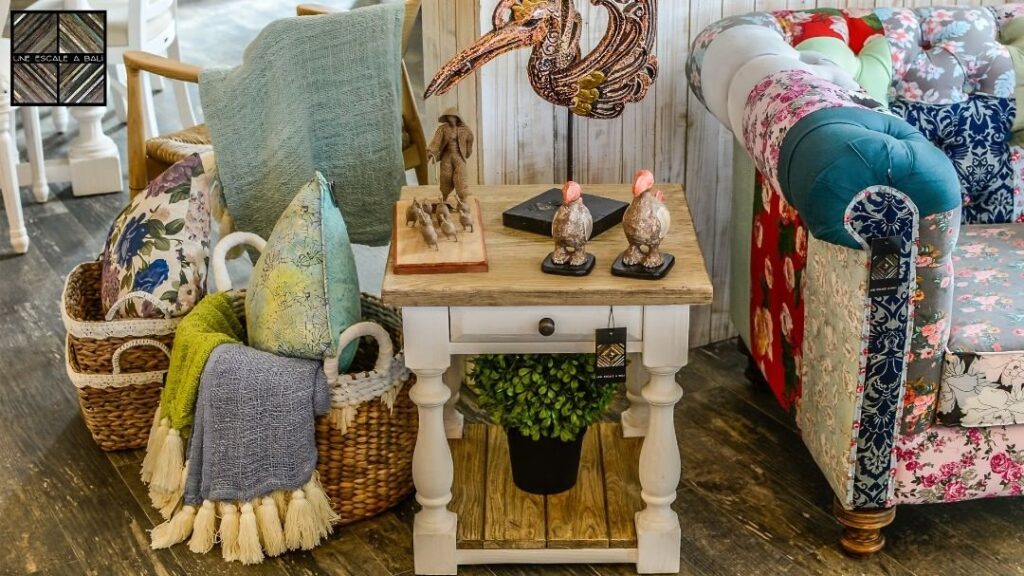 It's time to let your creativity run free with this eclectic side table décor idea! Display small figurines or statues that match your décor! These small sculptures come in various forms – From adorable animals and enchanting fairies to classic statues and abstract art pieces!
These little figurines can make your guest go, "Are we in a museum?". The real beauty of decorative figurines is their ability to tell a story or evoke emotions through their artistic craftsmanship. So go browse your local thrift store right now!
Make It Stand Out With Decorative Bookends!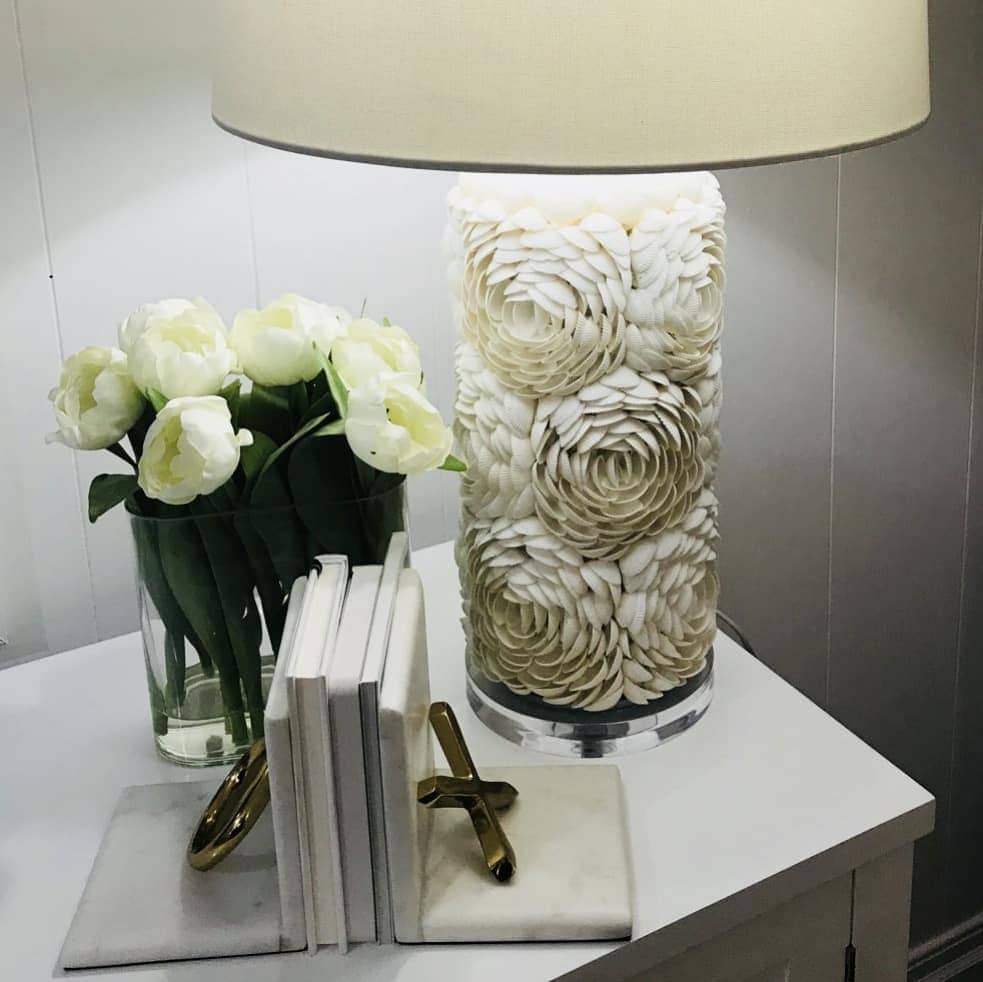 Stylish bookends are great for holding your books upright and adding a decorative flair to your side table décor idea! These creative accents not only keep your favorite books organized but also make a statement about your unique taste.
They can be metallic bookends for a modern touch, animal-shaped ones for playfulness, or even elegant marble bookends. There's always an option to suit every décor theme. These elements uplift your side table décor idea, turning it into a curated display of your literary adventures. They also effortlessly enhance the overall aesthetic of your space. 
Display A Trinket Dish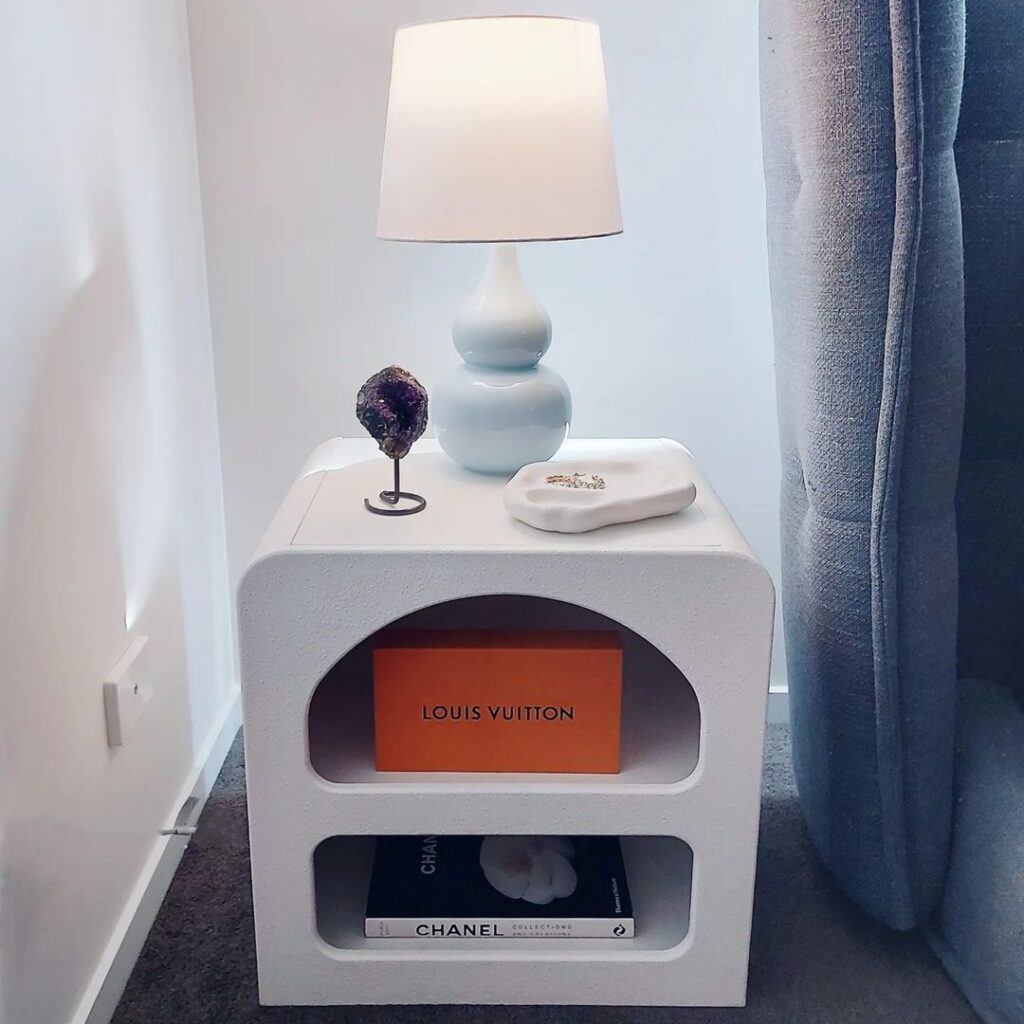 A trinket dish can be used to hold jewelry, pairing it with a stylish lamp for an enhancing side table décor idea! The trinket dish is a charming catch for tiny treasures like jewelry, spare change, or other small items, adding a flair of organized practicality.
Meanwhile, the glistening crystals can be an attractive focal point, reflecting light and infusing the space with a magical allure. The combination of a trinket dish with a crystal accent ties up functionality and beauty. Together, they elevate the side table into an interesting corner that delights every eye!
Try Framed Mirrors!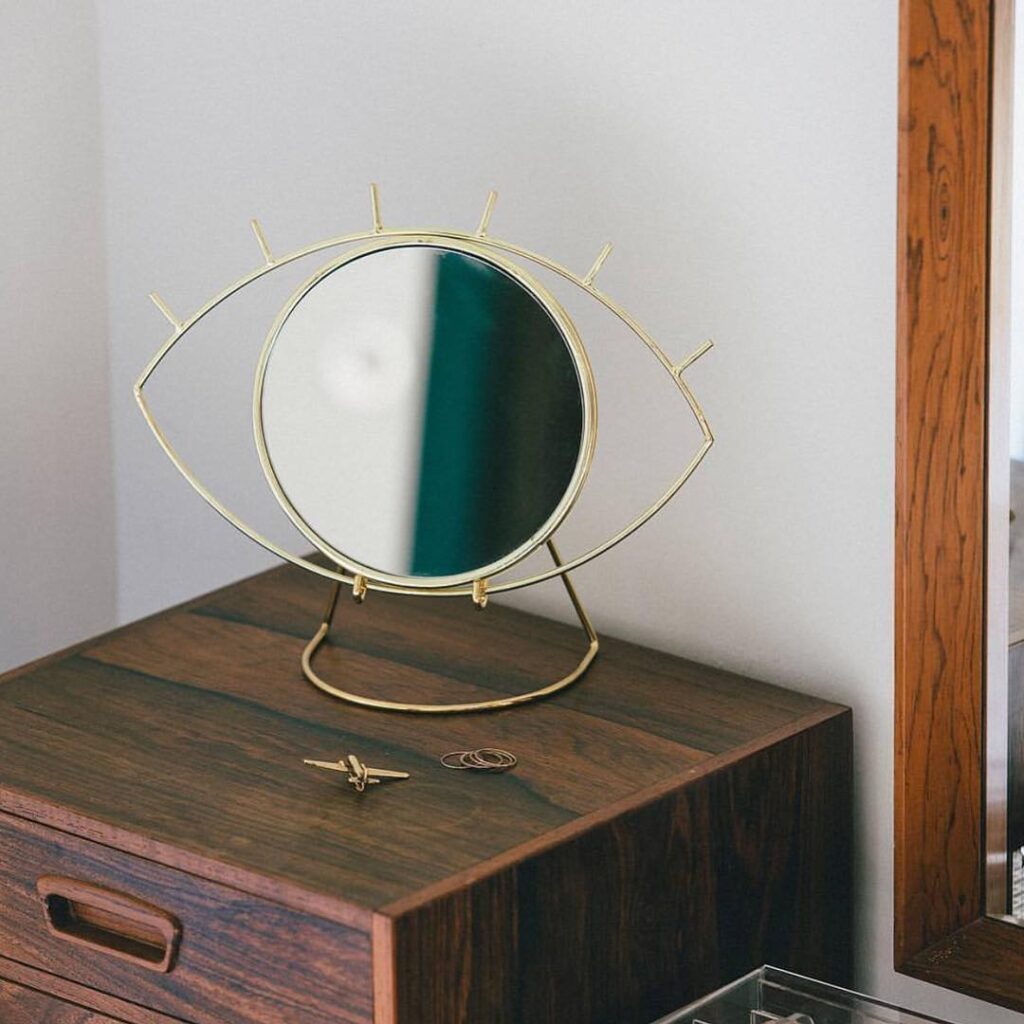 Hanging a small framed mirror above the table can create the illusion of more space! You can place a stylish mirror on the side table that not only serves a practical purpose but also adds a sophisticated look. The mirror reflects natural light that brightens up the space while creating the illusion of a spacious area. 
It also offers a convenient spot for a quick glance before heading out the door for a last-minute touch-up! You can choose the mirror frame to match your décor theme. It could be either a sleek design or a classic ornate frame for a vintage touch – The choice is yours!
Go For Art Prints And Posters!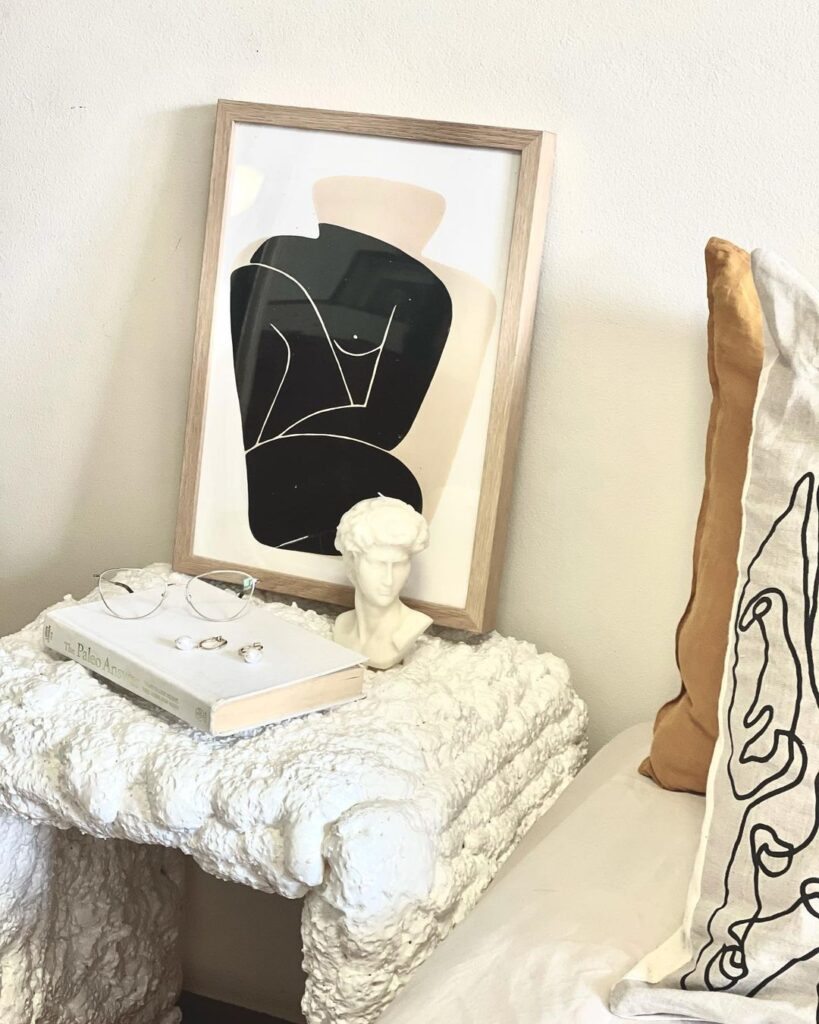 Looking for more creative ways to spruce up your table? This side table décor idea has got you covered! Go ahead and frame an art print or poster that complements the theme of your room!
Whether it's a striking piece of modern art, a vintage travel poster, or a motivational quote – This framed artwork will become your gorgeous focal point! The side table provides the perfect surface for flaunting your favorite print while adding visual interest to your room décor.
Opt For Woven Baskets!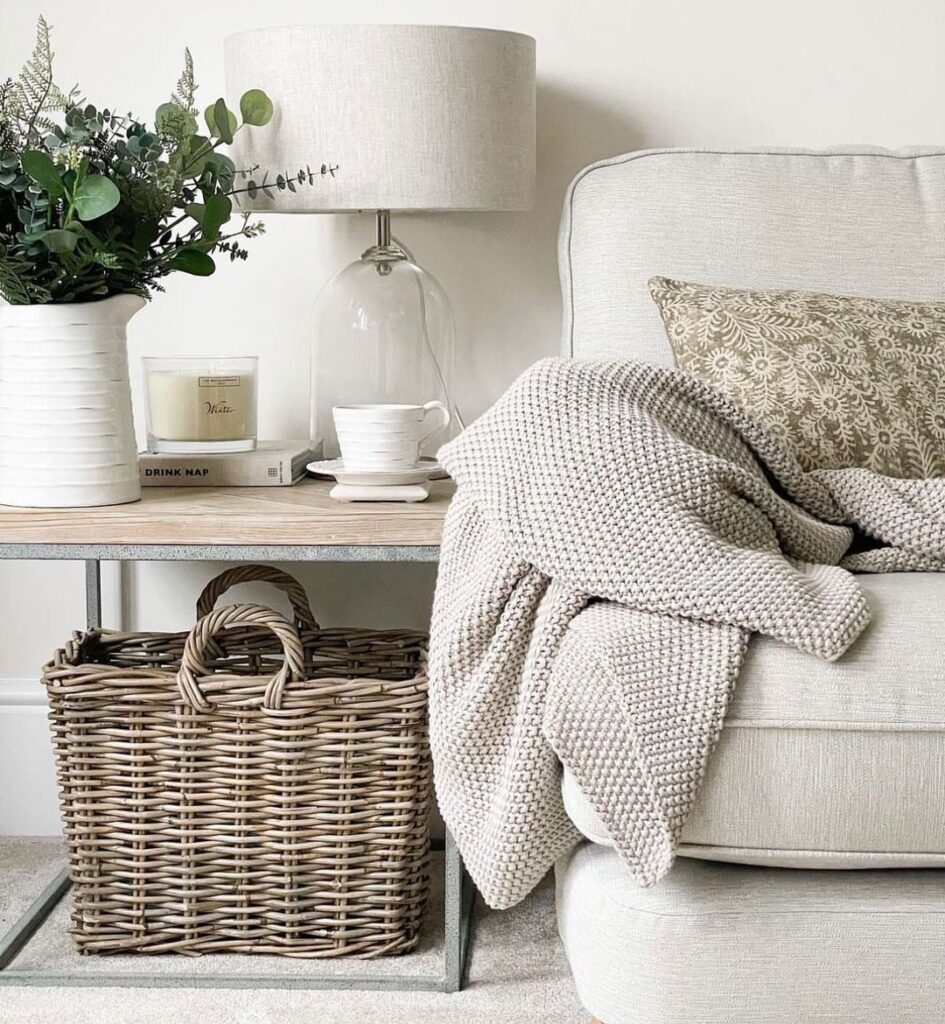 Incorporate a coastal theme into your home with this beachy side table décor idea! You may use a woven basket to add texture and store your magazines, and blankets. A woven basket has a rustic appeal that instantly adds warmth and texture to any room! This multifunctional accent piece serves as both a decorative element and a practical storage solution.
The woven texture of the basket goes well with a variety of décor styles – From the bohemian to the farmhouse. Even the neutral tones easily blend with any color scheme. You can simply place them anywhere – living room, bedroom, or even an entryway. After all, a woven basket on a side table brings a new flair of earthiness unlike any other! 
Utilise Vintage Items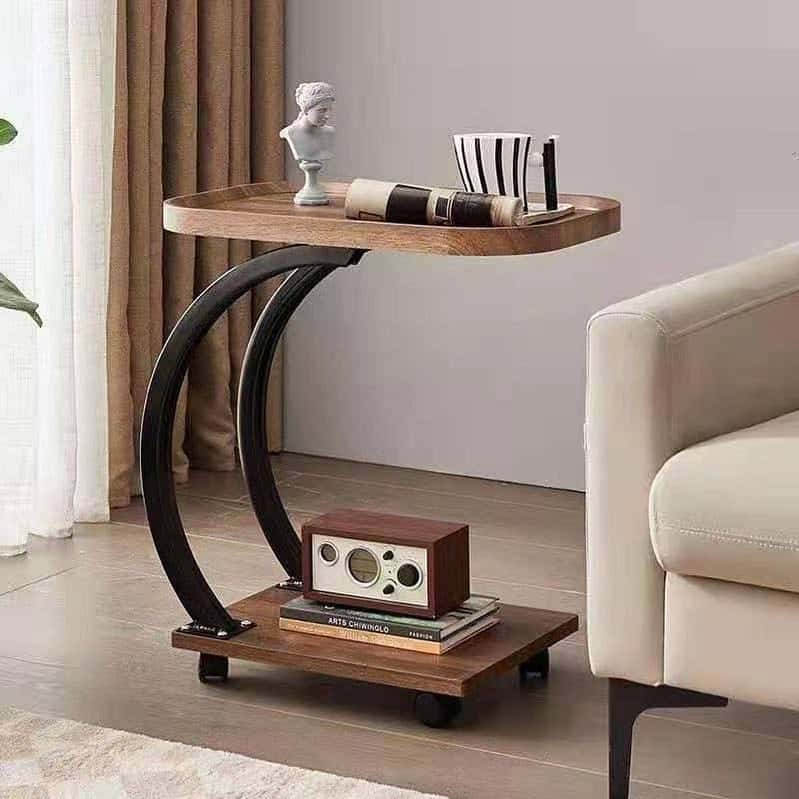 How about a vintage-inspired side table décor idea that also showcases antique items like old cameras or globes? An intricate vintage clock can be more than just a time-teller! A classic vintage vase can showcase a bouquet of freshly cut flowers, exuding nostalgic elegance. You can bring an ornate brass candlestick holder as well that can infuse your space with a historical tale. 
What about the classic old radio? Its wooden exterior, artful dials, and intricate details can take you back to a time when technology was crafted with care. So, let your guests indulge in reminiscing about simpler times when families gather around the radio for entertainment!
Pick Decorative Tissue Box Covers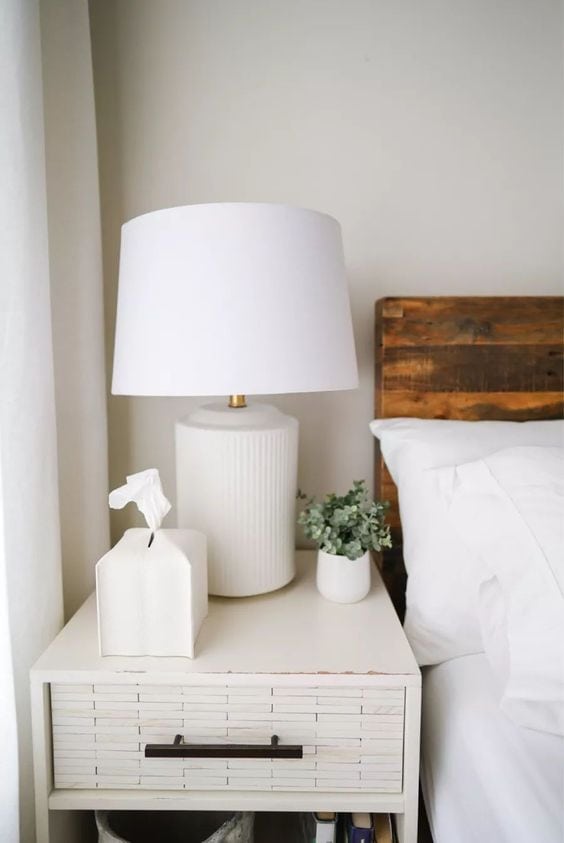 Let's play hide n' seek! You can playfully conceal a plain tissue box with a decorative cover that matches your style. Decorative tissue holders come in a variety of chic designs, from sleek metallic finishes to charming patterns that can complement your décor.
Now, you can worry less about the unsightly tissue packs and welcome a refined touch to your living space! This small addition not only keeps your tissues within easy reach but also elevates the overall aesthetic of your side table!
Beautify With Seasonal Décor!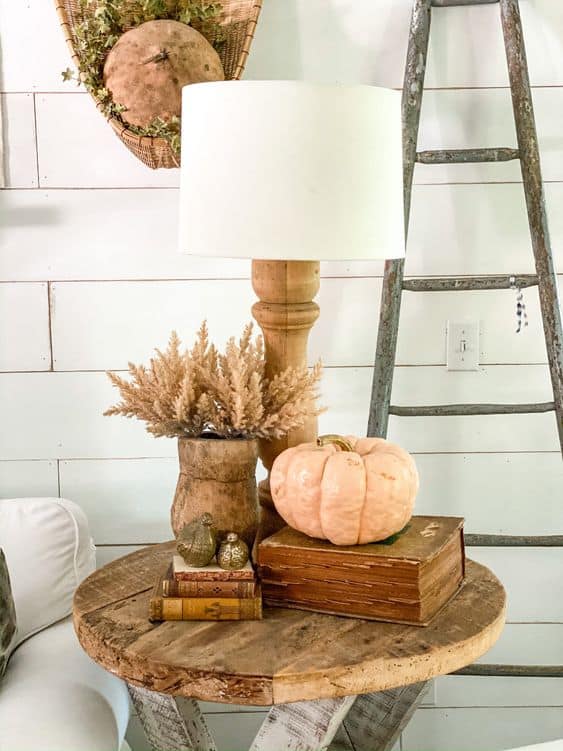 Wondering how to revitalize your table? This side table décor idea is here to inspire you! Just change your table décor along with the seasons like festive items for holidays. Just like this fall-themed table right here!
For the blooming spring, you can get a vase of colorful tulips while replacing them with beach-themed accents like seashells and starfish for a summer vibe. You can go for mini pumpkins and gourds for fall, and finally add snow globes and fairy lights for the wintry Christmas season decor. Not to mention other holidays and festivals. 
Pro Tip: Seasonal side table décor not only celebrates the passage of time but also adds joy and charm to every corner of your home. So, have fun experimenting with this seasonal decor idea throughout the year! 
Enrich With Personal Items!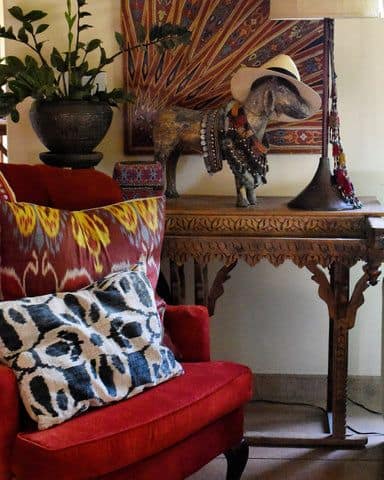 Finally, you can add personal elements like souvenirs, adorable figurines from travels, or handmade crafts! Forget about matchy-matchy, and embrace the art of mix and match. 
Combining various elements may seem unconventional, but it's exactly what will make your side table a unique and exciting focal point. So, go bold or go home!
Pro Tip: Your side table is the perfect spot to showcase your favorite tiny treasures. Bring whimsical magic with the cute and quirky décor pieces that make your heart sing. Because let's be real – there's no such thing as too many cute trinkets!
FAQs
What To Ideally Put On A Side Table?
The items you should ideally put when decorating a side table depend on the purpose and location of the table. Some common items include:
Table Lamp: Provides both functional lighting and ambiance to your room.
 Tray or Dish: It can be used to store smaller items like keys, jewelry, or loose change while keeping the table tidy.
 Clock: This can be used for both practical and decorative purposes, especially if you often use the side table as a spot to keep track of time.
 Tissues: Consider keeping a box of tissues handy on the side table for convenience.
 Personal Touches: Add a small photo frame or a sentimental item that holds special meaning for you.
 Notepad and Pen: If you use the side table as a spot to jot down notes or ideas, a notepad and pen nearby can be quite helpful.
How Do You Arrange Side Tables?
Arranging side tables in a room requires careful consideration. To effectively arrange side tables, you need to be mindful of the following: 
1. Your room's layout
2. The furniture placement
3. The purpose of the side tables
4. Balance and symmetry
5. Proximity to the seating
6. Height and Size
7. The complementing style to the surroundings
8. The room's traffic flow
9. The surface area of the side table
Ultimately, the arrangement of side tables should reflect your personal style and the way you use the space. You can experiment with different placements and configurations until you find the one that suits your preferences!