The artistic term "Boho" has been all over the internet for a while now. Certainly, for all good reasons, of course! I'm pretty sure you would've encountered this term while scrolling through your Instagram feed on a lazy day. 
This colorful style can complete your living room decor while expressing a playful aesthetic along with a free-spirited vibe! As the name suggests, Boho is an alluring amalgamation of elements like vivid colors, beautiful textures, and bold patterns. This could make anybody go head over heels for this intriguing design. 
Trust me on this, and your guests won't stop coming back! From reading the morning newspaper to playing board games in the evening – The living room naturally draws in every family member together. Creating a boho-design living room is something you won't ever regret! So, let's look into some of the gorgeously cozy boho living room ideas for your upcoming home makeover!
17 Boho Living Room Ideas
Lots Of Colors!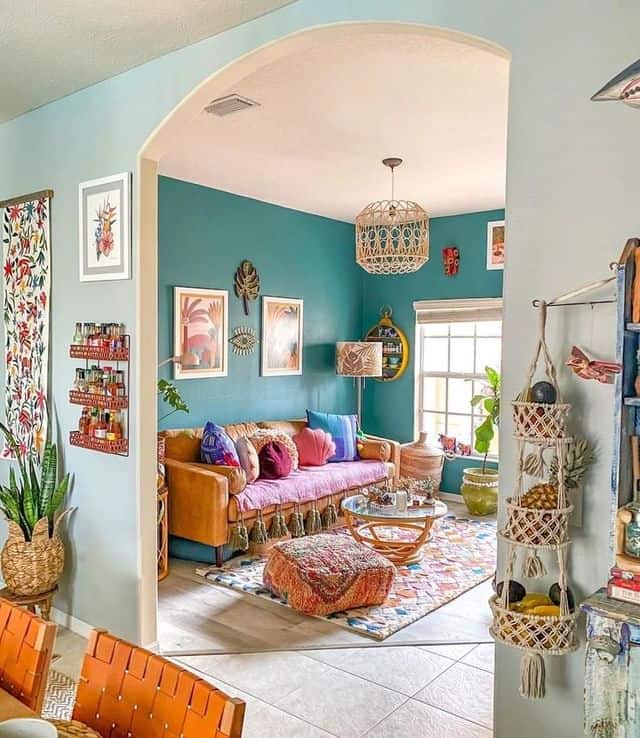 Wanna kickstart your bohemian room decor? Remember to throw some neutral earthy tones, which will speak volumes! Pastel colors like green, yellow, and rustic brown can enhance the perfect aesthetic for boho-style living rooms. 
These colors help you to create a cozy and warm home. Try adding more elements like a pretty white flower vase, a warm blue blanket, or even a beautiful vintage center table. They can help you achieve the ideal boho living room interior design in no time! These colors tend to be very soothing to the eye. They will help you relax well at the end of a tiring day. 
Get The Patterns Onboard!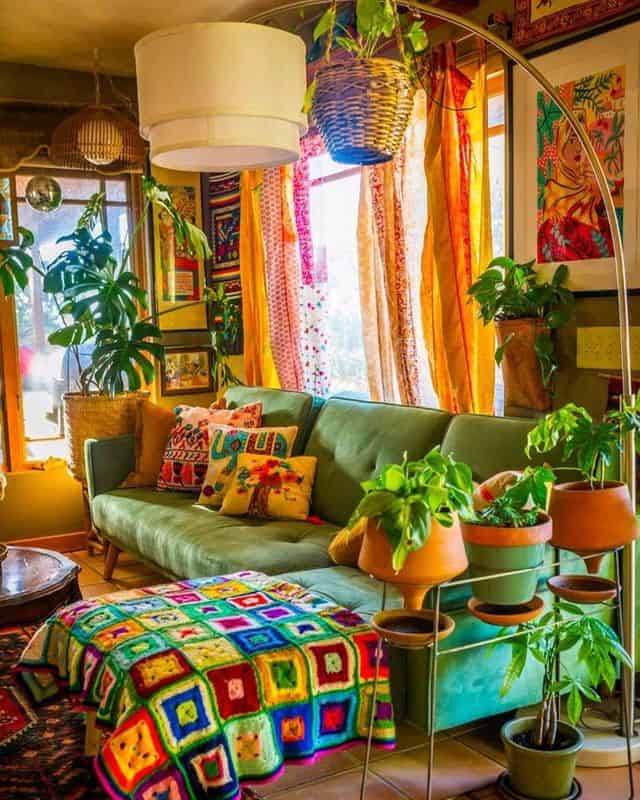 Bold and beautiful patterns are something you wouldn't wanna miss out on, especially when you're planning your boho aesthetic! These eccentric patterns can leave anybody awestruck with the charming look. Patterns can be incorporated into embroidered cushions, intricately carved wood tables, or even your curtains.
Throw in a few of these patterns and watch the magic unveil!
Textures For The Win!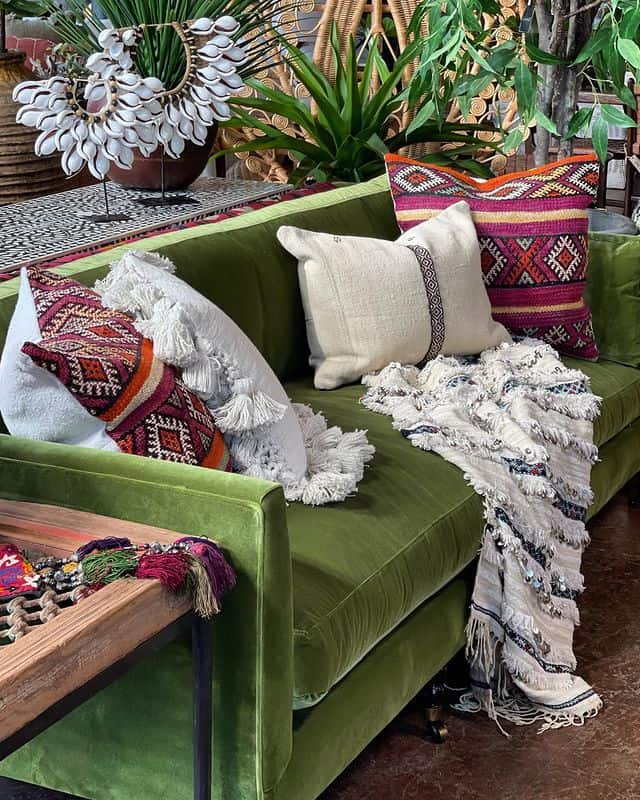 Textures are pretty and cozy to the touch, aren't they? They also play a significant role in shaping your living room space! They help in adding life to an object, and it's hard to resist touching them over and over again. 
Always remember – The more the texture, the more depth your living room has! Beautiful textures can be chosen for wall paint, table mats, or pillows. Make sure to incorporate them with warm colors. Voila! Now, you have a modern boho chic living room in the making!
Light It Up!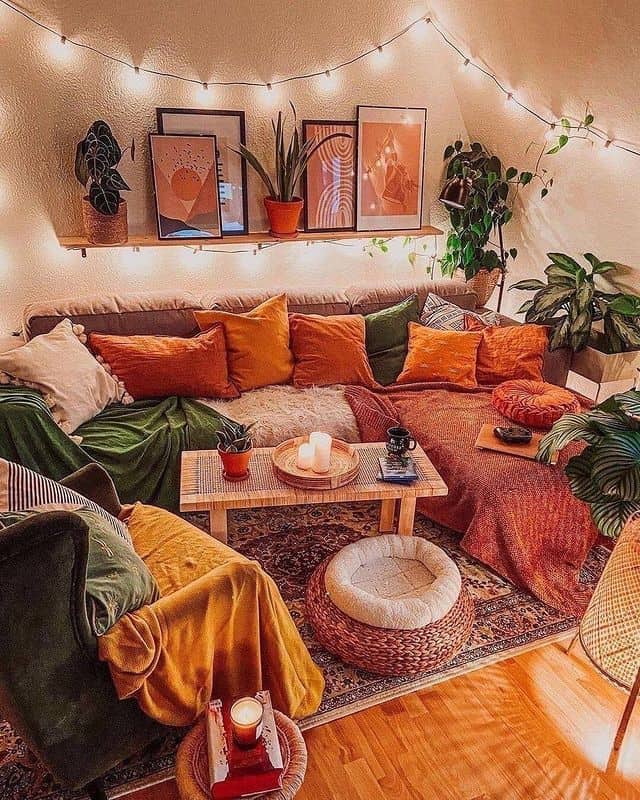 Wanna know the secret spell for taking your living room a step higher within a budget? Fairy lights are the answer! These beautiful delicate lights, when wrapped around a mirror or randomly arranged on the wall, can create a stunning bohemian aesthetic. Attach these small lights to a bookshelf! 
Just watch how they manage to create an alluring and elegant look, brightening up your entire living room aura. 
Indoor Plants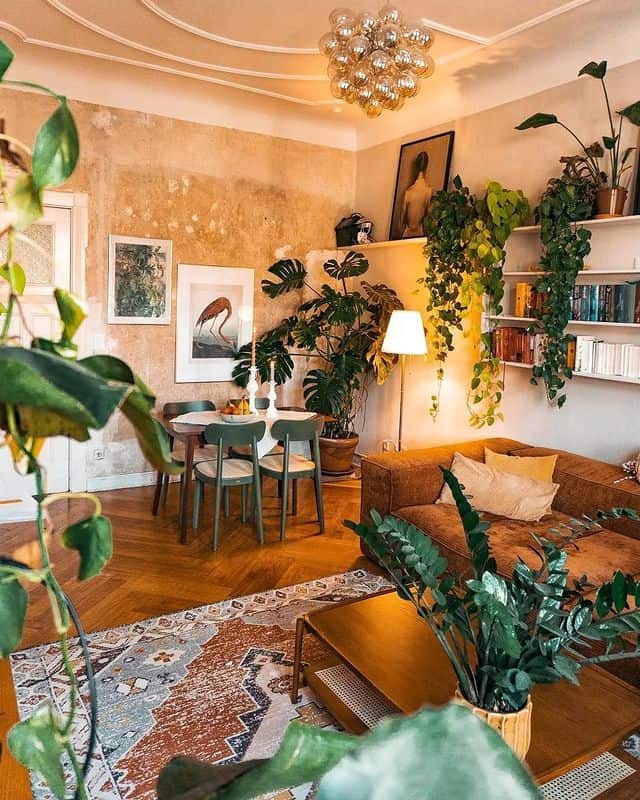 Your bohemian living room needs an aesthetic yet functional element, and that's why indoor plants are for the go! Who wouldn't wanna walk into a room with clean energy and fresh air? These house plants are perfect for that, offering an eye-pleasing ambiance! 
Leave them hanging, or place them in a Pinterest-worthy planter. You won't ever go wrong with them, as they bring greenery into your space. 
Art Attack!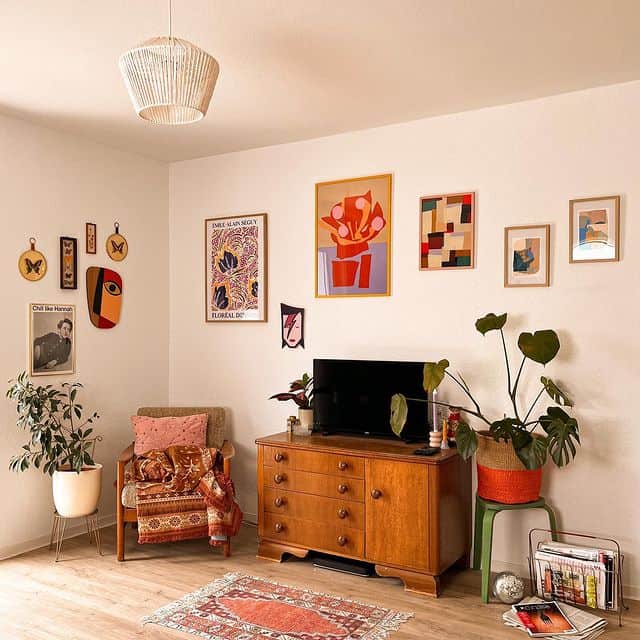 Boho living room designs thrive on elements that beautifully express your emotions and thoughts! From an abstract to impasto, r from a resin to an art piece, these elements are fascinating additions. They will leave your guests drooling! 
Pro Tip: Wanna make your boho living room more special? Just hang one of YOUR artwork! Always remember to check if the proportion of the artwork sits well with your room. This single trick can make or break your living room design. 
Rugs, Rugs, Rugs!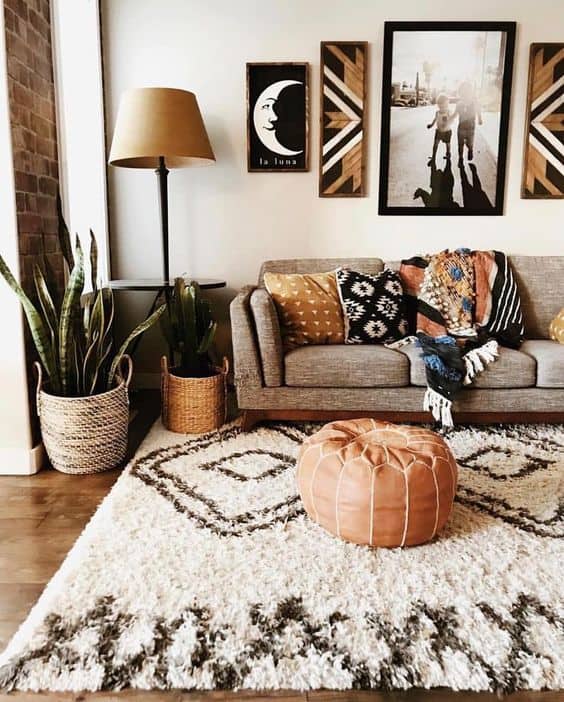 Rugs, but especially Moroccan rugs are a boho staple! Patterned rugs and layered rugs are soothing for your eyes and feel modern at the same time. They create a warm and cozy environment, which is the perfect vibe for cold and long winters!
Another great option would be a Moroccan rug with a jute rug on top. Layer in perfectly like the cake that you'd wanna enjoy sitting on! 
Swing On The Hammock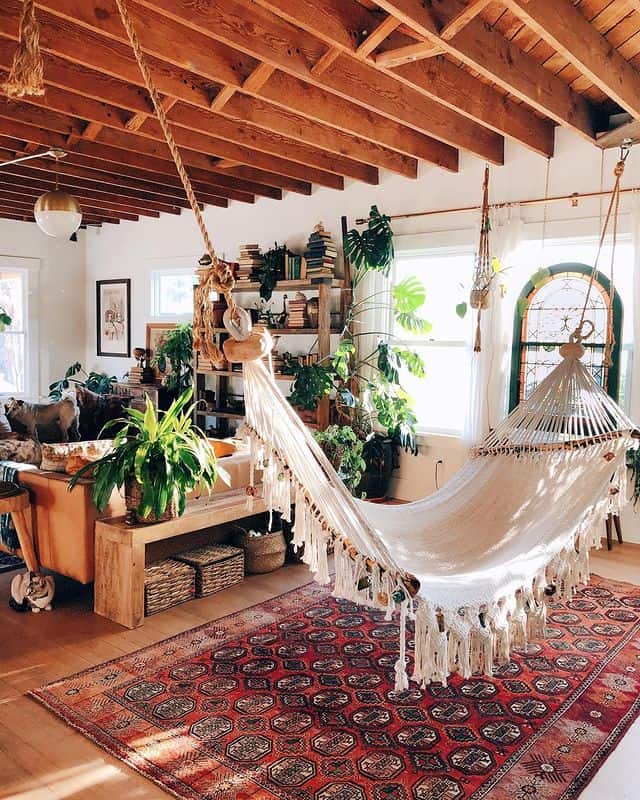 The perfect way to relax after a long, tiring day – Hammock is an element that will get your living room another step closer to your dream boho decor! It can be placed perpendicular to the window or just be attached to a cozy corner. Soon, it will become the perfect place to unwind yourself.
Trust me, and you wouldn't wanna get off of it soon!
Furniture From The Mid-Century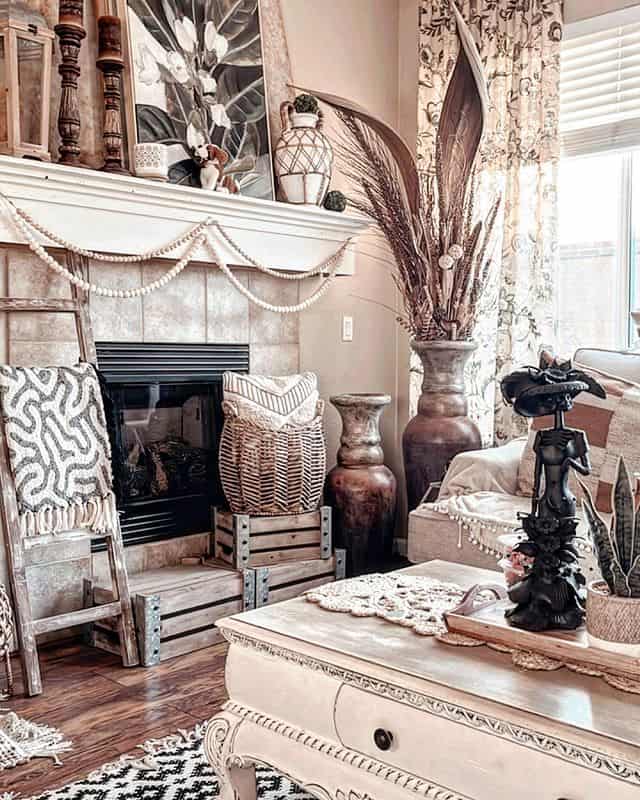 Teak furniture is the epitome of richness in terms of durability and color! Mid-century modern furniture can offer you a great seating area with the right color and aesthetic for your bohemian living room. You may attach a series of cabinets, a small center coffee table, or even shelves! 
They will offer an elegant look while making it seem subtle and earthy. These furniture pieces are short but a sure way to make you fall in love with your boho living room!
Aim Bigger!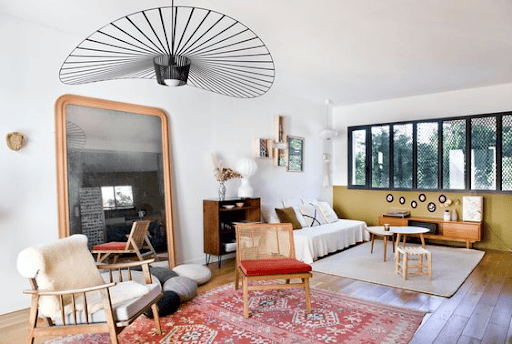 Replicating the style of oversized clothing and oversized furniture can be equally fun! It can be a little gutsy but worth it! An oversized lighting fixture right at the center, even a big art piece on a plain wall can create a focal point in your mundane living room. 
Hence, this can remarkably enhance your living room aesthetic! A little disproportion never hurts.
Wall Baskets!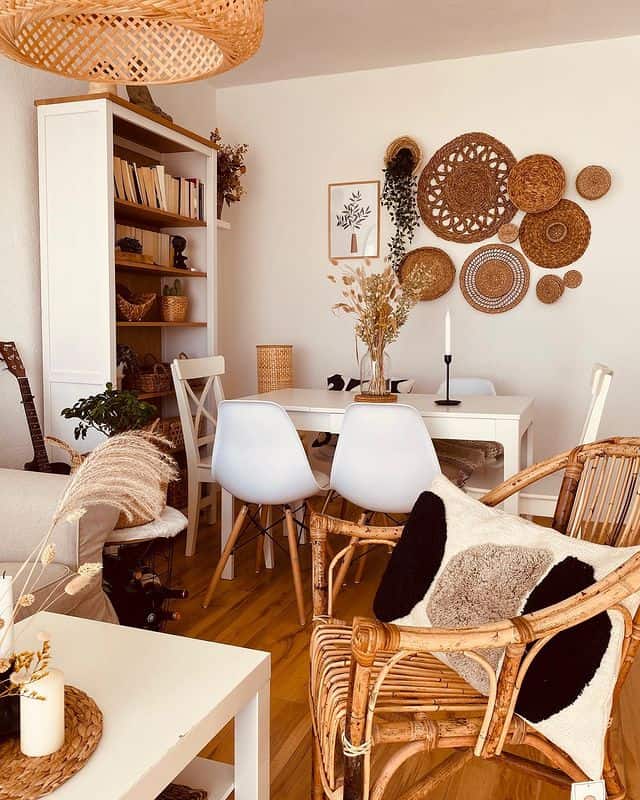 Wooden wall baskets are an underrated earthy and chic element, regarded as another boho staple. These cute woven baskets can be nailed on a wall, hung from the ceiling, or can be used as a table mat, or a light mask. It can be used in numerous ways, you name it! 
Their rustic color is a beautiful blend, embracing modernism and earth tones. Ensure these are added to your cart next time you order from Amazon! 
Straight From History –  Vintage!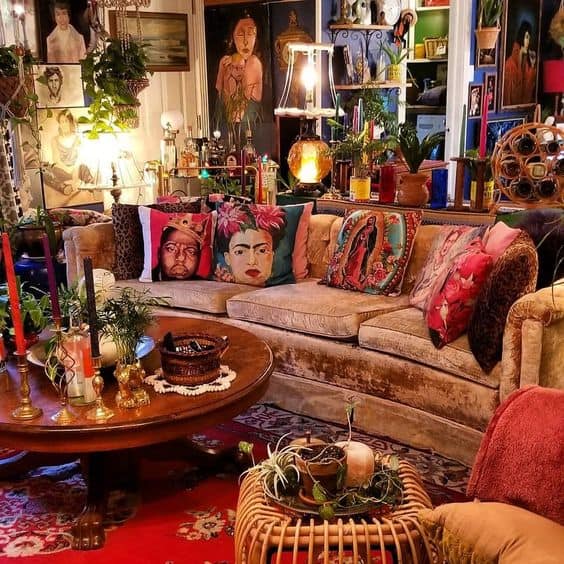 Who doesn't love an eye-catching fine antique piece? A vintage element instantly upgrades any room, as they fit perfectly well in every given space. Small sculpture pieces or a classy teak toy set are bound to be the most treasured thing in your living room! 
Place them on your center table, book rack, or small corner. Now, watch how it magically transforms your living room energy!
A Stylish Mixup!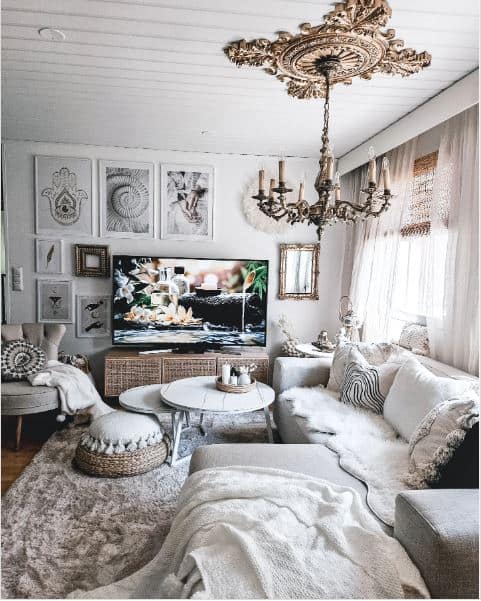 An amalgamation of different styles from different eras? Yes, please! Nothing beats the best features from other historical times, packed in your living room in the form of various characters in sync. 
Mid-Century modern and farmhouse aesthetics are the perfect examples that would be most suitable for your bohemian decor. You could pull this off with furniture, a painting palette, or even lighting fixtures. So, go ahead and create your personalized boho living room style!
Boho Lighting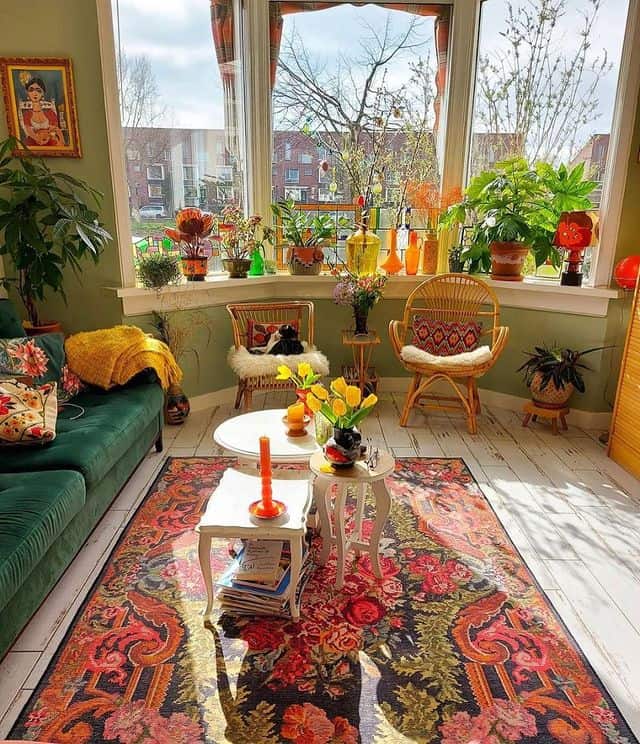 A warm-lit living room invites positive energy and energizes the residents of the space! It is the most natural energy source that cannot be missed out on – Sunlight! Morning sun rays hitting your rustic color palette room would be a sight to hold on to and enjoy! 
Hence, make sure you are letting in early morning rays. A fireplace is another cool idea for keeping yourself warm while lighting up the evenings. Add accents with soft lighting arrangements while pairing them up with patterned curtains, and it will definitely make you a morning person!
Attention To Detail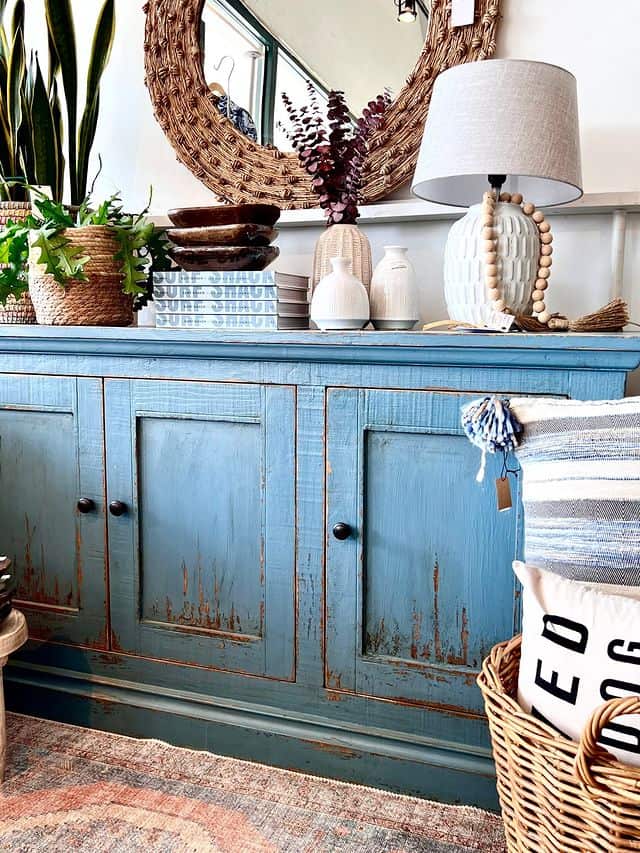 Sometimes, the unnoticed small pieces can do a lot to your room! They help in tying up your living room's entire look. Sure, big focal points are amazing but do you know what would look even more appealing with them? 
Those are the smaller pieces that don't easily catch attention but will surely become the game-changer!
Dried Palm Leaves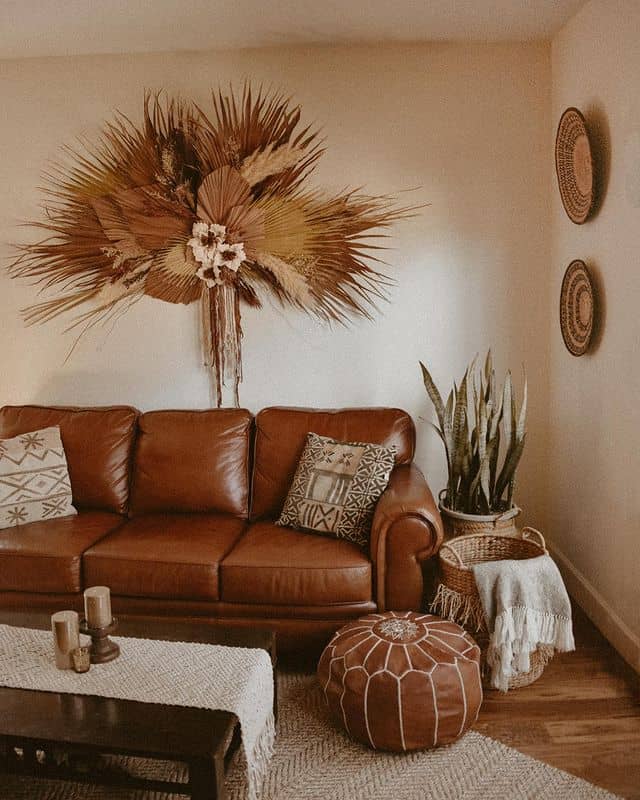 Say hello to a set of dried palm leaves that are one of the perfect boho displays, ever! It helps in setting the perfect vibe with those autumnal earthy colors. They also fill up your plain space like this brown living room in both elegant and natural ways!
Go With The Flow!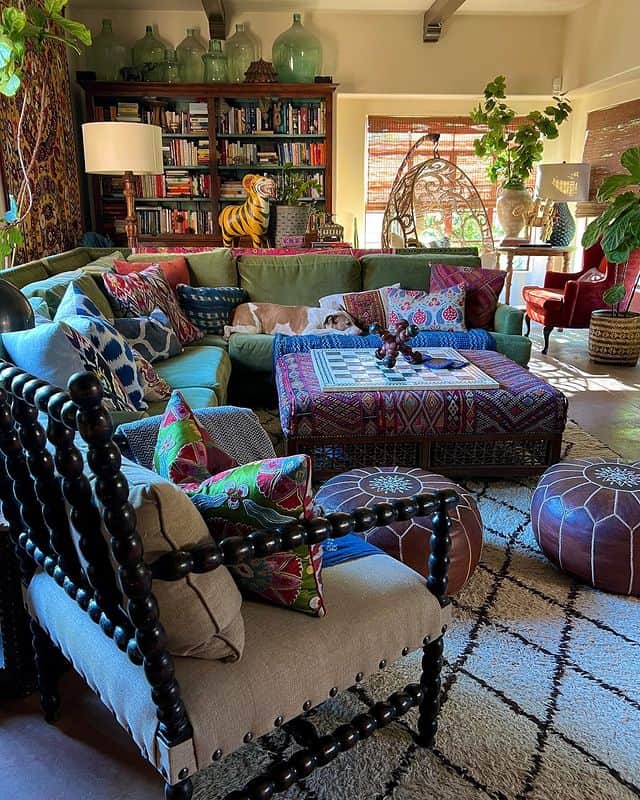 Your living room is a personal space that should fully represent who you are and what you stand for, isn't it? Showcase your thoughts beautifully in this intimate space, and you should definitely style it as your heart says! Just let yourself flow freely with the gorgeous aesthetic, like this Victorian-style living room.
Be it maximalism or minimalism,  the sky is your limit!
FAQs
Is Boho Style Indian?
The boho style has a connection to Indian and Western styles. Originally, it started out in Europe and had an instant influence all over the world. But, it takes its floral print ideas from India and fuses that with the Western silhouette design style.
What Are Boho Colors?
Subtle hues like neutrals, earthy tones, and pastels are a boho trademark. Colors like Rust rage, Peach, Emerald clementine, Lemonade, Teal, Red, and Electric blue are some popular boho colors.