How often do you compliment someone using words like beautiful, gorgeous, or pretty? In fact, these are words casually thrown across the room nearly every day. Similarly, a term has recently become trendy, which is 'weird'! Yes, it's quite an uncommon word, but also a unique way to say, 'Hey! You're not like the rest!'. Trust me on this, you would want to know why! Precisely, the weirdcore aesthetic is that Pinterest-worthy aesthetic that everybody secretly drools over.
It started out as a bold experimentation that was quite unorthodox, at first. But now, the vibrant colors, edgy designs, and unpredictable styles are enough to make you fall head over heels for this trend. So, what are we waiting for? Let's quickly dive into this quirky style for the quirky you!
What Exactly Is The Weirdcore Aesthetic?
The core of the weirdcore aesthetic is amateur and low-tech photo editing and glitch art. It began in the late 1900s-early 2000s. It mainly derives inspiration from the artists of the 2000s to make an individual experience nostalgia in a way the person doesn't understand why! Sounds quite fascinating, doesn't it?
Elements Of Weirdcore
Strange Surrealism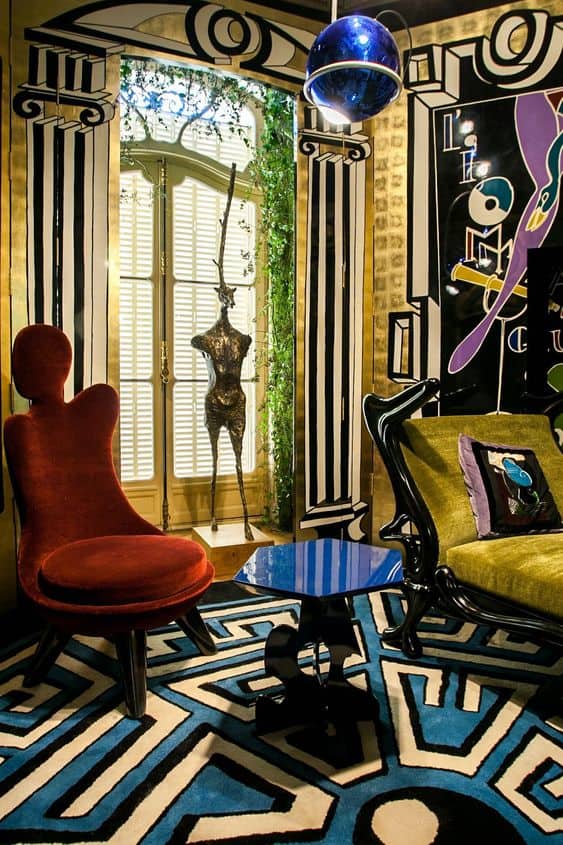 Have you ever walked into a room so bizarre that it made your brain go topsy-turvy? Chances are you have walked into the surrealist aesthetic! From an elongated chair to a funky rug – Surrealism screams gutsy. 
The weirdcore design will always have hints of surrealism since both of them work on the same parallels. This is also quite intriguing to the human eye. It's bold and creative, just like you!
Influence Of The 60s And 70s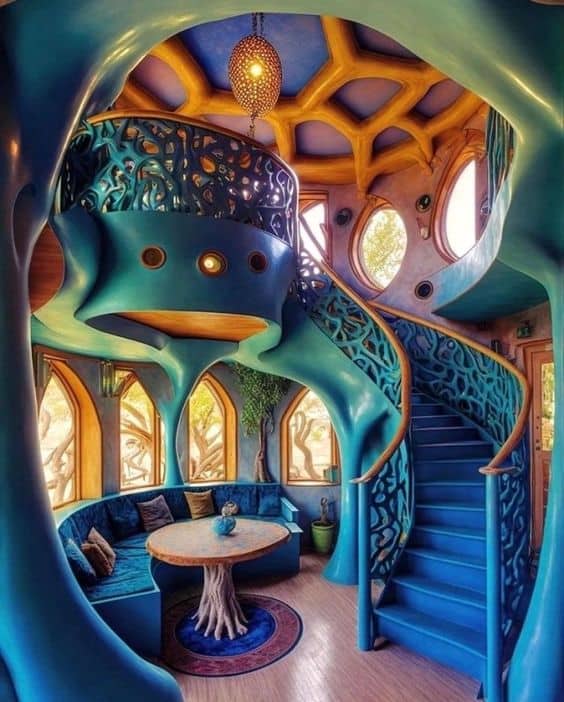 Vibrant colors, bold expressions, and funky patterns – does that ring a bell? Yes, you are right there! Weirdcore interior trend is heavily influenced by the 60s and 70s. 
It is bound to take you for a stroll down the memory lane. The unusual curves, bold colors, and unique experimentation will definitely leave you mesmerized, and yet startled for good!
Vaporwave Art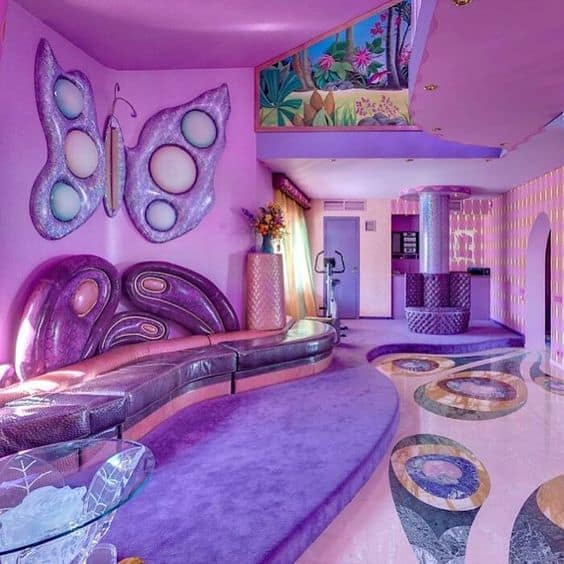 Art is a form of expressing yourself and unleashing the real you! Here, the funky pastel pink and bold geometric patterns on the flooring show the quirky side of the artist, which is beautiful. This Vapourart form showcases a video game and arcade-like visuals with minimalist furniture, retro-inspired items, and pastel hues! 
Similar to the weirdcore aesthetic, it drives a person to feel nostalgic and overwhelmed.
Weirdcore Colors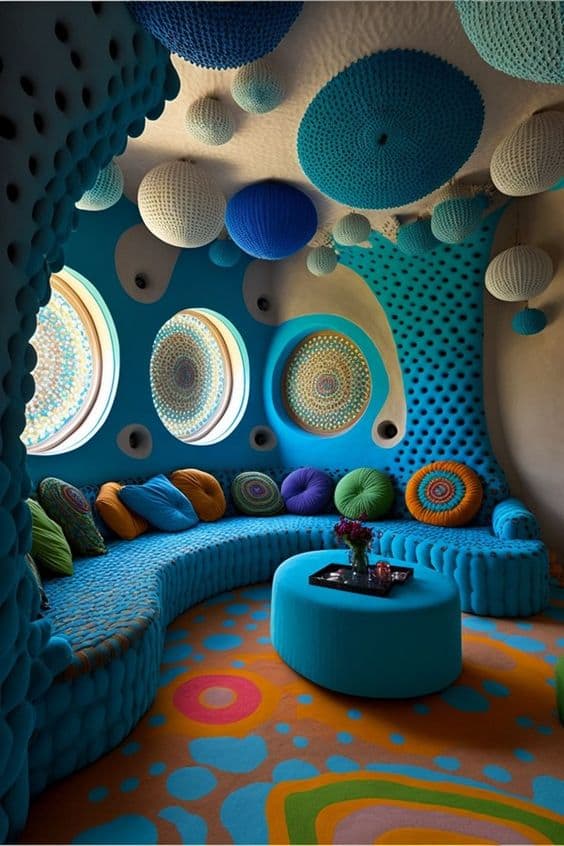 Imagine a world without colors, isn't that sad? We, as humans, can never get enough of colors and aesthetic color palettes! (well maybe not that much, if I'm being honest). Similarly, weirdcore houses also have a certain color palette that helps make them weirder!
A cosmic swirl of blue hues with a hint of lime yellow on the rug can do the magic! Then, of course, to top it all, colorful bright pillows can beautifully sum up the weirdcore interior design. 
Motifs And Accessories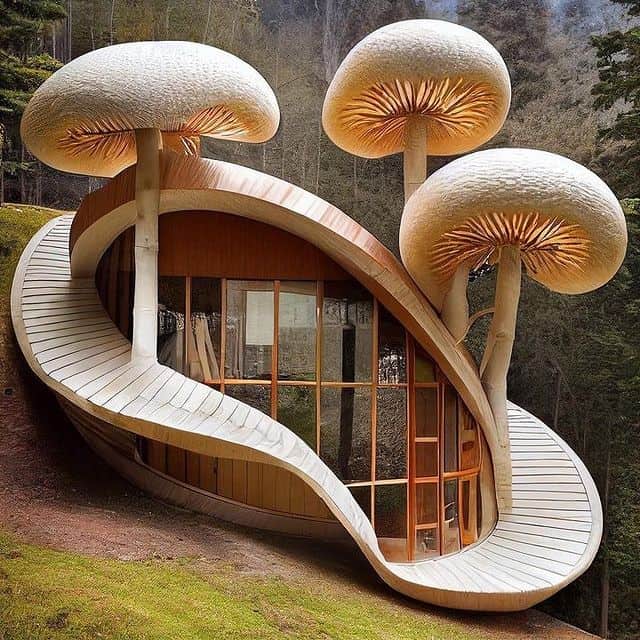 What do you do when you wanna elevate your outfit and make it resonate more with your personality? Well, you know your go-to element would be an accessory. Similarly, motifs like clocks and eyes in weirdcore houses will help you step up your game, as they act as symbolic figures! 
The organically rising mushroom decor is a classic among the weirdcore designs. It's a typical shape and pattern, which is a big yes for your weirdcore decor! You can impersonate it with pillows, wall decor, or even lamps, according to your personal preferences! 
Cyberpunk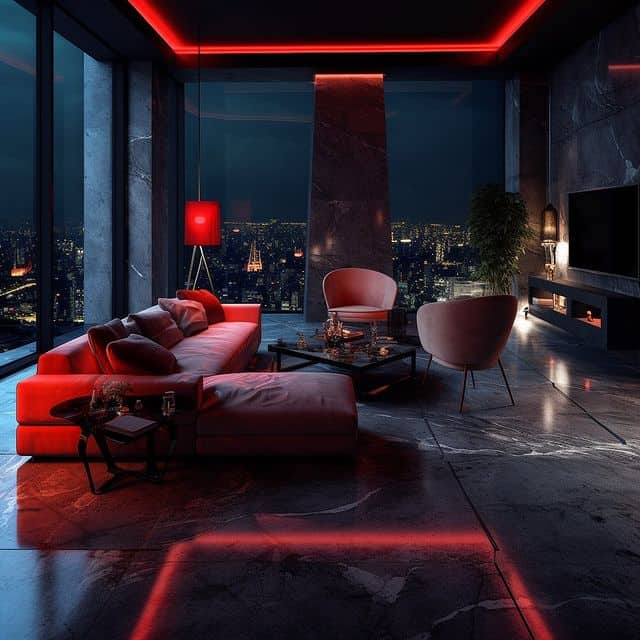 If you are a regular in a gaming arcade zone, you can definitely identify the cyberpunk style! Urban futuristic furniture with edgy details is among the few elements that can transport you there. Along with neon lights, unconventional lighting, and a high-tech vibe can be the perfect cherry on top! 
Now, the weirdcore aesthetic doesn't seem too weird anymore, does it?
12 Weirdcore Aesthetic Design Ideas
Glow On The Dark Ceiling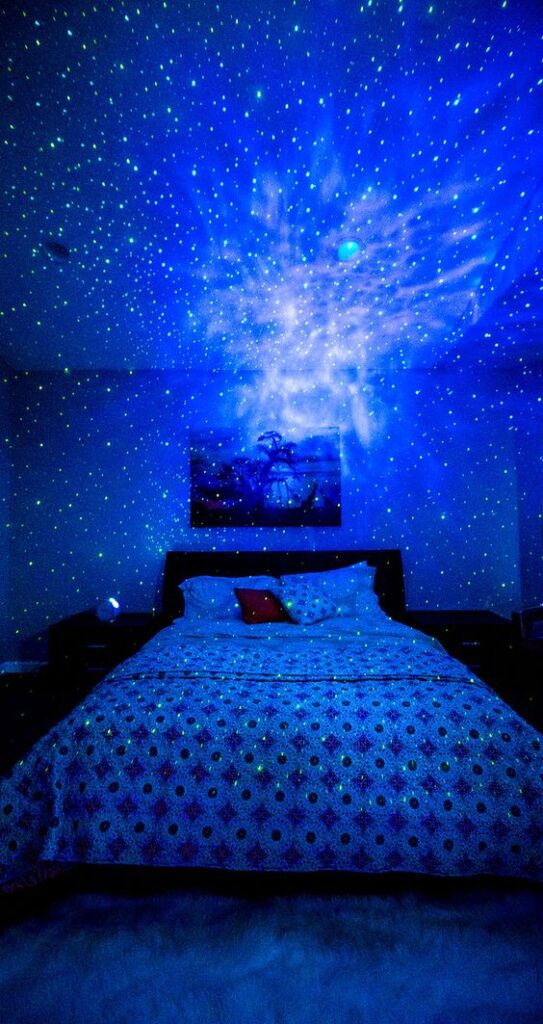 Is there anything more alluring than a set of dainty lights on your dark ceiling, that gleam over your bedroom once you hit the pillow? The soft blue lighting with a cosmic effect will make you fall asleep, in no time. This weirdcore house element is easy on the pocket, and will make anybody wonder how you got so good at picking up funky house decor!
RELATED: 21 Aesthetic Galaxy Bedroom Ideas That Don't Belong Here!
Mismatch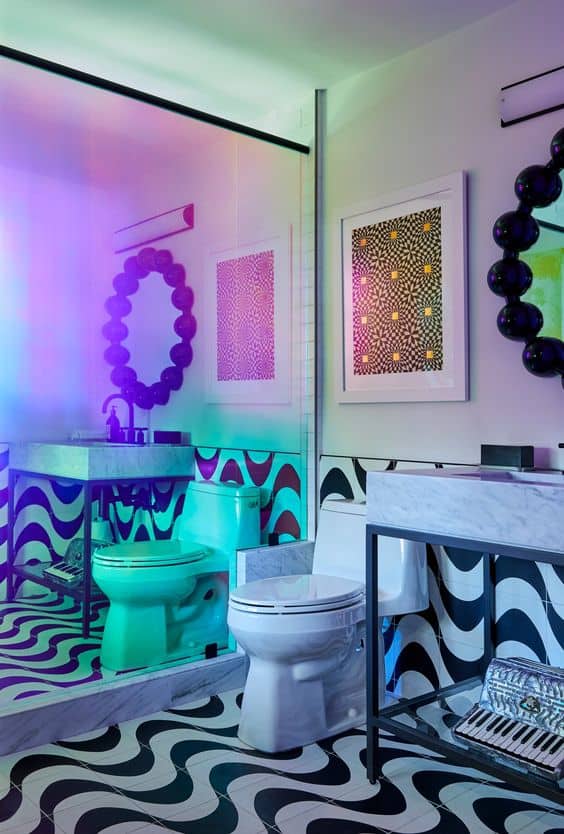 Flooring is something your eyes are never drawn to when you enter a space. Obviously, because those are all boring monotonous tile patterns. But, these bold, catchy mismatched tiles like the black and white organic patterns in your bathroom can be something your eye wouldn't ever miss! 
It is the perfect blend of quirky and electric. Yes, take down notes, because tiles are an equally important element too!
Inflatable Decor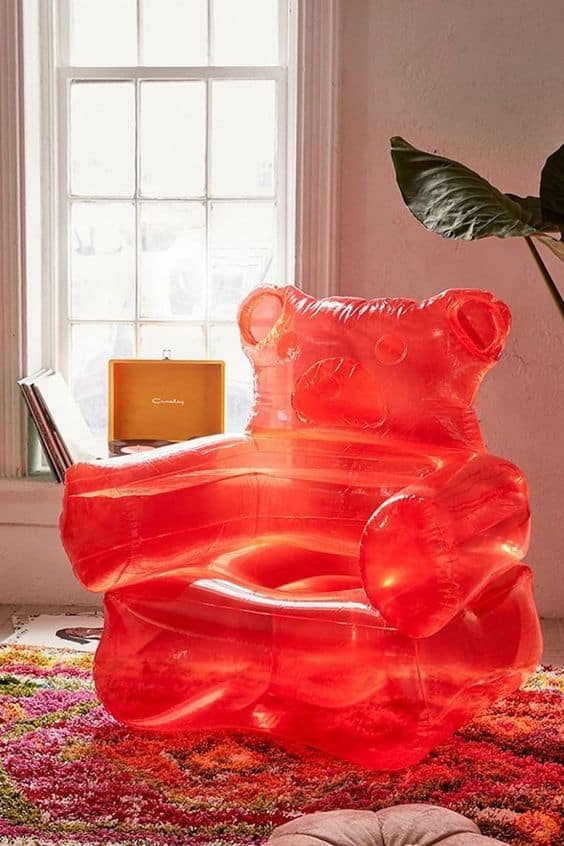 Having a playful house is something everybody's inner child secretly desires! You can do this in no time, with an oversized inflatable decor piece that can be placed anywhere. Living room, or Bedroom – This element has proved to be one of the favorites in any house!
It adds a surreal and more active atmosphere, making it much closer to your dream weirdcore room. Be it for a child or someone older, your guests are bound to love this adorable thing! 
Wallpaper Play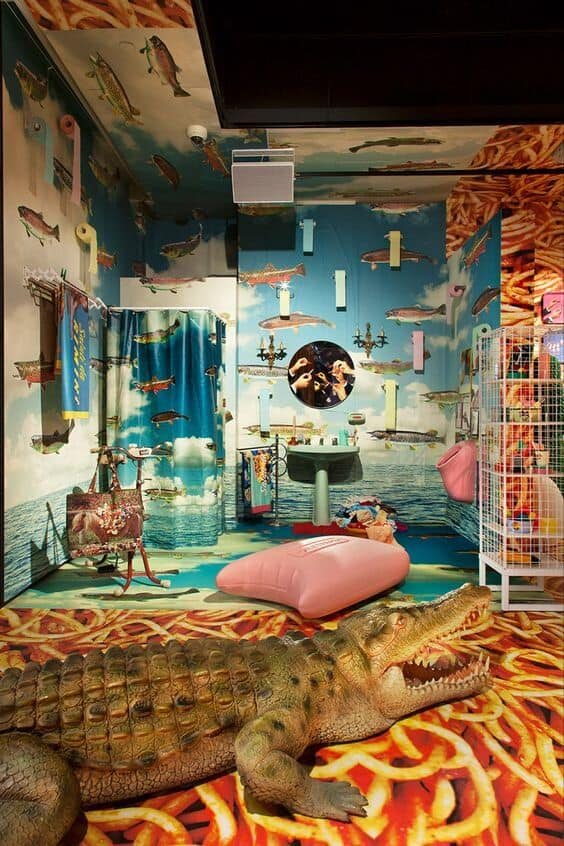 A wallpaper so bizarre that you need a good 1 or 2 minutes to process it? Yes, please! Animal prints, upside-down figures, or topsy-turvy landscapes are top-tier examples of this peculiar style. 
The only question you must ask yourself while choosing this design is, 'How much is too much?' 
Mirror, Mirror On The Wall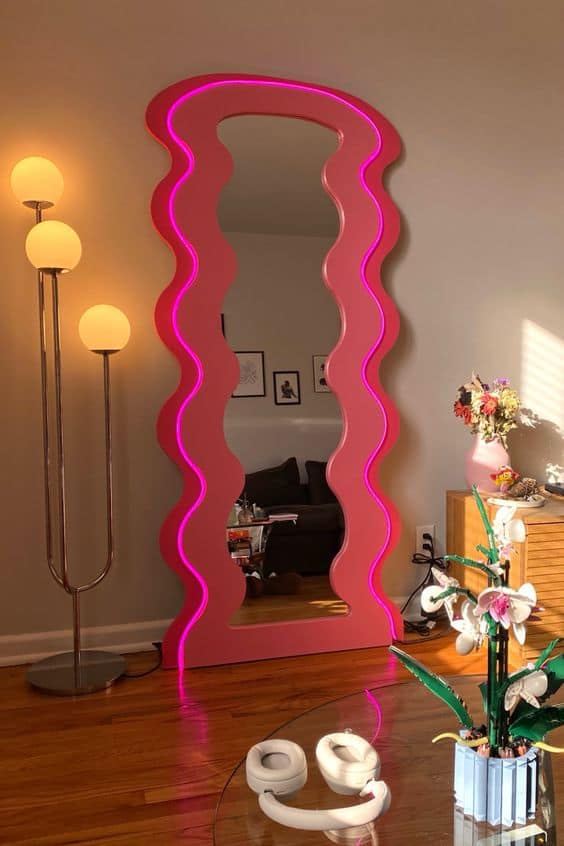 I'm pretty sure you often catch a sneak peek of yourself when walking past your mirrors. Right? But imagine having a whole set of multiple mirrors at your home that create the most disoriented, yet mesmerizing spaces! Living rooms and bedrooms can be your best space for this. 
Pro Tip: You can make the mirrors funky with a neon pink frame, or just keep them simple! The magic of mirror decor will unveil itself and leave you intrigued. 
Sculptures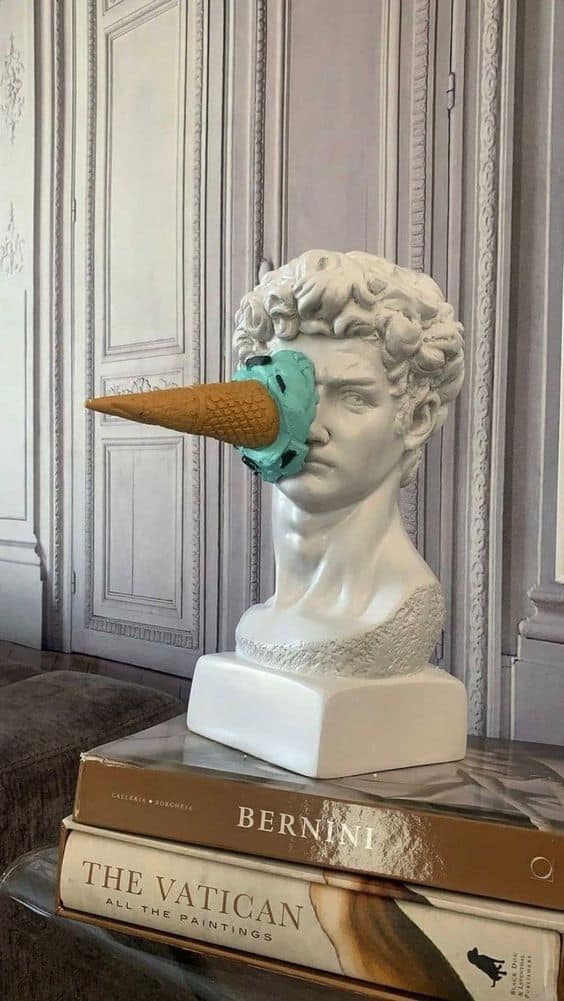 Gigantic, but quirky sculptures will surely be your top pick for a weirdcore aesthetic! A peculiar ice cream on top of a conventional figure is something that you would remember till the end of time. Placing this close to your liminal space or entryway is a remarkable way to welcome your guests! (and warn them to not mess with you!)
Treehouse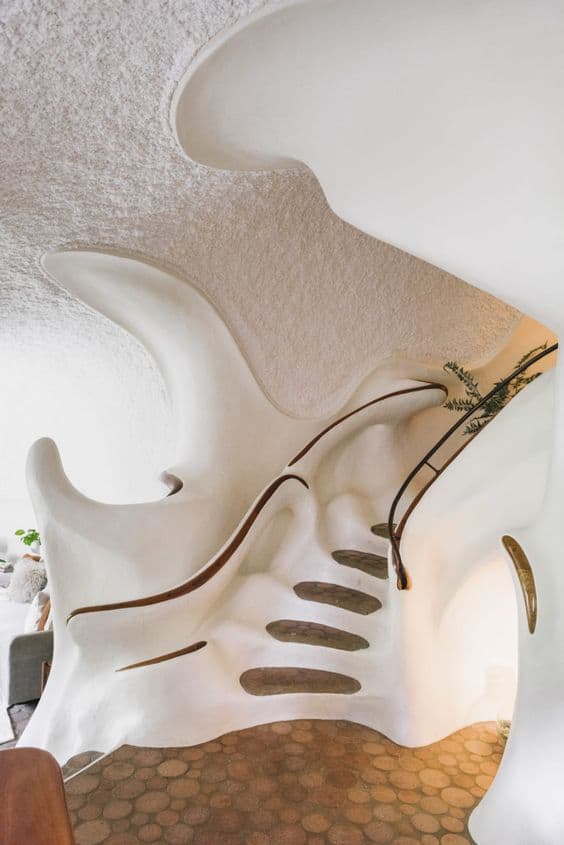 As children, we all have fantasized about having our own treehouse. Then, why wait longer to fulfill the wish when you can have an off-beat tree house-inspired element, right inside your house? Say hello to this organic, yet bold element, that adds a forest-like style to your weirdcore interiors!
The earthy color palette and engaging form will easily make this an instant hit in your room! 
Play Of Illusions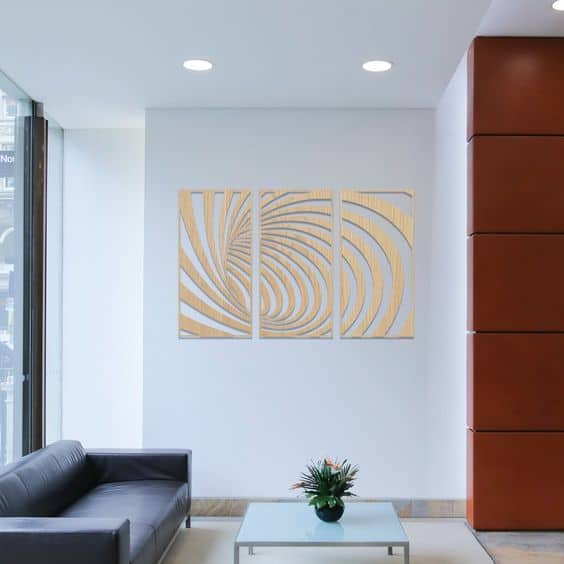 Hear me out on this one! Yes, optical illusions can be quite straining for your eyes, but a subtle element can do the right job since it will leave people amazed! I wouldn't recommend heavy illusions, as it can be racking for some. 
Instead, a sophisticated one can be preferred for elevating your space like a pro!
It's All In The Details!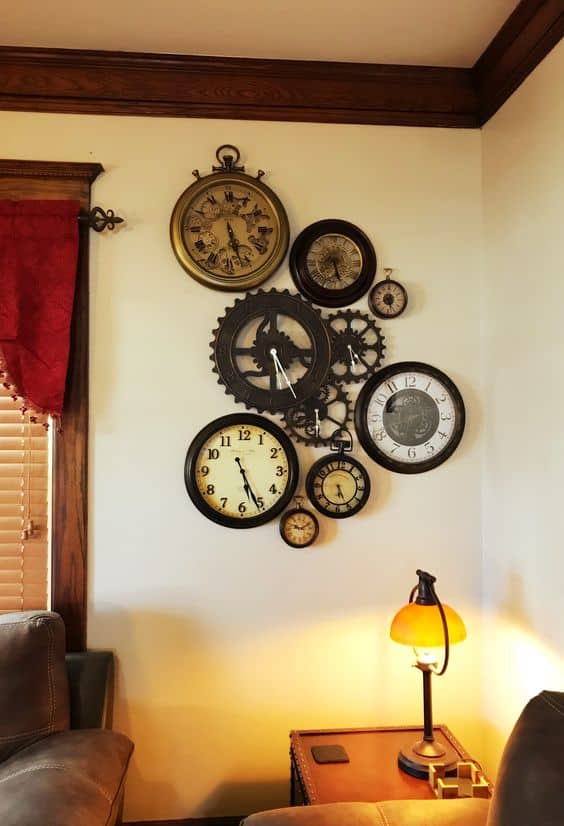 The steampunk style is a classic with its vintage decor like clocks, gears, and anything metallic! It is a fascinating choice to create an industrial look since it incorporates eccentricity and quirky vibes! After all, that is what your weirdcore aesthetic needs!
Top-Tier Furniture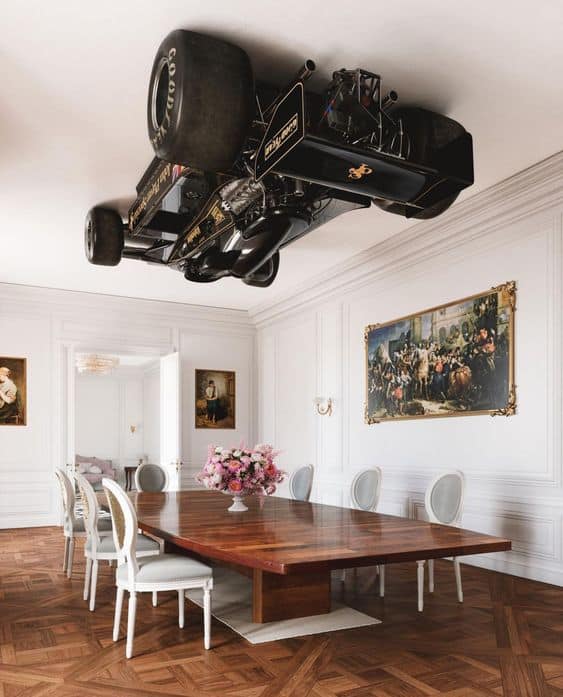 As weird as it sounds, upside-down furniture can make every space memorable! Imagine walking into a room and seeing a gigantic piece left upside down – It will send chills down your spine and leave your stomach churning!
An upside-down racing car may end up being the focal point of your dining area exactly like this one, and can easily catch the most attention. Apologies in advance!
Play Of Colors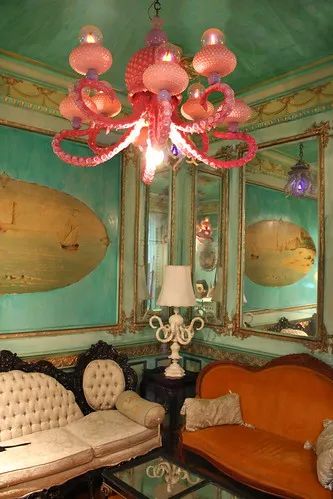 A world without colors is like architecture without interior –  Nothing! The weirdcore aesthetic requires a color palette that has vibrant neon colors with a contrasting color palette! Distorted colors with retro ones are a part and parcel of this aesthetic design. 
A soft sea green chandelier with a hot pink octopus will just make your weirdcore aesthetic even weirder!
Time Travel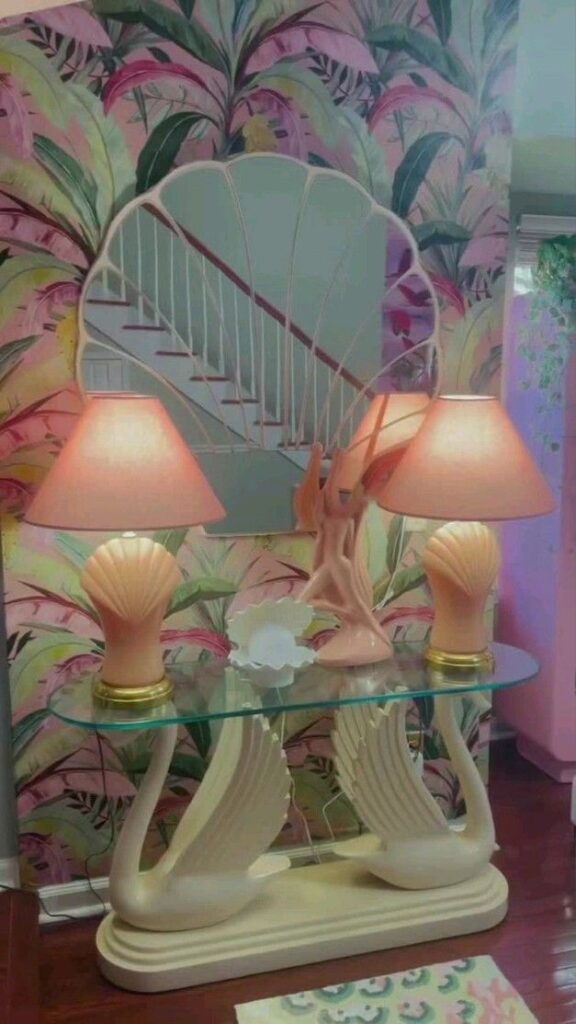 Every house deserves an element that will transport you back to the good old days, or somewhere you'd want to go back in time. Vintage colors with swan decor that this room has used can surely do that for you! But, I don't know exactly where it will take you. (Oops!)