The world of interior design is where traditional charm meets modern creativity. This time, we are about to explore the realm of board and batten wall ideas! If the walls of your favorite movie set could talk; they'd be boasting about their board and batten makeovers! These ones have a rustic elegance in films like "The Notebook" and "Pride and Prejudice," and this architectural element is the secret ingredient for transforming ordinary spaces into extraordinary havens. 
Board and batten walls can effortlessly blend into any setting – from cozy farmhouse kitchens to sleek urban lofts! So, are you ready to unleash your inner design virtuoso? Let's dive into a treasure trove of board and batten wall ideas that range from simple ones to intricate ones. I'll guide you through crafting your accent walls that will steal the show! 
So, whether you're channeling your inner Jane Austen or embracing a bohemian rhapsody – Be prepared to be inspired! From wainscoting styles to full-wall spectacles, this blog is your backstage pass to a celebration of textures, patterns, and dimensions!
What Is A Board and Batten Wall?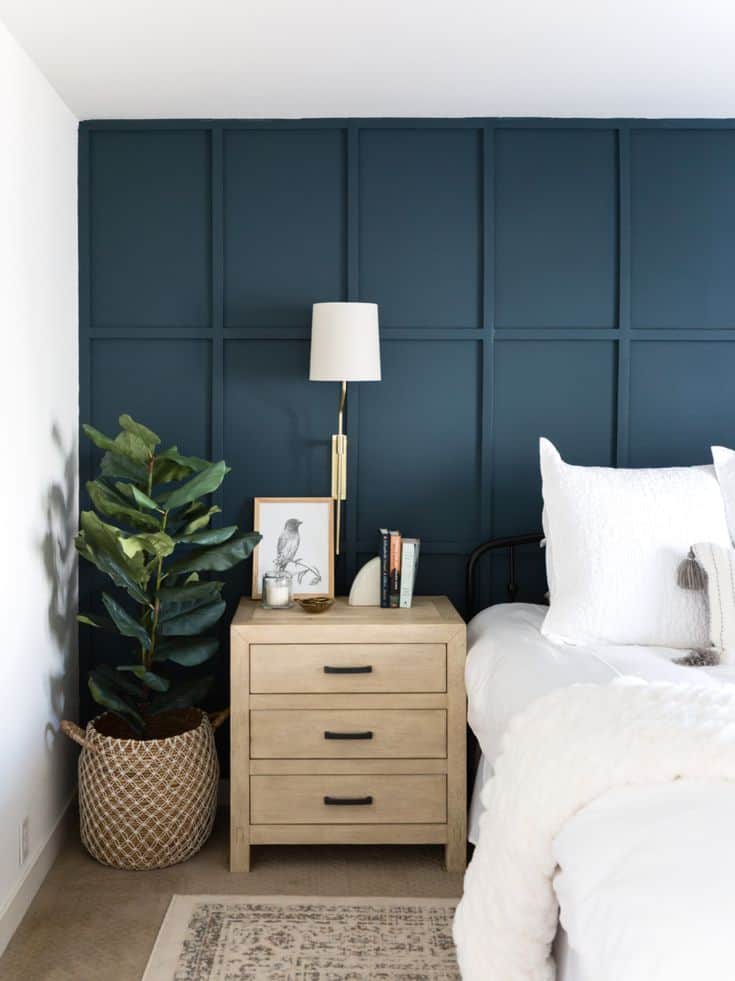 A board and batten wall is a type of wall treatment or architectural feature that involves the use of vertical boards (the "boards") combined with narrow strips of wood (the "batten"). Together, they create a visually appealing and textured pattern on the surface of a wall.
The basic concept of a board and batten wall is about attaching the vertical boards (usually wider planks) to the wall, leaving gaps between them. Then, these gaps are covered by the narrower battens, creating a pattern of alternating wide and narrow elements.
The result? An aesthetically intriguing wall that brings texture, depth, and character to a room!
Board and batten wall ideas can be used in various ways: 
Accent Walls
Wainscoting
Full Wall Treatment
Headboards
Mudrooms and Entryways
Kitchen Islands
Overall, board and batten wall ideas offer a versatile and creative way to enhance the design of interior spaces. They further add a personalized unique touch to your home décor!
17 Board And Batten Wall Ideas
Navy Board & Batten Wall In Dining Room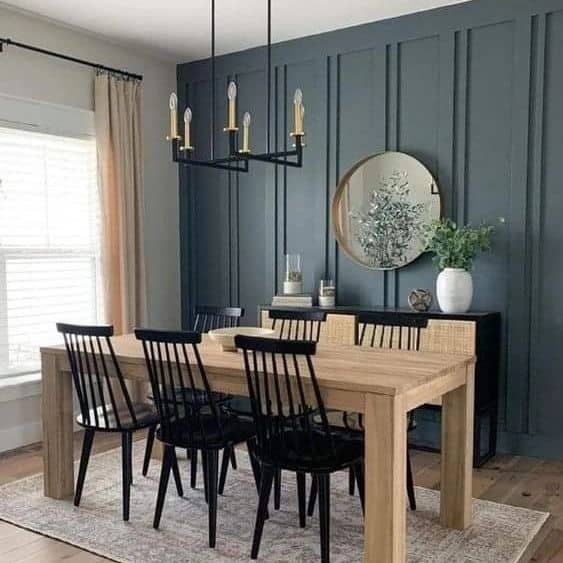 Create a striking contrast in your dining area by pairing a deep navy blue board accent wall with wood accents in the room. 
In this board and batten wall idea, the navy backdrop adds a dramatic effect while framing your cherished dining table and decor! This combination adds a wonderfully balanced aura to the room. 
Olive Kitchen Board And Batten Accent Wall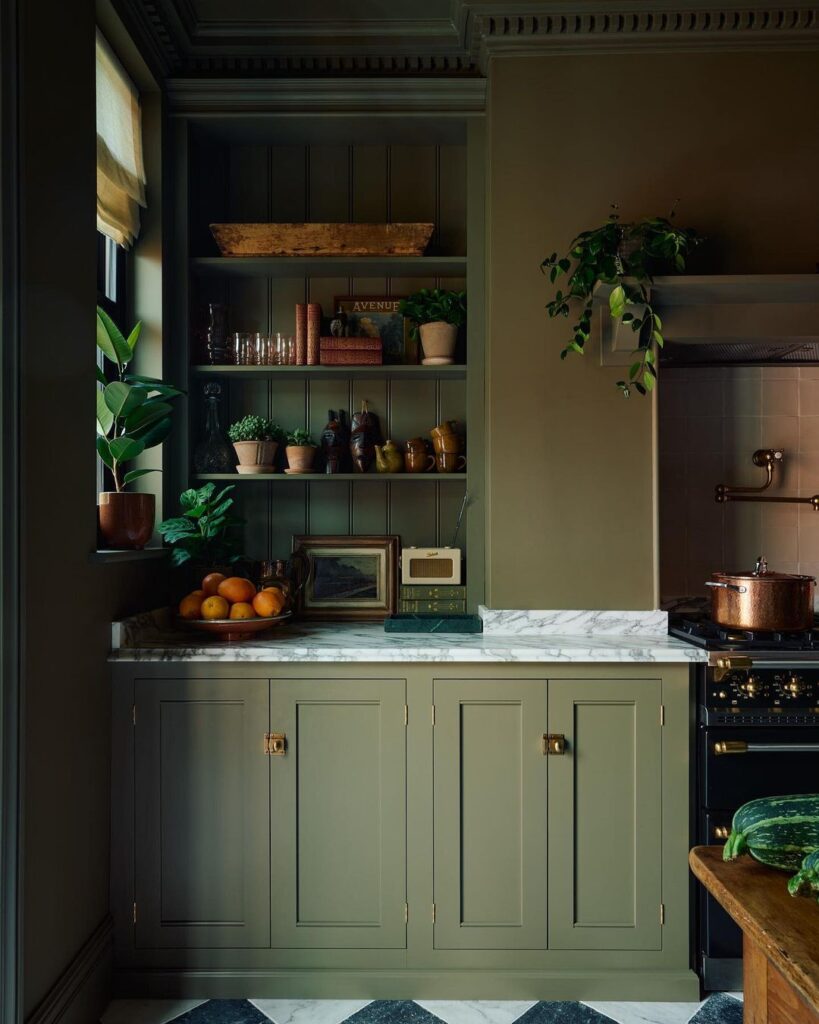 Wanna transform your kitchen into a culinary haven with a board and batten wall idea? Just paint it in a pretty olive hue! 
This classic choice adds texture and depth. It smoothly enhances the heart of your home while adding character to your kitchen!
RELATED: 17 Sage Green Kitchen Cabinet Ideas For A Calm Space!
white Board And Batten Accents Wall Idea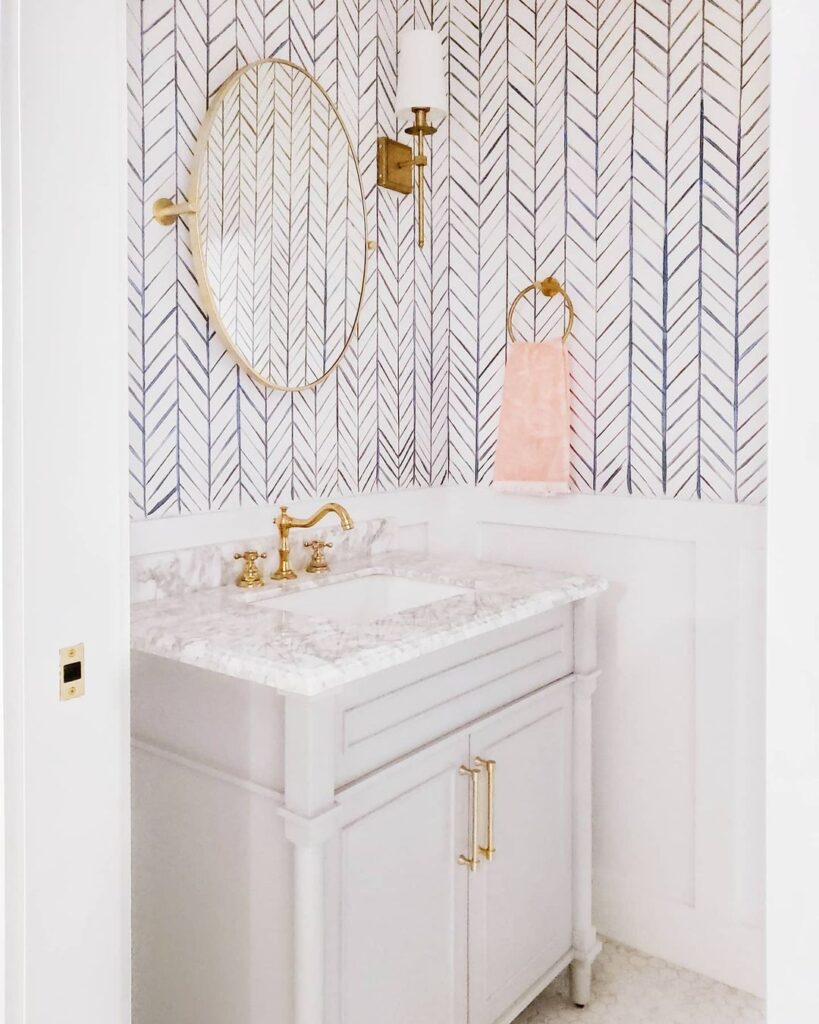 If you're wondering how to design a serene bathroom sanctuary, this white accent wall can help you! The clean and airy ambiance promotes relaxation, while the wall treatment adds a subtle texture to the room. 
Pro Tip: Whenever you're incorporating this board and batten idea – Consider a pretty wallpaper above it as well. This will add so much life to your space!
Minimalist White Accent Wall Idea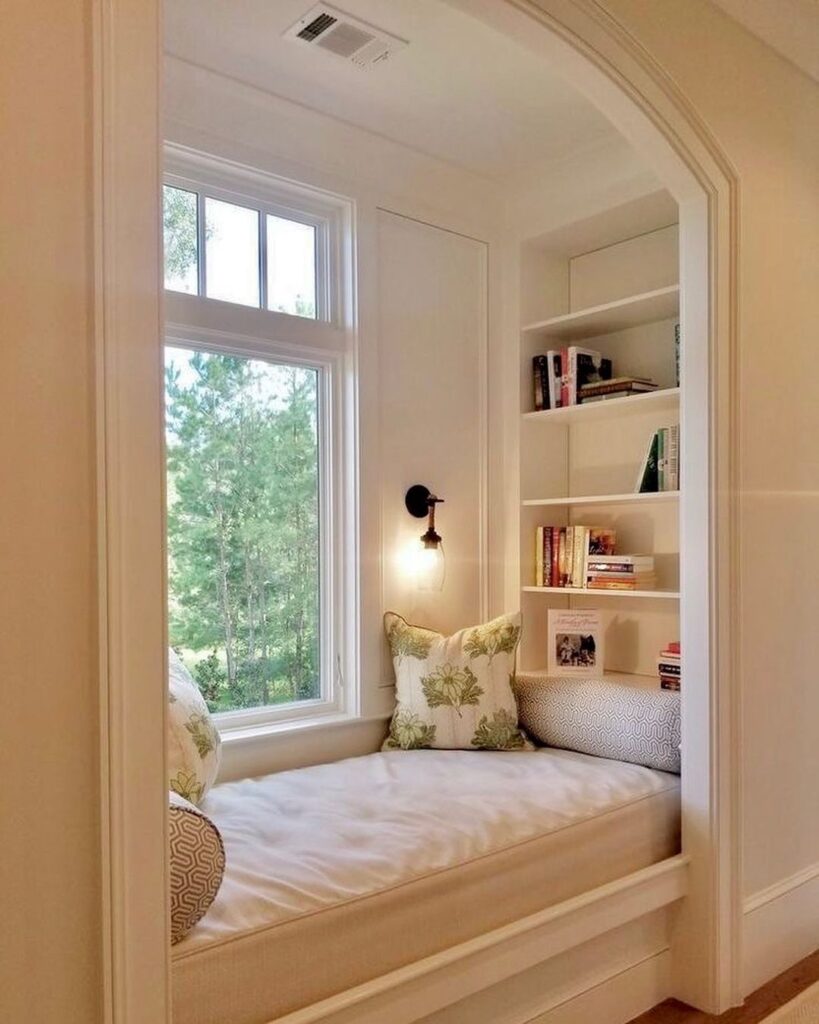 You can achieve a cozy window seat reading nook by framing it with a white accent wall and floating shelves inside! 
This minimalist board and batten idea allows your books and other treasures to shine against a clean backdrop. So, it will give you a neat and sophisticated environment to admire every day!
Go Monochrome With Green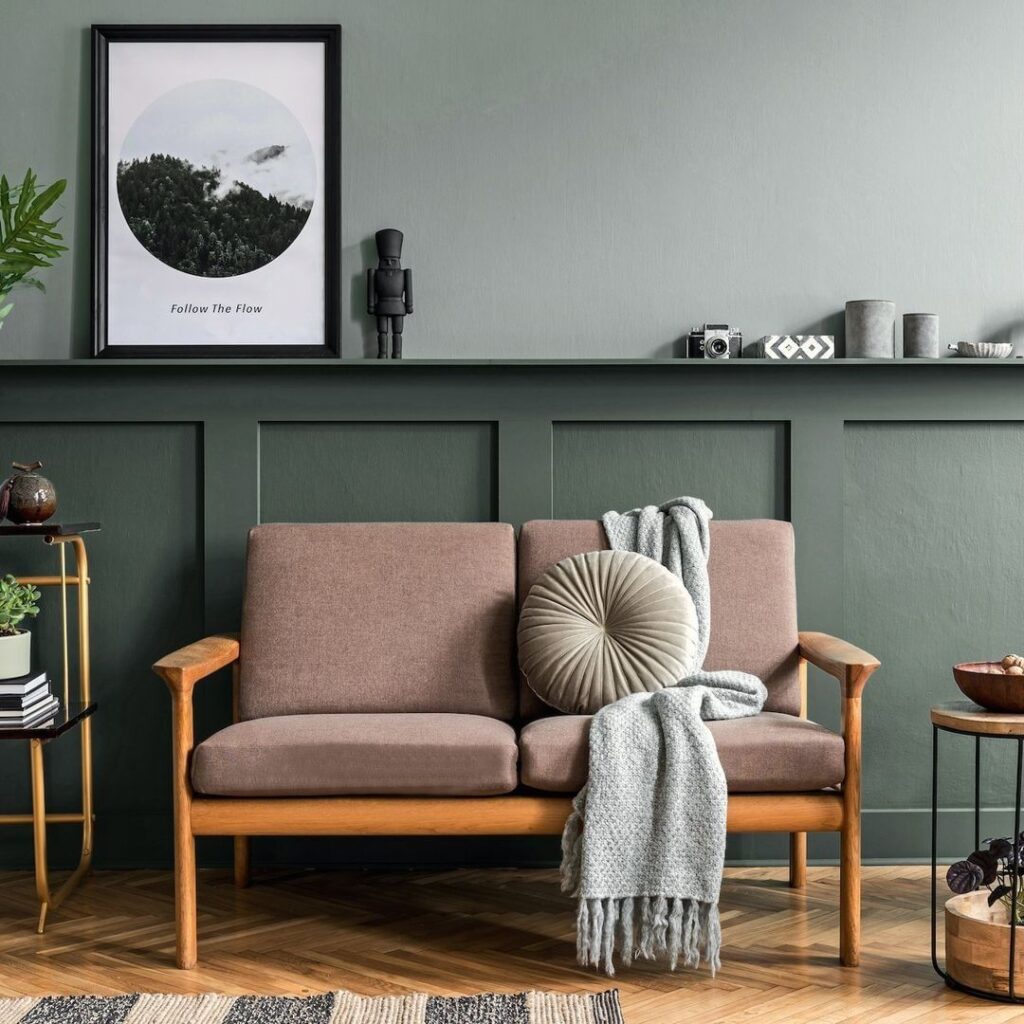 For a green-themed living room – You can enhance the ambiance by pairing a darker green board and batten accent wall with a lighter green base wall. 
This monochromatic palette creates a harmonious and inviting space for relaxation and gatherings!
Bohemian-Inspired Board And Batten Wall Idea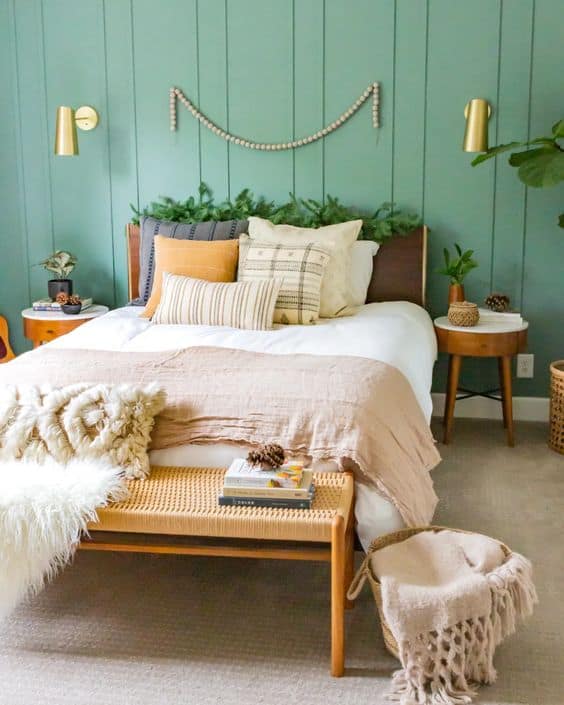 It's time to embrace the bohemian vibe in your bedrooms! How about a mix of textured fabrics with a teal accent board and a batten feature wall? The combination can offer a free-spirited and cozy haven, ideal for relaxation.
In this board and batten wall idea, the vertical lines add an illusion of height, while the wall treatment infuses texture and visual interest. What's more, you can even DIY this! Yes, it's that easy to set up.
Rustic Board And Batten Accent Wall
You can leave a lasting impression on your visitors with this lighter wood color board and batten wall entryway. The contrast between the light wood and your living room color will exude elegance. 
However, the wall treatment adds a touch of visual appeal to the space. First impressions matter, you guys! So, get on this DIY project as soon as possible, and chop chop!
Pro Tip: You may also infuse rustic charm into your hallway with a reclaimed wood board and batten wall. The weathered texture and warm tones create a welcoming ambiance, offering everyone a delightful experience!
A Beige half Board And Batten Accent Wall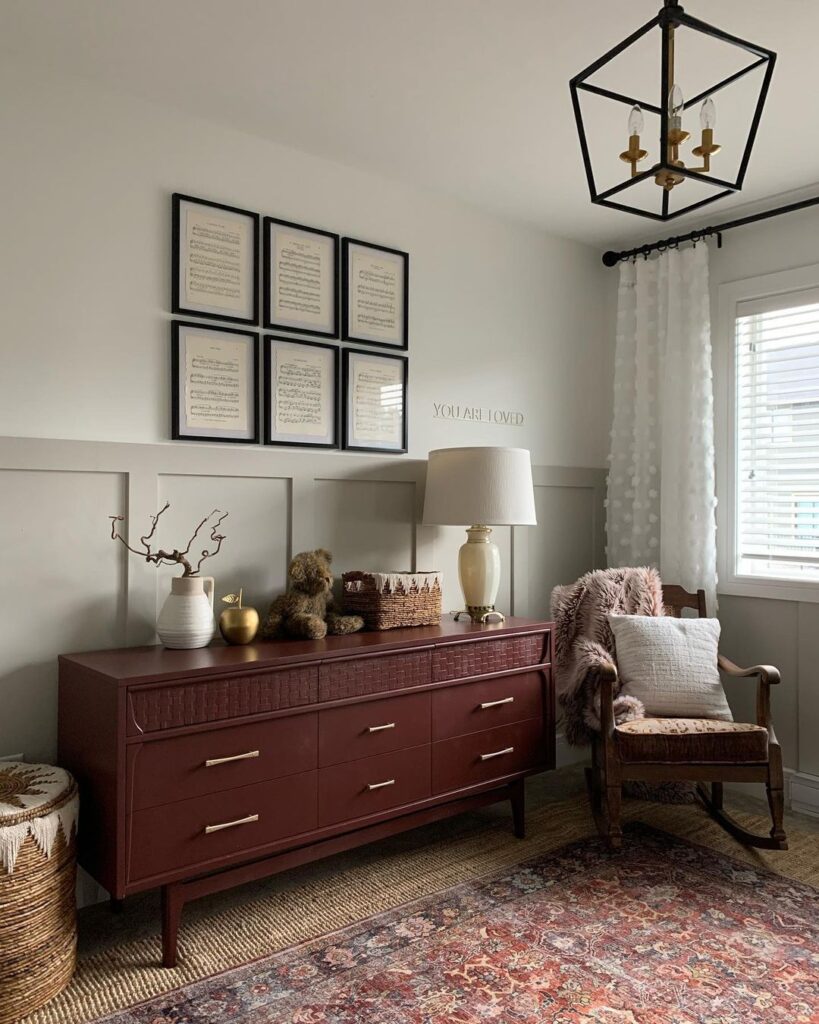 A beige board and a batten wall paired with a cream-covered wall is an excellent way to design a cozy reading nook. This kind of minimalism allows your books to set up nicely, while the cherry red credenza adds a much-needed pop! 
The color combination is powerful enough to make you forget about the time. It can effortlessly create a serene space for all your literary escapes.
Black Wall In The Mudroom!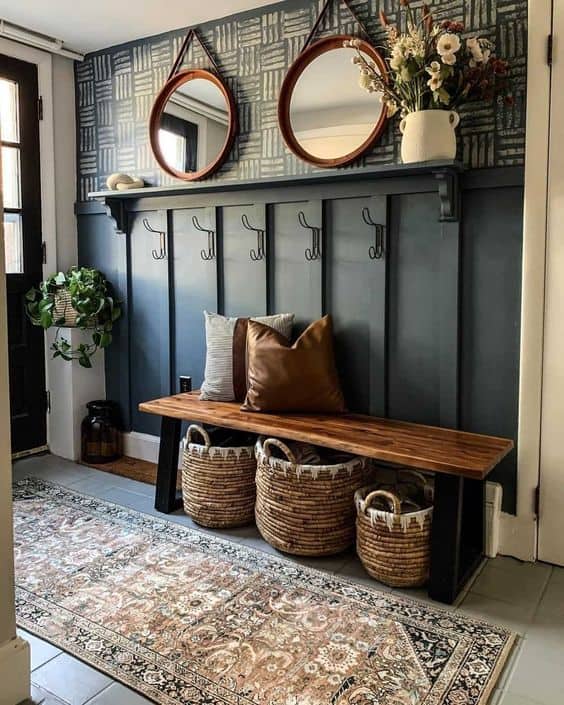 A sleek black board and batten wall mudroom near your entry is a perfect choice for leaving strong first impressions. This bold color choice sets the tone for your home's style, while the wall treatment adds so much intrigue to the space.
Playroom Board And Batten Half Wall Design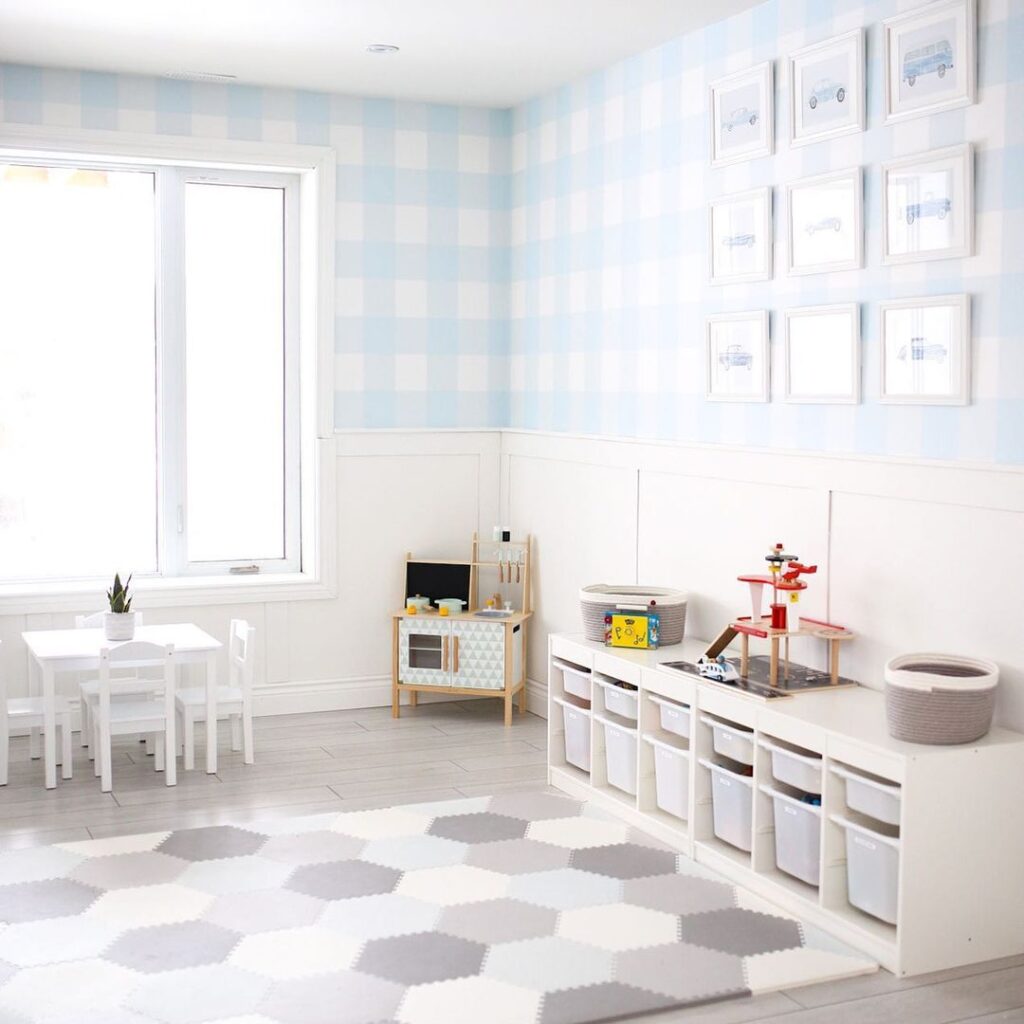 You can fancily energize a kid's playroom with a white board and batten on a baby blue and white patterned wallpaper wall. The soft, vibrant color sparks creativity, while the wall treatment ensures a feeling of comfort for active little ones!
Pro Tip: White acts as a blank canvas for the kids to express their imagination on! So, you can just paint the board and batten on the bottom with whiteboard paint or dry-erase paint, and watch the magic unfold. This way, you can help your child unleash their inner Picasso! 
Board And Batten Wall In Home Office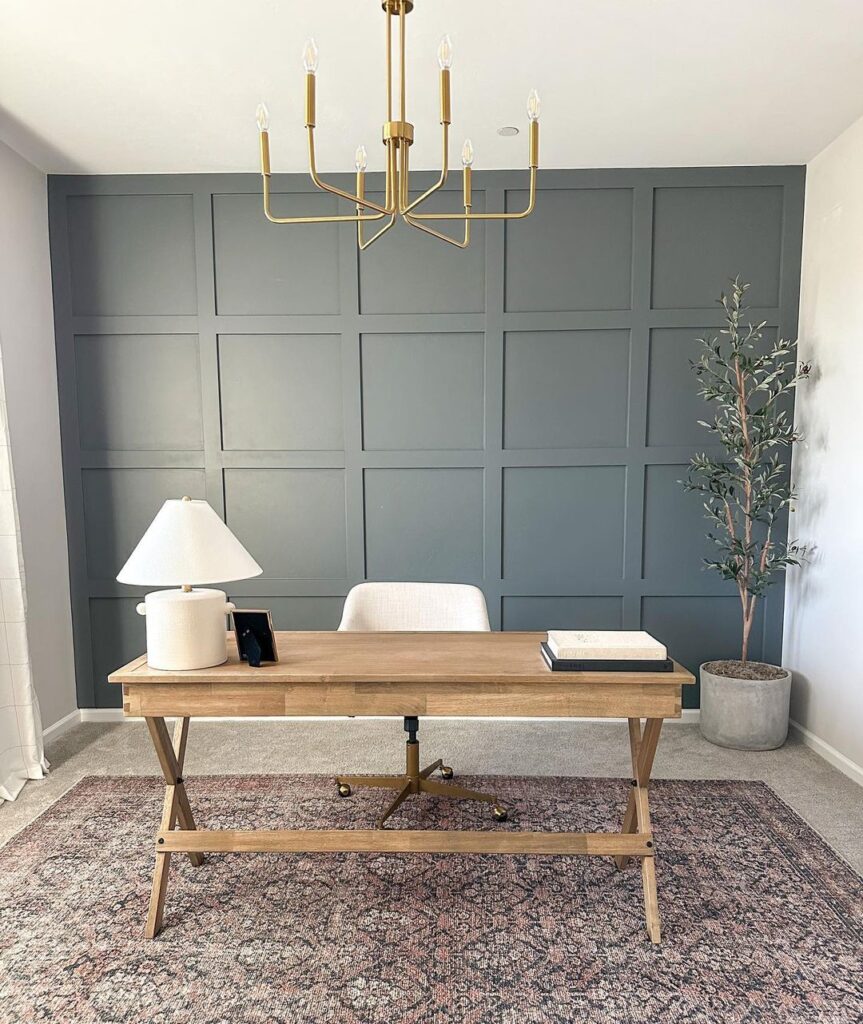 Let's design a transitional home office with a board and batten wall painted in a soft gray tone! How does that sound? The timeless flair of the wall treatment balances out modern and traditional elements while fostering a productive work environment as well. 
Luscious Gray Laundry Room!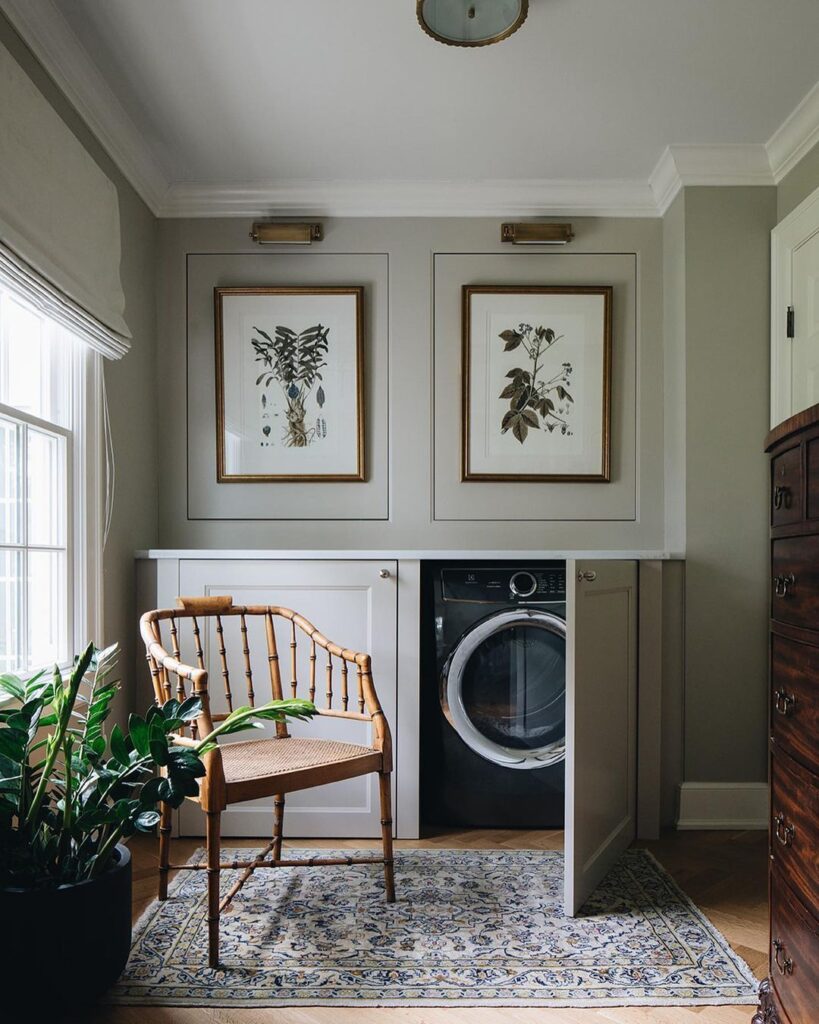 You didn't think that doing laundry could be a stylish affair too, right? Well, guess what? Yes, it can, and now, you know! Infuse vintage charm into your laundry room with beadboard-inspired board and batten walls. 
But, instead of using repetitive vertical lines, you can just frame stuff! This classic look will build character and nostalgia in your functional space.
RELATED: 19+ Laundry Room Shelving Ideas To Save So Much Space!
Scandi Board And Batten Wall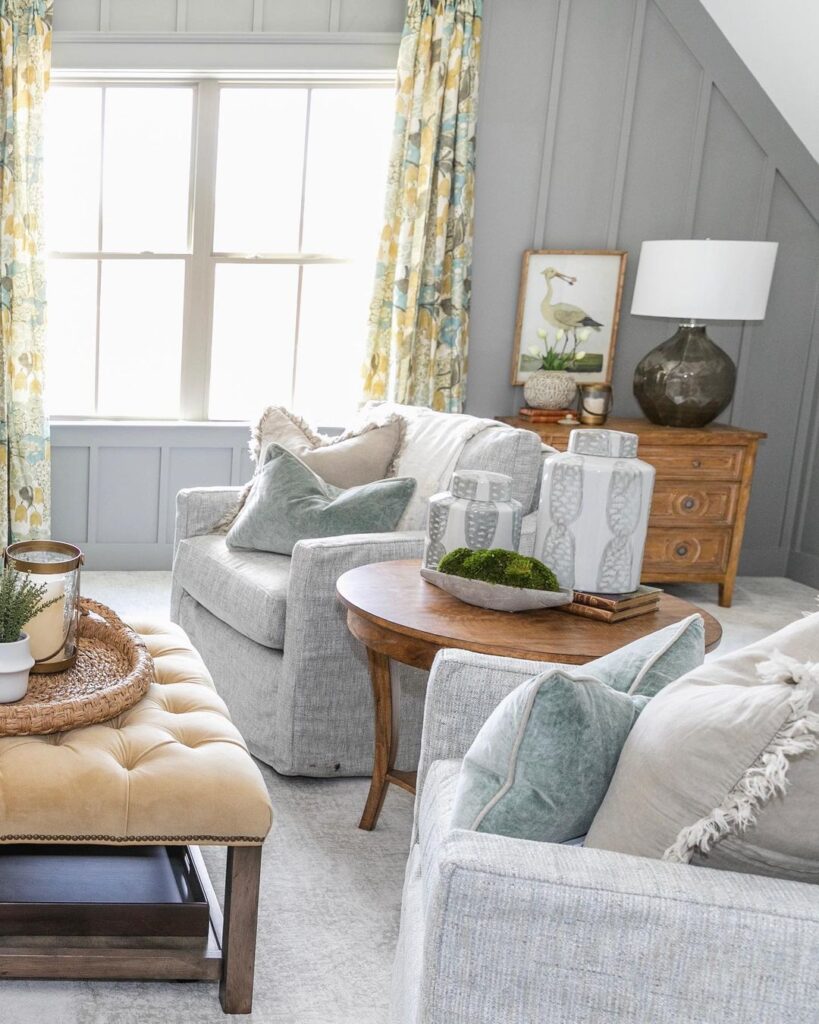 Invite a pleasant Scandinavian vibe in your loft with a warm gray board and batten wall idea! This Scandinavian texture and color create a unique focal point and capture the serene essence of urban living.
Jewel-Toned Accent Wall Idea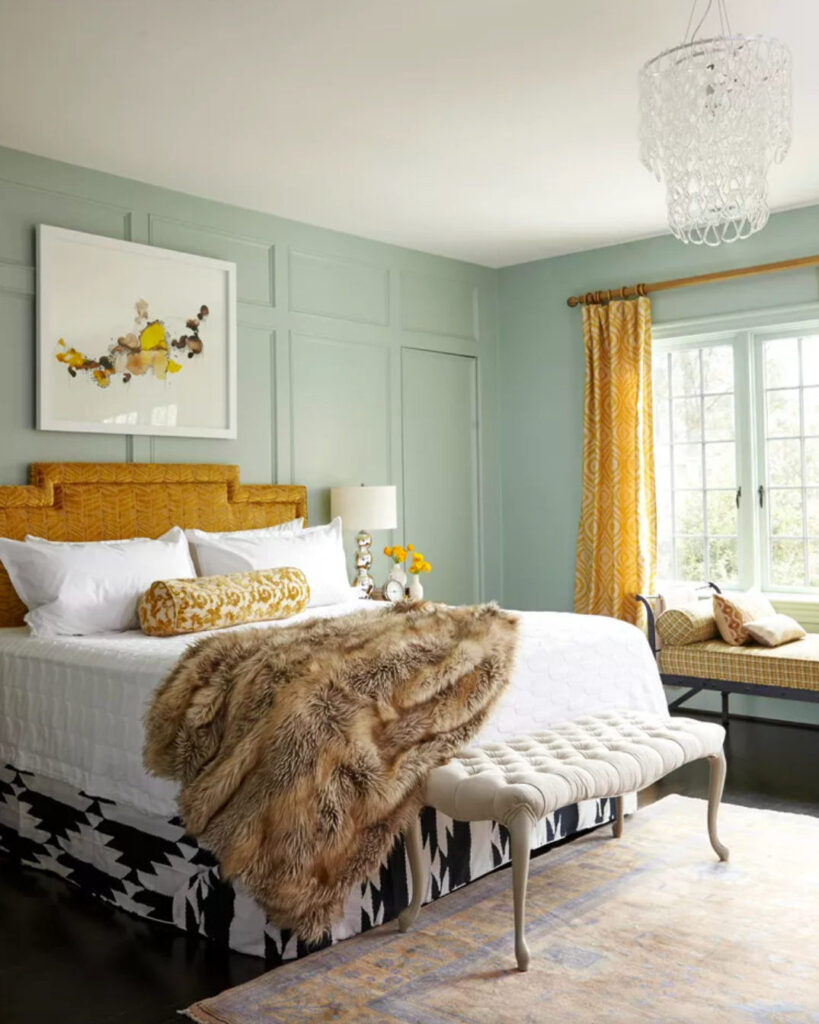 You can easily achieve a tranquil and vibrant ambiance with calming bedroom colors like sage green and citrine! The room's focal point is the sage green board and batten wall that serves as a soothing backdrop reminiscent of lush gardens!
Against this canvas, you can use jewel-toned yellow accents! From decorative pillows to elegant curtains – The citrine and mustard combo infuses the space with energy and warmth. 
Gray Board And Batten Accent Wall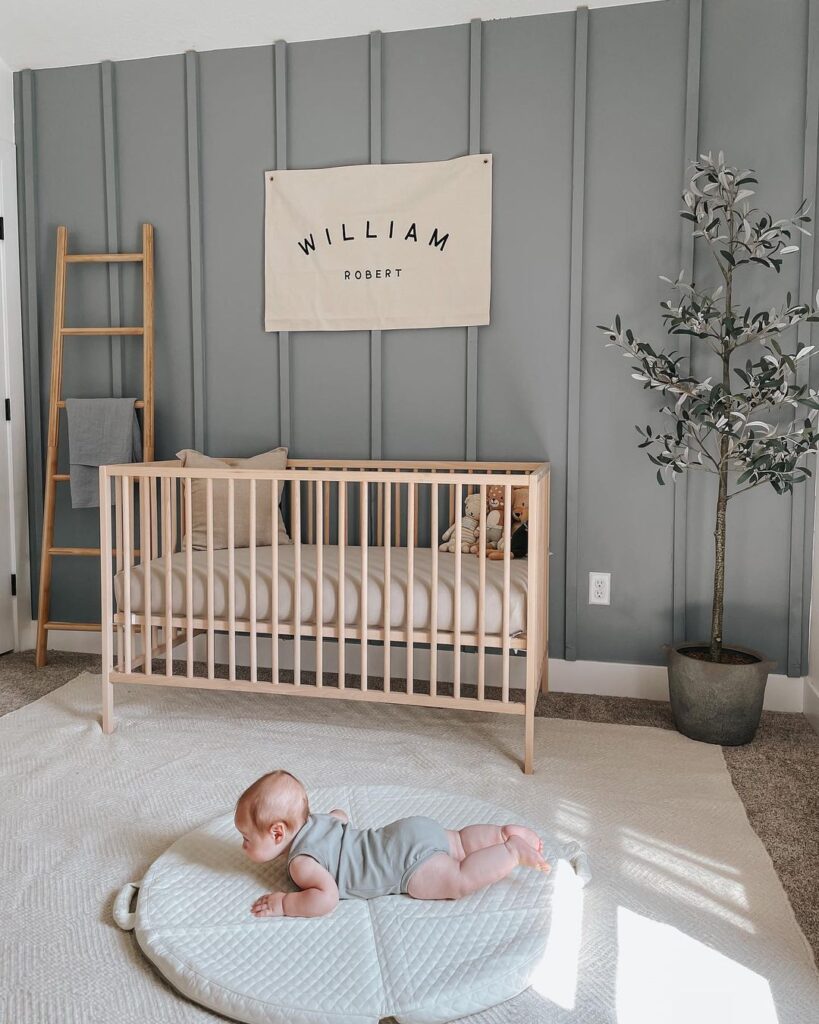 Create a cozy haven for your little one by adding a gray board and batten accent wall idea. The deep color builds a secure environment while the wall treatment elevates the aesthetic intrigue of the nursery. 
Modern Board And Batten Living Room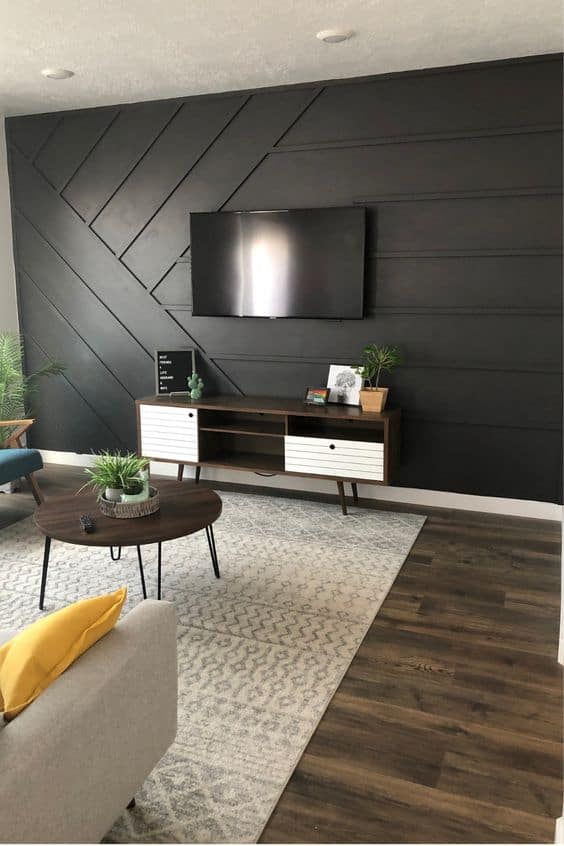 Wanna uplift the modern aesthetic of your living room? A sleek black board and batten wall idea can just do the job for you! It has minimalist lines and provides a clean backdrop for your TV console decor, allowing your furnishings to shine.
Green Board And Batten Wall In Sunroom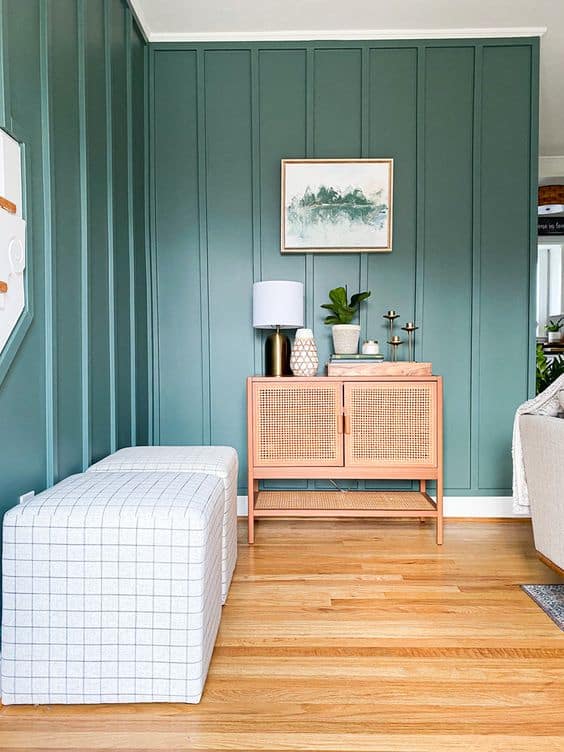 Connecting with nature in a sunroom becomes much easier if you incorporate a lush green board and batten wall idea. The verdant hue blends perfectly with the outdoors. It also creates an inviting space for relaxation and enjoying the view!
FAQs
What Kind Of Wood Is Used For Board And Batten?
A variety of wood types can be used for board and batten wall ideas, depending on their distinct characteristics and appearances. Common choices include pine, cedar, and redwood due to their durability, affordability, and ease of working.
Pine is a softwood that is readily available and takes stains and paints well, making it versatile for different finishes. 
Cedar and redwood are naturally resistant to decay and insects and are ideal for moisture-prone areas. 
Oak or maple are hardwoods that can be chosen for a more upscale appearance. They may be expensive and harder to work with.
Ultimately, the wood choice depends on factors like budget, aesthetics, and the location of the board and batten application.
How Thick Are The Boards And Batten?
The thickness of the boards and battens can vary based on design preferences, the desired level of texture, and the specific application. Typically, the boards range from 1/2 inch to 1 inch in thickness, with a common choice being 3/4 inch. Thicker boards add a substantial and rustic appearance, while thinner boards create a more streamlined and modern board and batten look.
Battens are the narrow strips that cover the gaps between the boards. They are often around 1/4 to 1/2 inch thick. It's important to consider the structural integrity of the wall and the weight of the materials when selecting the thickness of the boards and battens. Thicker boards may require additional support, while thinner ones are more suitable for lightweight applications.
Overall, the choice of thickness should complement the overall design aesthetic and functionality of the board and batten wall.
Is The Board And Batten Waterproof?
No, it's not! However, board and batten can be made water-resistant with proper treatment and maintenance. The choice of wood type and the finishing methods play a significant role in its resistance to moisture. Naturally, decay-resistant woods like cedar and redwood are better choices for the board and batten in areas prone to dampness. You can apply a quality exterior-grade finish like paint or sealant to create a barrier against water penetration and increase the water resistance of the wood. 
However, please note that even with treatments – The board and batten may not be entirely waterproof. Continuous exposure to moisture like heavy rain or high humidity, can still lead to eventual deterioration, warping, or rotting. Regular inspections, proper ventilation, and prompt maintenance are crucial to maintain the lifespan of the board and batten and minimize the effects of water damage.
Where Not To Use Board And Batten?
You may not want to use a board and batten wall where moisture is gonna be. Let me break it down for you:
1) Bathroom Walls: The board and batten can be vulnerable to moisture damage in humid environments like bathrooms. Prolonged exposure to moisture can lead to warping, rotting, and deterioration.
2) Exterior Ground Contact: Using board and batten directly in contact with soil or standing water can lead to rapid deterioration. It happens due to moisture absorption and potential insect activity.
3) High-Traffic Areas: In a heavily trafficked space like a hallway or staircase, the board and batten could be prone to nicks and dents from accidental impacts. It will further reduce their durability.
4) Unfinished Basements: The potential for moisture in unfinished basements can impact the integrity of the board and batten. Thus, this will make it susceptible to rot and mold growth.
5) Kitchens: In areas with potential grease or food splatters, maintenance could become challenging due to cleaning difficulties. This can potentially stain or damage the wood entirely.
6) Areas Prone to Extreme Temperature Fluctuations: Drastic temperature changes can cause expansion and contraction in the wood that can lead to warping or cracking.
However, there are also spots where this wall finish looks striking too. So, it all comes down to investing in maintenance and finish, while keeping your home pretty and stylish. You can use a board and batten in spots where there's low maintenance, and thus, a long life is possible!