A TV stand without décor is a recipe for a tasteless home. And if you know how good a well-thought-out home feels, you understand the importance of well-designed spaces. And one area that often gets overlooked when it comes to decor is the TV stand. Let's face it, it's not exactly the most glamorous piece of furniture in the room, comparatively. But that does not mean you can't upgrade it, given there are many TV stand decor ideas. Décorating a TV stand is the perfect opportunity to show off your style and add some personality to your living room. It's gotta hold up that precious screen and provide storage for all your binge-worthy essentials. 
A great starting point is to layer your decor with a mix of heights, textures, colors and so much more I'll be talking about here! So, before you grab this opportunity to flaunt your design skills and make your TV stand from a place that goes unnoticed to bringing in the wow factor, look out for some TV stand decor ideas that I have handpicked just for you!
Add A Floral Touch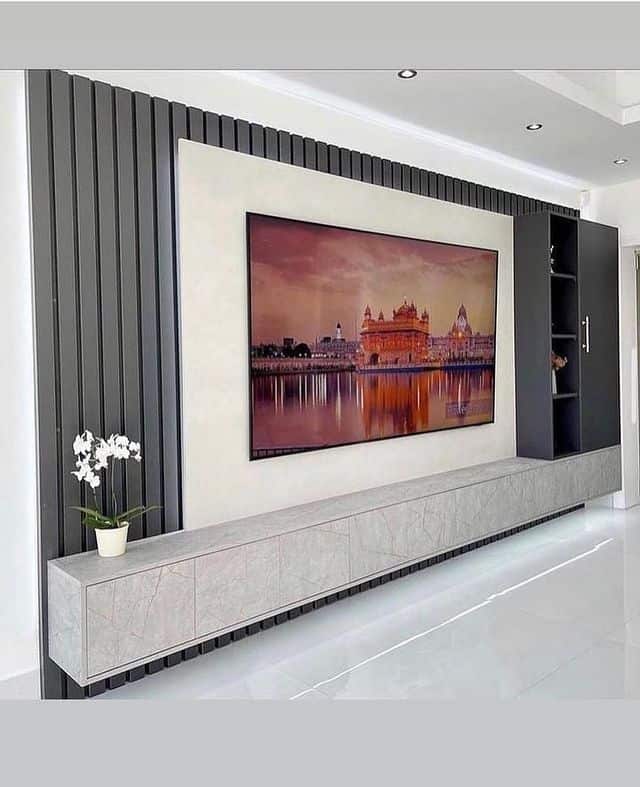 Who doesn't love a little bit of nature inside their home? Bring in some invigorating scent in your living room with fresh flowers! Whether you choose a big and bold bouquet or a few delicate stems, flowers are the perfect way to elevate your TV stand!
Display Some Books And Magazines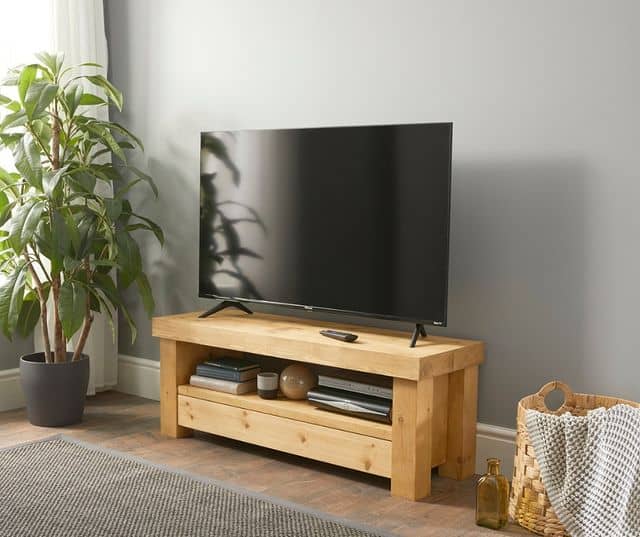 A great TV stand decor idea is to keep your favorite reads within the reach of your hands by placing them on your tv stand. It can effortlessly add a touch of personality to your space and make the most out of limited space while showing your love for reading.
Display Your Collectibles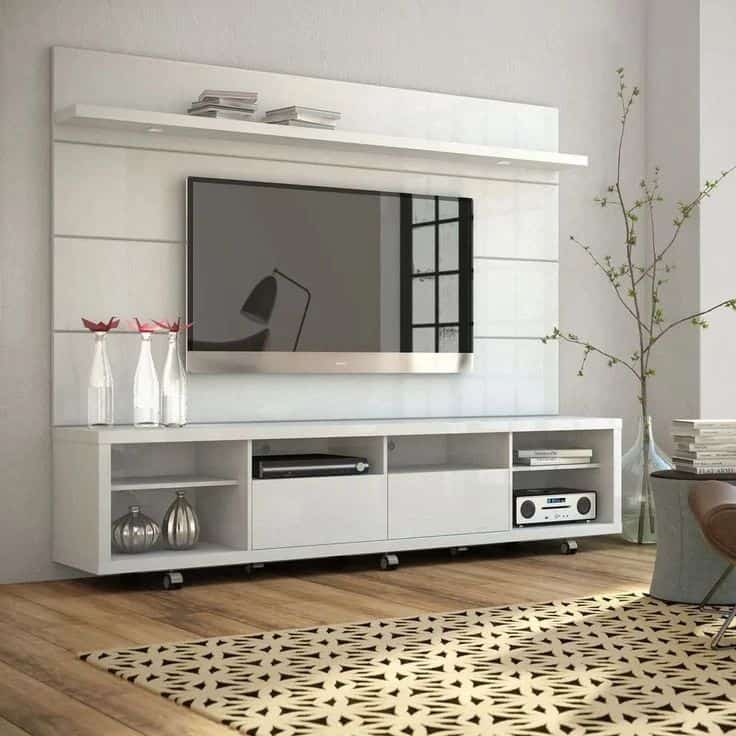 Your collection deserves a place where it can be noticed, and I can't think of a better place than your tv stand! Whether you're into vintage record players or funky little figurines, using collectibles as TV stand decor is a great way to bring some character into your space and display your favorite items without cluttering up your shelves or walls.
Decorative Tray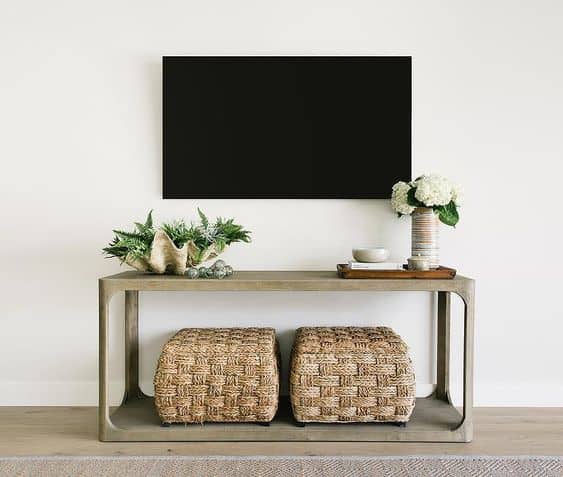 An easy TV stand decor idea is to organize your remote controls, coasters, and other TV-watching necessities with a tray. You can easily switch out the contents of the trays to reflect the season or your mood. Fill them with faux pumpkins or pinecones, for a festive vibe, or add some candles for a romantic night in!  And if you feel like snacking, who is stopping you to use it as a tray for your cups and kettle?
Glorify The Decor With A Lamp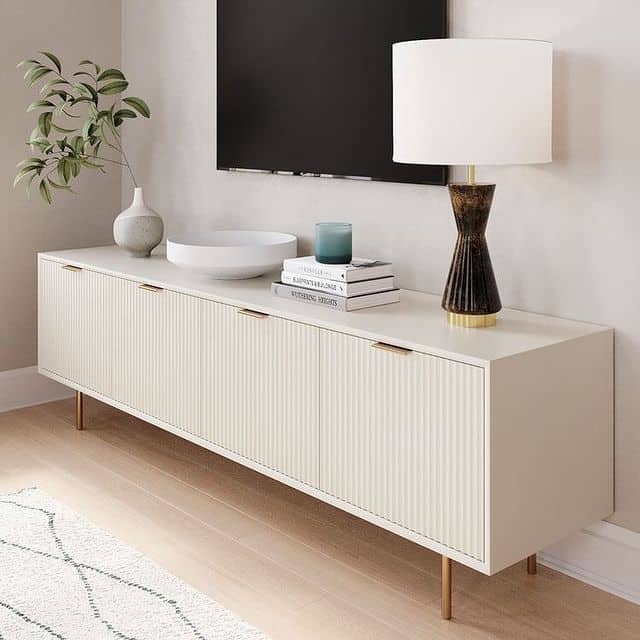 Adding lamps to your TV console decor is the perfect TV stand decor idea. They give out the right amount of ambient lighting to set the cozy mood that's perfect for relaxing and binge-watching your favorite shows. Just make sure you choose a lamp that's tall enough and doesn't wobble around. Safety first!
Try Baskets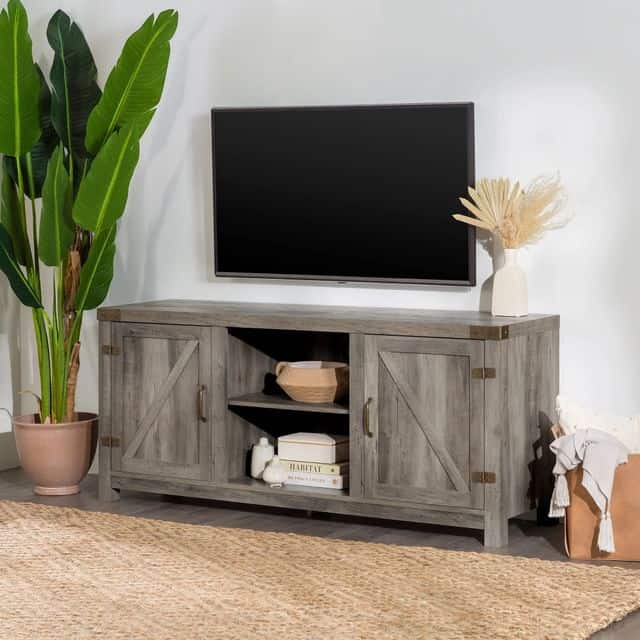 Baskets can be a nice unique addition to your tv stand, and they are cost-effective. They add a rustic & boho charm to your living room while being a great place to store your little things from your keys to the remote. You can also save a lot of space by using the floor space under the TV console to store them.
Bring In Some Green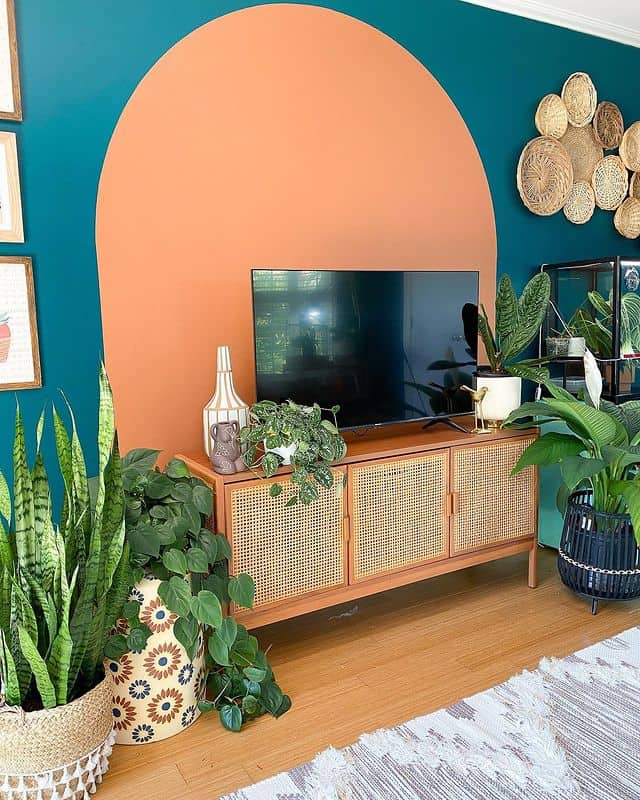 You could go the traditional route with picture frames or fancy candles, but, plants are the ultimate statement piece! Add some greenery to your living room and bring in the zen with plants. If you don't fancy plants as much and still want the aesthetic, there are plenty of low-maintenance plants out there that are perfect for decorating your TV stand that'll only bring in the beauty and require least to no care!
Use A Clock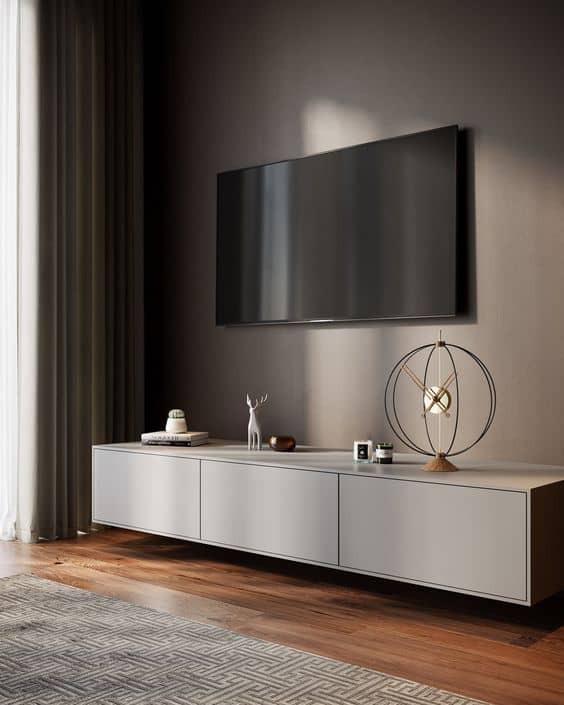 These days we don't look at the time on the clock since we have our phones. So why not repurpose it? A clock can be a unique and quirky addition to your tv stand décor ideas. The best part is with a clock on your TV stand, you'll never have to worry about losing track of time during those binge-watching sessions!
Light The Candles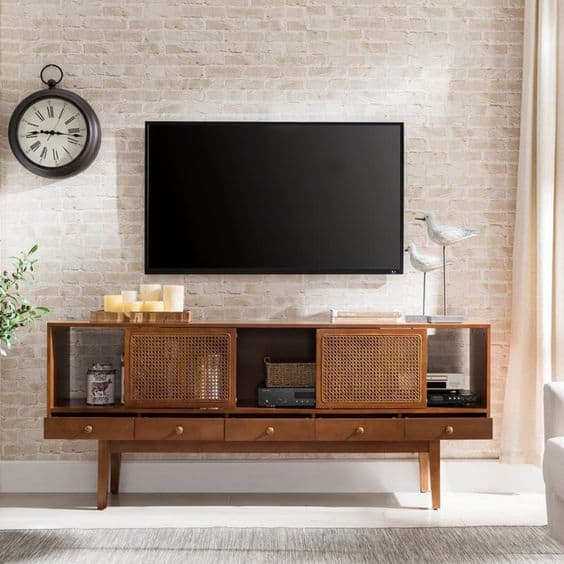 Candles are easily one of the everyday décor staples. Because who doesn't love coming home to a room that smells like lavender or vanilla? You can personalize your tv décor in simple ways by just using candles. Make their best use by choosing from among the plenty of options that are available! Play around with all sorts of shapes, sizes, and scents in candles, and let their soft glow steal more romance than your binge-watched romantic series!
If adding candles to your TV stand decor isn't very comfortable for you, then why not the artificial ones with faux flames? They won't harm and give the same charm! (Poetic vibes, lol!)
Adorn The Console With Seasonal Décor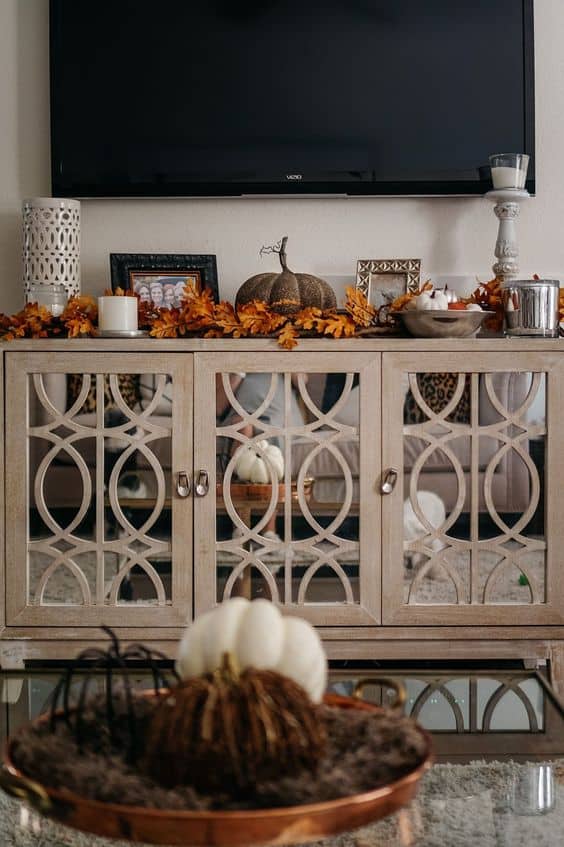 Seasonal decor is the perfect solution to bring some life to your tv stand decor ideas, plus it gives you a great excuse to switch things up every season and keep things fresh.
The best part about using seasonal decor when decorating your TV console is that it doesn't have to be expensive or time-consuming. You can easily find affordable decorations at dollar stores, and thrift shops, and if you're feeling extra crafty, DIY some of your own!
Make The Decor Artsy With A Sculpture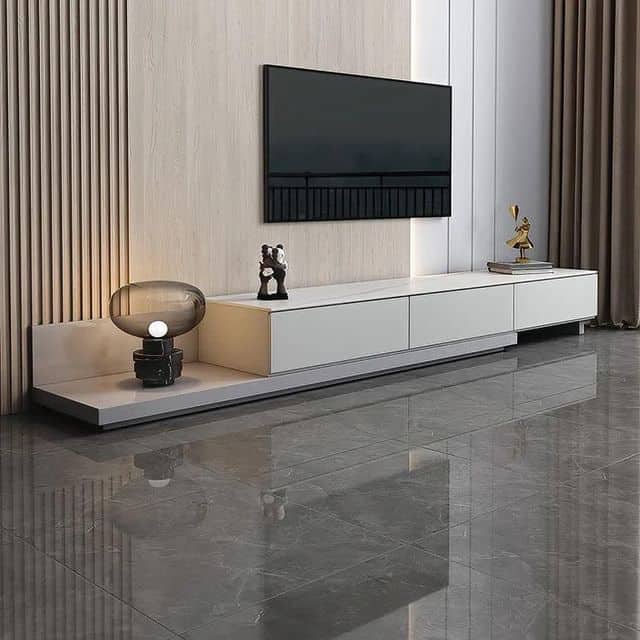 Adding a few sculptures to your TV console decor is the perfect way to flaunt your artistic taste in style! You could go for a classic statue or something more modern and abstract. Play around with different shapes and sizes, some matte finish, and glitz to see what gives you butterflies when you look at the all-over decor!
Decorate With Vases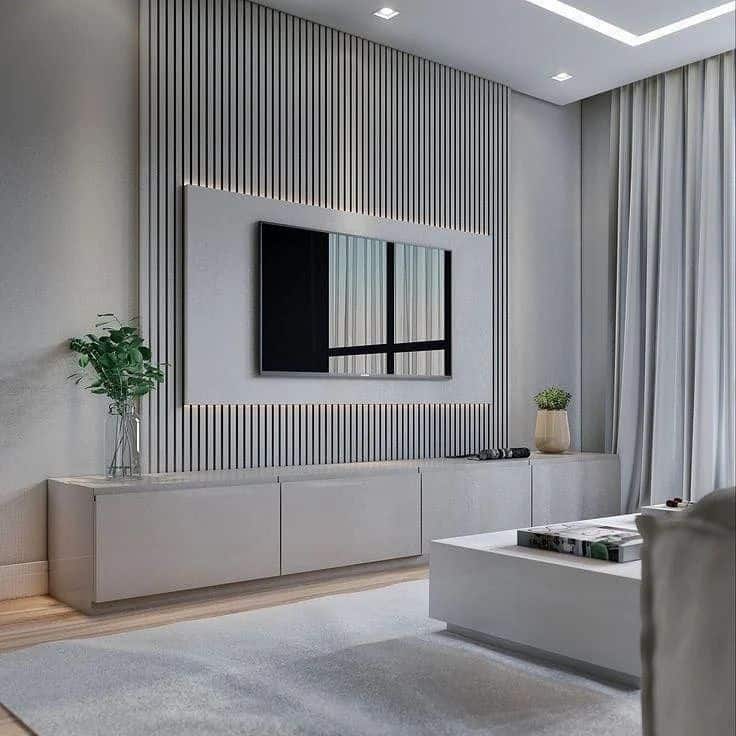 There is a reason why decorating with vases is the go-to TV stand decor idea for everyone! They have stood the test of beauty and continue to reign our decor. For your TV console decor, you can go for a classic look with some elegant, tall vases flanking each side of the TV, or mix things up with an eclectic collection of different sizes, shapes, and colors. Take advantage of their versatility and fill them with fresh flowers, dried twigs, or even colorful pebbles.
Use Vintage Items To Make It Stand-Out!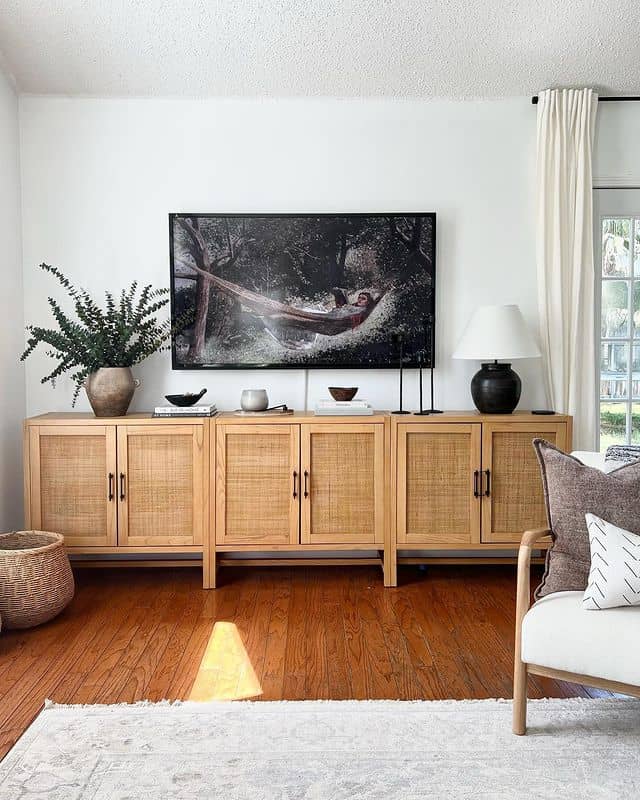 Vintage items are the perfect decor additions if your want to bring a unique, fresh, and soothing flair to your setup. With vintage items, adding rustic beauty to the interiors becomes effortless. The charm of using an antique radio as a stand for your TV or just simply using vintage décor can change the whole vibe. At the end of the day, it's all about the little touches that make your house a home.
Artwork Can Help!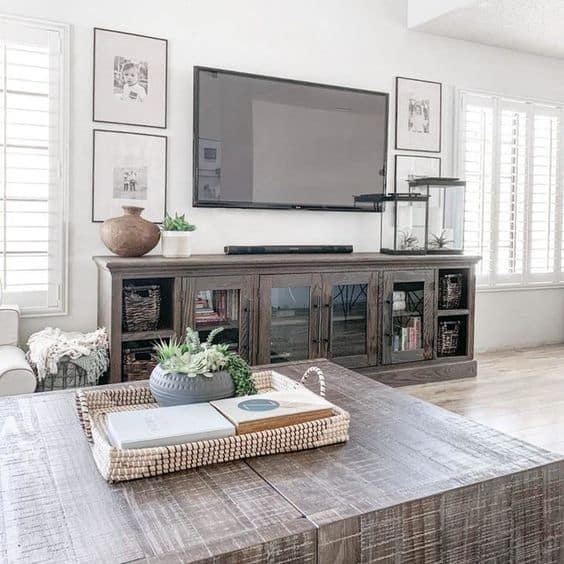 Try using framed art, and place it on your tv console.  It's a great way to show off your favorite art pieces that may not have found a place on your walls yet. Simply prop up a few frames of various sizes and styles on your TV stand, and mix in some decorative accents like vases or plants to complete the look. You could go for minimalist art for a more spacious and Scandinavian look or go all in for bold colors and prints to add a pop of color!
Let The Speakers Show Up!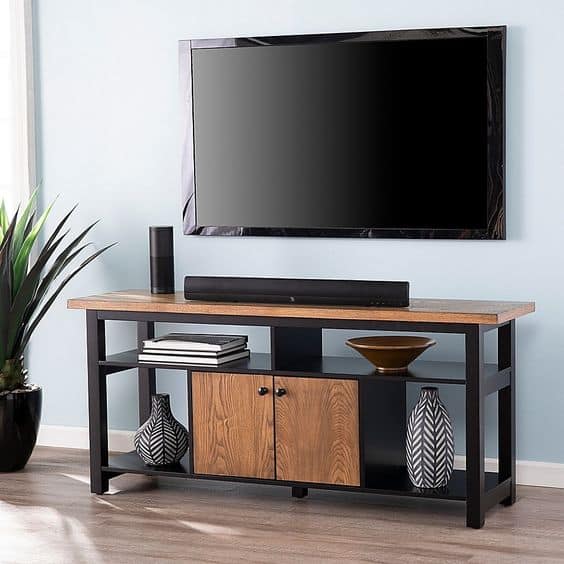 Who doesn't love a good multi-purpose item? You can crank up the volume during movie night or simply unwind and jam to your favorite music! And don't worry about sacrificing sound quality- most speakers are designed to work just as well when placed on a surface as they are when mounted on a wall. So, display them on your TV stand so you have to think less about what more to add!
Tips To Decorate A TV Console
Now that you have a fair enough number of TV stand decor ideas, please take a look at the tips to create your best one! This way, you won't go wrong!
Use varying heights: Instead of sticking to one height for all your decor, mix it up! Try a combination of tall vases, shorter decorative objects, and a few books or magazines for some added texture.
Choose a theme: Consider the overall theme or style of your room, and try to incorporate that into your TV stand decor. 
Add some greenery: Plants are a great way to add some life to your TV stand, and they're also great for purifying the air in your home. 
Organize your space: Trays are a great way to corral smaller decor items and keep them looking organized. 
Mix and match materials: Don't be afraid to mix and match different materials, such as glass, metal, and wood. It adds some visual interest and keeps things from looking too matchy-matchy.
Stick to a color scheme: Consider choosing a color scheme for your TV stand decor, and stick to it! This will help everything look cohesive and put together.
Personalize it: Finally, don't forget to add some personal touches to your TV stand decor! Whether it's a few framed photos or a sentimental trinket. Adding some personal items to your TV stand will only make it feel more like home.