Have you ever dreamt of a living room where minimalism meets warmth, and tradition greets modernity? Well, you've come to the right place!
A Japanese-style living room aims to create a space that promotes tranquility, and simplicity, with natural beauty and traditional craftsmanship. This design serves as a sanctuary in the outside world, being the ultimate spot for inner peace and harmony!
So, slip into your comfiest slippers, grab a cup of matcha, and prepare to be inspired! Let's embark on a designer adventure into the world of Japanese living room ideas that will make your heart go doki-doki!
17 Japanese Living Room Ideas
Beyond Carpet And Tiles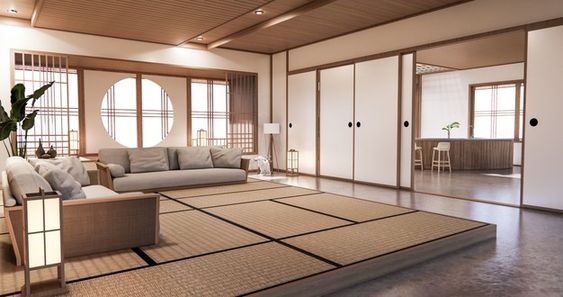 In the Japanese style, aesthetics blend with functionality, and every design choice has a purpose! One such defining characteristic of a Japanese living room is tatami flooring. Tatami mats are made of woven straw and provide a soft, natural surface that is both comfortable and visually appealing! Besides soft neutral furniture and light-colored wooden walls, it's time to invest in the classic elegance of tatami mats to discover the joy of warmth on your floors!
Pro Tip: Tatami Mats can easily be replaced or folded away! It's a great feature, especially when you're not using them.   
Windows Of Opportunity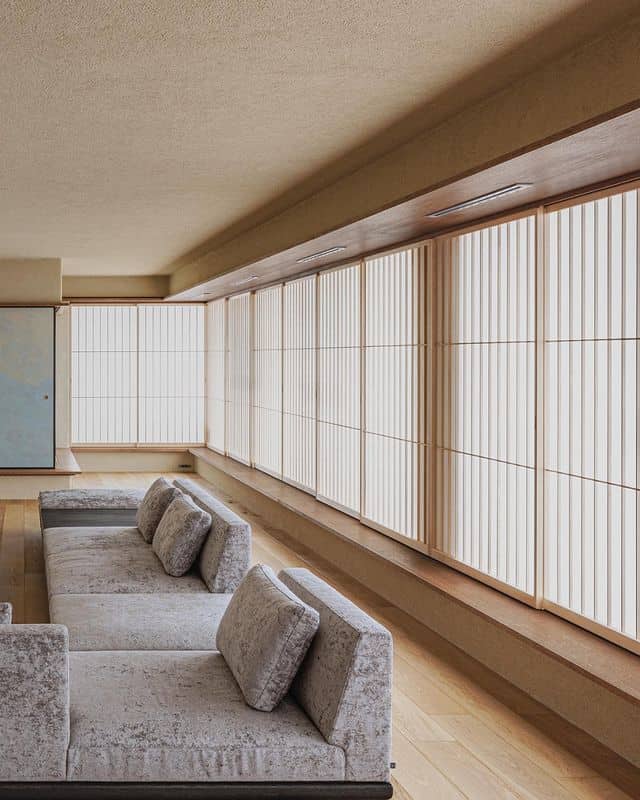 The Japanese design principle of 'kanso' (簡素), is not just about simple, calming spaces. It is a representation of the Japanese way of life and culture! This principle is the reason why large windows and shoji screens are a popular choice in Japanese-inspired rooms!
Shoji screens are sliding doors made of translucent paper attached to a wooden frame. They allow natural light to filter through while also keeping your privacy! These screens are often used as room dividers, or to enclose alcoves called 'tokonoma' (床の間). It's a space where prized artworks or decorative items are displayed.
Illuminate With Delight!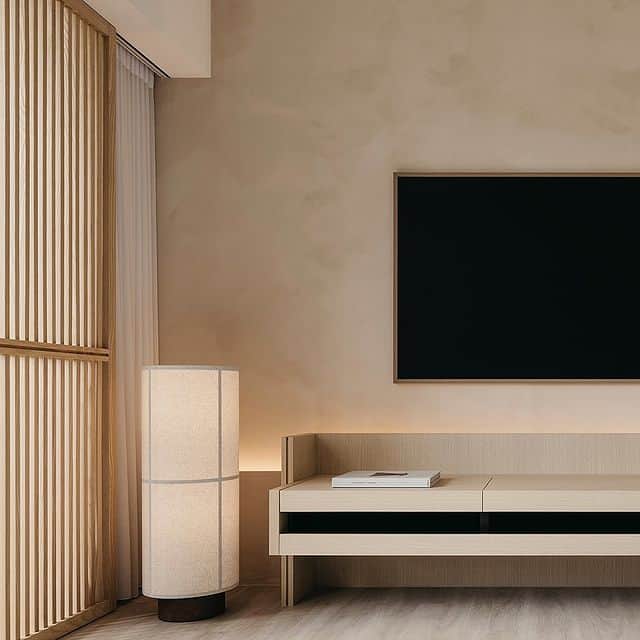 Delicate paper lanterns known as 'Akari' (あかり), or stylish floor and coffee table lamps with rice paper shades are the game-changer in Japanese lighting! They illuminate your room with a gentle glow, creating a magical ambiance. It's the kind of lighting that whispers, "Take a moment, breathe, and let go of all your stress!"
Whether it's about highlighting the furniture or showcasing an artwork – The interplay of light and shadow adds a gorgeous depth and harmony to your space!
Nordic Zen Gardens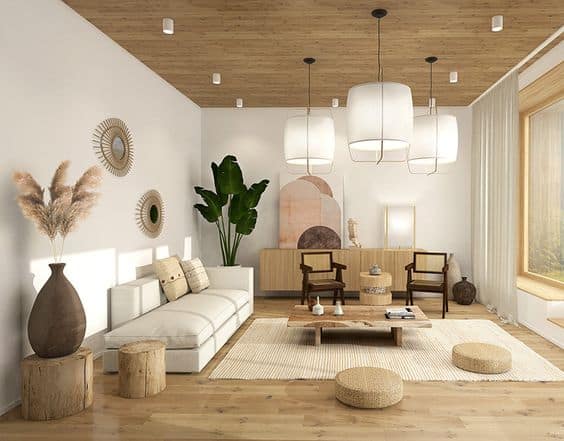 The Japandi living room is an oasis of balance and tranquility! This is the space where Scandinavian light fixtures, wall pieces, and art blend in with natural materials and low furniture.  The furniture is minimalist, yet comfortable and functional. 
It's a space that merges the best of the two design worlds, and turns it into a stylish environment for all occasions with your loved ones!
Flaws And All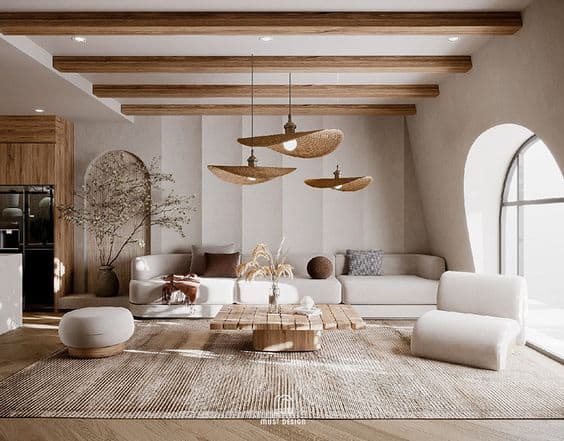 Japanese living room ideas often include natural elements like bamboo, wood, and stone. These materials bring warmth, texture, and a natural connection, which is highly valued in Japanese culture. This is the kind of living room where all the bumps and curves are welcomed and admired!
Bring some pendant light fixtures to the center of the living room! From the rattan material to the organic form – This brings a subtle touch of wabi-sabi to the heart of your home!
Wabi-Sabi Wonderland!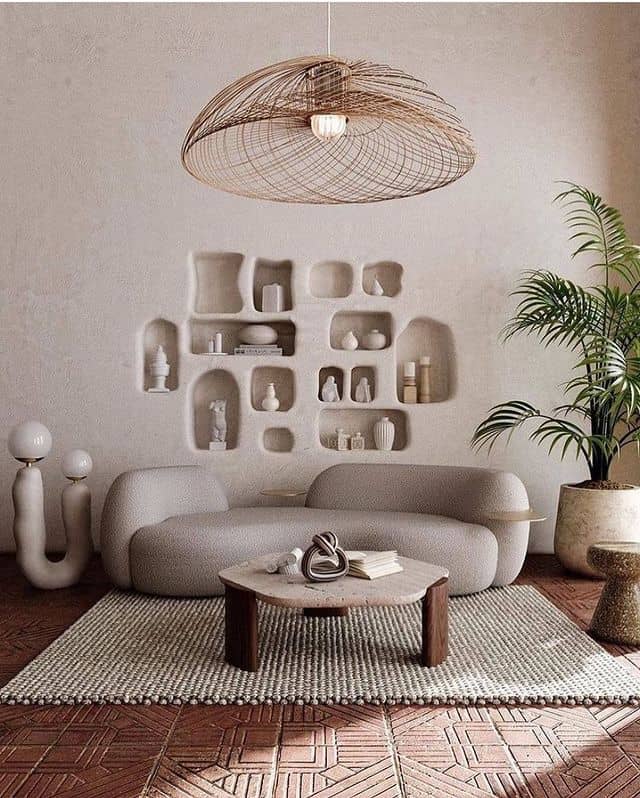 Now, forget about subtleties and boldly embrace the wabi-sabi in the entire space! This Japanese design prioritizes utter perfection, and screams, "You are perfect just as you are!"
In this living room design, you can find weathered wooden furniture, handmade ceramics as your coffee table decor, and handcrafted textiles, exuding a gentle, rustic charm amidst all the flowy lines in the forms! 
Tokyo Meets Metropolis!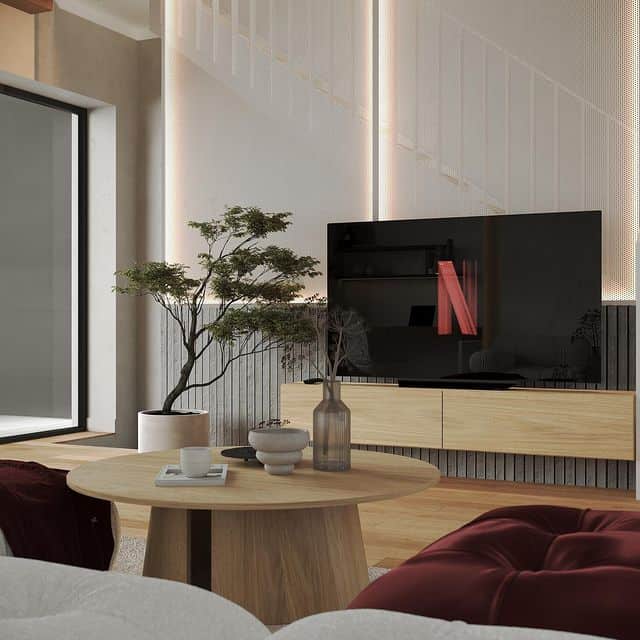 Picture a space that blends sleek lines as wooden ceiling battens, and minimalist furniture, with a touch of traditional charm. That is exactly what you get when you fuse Urban and Japanese aesthetics in your interiors!
The large windows offer natural light to fill your room, giving it an airy and open vibe! As a plus point, natural light has a positive impact on your well-being, and promotes vitality and connection to the natural world!
Blooming Tranquility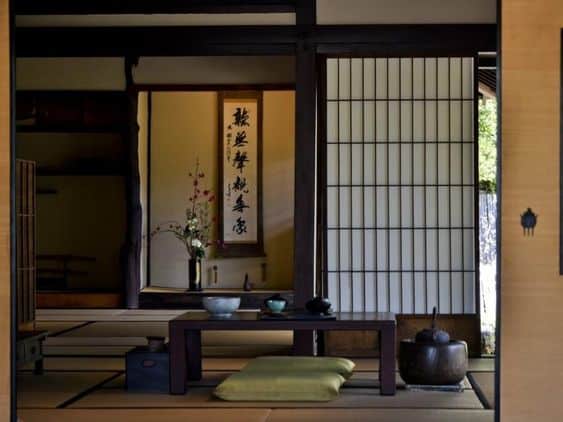 Break out the pretty flowers! The art of flower arrangement, known as 'ikebana' (生花) adds a unique softness to a stiff and rigid traditional Japanese living room.
As you sit on your tatami mat or the plush floor cushion in your living room, you can sense a calm wash over you — a reminder to find peace in simplicity and cherish the beauty of life's imperfections!
Zakka Zen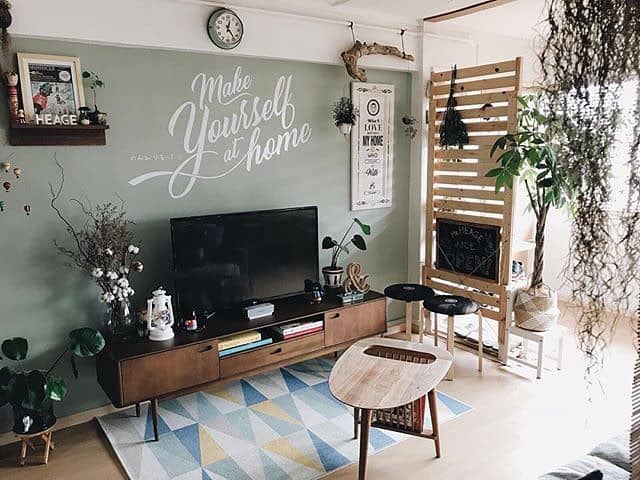 The Zakka-style living room is a whimsically charming fusion to create a space filled with delightful surprises! Zakka (雑貨) is a Japanese term, meaning 'miscellaneous things,' preaches to celebrate the art of finding beauty in everyday life. 
Decorate with eclectic knick-knacks, and vintage to make your living room a treasure trove of unique objects with nostalgia! Quirky textiles with playful patterns bring warmth while carefully curated artwork will adorn your walls! The furniture is a mix of vintage and contemporary pieces, each one adding intrigue to your room. It's the perfect space to curl up with a good book, isn't it? 
Japanese Modernism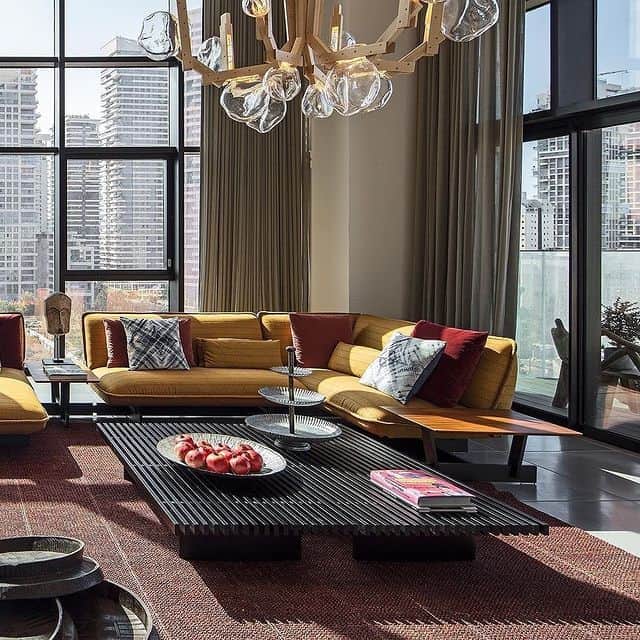 How about we combine the charm of the 80s with the simplicity of Japanese design in Modern Japanese interior design? Now, that's fascinating! The furniture is a mix of sleek modern pieces from the 80s and traditional Japanese elements, creating a unique visual juxtaposition! 
You may add a fireplace as well, to spice up the design. Bring some low-profile sofas in rich red and yellow hues, and plush cushions inspired by traditional Japanese textiles! They insist you sit back and enjoy the night with these two iconic designer eras. 
Harmony Of Grit And Grace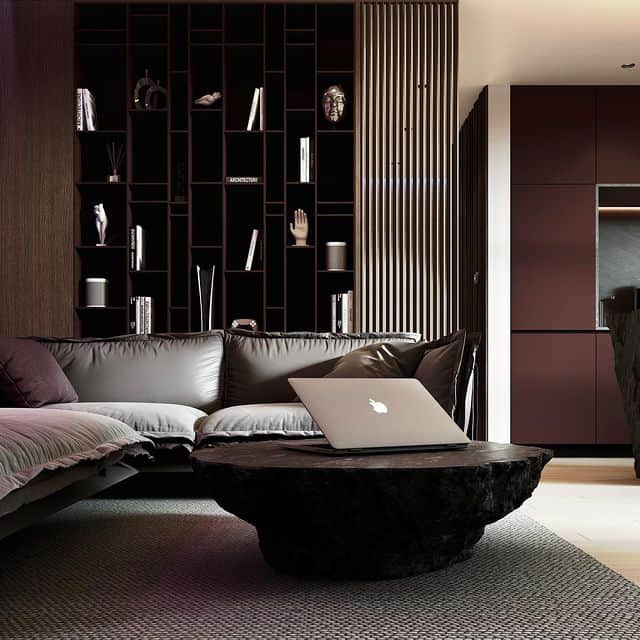 It's time to enter a space that fuses the edgy aesthetics of industrial design with the simple elegance of Japanese influences! You can add metal accents and distressed finishes for an urban grit essence. 
Amidst the industrial elements, you can also find the serenity of Japanese design through low-profile furniture, natural fabrics, and wooden partitions. This is proof that ultimately opposites do attract!
Minimalist Retreat!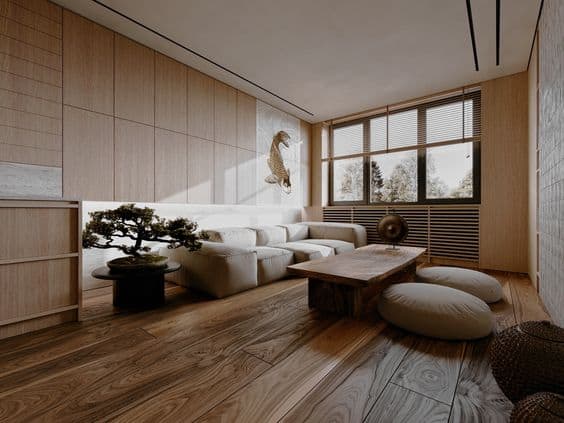 In minimalist Japanese living room ideas – there is the least clutter, and only essential items are displayed. This design approach helps to build a clean and uncluttered space, allowing calmness and tranquility in the zone! 
In this brown living room, it balances the opposing forces like light and dark, free space and filled space, the yin and the yang!
East-West Fusion! 
Looking for traditional elegance with a contemporary twist? Worry not! The refined furniture in neutral tones, curated artwork, and decorative elements are here to make your dream come true! 
This Japanese living room idea features a wooden color palette, including shades of white, beige, gray, and muted earth tones! These colors contribute to the overall serene and peaceful Japanese ambiance that you wouldn't want to miss.
East Meets Eames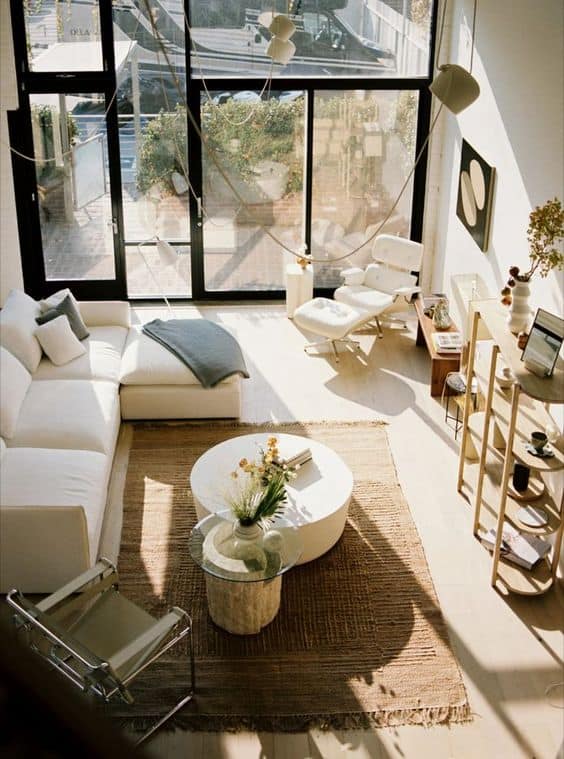 Say hello to the Mid-Japandi style! Mid-Japandi is not that different from the minimalistic concept of Japandi. It just adds a little more color and textural variety!
You can use blue and green tones as accents in the palette, a woven natural fiber rug, with an Eames chair in the middle of low Japanese-inspired furniture. This style maintains the natural and spacious vibe of Japandi while adding a whole lot of character to it! 
The Art Of Grounded Comfort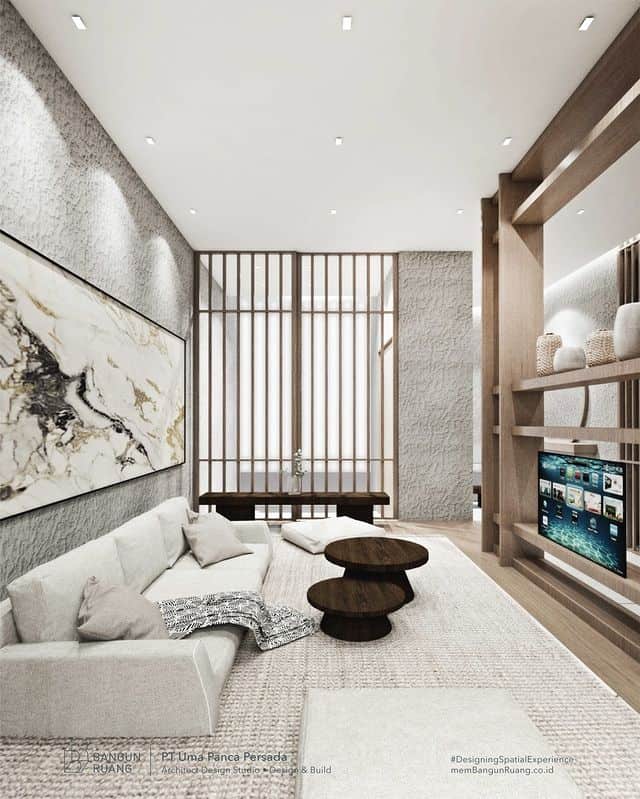 Japanese living rooms feature low furniture, and intimate seating arrangements for a sense of closeness to the floor. This design approach develops connection and intimacy, encouraging social interaction and a relaxed state of being!
What's more? This is one of the easiest Japanese living room ideas to incorporate into your urban apartment. You can try this in a high-rise building and transform it into a Zen respite in the middle of Kyoto! 
Window Scape Dreams!
This Japanese living room idea offers you an escape from the outside world without completely disconnecting from it. Just add some indoor plants! 
The cultivation of miniature trees, known as 'bonsai' (盆栽), is commonly featured in Japanese living rooms. These artistic expressions bring natural beauty and warmth to the indoors. They are also a great way to tie the design of the indoors and outdoors together!
Bring The Outdoors, Indoors!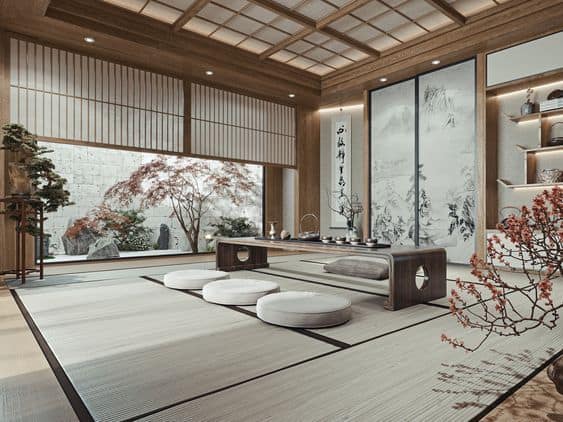 So, you don't have any picturesque view outside your window? That's an easy fix! Zen philosophy heavily influences Japanese interior design. Elements like rock gardens, water features, and artworks are used for creating Japanese aesthetics, balance, and mindfulness. 
You can also replace the doors to these spaces with a 'Noren' (暖簾) or shoji screens! Noren is a fabric divider that is traditionally hung between rooms with slits, allowing half view of the room beyond. So, let it flutter with the breeze and watch it breathe life into your living room!  
FAQs
What Is A Japanese Living Room Called?
A Japanese living room is commonly referred to as a 'Nihon no ima' (日本の居間) in Japanese, where 'ima' translates to 'living room' or 'sitting room' in English.
Another fun fact! In traditional Japanese architecture, there are specific names for different areas within a house. The formal reception room is called a 'zashiki' (座敷), and then there's 'tokonoma'. These spaces are a part of the living room area and contribute to the overall aesthetic and functionality of a Japanese-style living space!
Can you create a Japanese living room on a tight budget?
Yes! It is possible to create a Japanese living room on a tight budget. You can:
1) Declutter your space
2) Go for bamboo mats or rugs that mimic the texture and feel of expensive tatami mats.
3) Use curtain panels made of lightweight and semi-transparent fabric to mimic the look and feel of shoji screens. These can be hung on tension rods to create a similar effect.
4) Opt for soft and warm lighting to create a cozy ambiance.
5) Look for affordable Japanese-inspired textiles like cushions, curtains, or table runners that feature traditional patterns of cherry blossoms, waves, or geometric designs.
Can you transform a simple living room into a Japanese one without buying any other furniture?
Yes! You just need to focus on the other features of the Japanese style. You can:
1) Experiment with different furniture arrangements to create an open and flowing space. Keep ample room for movement, so that the furniture placement promotes balance. 
2) Emphasize the use of natural materials in your living room. If you have wooden furniture, highlight it by polishing or refinishing it. You can also add natural accents like woven baskets, bamboo blinds, or rattan décor pieces to bring out the Japanese aesthetic.
3) Place a small Zen garden, or a tray with pebbles and a few arranged rocks on your tabletop or windowsill.
4) Add a simple incense holder, or a small Buddha statue as your focal point.
5) Consider displaying Japanese art, prints, or paintings on your walls, etc.
What is the one-step formula (one simple hack) to add the Japanese vibe to pretty much any space in the house?
A simple hack to add a Japanese vibe to any space in the house is by incorporating natural elements like plants. Indoor plants like bamboo, bonsai trees, aloe vera, orchids, or peace lilies instantly offer tranquility and a natural connection, which is a fundamental aspect of Japanese design.
You can place them strategically in spaces like shelves, tabletops, or near windows to create a serene and inviting environment. They can also be potted or hung to add sleekness.