Looking for a unique interior design for living rooms? Let's try the eloquent Victorian Era! From 1837 to 1901, this era was notable for its glamorous design and architecture, reflecting the social and cultural aspects. 
Victorian style is known for its ornate detailing, dark color palette, and traditional furnishings! Inspired by natural rich materials like velvet, and dark wood, this interior style is a luxurious addition to every living room. A Victorian living room was often decorated with the finest furnishings and accessories that the families could afford. Since it was a prosperous era, the opulent designs were reflected through the living room décor! So, read ahead to find out the stunning Victorian living room Ideas that will take you back in time to those sophisticated days!
17 Victorian Living Room Ideas
Embrace the dark color palette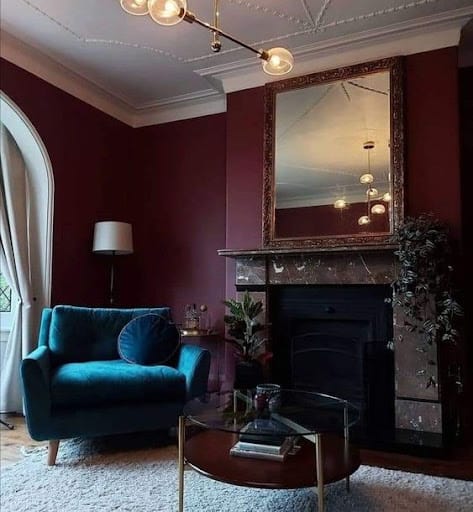 Say yes to a moody palette for a truly traditional Victorian home! It could include dark green, brown, maroon, or whatnot. It creates opulence, and luxury, with rich shades of red, green, and blue. They serve as an ideal backdrop for gold and brass-toned wall decor like mirrors, and framed paintings. 
This design highlights your wealth, giving a rich, and elegant visual like the Victorian Era. Now go ahead and create a modern space inspired by this vintage aesthetic! Go for rich color palettes and don't be afraid to mix some bright-colored furniture pieces too.
Bring in patterns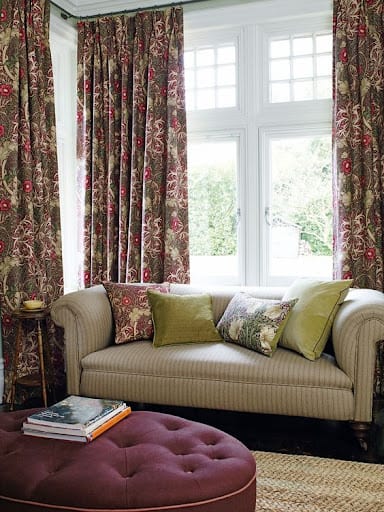 Try using floor-length curtains of opulent fabrics like velvet, or silk! You can add rich-colored damask or floral patterns like burgundy, forest green, or navy blue for the curtains. Upholstered furniture and heavy patterns are great Victorian decor, especially for adding touches to your seating. Use a single printed accent chair for building royalty. Finally, pair up a vibrant Victorian wallpaper with subdued colors! It will bring a classy vibe, without overwhelming your space.
Plush materials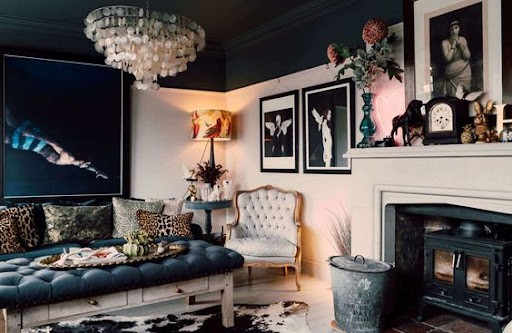 Your Victorian living room ideas must have plush materials like silk, and velvet! These luxurious fabrics add grandeur to the space while creating a cozy ambiance. Remember to have a balance between luxury and comfort! 
Silk and velvet are bold and prominent, so it's best to use them in moderation. You can easily pair them with harmonious textures and colors for a cohesive look! Pro Tip: Wanna add more elegance? Try adding pillows from plush silk and velvet to your seating zone! You can match other colors and patterns to give a finer finish look.
Say yes to decorations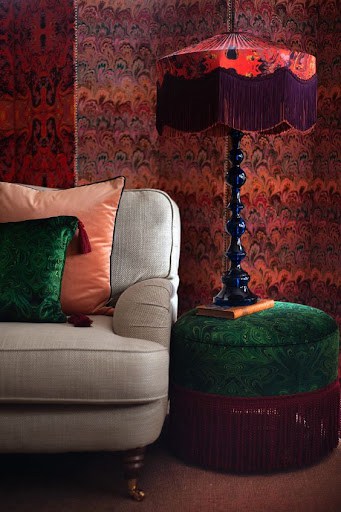 Bring traditional Victorian décor elements like tassels, fringe, and beading! Tassels are used on curtains, upholstery, and throw pillows. They come in a variety of styles and colors, from simple and understated to bold and ornate! You can use a tassel to adorn the curtain edges or lampshades. Fringe is another Victorian décor for adding texture and luxury. Choose a fringe that complements your original decor to enhance a unique vibe!
Mirror mirror on the wall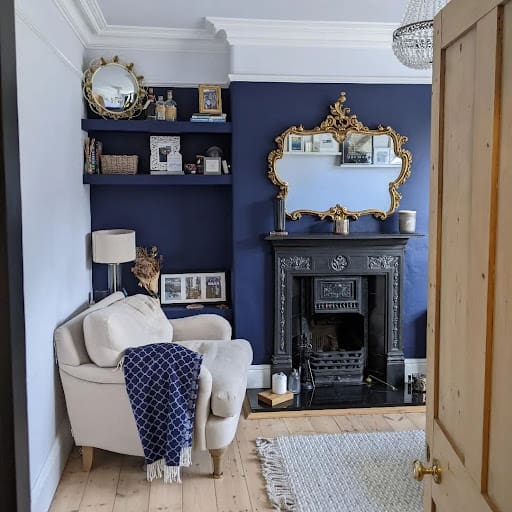 Ornate mirrors build depth and interest to the walls, serving a purpose in a Victorian living room. A large, ornate mirror becomes an eye-catching focal point in your living room!  You can put it above a fireplace, or mantle, or on a wall opposite to a window. They will reflect natural light and give the impression of spaciousness. Keep the color and patterns of your curtains and upholstery simple. But, it should be chosen to complement the mirror frame!
Traditional furniture pieces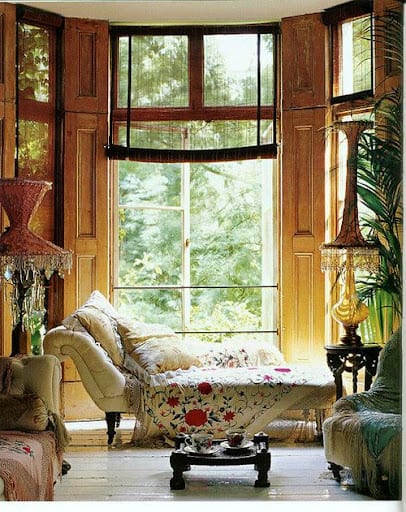 Traditional furniture pieces like chaise lounges, are iconic elements of Victorian-style decor! In a Victorian living room, a chaise lounge is a classy piece of furniture, perfect for lounging. You can use it as a statement piece in the living room center. 
Otherwise, you can place it near a window, or fireplace as a cozy reading nook! Consider a velvet or silk-upholstered chaise lounge with ornate legs and decorative accents. Wingback chairs, ottomans, and occasional tables are other great examples of traditional Victorian furniture! 
RELATED: 19+ Creative Seating Area Ideas For Every Nook At Home!
Decorative lighting fixtures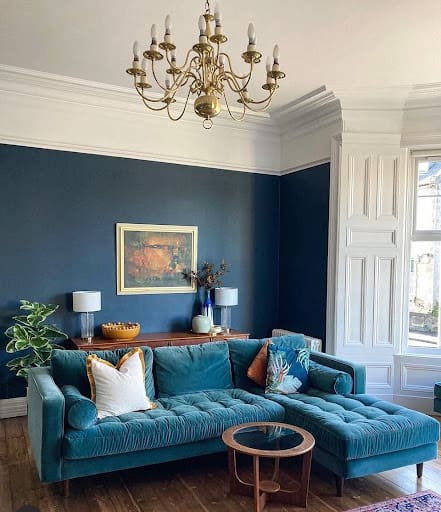 Brass Chandeliers are a popular choice for a Victorian-inspired living room. Brass's warm, golden tones enhance the sophistication and vintage charm of your décor. Look for a chandelier with intricate details and ornate shapes! 
When bringing a decorative chandelier to your Victorian living room, measure the chandelier's scale and style compared to the other elements. A large chandelier may overpower the space, while a smaller one can appear out of place. Ultimately, remember to complement your chandelier with decorative mirrors, plush upholstery, and decorative rugs!
Antique accents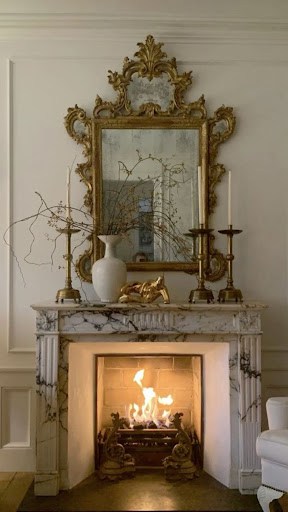 Brass candlesticks are a classic Victorian element that brings warmth and intimacy to your living room. For a more authentic look, try placing them on a decorative tray, or your fireplace mantle! Choose candlesticks with a vintage patina or distressed finish. 
Porcelain cases are used for refinement as a Victorian decor choice. They are used for displaying fresh flowers, or decorative branches! You may also use them as standalone accents on a shelf!
Floor rugs
Persian or Oriental rugs are an outstanding choice to add texture and color to a Victorian living room! These rugs are well-known for their intricate designs and vibrant colors. They also serve as a focal point in a room. 
The rugs should be large enough to anchor the seating area, allowing the furniture to be comfortably placed on it. Choose to complement colors and patterns for the rest of the room while selecting your rug! Jewel-toned rugs like red, blue, and green build a phenomenal contrast with neutral furniture and walls.
Time for some plants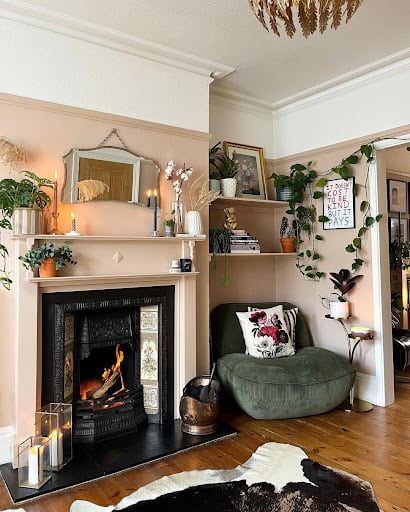 Plants and flowers are a wonderful way to give your room a Victorian whimsical touch! Nature was a popular theme in interior design during the Victorian era. Many homes featured elaborate botanical gardens and conservatories. 
You can use potted plants since they are simple and low-maintenance! Try choosing ferns, palms, or succulents, with lush foliage and interesting textures. Display the plants on a windowsill, on a decorative plant stand, or in decorative planters on the floor! 
Either way, they are a timeless way to showcase natural elements as your décor.
Fireplace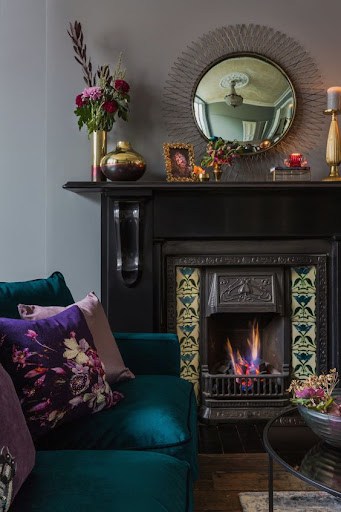 Victorian-era fireplaces are a must for a Victorian-style living room! They are decorated with ornate tiles, adding elegance and interest. Try blue and white delft tiles, or richly colored encaustic tiles with intricate patterns and bold colors! 
Use your lighting skills to draw attention to your fireplace and highlight its beauty. You can bring sconces or picture lights to illuminate the area around the fireplace. Otherwise, try decorative lamps on the mantel to create a warm and inviting glow, instead!
Use the mantel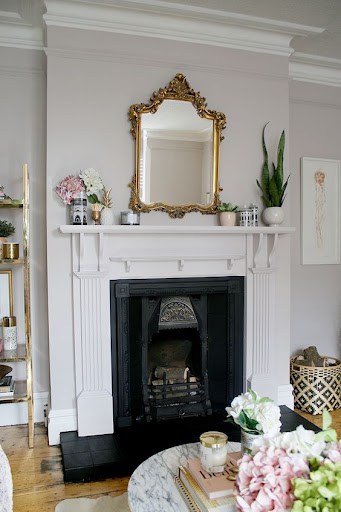 The mantel is the zone for keeping decorative elements in your fireplace! You can use a mix of classy objects like candlesticks, vases, or statuary. Natural elements like fresh flowers or greenery will be great too! 
You can also use the mantel for displaying artwork or decorative plates. This adds up to the overall aesthetic intrigue of the room.
Hang tapestries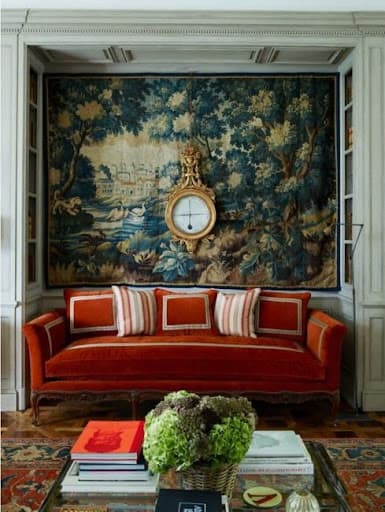 During the Victorian era, tapestries were a fascinating form of interior art! They often featured intricate patterns, scenes from history, or mythology, and pastoral landscapes. You can combine them with other elements like ornate mirrors, fancy screens, or botanical prints! 
Tapestries should be hung with a rod, or tapestry hanger. It helps them hang flat against the wall. But, avoid using nails or adhesive tape, since they can cause damage to both the tapestry and the wall.
How about some decorative screens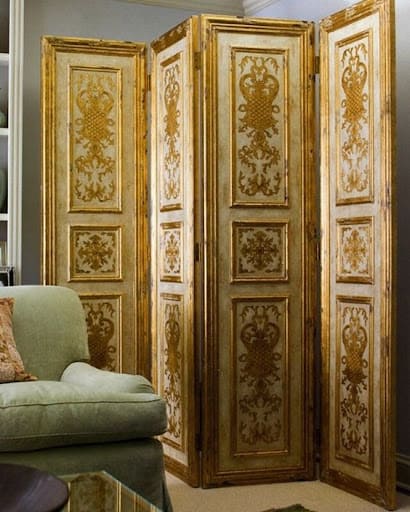 Classic screens are an innovative adornment for a Victorian living room. It serves as a decorative element and a functional tool for separating seating areas within the space! The screens are available in various styles like ornately carved wood, delicate lace, and silk. 
Whether for a traditional Victorian style or a modern interpretation, you can choose a style that goes with your living room! You can place the screen in a corner or an empty space to add texture and interest. Instead, use it as a backdrop for a decorative table, or console.
Stained glass windows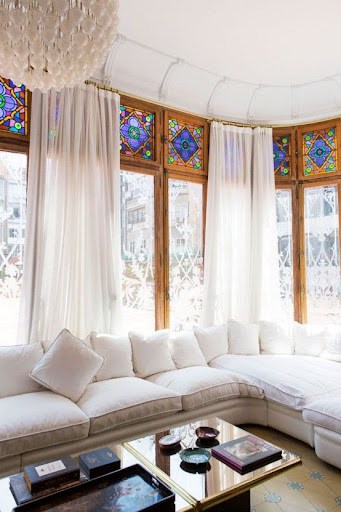 Stained glass was a fashionable ornate in homes, often featuring detailed designs and happy colors! They can be used to draw attention to a specific architectural feature in your living room, like a bay window, or a transom above a doorway. Otherwise, you may create a striking focal point by attaching a stained glass panel to a wall.
(Enjoying these quirky living room designs? Check out this post on Brown Living Room Ideas to make your space more comfy! )
Alternative seating spaces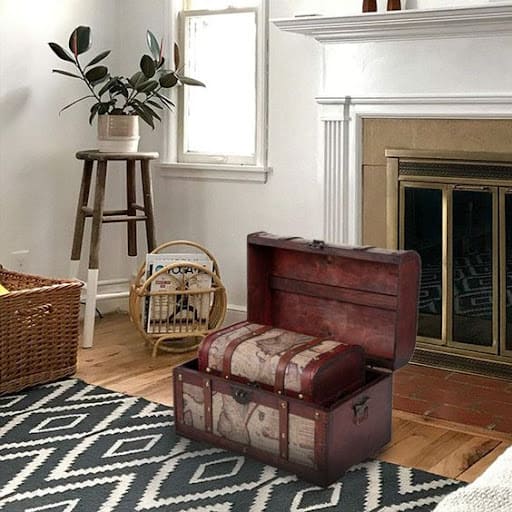 Fancy trunks and boxes serve as functional storage and alternative seating space in a Victorian living room. They are available in a variety of styles like carved wood, or vintage leather! Trunks and boxes are used for storing blankets, books, and other items. 
You can keep them hidden while accessing them easily! They are a fashionable alternative to traditional storage solutions like bookshelves, or cabinets. So, use your trunks as an extra seat! Add cushions to the top, improving comfort, while bringing unique visuals to the space!
Looking for storage solutions, check out this post on 11+ Blanket Storage Ideas To Go From Chaos To Chic!
Final touches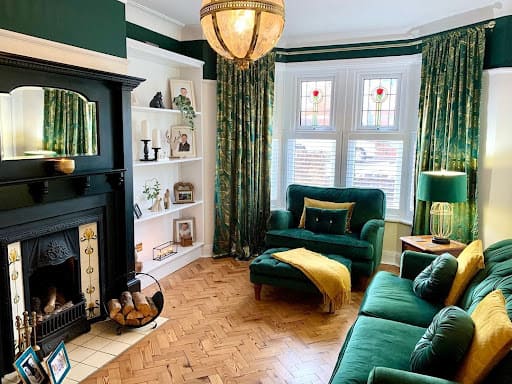 For a cozy and inviting ambiance, decorative pillows are the final touches for a Victorian living room! Choose your pillows and throws with coordinating colors and patterns for the curtains, upholstery, and wallpaper. You may use rich tones like burgundy, emerald green, and navy blue!
Create depth and dimension to your décor by layering the pillows on sofas and armchairs. Try to use a variety of pillow sizes, shapes, and drape throws over the armrests, or back of the furniture! This builds a warm and welcoming atmosphere!