Subway tiles are an incredible interior design choice for your bathrooms and kitchens! Their clean, classy look can complement any space, and their durability makes them practical too! 
Subway tile showers are stylish and functional spaces that you'll love for years. It doesn't matter if you're updating your existing shower or starting from scratch, these tiles are versatile! 
The term "Subway tiles" was first used in the subway stations in New York. In 1904, when designers were asked to create a surface that was both low-maintenance and bright, the first subway station was formed! 
With multiple ways to use shower tiling, I present you the ideal collection of subway shower tile ideas, tailored just for you!
18 Subway Tile Shower Ideas
Keep it simple
Give your bathroom a clean finish by going all-white! It is super minimal look brings a classy timeless vibe as well, with plenty of various design styles! The pristine white tiles with lush greenery will enhance a peaceful and inviting ambiance. 
Like this walk-in shower idea, keep your designs simple and focus more on natural elements, if you prefer peace over everything!
Pro Tip: For a more natural look, try attaching green plants! Add a few splashes of color as well, to uplift the overall look of your space!
Green and gold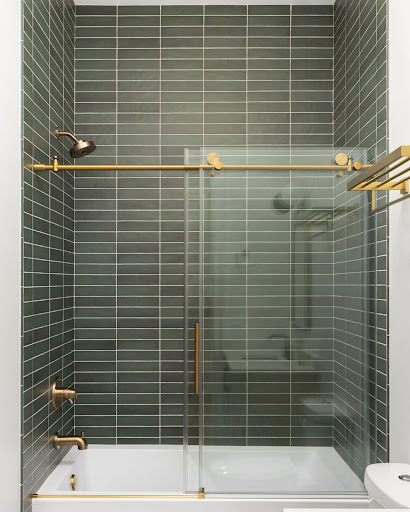 For a modern and elegant look in your shower, try adding gold hardware with green subway tiling! The color combination forms great depth and dimension while keeping it classy and sophisticated! 
This combination is versatile to a wide range of design styles, from contemporary to traditional. It can also be tailored to your specific tastes! Ultimately, you'll have a refined and luxurious bathroom with a glamorous look!
( Are you looking for more shower tile ideas? Check out this post for more pretty shower tiles designs, you'd absolutely adore! )
Herringbone pattern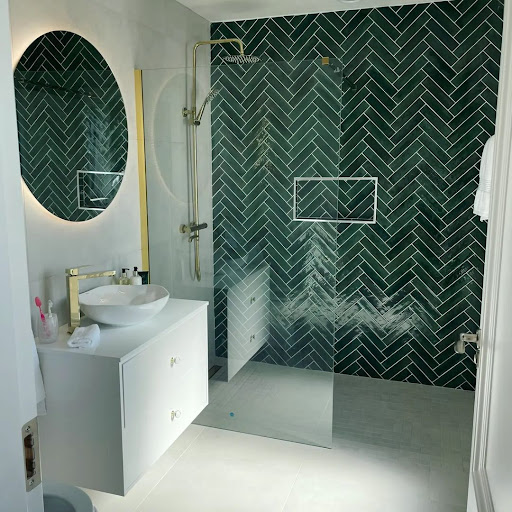 Adding a herringbone pattern with green subway tiles will bring a gorgeous and eye-catching texture to your space. This pattern arranges the tiles in a zigzag manner, displaying an illusion of movement, and blends in with a ton of design elements. 
Herringbone complements very well with natural wood accents or metallic hardware, offering a flexible choice for every bathroom style!
Time for some cool blues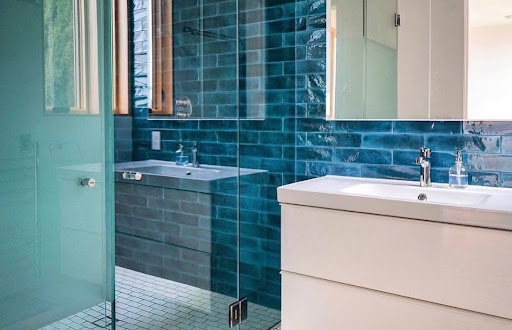 Cool blue subway tiles with a horizontal pattern can do magic to your bathroom. It adds a soothing effect, just like the ocean waves! The color blue brings you calm and peace, while the horizontal pattern builds a flowy movement to your space. This shower tile design is perfect for both coastal and modern showers!
Try it vertically instead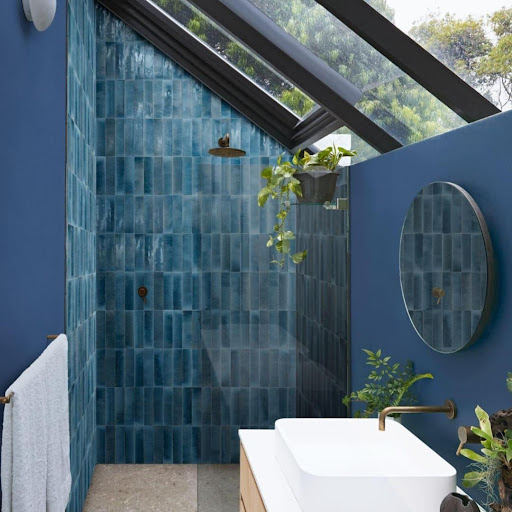 Try a vertical pattern for a striking and dramatic look! It also adds height and depth to the space. The pattern lengthens the wall and draws your eye upward while giving your bathroom enough space to breathe!
Glossy black tiles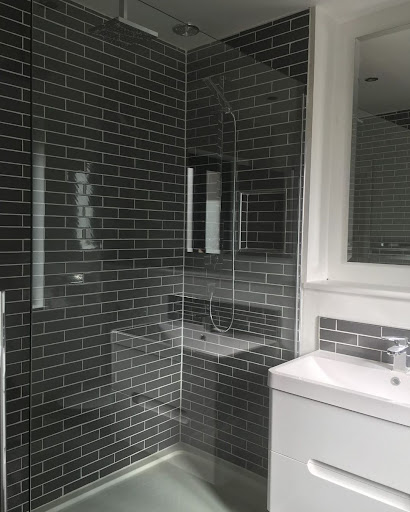 A glossy black subway tile shower creates a sleek, fancy bathroom exuding dark minimalism! The high-gloss finish of the tiles adds depth and reflectivity to your space. It creates a luxurious, yet edgy vibe! 
This combination blends well with both modern and industrial interiors.
Try dual tones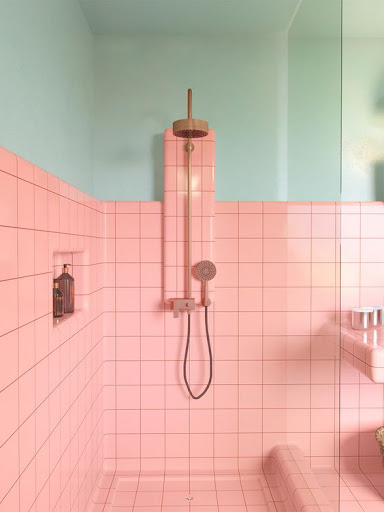 Craving a quirky, candy-floss-inspired look? Add a pastel pink subway tile shower to your blue walls for fun! The pairing of these soft pastel colors develops a sweet, light vibe to your space!
It is the perfect choice for building an inviting, warm atmosphere.
( Want some more ideas for decorating your bathroom? Check out these posts on floating bathroom shelves and walk-in shower designs, for more tips! )
Go bright with yellow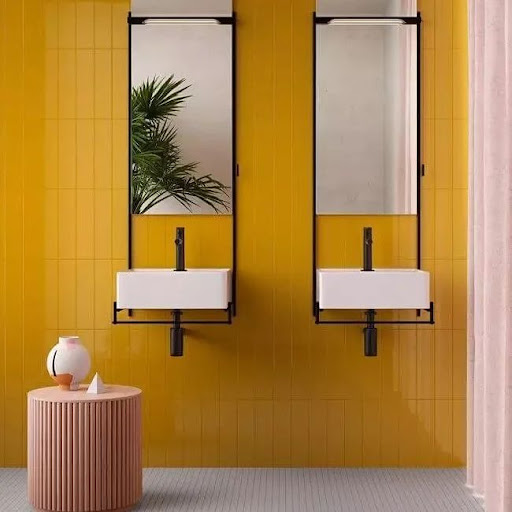 Thinking of brightening up your bathroom? Use yellow subway tiles then! These bright tiles will create a cheerful and warm experience for you. 
The vibrant yellow adds warmth and positivity to your space, building a lively atmosphere. In contrast, you can use black accents with your mirrors and fixtures! 
Pretty pink showers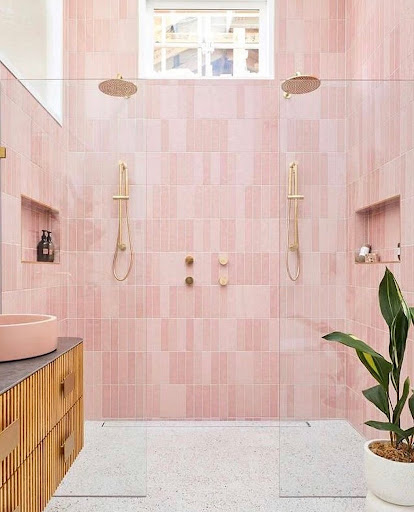 Invite an airy romance in your walk-in shower, by adding blush pink subway tiles with golden hardware! The soft pink color creates warmth and femininity, while golden accents bring elegance and sophistication. This shower tile idea will make you fall in love with your bathroom, every time you walk in!
Highlight your shampoo niche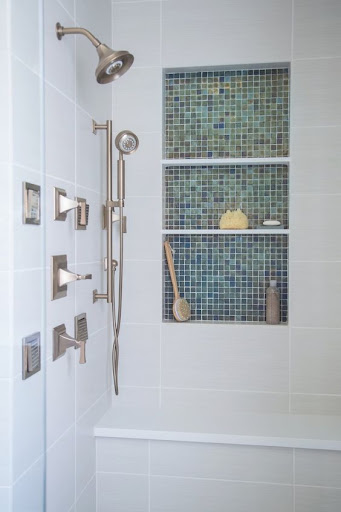 Use a different texture to make the shampoo niches in your subway tile shower stand out! Ceramic tiles with contrasting colors will be eye-catching while adding depth to the shower walls. Your bathroom will become one-of-a-kind and personalized, flowing with intrigue!
Mix in Terrazzo tiles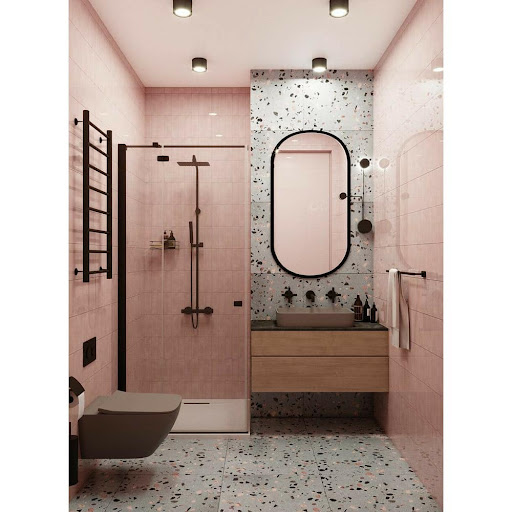 Terrazzo with subway tile shower is a perfect match! They incorporate a dynamic accent wall design into your space. Terrazzo tiles are made with a mix of marble, granite, and other materials. They have a distinct speckled or mottled appearance which also adds visual appeal.
This pairing complements a variety of design styles, from modern to exotic! They can be tailored to your preferences!
Bigger the better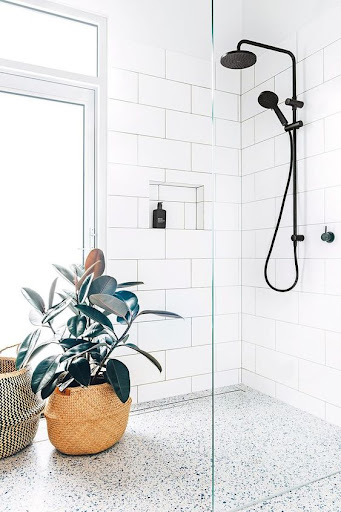 In a shower, large subway tiles can create a modern and refined look that feels spacious and luxurious.
Larger tiles can help to minimize grout lines and give the walls a more seamless appearance, while also making the shower feel more open and airy. This is especially effective in smaller bathrooms, where larger tiles help to visually expand the space.
Gray tones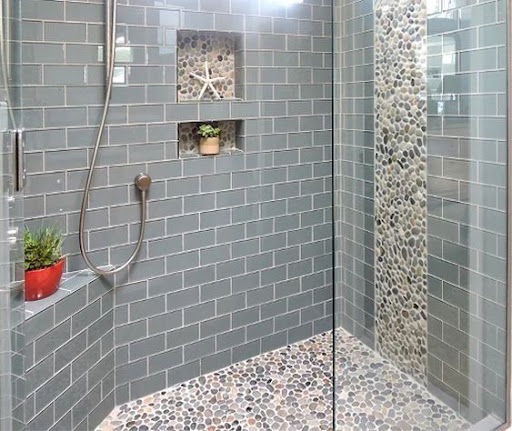 Gray tones are a marvelous choice for a contemporary subway tile shower. They provide a space that is simple to update, whenever you want! It gives your bathroom a  stylishly modern and rustic feel. 
Gray tiles can also be paired up with contrasting grout colors like white or black, to make it more eye-catching!
Add some green to highlight the tiles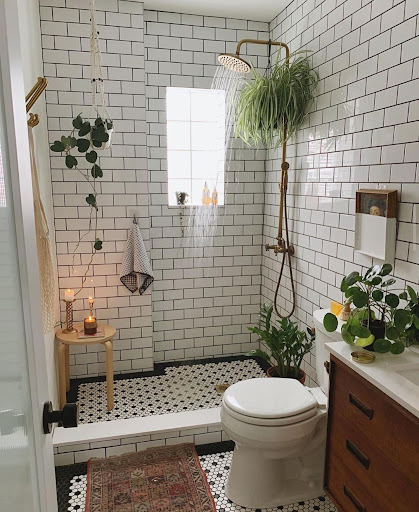 Fresh gorgeous greens offer your bathroom a spa-like upgrade! Adding plants is another lovely choice. They purify the air while removing toxins from your bathroom. 
This is a perfect way to make your subway tile shower more prominent! You can add plants like aloe vera, spider plants, peace lilies, or even snake plants.
Bright reds are here to slay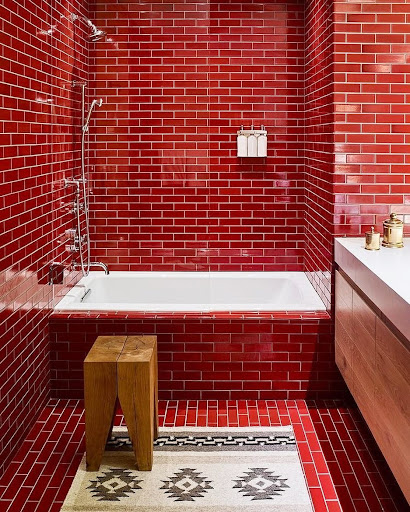 Red is strong and energizing, adding drama and excitement to any room! It creates warmth and intimacy in a bathroom while offering an inviting atmosphere. With this upgrade, give your bathroom a bold look. 
It will soon become a special space for your home!
Warm gradient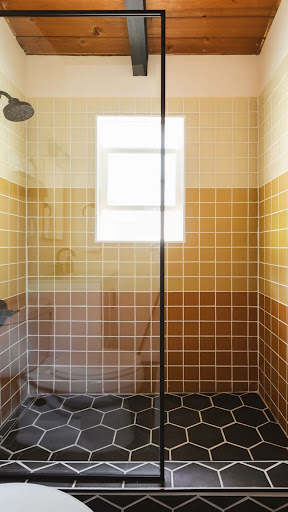 Wanna create a glamorous yet calming bathroom? Try combining various shades of sandy tones, then! Gradient tiles gradually change color from one end to another. 
It gives your bathroom a subtle and understated vibe! Additionally, the subtle color variations also build a great flow of movement.
Accent corner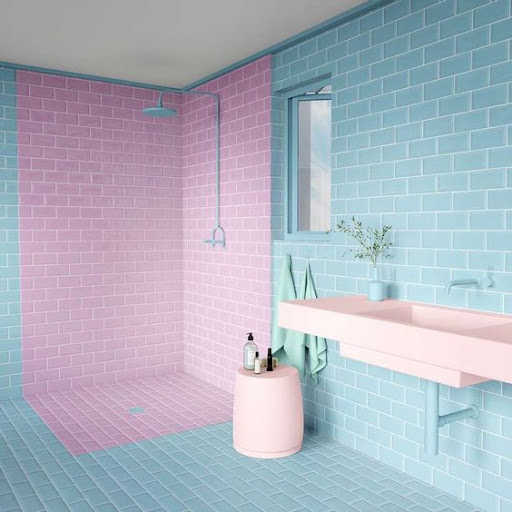 A bathroom that stands out, must have a quirky accent corner with a cute little design. Go ahead and choose your favorite complementary color for the trick! You can also add colored hardware to finish the aesthetic look.
( Wanna glam up your bathroom a little more? Check out this post about Bathroom Lighting Ideas, for more insightful tips! )
Pastel palette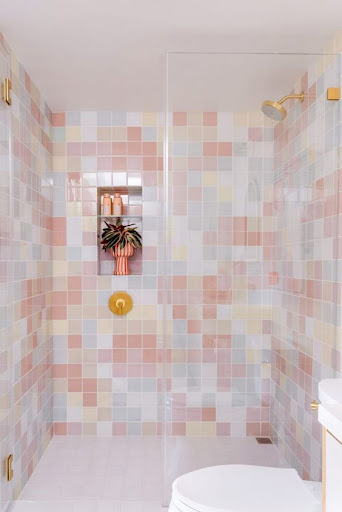 This pastel color palette explosion has the potential to create a charming ambiance anywhere! Whenever using these subway tiles, keep the colors well-mixed to make them cohesive and intentional! Tie up similar colors together, while creating a gradient effect that flows from one color to another. 
Try this, and you'll achieve a stunningly balanced look!
FAQs
Is subway tile good for showers?
Subway tiles are the ideal options for showers because of their durability and water-resistant. They are easy to clean and maintain, for moist spaces like bathrooms. They come in a variety of materials too! So, you'll surely find plenty of design styles, textures, and finishes, which go well with your budget range as well!
What size subway tile is best for shower walls?
3″ x 6″ subway tile is a popular size for shower walls. It is a timeless option, complementing both traditional and contemporary bathroom designs. Another popular size is the 4″ x 8″ subway tile shower, which is a slightly longer version of the 3″ x 6″ tile. 
Larger subway tiles, such as 6″ x 12," create a more dramatic look and work well in larger showers! But, please remember that the best size for shower walls depends on your preferences and the bathroom size!
Is subway tile hard to maintain?
Subway tile is known for low-maintenance, which is why they are widely used for showers. Their smooth surfaces are easy to clean, with mild detergents and a cloth. For cleaning grout lines, seal them after installation! 
Clean them softly daily with a bleach solution, and you'll have a shiny new bathroom in no time!
Which tile is better for showers?
Ceramic, porcelain, and mosaic tiles are popular choices for shower tiles. All of them add the right amount of beauty and functionality to your shower space. They are also pretty durable! 
Ultimately, the best tile for your shower depends on your personal preferences and budget.
Should shower tiles be light or dark?
For small and windowless bathrooms, light-colored tiles are the best option. Colors like white, cream, or beige make the space larger, brighter, and more airy! 
But dark-colored tiles are more practical and dramatic! Colors like dark gray, black, or navy add mood and hide dirt better. It makes them another suitable choice for high-traffic bathrooms. 
Once again, the choice ultimately depends on your preferences and bathroom style!