Japanese-style bathrooms are known for their minimalist approach to their designs. They emphasize a serene and tranquil atmosphere while offering a peaceful escape from the hustle-bustle of everyday life!
The popular Wabi-Sabi concept is often used in Japanese design philosophy. This idea preaches that flaws are beautiful, and we should embrace the natural cycle of growth, decay, and renewal. That's why, Japanese-style bathrooms prioritize natural materials, with uneven textures like wood, or stone. 
Rather than hiding these flaws, they are celebrated as a part of the space's beauty! So, whether you are renovating, or building a new bathroom, get ready to explore the stunning Japanese bathroom design ideas! If you're interested in Japanese culture, or looking for a relaxing bathroom space, keep reading ahead!
Japanese Bathroom Ideas
Treat yourself to a Japanese soaking tub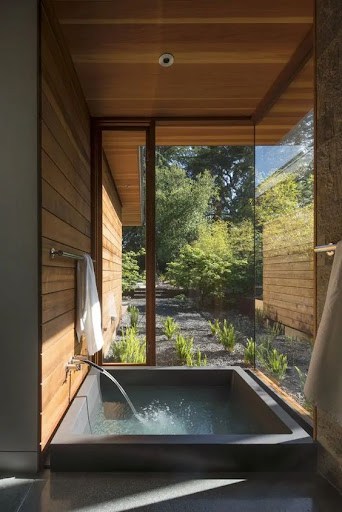 A Japanese soaking tub, or an Ofuro, is a deep soaking tub used for relaxation, and rejuvenation. Unlike a regular bathtub, this one is intended to provide a luxurious, and meditative bathing experience. The depth of this tub is an important feature! 
They are minimalistic with clean lines and, regular shapes. This makes your calming bath experience even better! Craving a peaceful self-time after a hectic day? A Japanese soaking bathtub can bring you enormous comfort for that!
Oforus are usually much deeper than standard bathtubs, allowing you to immerse your full body up to the neck. These are made of natural materials like wood or, stone, enhancing the sensory experience of your bath! These are often designed with aesthetics and, simplicity! 
Wooden partitions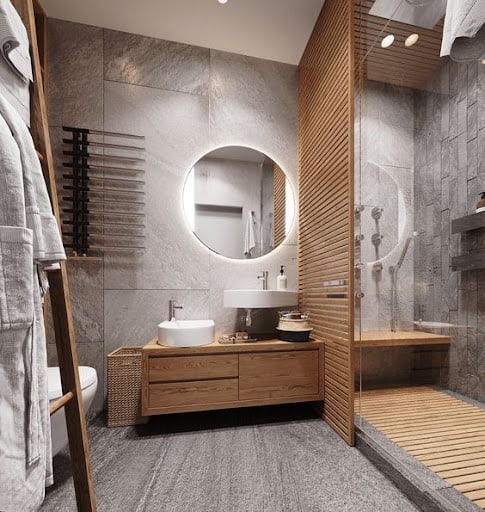 A bathroom in any traditional Japanese home is divided into two distinct areas: the wet area, and the dry area. The wet area has a deep soaking tub with a shower. But, the dry area is used for dressing up, and grooming!  Japanese bathrooms use wooden partitions to separate these two areas. This allows you to move around comfortably without feeling exposed. The partition also prevents water from splashing into the dry area.
These partitions add warmth, and texture to the bathroom space since they are typically made from natural materials. The intricate designs and patterns on the partitions also offer visual aesthetic, and complexity to a minimalist space! 
Sakura blooms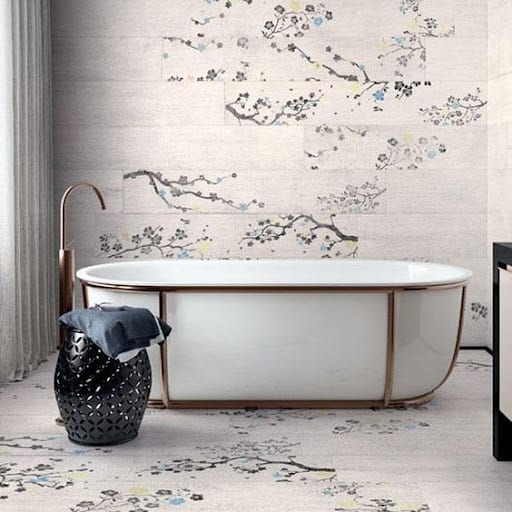 Wall tiles are often used in a traditional Japanese bathroom to create a serene backdrop for the soaking tub. You can use tiles with delicate cherry blossom patterns, or motifs to bring sakura bloom prints into the designs! For a natural, organic feel, use neutral-colored tiles with light hints of green, and pink! 
They could be used as the soaking tub's backdrop. This will also create a soothing vibe, perfect for a relaxing time! Wall tiles in a bathroom serve a practical purpose, along with their aesthetic value. They help you protect the walls from water damage, and make the cleaning process way easier! 
Stone cladding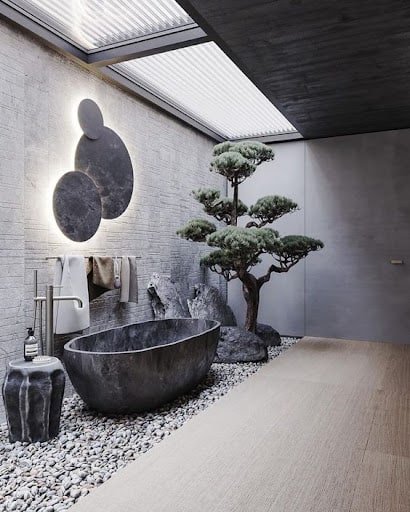 Stone cladding is a lovely choice in traditional Japanese architecture! The use of stone aids in the creation of harmony with the natural world, an important aspect of Japanese design. Choose a neutral-colored stone like granite, or sandstone to cover the walls, or the area surrounding the soaking tub! 
This will result in a rustic, and organic look making it soothing, and elegant. Stone tubs offer a naturally luxurious experience for a soaking space. The tub regulates the water temperature, offering you the perfect relaxation!  You can place a bonsai near the tub as well, for adding a bit of charm to your space.
Wooden paneling for the shower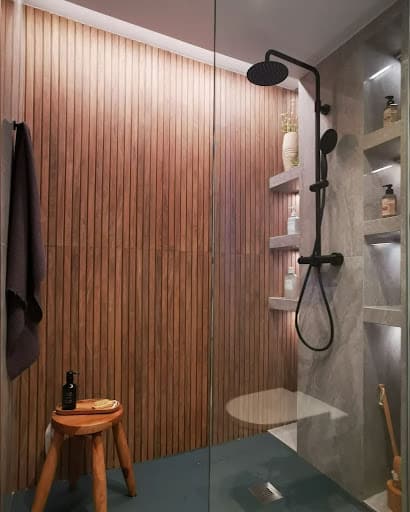 Wooden paneling offers an inviting atmosphere in a modern Japanese bath space! Wood is a popular material, used for covering the walls, ceiling, or even the floors! It gives the space a sense of warmth and harmony. 
Apart from its aesthetic side, wood paneling regulates moisture, and prevents mold and mildew growth. This is really useful in a shower where moisture levels can be high! Always choose a durable water-resistant material, whenever you're installing wooden paneling in your bathroom. Cedar, cypress, and teak are the best choices for their natural resistance to water, and moisture.
Bonsai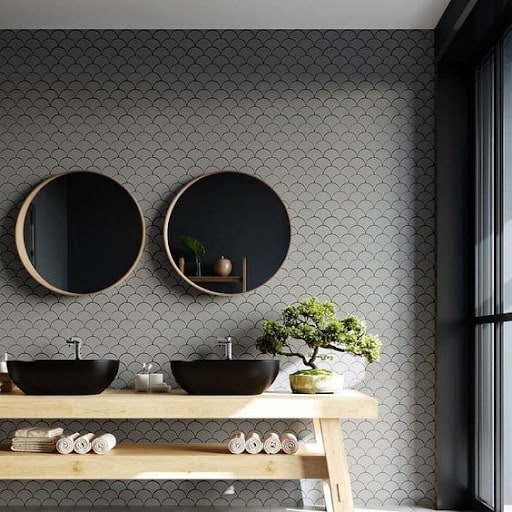 A bonsai in a Japanese bathroom is a simple and elegant addition. Bonsai trees are a Japanese cultural symbol bringing green natural beauty! Placing a bonsai on the sink slab is a wonderful way to incorporate it into your bathroom décor! 
The sink slab can be made of stone, or wood, for complementing the bonsai aesthetic. It is crucial to check the light, and humidity levels for your little bonsai! These plants typically need indirect sunlight, with high humidity. So, you can use a humidifier, or just mist the bonsai daily for healthy results! Make sure to choose a bonsai species suitable for the indoors. Some popular options are Ficus, Jade, and Chinese Elm.
Green hints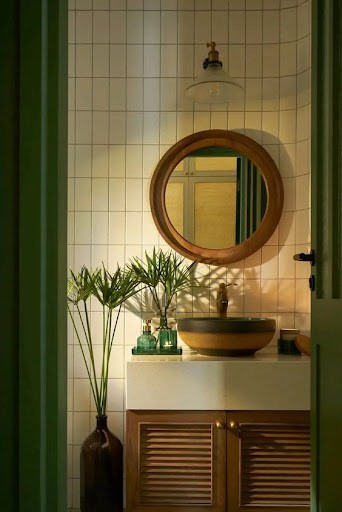 Green signifies new beginnings, growth, balance, and harmony in Japanese culture. In a Japanese bathroom, green can be used in a variety of ways. You may create green bathroom doors, or attach small plants, developing a more natural look! 
It can also be used to color small details like bathroom sinks, hand-wash bottles, or candles. Green provides a glamorous contrast to wooden cabinets, and beige tiles, adding depth, and richness to your space! It balances the warm tones of the bathroom palette, creating an alluring environment.
Gray palette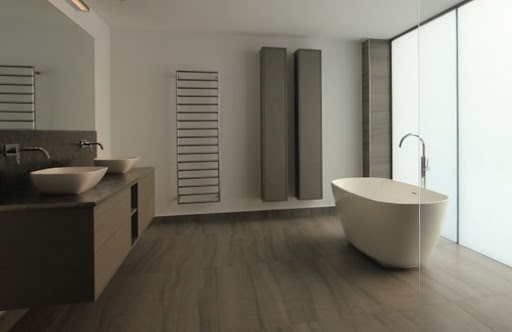 Gray is a timeless, and sophisticated color, perfect for calming spaces! Simplicity and harmony are the key aspects of Japanese design philosophy, and a gray palette can help you with all of it! Gray is used for building a neutral backdrop that draws attention to the natural beauty of wood, and stone. 
It also offers a balanced look, with serene vibes! Soft, and warm colors are an ideal match for a gray palette! Together, these colors evoke coolness, and tranquility with an essence of modern elegance!
Colored tiles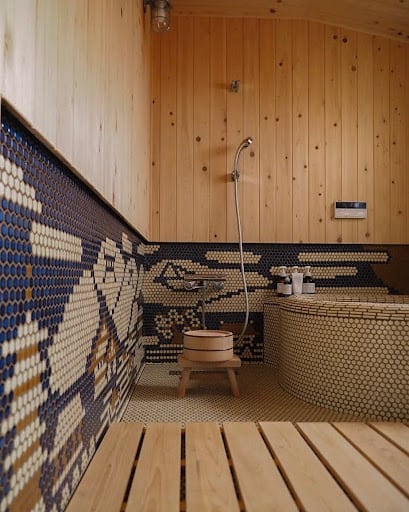 Colored mosaic tile patterns build a beautiful, and unique design! Mosaic tiles are used for intricate, and detailed designs. They draw attention to specific areas of the bathroom, like the shower, or the bath. Since Japanese design philosophy places prioritizes simplicity, and harmony, it is important to select a color palette and pattern, which complements the naturalistic design!
(Enjoying these bathroom designs? Check out these posts about Shiplap Bathroom Ideas and Floating Shelves, for more shower decor tips!)
River rocks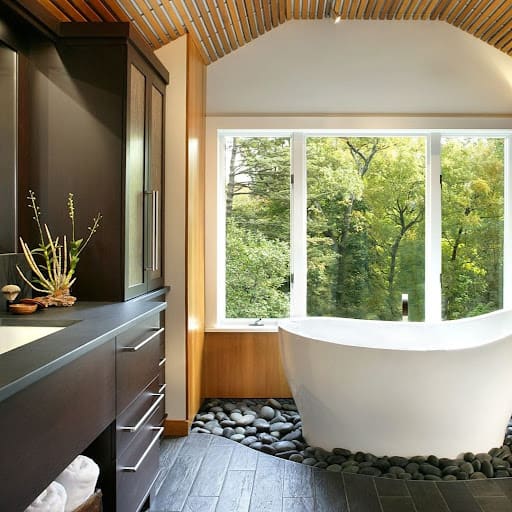 River rocks in Japanese design are used for a harmonious look, with natural vibes! They are placed beneath a soaking tub, offering a warm, and cozy aura. The water drains through the river rocks below, as it fills, and overflows the whirlpool tub. 
It makes a bubbling sound, reminding you of the waterfalls! The river rocks offer a natural foot massage, providing more relaxation. The rock size and placement must be considered as well. Large, smooth rocks can bring stability to the tub base. But, the smaller rocks are better for intricate and detailed designs. Don't forget to ensure you have proper drainage and installation, to keep the rocks stable, and sturdy!
Hanging plants
Hanging pots with creepers add aesthetic, and texture to the space, building a unique, and dynamic look! Check your bathroom lighting, and humidity levels, when selecting hanging plants for your Japanese bathroom. Bathrooms don't receive much natural light, so it's best to choose plants like Ferns or tropical plants that can thrive in low light levels. 
Use more natural elements like clay, or ceramic, when choosing pots for hanging plants in the bathroom. To achieve a more traditional Japanese look, consider using hanging baskets made of woven materials such as wicker or bamboo.
Another Sakura shower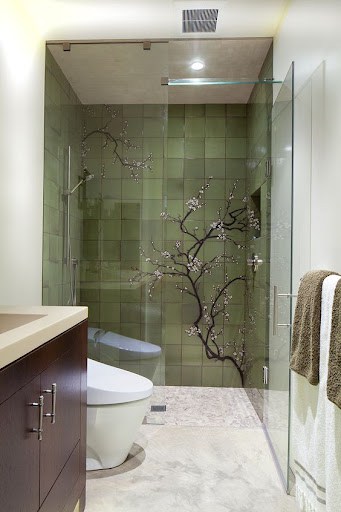 It is crucial to consider the main bathroom color palette when selecting green shower tiles with a Sakura design. Green adds a subtle essence while complementing natural wood tones, with beige, or neutral-colored tiles! Sakura designs can be used for a unified look in other elements of the bathroom, like wall art, or decorative accents. 
Green shower tiles with a sakura design are great for a lovely, simple touch to the bathroom design! Sakura in shower tiles offers a peaceful ambiance, while the green color represents the natural growth energy!
Koi fish walls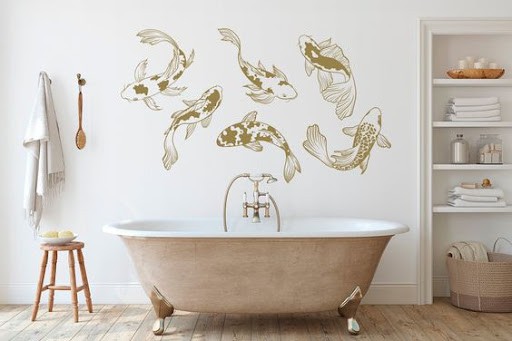 In Japanese culture, Koi-fish is a significant symbol of strength, perseverance, and good fortune! So, consider the overall color palette of your bathroom, when choosing a koi fish design for the wall behind a soaking tub. Koi fish are often found in orange, red, and gold tones. 
These tones complement the natural wood tones and neutral-colored tiles! You can also use a mix of glossy and matte finishes for a textured, and aesthetic design! 
Pro Tip: Want a more durable and long-lasting option? Try ceramic, or porcelain tiles with a koi fish design.
FAQs
How are Japanese bathrooms different?
Japanese bathrooms are distinguished by their distinct design aesthetics and minimalistic approach. They have a wet area with the shower and bathtub and a separate dry area with the sink and toilet. A modern zen bathroom design takes on simple shapes and clean lines.
What is a Japanese bathroom called?
In Japan, a bathroom is called "Ofuroba" (お風呂場) which means "bath place". It is the room or area in which one takes showers and does other grooming activities. The term "ofuro" (お風呂) refers to a Japanese-style bathtub that is usually deeper, and allows a full-body soak!