Choosing the perfect color for your home interiors can be a daunting task. But, if you're looking for a stylish color that adds sophistication and elegance to your home, a dark green wall is the perfect match! A dark green accent wall is a popular choice for many homeowners!
They create a cozy and inviting atmosphere while making a statement. This color is versatile and can work in various areas of your home, whether your living room, bedroom, or home office! Just remember to play around with complementary décor and furnishings.
Dark Green Wall Ideas
The Bedroom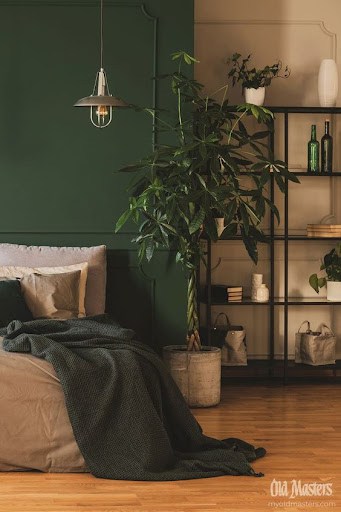 You may paint one wall behind the bed in a dark green shade. Complement the color with wooden furniture, and light-colored bedding like white, or cream, building an elegant contrast. Using dark green tones like forest green, emerald green, or sage green in a bedroom provides a cozy and grounded ambiance! 
Add wooden furniture like a bedside table or a dresser to add warmth and texture. Soft wood tones make your room visually more inviting and natural by complementing the green wall. For attaining a cooler green hue, add accents throughout the room along with lush plants or decorative items! 
RELATED: 21 Modern Dark Green Bedrooms That Are Nowhere Close To Boring!
A Green Entryway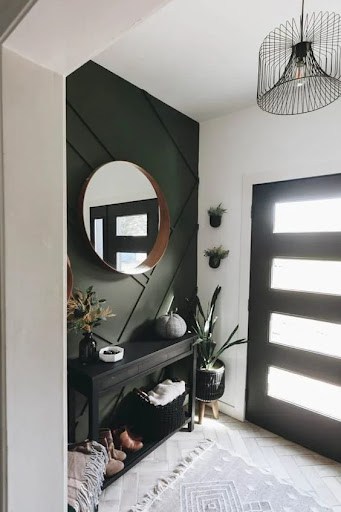 An entry foyer is the first impression your guests will have of your home! So, creating a striking entrance with a dark green wall is essential. You can do this by painting the walls in a dark green hue, making a sophisticated and brave statement.
Dark green hues like forest green, emerald green, or deep olive green, offer depth and richness to your space. They also build a warm and welcoming atmosphere. These colors are perfect for a foyer since they have the magic to make a small space fuzzy and intimate while also adding elegance!
Pro Tip: Wanna enhance your space a little more? Add a console table with a vintage mirror! The table is great as a functional piece for storage while the mirror will bring glamor and charm. They both will make your room seem larger and more inviting! 
Plant Wall Balcony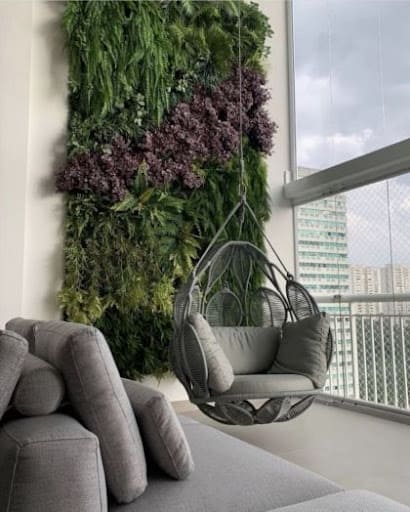 A dark green wall on your balcony with plants is a lovely element for adding natural beauty and fresh air to your outdoor space! It provides privacy and shade while creating a vibrant atmosphere. Decorate your green plant wall by combining hanging planters, wall-mounted planters, and trellises! 
Use plants that are suitable for climate and exposure like ferns, ivy, or succulents. These plants purify the air, offering a soothing, clean environment. Attach a swing chair, or a sofa for more comfort! A few warm light fixtures are great for a professional touch, as well.
Patterned Wallpaper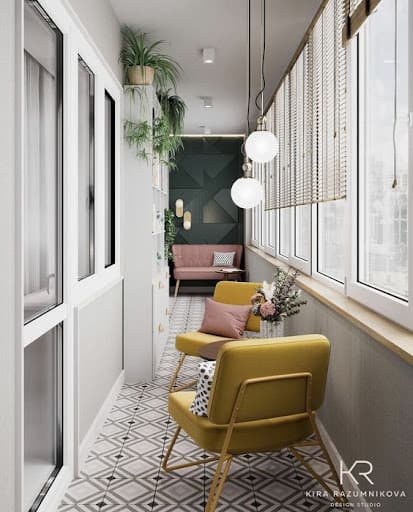 Attaching a green plant wall on your balcony can be exhausting. But, you can easily create a luxurious space with elegant wallpaper! Choose suitable patterns for outdoor use like vinyl, or coated papers that are water-resistant. 
There are several colors and patterns, ranging from bold and vibrant to subtle and natural! Add potted plants, or hanging planters to your balcony for a more inviting look. But if you like it posh, try using contrasting colors like yellow and pink furniture!
Bathroom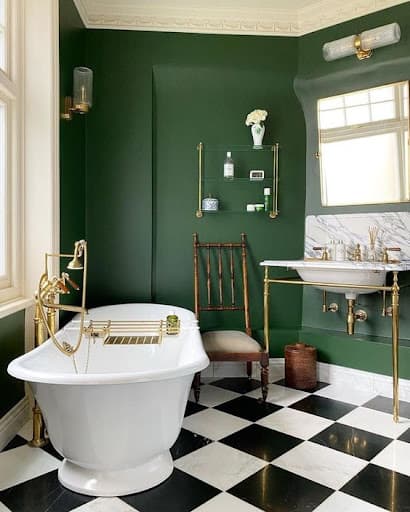 Do you fancy a spa-like, art deco ambiance in your bathroom? Just paint the walls in a dark green shade like forest green, emerald green, or sage green! These shades evoke tranquility and luxury, which are the key elements for a spa-like look. 
You can complement the dark green walls with light-colored towels like white or cream! They offer a subtle contrast and balance in the room while increasing the rich freshness. Attach a white bathtub to exude purity and style! 
Finally, add candles, pebbles, plants, and soothing scents like lavender or eucalyptus! Together, they will further enhance your luxurious bathroom design!
Living Room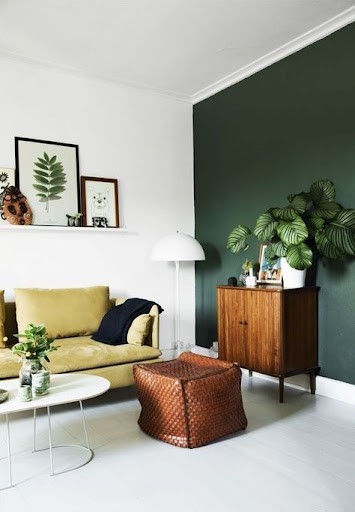 A single dark green wall builds a welcoming aura way in your living room! Wooden furniture brings a natural and organic element to the room along with warmth and comfort. Try adding wooden side tables, coffee tables, or bookshelves to enhance the fuzzy and inviting ambiance. 
You may go for a neutral-toned sofa, or go bold with a deep olive green set to switch on your living room charisma!
Dining Room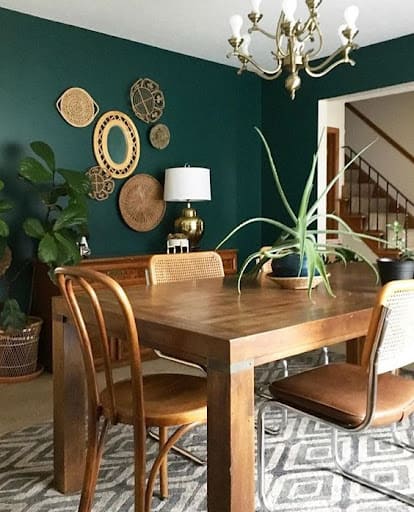 Go for a dark green wall in the dining room to offer elegance and refinement! Bring a wooden dining table to match the dark green walls! The natural warmth and texture of the wood create balance and make the space more comfortable and welcoming. 
A wooden dining table has a rustic charm, which is perfect for an elegant dark green dining space! Add finishing touches with gold accents like wall décor and ornate chandeliers! These will bring glamor and drama into your eating space.
Home Office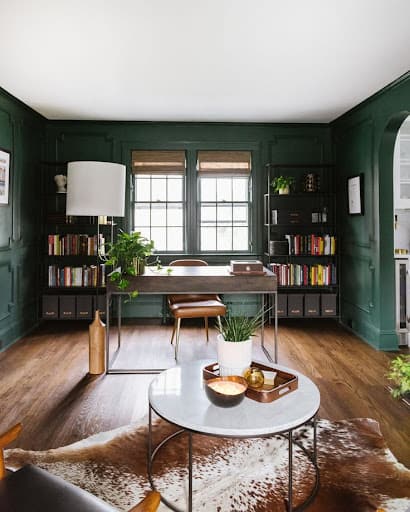 For a professionally cool atmosphere in your workspace, go ahead and paint the walls a dark green shade! Green has a calming effect on your mind and body, which makes it ideal for a workspace where you need to focus and be productive. A dark green wall offers balance and harmony reducing your stress levels! 
A dark green office will have a positive effect on your creativity, making it an effective choice for artists and writers.
A Green Kitchen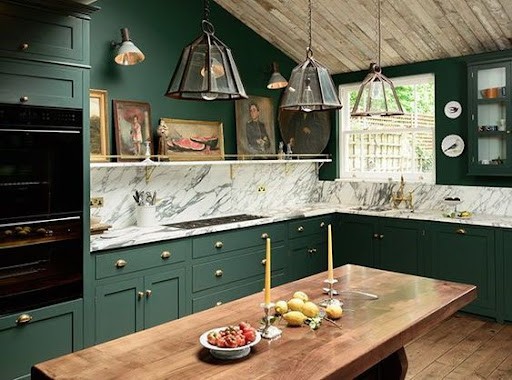 Dark green cabinets make your kitchen unique and stylish. They offer a striking and magnetic effect when combined with marble countertops! The natural veining and patterns of the marble build a gorgeous contrast and balance with the cabinet's solid color. 
You can add accents like brass, or gold hardware to the dark green and white color palette, for adding warmth and shine! A white subway tile backsplash will be great for this color scheme. It will magnify a classic and timeless look!
Nursery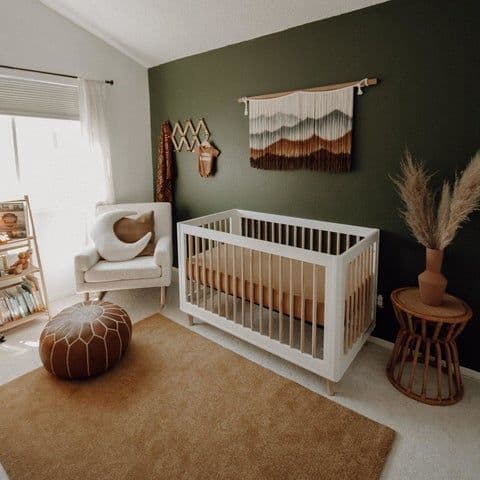 A dark green shade is a wonderful choice for creating a soothing nursery room. Green has a relaxing effect, perfect for a peaceful environment for your baby! Your baby will feel safe and secure since the color brings warmth and a cozy vibe. 
You can paint a wall of the room in dark green color, creating a focal point. This wall can be balanced harmoniously, with light-colored furniture and décor! To complete the look, use soft and diffused lighting like dimmable overhead light, or a table lamp with a soft glow. It will help your baby have a healthy sleep at night!
A Green Victorian Living Room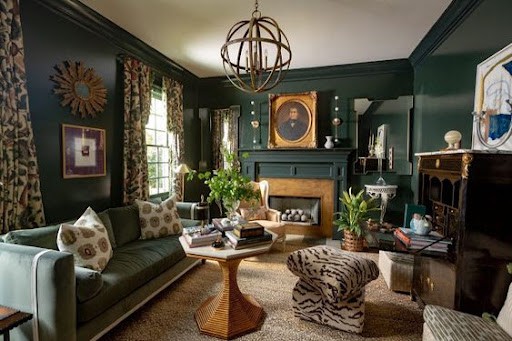 It's best to choose a rich dark green shade like the forest, or emerald green for your Victorian living room! These colors add depth and richness to a room while maintaining tranquility and coolness. Dark green walls serve as a great backdrop for artwork and bookshelves! 
They let you showcase your collection, and contribute to the overall aesthetic of the room. Try a mix of natural and artificial light sources to form a well-lit reading space! Large windows will offer natural daylight while the table lamps are for the evening time.
Home Theater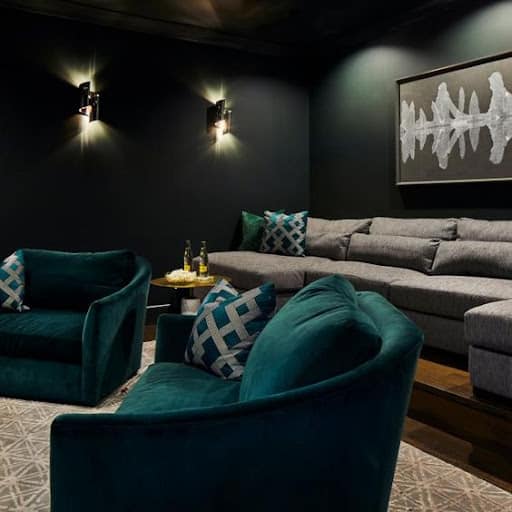 Home theater is a space where you can indulge yourself with your favorite movies and shows! So, a moody and dramatic aura is perfect for a classic experience. Just paint the walls dark green, and complement them with comfortable seating options to fully immerse yourself in the show! 
Bring plush sofas or recliners in neutral colors like black, gray, or brown. They will make your walls stand out, enhancing a striking look. Ultimately, add some décor elements to build a cinematic vibe, like hanging movie posters or artwork on the walls!
Guest Room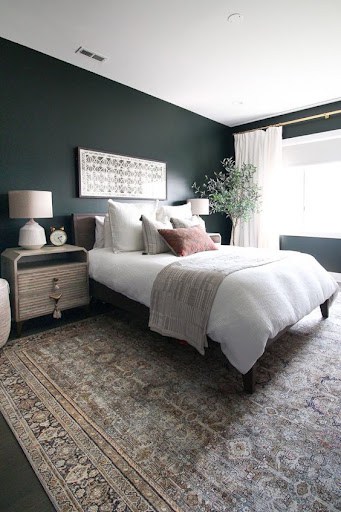 Decorate your guest bedroom into a warm and inviting space with a dark green paint makeover! You can use light accents of white, cream, or beige as a contrast. Bring some natural elements to the décor like potted plants, woven baskets, or wooden wall art! 
These elements add rich texture, and depth along with a harmonious vibe to the design.
Walk-in Closet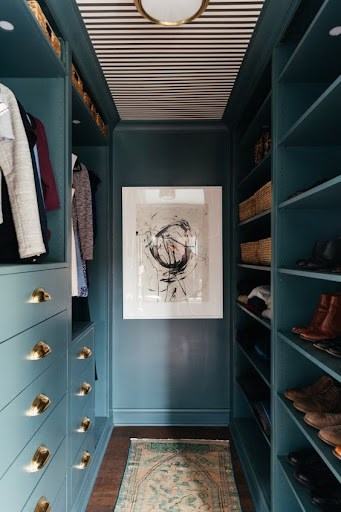 A walk-in closet can be a luxurious retreat if you do it right! Color the cabinets and walls a dark green paint color, and add gold accents to them. This will bring luxury and sophistication to your closet space. 
You can use gold light fixtures, drawer handles, mirrors, or decorative elements for inviting glamor and allure in your room! Throw in some luxurious materials like velvet, silk, or faux fur in the design of the closet! A plush velvet ottoman or a soft faux fur rug is a fascinating choice that will complement the dark green and gold accents!
Reading Corner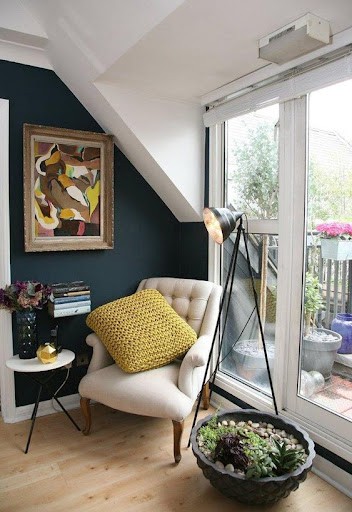 A small dark green reading nook with a single accent armchair can be your cozy spot to curl up with a good book! Go ahead and find a quiet corner in the room with plenty of natural light. The chair should ideally face a window or a source of light. 
Choose an armchair that you can sit in for long hours, so it better be plush and comfy! You can layer it with throw pillows and a soft blanket, and make it more fuzzy. Bring a small side table for adding a lamp, drink, or book! 
Lastly, you can install some shelves near your favorite books with decorative accents like plants and picture frames!
Colors that Go with Dark Green Walls
White – brings a fresh and modern look, and helps to balance out the dark green colors.
Pale Pink – adds a touch of femininity and softness to your space. 
Mustard Yellow – offers a warm and cozy atmosphere, and complements the green tones.
Navy Blue – builds depth and contrast to your space, and forms a classic and timeless look.
Rust – creates a warm and earthy ambiance, and adds a bohemian flair to your room. 
Terracotta – complements the green tones, adding warmth to your space, and creates a Mediterranean look. Gold – enhances luxury and sophistication to your space, and complements the richness of the dark green.