Charcoal gray is a timeless color that has become popular in interior design. The versatility of this color makes it an elegant choice for any room, and it even complements a variety of other colors! You can easily incorporate it into your interior design scheme in several ways through walls, furniture, or accessories!
The color gray signifies neutrality, balance, and sophistication. It is a master color that can build a range of moods – from calm and serene to moody and dramatic! The Charcoal Grey paint color is perfect for interiors. It can blend well with other colors, making it an ideal neutral base for every room.
Effect Of Charcoal Gray On Our Minds: Gray brings balance and harmony and also acts as a neutral base for either toning down or intensifying other colors. When paired with vibrant colors, gray has a calming effect, but it brings a bold statement when used with brighter shades!
There are many colors that go with charcoal gray and can be used in different spaces. Let's go ahead and check out which ones are!
Colors That Go With Charcoal Gray
Mauve Magic!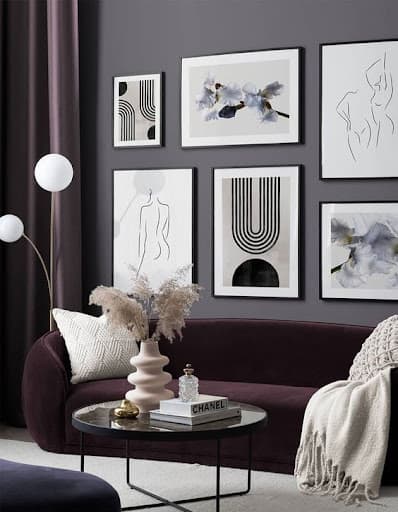 Craving an elegant living room or bedroom design? Charcoal grey and mauve are a match made in heaven! The wall color of charcoal grey creates a sophisticated and grounding effect, while the mauve accents enhance charming femininity and warmth. You can start off with charcoal grey walls and choose a lighter gray shade for the ceiling to have contrast! 
Mauve is one of the stylish colors that go with charcoal gray. Bring some plush and comfortable pieces in shades of mauve like sofas, armchairs, or ottomans! You may also attach mauve accents through curtains, throw pillows, and rugs. You can add white and black accents to combine the design better!
Pastel Pink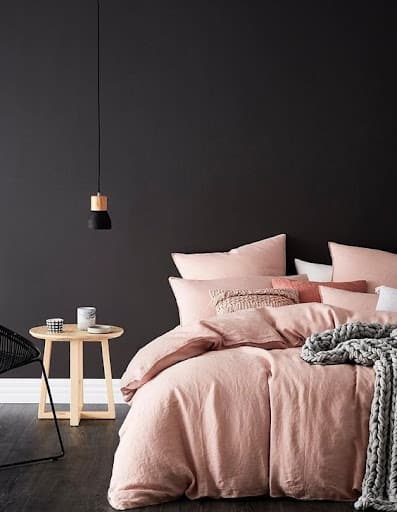 A charcoal grey and pastel pink bedroom creates a beautiful and soft feminine space! The pastel pink bedding adds warmth and sweetness to your room, making it a calming sanctuary. Colors that go with charcoal gray like pastel pink and white build a harmonious and soothing ambiance! 
Throw soft cozy pink linens, accenting with white or light grey pillows! They will balance out the color palette. For more depth and texture, bring light brown wood furnishings like a dresser, nightstand, or headboard. You may also incorporate light brown wood furnishings like a dresser, nightstand, or headboard, for more depth!
Pro Tip: Whenever you're dealing with Charcoal gray – Go ahead and paint a lighter shade of grey for the ceiling! It creates a beautiful contrast! 
White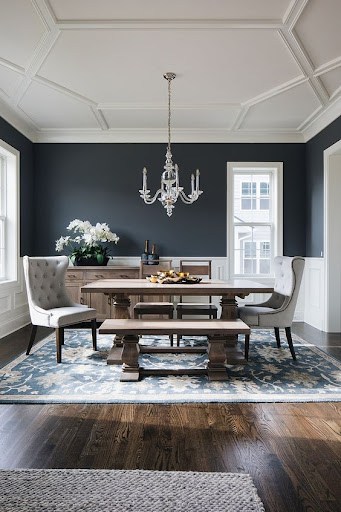 A charcoal grey and white dining room can be a classic and sophisticated choice for your home! There are several colors that go with Charcoal gray due to its versatility, and white is another one of them that brings brightness and contrast. This combination adds an elegant look, which is perfect for entertaining your guests! 
This color combo is an ideal chic design for formal dining occasions, enhancing a polished look! The white balances out the dark gray walls whereas the gray accents serve dimensional aesthetics. Silver and gold are other charcoal gray color combinations, and you add them in metallic accents to glamor up your space a bit more!
Sunny Yellows!
Yellows are an electric choice among the charcoal gray color combinations, for their playful and energetic vibe! It is a great combination for a kid's room as it stimulates creativity and imagination, while the great color palette acts as a grounding base. 
You can begin with light grey walls and try a darker shade of grey for the flooring to create contrast! Now bring some bright yellow cabinets, a yellow headboard, or other yellow accents like a comforter or throw pillows! These yellow items can add a cheerful touch to your space, making it the best room for your kids.
Purple Kitchens!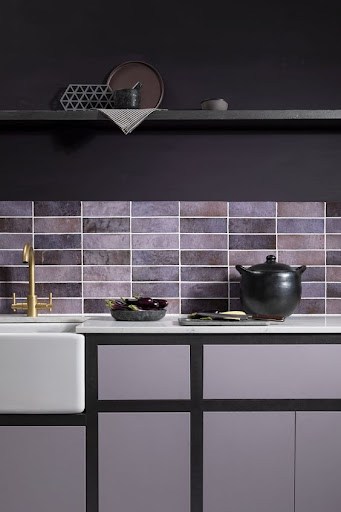 In the list of colors that go with charcoal gray – Purple is the most underrated color, which can also do some crazy magic if you know how to use it right! You can just start off with a gray neutral base, and add purple for creating a sophisticated and unique backdrop for your kitchen! You may also use purple-tinted tiles for your backsplash. This design creates a focal point in your kitchen and adds visual interest. 
The purple-tinted kitchen backsplash tiles can offer your kitchen a striking contrast to the charcoal grey walls, emitting a dramatic and unique effect! Whenever you're designing a charcoal gray with purple accented kitchen – Don't forget to balance the colors to create a cohesive look, because too much of either color can quickly overwhelm your space. Ultimately, feel free to attach more designer elements like white sinks, stainless steel appliances, or light wood flooring.
Pair With Blues!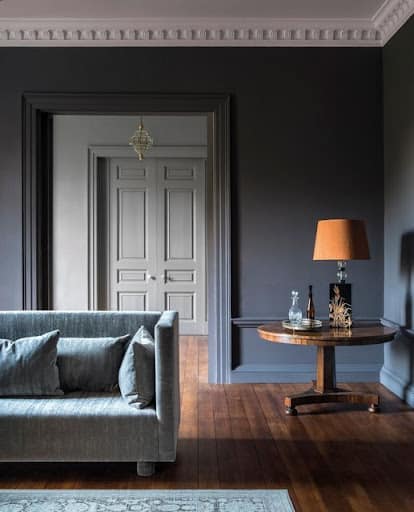 A charcoal grey and powder blue living room is a classic color combination that exudes sophistication and elegance! When combined, these two colors create a wonderfully inviting atmosphere, making it an ideal choice for every living room! The rich charcoal grey tones serve as a neutral backdrop for the powder blue accents! This further creates a stunning contrast by adding lots of depth and dimension to your space. 
For some powder blue accents, you can add a colored sofa, curtains, or an area rug to your living room! This light blue hue has a serene and peaceful effect that can instantly soothe and relax you and your living room vibe. Adding powder blue accents can also help in balancing out the darkness of the charcoal grey walls, preventing the room from being too heavy on the eyes. Finally, you can make some finishing touches with subtle metallic accents throughout your space to create a glamorous look!
Gorgeous Greens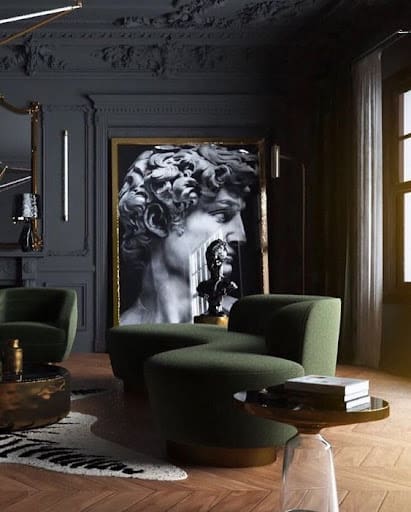 A stunning example of a charcoal grey color combination is a living room with dark green furniture and a vintage finish on the walls with the carving! This one-of-a-kind color scheme can effortlessly give any living room depth, richness, and lots of visual intrigue. You can start off by painting your room walls charcoal grey with a vintage finish and carvings to create a textured look. 
This charcoal grey color scheme serves as a grounding foundation for your elegant design! Later on, you can add dark green furniture to your living room to bring more color for contrast to the grey walls! Dark green is such an adaptable color for adding depth and richness to any room, with a touch of sophistication to your overall look.
Red Accents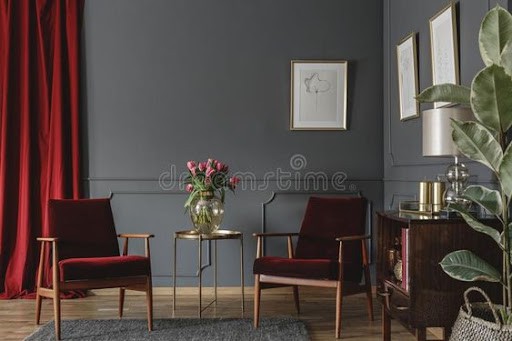 A red and charcoal gray living room can be a daring and eye-catching color combination for creating a fancy modern look! Red hues depict boldness, offering your space an energizing aura. If that's your room type, then you can add ruby red furniture like a sofa or armchairs for creating a striking contrast with the grey walls! 
The ruby red hue brightens and energizes the living room, making it more vibrant and lively! You can also use other red accents like pillows or curtains, that can be used to tie the color scheme well together. Bring some glossy red fabrics for the curtains, if you wish! They can surprisingly create a more dramatic and luxurious look.
Related: 23+ Red Wall Bedroom Ideas That Are Pure Love!
Light Gray And Dark Gray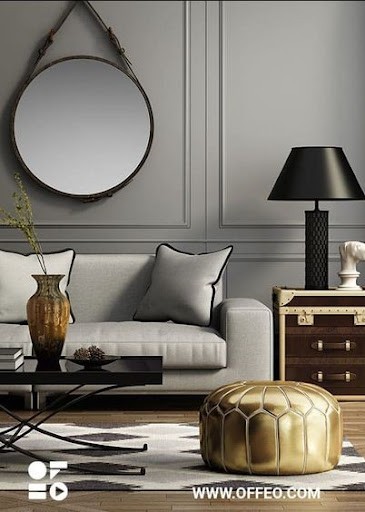 Light grey is one of the simplest colors that go with charcoal gray. Light gray can offer you a monochromatic living room space with subtle variations in shades for a more aesthetic vibe to your room! The combination of light grey and charcoal grey develops a sophisticated color palette that can complement a wide range of interior styles! 
Bring some neutral beige accents like throw pillows or a cozy rug to balance out the gray coolness and add some warmth! Beige is a classic color that easily blends with other colors, providing a subtle contrast to the grey hues. Wanna sprinkle some more glamor? You can attach some golden accents like gold-framed mirrors, gold proof, or other decorative elements for enhancing a classic, well-balanced look!
Related: 13+ Modern Gray Teenage Bedroom Ideas That'll Get You Hooting!
Rustic Browns!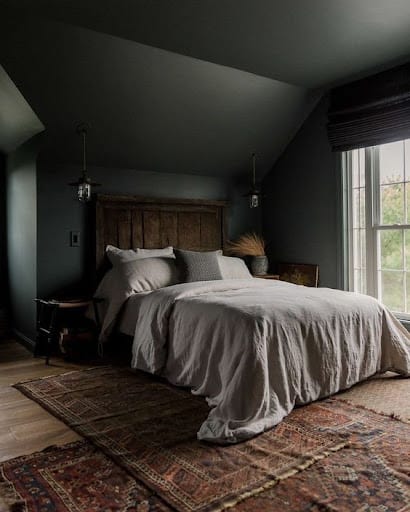 Rustic brown is another majestic color that goes with charcoal grey! It enhances warmth and depth to your bedroom design. You can incorporate brown accents like a wooden headboard, a brown area rug, or some brown bedside tables. 
In a charcoal gray bedroom, brown accents bring visual interest and break down the coolness of the grey hues! Brown has a natural and organic feel that creates a cozy atmosphere, with a rustic earthy vibe. 
Pro Tip: You may even use reclaimed wood furniture pieces or a wooden accent wall in a warm brown tone! This will create a beautiful contrast, balancing the coolness of the charcoal grey walls and bringing some texture to the space.
Burnt Orange!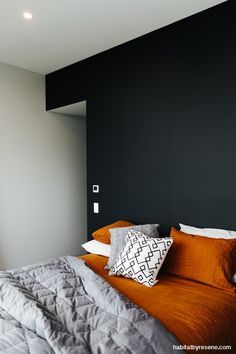 Burnt orange is a warm and vibrant tone among the colors that go with charcoal gray-themed bedrooms. Go ahead and create a striking contrast against the coolness of your gray walls. You can do this by adding burnt orange bedding accents like throw pillows, a duvet cover, or a cozy throw blanket! 
You may also combine the orange bedding with a white comforter, offering your room a clean and crisp appearance. It can also help the burnt orange accents to stand out more, making a bold statement!
Teal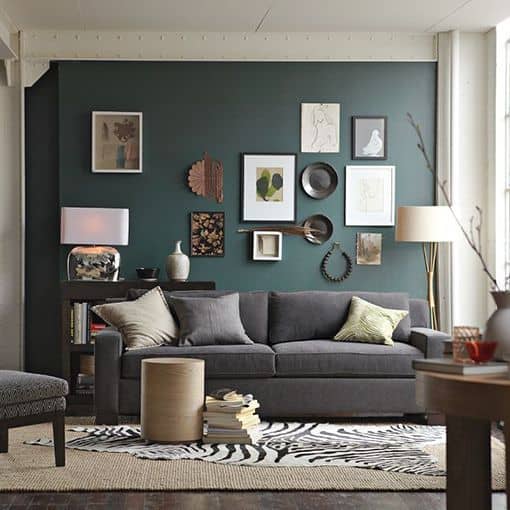 A teal accent wall in a living room can bring a bold and eye-catching feature to your space! You can complement the teal wall by using a charcoal gray sofa as the main seating area. Bring some balanced coolness to your space with light brown-tone items. You can add throw pillows, rugs, or a wooden coffee table! 
You can even hang picture frames of various shapes and sizes, to go along with the charcoal gray scheme. Black and white frames serve a neat and modern look, whereas golden frames bring glamor with a royalty style!
Warm Terracotta
Warm Terracotta is among the best colors that go with charcoal gray and for a reason! It can easily be incorporated into your living rooms by adding throw pillows, rugs, or curtains, creating a cozy and inviting ambiance! You can also balance out the warmth of the terracotta and the coolness of the charcoal gray by bringing natural wood elements in light or medium tones! 
For example, a wooden coffee table, or bookshelf may enhance more warmth and texture, going a long way for your charcoal gray palette decor.
Olive Green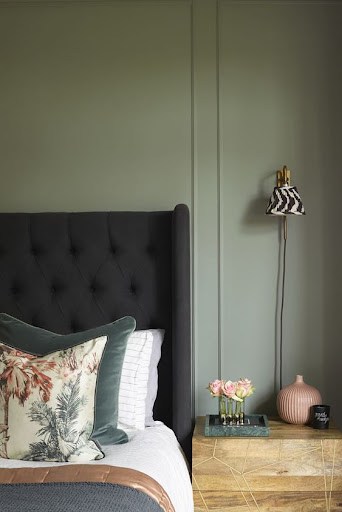 Light olive green is perfect for a charcoal gray color combination in bedroom walls, because of its soothing and calming nature! Light wood furniture brings warmth and texture to your room, and you can complement the olive green and charcoal gray color palette easily. You can just use light wood dressers or bedside tables for this! Light wood has a natural and organic feel to it, which also helps to create harmony and balance in your cozy bedroom space.