Are you bored with those Scandinavian grays, blues, and whites? Are you feeling the need to add some earthy feel to your bedroom? Well, we get you!
It's finally time that we all start adding some color to our bedroom and make it a place that's fun to be in but not compromise on the relaxing feel it must have.
Terracotta comes to the rescue for all that we want for our bedroom. That's the go-to.
To make things somewhat more straightforward for you, we have a list of terracotta bedroom ideas to which you might want to lose your heart. Below are some ways to add terracotta to your bedroom and a list of terracotta decor that you MUST have!
In we go!
Some Stunning Terracotta Bedroom Ideas You'll Fall For!
Add An Accent Terracotta Wall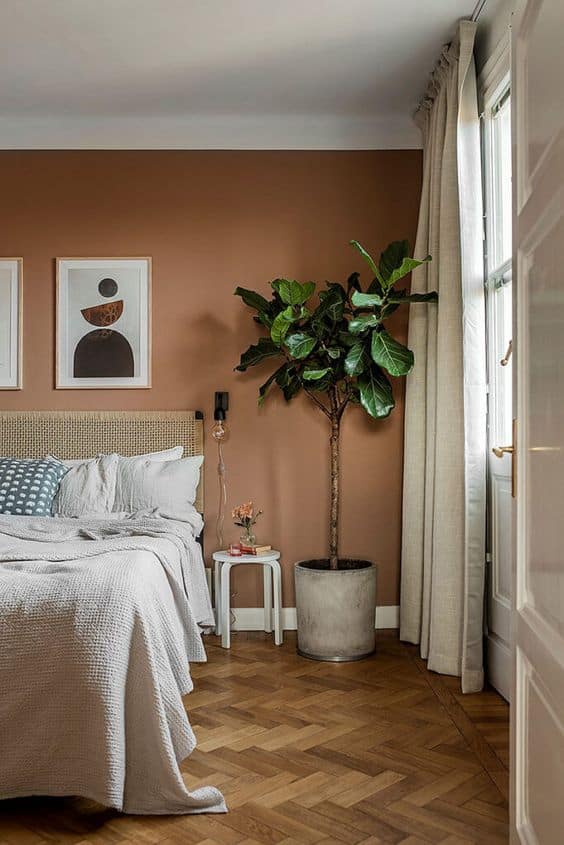 Like the behind-the-bed wall in this room, you, too, can attempt to add an accent wall that can very well add a bold quantity of terracotta color to your bedroom and won't make it feel 'too much.'
To couple with it, a white backdrop in the form of curtains, bedding, and wall art, is a good idea.
But in case you're afraid that the bedroom might look too simplistic that way, patterned flooring is what you must look up to.
RECREATE THIS LOOK
Terracotta Bedding Can Do The Trick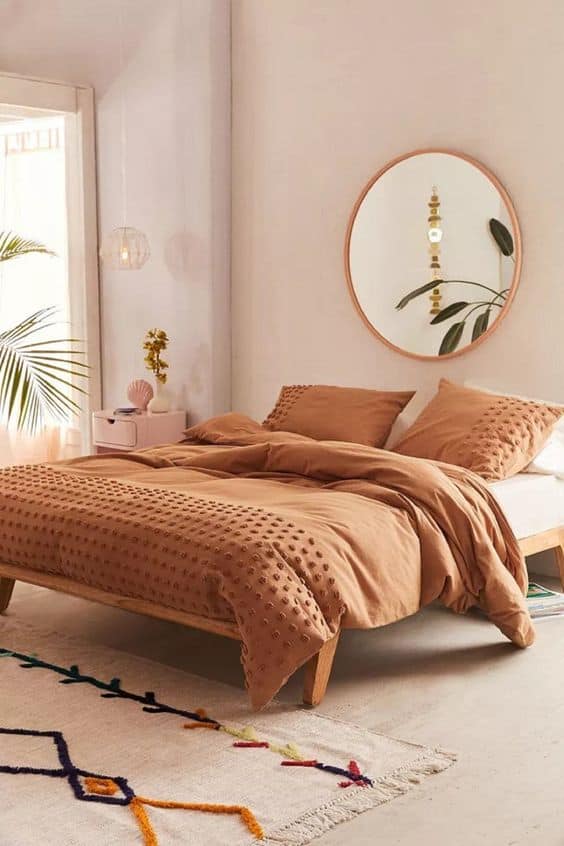 Now, for all those who LOVE changing their bedroom colors now and then, painting a wall every next day can be the worst advice!
But changing your bedding might be the best one out there.
Simple as it sounds, to add that flare of terracotta color to your bedroom, you can get terracotta bedding.
And to get that serene feel that this bedroom gets, having some light-colored walls is good. Give it a boho vibe with a bohemian rug!
RECREATE THIS LOOK
Just Some Shots Of Terracotta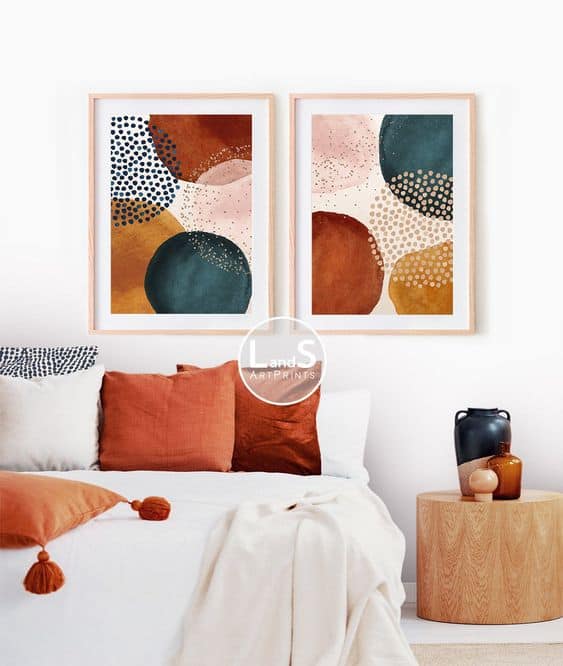 In the case of people who love simple and subtle interiors, adding terracotta in the bedroom is not hard either.
All we mean to say is to punctuate the color in a white backdrop like it's done in the bedroom above.
Throw some shots of it in the form of wall art, throw pillows, and a bedside table.
RECREATE THIS LOOK
After All, Terracotta Relates To Boho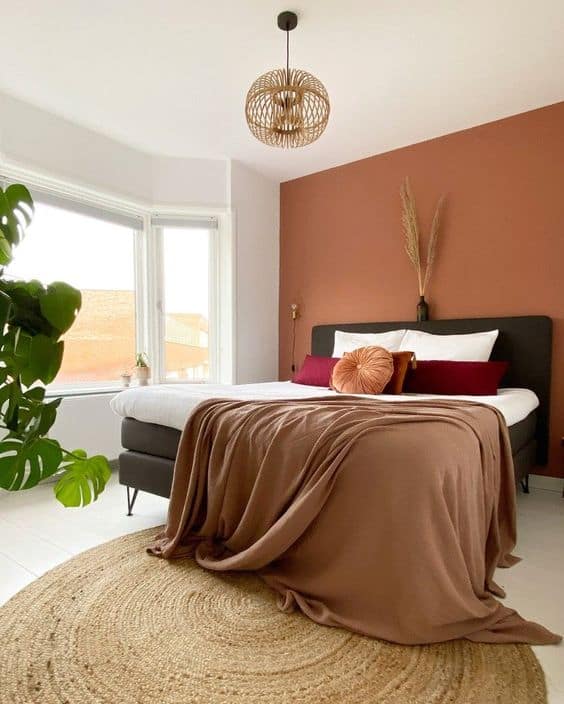 Terracotta color is closely related to the boho design.
If you love the boho design, why not bring it to your bedroom with a bohemian round area rug and some pampas grass? You get a boho terracotta bedroom design.
Let some natural light in to bring the perfect vibe, and use terracotta liberally. That's the main element, after all!
RECREATE THIS LOOK
Marry Terracotta With Terracotta!
The monochromatic color scheme has its charm that none other can have!
If you love ONLY terracotta color, then using different shades and tints of it all over the room could be your best bet!
Suppose that sounds exciting but somewhat too much. Couple it with a bit of neutral color, like white. Cream or gray. That would balance the lookout and fulfill your heart's desire, to put it!
RECREATE THIS LOOK
How About Throwing A Shot Of It?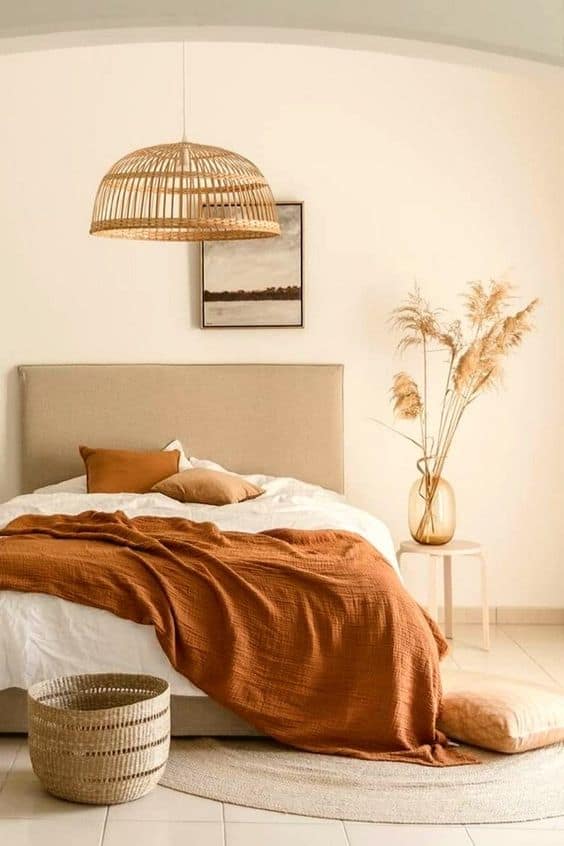 A color can be introduced in any space by making just small add-ons. Terracotta color throw blanket and throw pillows in this case.
To recreate this bedroom design, all you need is a beige headboard, an inverted basket pendant light, a basket, some pampas grass, and some pampas grass.
Arrange these, and you'll be done!
RECREATE THIS LOOK
Then Comes The Turn Of A Truly Modern Terracotta Bedroom!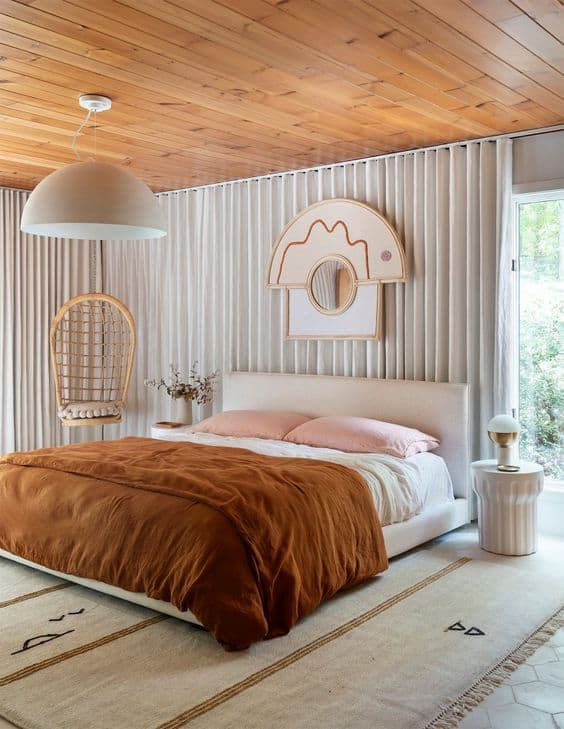 Using curtains all around the room is a great idea to add some textures to your bedroom and give it a feel of depth.
With this modern curtain trend, you can use some shots of terracotta to make it into a modern terracotta bedroom. That way, you'll get the desired color and look right into your bedroom!
But remember, an area rug and a pendant light are essential to bringing the look together!
RECREATE THIS LOOK
Add Some Plants To Enhance The Earthy Feel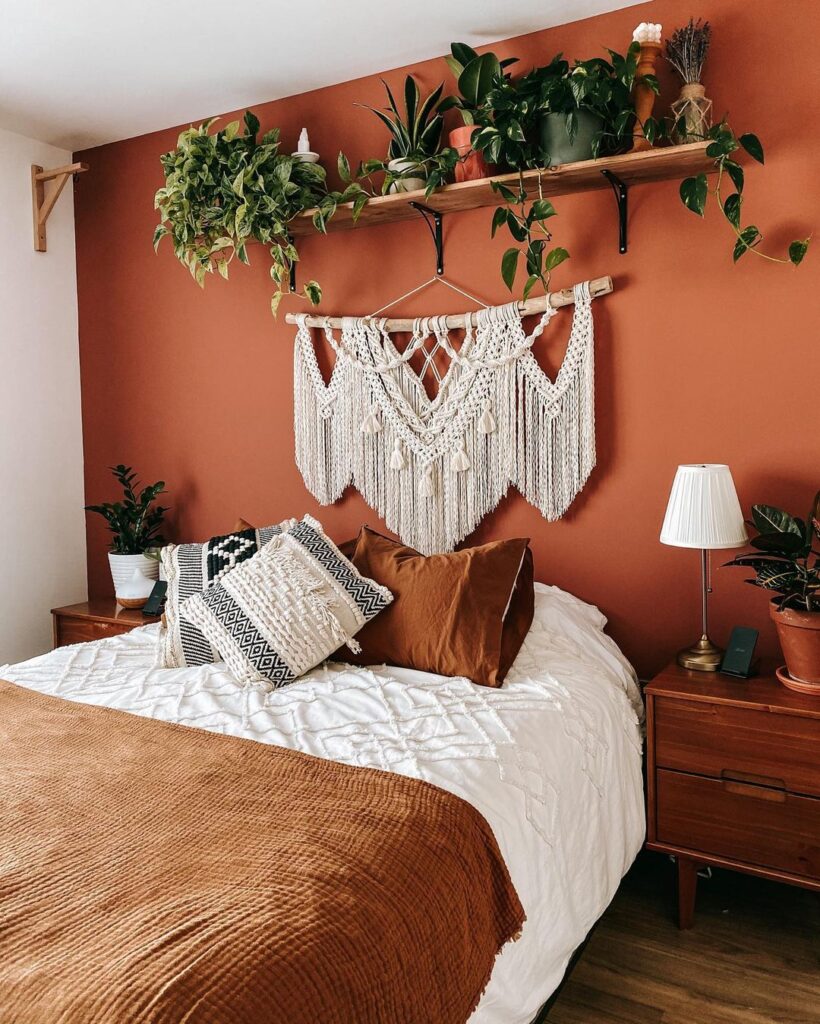 Now that you've chosen to decorate your bedroom with the terracotta color, why not make a natural feeling it brings to the room fuller?
Long story short, plants can help make the room feel more natural and peaceful.
Plus, if you club the terracotta and white color scheme, biophilic design, and boho design, what's like it?
RECREATE THIS LOOK
Couple It With Green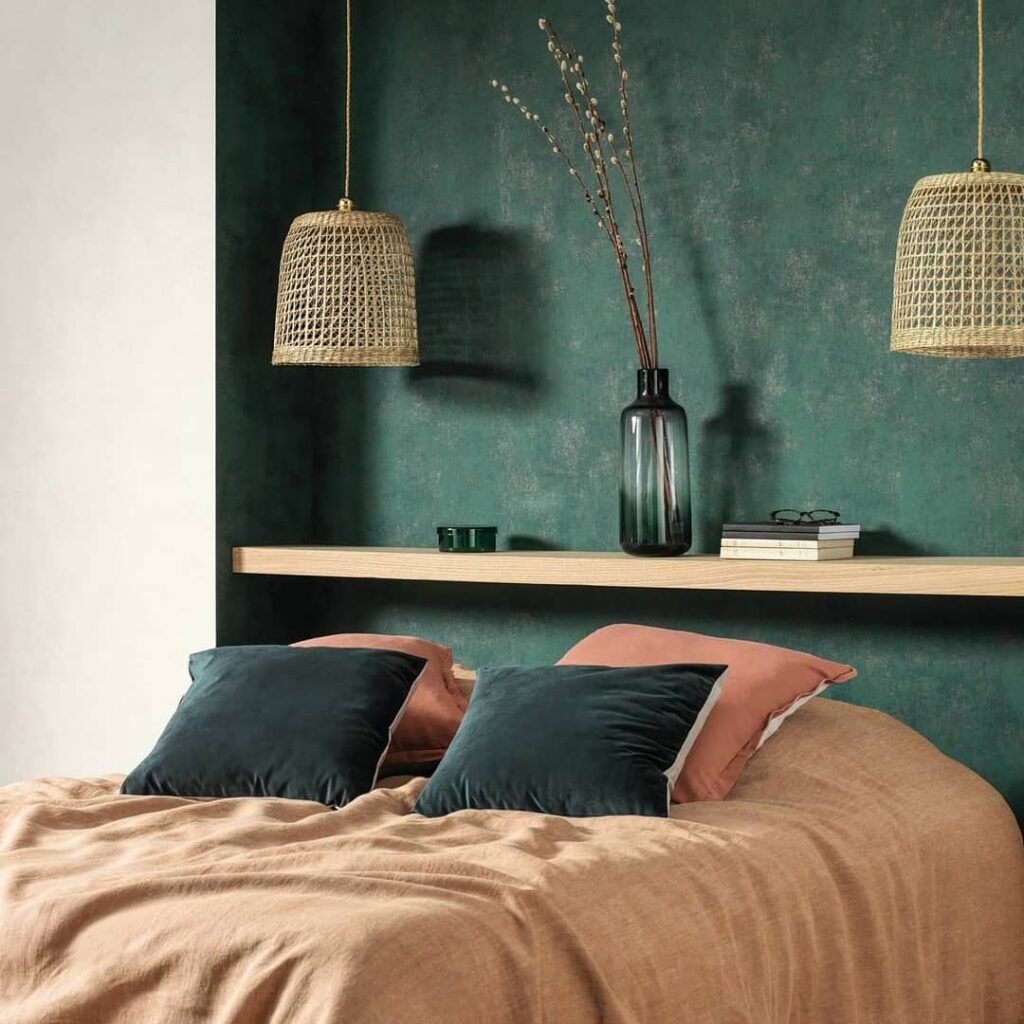 Another great way to make things work is by coupling terracotta with a shade or tint of green color. Think emerald green and sage green.
If you dream of bringing mood and mystery to the room, the darker shades of green can do the job for you, emerald green, for example. And if you are a person with love for subtle interiors, go for lighter shades like the trending sage green color!
RECREATE THIS LOOK
Keep Things Simple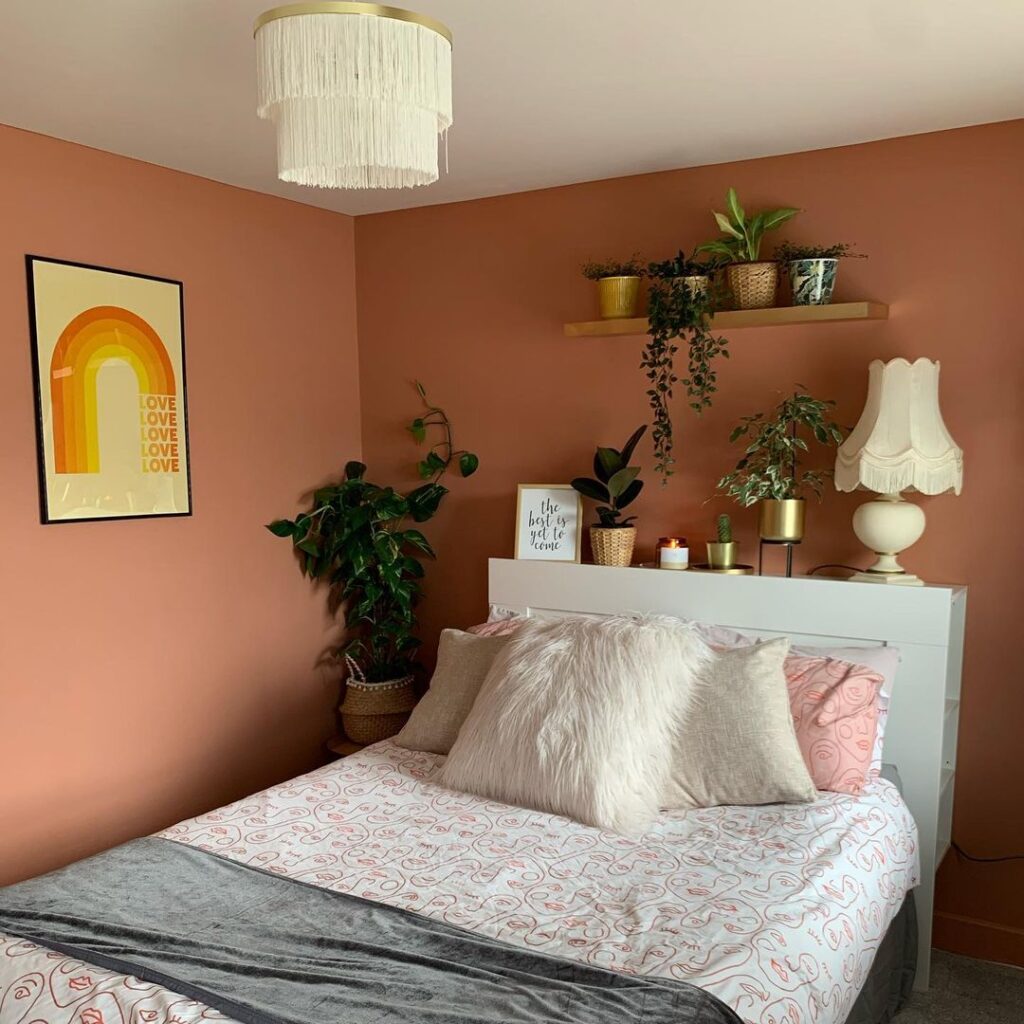 Simple bedrooms wi the hearts like this one do!
The all-terracotta walls don't look too much owing to the use of a light shade and throwing white fabrics in the room that balances everything out!
The cherry on top of this room is that boho ceiling hanging up there! If simple and budget-friendly bedrooms are what you like and are looking for, this is one to consider.
RECREATE THIS LOOK
For love For white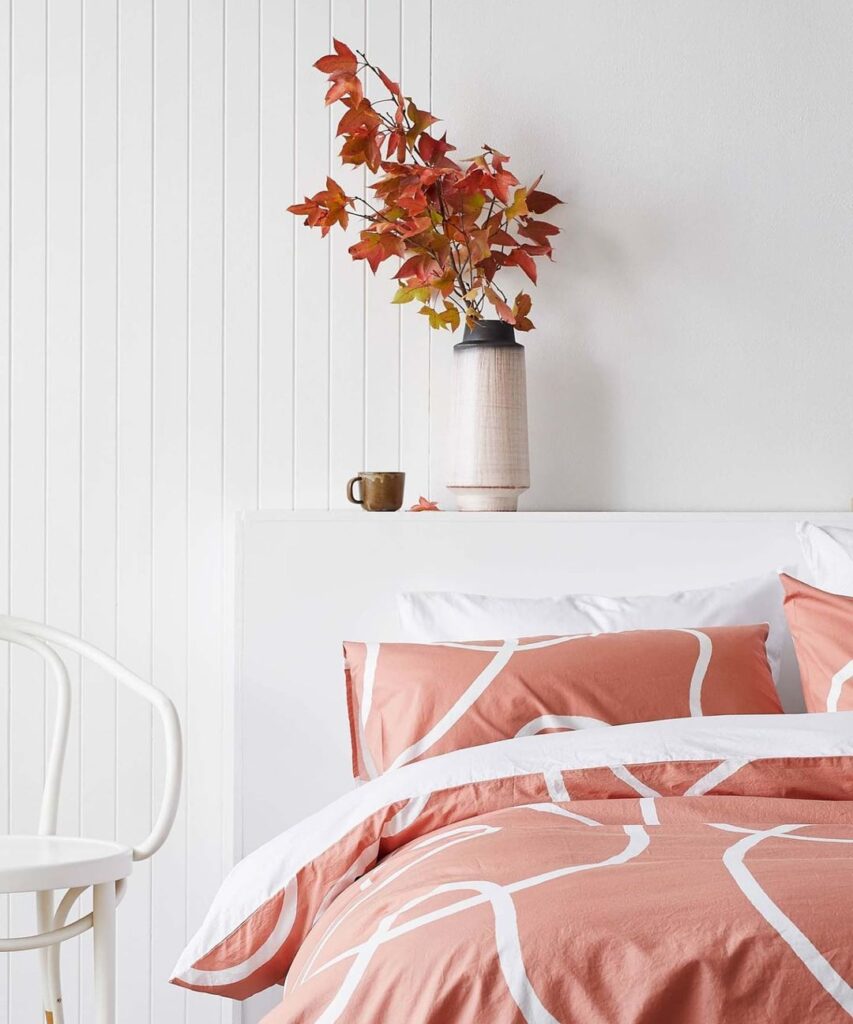 White is majestic. Add it to your bedroom.
And what about terracotta? Of course, you can add terracotta to your bedroom through your bedding, curtains, rugs, etc. But if you keep the white backdrop, it might make a lot more sense because it gives your room a subtlety and balance that most people silently crave.
RECREATE THIS LOOK
Designing A Bedroom For Girls?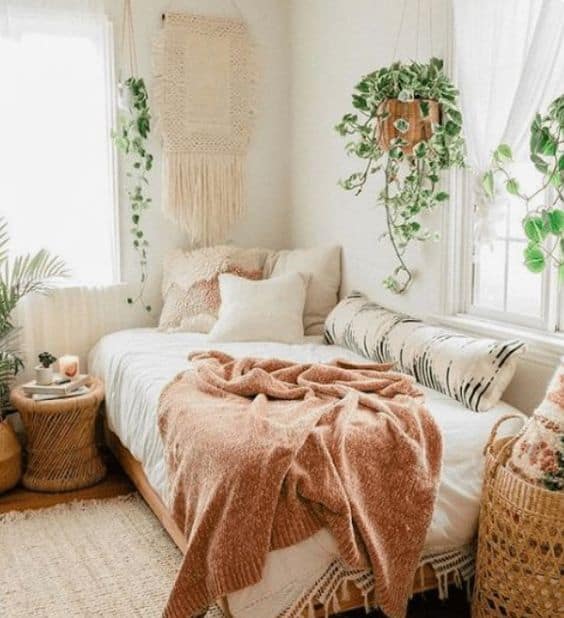 Give your bedroom a feminine feel by placing the bed in the extreme corner and decorating it with boho and biophilic accents.
So far as the terracotta color scheme is concerned, a terracotta-colored throw blanket can do the job just fine. Isn't it doing it above?
RECREATE THIS LOOK
Make It Colorful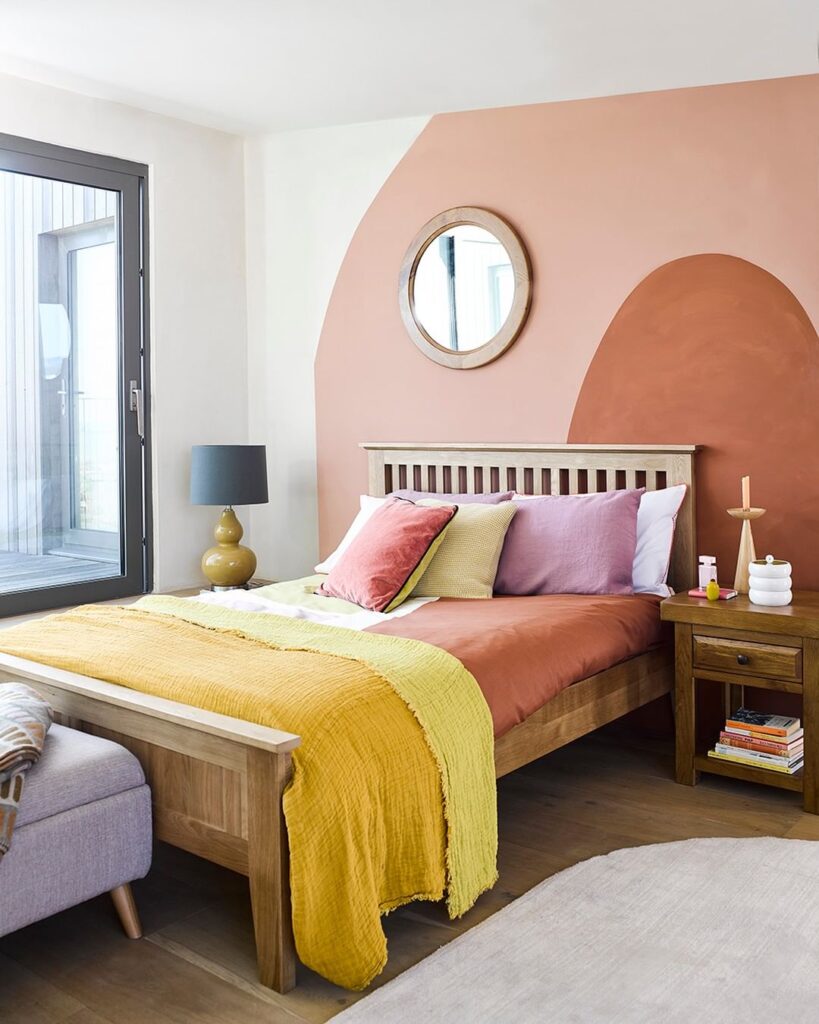 It's a world where we no longer have to follow the norms, including but not limited to interior design.
Understandably, use many colors in your terracotta bedroom without consideration for the so-called 'right' and 'wrong' color combinations.
Who knows if something great will come out of it?
RECREATE THIS LOOK
Go For Dark Terracotta If You Like Cozy Interiors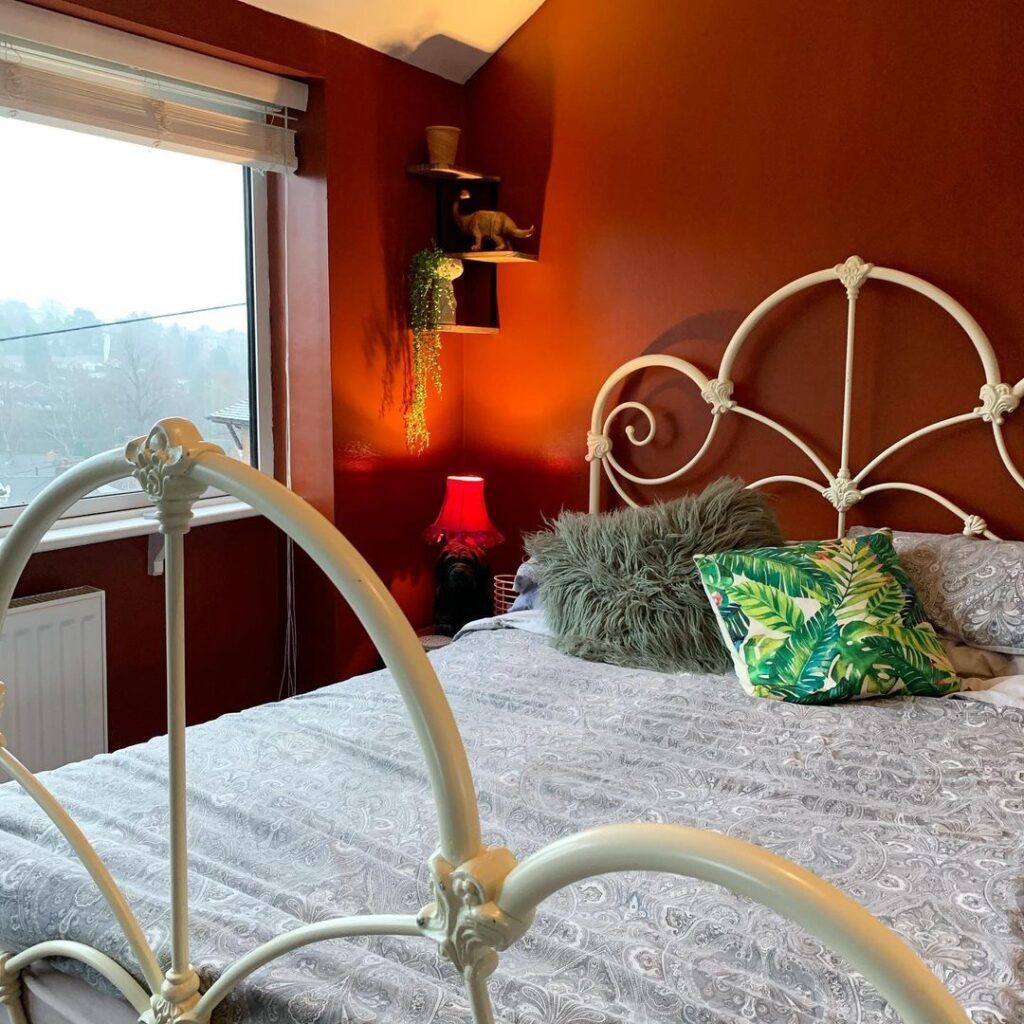 This room gets its cozy feel from that golden lamplight and the dark terracotta color.
Dark colors tend to make a space look small and cozy.
This is best if you live in a country that's surrounded by snow all the time. But whatever it be, if you love intimate interiors, dark terracotta is your treat.
RECREATE THIS LOOK
Pink And Terracotta Match Well, Right?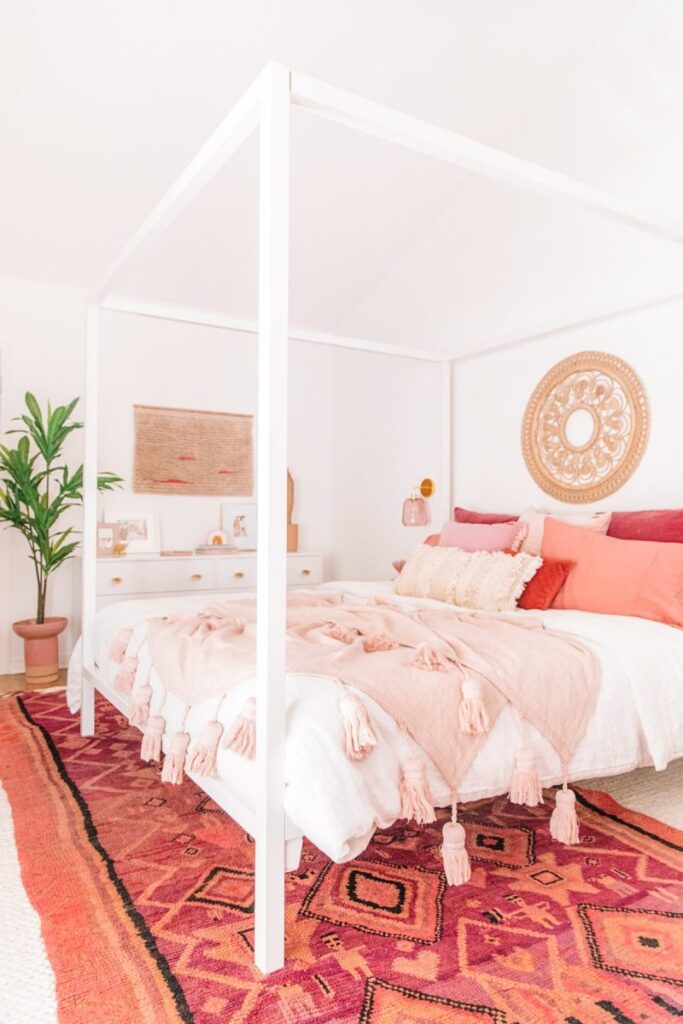 Again, a white backdrop is nailing the look!
But a thing to note here is that if you use very light terracotta (which becomes nearly pink) with dark shades of terracotta, it creates a look beyond beautiful like this one!
Add to that the wall hanging, the rug, and the throw blanket. All these give the bedroom a boho feel without overstuffing it!
So in case, you think that adding terracotta color to your bedroom can make it look stuffy and suffocating, this bedroom tells a different story.
RECREATE THIS LOOK
How to add terracotta to the bedroom? Some ways
Now, it might happen that no terracotta bedroom decor idea resonated with you, or maybe, you want to include terracotta color in your already existing bedroom design.
If this is the case or any other, you might find the ways to add terracotta to your bedroom that we are listing below somewhat helpful and handy.
Have a look!
Get a terracotta wall.
The easiest way to incorporate the terracotta color in your bedroom is to get the walls painted in the same color.
If 'getting all the walls painted' seems too much, why not have a terracotta accent wall?
Alternatively, if you want the terracotta look instantly, a terracotta-colored wallpaper can do the trick.
Use terracotta bedding
Another great way to add terracotta to your bedroom is by getting bedding of that color.
This way is cheaper than most, and if you get bored with the color in the future, it's not heavy on your pockets to change the color scheme altogether!
Punctuate terracotta
For all those who love just shots of terracotta d don't want full terracotta bedrooms, why not throw shots of terracotta and get the subtle and earthy look it creates?
You can punctuate the terracotta color by using a terracotta throw blanket, terracotta wall art, or some throw pillows of the same color.
Pair it with some other color
A full terracotta bedroom might seem intimidating!
In that case, marrying it with other colors like white, gray, or cream can be the way to go.
Choose the color that works best for you, and you're good to go!
Use terracotta fabrics
And then, when nothing else works, rugs and curtains do!
Understandably, use rugs and curtains in terracotta color. They can tie the room together and bring the color scheme boldly to the forefront!
Which colors go with terracotta walls?
Terracotta works well with almost all colors except some. But if you strive in search of the best colors to include in your terracotta-colored bedroom, then have a look at the list we have for you:
Gray And Terracotta
Gray goes quite well with the terracotta color.
If you like mysterious interiors or a cozy and intimate one, then dark gray would be a great option.
If you like fine interiors or want to balance the dark shade of terracotta, then a light gray can do the job well. But then, in what proportion do you use the colors that come to play. So please keep that in mind as well.
White And Terracotta
White doesn't go well with which color? Well, none.
It will go well with terracotta too!
Green And Terracotta
Green and terracotta make a good match.
In case you choose dark green shades of green, that gives some mood to your bedroom, and in case you choose a light green shade for the bedroom, it provides subtlety. You choose.
Pink And Terracotta
Pink and terracotta especially look good when used on a backdrop of a neutral color, think white, cream, or gray.
So, if you are considering the combination, don't resist making a love triangle of pink, terracotta, and neutral. They can marry very well!
Cream And Terracotta
Again, the cream color is neutral and goes well with every flush.
So, with terracotta as well, it can make your room look balanced yet pretty and sober.
Best terracotta decor you MUST have!
Your terracotta bedroom is incomplete without some terracotta decor sprinkled here and there around your bedroom.
To make things a bit less complicated and somewhat easy, below is the list of some terracotta bedroom accessories that we loved and maybe, you, too, would. Have a look!
The bottom line
Terracotta color is a new-near-neutral, and it's there to stay and replace all the dull and dingy colors that have been ruling the interiors for a while!
To make terracotta the king of your interior design, we hope this post helped!
If there is anything that you'd want us to add, remove or update in this post, feel free to write to us!
And don't forget to comment below; which terracotta bedroom design stole your heart?
Until next time, happy decorating!
Frequently Asked Questions (FAQs)
What Does Terracotta Look Like?
The terracotta color looks exactly like that of fired clay. It has 89% red, 45% of green, and 36% of blue color.
Is Terracotta A Good Color For The Bedroom?
Since terracotta has red in a large proportion, it is NOT a very good color for your bedroom if used in large quantities.
But as long as you use it sparingly, you're good to go!
Is Terracotta A Neutral Color?
Terracotta is NOT a neutral color, but with its ability to marry well with almost all shades, it can be seen as one. Originally, it's not.
Does Gray Go With Terracotta?
Absolutely. Gray and terracotta make an incredible combination. You can go for this without a second thought!
Love To Add Colors To Your Bedroom? These Posts Are For You: