Black and white can never grow old. When there's no color you can rely upon, you can just fall back in their arms and it's all well.
To make you feel the warmth, beauty, and elegance they bring to you, here are 15 aesthetic black and white bedrooms you might want to recreate to stay close to these lovely colors.
No matter whether you love retro or minimalism, these bedroom ideas will let you in by hand, quite gently.
Let's knock on their doors.
13+ Aesthetic Black And White Bedrooms With Some Stunning Decor!
Use A White Backdrop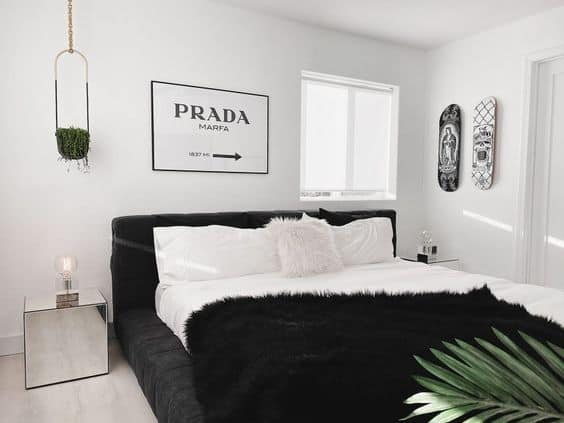 Using too much black in the room might give a cave-like look or might even feel very dingy or dramatic.
To avoid that, it's best to have a white backdrop and punctuate black in the room. A little bit of black, too, would balance out the look and not dominate the color scheme.
The real depth that this room gets is from this black fur throw blanket that adds texture to the overall plain feel.
In Case You Want To Balance The Sharpness Of Black And White…
The black and white color scheme for a bedroom might make it look very sharp and unrelaxing, far from serene and restful.
To make things better, you can add another neutral color like beige or tan to balance the sharpness of these two opposite colors.
A beige floor and some beige accents in the room would be fine enough to compress the extremity that black and white might create.
Add Some Accents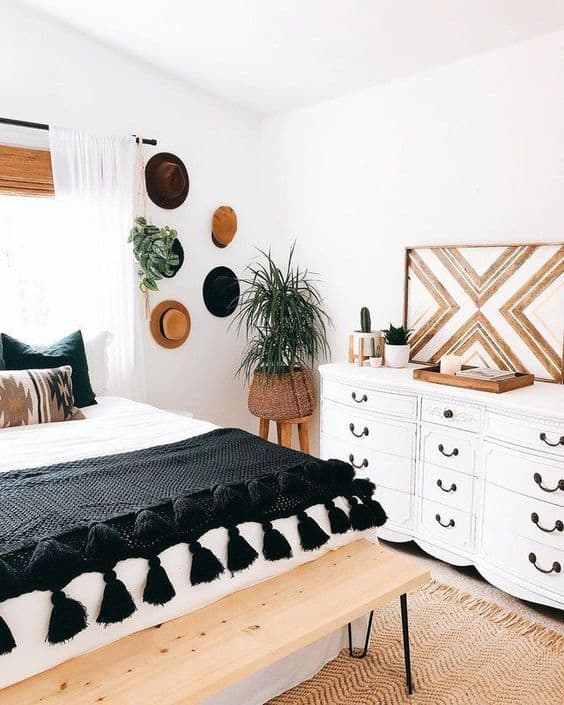 In case you'd love to have a black and white bedroom but don't want the retro feel it normally brings along with it, it's best that you get your hands on some room decor.
In this case, the combination of black and white color with a wooden bench (it can be bought HERE) at the end of the bed and some other accent pieces around the room nail the look. They neither make the room feel too retro or too modern. It's somewhere in between and it looks good.
A Black And White Bedroom For A Smal Space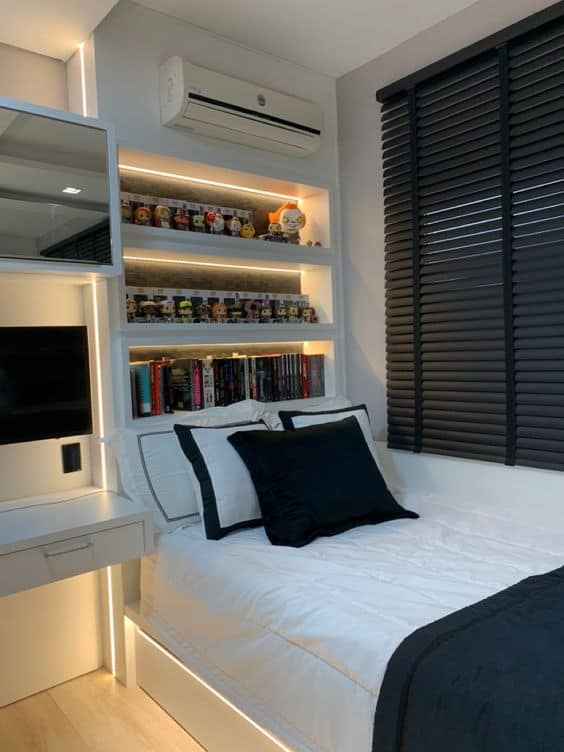 If you are looking for black and white bedroom ideas for small rooms, then this one might stick.
For small bedrooms, it's not at all recommended to go for dark colors on the walls. Therefore it's best that the backdrop be white and only a few black accents are added to the room.
If you use too much black, then the room would look smaller. That's not what you'd want!
Additionally, use a lot of lights to make it feel aesthetic and big and bright.
How About A Boho Black And White Bedroom?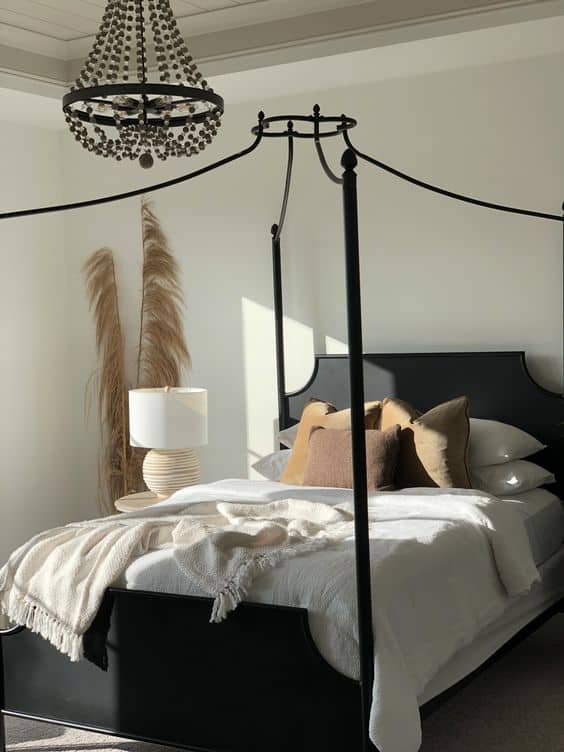 A white and black bedroom has the tendency to look too minimalist because of the sharply defined lines and spaces.
To avoid extreme minimalism, adding a touch of maximalist decor like boho could be a treat.
Adding too many boho accent pieces is not required but throwing in some pampas grass, a rattan lamp, a beaded chandelier and a couple of earthen-colored cushions is just fine.
Try A Black Bed Frame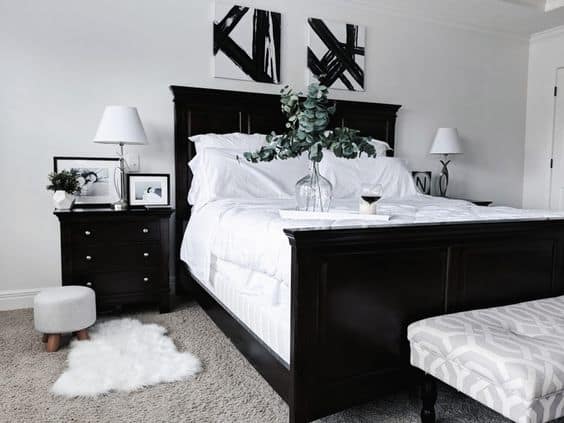 To give a sense of balance to your aesthetic black and white bedroom, it's best to add just a few pieces of black and a lot of white.
One good way to do that is to keep the backdrop white and choose a black bed frame. That way, if you get bored with the colors in the future, you can change them anytime without having to change the bedframe. Black goes with almost everything!
Black Walls Are Mysterious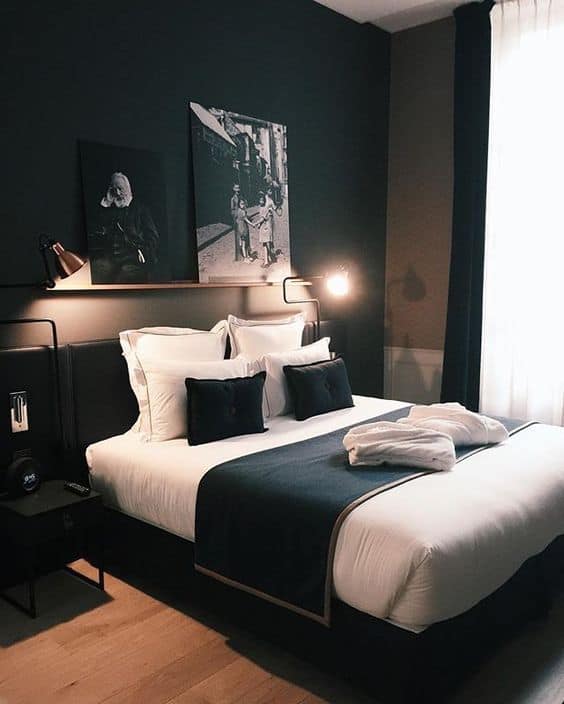 Now, if there's anyone here who loves mysterious and dark interiors, black walls are for you!
To make the black color dominant in your room, you can choose to get your walls painted in black and have some white furniture to balance that out.
But before you set your heart on the black walls, remember that they make the room look smaller and dull. If you have a small bedroom, black walls are not recommended.
But, you can choose to have just one black accent wall and all other walls can be white. That will be as good!
Add A Pendant Light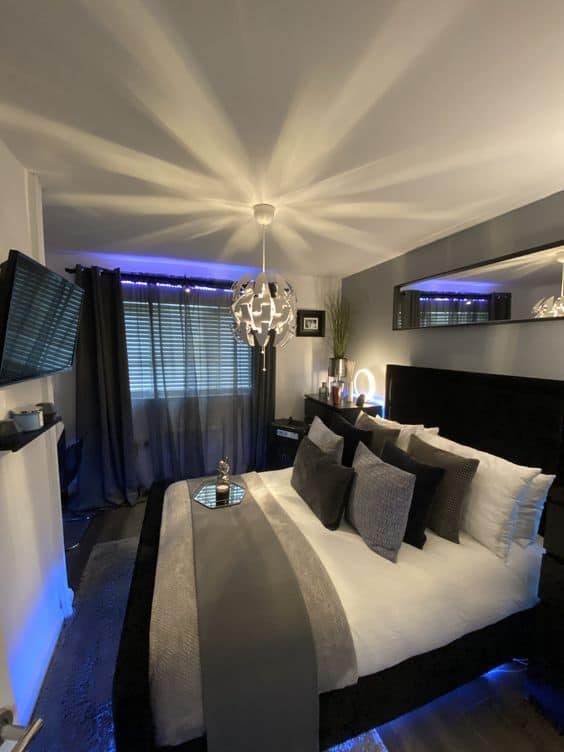 Lighting is one of the main components of interior design, and when that is right, it has the potential to make everything right.
Long story short, to add the glamorous feel to your aesthetic black and white bedroom, a pendant light can do the trick.
Plus, if you add some accents of gray in the bedroom, that's icing on the cake!
Some Brown Accents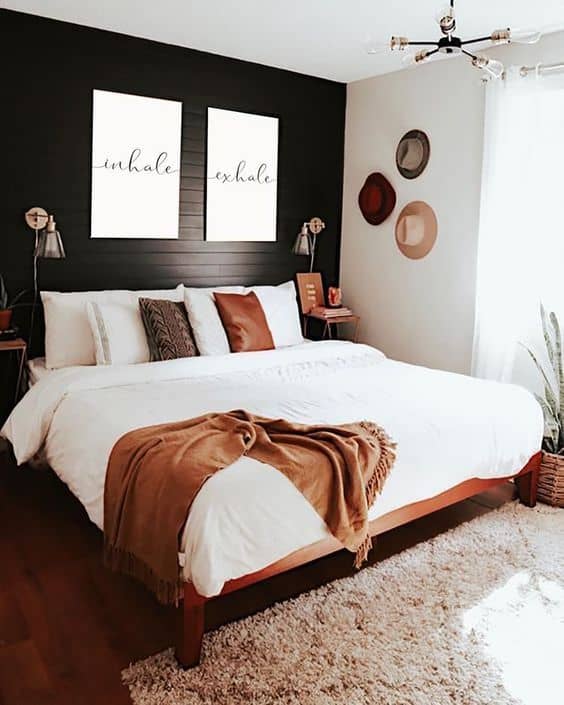 Adding brown to the white and black color palette might sound uninteresting but when you do it, it has results that are legit awesome!
Just take for example the above room and how peaceful and inviting it looks. Part of it owes to the shiny black wall panels and the white backdrop but part of it is also because of the punctuated brown in the room. That's what makes all the difference.
Gray Belongs To The Family…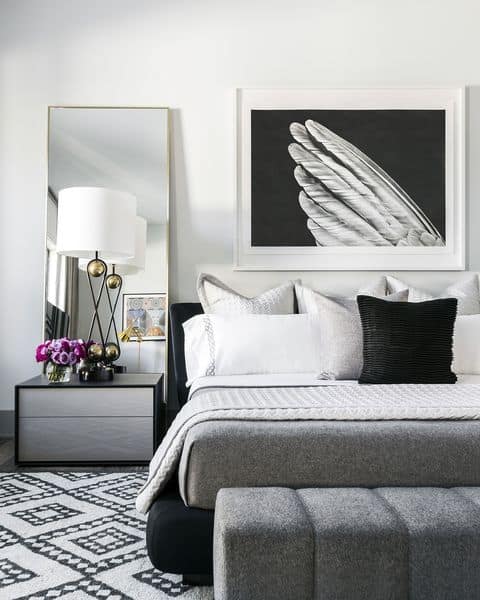 When you've set your heart on an aesthetic black and white bedroom, why not let gray join the family?
Adding gray means that you are bringing balance t the bedroom. Black and white might make the bedroom look too sharp but gray is all it takes to bring balance to the interiors.
Gray could be in the form of an ottoman bench at the end of the bed, some wall art of a rug.
Set Up A Gallery Wall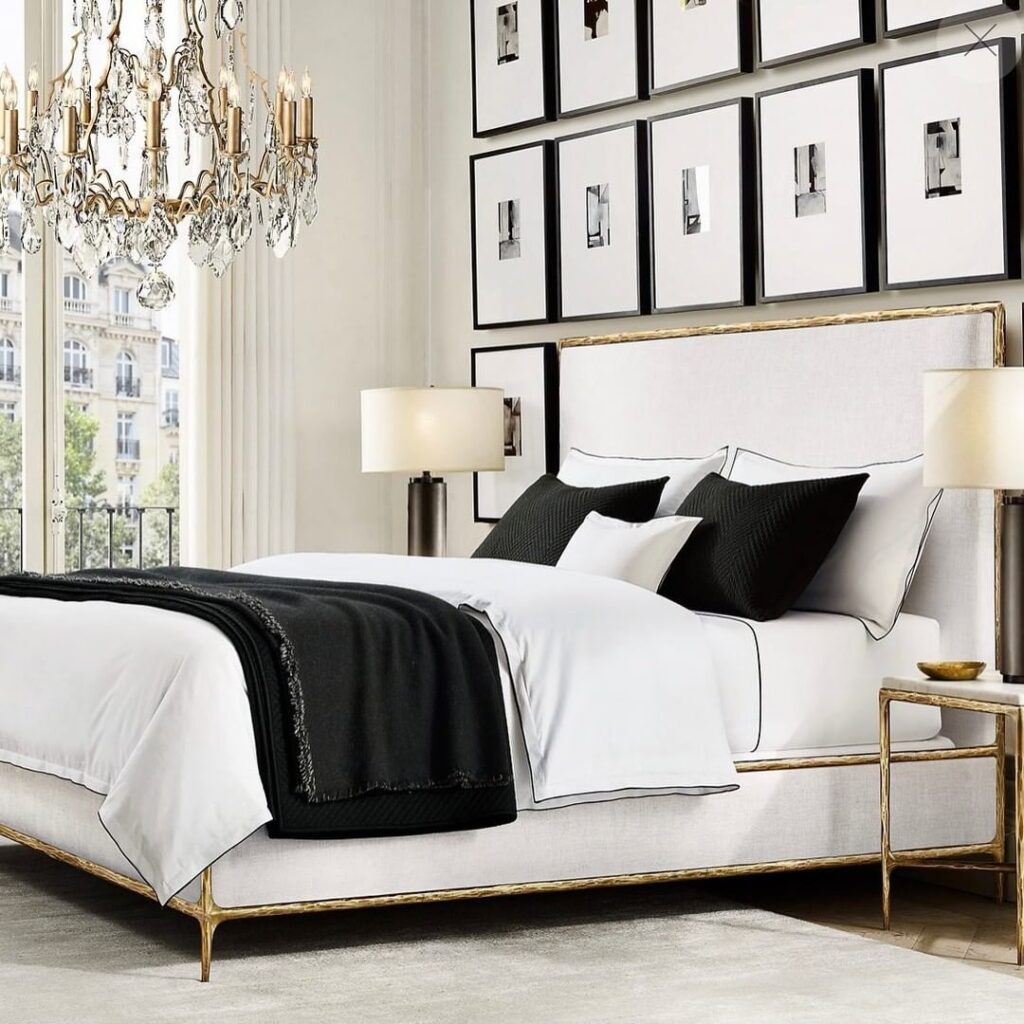 A gallery wall can make any boring place, interesting!
So, if you are afraid that your black and white bedroom might look boring, then a gallery wall is what you need to get your hands on.
And when it is coupled with an opulent chandelier in the room as above, that's something to fall for!
Let The Furniture Pop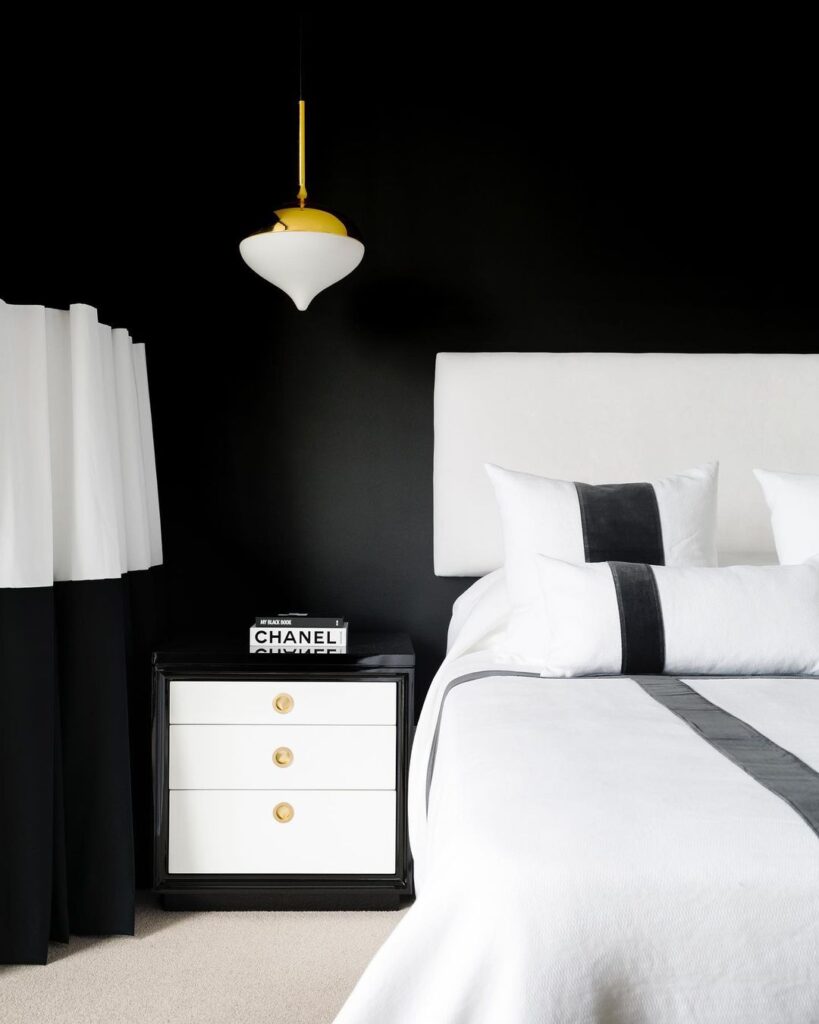 Agreed that black walls are not recommended, but if you have a large enough room- a master black and white bedroom- then black walls are worth taking a gamble for!
After all, they make all your white furniture pop out and give some unique and luxurious look to your room that hardly any other combination would ever give!
A Pop Of Color Is All You Need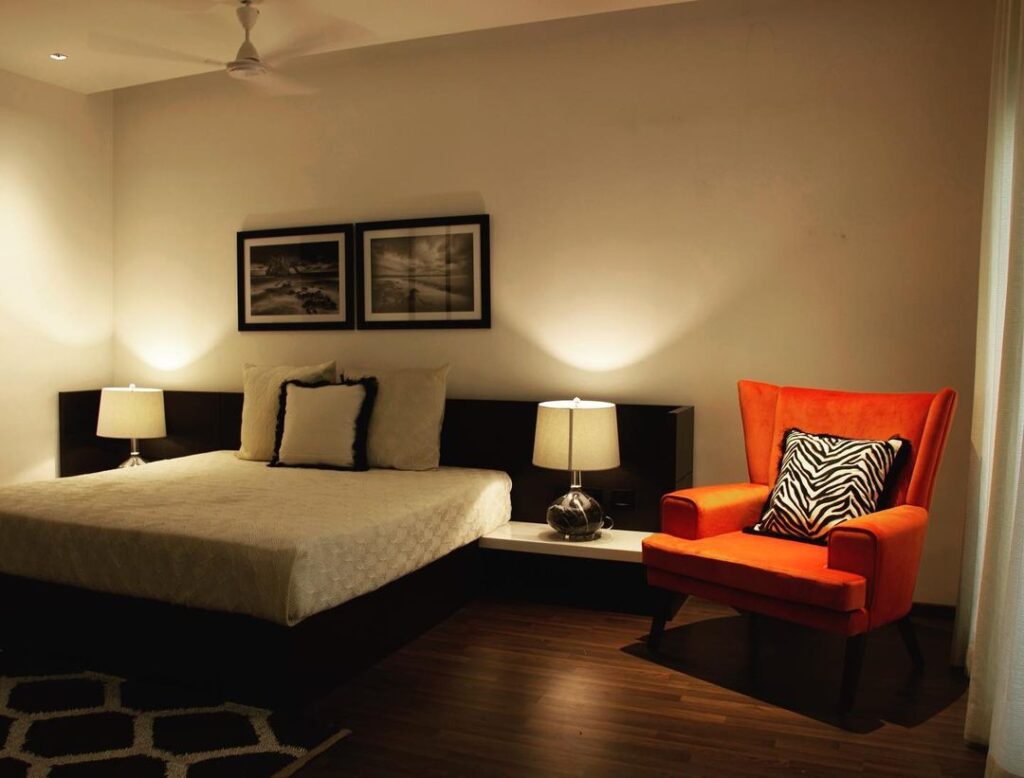 To prevent your bedroom from feeling like it's from the 1930's era, it's best that you prove that you know it's the 21st century going on…
How will you do that? Add some color to your bedroom to make it a modern black and white bedroom!
The best colors that pop in a black and white backdrop are the warm tones, think red, orange, and yellow. But whichever color you add, it's bound to pop against black and white, right?
Don't Forget The Plants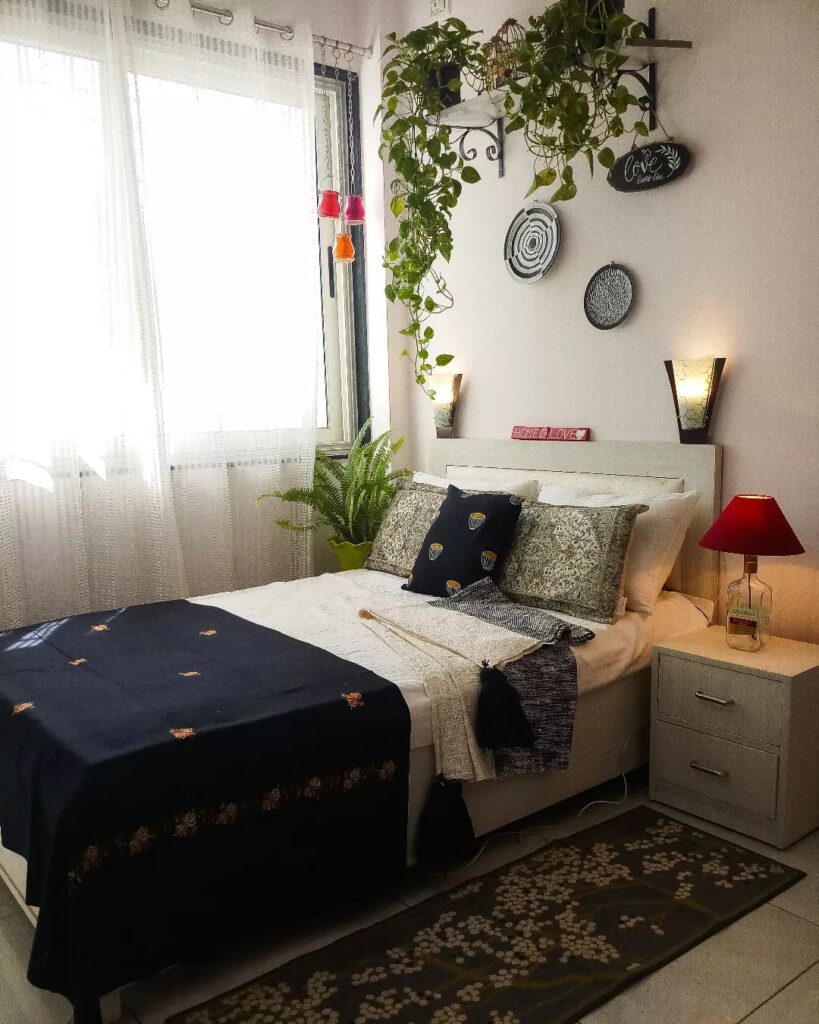 No matter which theme or color scheme you are decorating with, greenery would only magnify and beautify the look.
Simple as it sounds, you must get some indoor plants for your bedroom. They add that artsy and aesthetic touch to the space and make the room feel healthier and more welcoming. Everything to your advantage.
Remember The Lighting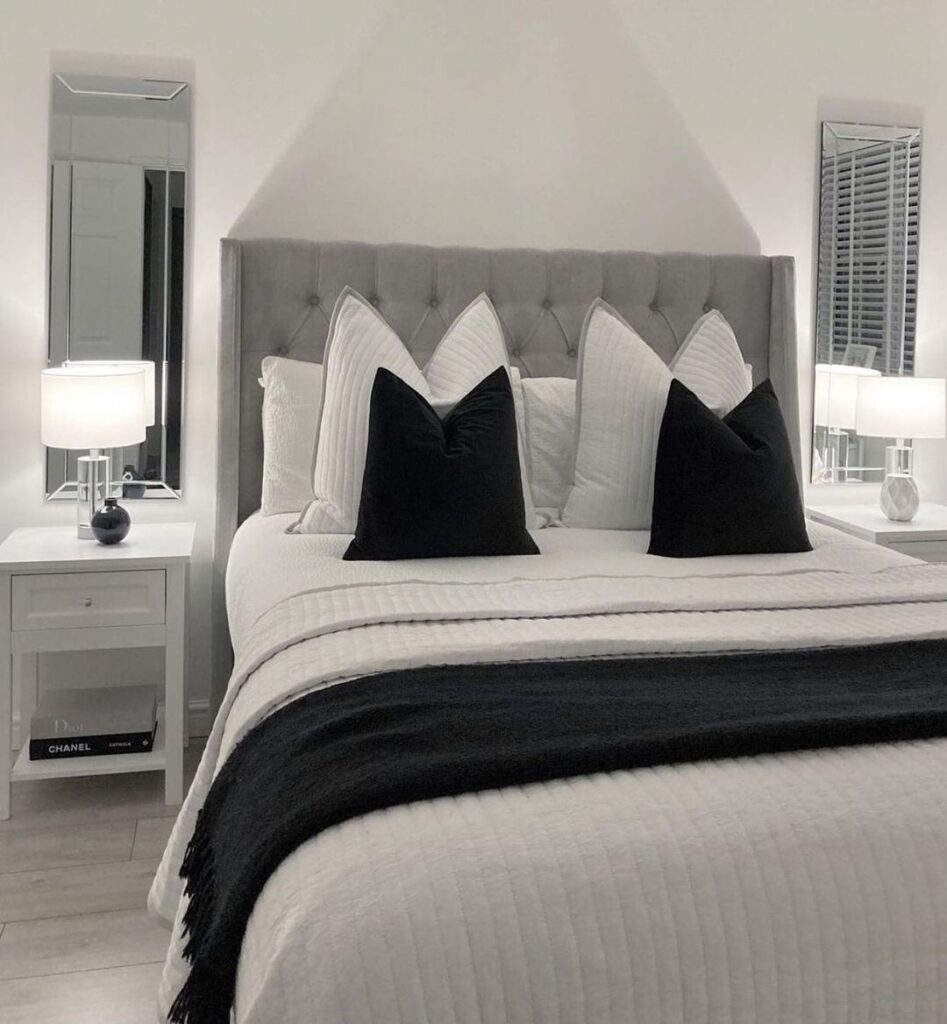 The lighting you choose for the bedroom will decide the look and feel of the bedroom.
To make it feel aesthetic, add some fairy lights and neon lights to the bedroom. Other options include some pretty table lamps and chandeliers. Choose what suits you best.
Tips to design your own white and black bedroom
As you move closer to realizing your aesthetic black and white bedroom dream, there is scope for certain mistakes.
To save you from all of them -or maybe some- below are some tips that we have for you before you roll up your sleeves and get started with your bedroom decor.
Until then, keep your sleeves down. 😉
Don't Overuse Black
A lot of black in the bedroom can give the illusion of it being too small and mysterious.
To avoid that, it's best to keep black to a minimum or to a proportion that's not dominating white, say 20% – 35% of the bedroom.
The rest of it could be in white, in case it is a black and white bedroom that you are decorating, or you could throw in some other color too if that sounds good.
Create Balance
Since black and white are quite contradictory colors, they create sharpness in a bedroom. Not everyone likes it.
To combat that, use a more neutral color along with black and white, think beige or gray.
These colors balance the intensity of black and white and give the room a more subtle and welcoming feel.
Use Some Color
A pop of color looks legit amazing when you add it to a bedroom that's too black-ish and white-ish!
The color that stands out the most with this combination, is yellow. To make it easier, a pop of any warm color is what you need. It could be red, orange or yellow. Yellow is the best. It's not a rule of thumb, though!
You could add any color like green, blue or pink. They'll stand out anyway.
Or if you like to keep up with the trend, try adding some terracotta or sage green. Who knows, you might love it?
Use Some Decor
Some people resist decor. Please don't do that.
The decor adds some fun to the bedroom and magnifies the then and the color scheme in your bedroom. Even if you use some decor pieces, that's fine. Important is, that you use them.
Choosing good decor for your bedroom is a touch, we understand.
That's why in the below section, we have it all figured. Take a look!
Black And White Bedroom Accessories That Are A Must-Have!
A Black And White Canvas Painting
A Fluffy Black Rug
Black Metal Wall Art
Circle Mirror With Black Frame
Vintage Lights
The Endnote
An aesthetic black and white bedroom is the perfect choice to go for when you want a minimalist or a retro bedroom.
The only thing to keep in mind is not to overdo things and keep the look in balance. Rest, everything's cool!
We hope this post helped you with your black and white bedroom decor.
If there's anything that you'll want us to add, edit or remove, let us know in the comments below! And don't forget to comment on which bedroom idea, you found best.
Until next time, happy decorating!
Frequently Asked Questions (FAQs)
Is Black And White Good For The Bedroom?
Yes. So long as you use black color sparingly, the combination is good for the bedroom.
If you use black in a large proportion, it might make the bedroom feel too dark and dingy. You don't want that!
What Accents Go With Black And White?
Primarily, accents with warm tones go the best with black and white, like red, orange, and yellow. Yellow goes exceptionally well.
But with a black and white backdrop, almost any color would pop up.
How Do You Soften A Black And White Bedroom?
You can soften a black and white bedroom by using a neutral color in the color palette, think beige or gray.
These are the mid-shades that achieve balance in any space they are used in.
Looking For The Best Colors For Your Bedroom? Here Are The Posts That Can Help!