Children LOVE games and once you design their bedroom in the theme of the game, you are up for some hugs and kisses!
Mario is one of those 'evergreen' and 'favorite' games that children want to play and think of all the time!
To aid their passion and craze for it, here are some Mario bedroom ideas and decor that you might want to get your hands on and make your kid's bedroom, their heavenly haven!
Sound good? Let's look into some.
Mario Bedroom Ideas
Use Mario Wall Shelves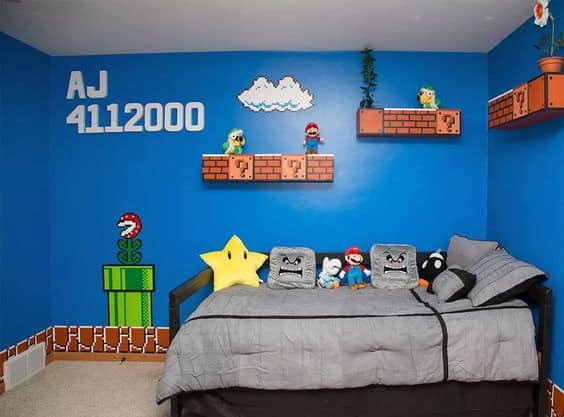 This Mario bedroom idea is definitely not all that easy to implement but if you can get your hands on some good floating wall shelves with a Mario design, that might make your room look quite unique and 3D.
Along with these wall shelves, it also seems a great idea to keep the wall blue and get some other Mario characters painted on them. If that's much of a task, how about using Mario wall decals?
You Can't Skip The Mystery Box!
The mystery box is everyone's favorite, right? After all, who doesn't love surprises and mystery!
So, simply, without a mystery box, your Mario bedroom cannot feel complete. A good idea to incorporate it in your kids' bedroom is by using a night light of the same design in his space!
Whether it's day or night, this light will remind him of his favorite game! Get this lamp HERE.
Wall Decals Are Your Friends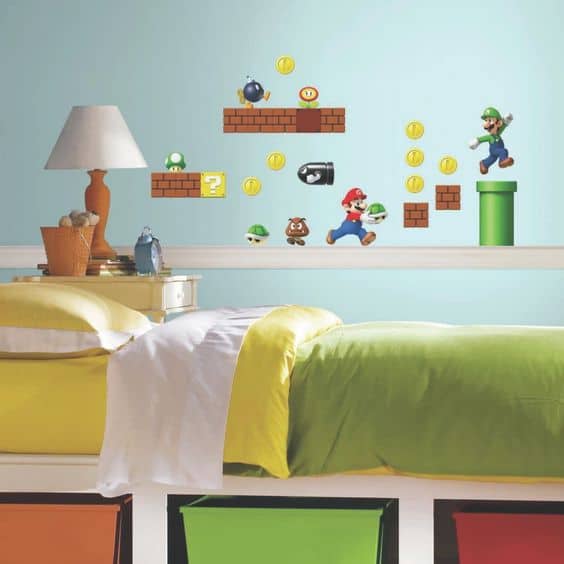 The easiest way to introduce any theme to the bedroom is by using wall decals of that style- Mario wall decals in this case.
They are also the right choice because they are cheap and don't require you to break the bank just to redo a mere bedroom.
That said, you can get some really good Mario wall decals HERE, with THIS as the most popular one.
Let Mario Occupy The Room
For children's bedrooms, it's always best when you let their favorite characters be found here and there in their bedroom so that they can see them everywhere.
One good way to do that is by purchasing Mario stuff for them. Take this little Mario clock for example. Your child won't be frustrated every time it rings but definitely be excited to see it in his space! Get the clock HERE.
The Colors Can Make A BIG Difference!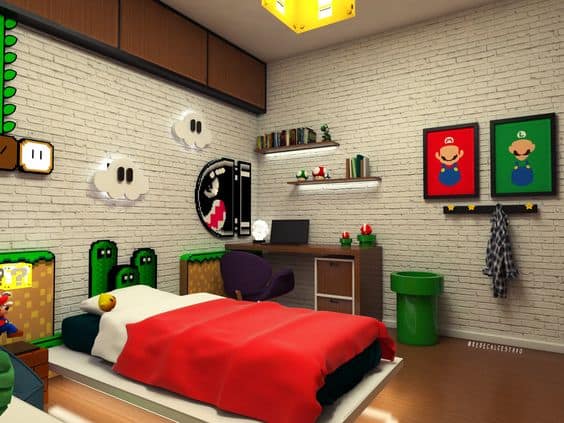 Even if you create a pretty Mario bedroom for your space, it won't be worth it if the colors are not right.
So, simply, try to use as much blue and red as possible and then give shots of green, yellow and gray to make the room look like a Mario-inspired room!
A good way to do that is by adding some good Mario accents to the bedroom or by just having these colors on your beddings, curtains, and other places in the bedroom.
Children Love Neo Signs!
Brighten up your child's Mario-themed bedroom by having a cute neon sign up on the walls.
And a little mushroom neon sign would be the perfect one to bring beauty and the Mario touch to your bedroom, without making a lot of effort!
There are other neon signs that you might want to put up on the walls that you can find on places like Amazon and Etsy. But, if you like the one above, get this neon sign on Amazon.
How About A Mario Bedding?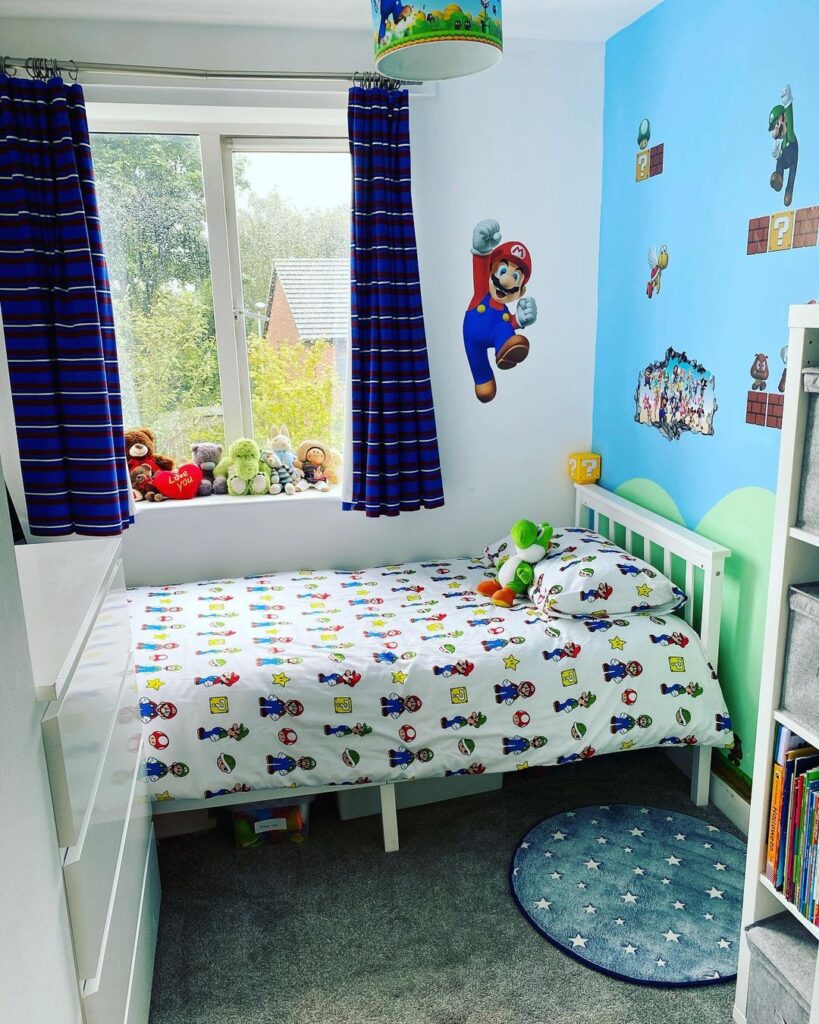 The bed is always the first thing you notice when you enter a bedroom. When it's right, your bedroom will look right, automatically!
To create a Mario bedroom for your kid, you can choose a good Mario bedding like the one above.
The best thing about this design is that it's not expensive yet it's pretty effective.
The room gets the overall feel for the Mario colors as well, besides the bedding so make sure to keep that in mind as well!
One Mario bedsheet that we particularly like is THIS ONE. Have a look!
Add A Gallery Wall
A gallery wall can always impress anybody whether they are kids or adults.
To give a classy Mario decor to your kids' room, a gallery wall art can help. At least, your kid won't have to see the same Mario image every day. There will be variety!
Sounds cool? Get this wall art set HERE.
A Mario Wall Can Do The Trick!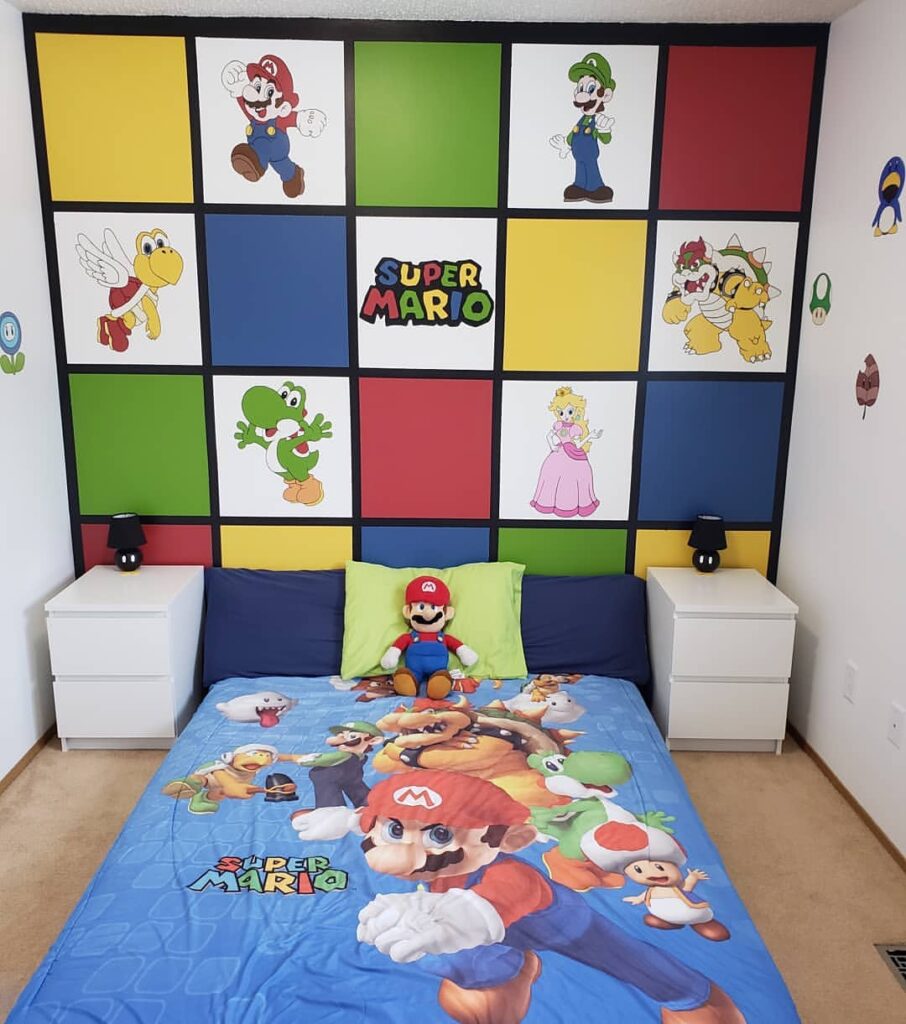 For the die-hard Mario fans who cannot settle for just some Mario curtains or wall decals, a full Mario bedroom is the solution!
How do you do that? Buy getting the entire wall Mario-inspired like the one above. And pair it with the Mario colors, that's key.
To spruce up the space a bit more, having this Mario bedsheet and a cute Mario plush toy is what can take your decor to the next level.
Throw In Some Mario Plush Toys
No kid bedroom is complete without throwing a plush toy or two in the bedroom.
In this case, you'd definitely want to throw the Mario toys here and there to give the bedroom the sought-after look! Here are these Mario soft toys.
Mario Bedroom Stuff To Steal!
No bedroom is complete without some fabulous decor, not even a Mario-themed room!
That's why we have some amazing decor stuff listed below. Take a look and let us know how you like it?
Mario Bedding
The bedding can transform the room upside down! It can create a major difference in a little money.
So why even give a second thought to it when you have set your heart on creating a Mario bros-themed bedroom for your kid! Find super cool Mario bedding sets HERE.
Mario Curtains
The fabrics in the bedroom dictate what vibe dominates in the bedroom.
So, it's important that you have some mario-printed fabrics in the room for the theme to magnify itself.
The best way to do that is by using such curtains. One fine one is above and if you'd want some other designs, HERE they are.
Optical Illusion Lamp
Chuildren absolutely love optical illusions and magic. Let them enjoy it and be fascinated with this ario optical illusion lamp that can make their bedroom more interesting than they expect!
You can find this pretty optical illusion lamp that changes colors every minute, HERE.
Mario Plush Bean Bag
You might find it a great idea to add a little seating arrangement to your child's bedroom that's mario-themed. After chuildrenb hate their beds but love their bean bags, agree?
If you like the idea, then this lovely Mario bean bag is for you!
A Mario Lamp
To bring the Mario theme to the forefront, add some light to it!
Simply put, mario-themed lamps can be the most stunning way to make your child fall in love with his bedroom! Children love lights.
But, don't limit your options, there are tons of Mario lamps available HERE so just have a look! You'll love it.
Cute Mario Mushroom Lamp
If you are decorating a girl Mario bedroom, it's time that you add a flare of cuteness to it!
And what other than this cute mushroom lamp can do that? Well, HERE's this lamp.
Mario Wall Decals
As already said, the easiest and the cheapest way to add a theme to the bedroom is by using wall decals.
This wall decal above is the most popular one on Amazon.
But there are a ton of options available, check them out HERE.
Custom Name Mario Sticker
Let your child feel that it is HIS bedroom with this personalised wall sticker in the Mario style. Get it on Amazon.
The Endnote
Designing a kids' Mario bedroom is quite easy. All we require is the right stuff.
Hope this post has provided you with all you need to create a cool Mario-inspired bedroom for your kid!
If there's anything we've missed out, feel free to comment below.
Until next time, happy decorating!
Love Creating Amazing Bedrooms For Kids? Here Are The Posts You Might Like: