Anyone who has seen 'Despicable me' is a minion fan! No matter whether you are an adult or a kid!
How amazing would it be to keep the minions close to you, see them when you go to bed, and open your eyes the next morning, isn't it? For all such amazing die-hard minion fans, below are 21 amazing minion bedroom ideas you'd love to recreate!
Excited? Without further delay, let's dive in!
Follow The Color Scheme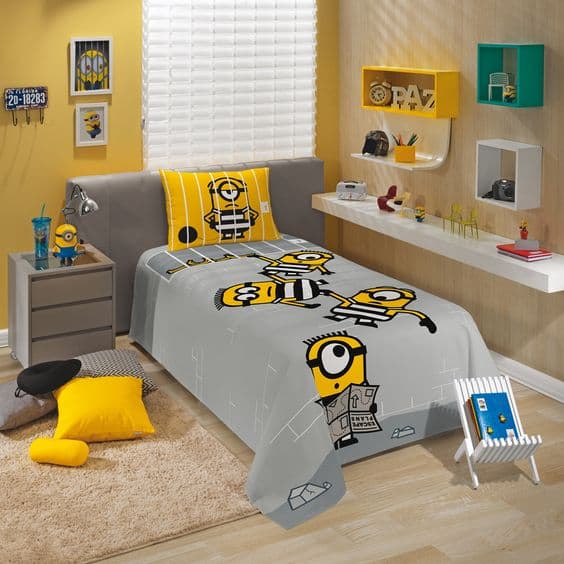 No matter whether you are creating a Mario theme or a LEGO-inspired room for your kids, the first and most important step is to keep the color scheme in mind.
In the case of the minions, it's yellow and blue, primarily.
As in the above bedroom, these colors must dominate the others so that when your kid enters, he knows the name of his heaven!
There are various ideas for introducing a color palette to the room, the renowned one being by painting the walls. We'll look at the alternatives in the further points.
How About A Minion Bedding?
The cheapest and the most effective way to incorporate a theme in a bedroom is by using the bedding that hints at it!
And so far as the minion-themed bedding is concerned, there are a lot of options available in the market! If you like the one that is shown above, you can get this bedding set HERE.
And for the lovers of variety, HERE is a variety.
Minion Wallpapers Are Awesome!
Another easy way to get your hands on a minion-inspired bedroom is by using minion wallpaper.
Just look at how elegant the above room looks. Every color looks so balanced and good. That is only because the room is kept very simple and decent with the blue and white colors.
Just the wallpaper magnifies the theme. Plus, it's not that hard to re-create so even if you aren't that creative, this is a piece of cake!
Match the curtains with the bedding
Now that you have a minion bedding, it's important to match the curtains so they contribute to the despicable me theme.
And here are these curtains that are the same as the bedsheet above! So, if you are a lover of matching fabrics in your bedroom, then this one is for you! Get these minion curtains HERE.
But in case you're open to much more variety, then HERE are the curtains that can help you create your minion bedroom so damn easily!
Don't Forget The Lamp Light
The importance of pretty lights in decor cannot be overstated. And when lights help you with your theme, why resist them?
Your kids will love it when, at night, even when everything seems dark and ijn=visible, the minions appear when the lamp light goes on! Sounds cool? You can buy this minion lamp HERE.
How About A Minion Rug?
Now that your kids (or you) are die-hard minion fans, why not cram the room with minions to the brim?
Well, since we already have a minion wallpaper, a minion bedsheet, curtains, and lights, why leave the rug out?
It'll be so much fun to have a minion rug in the bedroom, won't it? Well then, this rug can be found HERE.
Not An Easy-To-Create Minion Bedroom Idea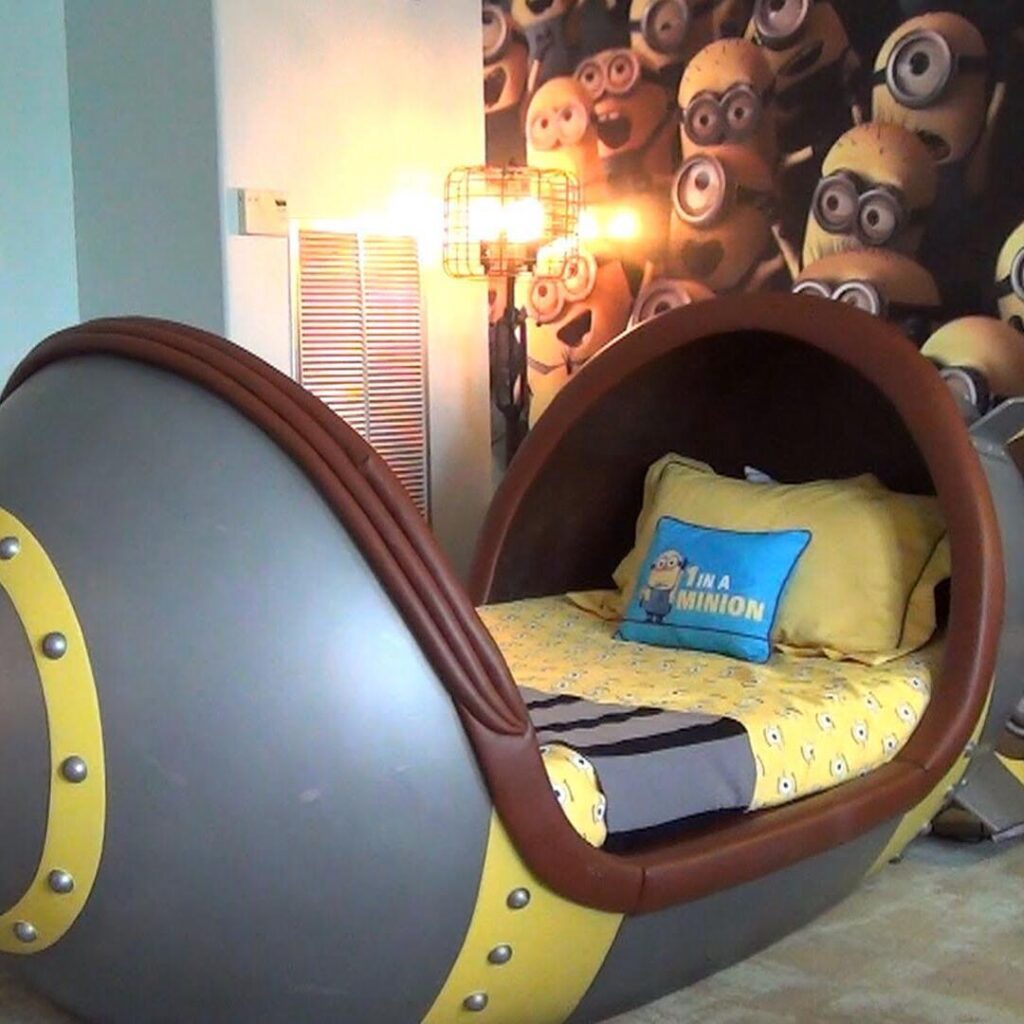 Although this minion bed is hard to find, if you get hold of it, what's better?
It gives your bedroom such a realistic and 3D minion design and all you feel upon entering is that not just the minions but you too are a part of Despicable me! Don't you?
Kids Love Table Chairs
It's not uncommon that kids love to sit on chairs more than on their beds. And, since most of the time, their parents want a study room cum bedroom, it's good to have a formal study space that's not too boring!
To make it interesting, the minion-style chairs and table can help! And who knows your child starts loving studying because of this little thing? You can get this table chair set HERE.
Wall Decals Are A Must-Have!
In case you'd like to do the decor without spending much on it, then you'd love wall decals and stickers.
They can be bought for a cheap price and yet, children love them! They are especially good in children's cases because you never know when they want another cartoon character all over their bedroom (maybe tomorrow!)
If you love the minion wall decal above, get these decals HERE.
A Little Bit Of Everything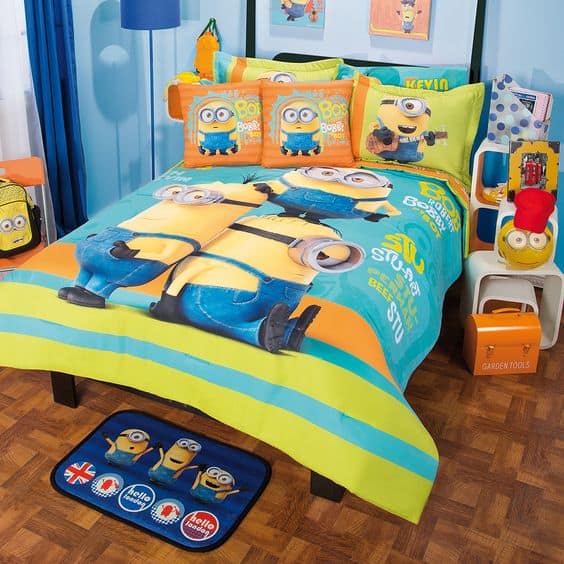 Up to this point in this post, we think the maximum things, that you can use to create your own minion bedroom, have been covered.
But stuffing in all the things might make the bedroom look cramped.
Then, it becomes a thing of need to choose what fits best and add a little bit of everything, like a minion bedsheet, cushions, and foot mat among others to make the room look playful yet balanced.
Throw In A Minion Plushie
Now, a minion bedroom without a minion lying there won't look good!
That's why the cute little minion plushies lying about in the bedroom can make your bedroom look decorated and themed really fast and they won't be heavy on the pockets either!
Plus, your kids will love to play with the minions more than they'd love the decor.
Buy this cute minion plushie HERE.
A Minion Wall Light Is Quite Creative!
How amazing (and frightening) would it really be if minions could just break through our bedroom walls whenever we wanted to see them! Crazy, right?
Sadly, that's not possible. But, there are pretty wall lights that can help us get the feeling like the one above! Plus, the minion would be visible not just in the day but at night as well. There can't be a better treat!
Buy this pretty wall light HERE.
And What If The Minions Are Taking A Selfie Outside Your Room?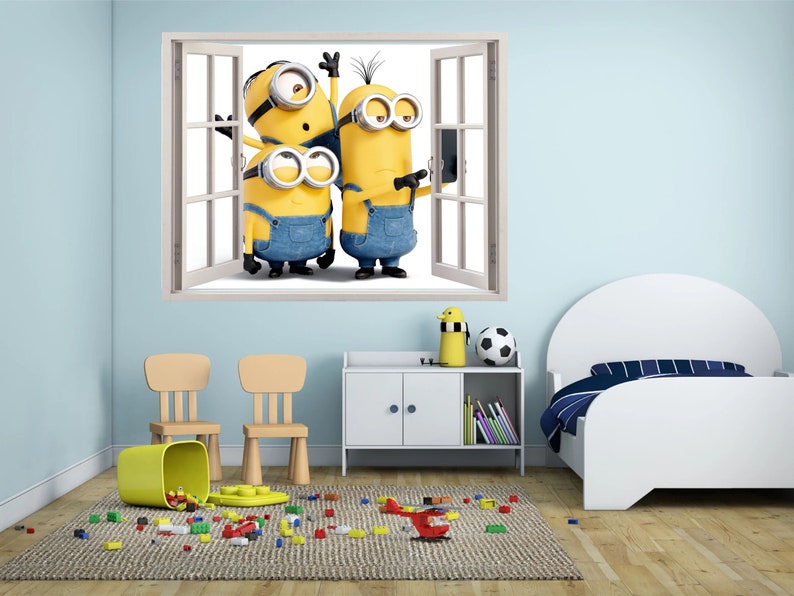 We know that sounds crazy but how cute and different would that look if you could always see those funny and crazy minions doing funny and crazy things outside your bedroom like taking a selfie in crazy poses?
See it as the last thing at night and first thing in the day and that's a perfect recipe for a humor-packed life! If that's what you want, get this cute minion wall decal HERE on Etsy. Maybe, they allow you to be included in the selfie too?
Add Cute And Cuddly Minion Cushions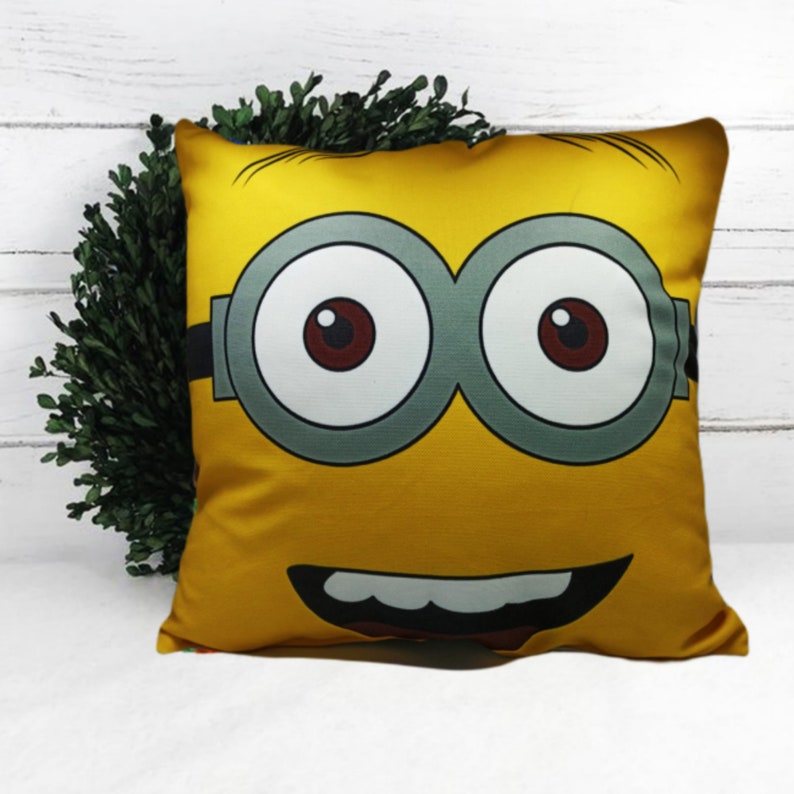 When you've added just everything minion-themed in the bedroom, why leave the cushions out?
Even if you have plain walls and plain fabrics around the bedroom, this cushion can add a touch of the minions to the space. This can be the focal point of the space and show the love of minions you hold within you! Buy this cushion HERE.
This Won't Look Too Much!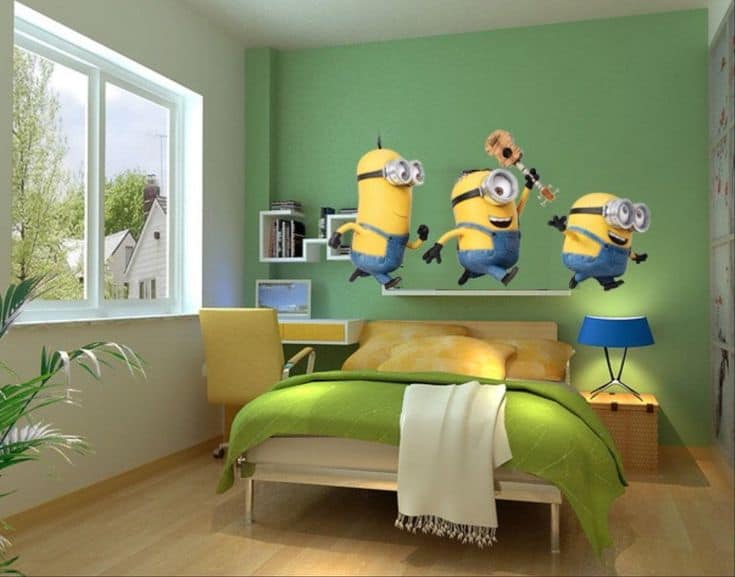 For the people who love the simplicity and yet want minions to take up some space in their bedroom, using some large wall stickers is a good idea.
The above bedroom is done in green and everything's kept very simple and sophisticated yet the minion theme prevails.
Simply, if you have a bedroom that you've already previously designed, then what's stopping you from adding some cute little creatures to it?
Did We Forget The Wall Art?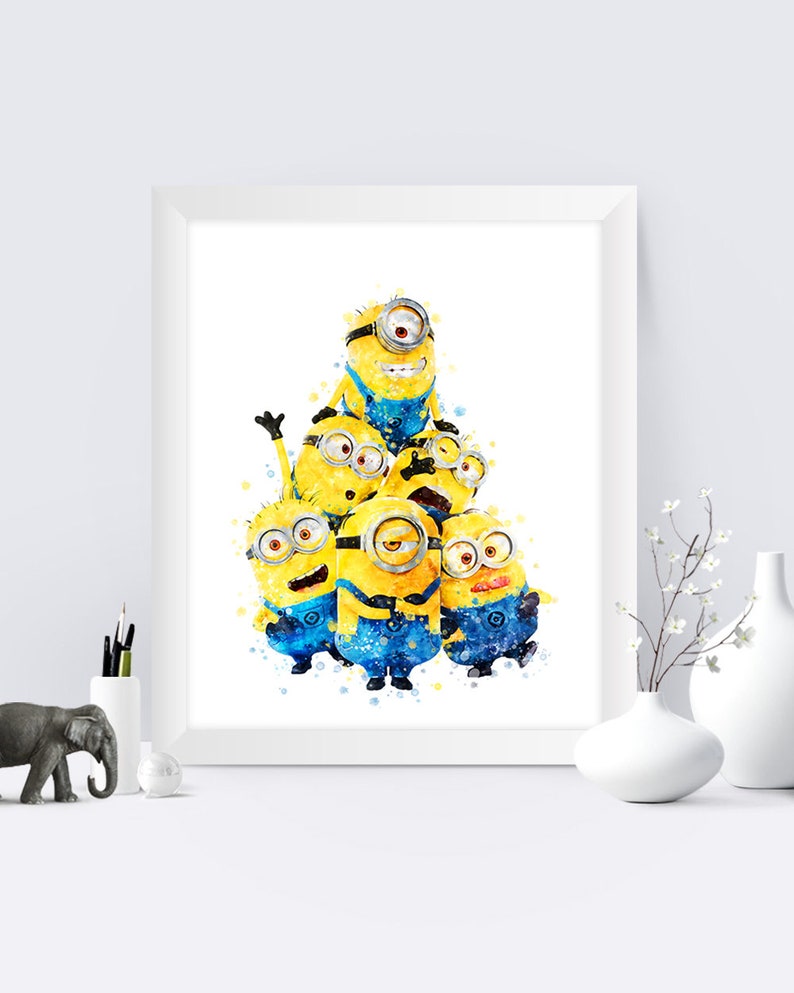 Among everything else, please don't ignore the wall art.
Your walls speak of a room and when there is some pretty wall art hanging in there, it says a different story- a story of fun in the minion's case!
The above one is a cute minion printable you might love getting framed and decorating your bedroom with. Get this cute wall art printable HERE.
A Lot Of Minion Figurines Are Classy!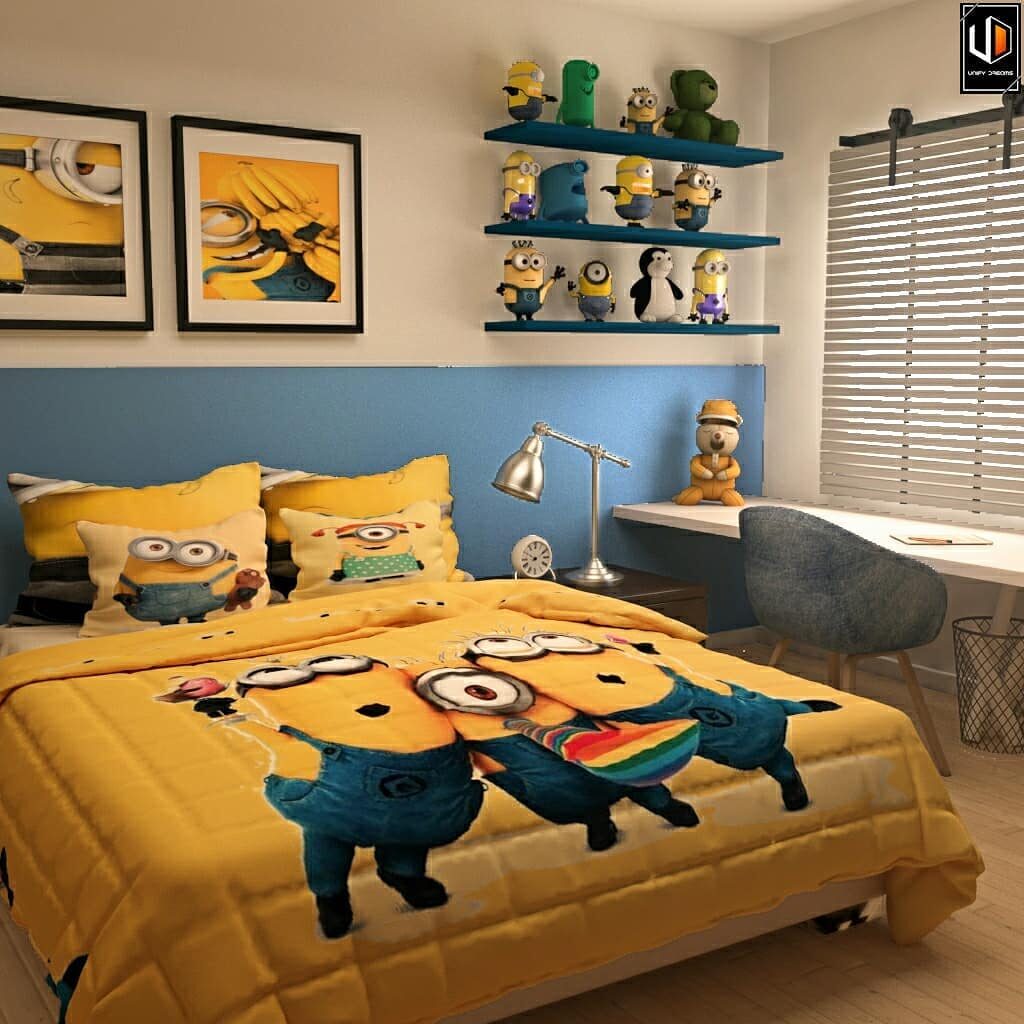 For a minion-inspired bedroom for adults or teens, decorating some floating wall shelves with cute little minion figurines seems a cool idea!
The shelves can give you the space to collect a variety of little minions and display them in your bedroom. Who knows, you might end up with a huge and glorious collection of these cute little characters?
Interested? Start your collection with these amazing minion figures HERE. For a variety, visit HERE.
In Case It's A Twin Bedroom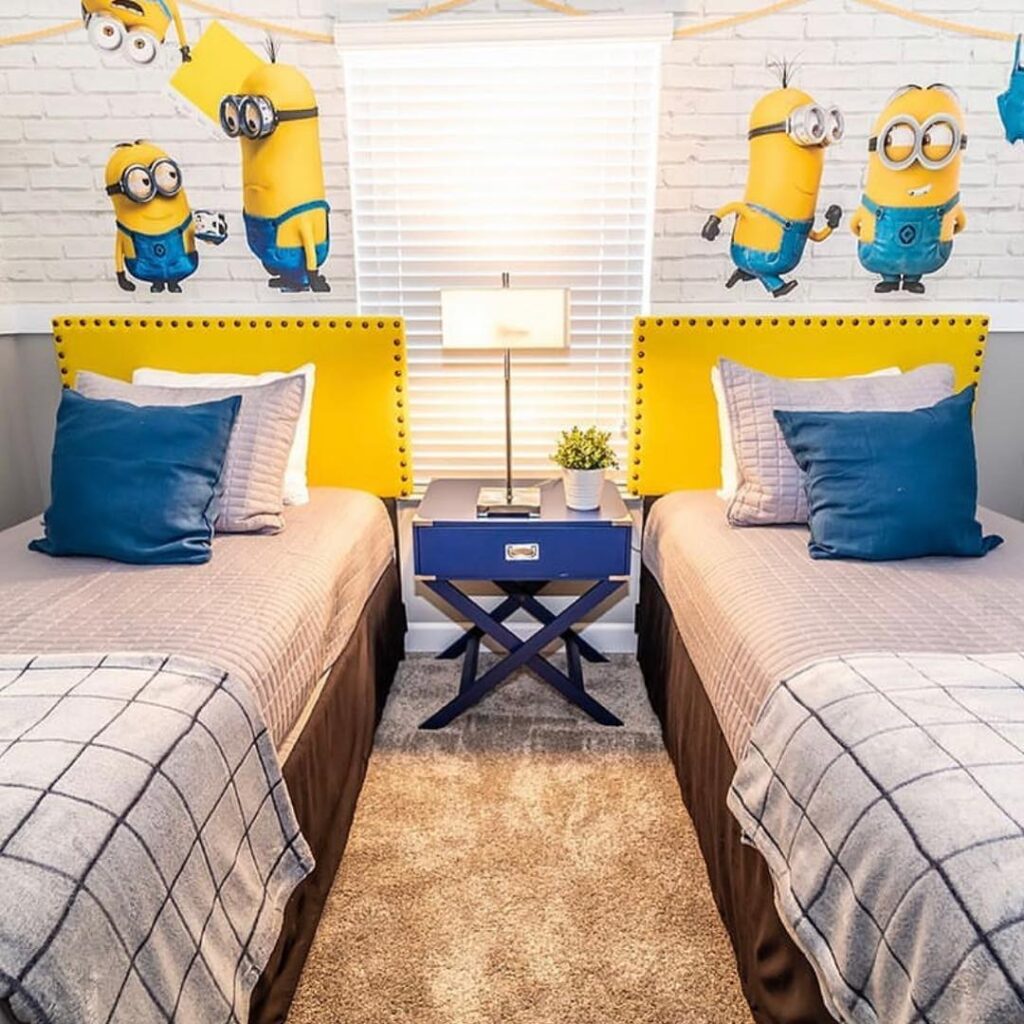 It's pretty easy to design a minion bedroom for twins as well, although it's double the cost of one!
All you have to do to recreate the above bedroom is to have two good yellow headboards, blue cushions, and minion wall decals. Put them in place and done!
The best thing about it is, that the entire bedroom can be kept simple and sane and the theme can be achieved with just a little effort. And you can always pull it down when the minion craze fades away! What remains is a mustard and blue bedroom, that's already trending!
We've Already Talked About Lamps But…
Children love lights and when they have a light that's as cute as a minion is, they won't resist sitting beside it and staring! And maybe, you'd be able to do the household chores without much disturbance, then!
Well, thank us later. For now, this minion lamp can be found HERE.
A Foldable Chair Is A Smart Choice
In case, your kids' bedroom is not too big or you need extra space every now and then, then this minion foldable chair is a smart thing to have.
It can even be carried for a picnic in case you ever need it and for the minion bedroom, it's a utilizable decor, isn't it?
Get this minion chair HERE.
Then Comes A Minion Blanket
Not just the bedding but the blanket on the bed can also add to your Minion theme!
We could find this minion blanket on Amazon at a very affordable price and when you can add just one more thing to the bedroom at a low cost, why not?
Get this blanket HERE.
But You Need Something To Store Your Kids' Toys In!
Now, it's natural that when your kid will love his minion bedroom with a lot of toys, he'll throw them here and there.
It would be best if you had an organizer to contain all his toys. And if that's also minion themed, we don't think anything can parallel that!
If you like it, get this organizer HERE.
Some Minion Posters
One of the best ways to add that Minion flare to your kids' bedroom is by introducing a cute minion gallery wall!
To make things easier for you. we could find these four minion posters that you can easily order and mount on the wall and tada! It's done in a snap of a finger!
Get these minion posters HERE.
Not To Forget A Cute Wall Clock
And, did we just forget a cute minion wall clock to add to the theme of the bedroom?
If so, then this elegant yellow clock can help! These four minions on the clock just steal the show and it's a treat to the eyes every time you look at it to check the time. You can get this minion wall clock HERE.
Some Improvisation In The Color!
There's not yet a rulebook that says you cannot let the minion of other styles and colors into your space.
So why not let a cute little funny green minion into your bedroom that makes you laugh a little bit more every time you look at it?
Want to add this crazy little green minion to your collection? This cute little minion figurine is HERE.
Add A Few Movie Moments…
We all fall for some movie moments that remain close to our hearts forever.
If this moment is the one that you cherish, then you can keep it close to yourself every time in your bedroom!
Buy this piece HERE.
The Endnote
To keep the creativity in the kids alive, it's sometimes good to be creative with their decor. After all, our home decor affects our mental health so much!
We hope, this creative post about some creative minion bedroom ideas for your kids, was helpful enough for you to be able to recreate a good one for them!
If there's anything you'd want us to know about the post, feel free to comment below!
Until next time, happy decorating!
Love to decorate bedrooms for kids? These posts will help: