Decorating a room with the most iconic toys in ages can be fun. Yes, we are talking about LEGO. And we are here, to add to your joy of the journey. We have compiled some of the best LEGO bedroom ideas for kids and adults that you want to jump on, straight away! Believe us!
We are sure though, that LEGO bedrooms can take a whole lot of money to be designed. They are NOT CHEAP to go after. That's why we have for you some economical ideas too, that'll make you just as happy. If you have a BIG budget, we'd rather recommend you go for a custom-designed LEGO bedroom but if not, there are a whole lot of things available with which you can design a room on a budget.
So we say this before you continue, not all of these LEGO bedroom designs are going to be cheap to design but there is always a way you can make them so. And we'll let you know how to do that.
Now let's go to our Legoland…straight.
Why Not Think About The Displaying The Lego Men On The Shelves…
If you already have a room done and decorated (that most of you would), it is a great idea to install wall shelves and have LEGO men displayed on them.
That way, it's not going to cost you a heap and you will be able to give a subtle touch of LEGO design to your child's bedroom.
This arrangement would look super cool in a child's study area but has the potential to distract him so it's better to have it above the bed or somewhere else that you think, suits him the best.
If Nothing, Have A Table That Displays The LEGO…
It's not always necessary that you spend a bunch of money in decorating your child's room in a certain theme. Especially when it comes to LEGO, it's an expensive one. Thus, we need to be creative with how we must decorate the room in a LEGO theme in a budget-friendly way. One way is to not touch the entire room, just add a table.
We mean, add the table that displays your child's favorite LEGO toys. If you do it well enough (as in the image), we think it's sufficient to make your child happy. After all, all he wants to do is play with LEGO when he is in his room. You have made that available to him ina decorative way, right?
If you have enough money to spend on this theme, this could be an addition to it. Either way, it's a win/ win.
A LEGO Face Is Enough For A Sober LEGO Theme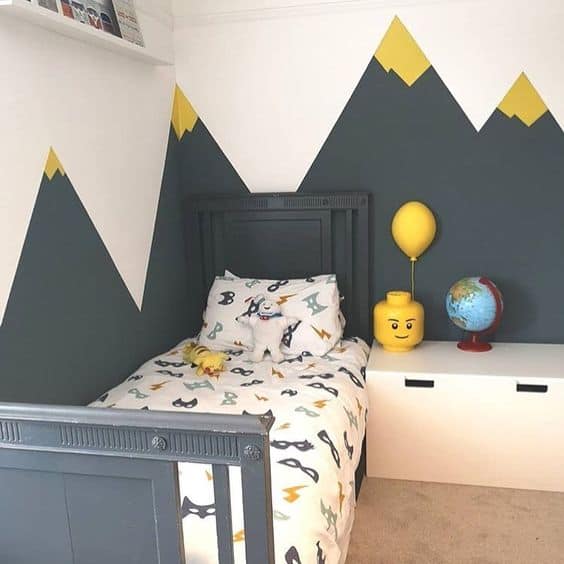 If it is a subtle touch of LEGO that you want in your bedroom, you can have a LEGO face there in your bedroom. That is enough especially if it's a small bedroom that you have.
If it's a large bedroom, we'd recommend having two or more LEGO bedroom accessories around your room to give life to the theme.
A subtle touch of LEGO is a good LEGO bedroom idea for adults since, what they don't like is over-bright decor so this creates a balance of colors in their bedroom.
Even The Bedsheets Must Say 'LEGO!'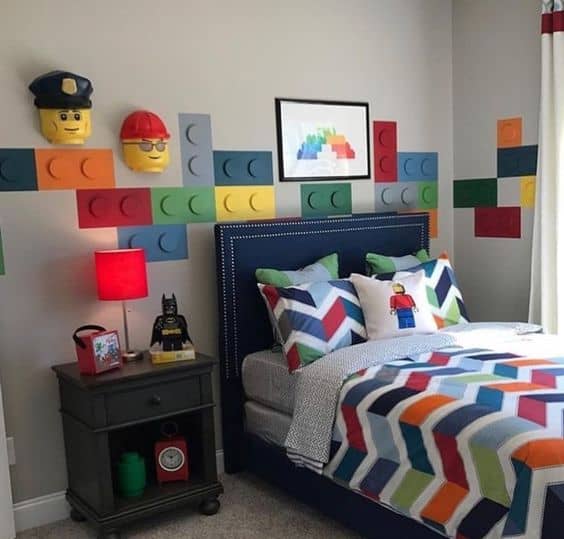 If you have done everything for your bedroom to achieve that LEGO Bedroom design and still unable to achieve the desired look, we think we know why. It might be your bedsheet. Seriously.
The best way out is to to search online or go to the market and find a bedsheet for yourself that looks like it has a LEGO theme. It's not necessary that it has the block design but if the colors match the LEGO, maybe that's the idle bedsheet. That's what you ought to buy.
If You Have A Small Room… This One Is A Great LEGO Bedroom Idea!
Have a small room? No problem. There is no rule that you cannot have a small themed room.
The best way to design a small room in a LEGO theme is by having some good wall shelves (as shown in the image) and good wall stickers of LEGO men. Even the bedsheet resembles the colors, you see?
What makes this bedroom look balanced and not overdone, is the color of the wall. It's white. If you are designing a LEGO room for adults, this might be idle for you.
You Can Have Your Name Up On The Walls!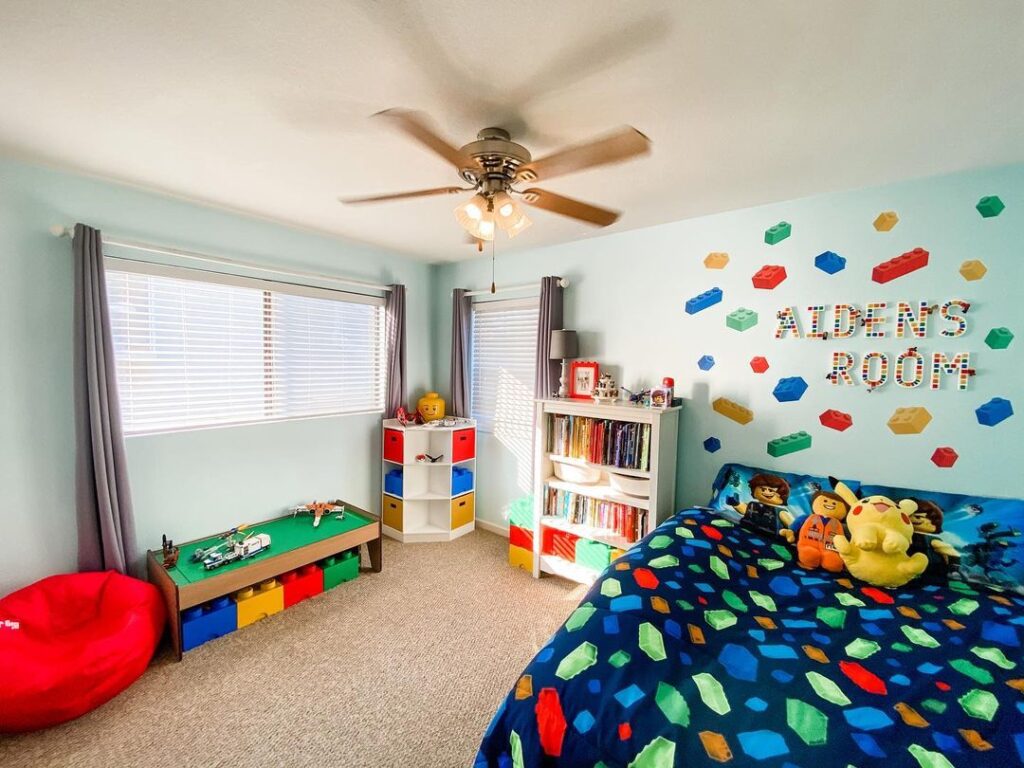 When you are designing a room for your kid or yourself, it's an exceptionally good idea to have your name up on the wall (like in the above image.)
It's also amazing how beautifully the wall shelf at the corner is placed, with all it's colors. If it is a big room that you have, there are a variety of things that you can add to your bedroom to achieve the theme that you want. What we have seen to add glam to this theme, are the colors. They are mainly, the COLORS.
How About Adorning The Windows With The LEGOs Too?
When it comes to decorating your bedroom in the best possible way, you cannot overlook the windows.
It's likable how the edges of the windows are also decorated in a theme-friendly way. If this is not something you can not/ don't want to do, then it's a great idea to place some LEGO toys around the window in a balanced way. But if it's your kid's room, you'd be better off with this one.
Be Creative With The Budget With these Stickers!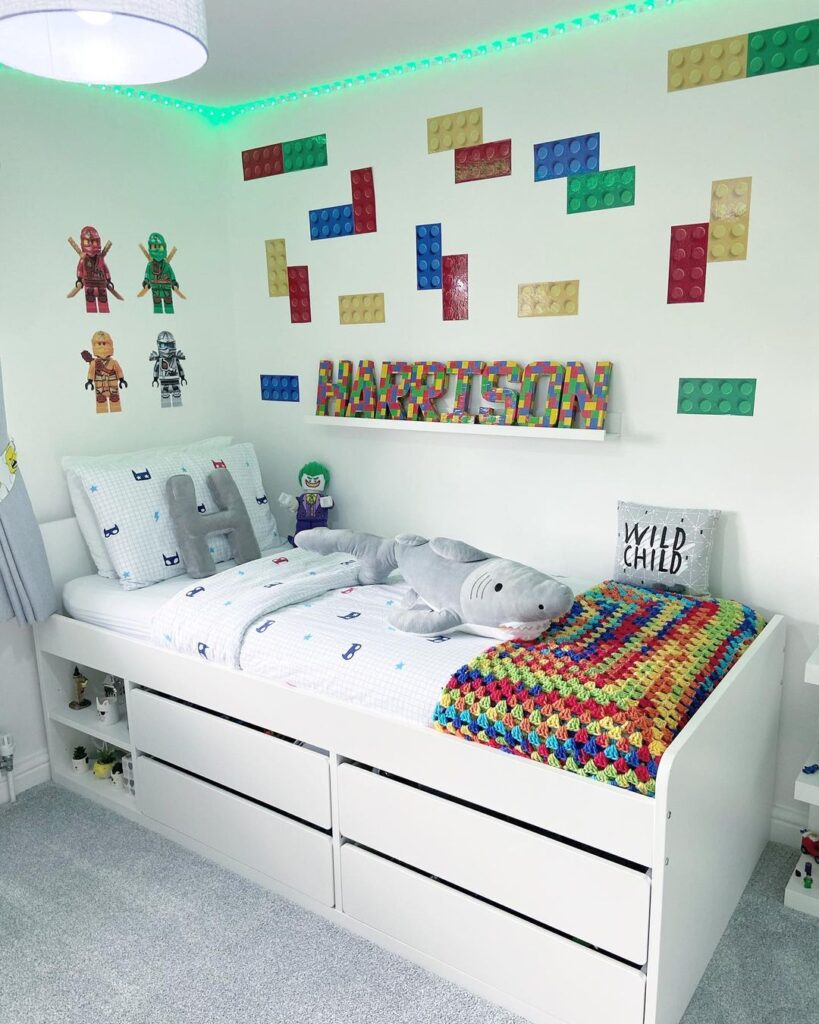 What's special; in this LEGO bedroom idea, are the stickers that are used on the wall.
They give the wall the theme you desire but what's more important is that they don't cost you as high as the wallpapers do.
All over, it's a simple roombut given a LEGO theme with these wall stickers, that LEGO-colored name plate and the bed spread. That is all. And that is creative! It's quite budget-friendly and maybe this idea can help you greatly with your decor.
Your Walls Are The Most Important!
If you are designing your bedroom from scratch, the best thing that you can do is to adorn the walls in the LEGO theme. That way, you won't need to do much else in the other areas of your bedroom.
To achieve this bedroom look, you can use colorful wall panels and you are good to go. If you are designing a LEGO bedroom for girls, you might want to change the colors to something subtle and girly. So far as the design is concerned, there is nothing to be changed. Just the colors.
Even Your Bedframe Can Do The Magic!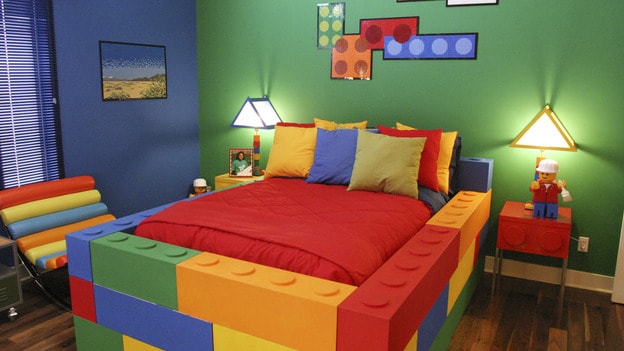 Although it's not all that easy and cheap to get LEGO-themed furniture, if you can manage to get it, that's what works like magic! It's especially the bedframe we are talking about.
For a LEGO room for kids, the kind of bed frame that is shown in the image is awesome! If you couple the rest of the LEGO design ideas with this kind of furniture, maybe you are not designing a bedroom anymore but the Legoland!
If Not The Entire Wall, At Least Some…
It's fine if you do not want to do the entire wall with LEGO. But having some splash of the theme on the wall is still a good idea.
For that, you can have a LEGO wall art if you are lucky enough to get it somewhere. Or maybe you want to have up the block design that is in the image. Even the upper wall design is awesome!
Why Discriminate With The Floor?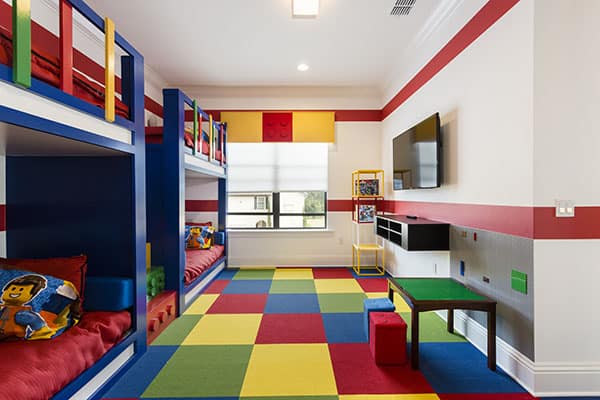 Having your floor in the LEGO theme can overjoy you, really!
If you are designing a room from scratch, you might want to have floor tiles that are in the typical LEGO colors but that might not give as vibrant a look as a carpet would (see the image.)
Coupling with the carpet or the floor design, it's a good idea to keep the walls white so that the room does not look overdone.
This room is not less bright that a kid won't like and not too bright that a teenager won't love! Out of all the ideas containing the LEGO designs on the walls and bedsheets, targeting the floor stands out! And so will your room, if you do this.
We Can't Overlook The Drawers, Right?
One thing that's the best about the LEGO theme is that it offers maximum storage space. And then on top of it, when you add the LEGO drawers, it's not a bedroom anymore! It's a godown Lol.
The Giant Lego Blocks Are Charming!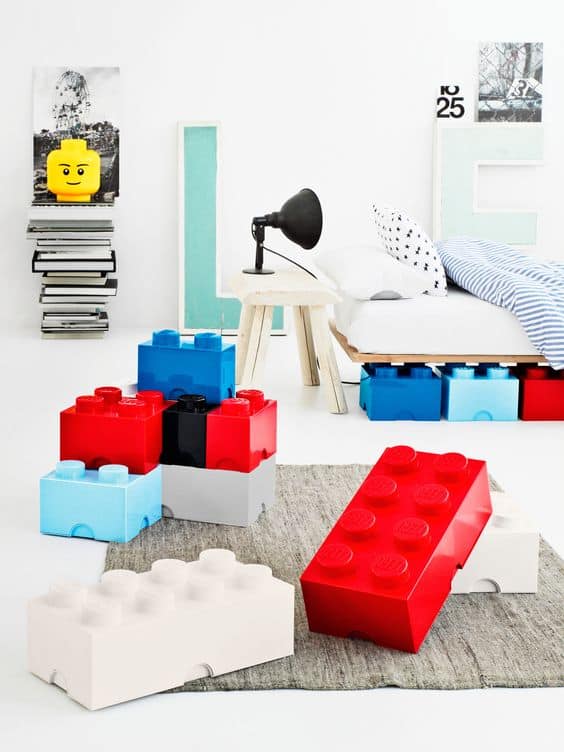 When you go absolutely crazy for the LEGO theme, it's then when you most want this LEGO design.
These giant LEGO blocks are surely not all that cheap but surely too, your heart pounds for them! They are that pretty. So again, if you are not decorating on a budget, these are a must. If they fit in your budget, what's better?
But before you decide to go for them, remember they are merely decorative and NO USE. You don't want to risk sitting on them!
The Little Things Matter So Much! Like This Lamp…
Since you are most probably designing your child's dream bedroom, little things must be taken good care of.
You can consider having everything or something (in case you think we have lost our minds) LEGO in the room like the pen stand, the lamp, the doors, the bookshelf, or anything that makes sense.
That way you are designing an honest LEGO bedroom. But make sure you don't overdo it. Lest it should look messy. But the biggest thing you want to consider is the COLORS. They are very important.
Until next time, Happy Decorating!
Have Fun Creating Some Kids' Bedrooms? Check These Out: