Hey there! Some links in this post are affiliate links which means that, if you choose to make a purchase, we may earn a small commission at no extra cost to you. We greatly appreciate your support!
Spiderman has always been children's favorite! He is the hero everyone admires even in adulthood, but children are the biggest spiderman fans, no doubt.
Odds are, that your child loves his superhero so much that he wants to see him everywhere around him! And if that's the case, why deprive him of his innocent desire?
That is why, today, we've brought to you some amazing and cool spiderman bedroom ideas for your children that'll make them happy and excited, almost instantly!
So, wait no more. Straight into it!
Spiderman Bedrooms That Your Kids Will Love!
A Spiderman Wall Light Is Amazing!
How amazing would it be if children could see their superhero popping into their bedroom through their bedroom wall! It'd make them so excited and happy!
That's exactly what a spiderman wall light can do for them!
The one above brightens up the area from where spiderman throws his web! And the black sticker at the back makes it look like spiderman has just broken your wall and there are cracks due to it!
It's quite realistic and fun. If that sounds interesting to you too, you can buy this amazing LED wall light, HERE.
How About A Spiderman Mask Light?
Now that you already have his hand coming out of the wall, why not let his face out as well?
With a spider man mask wall light like this one, you can create the same illusion as shown. And kids absolutely love these little things!
The best thing about this is, that it is visible during the day and owing to the lights, during the night as well! So, your dear darling isn't going to feel lonely anymore when his superhero is around him all the time! This spiderman mask light can be found HERE.
A Spiderman Bed Frame Is The Hack!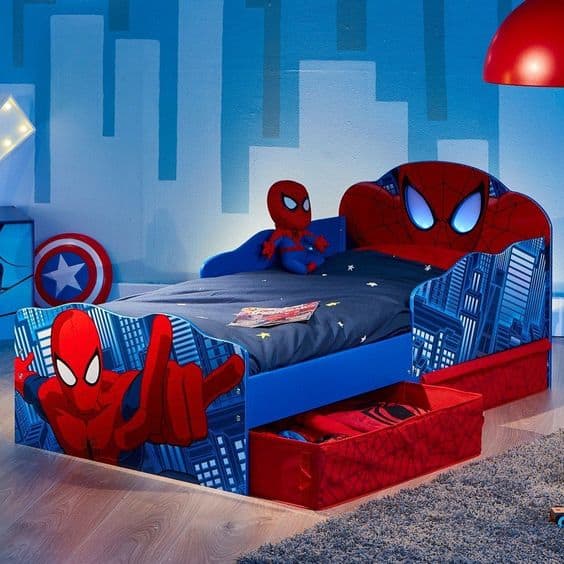 We are tired of saying in all of our posts that the focal point of a bedroom is the bed. When you enter your room, the bed is the first thing you see.
When you decorate it according to a theme, your room is half decorated, already.
Long story short, a good spiderman bedroom can be created with a nice and dashing bedroom like this one which has the superhero right, left, and center! Get a similar spiderman bed HERE.
Don't Forget The Spiderman Bedding Please!
No spiderman bedroom is complete without a nice spiderman bedding!
The bed is the focal point of the room and thus the theme must be implemented on that before anything else in your interiors.
Long story short, there is a variety of spiderman bed sheets that are available across the internet. You could buy one that fits best with your room color scheme and thank us later for the suggestion ;).
If you like the bedsheet that's shown, it's from HERE.
Don't Forget The Spiderman Curtains!
When you are decorating an entire spiderman bedroom for a kid, then why leave the curtains in the process?
Depending upon your color scheme, there are light and dark spiderman curtains available online that you might want to check out!
We chose this one because it resembles the look of the spiderman bedsheet, quite a lot (or maybe, they are the same!) You can get these spiderman curtains HERE.
A Spiderman Upholstered Chair Can Steal The Look!
Since children hate sitting in one place all the time, they might change their sitting spots in their bedroom itself, many times! So why not give them a good one besides their bed?
For that, you might want to get a spiderman upholstered chair that will steal your boy's heart, literally! Maybe now you can do the dishes and cook the dinner because he is sitting there for a long now. Buy this spiderman upholstered chair HERE.
Or Use A Realistic Spiderman Wall Decor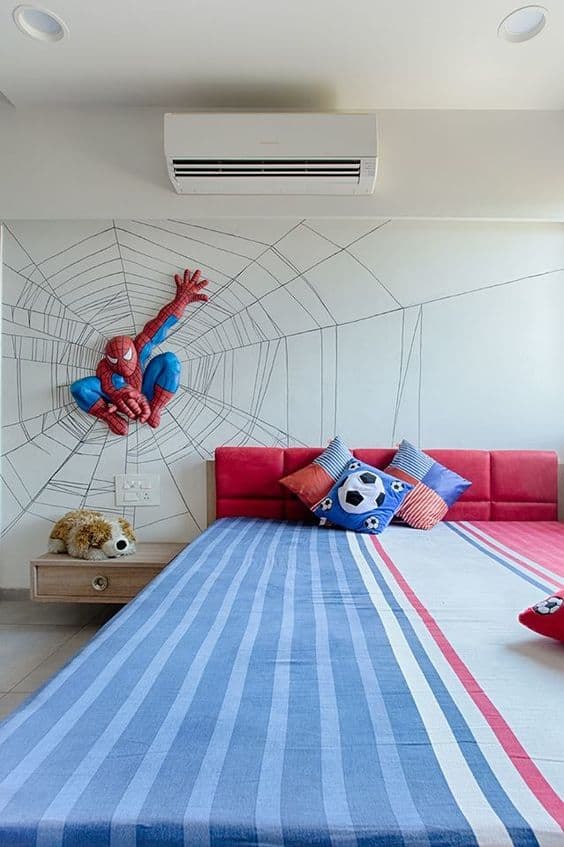 Children love crazy stuff on their walls! And when it's their superhero who is up there, they love it!
And the good news is, there is a lot of spiderman DIYs that can help you do the same. See for example the above image, where all you have to find out a spiderman wall decal or a wall decor in the same position. And you can do the web with a pencil or some threads for a more realistic look. Doesn't this sound fun?
Use A Spiderman Lamp
A spiderman theme dwells in the little things you place in your child's bedroom. One is the lamp.
When the light sparkles, there is nothing to be seen but the light. That's what it is with a spiderman lamp light too!
When it's placed beside the spiderman bed, it's a scene like nothing else! You can find this spiderman lamp HERE.
Or A Spiderman Chair…
We have talked about how much children love to sit in new places every day, already! So, definitely, you'd want to give your darling a spiderman chair in his spiderman boys' bedroom.
He'll be always excited to sit there and do whatever he wants! It's definitely an interesting thing to have! Buy this spiderman chair HERE.
Spiderman Wall Decals Are An Easy Way!
The easiest way to include a spiderman in your kid's bedroom is by getting a spider man wall decal and sticking it on the wall. That's an easy and permanent solution. Plus, it won't break the bank!
Wall decals come in a lot of sizes so you can always choose if you want a life-size superhero on the wall or just the mini spidermen around the room. This wall decal can be found HERE.
A Web Wall Shelf Looks Amazing!
It's not important to have a spiderman only in a spiderman bedroom design. You can add a web that gives it a more themed and pretty look.
Take for example these web-like wall shelves. They look as if spider man just left your room and forgot his webs there! That's realistic. That's fun! Get this web wall shelf HERE.
Use Spiderman Wall Art
The wall art can change the look of a room, a lot! Especially when you are following a themed decor.
For a spiderman bedroom decor as well, it is a cheap and effective solution.
You could either go for a large spiderman wall art that covers almost half the wall, or for the need of a gallery wall feel, a four-piece wall art would do. No matter which one you use, it's a must-have. Buy this spiderman wall art HERE.
A Spiderman Blanket Is Also A Great Idea!
Since kids love to see their superheroes all around them, it won't be a bad idea to buy them a spiderman blanket for their bedroom.
Of course, they'll love their blanket more than anything else and who knows, it might add a great deal to their bedroom decor?
There are a lot of varieties of spiderman blankets that are available but if you like the one shown above, you can get this spiderman blanket HERE.
include a spider man table and chair
Since it is a children's bedroom, you would definitely want to include a study space in there.
And the best way to make your kid study happily and with a lot of excitement is to have his favorite superhero already sitting on his desk- a spiderman desk we mean!
Plus, it contributes to the theme so much so that nothing else does. There are a lot of study desk designs available on Amazon. You can check them HERE. But in case you like the one that's shown this spiderman desk and chair can be found HERE.
Now That There's A Desk, You need a pen stand…
We've already talked about how much children love the cute little things in their bedrooms.
And since they have a spiderman desk already now, you have one more opportunity to add a little thing- a spiderman pencil holder That will add a cute little touch to the interior without costing much, for sure.
In case you like this cute little spiderman climbing a wall pencil holder, you can get this HERE.
An Area Rug Will Pull The Look together!
Even when you've covered your entire room with the superhero, but without a spiderman rug, it's still incomplete!
Many of us overlook the floor, but it actually pulls the look together and gives the color scheme wings.
Understandably, you would love it when a spiderman area rug or a red and blue rug (the spider man color scheme) is used! You can buy this spiderman carpet HERE.
try a vinyl photo background
In the days of wallpapers and vinyl backgrounds, there is no need to spend a lot painting the walls with spiderman.
So, simple. You can use something like a vinyl photo background or a wallpaper to cover a wall with a spider man. Now, even if you don't do anything else to do the spider man decor, there is no need at all! If you like it, this vinyl photo background is HERE.
How About A custom name wall decal?
It feels awesome when you can just personalize your room and there's a silent message for everyone in the room, "it's mine!"
Well, let your kid take that feel by having his name up there on his bedroom wall in the spiderman style!
At least, that way you won't only follow the traditional decor style but have some unique stuff out there too! That matters! Get your spiderman customized name sticker HERE.
Place A Spider-Man figurine in the room
The spider man can look cute when it's just as little as your kid is. We are talking about spiderman figurines!
They can be really handy in creating a spiderman themed room. Place them here and there and everywhere, in every corner of the room and you've already created some interest in the room.
Now, you could also display all of the spiderman figurines on a floating wall shelf, and voila! you've got a collection! This cute little spiderman is HERE.
A Spiderman Magic Light Is the thing!
There are magic lights that come for every cartoon and superhero that you can use to design any bedroom for children, whether it is a Mario bedroom, a minion theme or a spiderman bedroom itself!
The positive side of these lights is that they look magical and they change colors every now and then so there is always a new mood in the room! In case you too have your heart on this, buy this spiderman light HERE.
A Toy Organizer Is A Must!
Since you are decorating a bedroom for children, you cannot afford to not have a toy organizer in there!
It can help you stick to the spiderman theme and yet keep their toys organized and safe. If that sounds good, then you can get this spiderman toy organizer HERE.
Try A toy storage bench!
We understand, that not all rooms have so much space that you can place a toy organizer WITH the other decors in the room.
So, simply try a spiderman bench. That will give your little one a new place to sit plus it would increase the functionality of the room by giving some toy storage space. In case you like the idea, this toy storage bench can be bought HERE.
A spiderman Pillow can help!
It is a practical approach to not have any permanent spiderman decor in the room because when this fever fades, it could mean a high expense!
With that in mind, you might want to go for some temporary decor like a spiderman cushion above. You could just throw it on the bed and tada! you have some practical decor to your advantage. You can find this spiderman pillow cover HERE.
Neon Signs Are A No-Brainer!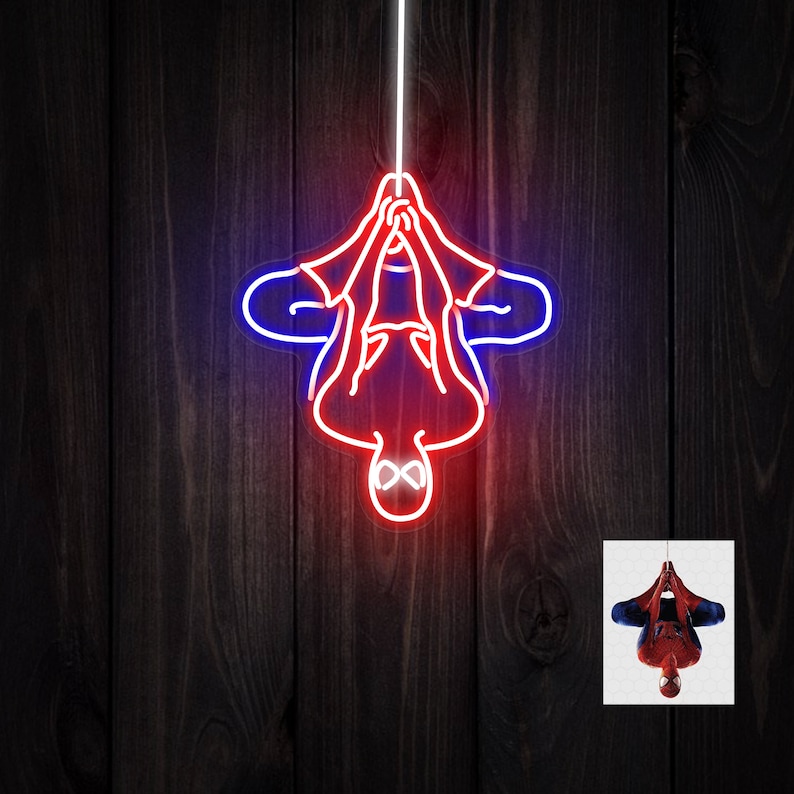 Because lights can transform and give mood to a room as nothing else, Spiderman neon signs are one of the best Spiderman decorations!
You could add a red and blue Spiderman color scheme or even your favorite color exactly in the shape of a Spiderman. That's how you create a difference in your Spiderman-themed bedroom and others'. You can get this Spiderman neon sign in your favorite color, HERE.
Sponsored: And if a predesigned Spiderman neon light isn't something you love, you can order customized Neon Signs to your liking of Spider-Man on BPS.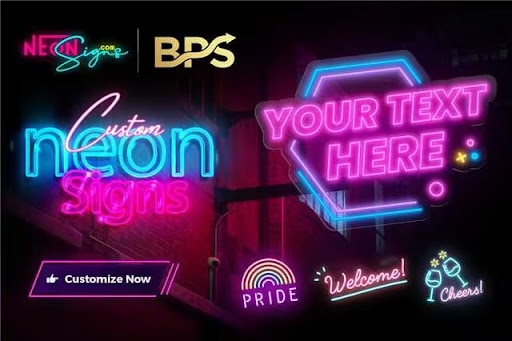 Or just try out some stickers
And here comes the easiest way of all!
In case you are looking for some easy DIY, inexpensive spiderman decor, then you might want to consider some spiderman wall stickers.
They can help you create some awesome spiderman walls behind the bed or elsewhere and done! Your spiderman space is ready to move in.
Buy these awesome spiderman stickers HERE.
What Is a kids' room without a plush toy?
Now, after you've done everything right, don't forget a spiderman plush toy, please.
Kids love toys and their bedroom will be complete only with them! Find this spiderman plush toy HERE.
The Endnote
Spiderman is the first love of children They like him as no one else.
For them, he is a superhero with superpowers. To let their innocent beliefs be in place, we tried to create this post that highlighted how you can create the best spiderman bedroom for them!
It isn't just for fun, but being around their favorite cartoon characters helps the children to retain their creativity, be more lively all the time, have some fun and create some memories they can cherish when they grow up!
For all this to happen, we hope that this post about some spiderman bedroom ideas helped!
Do write down in the comments which idea you liked the best and if you have any suggestions for us or our readers.
Until next time, happy decorating!
Designing A Kids' Bedroom? You'd Love These Posts: