With space decreasing every single day, let's take care of the earth and incorporate our home office in the bedroom itself. Did that sound too much? Well, it's not.
All we mean to say is that owing to the increasing freelancing and work-from-home hype, we all need a place to work- a proper place!
Laying on the bed with your laptop on your lap and working is a bad idea. You can have posture problems which could lead to health issues eventually. You're gonna lose all your savings in that! So, it's the sign of a genius to invest a little bit of your salary in a home office space, once and for all.
But space is an issue. No problem.
You could always use your bedroom space to get yourself sorted. To make things clear and more reachable, let us introduce some bedroom office combo ideas so you know what we mean!
Here we go:
27+ bedroom office combo ideas
Use A Room Partitioner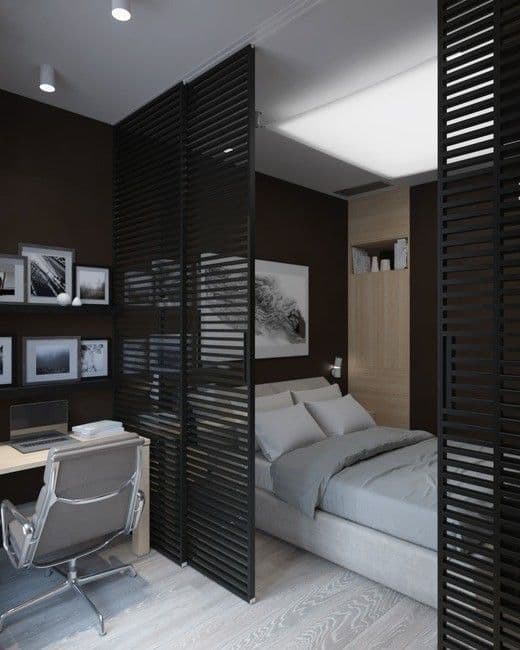 We totally get how uncomfortable (or too comfortable to work) it can get to set up a home office bedroom combo.
But when you lack space, this is the best idea!
But, separating both the work and comfort environment is integral. If that sounds like you, then maybe you'd love to add a partitioner in your bedroom to divide it into two parts.
Once that's done. you could set up your home office in one segment and set up your bedroom in the other.
RECREATE THIS LOOK
How About Everything White and bright?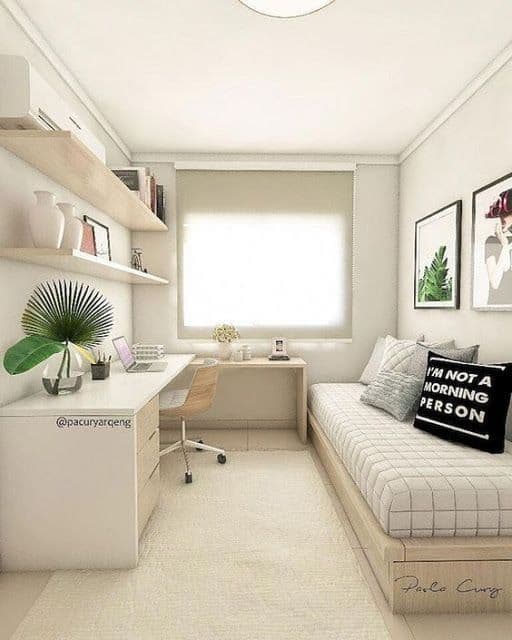 Another great idea to create a small bedroom office combo is to paint the walls white and bright.
We are sure you weren't expecting the color to hop into this post. But, let us explain.
You know that you have to place a table, chair, and your laptop to create a basic office space in your bedroom. But to make it productive and not very distracting, white is a go-to color.
So whichever home office idea you recreate, make sure to consider the colors too.
RECREATE THIS LOOK
two rooms in one!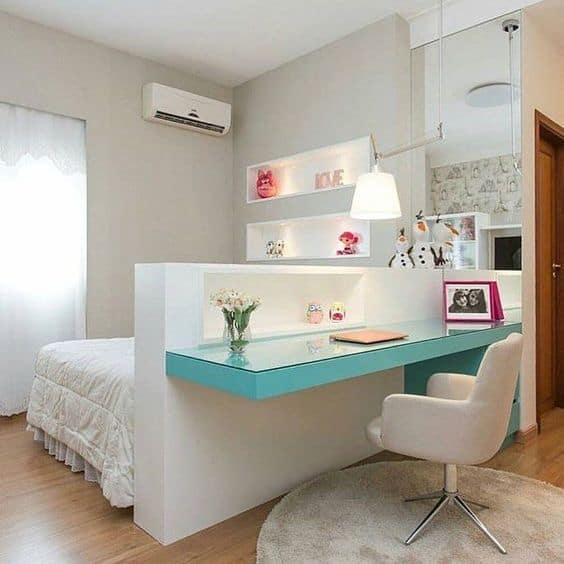 Here comes another bedroom that uses a divider to separate your sleep space from your workspace.
But in case you are a girl and you are looking for a bedroom home office idea, then maybe this one would appeal more to you!
Owing to the colors, the furniture with soft edges, and two snowmen on the shelf, this is an amazing bedroom idea for girls. It doesn't take up a lot of space and you get what you want, pretty effectively.
RECREATE THIS LOOK
A small bedroom office combo is pretty easy-to-create!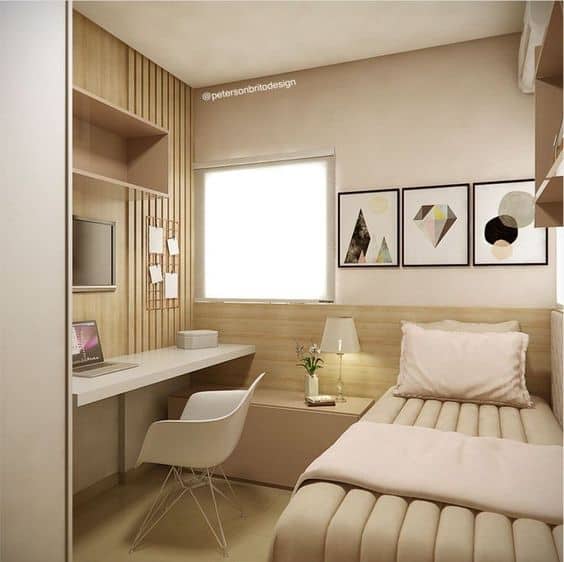 It's not at all practical to think that small rooms cannot be created in a bedroom cum office.
But quite, on the contrary, a small bedroom makes one of the best bedroom-office combos. Owing to limited space, you can't stuff the room with a lot of things so you keep them to a minimum. That limits distraction and voila! which are the qualities you most need for an office.
Coming to the above bedroom idea, you could use some neutral colors like cream and white to make the space feel peaceful. And to give some character to the room, a few textures would do.
RECREATE THIS LOOK
or just a sofa bed could help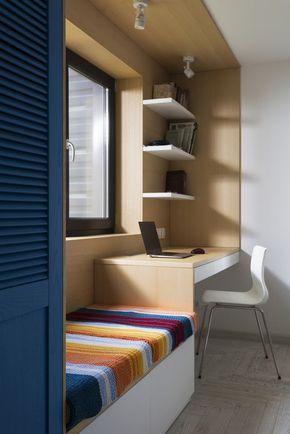 Now some people are not very fond of lying in the bed every now and then. All they want a bed for is a basic 7-hour sleep and they don't wanna look back at it anytime in the day.
Well, for all those active and fitness-freak guys and gals, why don't you try a sofa bed that gives you enough space to lie down and doesn't take 3-4th of your room space? You could then set up your home office in the space you've saved.
Sounds good? Thank you!
RECREATE THIS LOOK
Keep it functional and warm!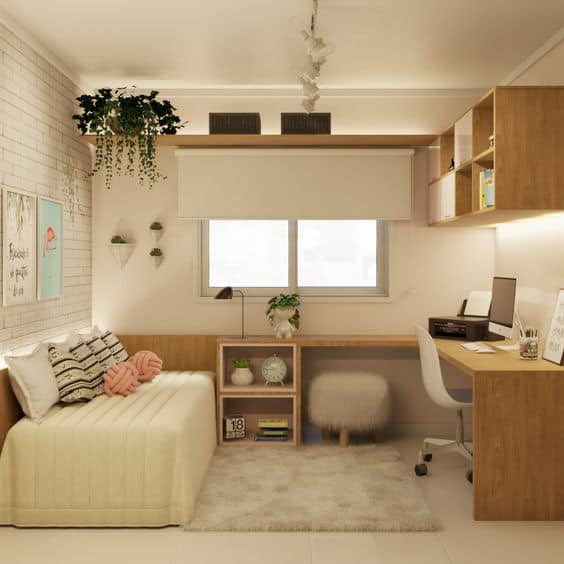 We are a sucker for small spaces with cozy lighting and fabrics.
If you are lucky enough to have one too, then why not take its full advantage and make your bedroom office a bit more moody and relaxing? AND functional.
For the mood and relaxation, you know you have to add some nice fabrics and lights. But for functionality, some nice bookshelves are always nice to have.
They don't make a show of all your files and you don't feel cluttered mentally. So, please don't forget them.
Related: 31 Best Bookcases For Small Spaces For Under $187
RECREATE THIS LOOK
Get A Shelf To Float (We Mean, Floating Shelf!)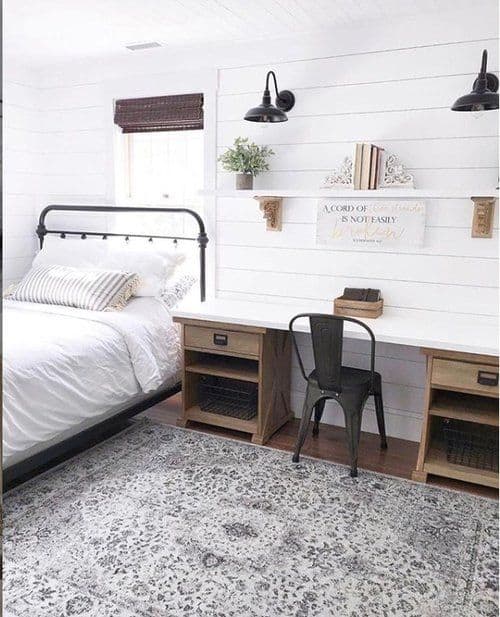 Since you are adding a workspace to your bedroom, you definitely need to make it functional and not stuffy.
To make that happen, it's always best to use the unused wall space by having some floating shelves or bookshelves up on the walls.
That will help you store your files, folders, and other documents and devices you require in a much more smart yet effective way. Plus that's a nice organizational tip that keeps the mind sane, most of the time.
RECREATE THIS LOOK
Keep the bed out of vision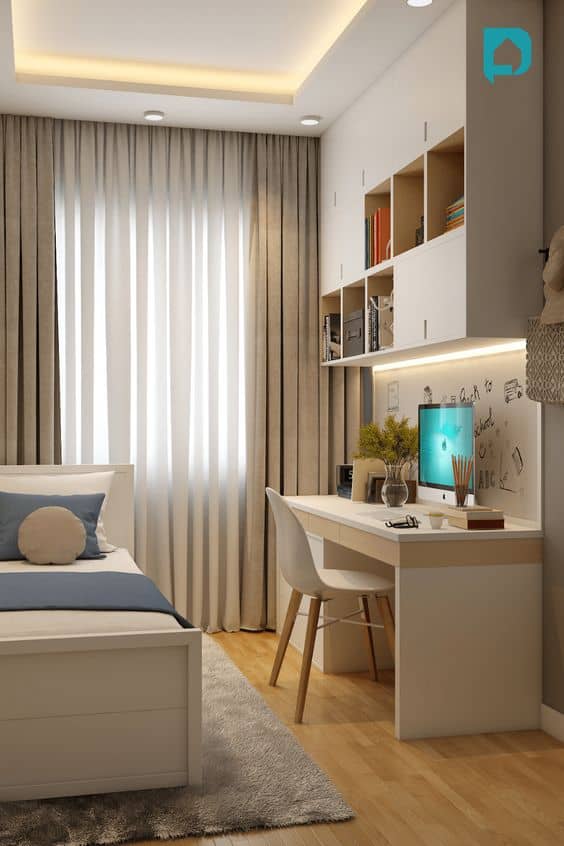 It is recommended by various sleep experts that one must always keep his bed out of touch and sight while working.
One reason is that our mind associates our bed with relaxation and sleep. So whenever you look at it, you wither want to lie down or sleep, which is not very ideal while you are pushing yourself to be productive.
Since, we cannot kick the entire office space out of the bedroom, the least you can do is to keep the bed out of sight.
When it won't be visible, the results won't be as horrible as they could have been.
RECREATE THIS LOOK
How about adding the bed to the office?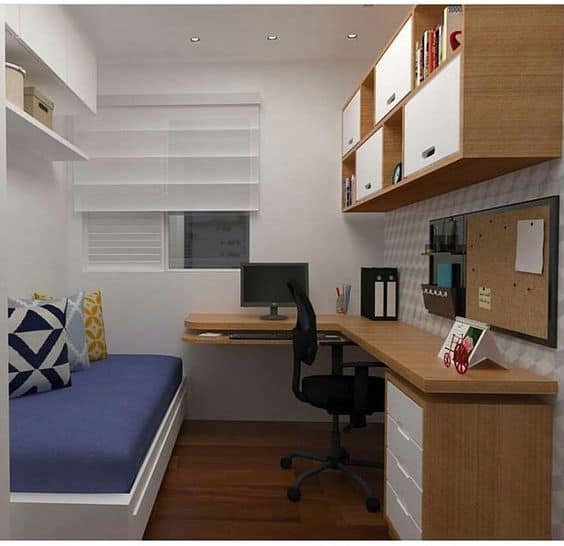 This bedroom office design looks quite similar to the one above. But, there's a difference. The above room has a workspace in the bedroom and this one has a bed in the workspace. You see?
To make your mind associate a room with work and productivity, you could always design the entire room as the office and designate just some space for a bed. No fluff or extra things in there, please!
Plus, when you have such a small bedroom office space, you MUST have cabinets and shelves to store your documents. So now, you won't get up to a pile of incomplete files and spoil the rest of your day in the morning itself! (in case you get up in the morning, lol 😉 )
RECREATE THIS LOOK
In case you are looking for a cute bedroom office idea…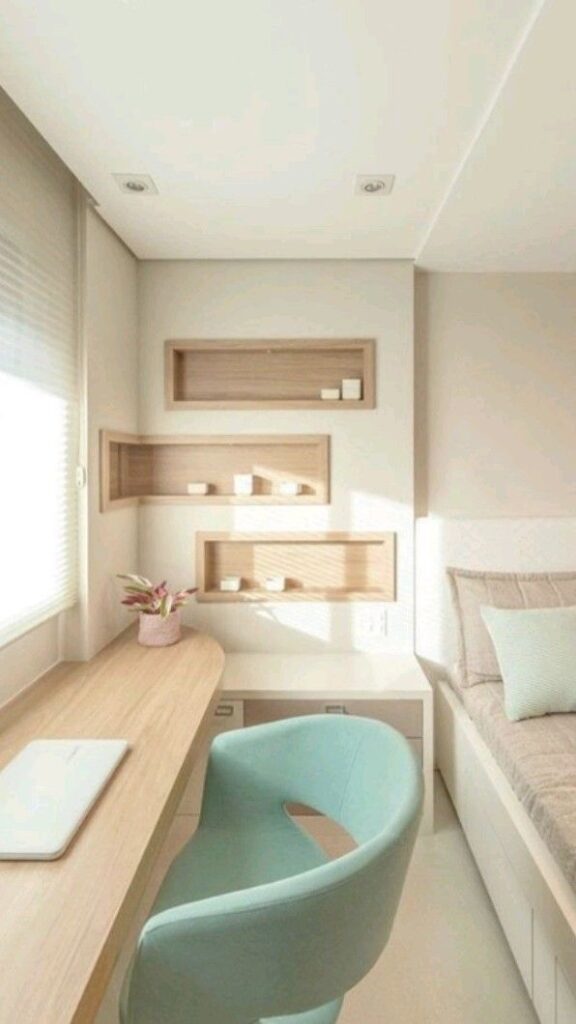 Now there's always a way to make things look cute and pretty.
The odds are, you are a kawaii room fan and still want a home office in your bedroom. Well, in that case, soft pastel colors work the best!
You could go for light colors like beige, white, light blue and pink. These don't make the interior feel sharp. It becomes a relaxing space the moment you enter.
To take it a step further, use furniture with soft edges. That'll make it even more kawaii!
RECREATE THIS LOOK
only add what's required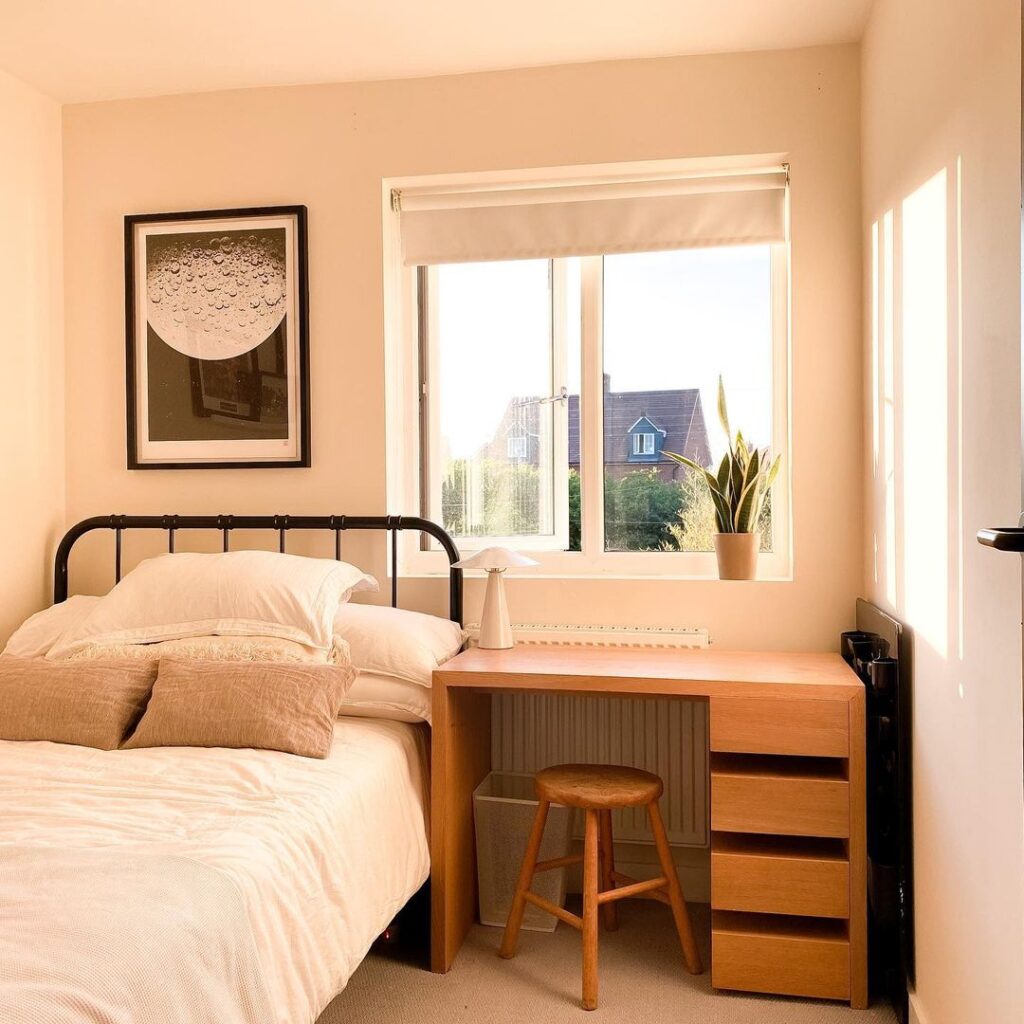 What makes things work against what you want is overstuffing your bedroom office.
For productivity, minimalism is key. For relaxation as well, minimalism is key. So, why overstuff your bedroom office combo with unnecessary stuff?
Only add what is most necessary and you'll feel the difference from day one! Try it and let us know!
RECREATE THIS LOOK
Make it themed and warm!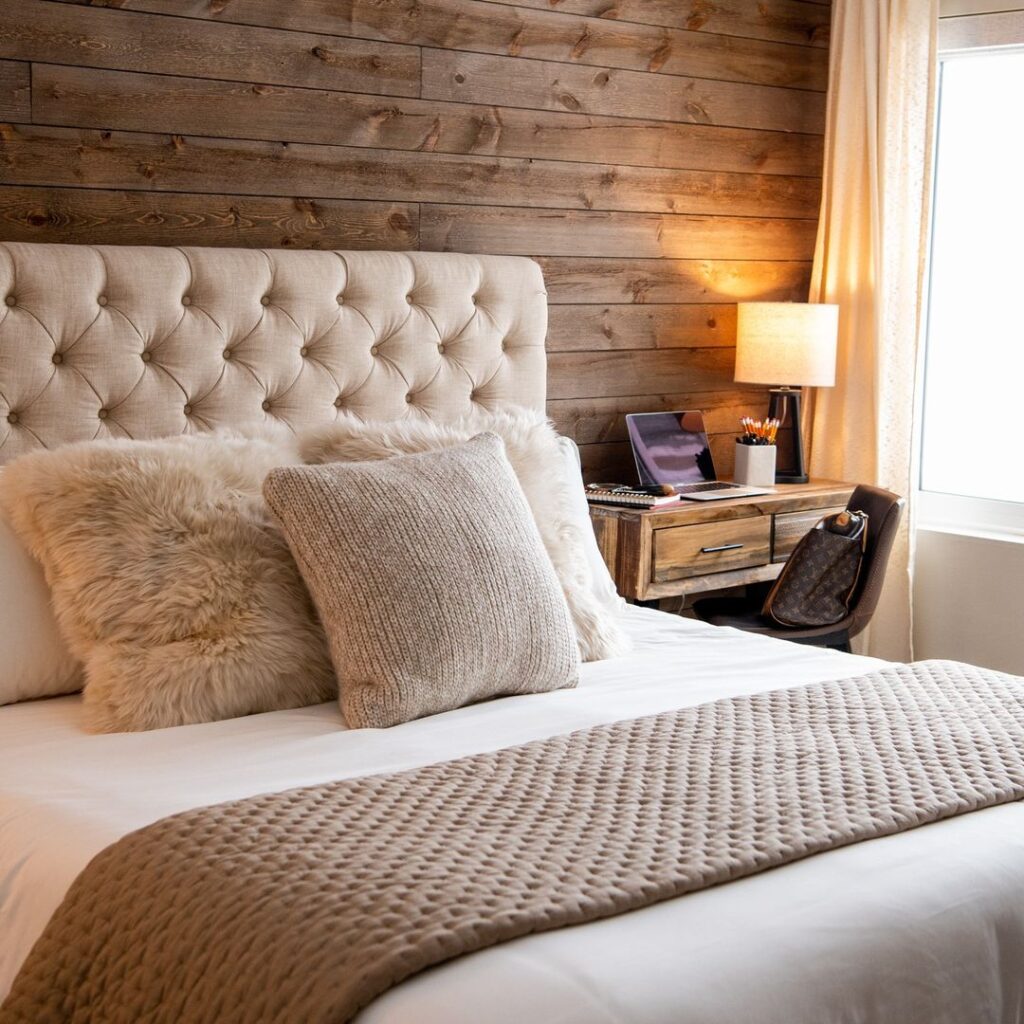 Not everyone loves a traditional white and gray office with sleek finished and modern decors. We get that.
To fight the conventional bedroom office decor ideas, how about making it a bit vintage in looks while retaining the functionality, comfort, and warmth it must have?
For that, a vintage wall panel with a vintage work desk will always help! To give it a flair of modernity, throw in a button-tufted headboard, some furry pillows, and a nice throw blanket, and done! your bedroom office is the best out there.
RECREATE THIS LOOK
a simple office setup opposite the bed is enough!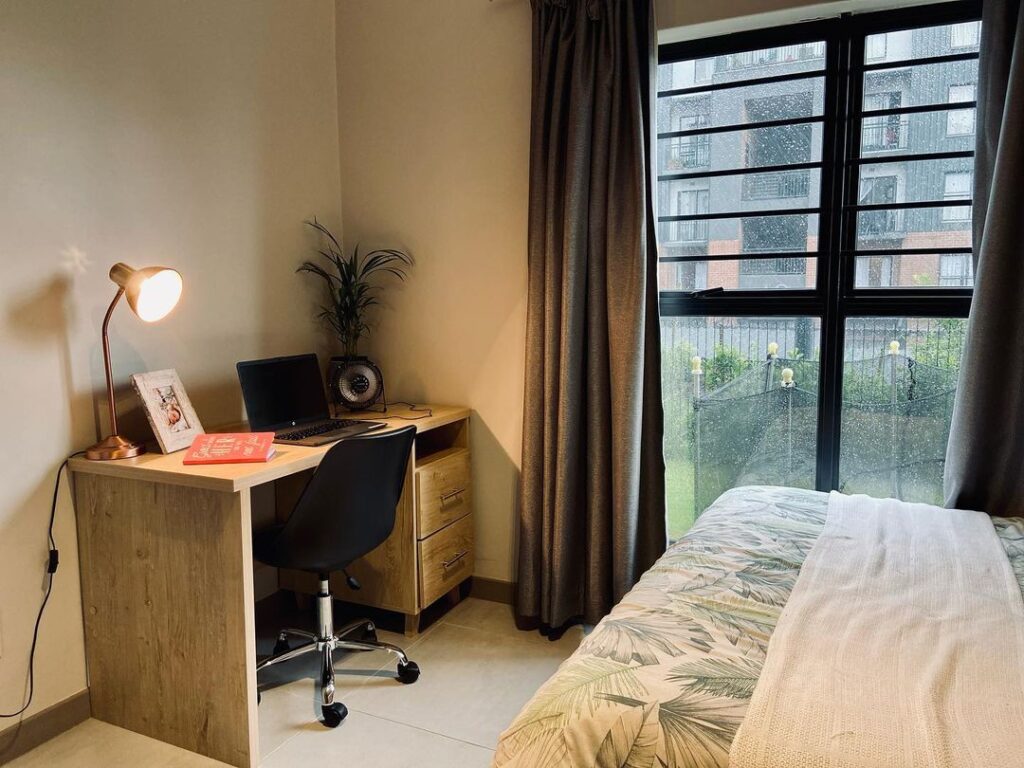 In case all you need is a basic work area with just enough space to work and get things done, a work desk on the opposite corner of the bed might help.
Since the bed won't be visible from there, you could be assured that productivity won't be marred too much. Plus, having a desk in a corner ensures a distraction-free environment. Good for you.
Just to add a little aesthetic touch to the space, add some warm light to a wooden desk and it no longer remains 'too' simple.
RECREATE THIS LOOK
keep it minimalist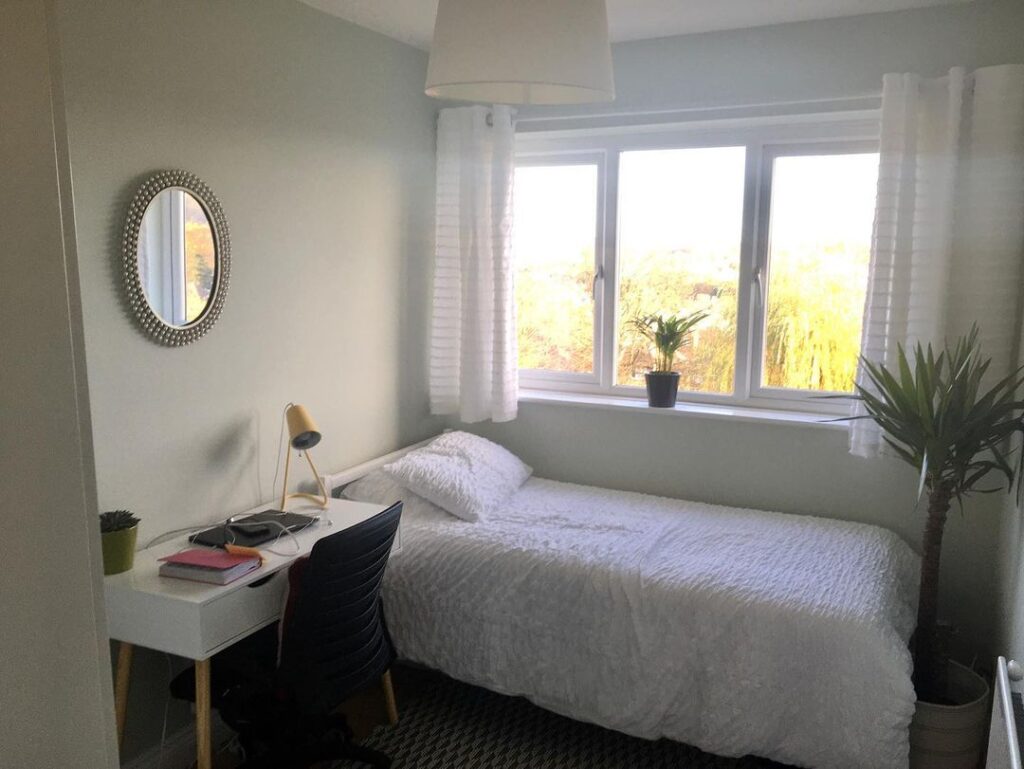 We think we've emphasized this point enough already but since it requires some special attention, we'd say it again. 'Don't clutter your bedroom office. Only add whatever you can't do without. Nothing above or below it.'
Minimalism ensures that nothing else occupies your mind while you work. Basically, the things we have in our room reflect the thoughts we have in our minds. And the number of things we have in our room reflects the number of thoughts we have in our minds. The lesser the better.
That's one of the reasons you feel light when you clean your room of unwanted stuff.
Long story short, if you want to be productive in your bedroom office, don't cram it to the brim.
RECREATE THIS LOOK
you need some motivation too…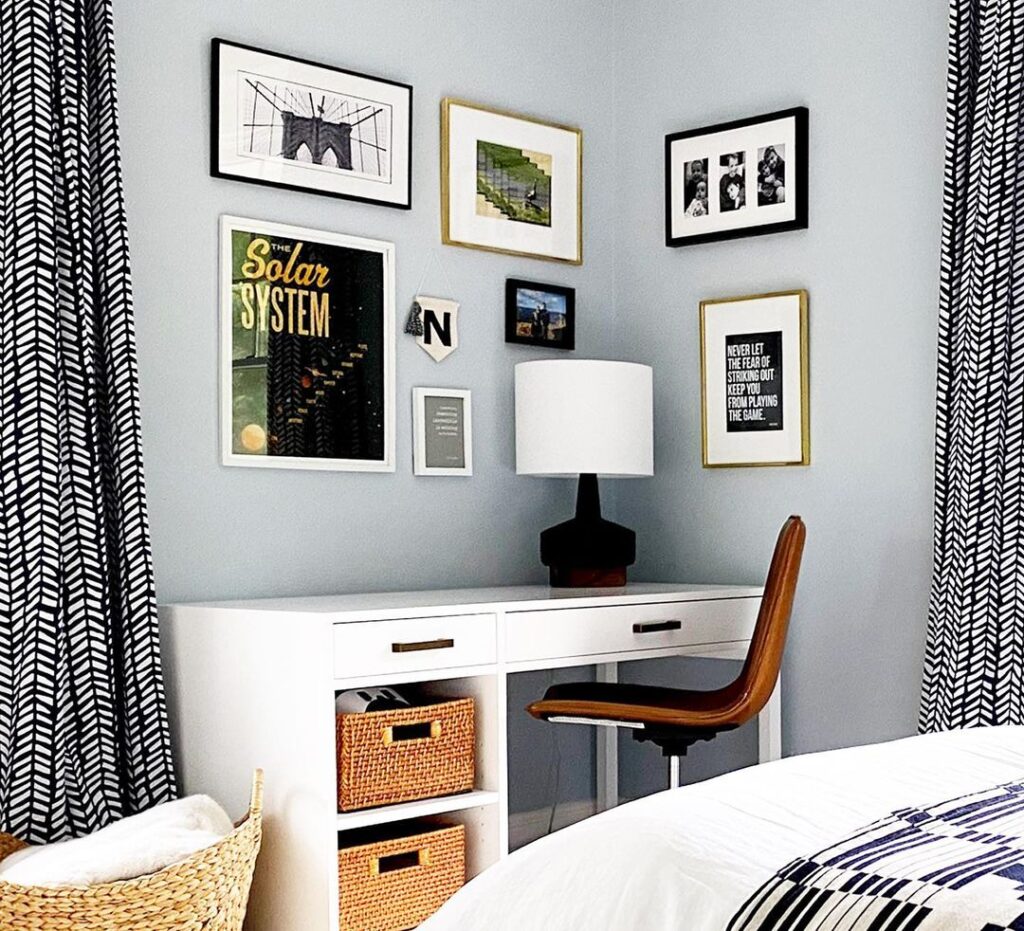 We humans always need a push when we have to get started on a task whatsoever.
Motivational wall art can always help us with that.
So, instead of keeping your home office wall empty, add some nice motivational stickers, posters, wall art, etc, to pump up when you feel down.
After all, your goals are waiting for you!
RECREATE THIS LOOK
separate your bed area with an area rug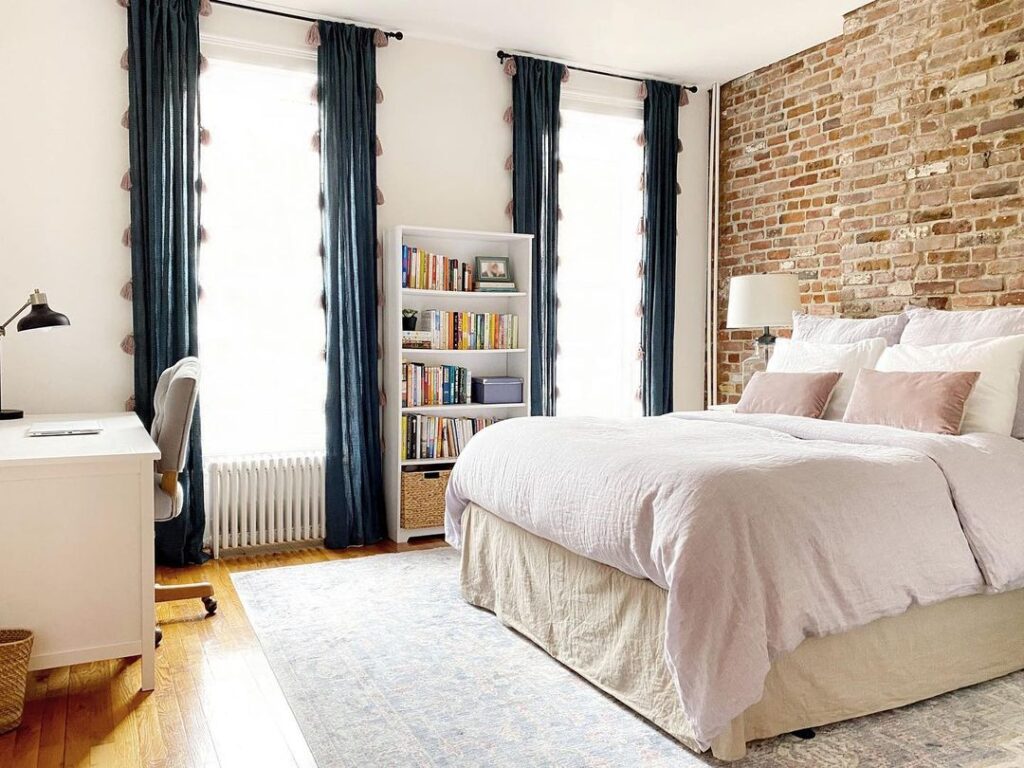 A nice mind hack to apply in your bedroom is to use an area rug under your bed to separate your workspace from your rest space, or vice versa.
The moment you set your feet out of the rug, you know it's the work zone.
Or you could even use two different area rugs, one for under the bed and the other for the work area. That will definitely make the room look more warm and cozy. Plus, you separate the two areas pretty well.
RECREATE THIS LOOK
make it aesthetic and informal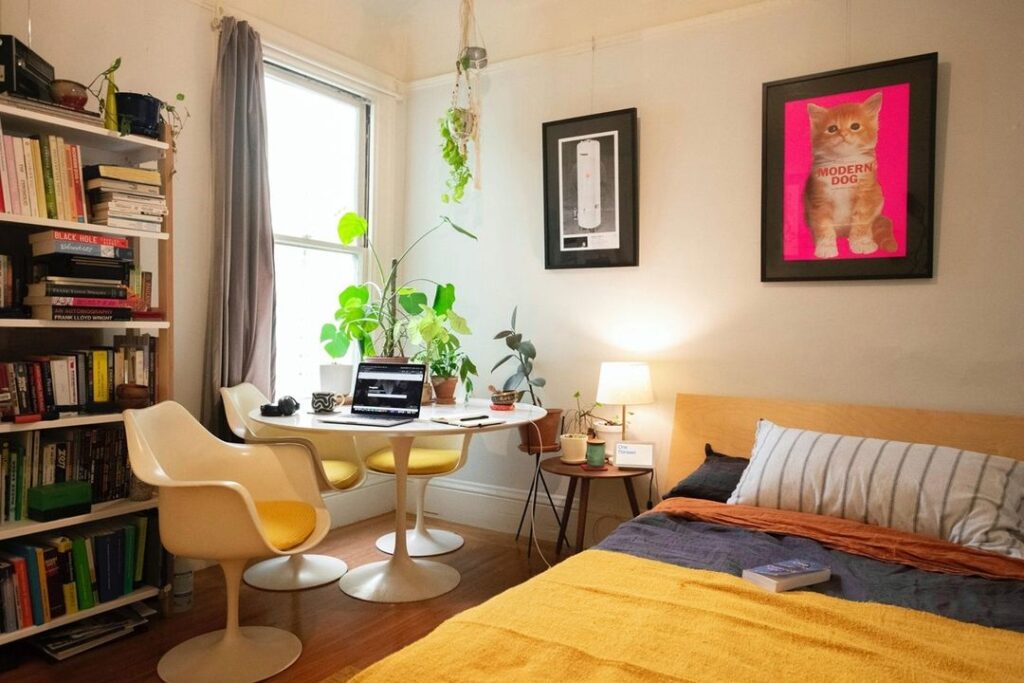 Since it's YOUR home office, you have the liberty to choose how you want it to be.
For a conventional design, a work desk near a wall would do pretty well.
But for a more unconventional workspace design, there are a lot of things you could try. For example, use a round table with a chair or two around it and your laptop above it. How aesthetic and visually appealing it would be!
RECREATE THIS LOOK
Use Smart Furniture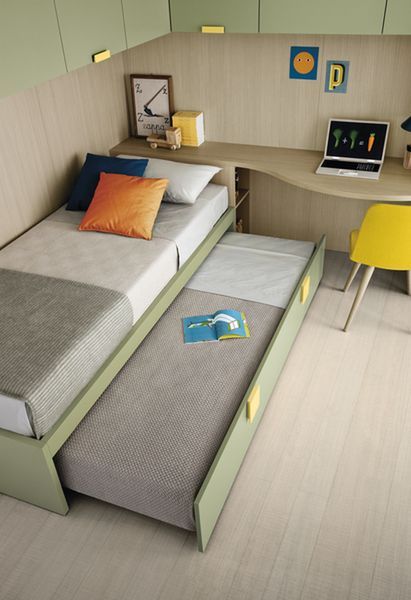 Keeping in mind the small spaces, using some smart and multifunctional furniture is key.
For example, you could go for a bed with a drawer or storage space. That would help you store a lot of things and spare space in the room.
Or use ottomans with storage if you are using them at all in your office in the small bedroom.
Taking this forward, bring some functionality to your space by using a desk that has a lot of drawers and cabinets, bookshelves that are built for small spaces, or use the unused wall space by using floating shelves.
Long story short, use smart furniture for smart room organization!
RECREATE THIS LOOK
A Floating Desk Looks Awesome!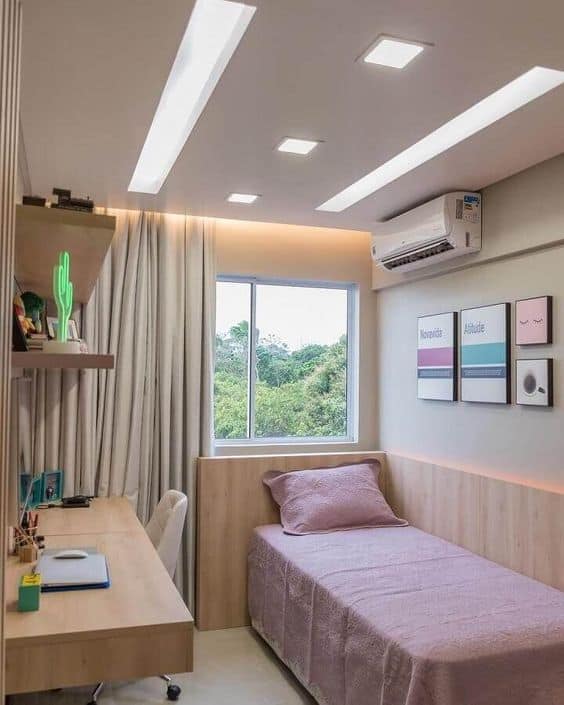 The home office might sometimes make the room cluttered and insane.
To combat that problem, furniture again can incredibly help! The more the floor space will be occupied, the more cluttered the room will look, generally. Although this might be subject to arguments and exceptions, for a study room or a home office in the bedroom, this is most often true.
So, use floating furniture, if possible. That could be in the form of a floating desk, a floating bed, some floating wall shelves, or anything else that looks magical AND minimalist! (By the way, how easy would cleaning the room be if everything were floating!)
RECREATE THIS LOOK
No Room Is too small!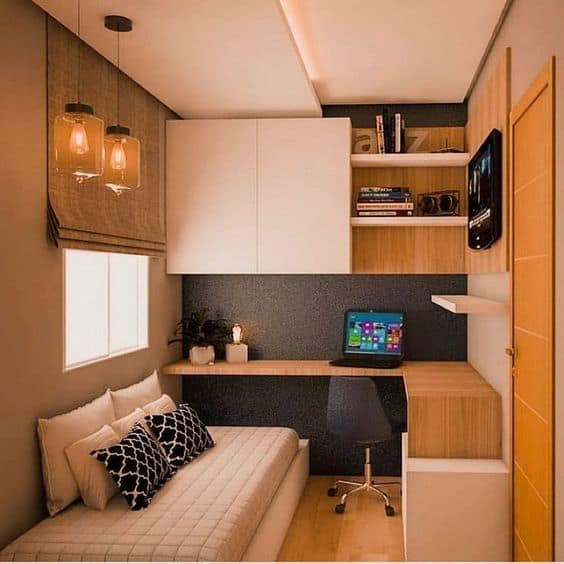 No room is too big and no room is too small. It all depends upon the intellect and the creativity of the dweller and how he utilizes the space available to him.
Similarly, even if you have a small bedroom and you want to make it into a bedroom-office combo, then you'd better utilize all the storage stuff that's available to you and create a workspace that's functional!
Sure, we are stressing this point too much in this post but since this is of high importance, please bear with us!
RECREATE THIS LOOK
Use a Creative bedtable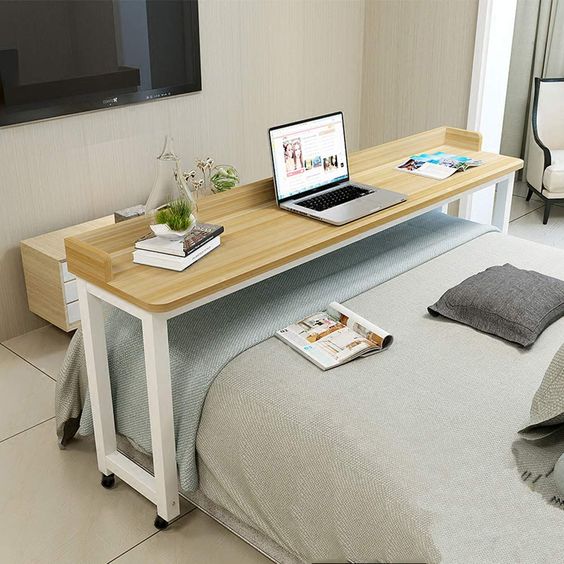 Definitely, it's NOT a good idea to work while you are on your bed, but if space is a restriction, then everything's fair for work.
You could either get a desk of this kind as shown in the image, or some other table that's specially designed for the bed itself. That would, at least, allow a better posture and atmosphere while working than to lay on the bed with your laptop on your paunch!
But if space is not a restriction, we highly recommend a traditional workspace setup with a nice desk and a chair for prime productivity and health.
RECREATE THIS LOOK
Keep The Work Desk Simple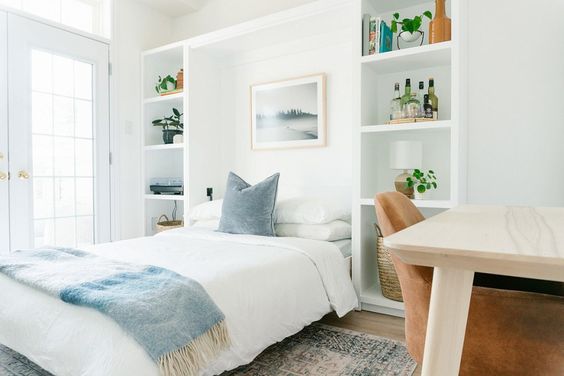 Sometimes, all we need is a simple work desk without it feeling like a formal office space.
Well, in that case, it's best to add your favorite table or chair from your favorite store and put it in your favorite corner in your bedroom!
Not necessary that you add a computer and other office stuff to it. You can always set up your stuff when you need to. And otherwise, you could use the table for miscellaneous tasks like reading, writing, painting, or anything that pleases you! That's the magic of informal furniture!
RECREATE THIS LOOK
How About Some Floating Shelves On The Wall?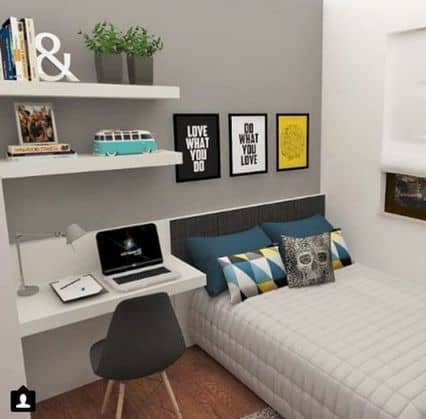 We have already said enough about the floating desk and how integral it can be in keeping your bedroom-office space, minimalist.
But some floating wall shelves instead of cabinets would look awesome too! They will ditch your traditional WFH space and make something interesting to look at.
If you want to ditch those wall cabinets to store your files and showcase some decor, then maybe these are a go-to.
That said, we also like the formal paint colors of the room that make it FEEL like an office. But don't forget to add a pop of color, it's a bedroom too, after all!
RECREATE THIS LOOK
Add those pretty Plants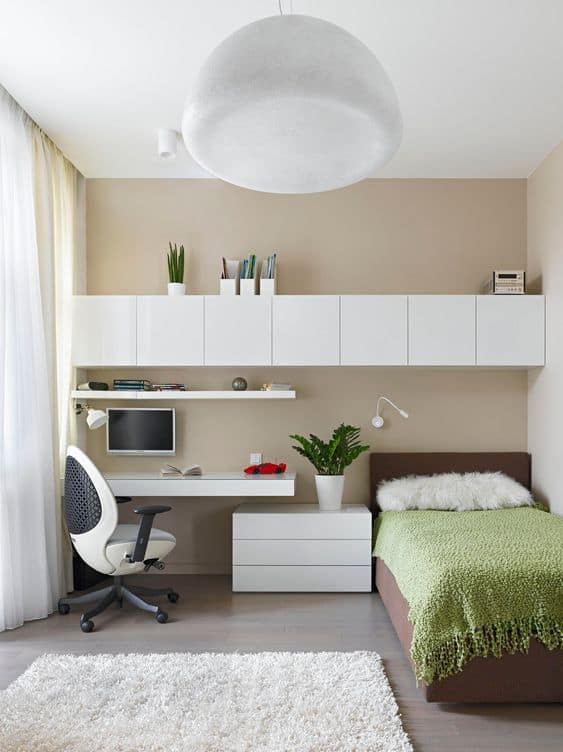 The home office can become a really suffocating place if you sit there all day with all your windows and doors closed.
Work can't be committed. We get that. But this problem can be.
Long story short, it's nice to add plants to your office space because they increase brain function and help you concentrate a bit more than you previously did. They are crucial so please don't skip them!
RECREATE THIS LOOK
A Sofa Bed Is A Great Help!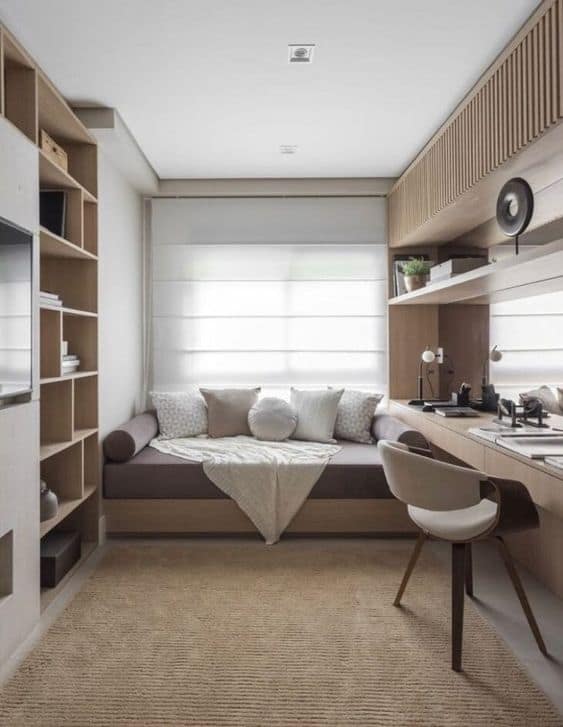 For a three-in-one room, how about using a sofa bed in your home office space?
Now, that becomes a living room when someone needs to visit you, a bedroom when it's time for you to relax, and an office when your work calls for you! All it can't become is the bathroom!
With such multifunctionality and beauty, why will one not fall for the idea?
Definitely, if you have a one-room apartment, this is worth giving a thought to, what do you think?
RECREATE THIS LOOK
It's All very professional and sophisticated!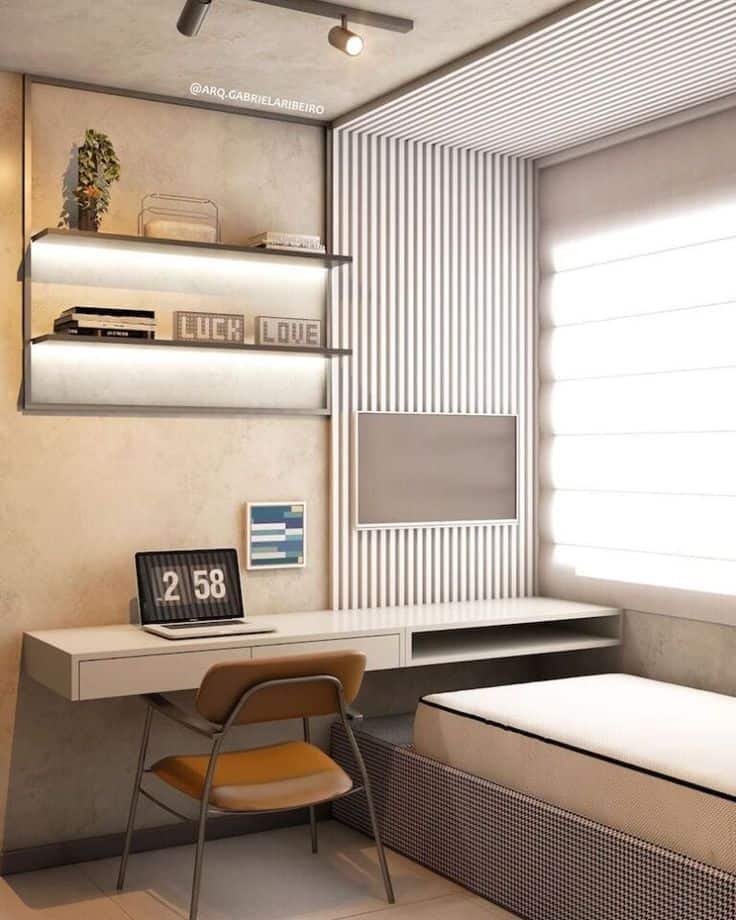 Most of us like informal places but there are a few perfectionists among us who like everything nice and proper.
For those perfect people, this one is a perfect bedroom-office combo idea!
You can get your interiors done in a way as if it looks like the room WAS designed as a bedroom office- as if it was preplanned.
For that, wall panels can he;p you a great deal. They look professional and don't require a lot of work on your part. Plus, if you can manage to get a floating desk, you've nailed it!
RECREATE THIS LOOK
Keep Things comfortable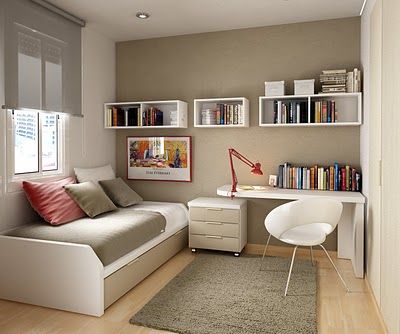 And for those of us who love comfort over formality and perfection, here is another bedroom office combo idea that we are sure, you will love!
To make things more comfortable, you might want to start with your desk and chair. For the desk, we highly recommend that you go for the one that keeps your posture nice and straight. Ideally, it must be the height of your elbow.
For a chair, there are a lot of chairs available in the market that are quite comfortable – a bucket chair for example.
That said, if you wish to increase the aesthetic appeal of your home office in the bedroom, then you might want to look forward to a nice accent chair.
rECREATE THIS LOOK
add some neon light!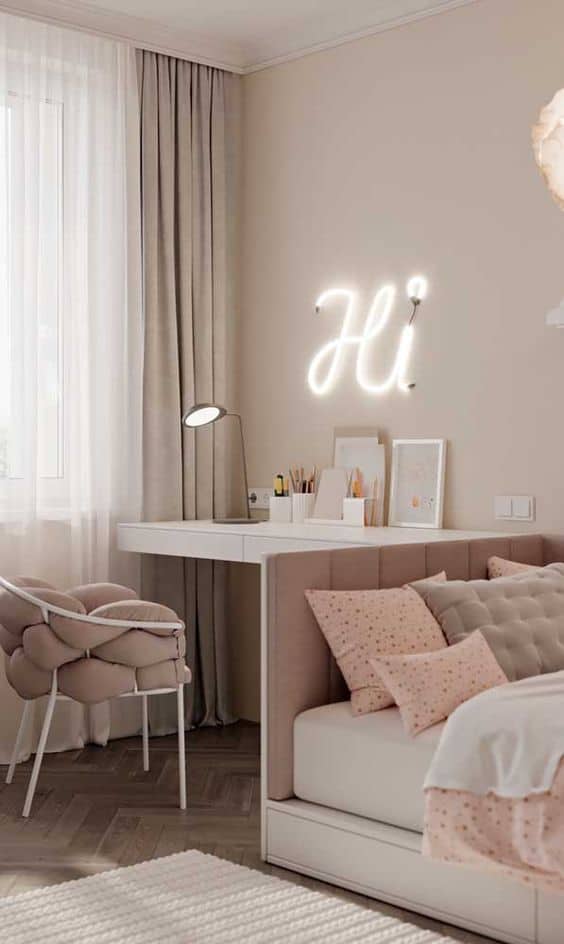 Our last thoughts would be, even if it's a home office, don't keep it bland.
Add some character to the space so that you can FEEL that it's your own!
For that, adding a neon sign would be the best to add an aesthetic touch to your bedroom-office space.
If not that, then some motivational wall art, some plants, or some other decorations would be ideal! What do you think?
RECREATE THIS LOOK
the endnote
It's not a big deal to create a home office in your bedroom. But if you have no idea how to, then it's no less than a 'big deal!'
With your increasing workload, travel expenses, family responsibilities, and the need for a bit of relaxation, home offices can help a lot!
And if you've been kind enough to yourself to take a step towards all these nice goals, then we hope that we could contribute a little to it by providing some bedroom office combo ideas for you!
Now it's your turn to let us know in the comments which one was your favorite bedroom office combo idea. And if there's anything you want to recommend to us or our readers, you're welcome!
Until next time, happy decorating!
Frequently asked questions (FAQs)
How To Design a bedroom office space?
Designing a bedroom office space is easier than it appears. All you need is the sense of finding the right corner for the work area and utilizing the space well.
After that's done, it's time to ask yourself whether you want a traditional-looking office space or a non-traditional one?
For a traditional setup, you know what to do. Add a nice desk, chair, laptop, and some wall cabinets to store your important documents.
For a non-conventional one, you could go for a nice, informal, cute work desk you find on IKEA or Wayfair, add some plants, a pen stand, and other stuff you want to make it look pretty and appealing.
Some wall art on the wall would also help!
See, it was so easy. For some nice ideas, you could check them above in the post!
How to set up a bedroom office?
In case you are so eager to set up a bedroom office ASAP, the easiest way to get by is to get a nice chair and table and place it in a corner in your bedroom.
Your basic setup is complete.
Remember to get the desk that comes at your elbow level while you work. That will ensure a good posture.
Once you are done with all the basic stuff, level up a bit and add some organizers, cabinets, and some nice decor and other productive stuff if need be.
Voila! done!
How to maximize space in a small bedroom office?
To maximize space in a small bedroom office, you'll never go wrong with adding some nice cabinets, desk organizers, and bookshelves.
For a more sniper approach to functionality, you must even go for a desk that has enough drawers and storage space.
But if you are talking about increasing space in general, then maybe it's minimalism you would want to adopt in a small room.
Keep things to a minimum. Plus, use light colors because they make the space look wider than it actually is.
To put this in point,
1) Use a lot of storage cabinets, bookshelves, and drawers.
2) Don't stuff your room. Keep things to a minimum.
3) Use light and cool colors like white. They make the space seem larger than it is.
How to create an office space in a small bedroom?
There are various ways you can create an office space in a small bedroom. Following are some:
1) Throw the nightstand out of the window! (and don't pay attention to whose head it bangs on!) In it's place, place a small desk that can bear your computer or laptop. Add a chair and a basic bedroom office setup is complete! At night. that area might work as your nightstand as well! See, multifunctionality OP!
2) If you are REALLY tight on space, then maybe you need to get a small foldable bed/ study table that you can unfold whenever you are working and fold and place it in a corner whenever you are not.
3) And if you have a little bit of space, then you might want to add a small table and chair straight!
Should you have your office in your bedroom?
Ideally and honestly, you should not.
Our mind associates our bedroom with sleep, rest, and relaxation. Whereas our office/ workspace is associated with activity, work, and productivity. They are two very different things. So, their areas must ideally be sep[arate.
But, due to lack of space, it isn't always possible.
So, here are a few ways, you can overcome the issue, have your home office in your bedroom and still rise, unaffected.
1) Use different area rugs under both your workspace and your bed. What that will do is differentiate those two areas in your mind so that it doesn't mix the moods each creates.
2) Use room dividers to separate the room into two parts. Set your bedroom office in one, and shift your bed to the other. That'll be two rooms in one with no problem at all.
Why you shouldn't work on your bed?
As said already, our mind associates our bed with relaxation, rest, and most importantly, sleep.
If you try to work there, it'll be very difficult for you to be productive because of the mental signals of rest and peace.
That's one of the reasons you can't exercise or stretch on the bed. You'll be found sleeping some moments later!
Best, separate your workspace from your bed, even if just by adding a small chair and desk.
where should a desk be placed in a bedroom?
There are various places where you can place a desk in a bedroom. Some of them are listed below:
1) You can place your desk at the place of the nightstand, just beside the bed: This suits best when you have just a little space in your bedroom. The table works like a double- duty furniture and no need remains for the nightstand!
2) In a corner of the room: usually the corners of the room are unused so you can always use them to place a desk in there. Also, since corners are usually uninterrupted, you will feel quite safe and concentrated while working in such spaces.
3) Opposite your bed: It's highly recommended that you setup your workspace opposite to the bed so that it's not visible to you while working. If it's visible, it might trigger sleepiness in you. Best when not visible at all.
should a desk face the window?

A desk an definitely be placed facing the window as it helps you relax for a while when you look out. The fresh air coming from the window would also lift your mood and make you productive!
Add to that, the natural light helps better visibility hence better productivity.
So, whatever is the case, a desk facing the window a nice idea to consider.
Shoud your desk face the wall?
Yes definitely If you are a person who places concentration above everything else, then why not?
A desk facing the wall helps you concentrate on your work since nothing else is even visible to you. It ensures limited distractions and better work.
In short, yes. You can go for a desk facing a wall. It'll be all good.
Where should A desk be according to feng shui?
Ideally, a desk must be placed quite far away from the door since it is believed that the door drains all your energy and you are unable to focus or be productive.
So long the door isn't near after or before you, you're good to go!
Interested in creating a workspace? Maybe these will help: