Welcome to a world where darkness is not just the absence of light – It is a canvas where luxury takes its most captivating form! In interior design, black holds an enigmatic power, capable of transforming a space into an indulgence. 
Today, let's explore the collection of luxury Black Bedroom Ideas, each curated to redefine your bedroom grandeur. Here, black emerges as the main protagonist. It comes in lavish textures, sumptuous fabrics, and exquisite furnishings! 
Altogether, they craft a magnetic ambiance. So, join me in the world of luxury black bedroom ideas and watch how you can also create something just as breathtaking! 
18 Luxury Black Bedroom Ideas
Black And Gold Luxury Black Bedroom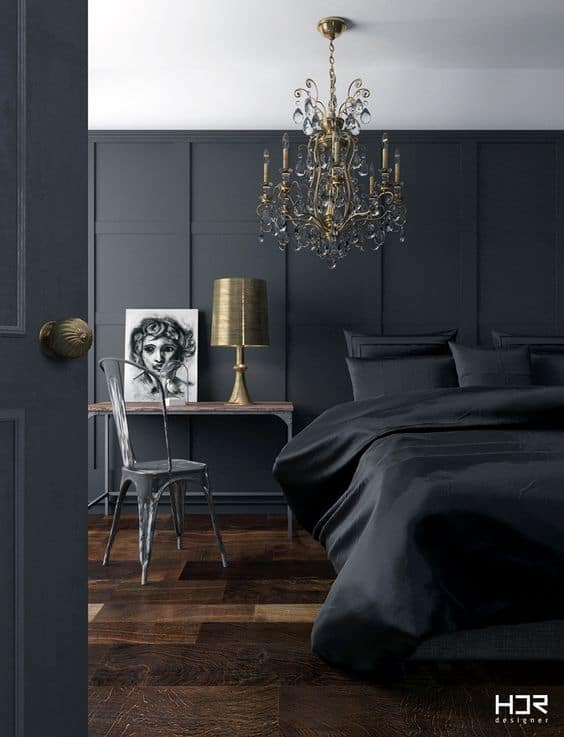 You can infuse black with gold accents for an opulent Art Deco vibe! This idea features sumptuous velvets and geometric patterns. Sumptuous velvets are great for luxurious comfort, creating a lavish surrounding. 
A simple geometric pattern on the wall can add a modern edge while bringing a captivating visual dynamic! This bold contrast with the fusion of textures and hues makes a unique sanctuary! This luxury room idea will surely exude all your elegance and style!
Create Contrast With B&W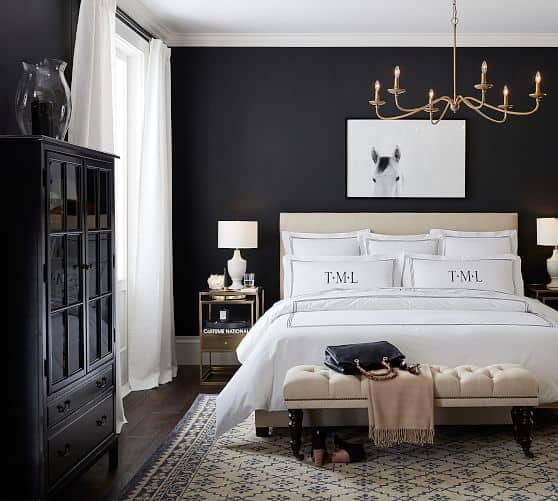 How about black walls with crisp white linens and metallic accessories? This can create a visually striking and balanced black-and-white bedroom! 
This luxury black bedroom idea offers a daring atmosphere, where the interplay of dark and light adds a magical flair. This stark contrast emphasizes the clean lines and subtle textures. This results in a space that is both elegant and edgy. 
Bring The Woodland Vibe In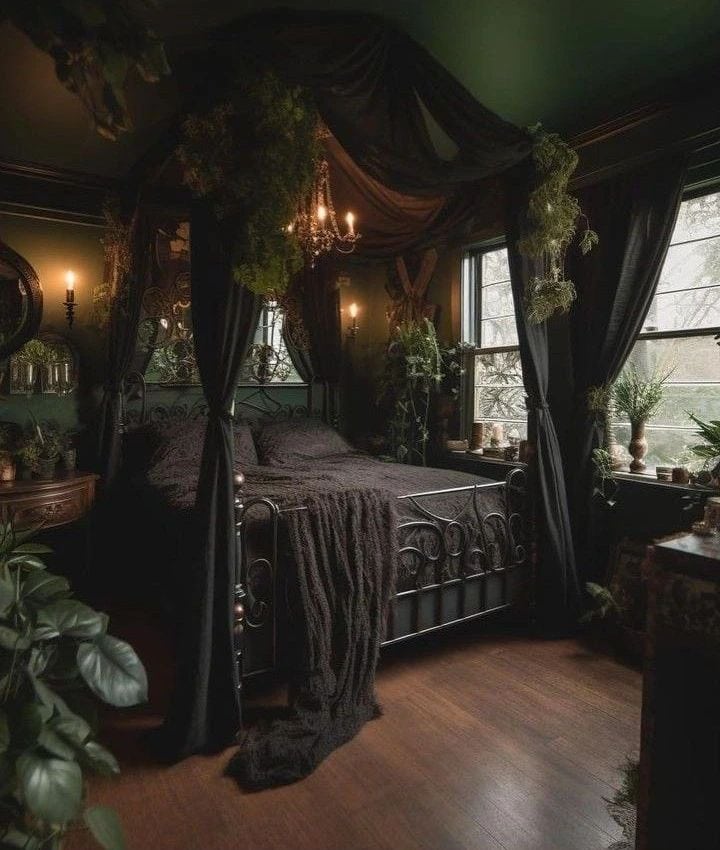 You can bring some rich greenery and wooden textures against your black elements for extra organic luxury. The juxtaposition of plants against the backdrop of black elements adds a harmonious blend of nature and style. 
Pro Tip: Try out some wooden accents to elevate the aesthetic of your luxury black bedroom idea. Trust me, this exquisite fusion can redefine relaxation in your home!
Chic Minimalist Black Bedroom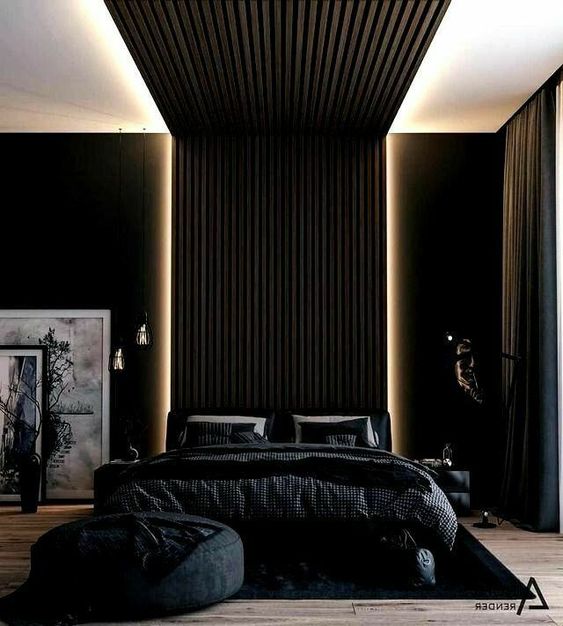 The power of minimalism can be subtle but strong! Combine black with sleek lines and monochromatic accessories for an understated elegance. Clean, sleek lines offer a simple yet tranquil beauty for your dark bedroom.  
Monochromatic accessories are perfect for adding a timeless essence to your bedroom. Minimalism can declutter both your physical and mental space, inviting serenity to your bedroom. 
A Bedroom With Romantic Intrigue!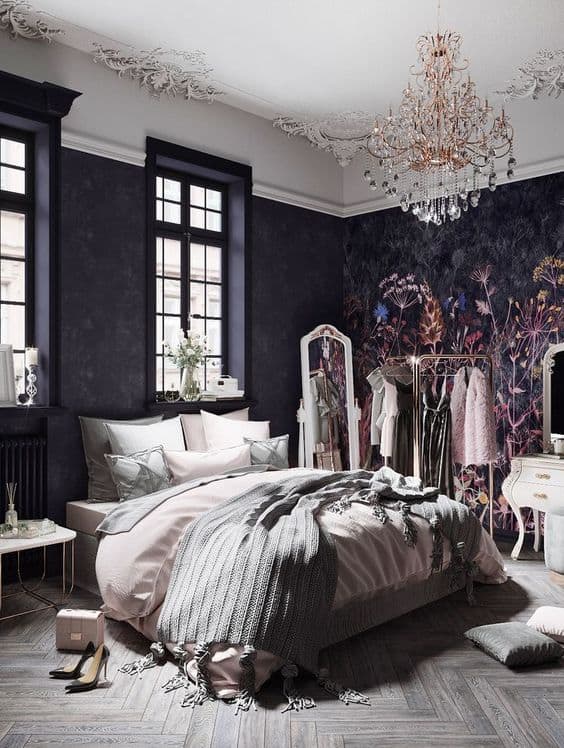 It's time to merge the deep reds and soft pinks with black to create a coquette-style aesthetic! This can induce a luxurious and sensual ambiance, full of passion and allure. The sultry depth of black works as an exquisite backdrop for the deep reds. 
The gentle pink shade adds tenderness and romance. It's just perfect for those girls who prioritize their beauty and sleep in style! You can just get it all right here!
Add Some Velvet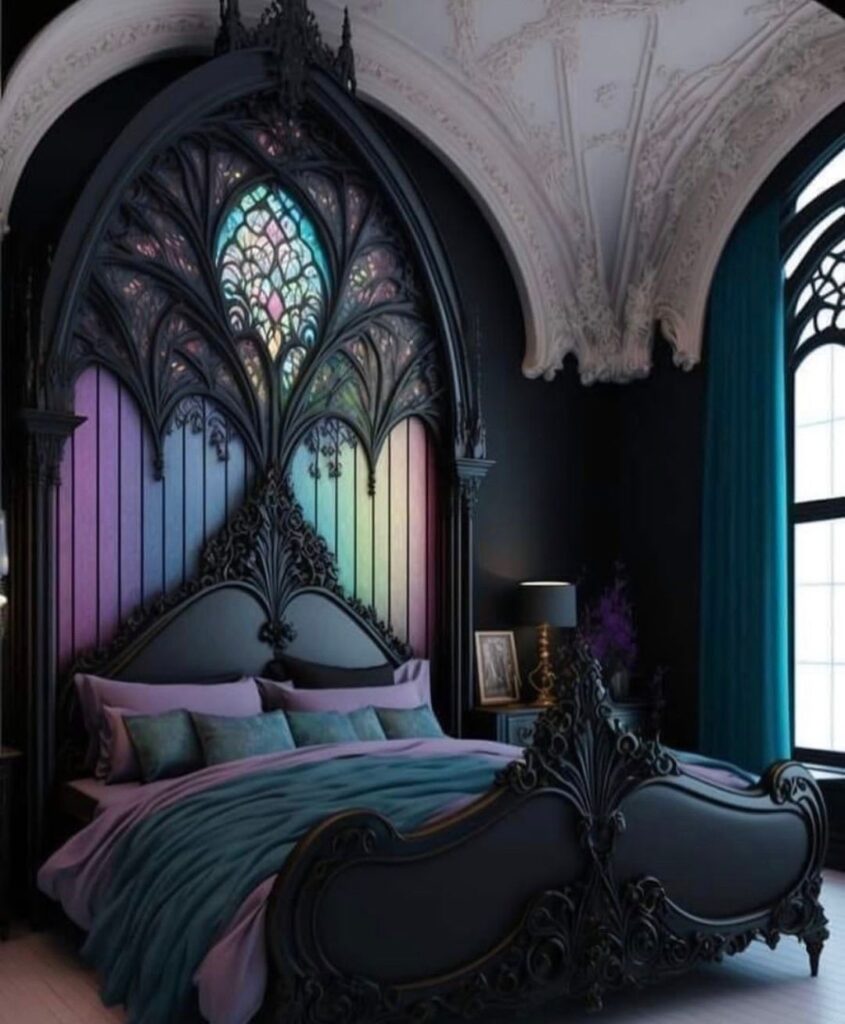 Throw in some luxurious black velvet textiles, from curtains to bedding, that can create an atmosphere of plush comfort. This can warm your little black heart with this Gothic bedroom! This luxury black bedroom idea is a fusion of dark romanticism with contemporary sensibilities. 
The sumptuous textures and intricate furniture details add comfort while the rich color palette brings depth and drama! With this charming idea, you can craft a mesmerizing sanctuary that resonates with both history and modernity. 
Industrial Black Bedroom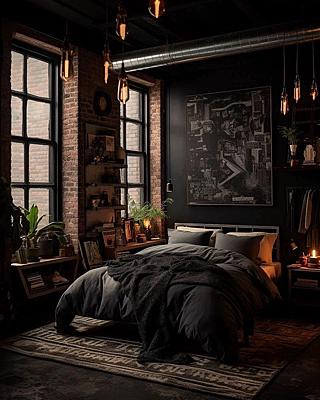 What do you think about raw materials like exposed brick and metal accents paired with an urban style? Quite mysterious, isn't it? In an industrial black bedroom design, you'll find exposed brick and rugged metal accents which can create an edgy aesthetic!
This bedroom with a black accent wall idea is ideal for boys who take their vibes seriously! This design choice can be your contemporary with the robust charm of industrial architecture. 
Pro Tip: Feel free to add some textured elements too! These can exude authenticity and a chic vibe, offering you a unique ambiance.
Luxury Black And Gold Bedroom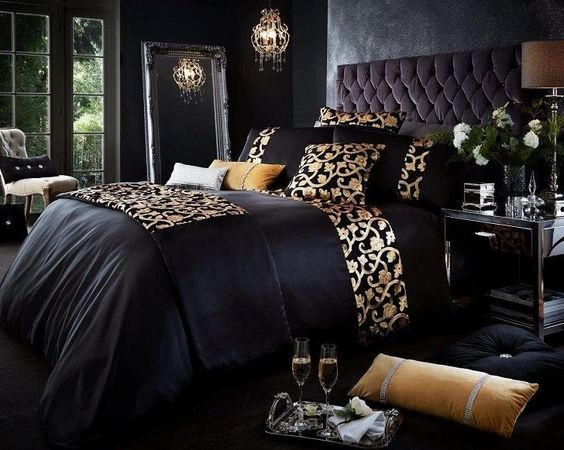 For an extra lavish effect – it's best to mix the shades of rich gold with your dark palette. This choice of a black and gold bedroom transforms your bedroom into a world of glamor.
The black backdrop with the shiny gold elements creates a visual symphony of opulence. If you're into your dark and royal mood – this idea is your best bet to be grandeur. 
Add Some Opulence!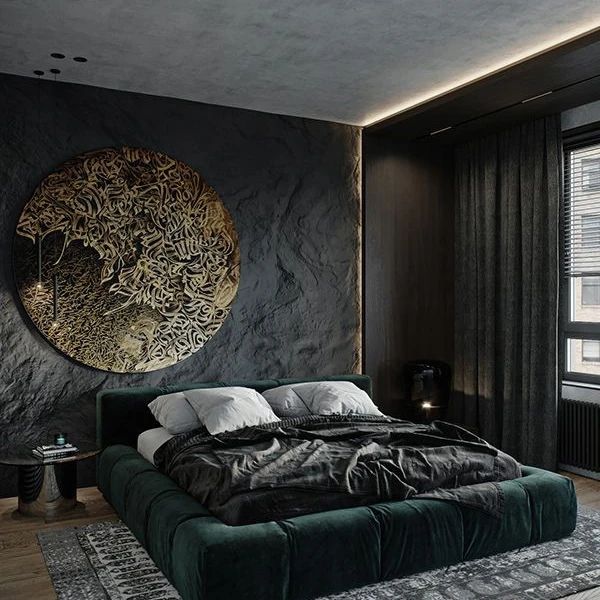 You may incorporate intricate Middle Eastern patterns and deep jewel tones for an exotic escape! You can also add elements with deep emerald hues to double the elegance. 
This captivating fusion adds a mystique and wanderlust aura with cultural richness. The pair of black and emerald creates a striking visual harmony, building a luxurious and inviting atmosphere. 
Dramatic Canopy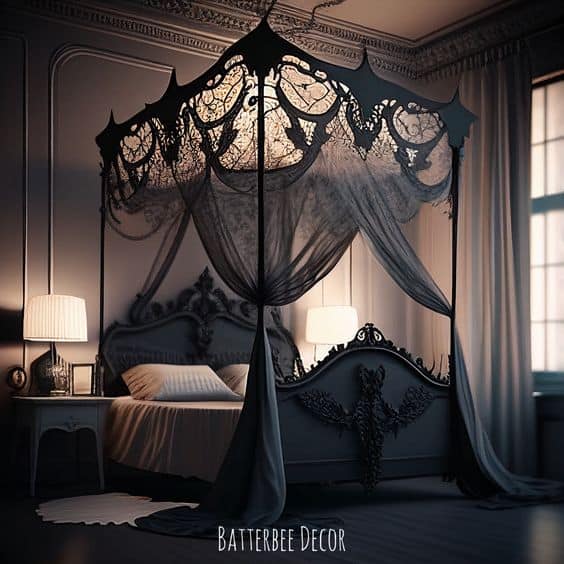 You can install a black canopy bed with sheer drapes for a captivating theatrical flair. This combination instantly adds allure and intimacy to your space. A black canopy bed can serve as your dramatic focal point, while the flowy drapes soften the ambiance, with a dreamy energy.
This design choice offers both visual drama and privacy, which is perfect for relaxing after a long day. The pairing offers the unmatched charm of a bedroom that can effortlessly blend luxury with comfort.
A regal Black Retreat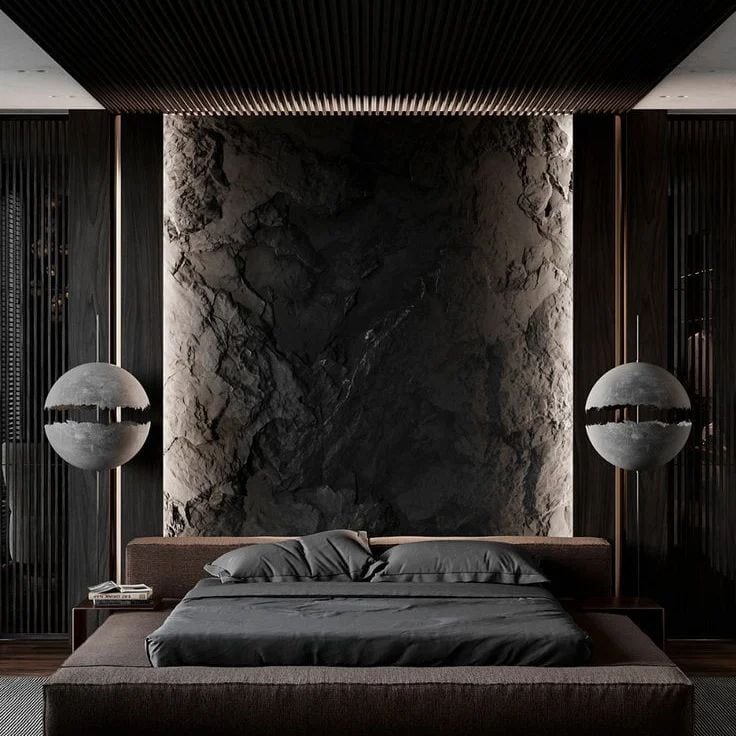 Ornate black furniture, luxurious fabrics, and opulent light fixtures are perfect for a majestic aura. These elements bring a trendy lavishness with elegance. 
The ornate black furniture is needed for the grandeur, while luxurious fabrics are here for comfort. The light fixture can be a magnetic centerpiece of magnificence, with a soft and inviting glow. This design has the power to make your space refined with a grandiose style.
Monochrome black Bedroom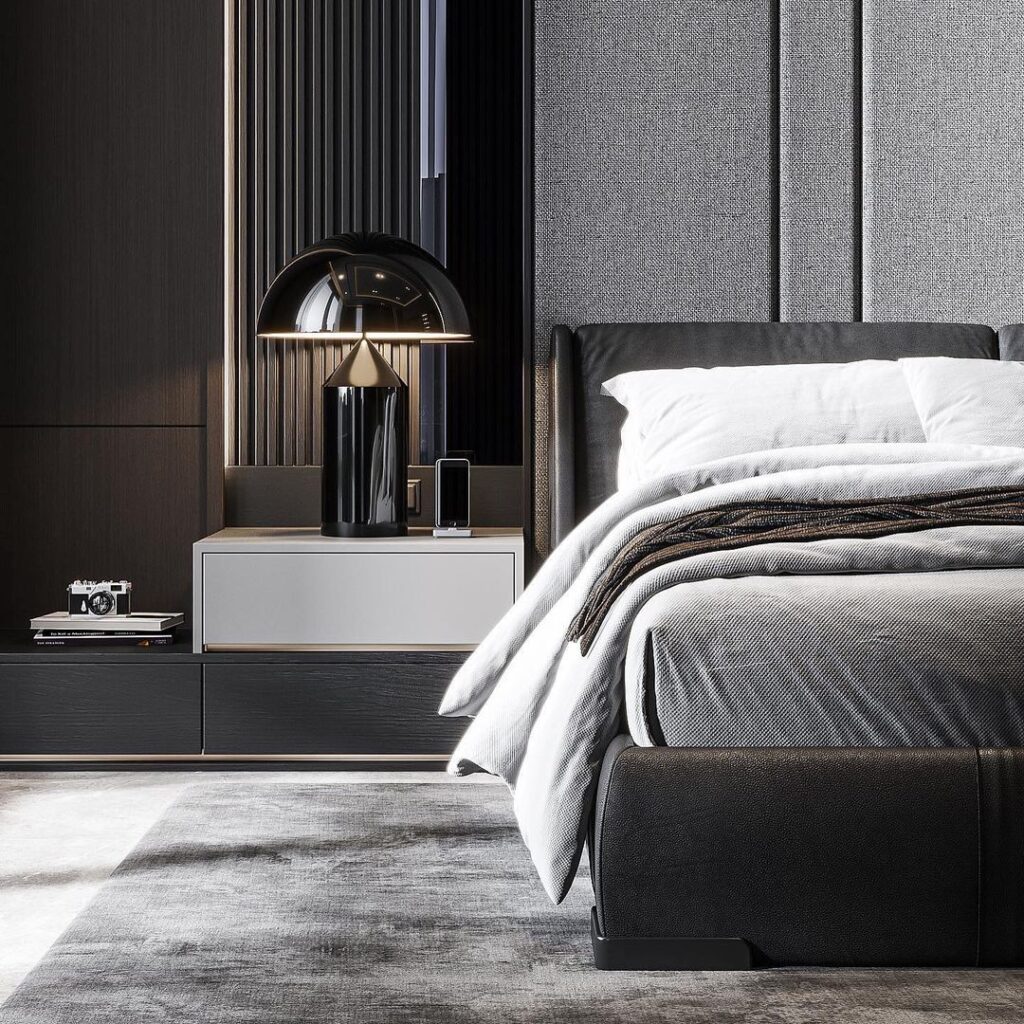 Using various shades of black and gray for a monochromatic style can speak volumes about your space. Keep it simple and humble, because simple is best! This classic palette is best known for its calming atmosphere with a strong visual depth. 
This design allows an effortless elegance, from furniture to textiles. The monochromatic scheme is all about balance, offering you a peaceful retreat at the end of the day. 
Artsy Black Bedroom Idea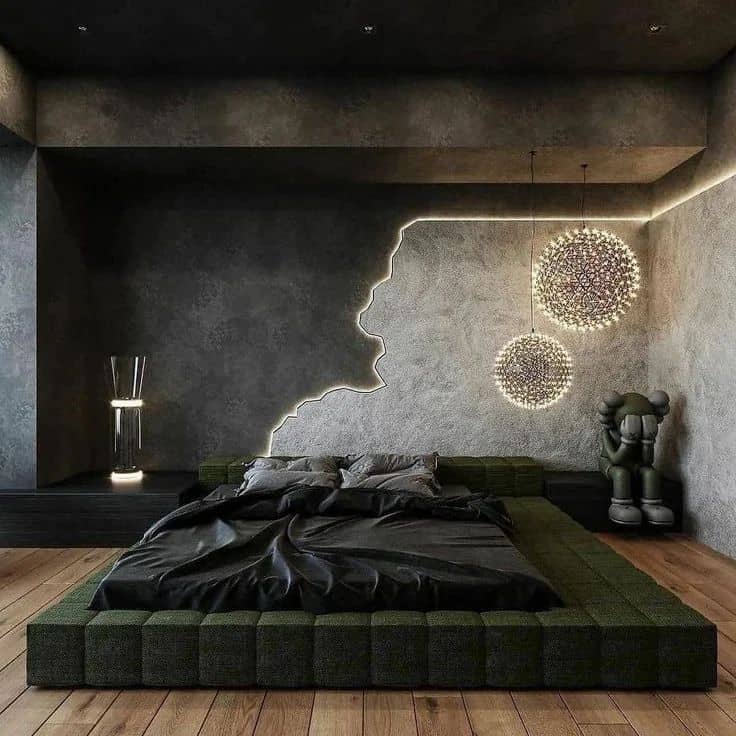 If you have some oversized art pieces in your home, this is the time to use them! Display them around and you can create a gallery-like space of creativity in your modern black bedroom! 
This luxury black bedroom idea of contemporary art and sleek design is a bold and creative choice. An oversized pendant light can be your focal point, while the KAWS figure can add a playful edge. 
A Dark Academia Black Room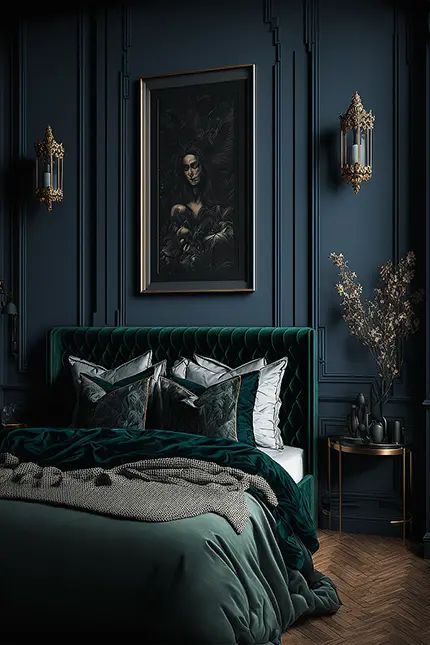 Combine various black textures like faux fur, leather, silk, or even metallic accents! These add depth and tactile richness to your space. 
The combination offers a sensorial experience with visual interest. So, go ahead and immerse yourself in this tactile haven of unique design and create a dark academia room.
Create A Zen Black Bedroom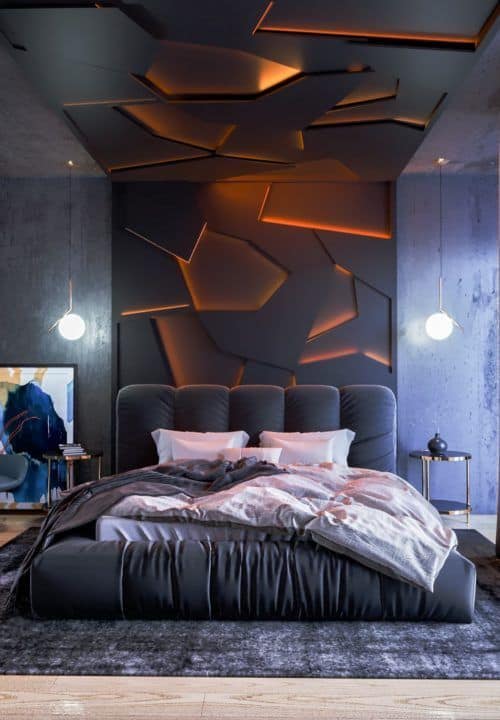 For uncluttered space – You can infuse black with Asian-inspired minimalism, clean lines, and serene accents! 
The aesthetic offers simplicity with mental clarity and relaxation. This contrast of sleek black with serene accents has a soothing effect on your brain. 
Glam Black Room Design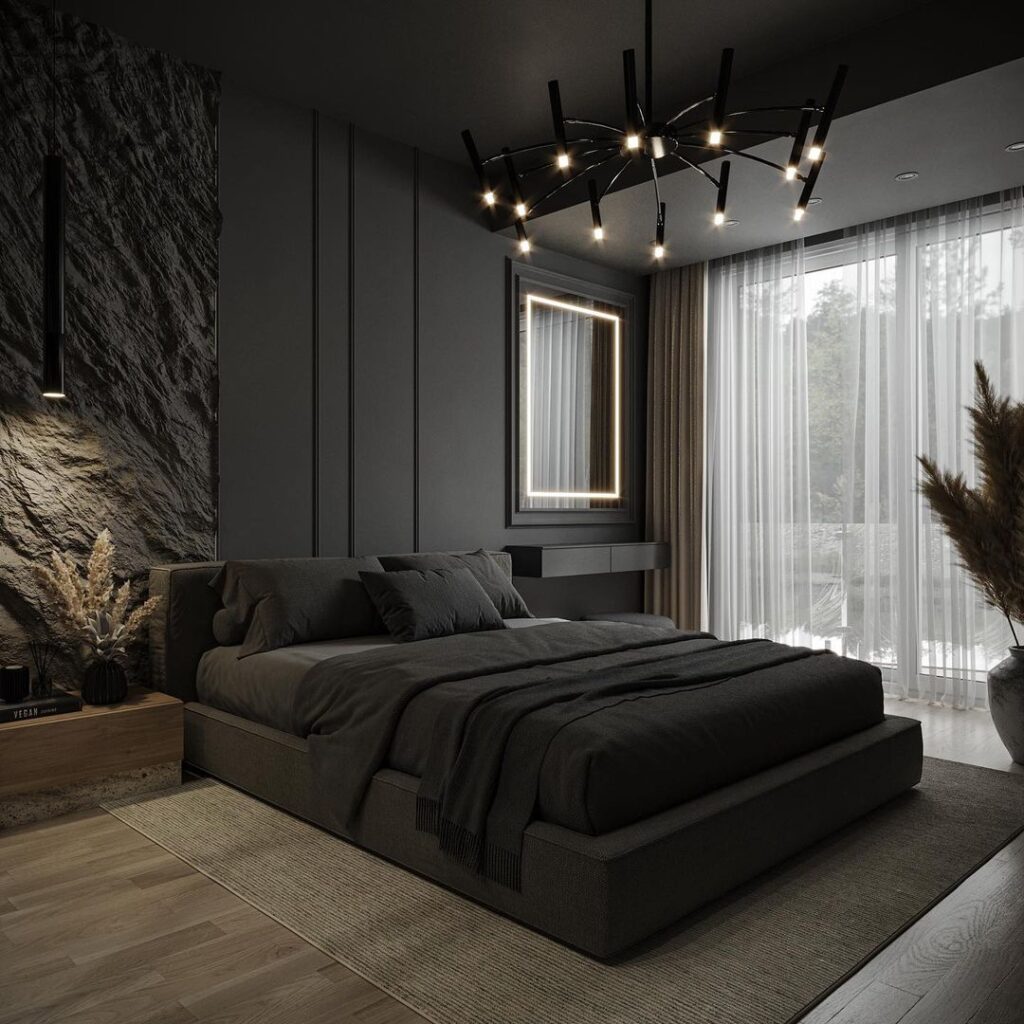 Mirrored surfaces with black elements amplify light and add Hollywood-like glamor. This makes the room feel more expansive and luminous. The black and reflective surfaces offer a modern sophistication while keeping the mystery. 
With this design – You're getting an enchanting visual symphony into your space, where every angle offers a new perspective. This can transform your bedroom into a deluxe room that resonates with glamor and magic! 
Rustic Luxe Black Retreat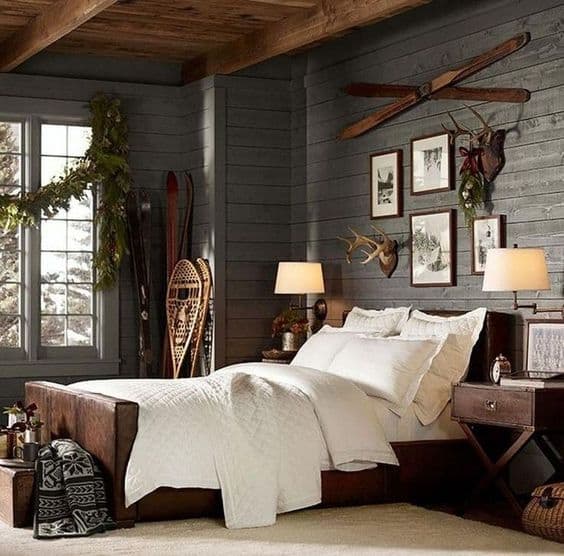 Black with rustic elements like exposed wood beams and vintage accents bring coziness and elegance to the table. This unique fusion of black with the warmth of rustic design adds an inviting flair. 
Exposed wood beams are all about authenticity and character, while vintage accents infuse nostalgia and individuality. With this harmonious blend – You can create a space that offers a welcoming and stylish sanctuary. 
Dark Bohemian Bedroom!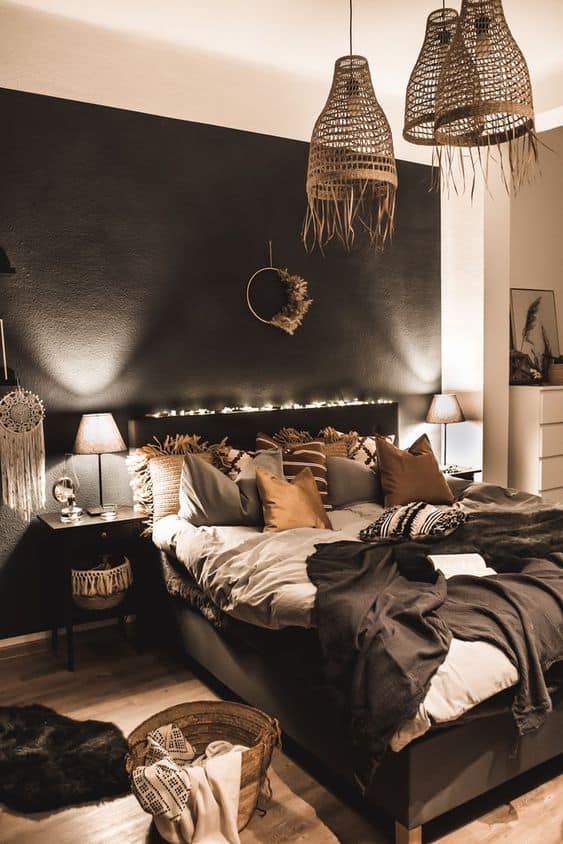 Rich jewel tones, natural fibers, and black walls are the elements you'll need for your bohemian haven! This fusion merges the charm of boho design with the allure of black. Rich jewel tones, like a lovely shade of topaz, infuses vibrancy and depth. Natural fibers like rattan and jute create an earthy, grounding ambiance.
This quirky idea celebrates individuality, color, and texture! It presents the magic of a bohemian escape where black acts as a canvas for hues and materials. This design offers you a cozy and visually captivating dark bedroom that will reflect your spirit.
FAQs
Is A Black Bedroom A Good Idea?
A black bedroom is an exceptional and daring design choice. It offers a unique blend of sophistication, drama, and intimacy. Black exudes opulence and elegance that's hard to replicate with other colors. It can create a cozy and cocoon-like ambiance when used thoughtfully, which is also great for relaxation. Additionally, black serves as an excellent backdrop for showcasing other design elements like furniture, accessories, and artwork. It helps them stand out more vividly.
However, careful consideration is important when it comes to blacks' intense nature. Proper lighting and strategic contrast with other colors can prevent the space from feeling too dark or confined. You can Incorporate reflective surfaces, textured fabrics, and shades of black to add depth and visual interest. Ultimately, a black bedroom is a fantastic idea for those who seek a bold statement and want to infuse their personal space with luxury and intrigue.
How Can You Make A Black Bedroom Look Good?
To make a black bedroom look visually appealing and balanced, you can start off with the following steps: 
1. Contrast with Light: Pair black with light-colored accents, such as white, cream, or metallics. These can prevent the room from feeling too dark. This contrast also adds depth and balance.
2. Texture Play: Incorporate various textures like plush bedding, textured rugs, and upholstered furniture to create tactile interest. They also break down the monotony of black surfaces.
3. Strategic Lighting: Adequate lighting is crucial. Combine ambient, task, and accent lighting to illuminate different parts of the room. This can also highlight the architectural features.
4. Reflective Surfaces: Integrate mirrors and glossy surfaces to bounce light around the room and create a sense of spaciousness.
5. Accents and Patterns: Introduce patterns and bold colors in moderation through accessories, artwork, and pillows. These accents can add vibrancy and excitement to the space.
6. Natural Elements: Infuse warmth by incorporating natural materials like wood or plants. These elements soften the stark nature of black.
Is Black Too Dark For A Bedroom?
Whether black is too dark for a bedroom depends on your preferences, the overall design strategy, and how you balance it with other elements. While black creates a dramatic and cozy atmosphere, using it without careful consideration can lead to a room feeling dim and confined.
To avoid this – Consider contrasting light elements, such as white or light-colored furniture, bedding, and accessories. Adequate lighting, both natural and artificial, is essential to prevent the room from feeling gloomy. The room's size and available natural light also play a role – Larger rooms with more natural light can handle black better than smaller, darker spaces.
In short, black can work wonderfully in a bedroom, if used strategically. It's vital to strike a balance with its moody qualities by incorporating contrasting elements, thoughtful lighting, and textures. All of these together create an inviting, cozy, and visually pleasing ambiance.