Imagine yourself relaxing in a sage green bathtub with floral and wooden furnishings. It urges you to take your time, enjoy the present, and see how simple life can be! A sage green bathroom is the perfect setting that promotes rest and renewal. It allows you to reconnect with nature on this private getaway while preparing you for the day!
If you're thinking about adding sage green to your bathroom but still not sure how to start – I can help! Whether it's about tiles or furnishings, I've tailored an exclusive edition of sage green bathroom ideas just for you! So, get ready to be inspired, because once you finish reading, it would be hard to resist the temptation of this gorgeous hue. 
15 Sage Green Bathroom Ideas 
Play With Patterns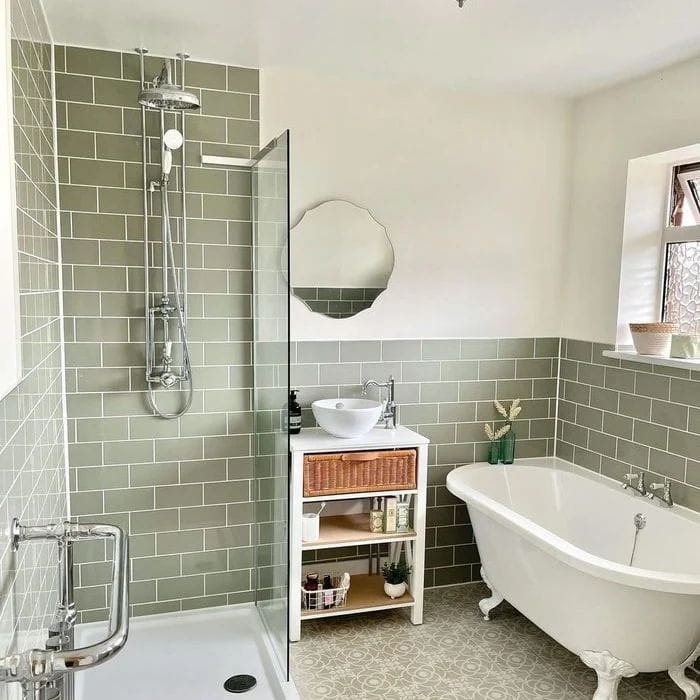 Patterns can do wonders! You can transform a dull space into an eccentric one when you experiment with different patterns and mix-match various elements. 
These sage green tiles with a dainty white flooring pattern on a white wall are a top-tier choice. They create a balanced look, making your sage green bathroom decor much fuller and more complete.
All in Sage!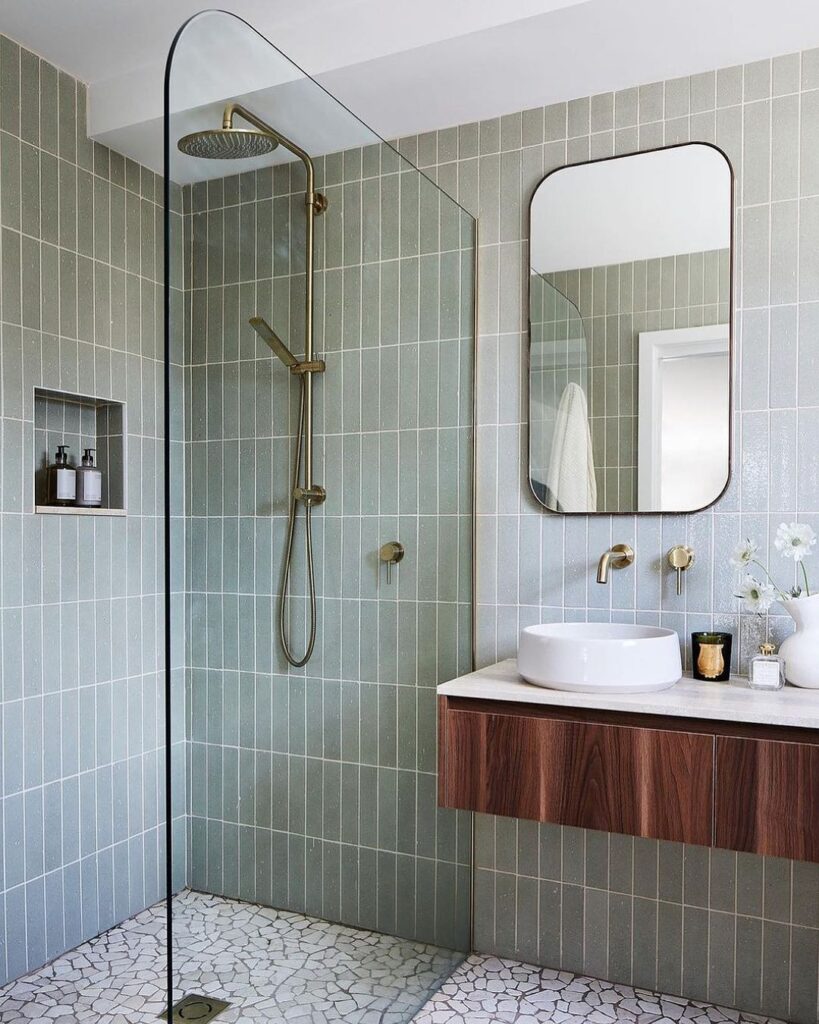 Wanna know your safest bet? Yes, an all-sage green bathroom remodel, like this walk-in-shower idea. This creates an indulgent space that makes you feel relaxed within a second. 
Pair up this calming color with white fixtures and see the magic! Together, they can create a composed environment that can make you go head over heels for your sage green bathroom idea. 
Match the bathroom floor tiling!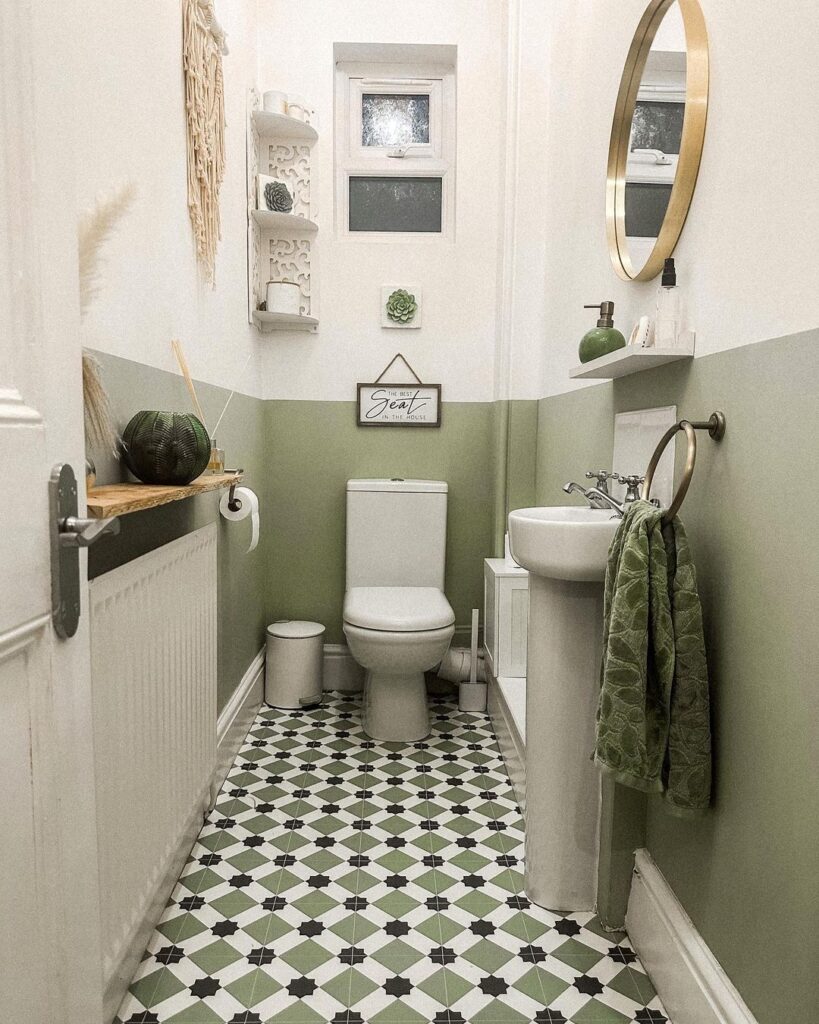 Imagine you walk into a bathroom where your feet meet these gorgeous patterned sage green and white tiles! It's as if you've entered a space that seems much bigger than it is. 
This vast illusion effect can be achieved using the sage green color.  Trust me, you're going to thank us later for this!
Pro Tip: If you wanna break the monotony of the tiles – Just add a black element. Voila! Now, you're ready with your perfect sage green bathroom. 
Add Contrast!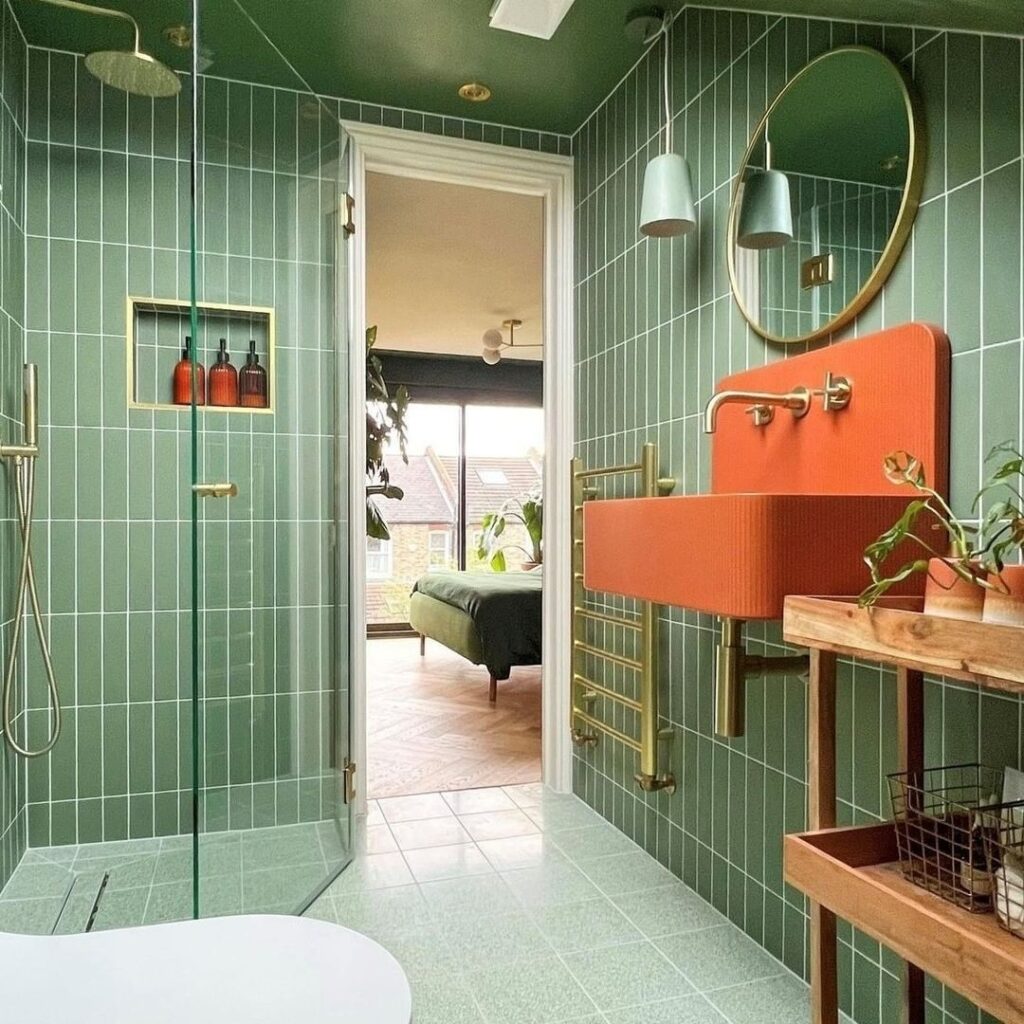 The bright, hot orange must've got your attention, right? Contrasting color combinations with sage green and gold, orange, or teak blend beautifully. These pairings are bound to leave your guests in awe. 
Gold can be incorporated in fixtures while having rustic brown on the shelves in the bathroom. These colors can make your bathroom stand out with an aesthetic feast for the eyes. 
Add A Sage Green Bathtub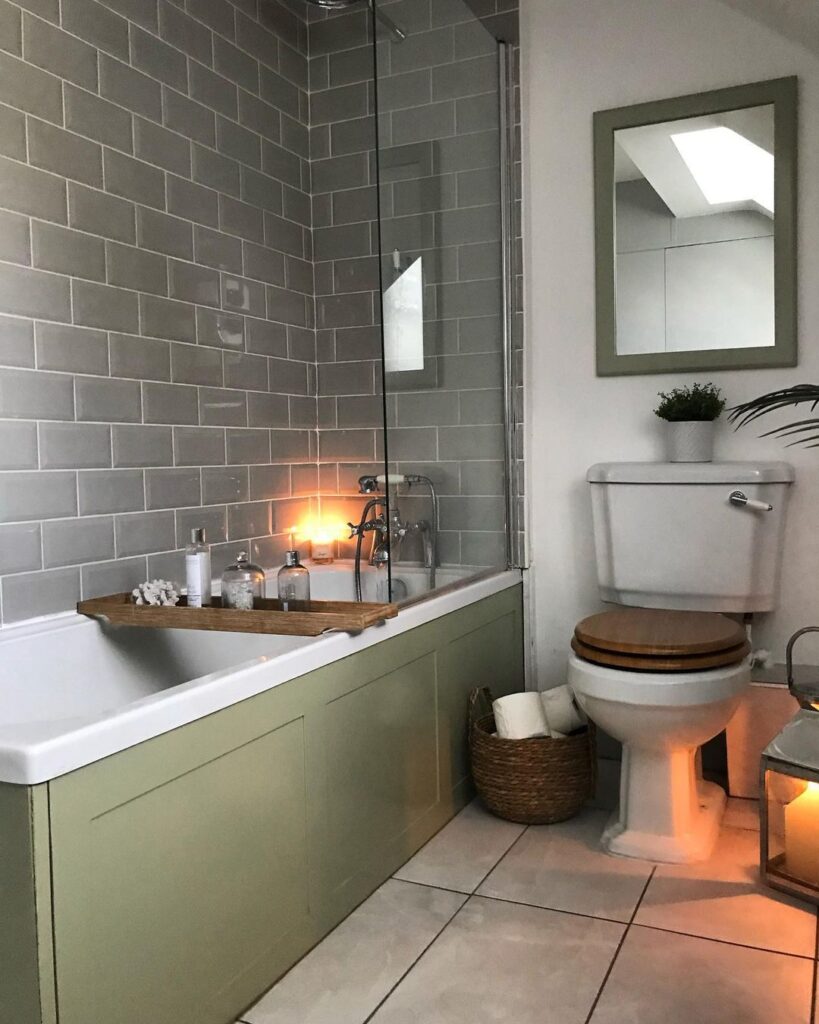 Who doesn't love a spa-like atmosphere from the comfort of their home? Get ready to have your mind blown by this sage-green bathroom idea. This can make a relaxing ambiance that may make you fall asleep soon. (Just a fair warning!) 
You can bring a beautiful set of aromatic candles with your bath salts. Play your favorite song on a loop, and Ah! This is something everybody deserves at the end of a tedious day. 
Introduce Sage Green Elements!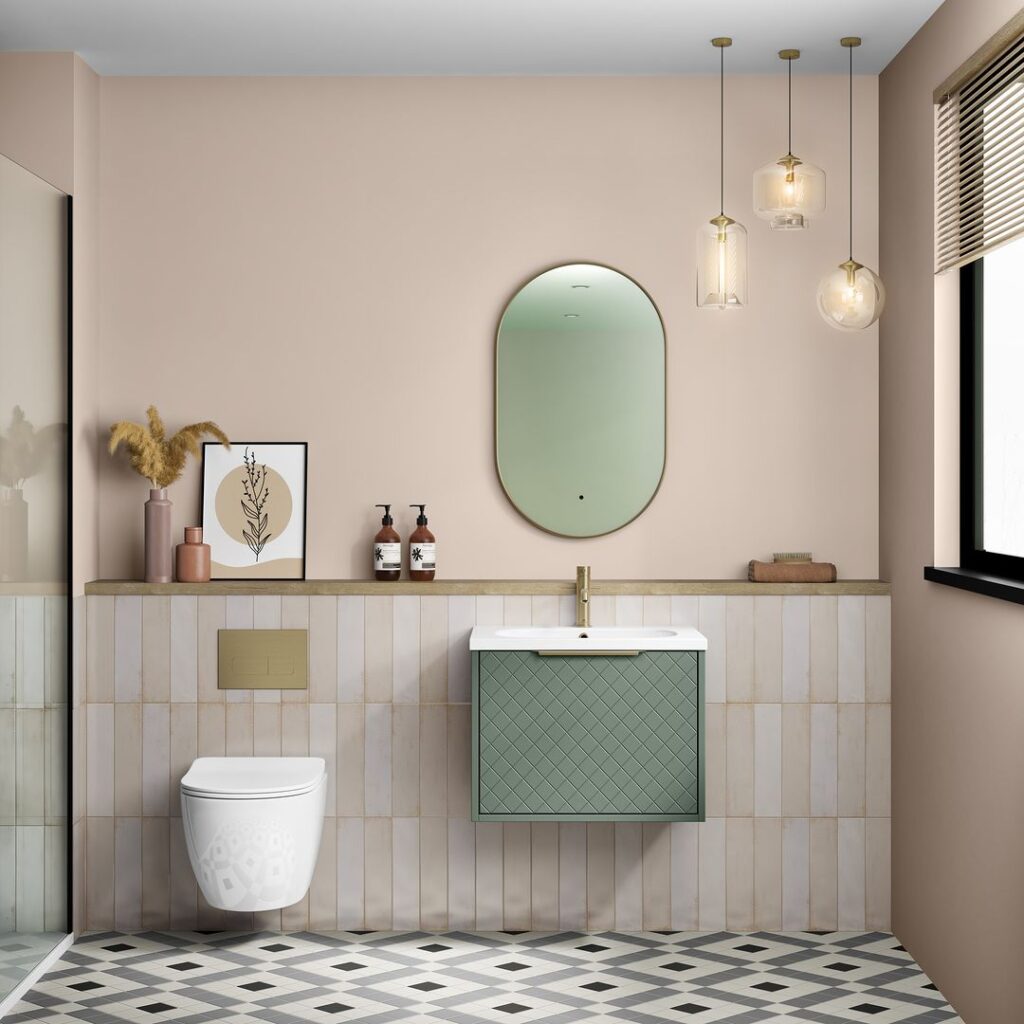 It's about time to add sage green in the easiest ways. It can be incorporated by using cabinets or small fixtures like a mirror frame or a back wall. This sage green bathroom idea can be blended well with any pastel color of your choice. 
Bubblegum pink and mint green gelato shades are a classic combo for this bathroom vanity! These are quite trendy in green lavatory designs. So, go ahead and infuse this chic collaboration that makes up for a youthful lavatory makeover.
Hexagon Tiles!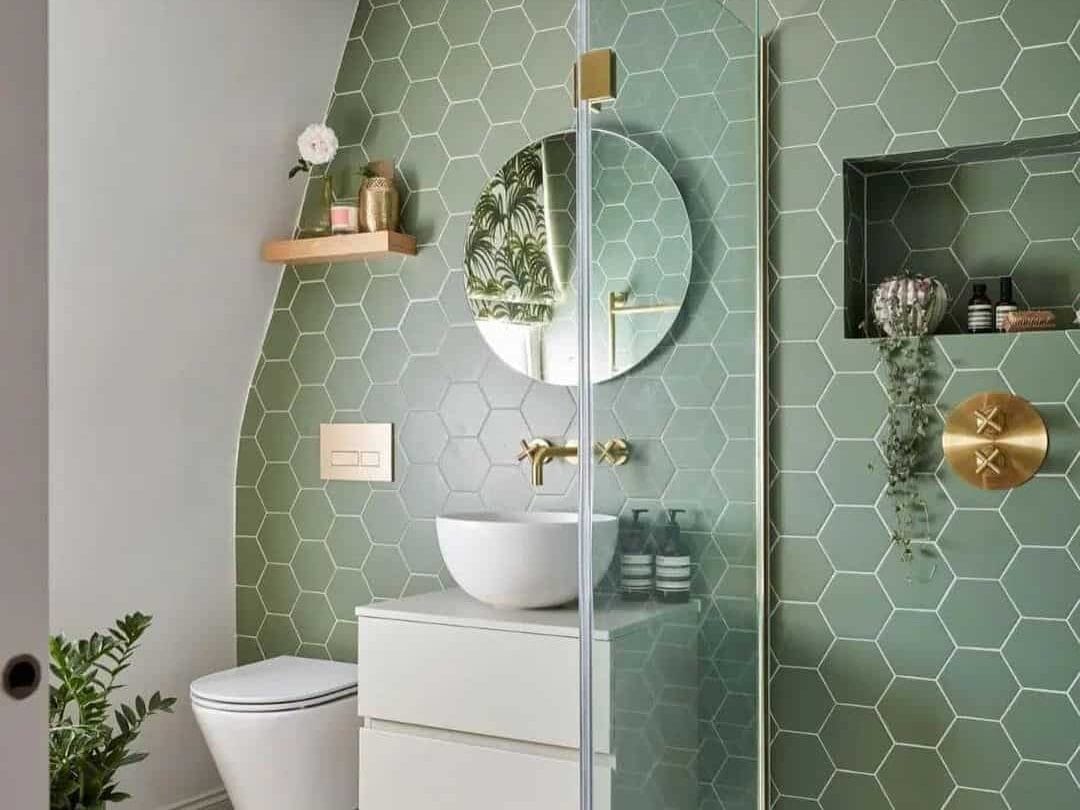 Sage green tiles in a hexagon? Yes, please! These alluring out-of-the-box shower tiles can transport you straight to a luxurious retreat, making your showers one of the best you've ever had. 
You can add a frameless mirror with gold and white sanitary fixtures. Trust me, nothing compares to the aesthetics of this striking sage green bathroom idea. 
Pro Tip: Wanna uplift the vibe of this gorgeous bathroom? Go for Indoor plants – Your best friend!
Use Wall Textures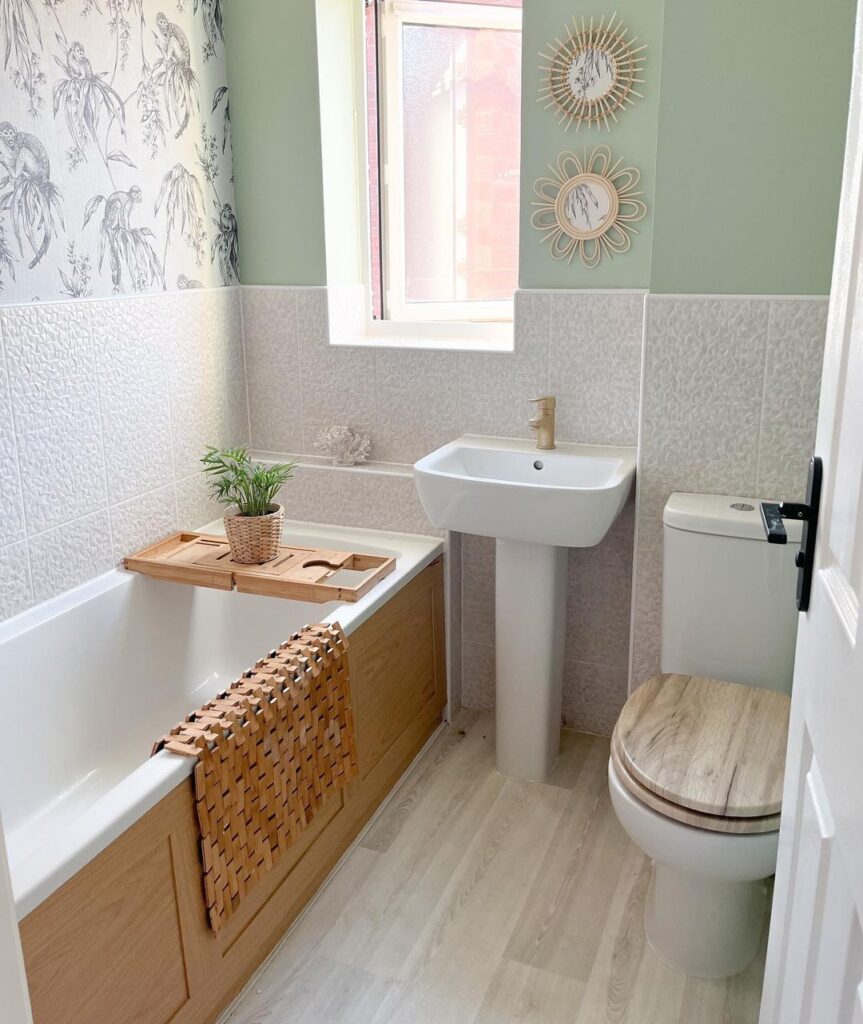 Now, what's more elegant than textures? Textures on the walls! An off-white wall with a slightly rough and grainy texture can break the monotony, making your bathroom seem much more incredible. 
You may pair them with pastel sage green walls, and now you have an aesthetic space that's appealing and soothing to the eye. 
Pair Sage With Wooden Flooring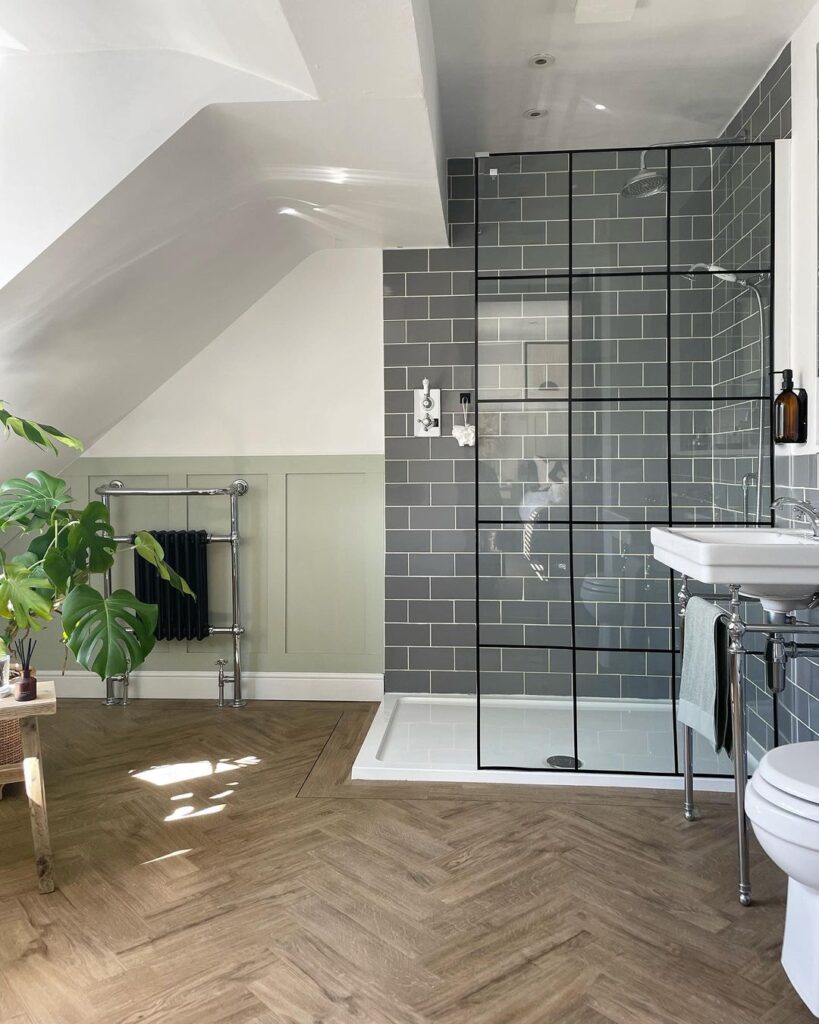 I'm pretty sure you've never heard of something that doesn't go with teak. It is a versatile flooring choice, especially with soft hues like sage green. After all, wooden flooring with teak can never disappoint you. 
You can infuse a herringbone pattern with a perfect brown to complement the sage-green wall tiles. This one will also keep your feet warm on those extra chilling wintry mornings!
Invite Marble Too!
Marble is that material that is all about neatness and lavishness! It can easily be incorporated into your bathroom backsplash. 
The bathroom lighting reflects on the stunning gold-framed mirrors with the marble in the background. It becomes pretty a picture-perfect spot, doesn't it?
Paint Everything Sage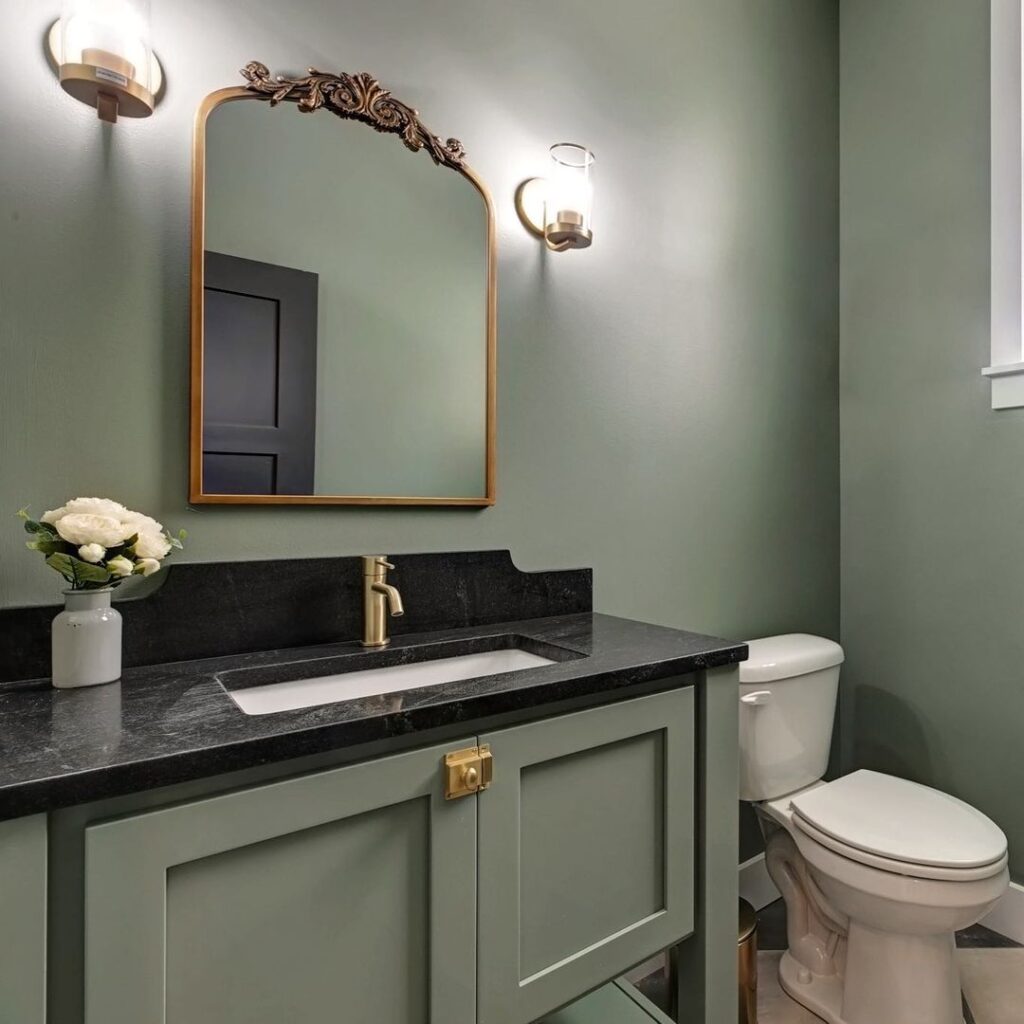 Who said you can't paint the cabinets, or vanity with the same sage green you're painting your walls with? Sage green stands out effortlessly when you attach golden decorations like mirrors, scones, and hardware around the room. 
It's another excellent idea to remove the medicine cabinet and replace it with a huge, fashionable mirror that matches your style! In such cases, a large brass mirror is the ideal finishing touch you'll need. Add this to your shopping list next time you visit Ikea!
Bring In Indoor Plants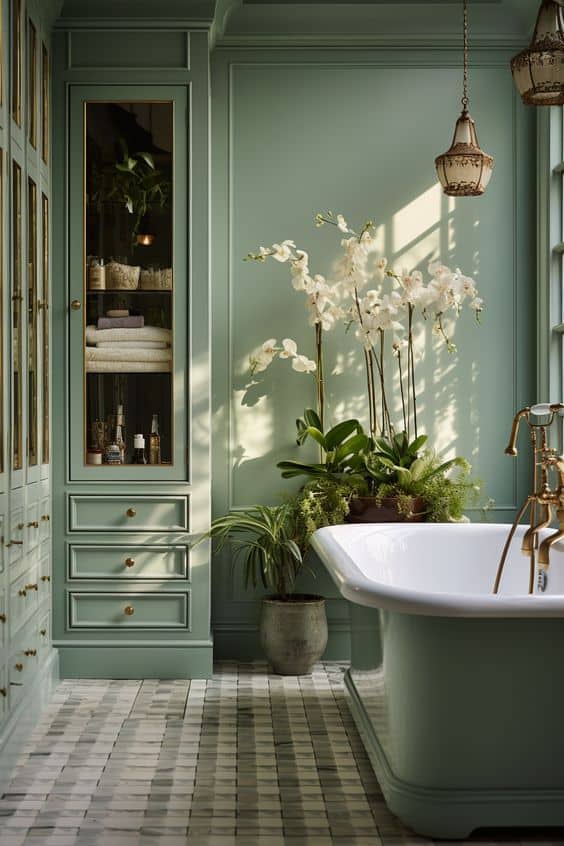 A gorgeous, calming space is still incomplete without indoor plants. This simple addition can instantly elevate your serene bathroom look. Whenever you're choosing indoor plants for your sage green bathroom idea – Consider the available light and the size of your space! 
You can mix and match different plant varieties to build a lush and inviting aura. But don't forget to water them and allow proper drainage to avoid water damage in your bathroom.
Embrace The Rustic Style!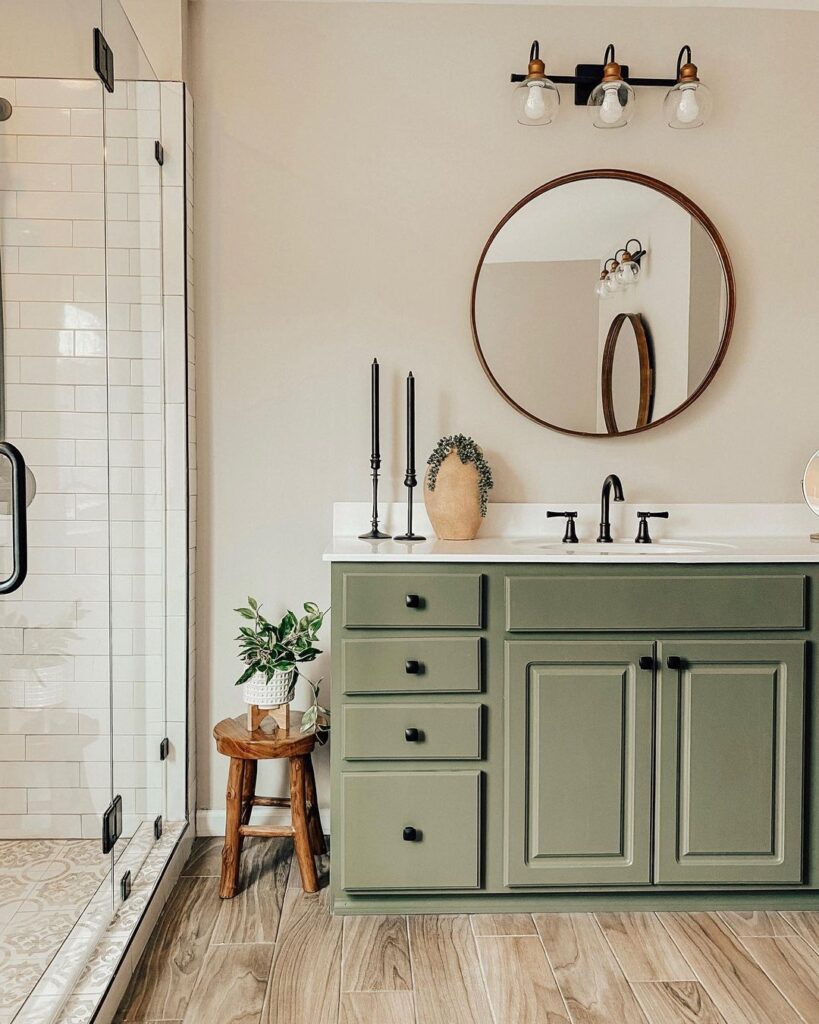 What's the secret of this rustic chic sage green bathroom idea? Just add a small stool, some greenery, and candlesticks to enhance this charming ensemble! 
Small rustic elements like brass frames and candlesticks can be great for giving your bathroom a glamorous interior digest look! As a fair warning, it may be difficult to leave this bathroom every morning, so remember to hurry up!
Artistic Tiles!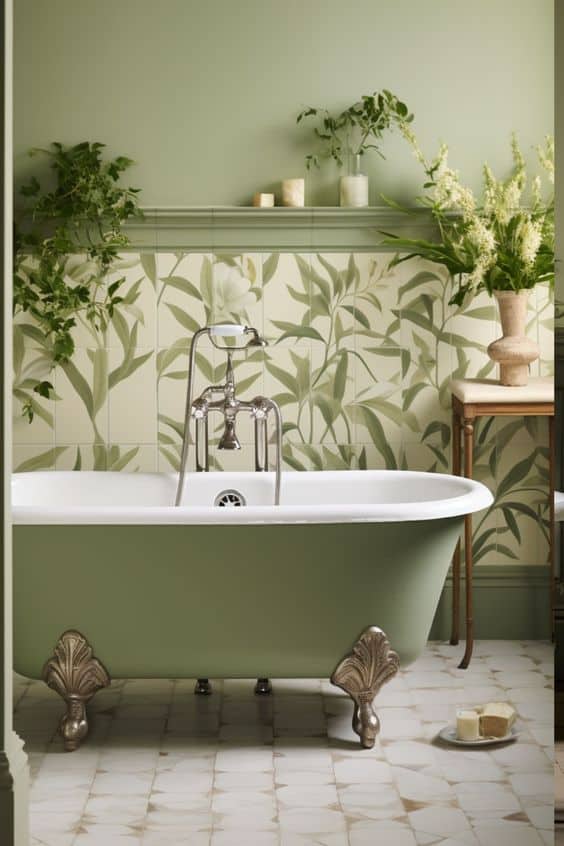 Small changes can do a lot! You can use creative tiles in your bathroom that make it more interesting. These tiles are like an added element for your unique sage green bathroom idea. Have you seen that intricate black-and-white detailing? It must've caught your eye, hasn't it? 
Just make sure you use the right color palette with the sage green color. Your safest bets are colors like black, white, orange, or gray. Don't stop experimenting because the sky is your limit, after all!
Sage Green Tints And Shades!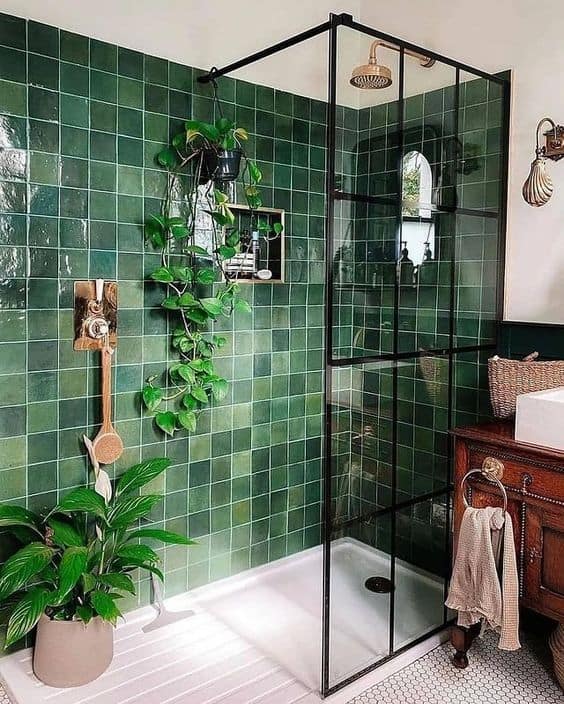 Let's try an alluring checkered pattern in various shades of sage green! This sage green bathroom idea can take you on a bold journey. An aesthetic wall with ceramic tiles can bring an artistic reflection to your bathroom color palette. 
So, be prepared to be impressed as you dive into an unforgettable shower experience!
Guide To Creating The Best Sage Green Bathroom
Accessories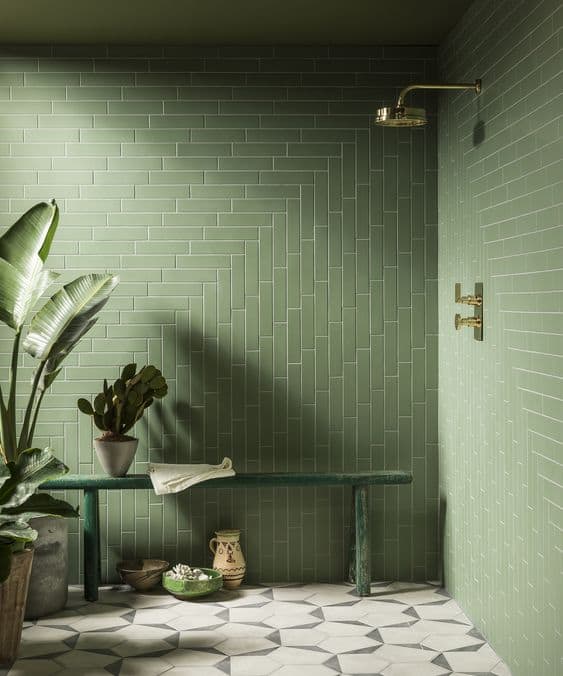 Accessories are used to maintain a sense of simplicity and harmony. So, choose items that evoke a connection with nature. Use natural materials like soft textiles, subtle patterns, and indoor plants.
Furniture And Cabinets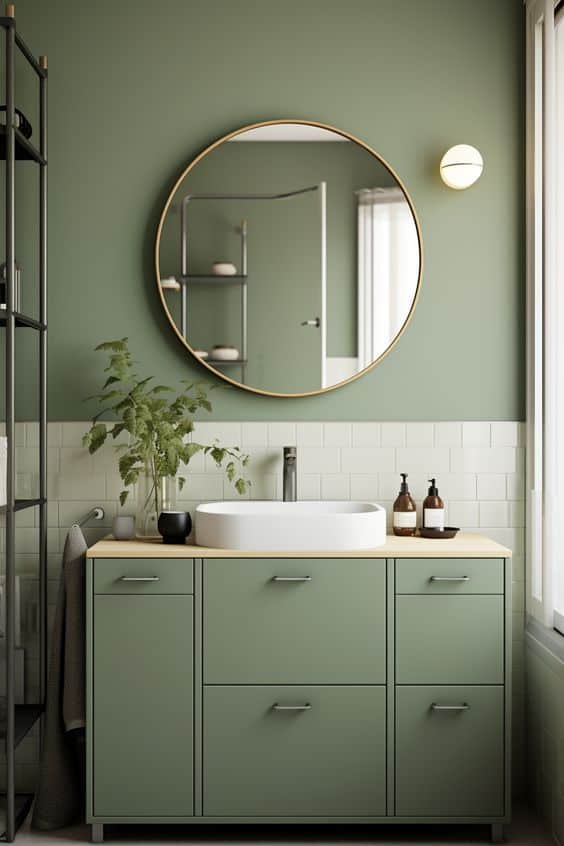 Sage green bathroom cabinets are a versatile addition to any bathroom. It brings natural serenity to your space. These soft hues also provide a visual aesthetic and calmness. 
Fixtures And Fittings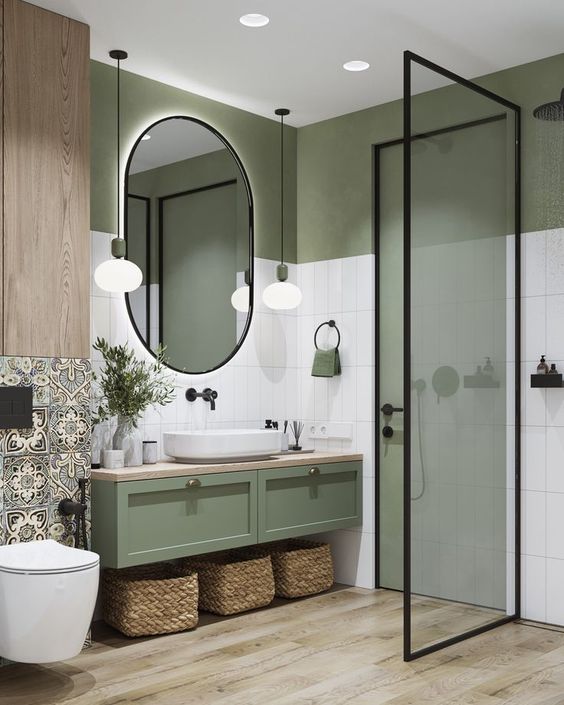 Fixtures are a crucial element in a bathroom because of their functionality. Add an aesthetic appeal by introducing bold colors like jet black and gold. You can go for two different looks – Subtle and bold. For a lighter design – use transparent partitions and frameless mirrors. For a bolder look – Heavier frames are a better choice of material. 
Color Combinations
Sage green is a versatile and innovative color that goes well with a variety of hues. It creates a harmonious and balanced bathroom color palette. A few colors that are great pairs for Sage green include: 
Navy Blue
Mint Green
Peach
Golden
Gray
FAQs
How To Add Sage Green To The Bathroom?
Adding sage green to your bathroom can be a wonderful way to infuse a calming and natural space. Here are some ideas on how to incorporate sage green into your bathroom:
1. Paint The Bathroom or Shiplap Walls
2. Attach Sage Green Tiles
3. Bring Sage Green Cabinets
4. Add Shower Curtain
5. Place Towels and Linens
6. Infuse Greenery and Plants
7. Hang Artwork and Prints
8. Install Accessories
Should We Use Sage Green In The Bathroom?
Yes, absolutely! Using sage green in the bathroom is an excellent choice, especially if you prefer a serene space with a natural touch. Sage green is also a versatile color that goes well with other hues. So, it is easy to complement and incorporate this shade into your bathroom design.