Have you ever actually counted how many products you have scattered around your bathroom? From hair products to makeup to skincare, it can all start to feel a little overwhelming.
But with a vanity for a powder room, you can organize all your essentials in one convenient spot. If you use clever storage solutions like drawers and shelves, you can keep your space clutter-free and maximize your storage potential! It can transform your bathroom from a chaotic mess to an organized mess. Here are 15 powder room vanity ideas for you to find your next inspiration! 
Go Bold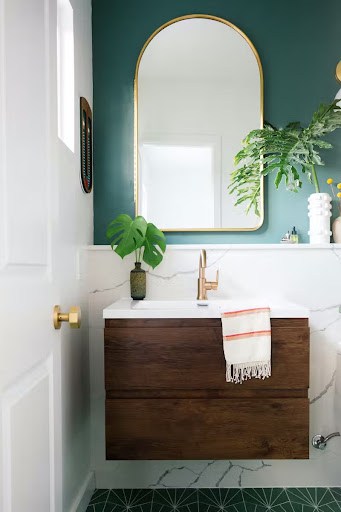 The powder room vanity where all the glow-up happens, must not be a boring place. Spice things up with a pop of color, whether you're into deep blues, rich emerald greens, or vibrant yellows, a colorful vanity is sure to transform your powder room. Get creative and experiment with different accents and finishes to nail the bold look! Just ensure that you also have enough neutral color in the space to balance things out.
Use Marble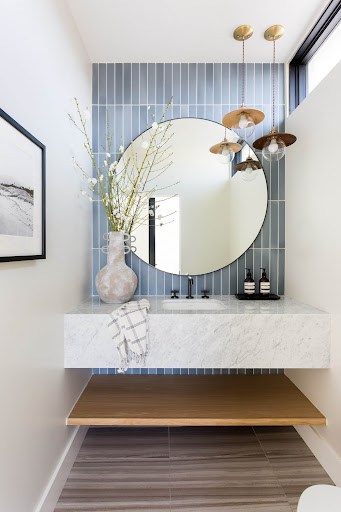 From classic white to bold black, or a chic green-to-pink hue, marble comes in a variety of colors. Given the various colors and styles, it's available in, there is enough variety for you to match your style and decor for your personalized vanity under the mirror. It automatically adds a chic and luxurious flair to the space! It does not just end there, there are also other benefits – it's durable and easy to clean, so you don't have to worry about it losing its luster over time.
Bring In A Floating Vanity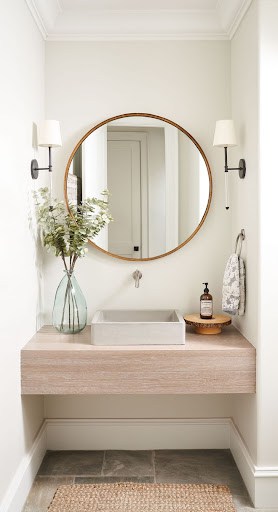 If you have a small powder room, a floating vanity is a no-brainer. It frees up floor space, looks sleek and modern, and even makes your powder room feel a lot bigger!
With a floating vanity, you'll have more room to stash your bathroom essentials, like towels, toilet paper, and your favorite beauty products. And if you're someone who likes to clean every nook and cranny (no judgment here!), then you'll love the fact that there are no pesky corners to worry about!
Go For The Vintage Style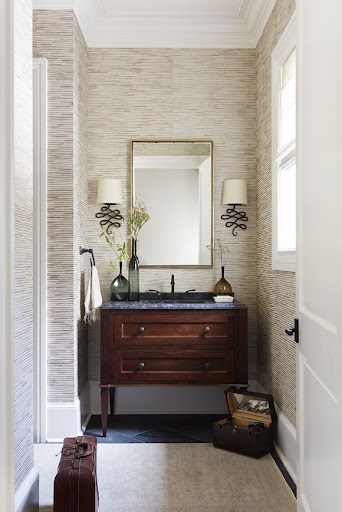 There's just something about that old-school charm of a vintage-style vanity, that takes you back in time. Feeling like royalty and having a designated space to get ready in the morning can make all the difference in starting your day off on the right foot! Yes, I am talking about considering a vintage powder room vanity that just makes you feel like an old-school princess.
Install A Round Mirror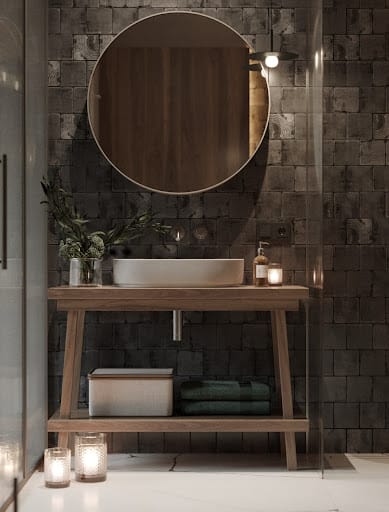 A round mirror can make a small bathroom feel bigger by creating the illusion of more space. And when it comes to mirrors, a round one is the perfect way to make a statement of luxury and tastefulness. To make it even prettier, play around with some lighting options.
Use Wood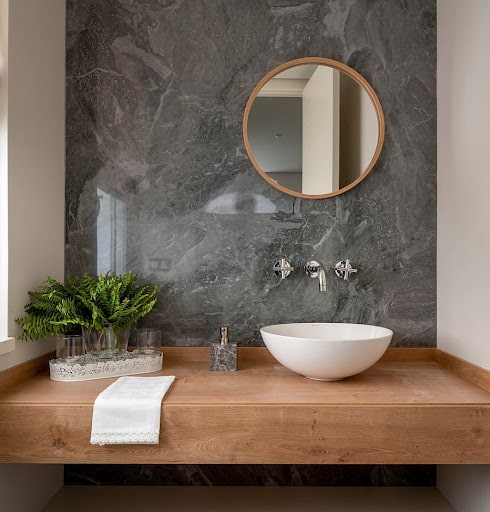 There's just something about the natural texture and warmth of wood that elevates any space. Using wooden vanity can be simple and effective in giving your powder room the makeover it needs.
It's also durable, long-lasting, and easy to maintain. Unlike other materials that can chip, crack, or wear down over time, a quality wooden vanity will stand the test of time and still look amazing.
Minimalistic Vanity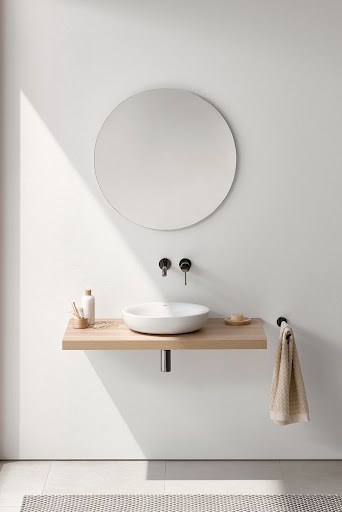 If you're someone who loves a clean, clutter-free space, then this is the vanity for you. It's all about simplicity. No more bulky cabinets with tons of storage space that you never use. 
With a minimalistic style vanity, you can keep your essentials within arm's reach and your powder room looking like it's straight out of a magazine!
Golden accents Add Luxe!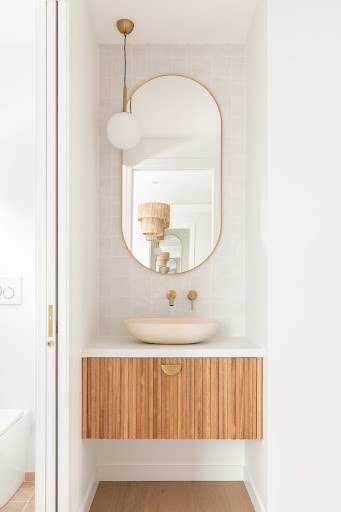 There is no better way to add some glam to your power room than adding gold accents! Gold accents can add a touch of elegance, and a simple white vanity with gold hardware and a gold-framed mirror is hands-down luxurious. 
Lighting Is Everything!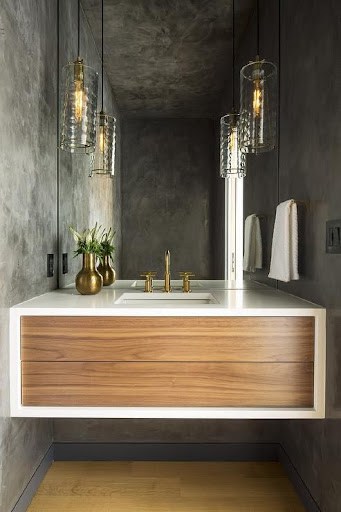 Lighting is the shortest route to add some sophistication to your powder room vanity. It not only makes your space feel airy and spacious but also adds romance to your daily routine needs like skincare and haircare.
Go For A Dark Vanity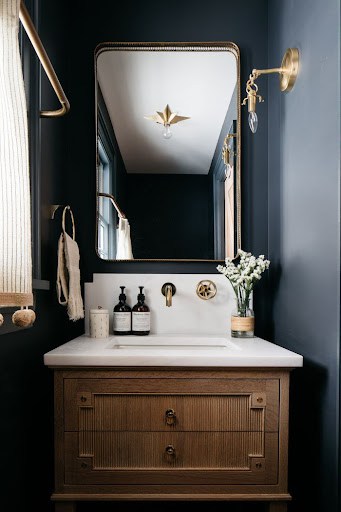 Add a little mystery and drama to your powder room using black accents! It can be the perfect contrast to a light-colored wall or tile, making it stand out even more.
But here's the thing – you don't want to go too dark. You want to strike a balance between bold and overpowering. So consider adding some pops of color or texture to balance out the darkness, or play around with different light fixtures to create a warm and inviting glow.
Vanity with built-in drawer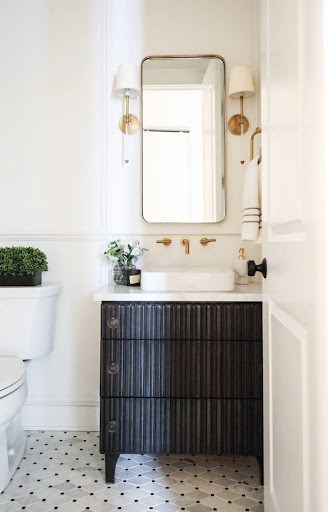 You know what they say, a well-organized vanity is the key to a well-organized day! With drawers, you can say goodbye to cluttered countertops. 
Not only do they keep your powder room essentials like makeup, toiletries, and hair tools in check, but they also look visually pleasing. And who doesn't love the feeling of opening a perfectly organized drawer and finding exactly what they need?
Use A Tile backsplash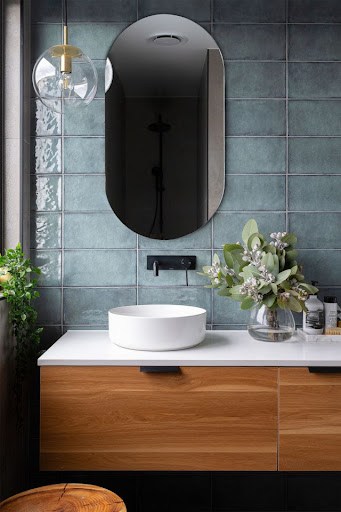 Add some visual interest to your powder room with a tile backsplash. Whether you go for a bold pattern or a more subtle, neutral look- tiles ensure the best look. and are super easy to wipe off the dirt from. So if you are looking for something low maintenance yet chic tile backsplash is the way to go! 
Modern vanity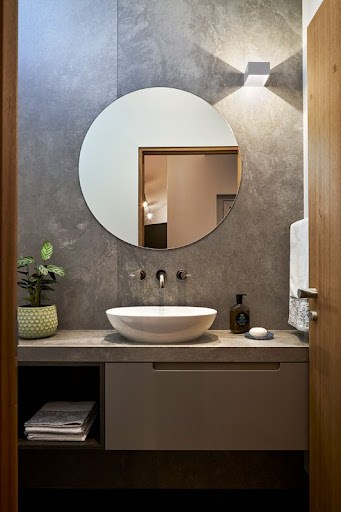 Give your vanity a modern touch, with some minimalistic designs and eye-catching décor pieces. They can be incorporated into any design style, from minimalist to maximalist. Whether you want a bold statement piece or a subtle accent, a modern, streamlined vanity will do the job. 
Go Boho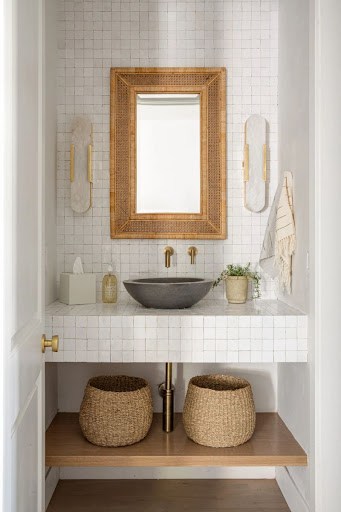 With a boho vanity, anything and everything is a match! Add a touch of whimsy to your powder room with hand-carved wood details, vibrant ceramic sinks, and playful mosaic tiles. You can customize it any way you want it- whether you prefer earthy tones and natural materials or bright pops of color and bold prints, there are plenty of options to choose from. 
Luxe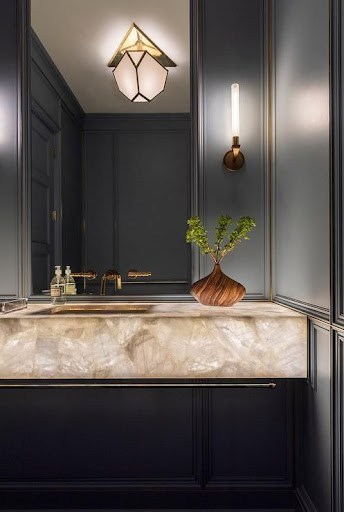 A powder room vanity is a perfect place to add a touch of luxury. You can use a sleek marble countertop and a gleaming golden faucet with a beautiful chandelier for that warm glow. Investing in a luxury vanity for your powder room is a great way to spoil yourself and show yourself a little love.
FAQs
Does the powder room need a vanity?
If you have a large powder room with ample space, a vanity can be a great way to add some storage and organization for your bathroom essentials. Plus, it can make the room feel more like a spa-like retreat where you can take some time to pamper yourself. 
If your powder room is on the smaller side, a vanity might not be the most practical option as it can take up valuable floor space. While a vanity in the powder room can certainly be a luxurious and stylish addition, it's not always a necessity. It depends on your personal preferences and the size and layout of your powder room.
What size vanity fits in a powder room?
Generally speaking, a powder room vanity should be on the smaller side, since these spaces tend to be more compact than full-size bathrooms.
A good rule of thumb is to look for a vanity that is between 16 and 20 inches deep, and no wider than the width of your bathroom. This will ensure that you have enough space to move around comfortably, while still having plenty of storage.