When it comes to getting ready in the morning, good lighting is everything! Whether it is about enjoying your skincare routine, turning your face around several times to point out the new breakouts, or winking at yourself for how attractive you look, the lighting makes all the difference!
So allow me to shed some light on your bathroom vanity with some of the most pleasing bathroom lighting ideas over the mirror so that when you start and end your day against it, you fall for yourself all over again!
The Classic Hollywood Style Lighting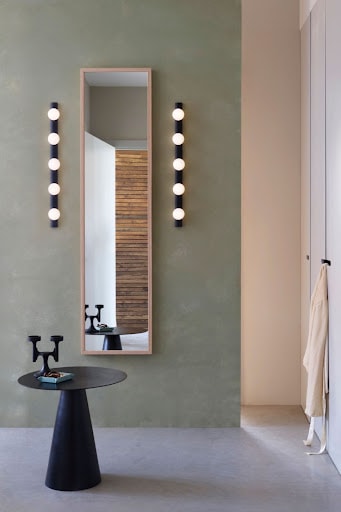 Think of those iconic dressing room scenes from classic Hollywood films, where the main character is surrounded by those chic light bulbs around her mirror. That's the look we're going for here! And let's be real, who doesn't want to feel like a star while getting ready in the morning? It is indeed the perfect bathroom vanity idea for that extra glam. 
Lighting Around The Mirror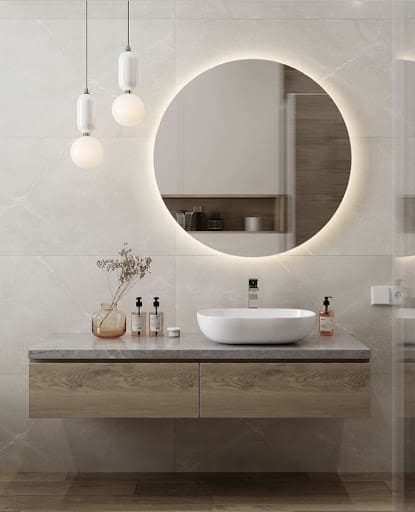 If you're not using lighting behind your vanity mirror, then you're missing out on a game-changing upgrade! Opt for something more modern like LED strip lighting that isn't too harsh on the eyes. Trust me, once you see yourself basking in that glow, you'll wonder how you ever lived without it!
Go For Vintage Sconces
Whether you're into art deco or rustic farmhouse chic vibe, vintage sconces can bring the perfect finishing touch to your bathroom. These sconces give the perfect amount of light to help you slay your makeup game and get things done with ease. Not only will this bathroom lighting idea over the mirror add a touch of old-world charm to your space, but it's also very versatile that you can include it in various bathroom styles to suit any taste! 
Keep It Minimal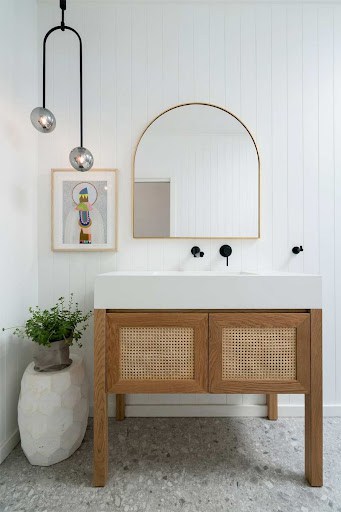 With minimalist lighting, less is more! You'll love the simplicity and elegance of such minimal lighting fixtures, like this bathroom lighting idea over the mirror, can bring to your bathroom, and you'll never have to worry about it clashing with your decor. Use sleek linear LED lights or simple pendant lights to highlight your vanity mirror and nail the look! 
Go For The Industrial Style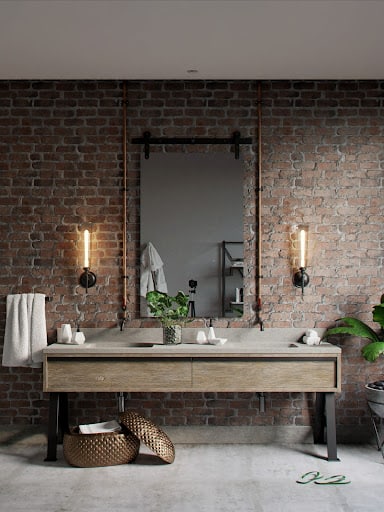 Add some edge and attitude to your bathroom with the industrial style, that is all about sleek lines, raw materials, and vintage accents. For your lighting, try incorporating matte black finishes, exposed bulbs, and rugged metal accents that look bold (and badass!) The beauty of industrial-style lighting is that it can work with just about any design aesthetic – whether you're going for a rustic farmhouse vibe, a minimalist modern look, or something in between. 
Metal Sconces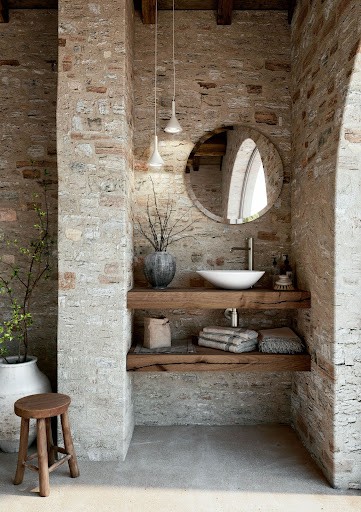 For a bathroom lighting idea over the mirror, rustic style might be right up your alley if you're a fan of all things cozy and charming! And let me tell you, when it comes to bathroom lighting, nothing says rustic like warm, natural materials and rustic details. Add some metal sconces, and bring in natural materials (like wood) to create a nice inviting feel. 
How About A Mid Century Look?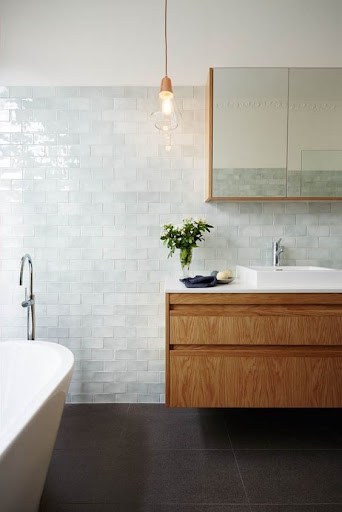 The mid-century style is always on trend. So, if you want a simple clean look, all you have to do is get elegant cone-shaped sconces with metallic finishes to add some warm lighting to your vanity for a little bit of that retro charm with a hint of modern style. It won't overwhelm your space but at the same time, make it feel effortless and inviting.
Let the Natural Light In!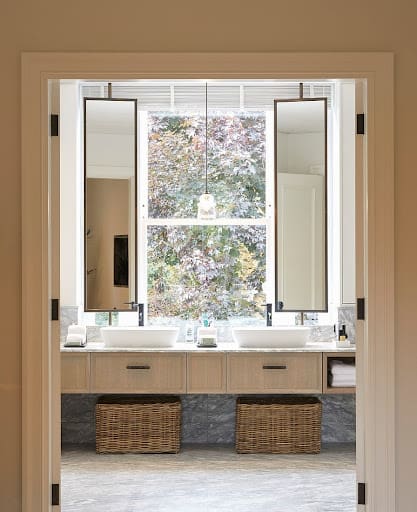 Natural light is the chef's kiss of bathroom vanity lighting, Period. Not only does it give you a more accurate feel of yourself but it also shows how things are naturally perceived that no amount of artificial light can replace, and there's more!
Natural light can also make your bathroom feel bigger and more spacious, highlighting the beautiful textures and colors of tiles, and it can even bring out the green in your indoor plants! So get inspired, and let the light enter!
Linear Wall Light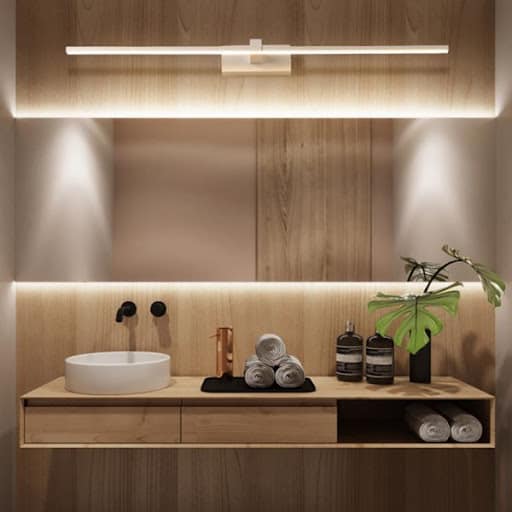 Maximize the light in your bathroom vanity by using a linear wall sconce for a neat and modern look. Plus, with so many options out there – from clean and simple LED strips to statement linear sconces – you're sure to find the perfect lighting fixture to add the perfect glam, charm, and luxe to any otherwise boring space!
Some Boho Flair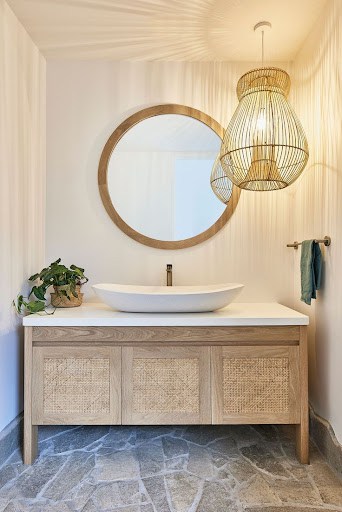 You simply cannot go wrong with a boho bathroom lighting idea over a mirror. Rattan or bamboo pendant lights with handwoven shades, can create a nice blend of materials and bring organic warmth to your vanity. They'll add texture and a natural element to your bathroom that makes it even more vibey and cozy. Add some natural plants to enhance the glow of the lights or balance it out!
Keep It Simple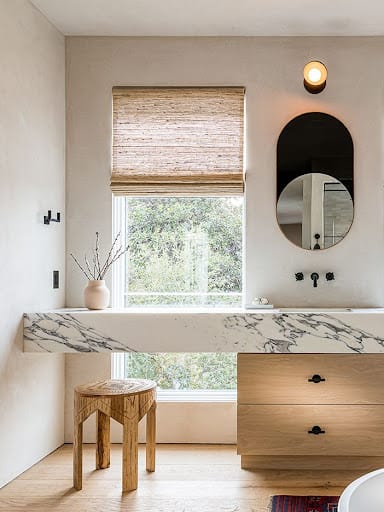 If you have a small space, there are plenty of options to ramp up your vanity without going overboard with the lighting solutions – all you need is a bulb! With a minimalistic fixture, you can create a clean and modern look that won't overpower the rest of your decor. Sometimes it's the understated pieces that make the biggest impact! 
try Globe Bulbs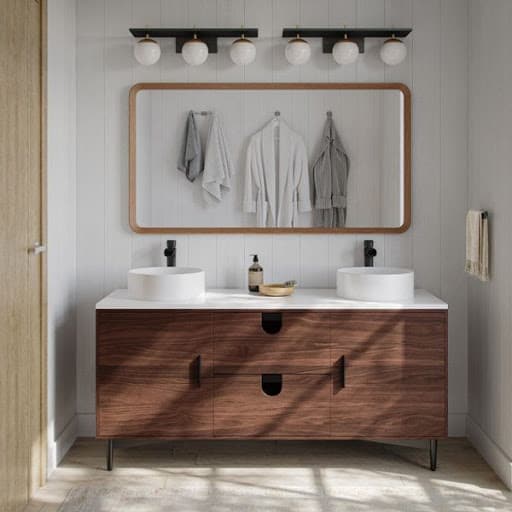 When you want a bathroom lighting idea over the mirror that also becomes the focal point in the space, globe bulbs are perfect! They are typically round or oval in shape and come in a variety of sizes, from small and delicate to large and bold. They offer a unique and eye-catching look that can't be beaten! And guess what? Round isn't the only option – you can also find elongated or teardrop-shaped bulbs if you want something that is different and yet, easily available. 
Neon Lighting Is A No-Brainer!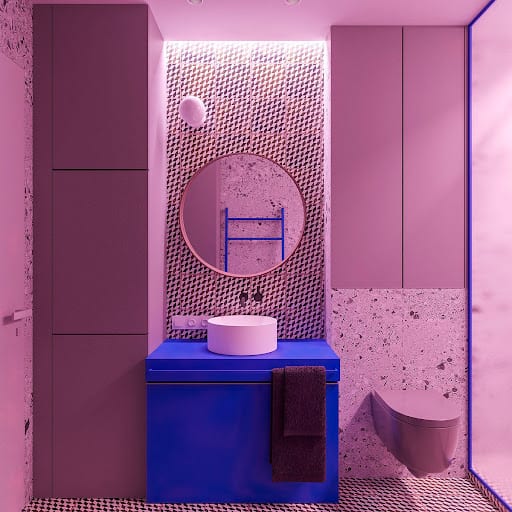 If you are looking for something bright and bold, neon lights can be a great addition. These bright and bold statement lights can transform your bathroom into a retro, edgy, and Instagram-worthy haven! Whether you're looking for a pop of color, a witty phrase, or a funky shape, neon lights can give you that extra glam that you don't wanna miss! 
Keep It Lit!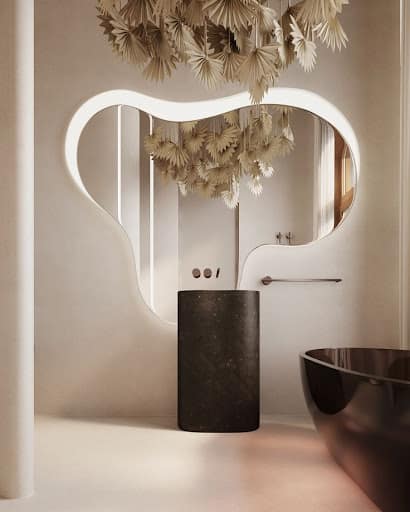 Another awesome bathroom lighting idea over the mirror is to buy a mirror that already has a built-in light. It's recessed, warm, and soothing, much like this fluid mirror that's enough to create a statement in a bathroom!
For an added touch of warmth and luxury add some bronze to the space so it reflects the light in the most sophisticated style existing!
The Hidden LED Strip Lighting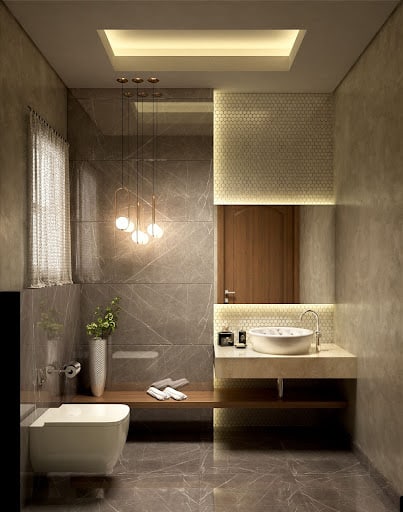 LED strip lighting can highlight the wall or your mirror pretty effortlessly. They also add some visual appeal and geometry to the mirror. So, go all in and install the warm-tone strip light to create the perfect ambiance without overwhelming the brightness.
If the idea of 'only' strip lights sounds too dull, adding a pendant light to the bathroom to pair with the strip lighting will only do good!
Crystal Lights Can Help!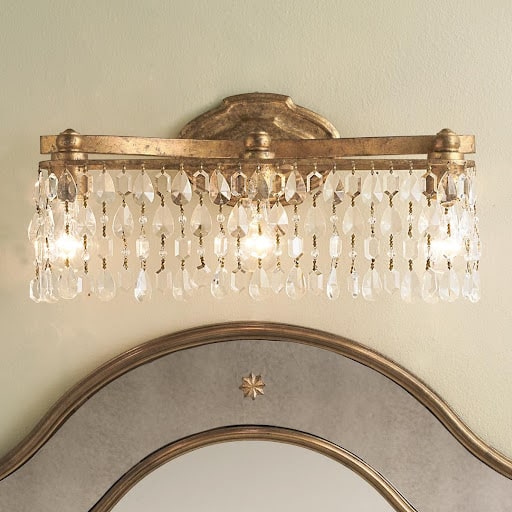 If you want your bathroom vanity to scream luxury, don't think twice before buying crystal lights. These are not just super aesthetic but will also add a touch of luxury to your space, reflecting light artistically, and making you feel like a Disney princess every time you get ready! 
Consider A Chandelier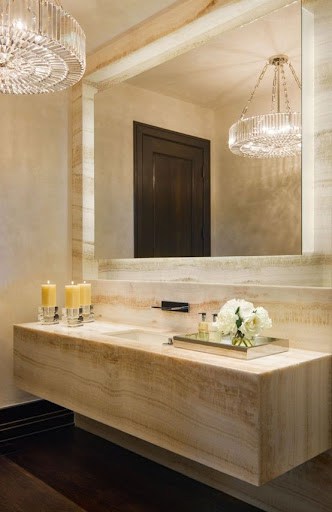 If you're not afraid to go big and bold with your lighting choices then getting a chandelier is the way to go! It might sound a little over-the-top, but trust me, it's the perfect way to turn your everyday routine into a luxurious experience and not just add lighting to the bathroom but also luxury and royalty along the way!
Make It Moody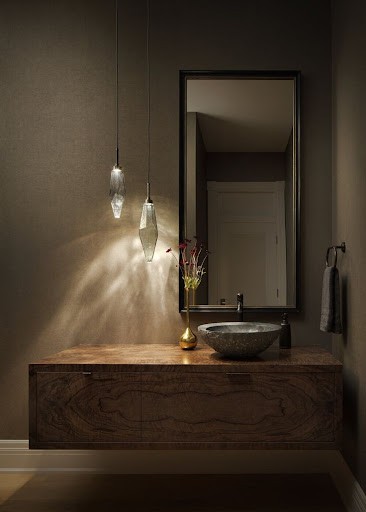 For a more intimate and cozy vibe, opt for dim lighting! It is super flattering for your skin. It's perfect for you if you're not an early bird and don't want to be blinded by the light before you've had your coffee. So set the mood with some dimly lit sconces or soft-glowing pendant light and kickstart your perfect day (or end it.)
FAQs
What type of lighting is best for bathroom mirrors?
When it comes to lighting your bathroom mirror, you want to make sure that you're choosing the best option to make it look flawless! The most effective lighting for bathroom mirrors is soft, even lighting that doesn't cast shadows on your face. 
The ideal solution is to have light fixtures mounted on either side of the mirror, at eye level, to provide the best illumination. You can avoid harsh overhead lighting and prevent unflattering shadows that can make it difficult to apply makeup or shave. You can also consider installing LED strip lighting around the perimeter of your mirror for an even softer glow!
Should bathroom lights hang over the mirror?
Yes, bathroom lights can hang over the mirror! This is a very common and popular way to light a bathroom vanity. By hanging lights over the mirror, you can provide ample lighting for getting ready without creating harsh shadows on your face. That being said, it's not the only option out there – there are plenty of other ways to light your bathroom vanity that may better suit your style or space.
How big should a light fixture be over a bathroom mirror?
When it comes to selecting the right size light fixture for your bathroom vanity, there are a few things to consider. As a general rule of thumb, the fixture should be about 75% of the width of your mirror and mounted approximately 75-80 inches above the floor.
This will ensure that the light is evenly distributed and provides enough illumination for all your grooming needs. But,  if you have a particularly large mirror or vanity, you may want to consider using two smaller fixtures on either side of the mirror, rather than one large one.